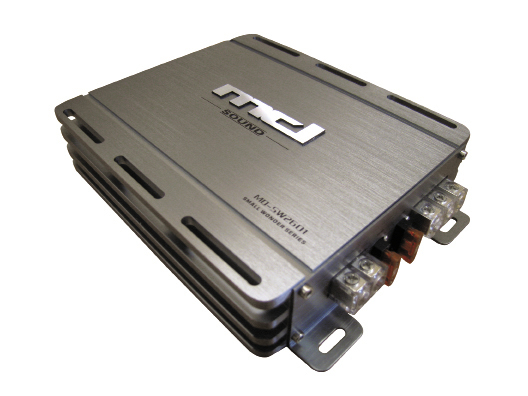 We've all heard the old adage, "good things come in small packages". Well, the folks at MD Sound are doing their best to make sure that notion also applies to car stereo amplifiers. They have a whole series of amplifiers devoted to providing plenty of power in a picayune package. Not surprisingly they have dubbed the series "Small Wonder" and were kind enough to send me a sample of the mono-block model, the MD-SW2601.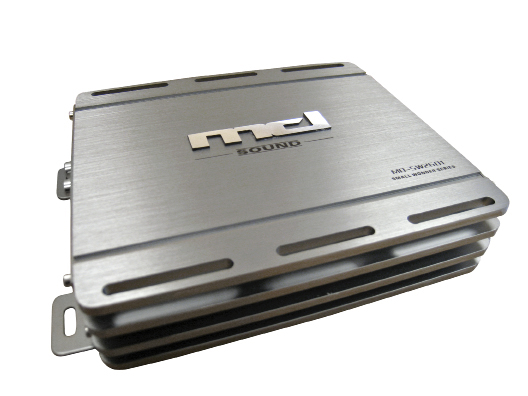 The MD-SW2601 is a tiny amplifier, with the chassis measuring only 7" x 6" x 1.7". But don't let it's diminutive dimensions deceive you, it packs a powerful punch. According the owner's manual, it has power ratings of 200 watts at 4 ohms, and with as much as 400 watts into 1 ohm, yet priced under $150.00, this really is a Small Wonder.
The single channel Class D amplifier comes packaged in a nice velvet bag, and is designed with a sharp looking brushed aluminum silver heatsink. Eight gauge power and speaker terminals as well as a pair of 40A ATC fuses are located on one end of the amp, and a pair of RCA inputs and a pair of small but bright LED's for power and protection indication are found on the opposite end. The amplifier is pretty well equipped as far as features are concerned as well, and includes a 40-180Hz variable crossover, a 10-55Hz subsonic filter, (making sure those of you with vented enclosures are covered) and even a remote mounted level control. To keep things clean looking and prevent unwanted tampering, the chassis mounted control pots are found on the bottom side of the amplifier, and will need to be adjusted before bolting the amplifier down using the mounting tabs on each end panel.
Taking a look inside, I found a high quality double sided PCB, with high performance MOSFET devices for the power supply and outputs, and a large quantity of surface mount parts make up most of the rest of the internals. I also noted built in protection circuitry for short circuits, and thermal overload conditions.
With such a small and efficient design, and a very reasonable price, I simply can't imagine a situation where this amplifier would not fit, both from a physical and financial perspective. If you have little cash and less space, the Small Wonder series of amplifiers from MD Sound are made just for you.
For more information visit www.7elephants.com