Unitronic® is pleased to release its Intake System for the MK7 Jetta® and MK7.5 Golf/GSW® equipped with the 1.4 TSI® Gen2 engine. This Intake System is a direct bolt-on upgrade which is designed to optimize airflow, improve throttle response, enhance turbo induction sounds, and increase air flow by up to 55%. It also provides seamless integration, perfect fitment and an aggressive presence in the engine bay.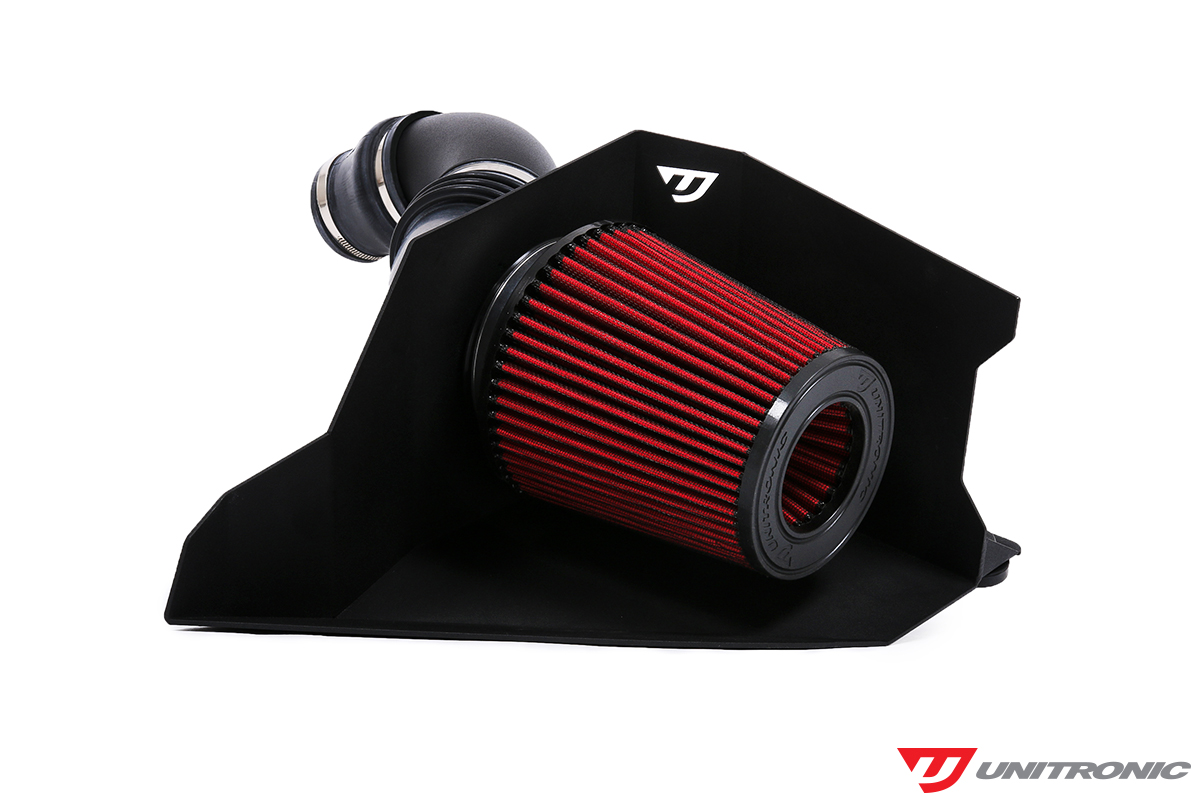 Consistent with all of its performance products, Unitronic utilizes only the latest industry leading tools, equipment and computer aided design software that are packed with the latest technology from our technology partners at Creaform® and Stratasys®. These tools and technology help to achieve a design that not only optimizes airflow and speed, but also eliminates airflow restrictions that are present with the factory components, while fitting within the engine bay constraints.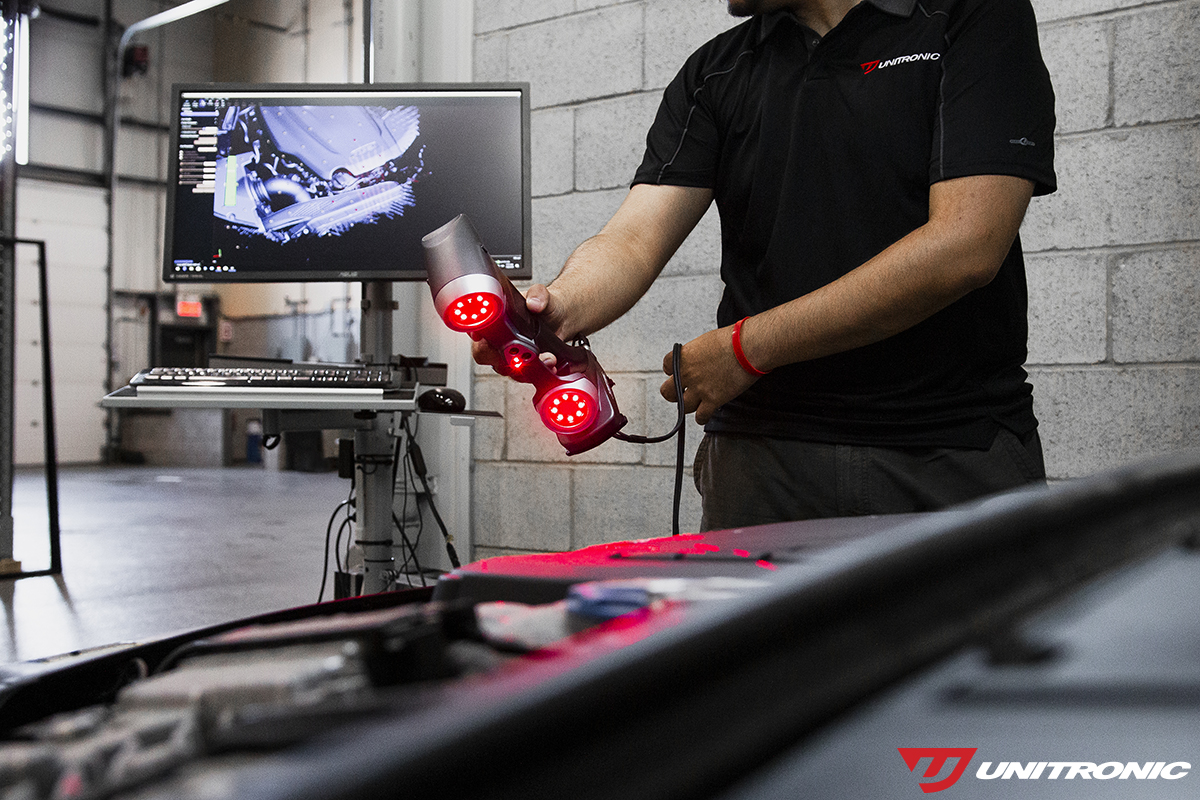 At Unitronic, development begins with setting the objectives; performance, efficiency, aesthetics and quality. Operations start with 3D scanning the 1.4 TSI Gen2 engine bay and OEM components with it's in-house 3D scanner. Once 3D scan data has been collected and processed, Unitronic Hardware Engineers then interact with the 3D models to identify fitment constraints, mounting locations, other component locations, etc. to ensure the final product fits perfectly within the "envelope".
As the initial designs develop; evolution begins with rapid prototyping, utilizing its in-house Stratasys 3D printer. Within hours, Unitronic Engineers are able to have a complete working printed prototype, allowing for test fitments to be performed on the vehicle, functional testing to be completed, and flow data collected to further validate the designs.
Unitronic engineers studied what the Engineers at VW® had intended for the stock unit. The first aspect considered, was how to make it more efficient, yet effective. The result is a design that exhibits smooth volumetric transitions. Every facet of this design is effectively executed for form and function.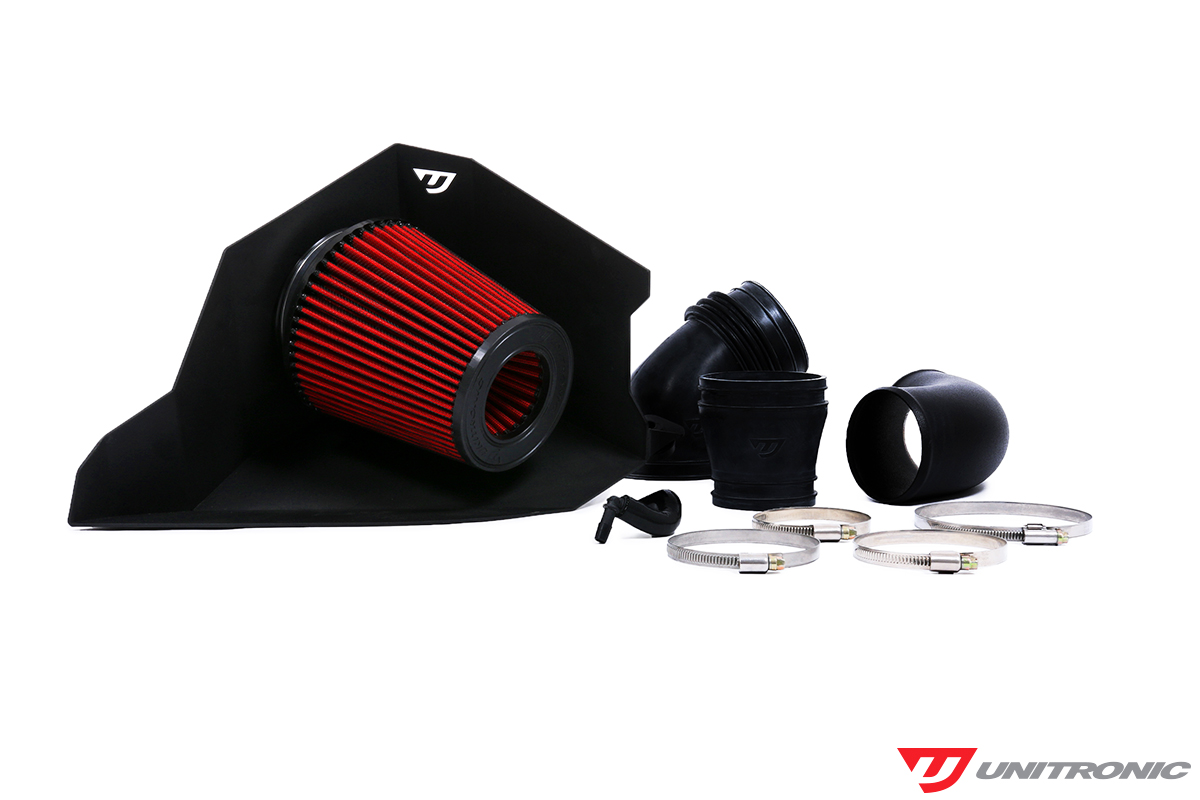 Unitronic Engineers further validated designs to ensure that the Unitronic Intake System performed better than the OEM unit with its in-house Superflow SF-1020 Flow Bench in a variety of different conditions. The OEM intake yielded a peak flow rate of 420 CFM at 28" of H2O (Aq), while the Unitronic Intake System achieved 652 CFM for a gain of 55% more flow.
Our pursuit for perfection is applied even in the most minute areas of product design and in this case, Unitronic identified that allowing for ample tolerance for engine movement on an item that is both affixed to a dynamic engine and a rigid chassis. Rather than using traditional silicone for its hose connections, this Unitronic Intake System uses a high-quality, extremely durable EPDM material for its couplers.
This offers a superior amount of flexibility over traditional silicone, while still offering, with its clever design, the rigidity and strength to be highly reliable on the 1.4 TSI Gen2 engines. Taking the design and engineering one step further, Unitronic engineers created a design that allows for smooth, laminar airflow on the inside walls, while maintaining flexibility through the means of a non-collapsing structural rib profile. Unitronic EPDM couplers are designed to perfectly align with the bead rolls on the intake tubes, to ensure a perfect and seamless connection; hose clamp guides ensure perfect alignment.
As with all Unitronic Performance Hardware, this Cold Air Intake System is precisely engineered to offer a direct bolt-on fitment which retains all factory mounting locations in order to simplify the installation process using our very own mounting grommets.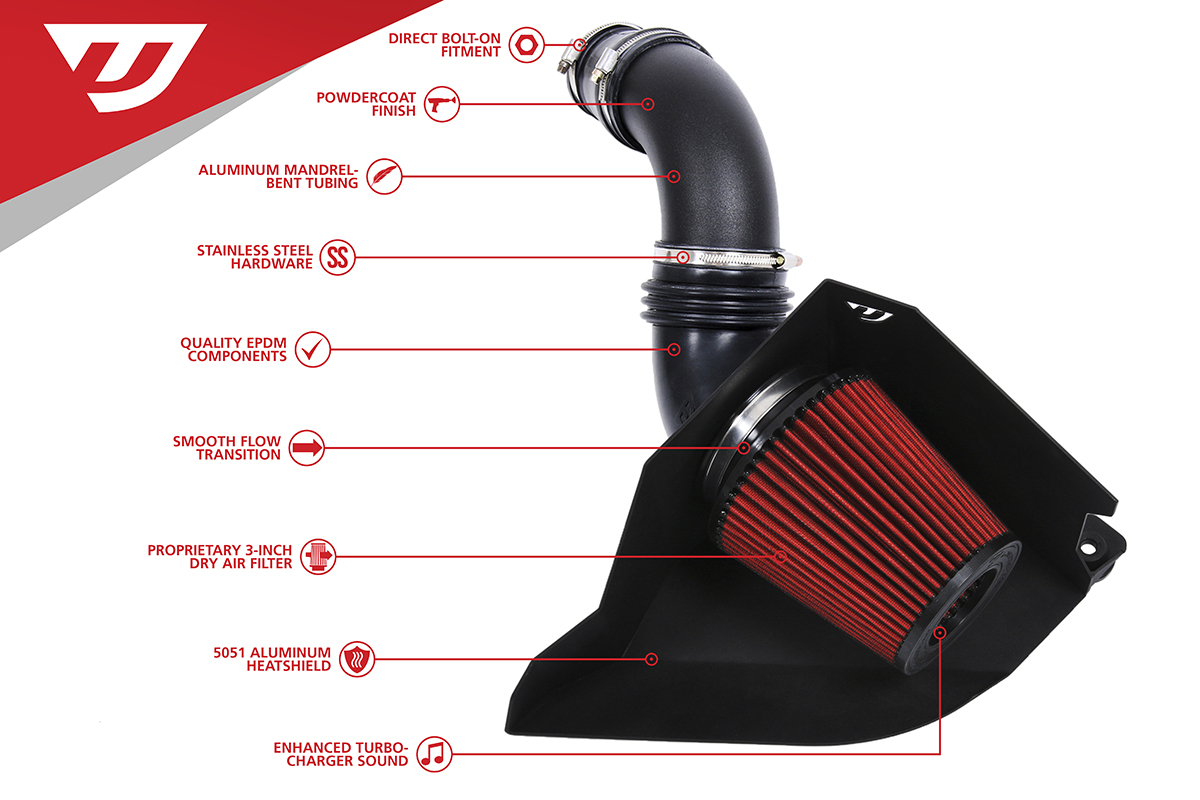 FEATURES
Proven airflow gains
Smooth airflow transitions
High-quality transition tubes and stainless steel hose clamps
Direct bolt-on fitment with OEM Mounting Locations & EPDM mounting grommets
Large heat shield to keep intake air temperatures low
High Quality EPDM couplers
APPLICATIONS
2019-2021 VW Jetta 1.4 TSI Gen2
2019-2021 VW Golf 1.4 TSI Gen2
2019 VW Golf Sportwagen 1.4 TSI Gen2
MSRP (USD)
For more information, visit www.getunitronic.com.