BOLT Locks will spotlight the "Shadow Guard" Jeep Gladiator show vehicle in its SEMA Show booth #60177 located in the West Hall of the Las Vegas Convention Center from November 2-5, 2021 as part of the automotive aftermarket's biggest annual event. Created by Dave Doetsch of Doetsch Off-Road in Chandler, Ariz., the one-of-a-kind project truck is designed to be a dynamic mix of rock crawler and overlander that features BOLT's "One-Key Lock Technology" for securing gear on and in the Jeep.
BOLT locks are used throughout the vehicle to keep gear and valuables safe with the company's exclusive one-key convenience. All BOLT locks are quickly programmed the first time the ignition key is inserted into the BOLT lock cylinder. Once the key is inserted, spring-loaded plate tumblers move up and down, uniquely coding the cylinder to that specific key. Special security features on the tricked-out Jeep Gladiator include a BOLT JL/JT hood lock, BOLT padlocks and cable locks, as well as Locking Recovery Hooks, featuring BOLT's integrated locking cylinders.
High-impact vinyl graphics wrap the Gladiator in satin black and are the inspiration for the vehicle's name. The custom 3M vinyl finish mimics "Shadow," while the "Guard" conveys BOLT's ability to secure your possessions with superior lock technology.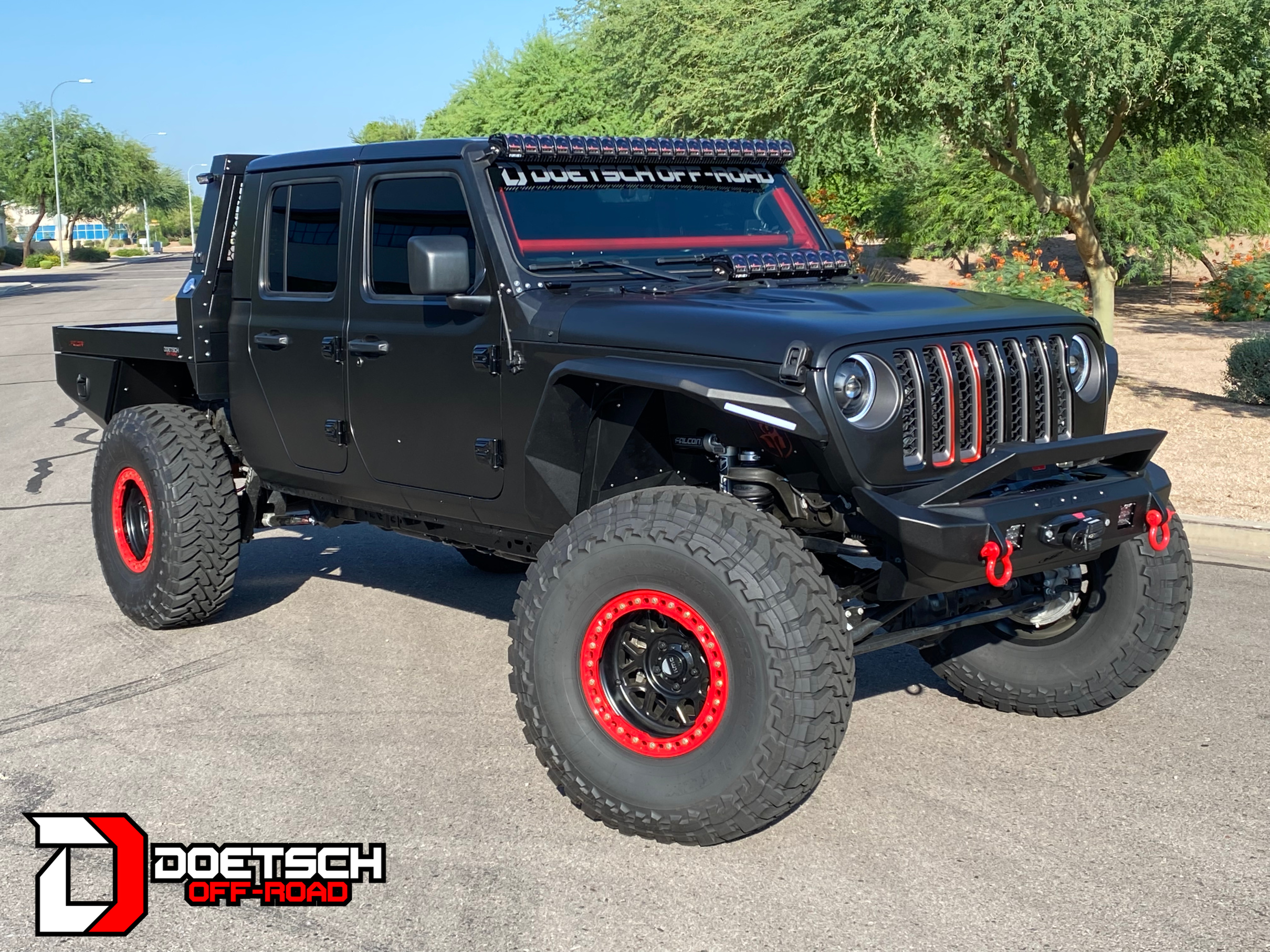 "Doetsch's Shadow Guard project truck brings BOLT One-Key Lock Technology together with custom design to demonstrate the possibilities for taking any Jeep to the next level in looks and secure storage," said BOLT's Sales Account Manager Jason Buckles.
The BOLT product line includes:
BOLT Cable Locks are made from six-foot by 1/4-inch coiled cable. They feature an automotive-grade lock shutter to keep out weather and debris and a six-plate tumbler sidebar that prevents picking and bumping.
BOLT Padlocks feature a spring-loaded, chrome-plated 5/16" diameter hardened steel shackle inside a crush-resistant body shell.
BOLT Coupler Pin Locks fit couplers from ½-inch to three and 3/8-inch and is adjustable in increments of 1/8-inch allowing for a snug fit in any size.
BOLT Receiver Locks feature a durable, stainless steel pin and an automotive-grade stainless steel lock shutter, with an auto-return spring that automatically locks when the key is removed. Choose the 5/8-inch receiver for Class III, IV and V receivers, and 1/2-inch receiver for Class I and II receivers.
BOLT Off-Vehicle Coupler Locks protect unattended trailers from being stolen and secured to another vehicle.
BOLT Jeep JK/JL Hood Locks, Jeep JK/JL Spare Tire Locks and J-Mounts.
The BOLT Lock "Shadow Guard" Jeep Gladiator is outfitted with:
• PCOR aluminum tray bed with integrated headboard and rear-facing winch
• TeraFlex 4.5" Extended Travel Lift system with Alpine IR adjustable control arms featuring Falcon SP2 3.3 Series adjustable piggyback shocks and front Speedbump bump stops
• 40x13.50R17 TOYO Open Country MT tires
• 17x9 KMC Grenade beadlocks with custom red bead rings
• Rigid Industries LED lighting, including 50" and 20" light bars, 28" rear-facing chase light, SR-L scene lights with red backlight, SAE front LED fog lights, A-Series LED rock lights
• Road Armor Stealth Series front bumper and front fender flares with liners
• Warn VR EVO Series front 12-S winch and rear VR EVO 10-S winch
• Factor55 ProLinks
• Oracle Oculus BI-LED projector headlights
• Artec front APEX axle armor kit consisting of truss, c-gussets, and lower control arm skids
• RCV Performance Ultimate CV-style front axle shafts
• Rock Hard 4x4 front sport cage powder-coated gloss red
• Katzkin custom leather seats with suede inserts
• Yukon 5.13 ratio axle gears
• Custom Vivid Racing carbon fiber flat bottom steering wheel with Alcantara suede inserts
• Rockslide Engineering electric step sliders
• Gen-Y Mega-Duty Series 10k hitch with pintle
• 70L on-board water tank, side toolboxes and rear slide-out drawer
• Unique Car Audio custom stereo system with rear under-seat subwoofers