Photography by Adam Gordon, Michael Nardi.
---
We saved the best part for last.
This is part 5 of a 5-part series. Missed the beginning? Start here.
Way back when we determined what makes a proper street car, I boiled it down to three main factors: Reliability, Comfort, and Style. after addressing both reliability and comfort in the previous two chapters, I finally reached the crescendo of the entire build - style. the entire two-year process of turning someone's old track toy into the perfect street car had finally reached the home stretch.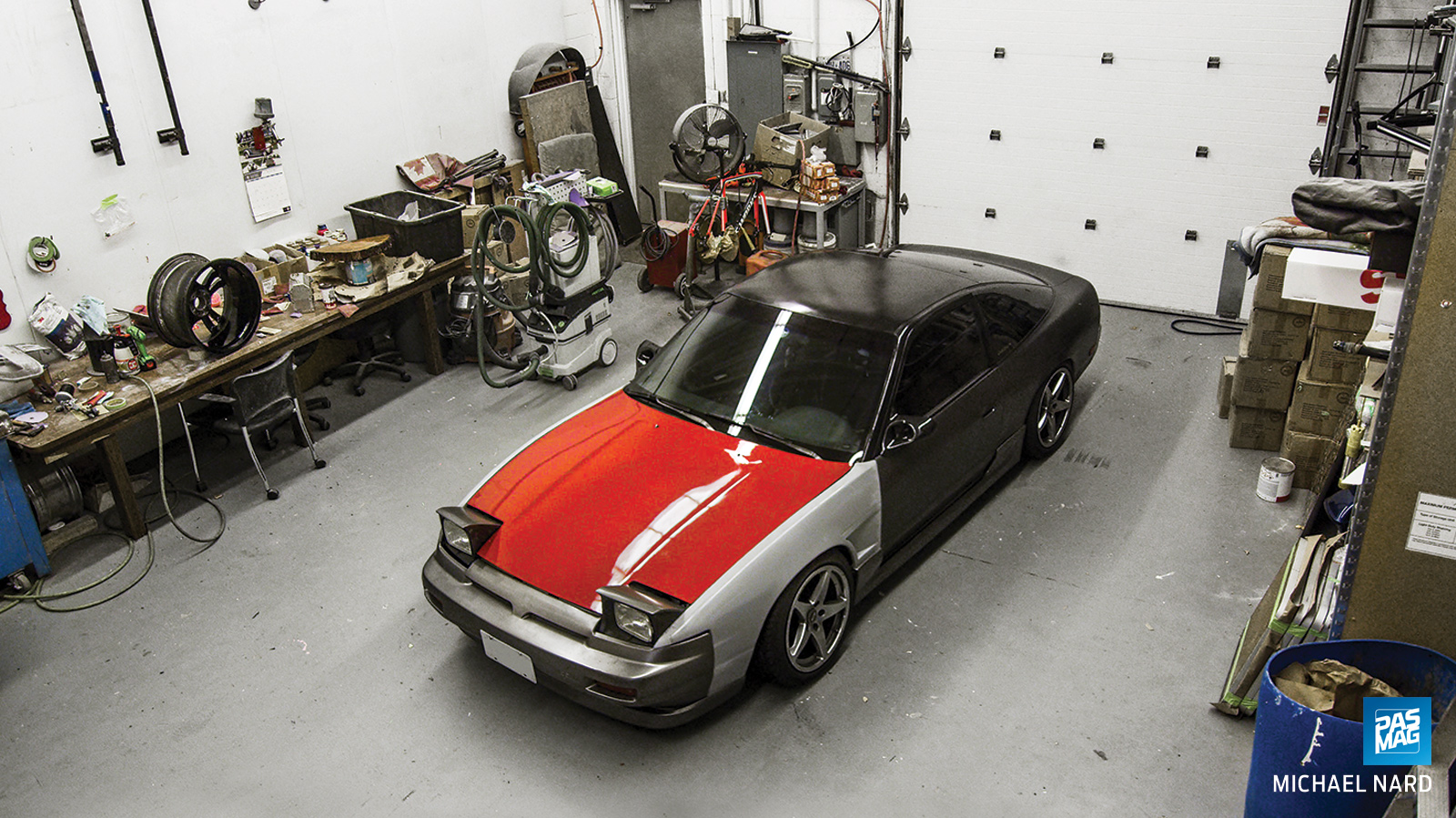 It's important to note that style is ultimately subjective, but some things are universal. Things like proportions, lines, color scheme, fitment, and overall composition are all factors in building a car in which all parts work together to create a cohesive theme or look. This meant that my S13's badly-fitting OEM aero and mismatched gray panels were on the chopping block as I planned a total transformation from top to bottom.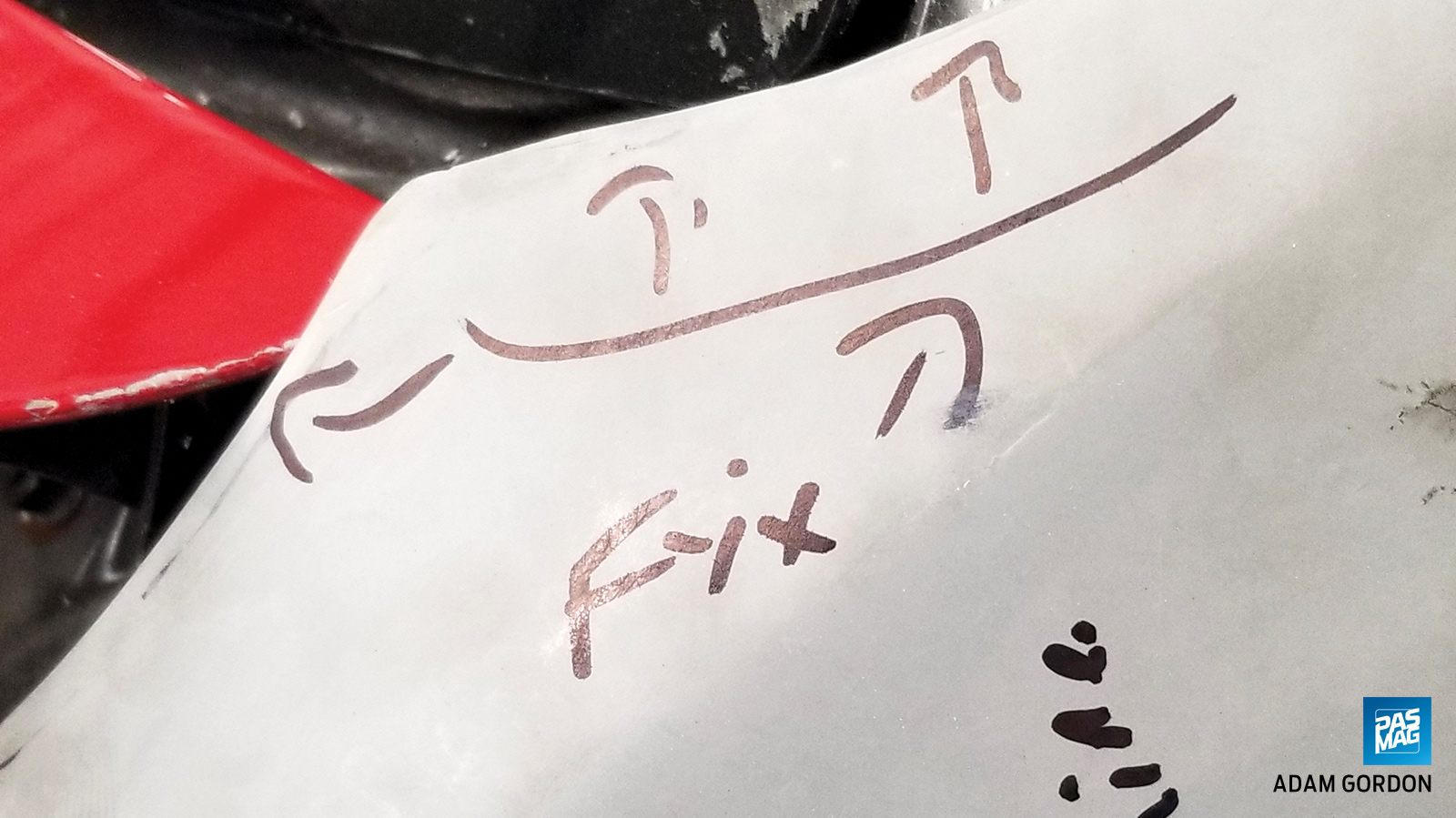 Luckily for me, BASF offered to partner up with us for this portion of the build, and I couldn't be happier to have the world's best paint company helping me out. They introduced me to Kingsmen Kustoms in Mississauga, an incredible custom shop that specializes in bringing dreams to reality. In a meeting with both BASF and Kingsmen Kustoms, we narrowed down the three things that make up any car's style points: overall theme, fitment, and color scheme.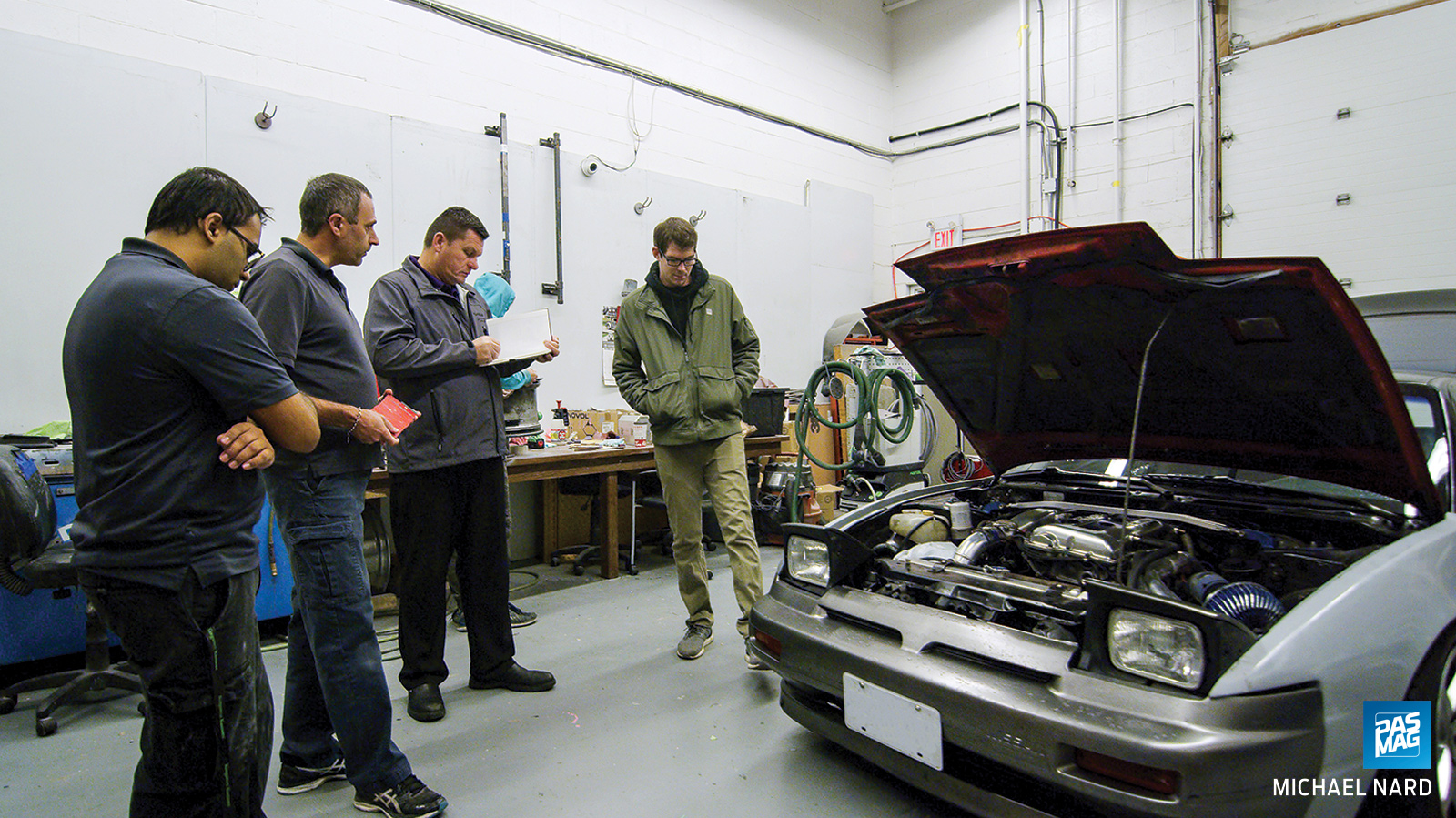 Overall Theme
If you're looking to build something that will remain timeless in its looks, you'll need an overarching theme to tie everything together. Throwing everything that sticks at a car can result in overkill, even if it does take home the hardware at some shows (and there's nothing wrong with that, if that's your thing). For me, less is more. I've always had a particular affinity for period correct "OEM-plus" JDM cars, and I wanted my 240sx to emulate the style of the golden era of 180sx drift cars, even if I don't drift (I know, I know. Ironic name for the whole project, then).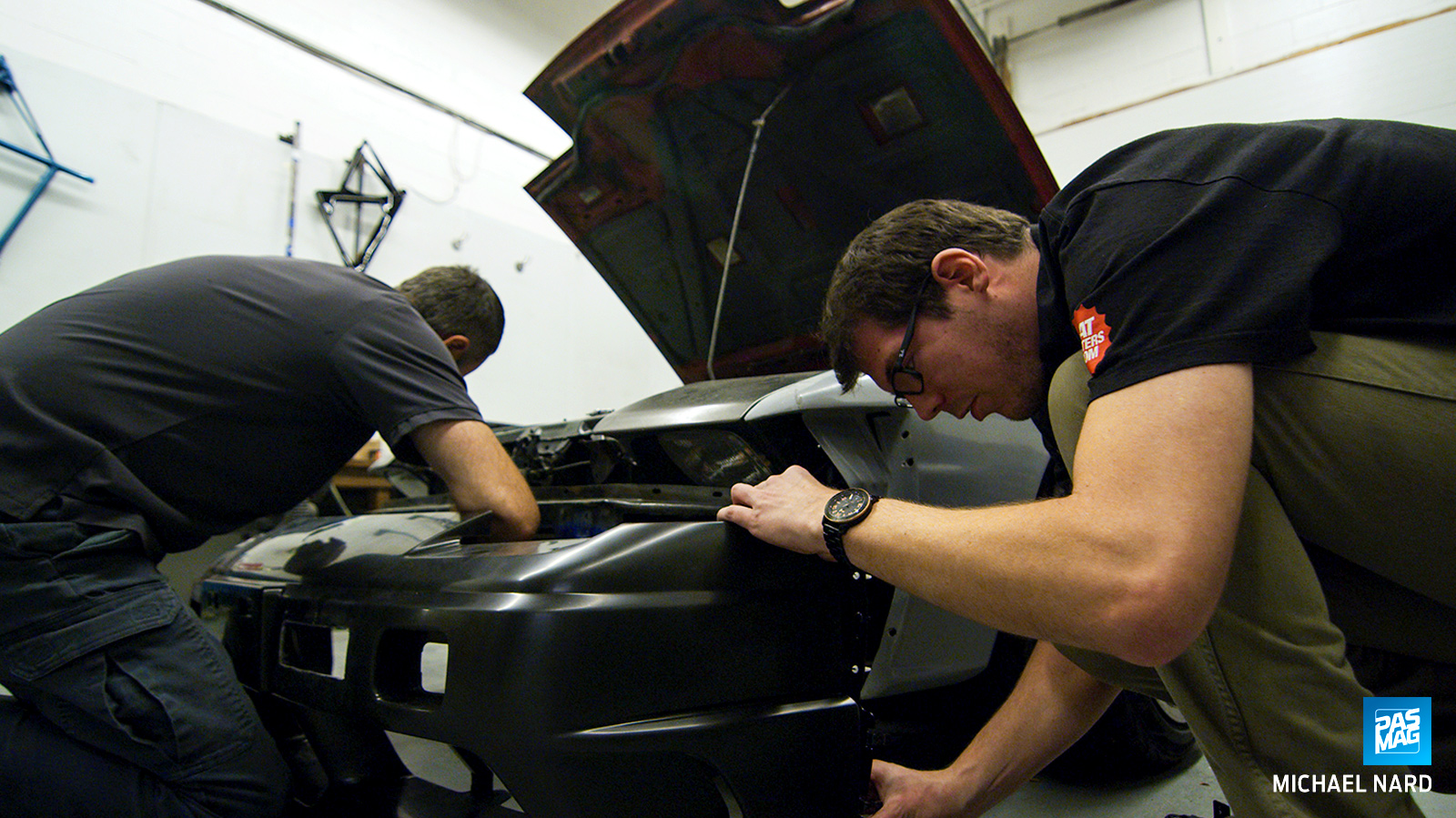 In addition to lowering the car substantially, a full RPS13 Type-X aero kit, the same offered from Japanese OEM Nissan at the time, was the key to simple Japanese styling, and would be a perfect fit for the Type X tail lights I installed back in Chapter 1. I still wanted to spice things up just a little bit for that OEM-plus look, so I sourced a D-Max roof spoiler, a low profile Origin Labo trunk spoiler, Origin Labo +20-mm vented fenders, some Ganador mirrors, and N1-style front bumper vents originally made for R33 GT-Rs. These parts give an aggressive look while still remaining relatively subtle overall. With all due respect to the "big wang gang," little changes that you only notice upon closer inspection are definitely my style.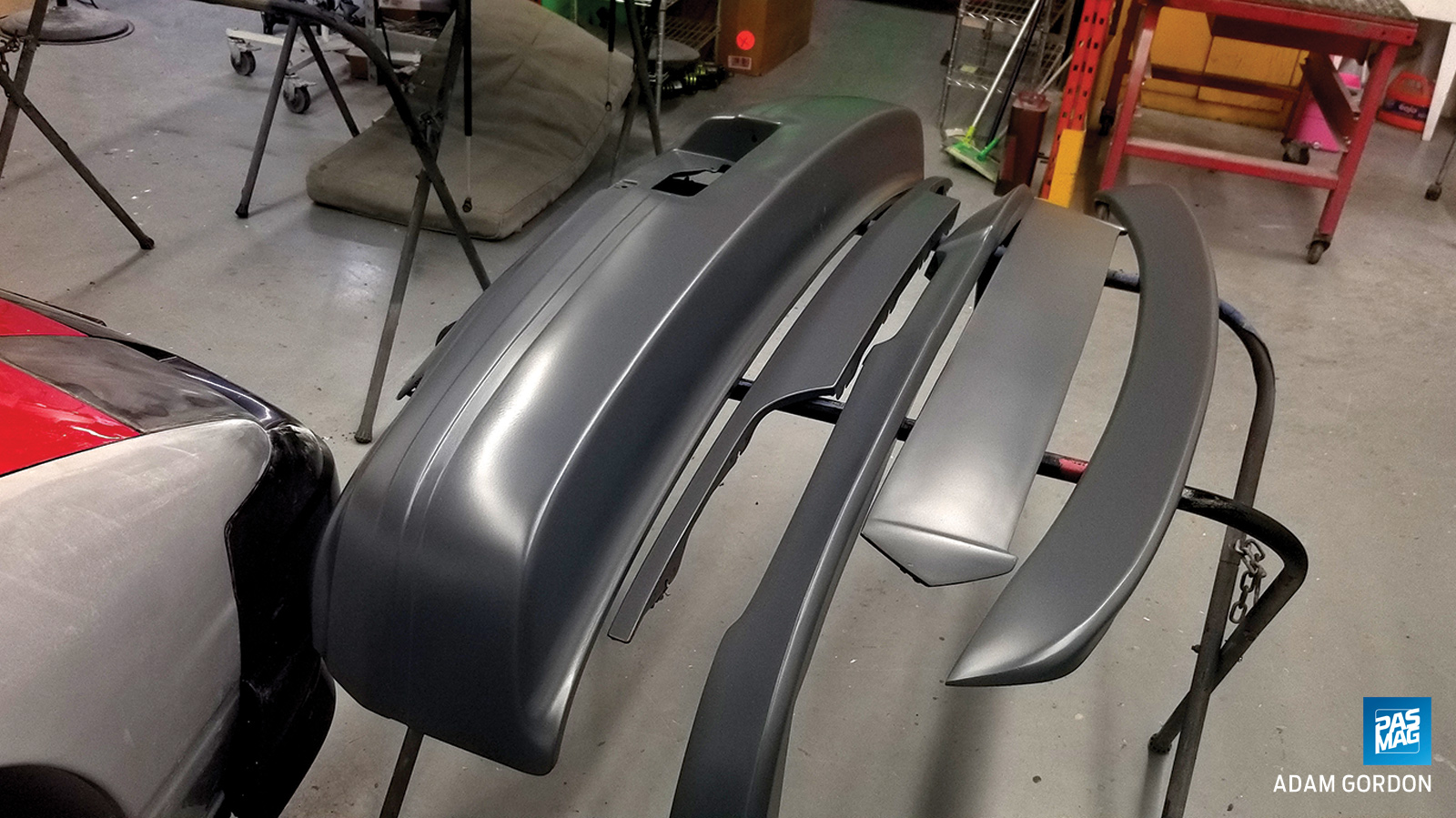 Fitment
When we use the word fitment, the first thing that comes to mind for many people is wheel and tire fitment. While that was also addressed in previous chapters, fitment, in this case, also refers to the fitment of body panels, aero, and other aftermarket exterior modifications. Sure, I could just unbolt my old pig-nose front bumper and bolt the Type X front end in its place, but the gaps between panels would persist. This is where Kingsmen Kustoms' expert eye came in handy. With careful measuring and some neat body shop tools I had never seen before, like a contour measuring gauge, Claudio La Gatta and his family team got to work ensuring my Type X aero would fit to the body with minimal gap between pieces, and cleaned up the rough body.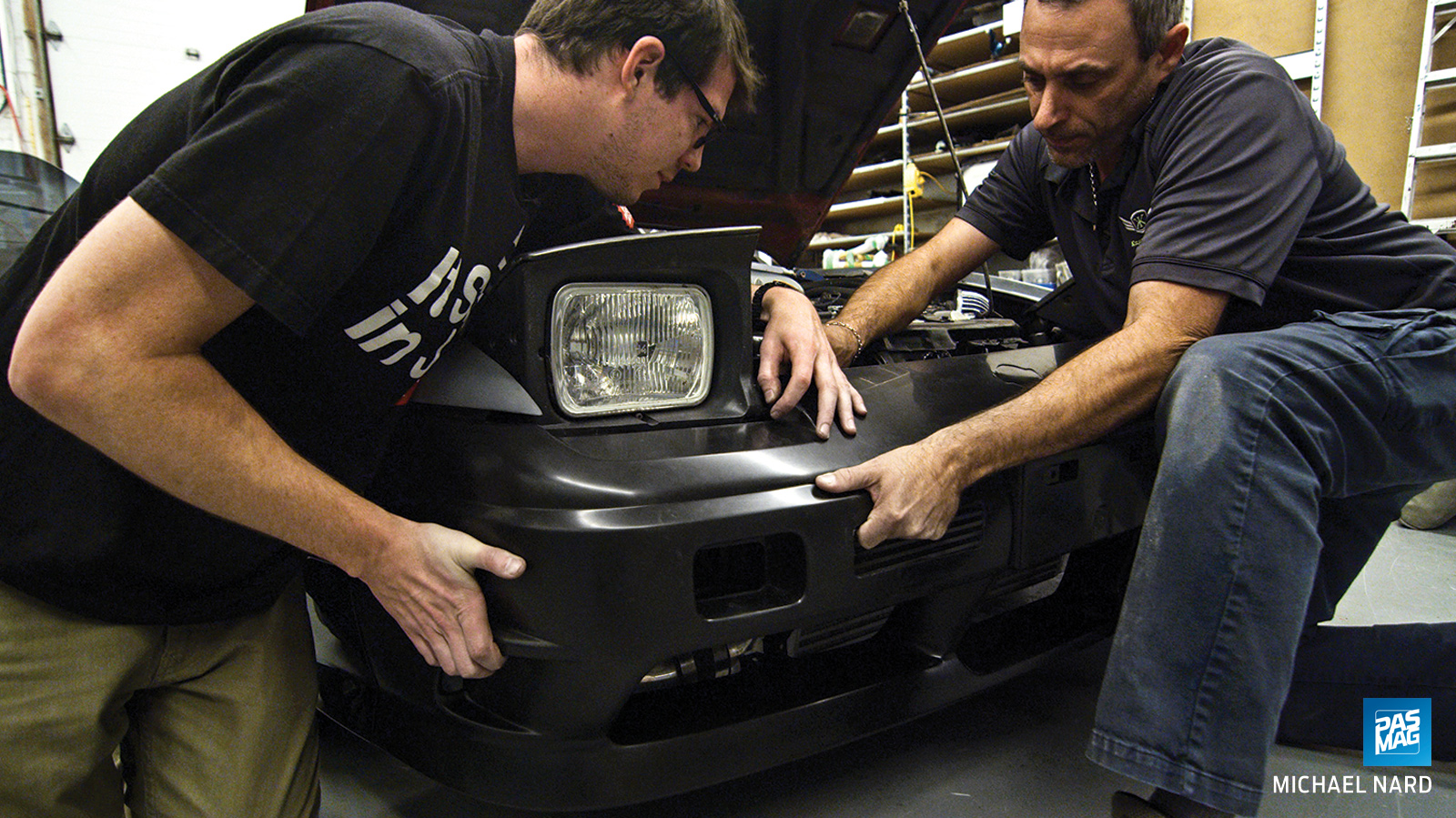 Because the fenders and spoiler are fiberglass, unlike the Type X kit, which is easily workable polyurethane, some trimming and fitting was required to achieve perfect fitment. Ultimately, that ended up being the easy part, as the front end of the car had been slightly warped after a long life. A bit of tough love and manhandling of the front end, and the S13 started to look straighter than I had ever seen it, with equally spaced gaps between hood and headlight on both sides, as well as proper fitment for the new fenders.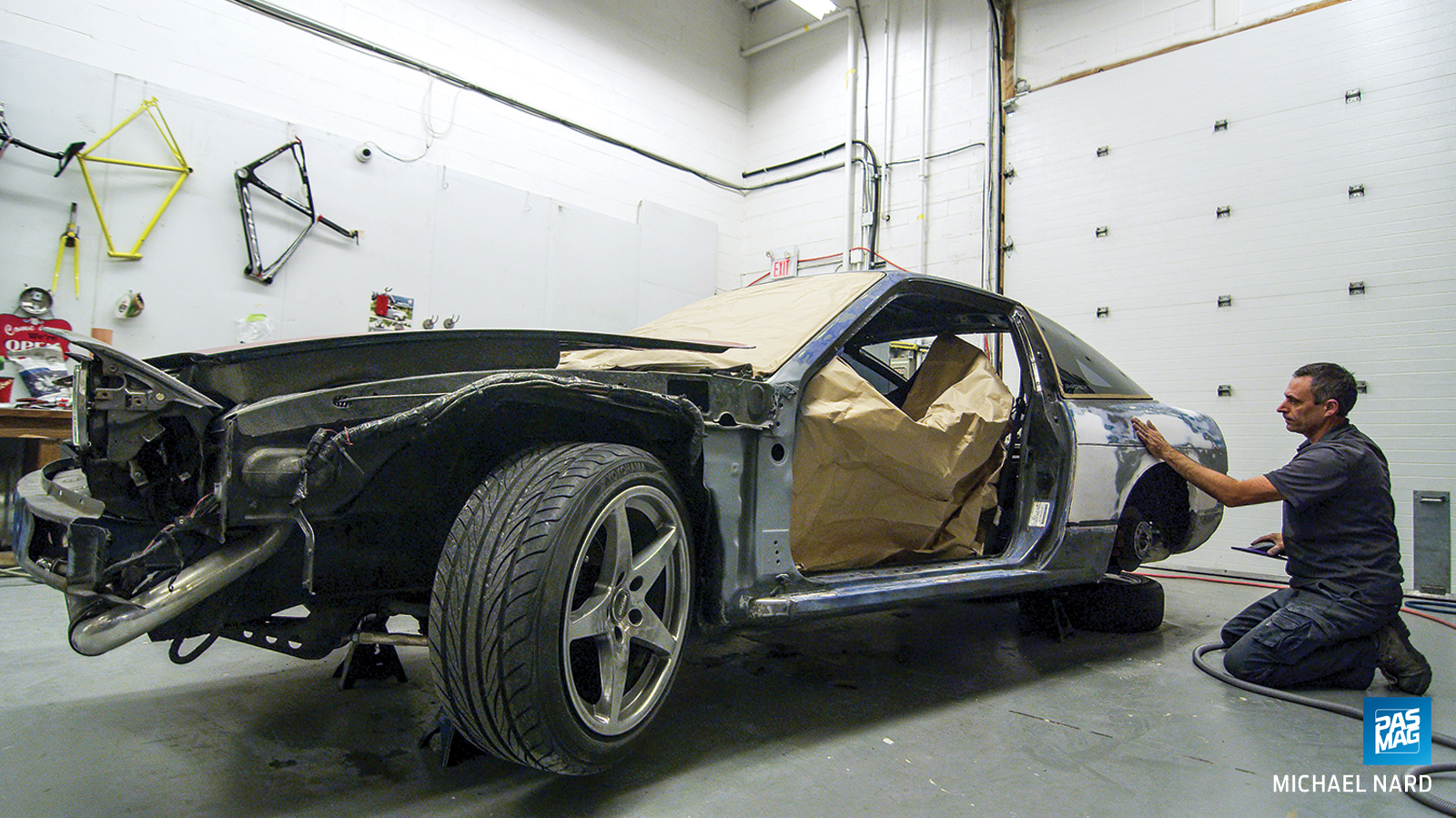 If you're tackling panel or aero fitment at home in the garage, it's good to keep in mind that polyurethane will become easier to shape with heat, whereas fiberglass requires trimming and fitting repeatedly until it fits right. Patience is key, so keep and eye on your body lines, gaps between panels, and symmetry on both sides of the car as you take your time fitting aero. The results are worth it!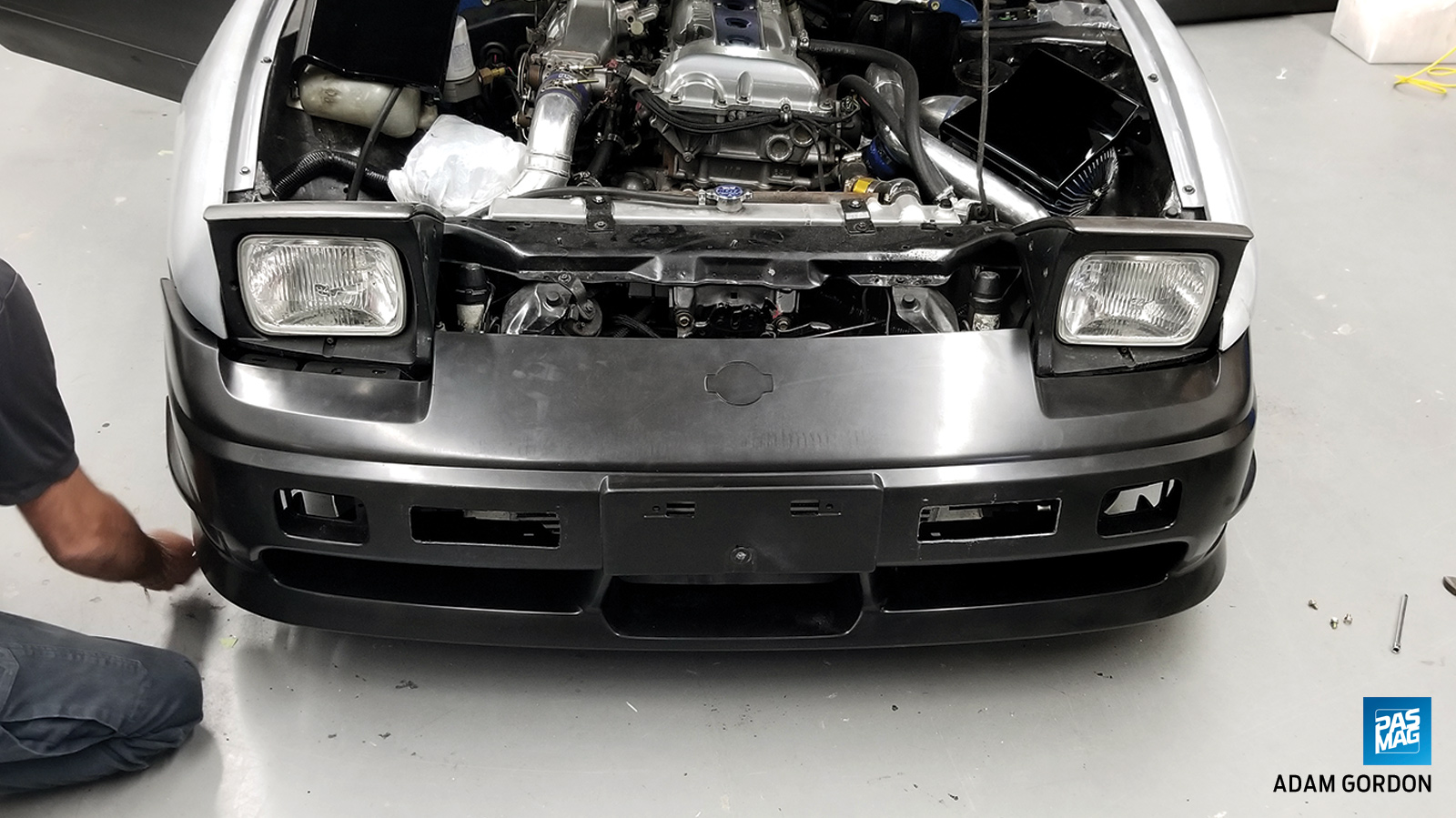 Color Scheme
My favorite part. It was time for the BASF Refinish R-M line of paints to show off their near 50 years of paint science on my blank canvas. We spent some time experimenting with paint samples, spray-outs, and refer- ence paints before we created a one-off paint that blew all of us away. After hours of mixing and spraying, the last paint we sprayed hit the light, and the entire team stepped back. "That's the one," we all said, more or less in unison. We had finally found the look I was searching for when this whole projectbegan two years prior, and it would work really well with the new black chrome coating on my Nismo wheels.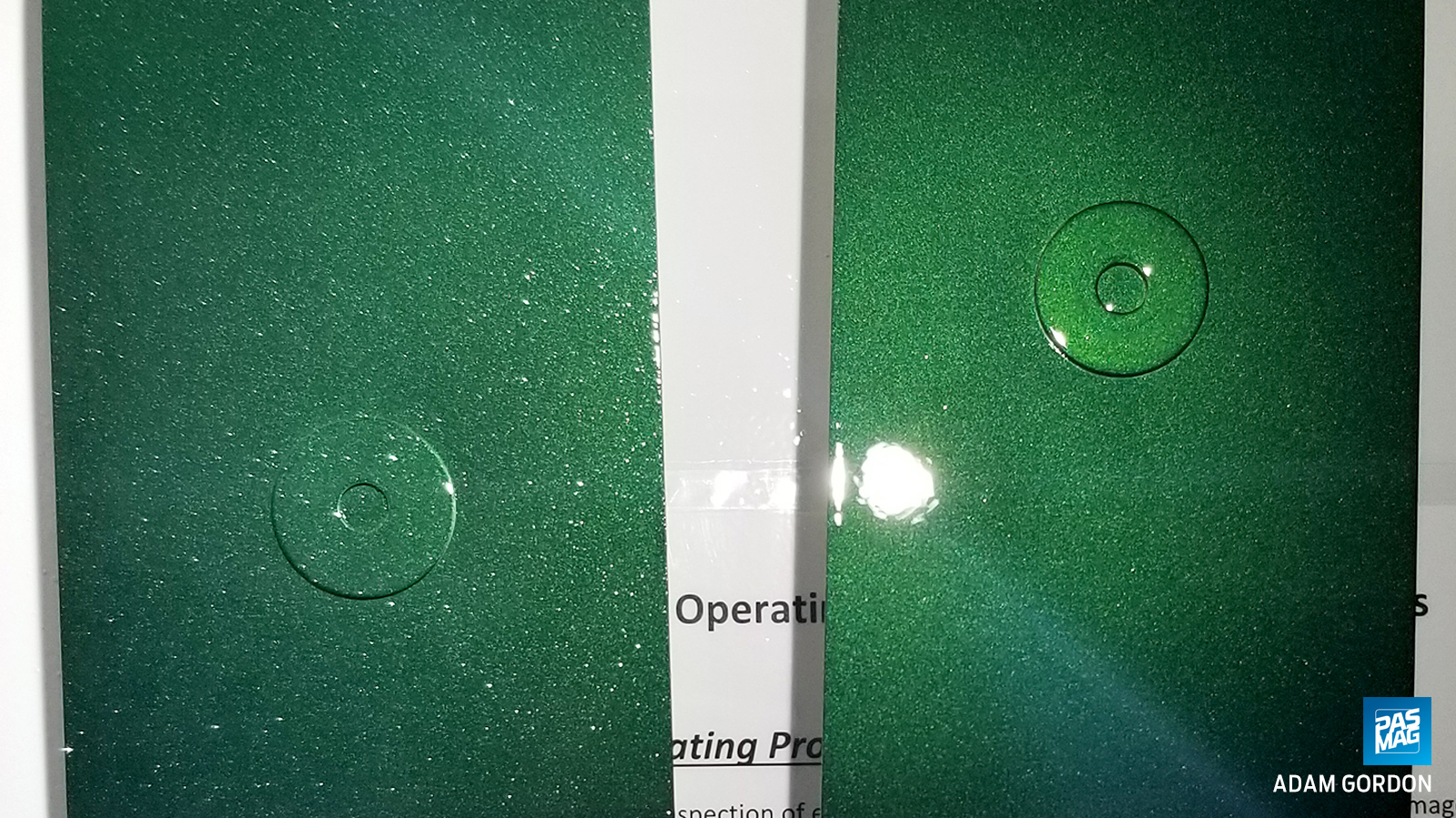 Thanks to some help from an assortment of 3M prep products, my 50 shades of gray paint was stripped off, and the body was sanded, blocked, and primered. Once non-paintable areas were masked off, it was off to the spray booth for a multi-stage process. First the base coats, then the mid-coats with extra pearls, and finally a protective clear coat for the glossy effect.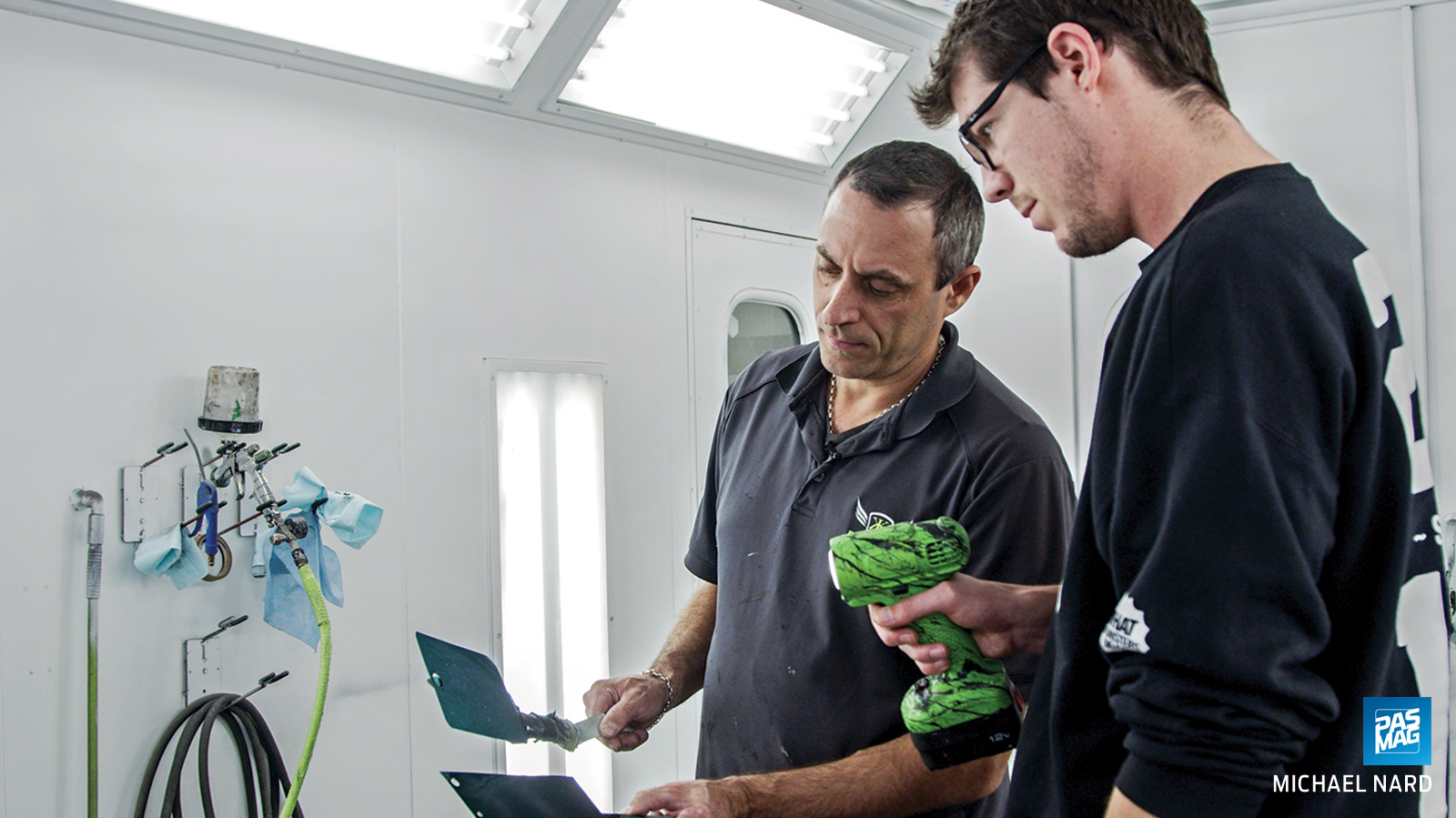 The final product is a custom blend, derived from Porsche's Jet Green Metallic paint (also a BASF product), with a special blend of blue-green pearl in the mid-coat in order to give the paint added depth. When the car was revealed to me after being away for a month behind closed doors where I couldn't watch the process unfold, I was utterly speechless. The paint changes hues depending on the lighting and the angle you look at it, and the combination of the deep green and the flashes of blue pearls in the light blend the subtlety I was seeking with the wow-factor I secretly wanted the whole time.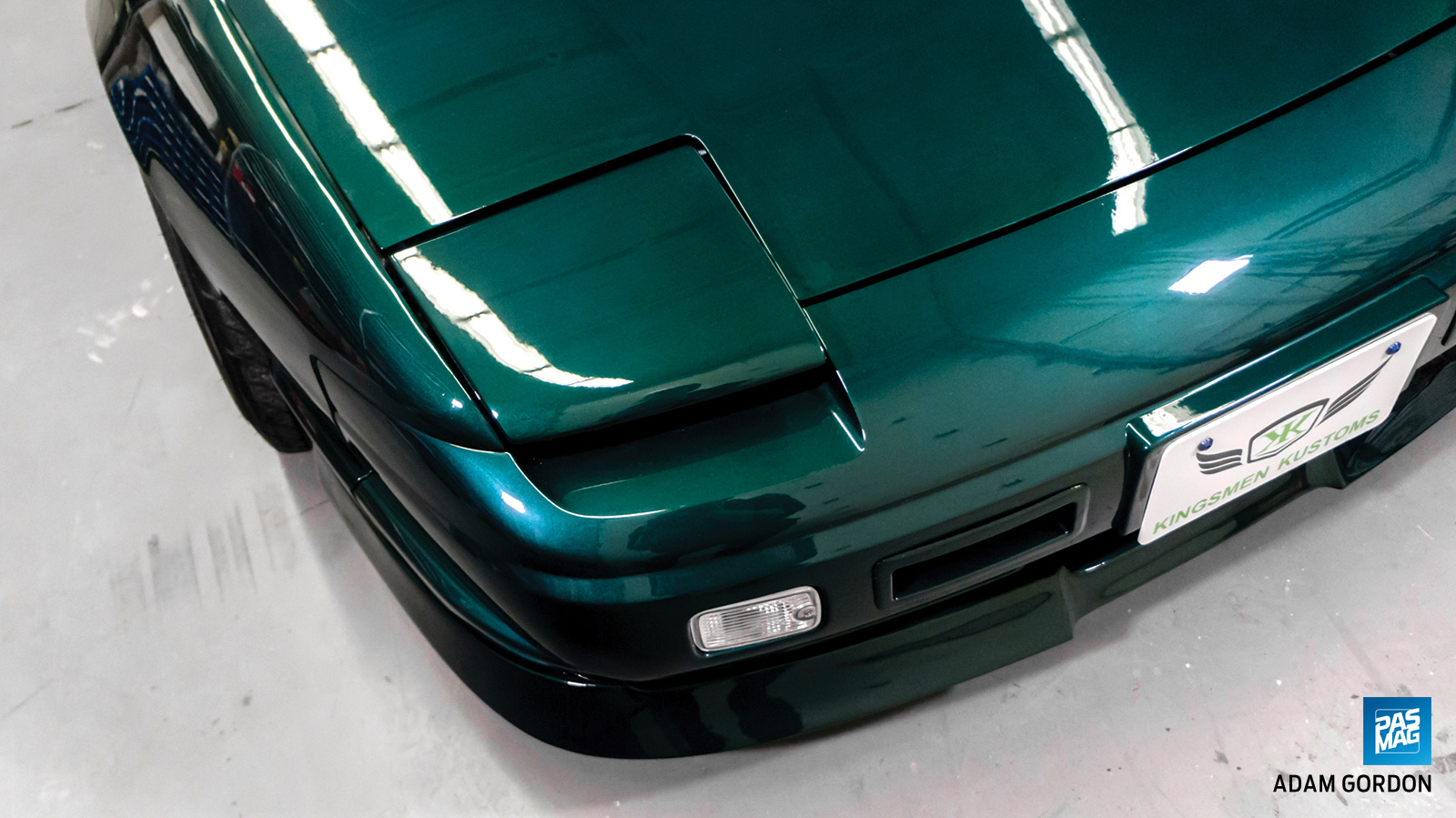 The Final Product
When I first embarked on this project two years ago, I had no idea what I was in for. The process of taking someone's old gutted track toy and bringing it back to perfect street comfort was a long journey, with lots of work and related stress along the way, but I learned so much from the whole experience that I would happily do it all again. The car was made reliable, comfortable, and finally, thanks to BASF and Kingsmen Kustoms, cleaned up to what I consider peak street style. None of this would have been possible without the friends and partners who helped me every step of the way, and that's what this whole crazy scene we all know and love is really about, isn't it?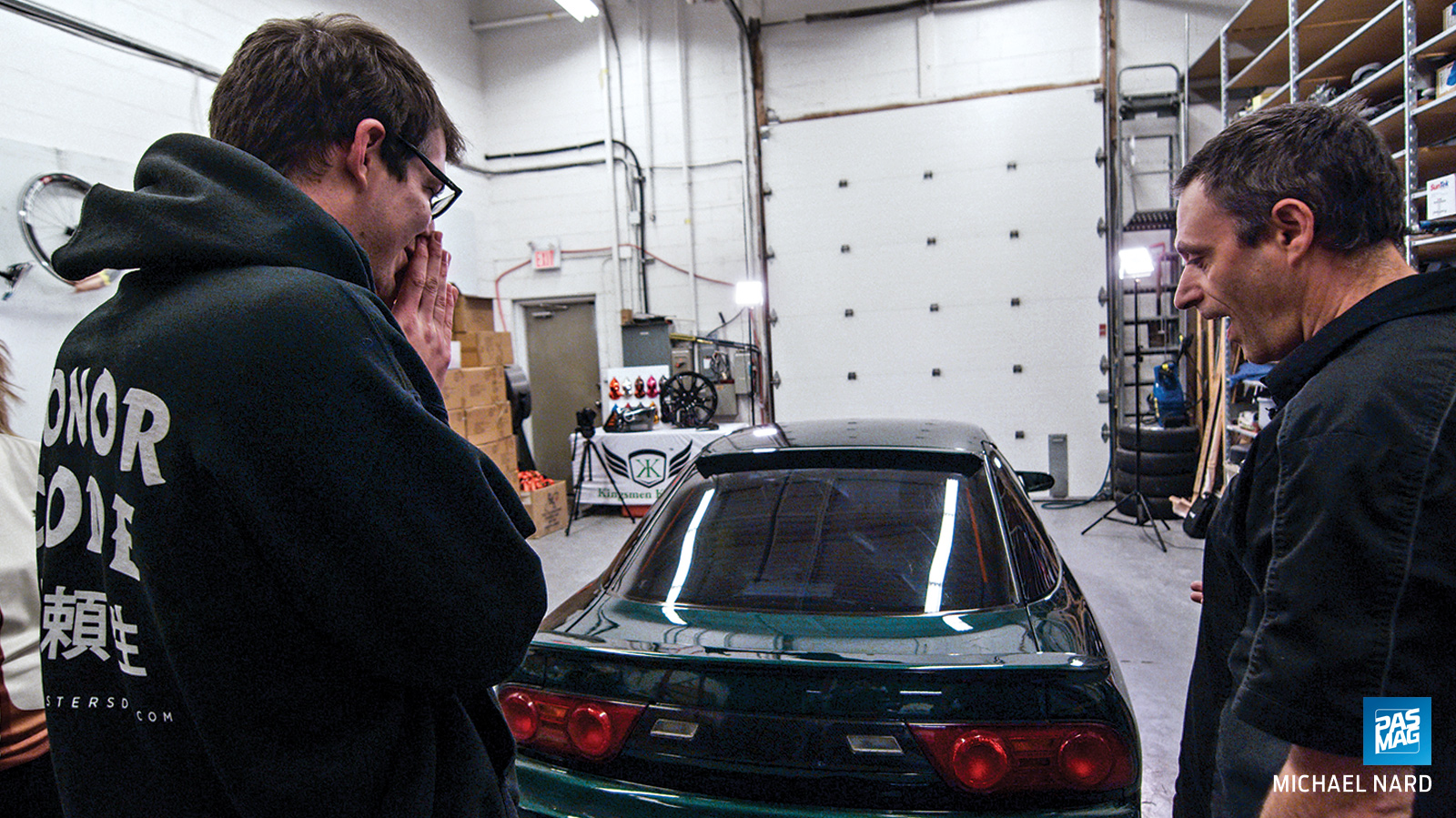 All together, the stylistic transformation came together even better than I had ever imagined. The aero additions give the car a subtle yet aggressive look I was after, without going overboard, and the deep paint lends even more to that theme when coupled with the deep chrome powdercoat on the wheels. All in, the recipe equates to an OEM-plus look that I think will remain timeless as my time of ownership with this car extends beyond this project and into the future. It's been more fun than I'd ever had imagined getting to this point, but it's still a relief to be "finished" - at least as finished as I needed with respect to the project. For now, I'll be enjoying the car on the road and at the track, instead of at the back of a shop. Finally, the perfect street car.