Photography by Adam Gordon
---
The Reverse Entry Project: Chapter 1 - Initiation
The Reverse Entry Project: Chapter 2 - What Makes a Street Car?
---
Swapping an engine in the name of reliability.
The reverse entry project 240sx build has taken quite a while to get to where we are now. After a winter's hiatus and the early season spent making arrangements and gathering parts, I was finally ready to make the final moves on this project. After we determined what makes a good street car in the first place, I knew where I would be focusing efforts in the remaining chapters: reliability, comfort, and style.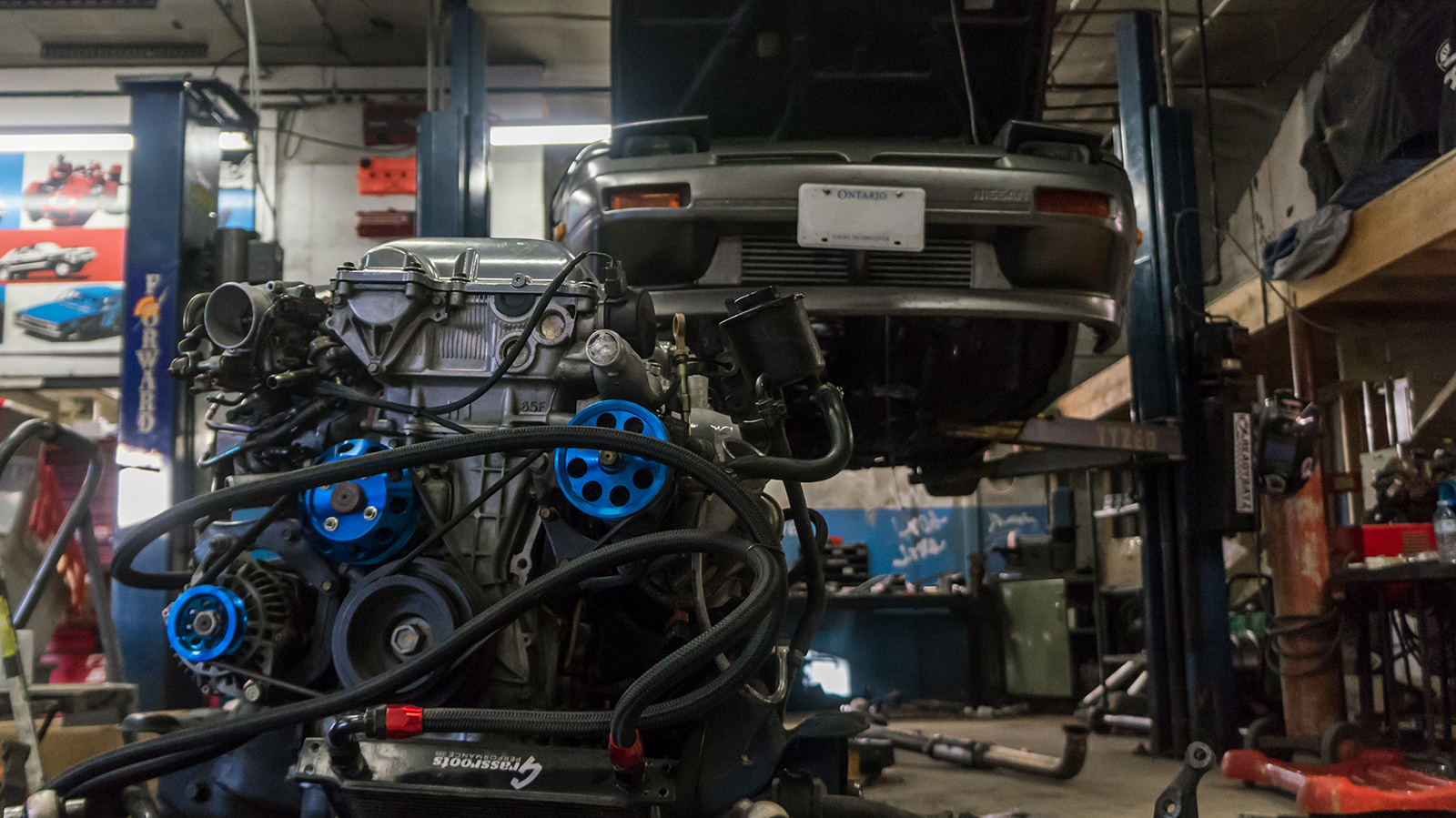 Reliability was originally something I was looking to save for later – maybe rebuild parts of my old engine and keep it simple. That was the plan – until it wasn't. A local friend put up his S15 Silvia SR20DET for sale, and I'll be damned if I was going to let it get away. For those unfamiliar, The S15 SR20DET is superior in just about every way to the firstgen "red top" SR20DET I already had. Better cooling, better oil flow, OEM forged pistons, bigger main bearings, a bigger turbo, a redesigned valve cover for oil/air separation, and as you may have guessed by looking at all of these improvements, a significant bump in power output. That last part is just a bonus feature, I swear.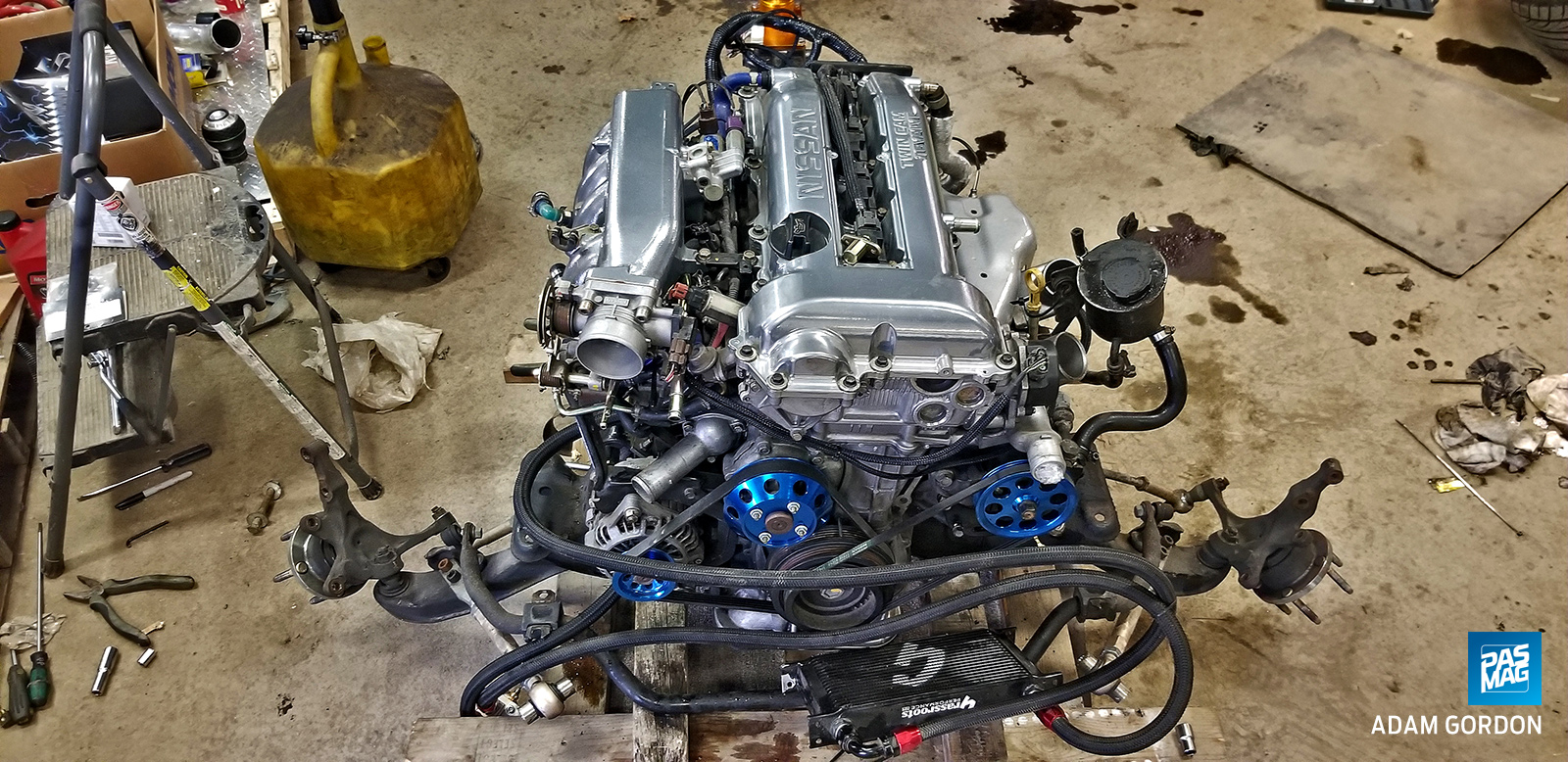 With the engine in my possession, and a new clutch/flywheel combo supplied by Advanced Clutch Technology (ACT), I was off to Grassroots Performance for stage one of the swap process. The initial phases went as smoothly as they could. We spent a day at the shop dropping my old engine and transmission out of the bottom of the chassis with the front subframe. If you aren't familiar with the process, engine removal consists of a few simple(ish) steps: disconnect power and electronics, drain all fluids, and in this particular case, disconnecting the rest of the drivetrain from the transmission in order to pull it out with the engine.
The new engine was assembled on the floor of Grassroots Performance, first mated to my sweet six-puck clutch and lightweight flywheel from ACT, and then to the relatively new five-speed. I also took this time to attach some new lightweight pulleys – mostly for style points if I'm being honest. The actual engine-swapping process itself went well. A couple of small things like new heater core hoses had to be addressed, but it was all said and done in the span of 24 hours, and the sight of a new engine in the bay had me giddy with excitement. Queue the downward spiral.
With a brand-new, beautiful engine harness from my buddy Travis at TDT Racing, the remaining steps were plug and play. New sensors and plugs connected to their respective spots, and the bolt-on parts we had on the old engine, like my Grassroots oil cooler and filter relocation kit, were a simple move from one engine to the other. AEM Performance Electronics stepped up yet again to supply me with a new 340 LPH fuel pump and fuel pressure regulator to meet the fuel demands for any future modifications, and installation was a breeze. With nearly everything bolted up, wired in, and the essential fluids added, it was time for the first start-up. Except, it didn't.
Upon turning the key to "On," we noticed the fuel pump wasn't getting power. With time running out at Grassroots Performance (these guys have families and lives too, you know), we did everything we could except intercooler fabrication, which was for Mike of GT Custom Exhaust Oshawa to do anyway. We figured Mike could solve a simple(ish) electric issue in no time while he did the intercooler fabrication. Unable to start, the car was hauled off to Oshawa for what I assumed would be the final steps.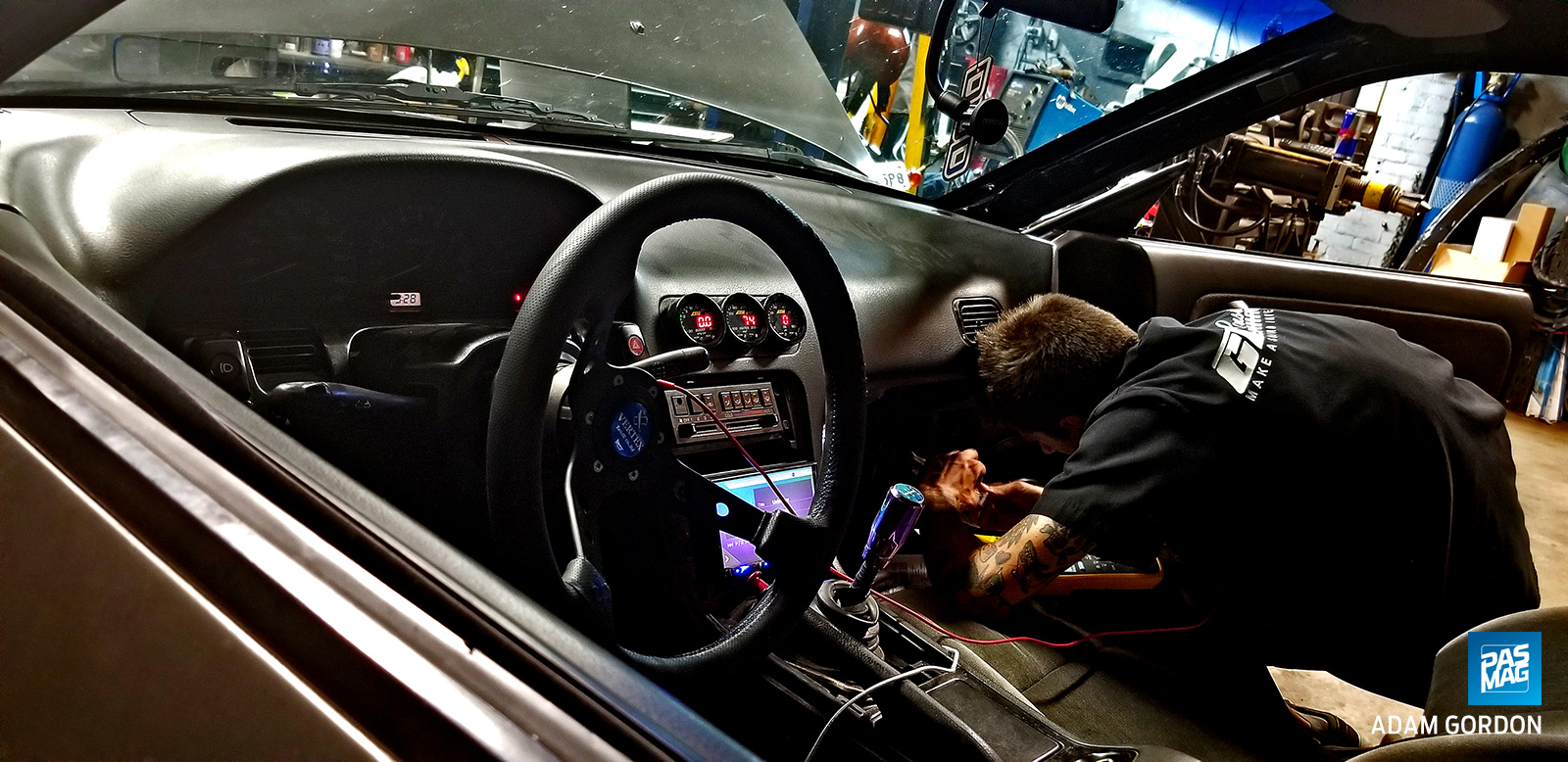 Upon arrival to GT Custom Exhaust Oshawa, Mike was confident we would figure this one out, and he got started on some sweet intercooler piping for the new SR. Once he finished that, we got started tackling the wiring mess. With a chopped up, bypassed, and spliced chassis harness still in the car that had been through the hands of an unknown number of owners, tracing the source of the problem was damn near impossible, and after several hours testing, Mike was stumped and the weekend was over. I had no choice but to take my still not-running car out of there. Rather than take it home, I had it sent all the way to TDT Racing so he could get to the bottom of this.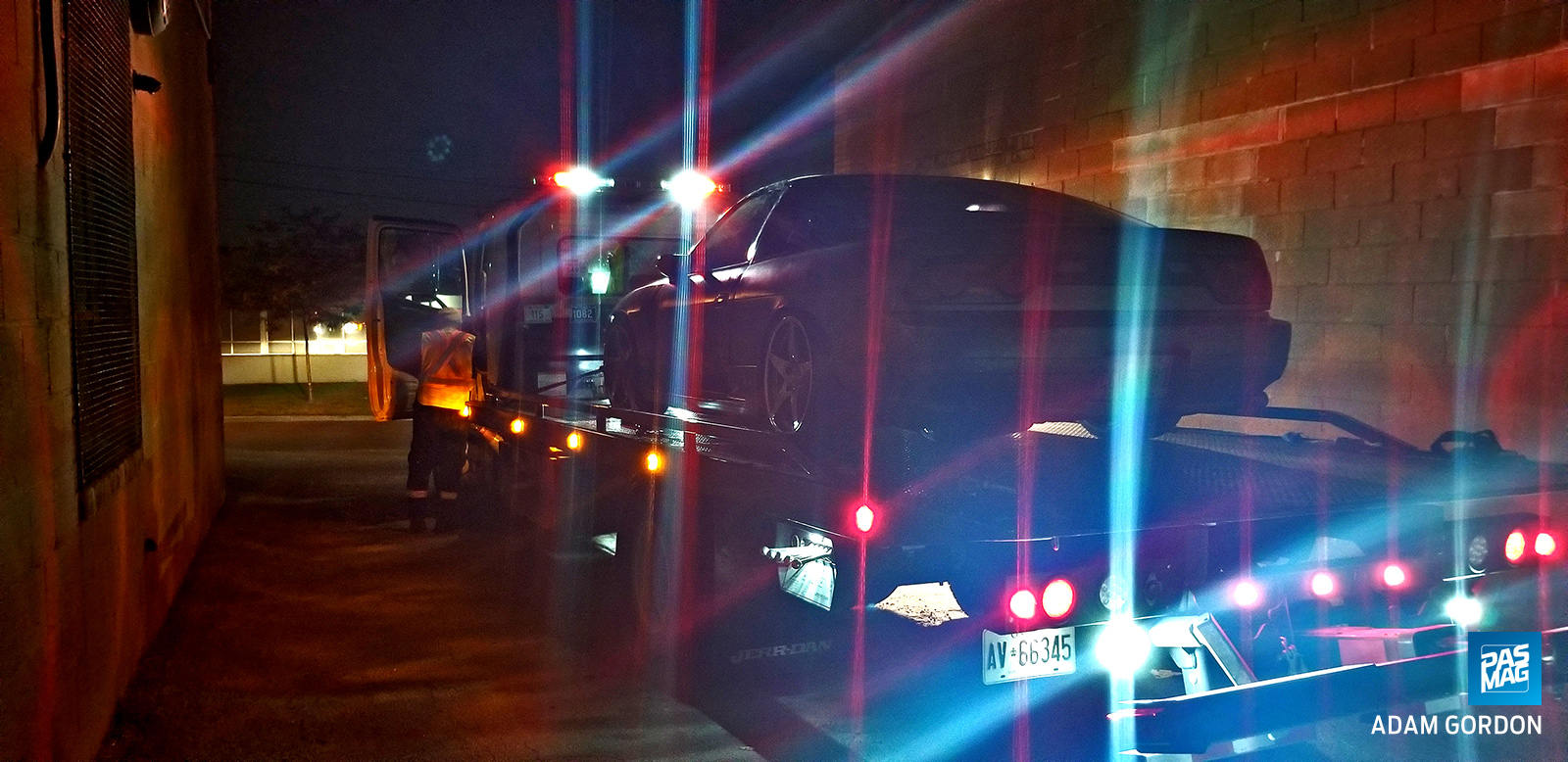 A new chassis harness was the go-to answer, and my car was completely torn apart in order to remove the world's most hacked up body harness, and replace it with a fresh OEM one. Two troubleshooting weeks after we started the swap, my car was back home with every single wire replaced. Assured by Travis that everything was A-OK to go, I sat in the car and took in a moment of solace before testing my luck. As the key turned, interior electronics sprung to life, and I heard something I had almost forgotten the sound of – my fuel pump priming the system. As I turned it to ignition, the engine didn't even hesitate. As it rumbled to life, I felt the greatest joy I may have ever felt in my life. My car was alive again, and presumably, it was reliable.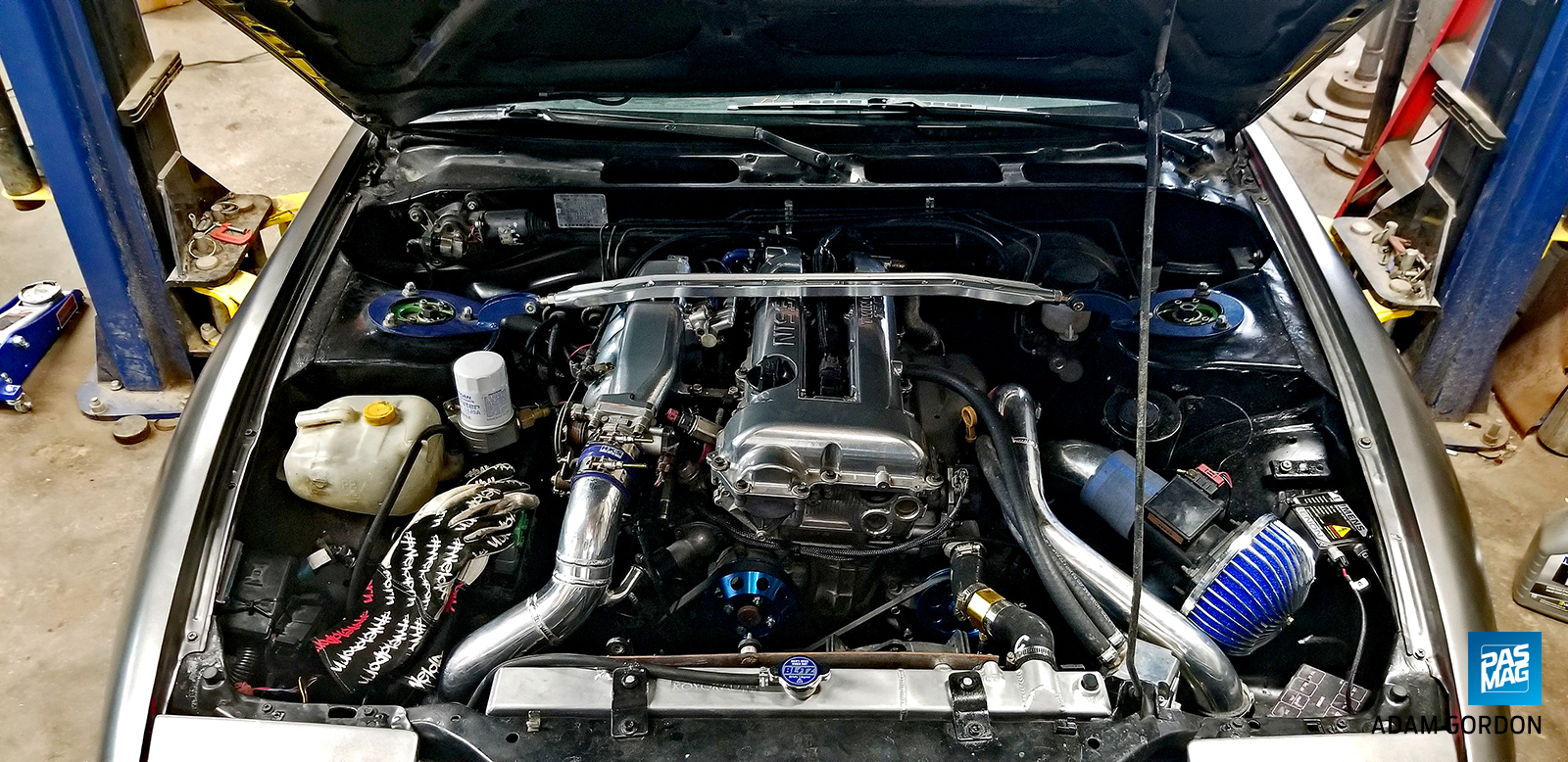 I have been driving it regularly since the start-up, and I have to say the swap was the best thing I've ever done to this car. The running temps are lower, the oil pressure is higher, and the combination of confidence in long drives and added power make my 240 feel like an entirely new vehicle. With the season nearing its end, I've got to move quickly to finish this thing before winter rears its ugly head. On to the next chapter.