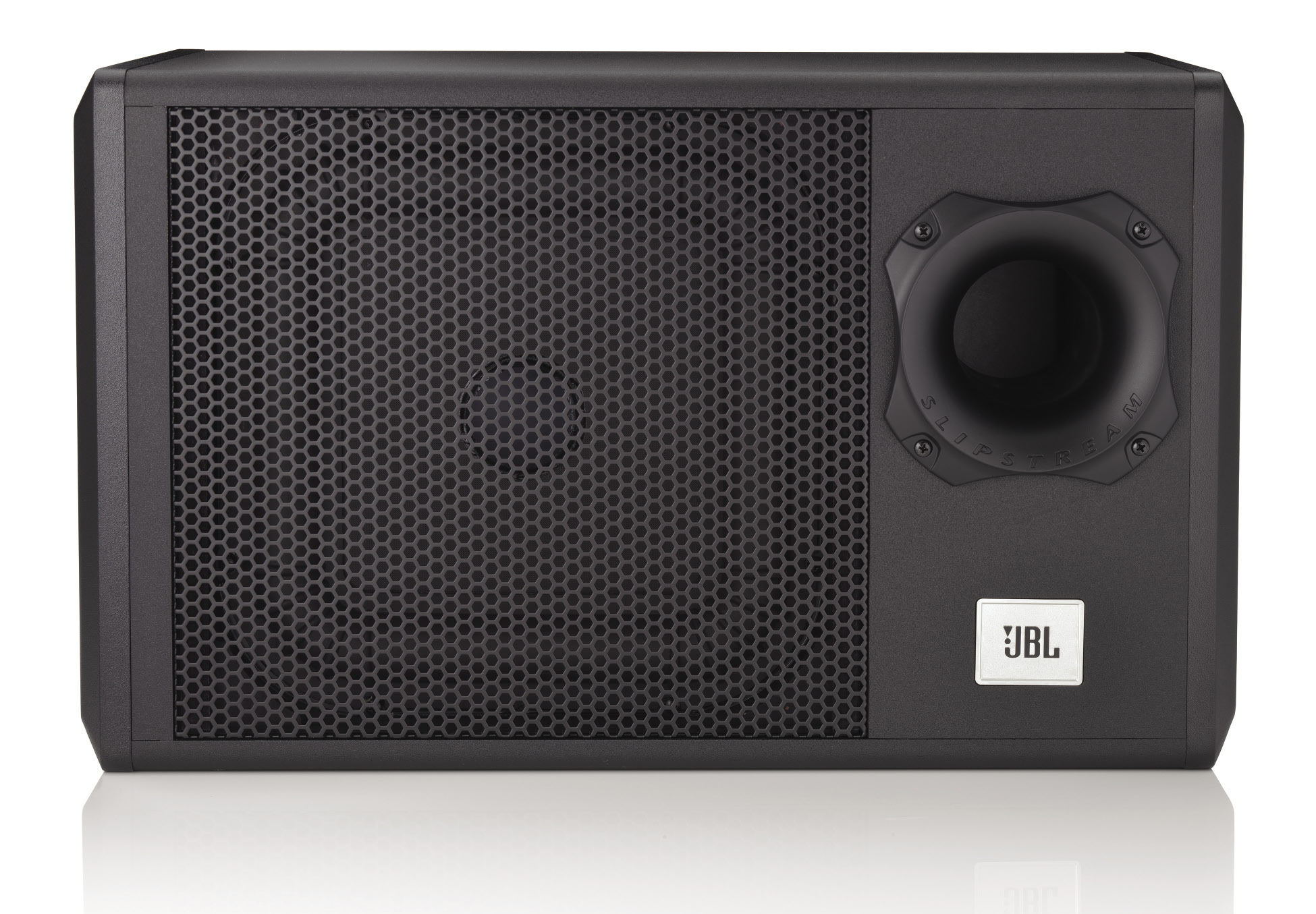 The addition of some real bass is at the top of the upgrade list for most looking to improve the sound of their OEM system. Even cars that come with subwoofers from the factory almost always have some serious compromises when it comes to getting real bottom end in the vehicle.

Most regular readers of PASMAG will be aware that JBL builds several products designed specifically to make improving your OEM system easy and cost effective. Gear like the remarkable MS-8 processor amplifier or the MS-A1004 and MS-A5001 amplifiers come to mind, which are designed to connect directly to an OEM system. And. now the same group of minds have come up with one of the simplest and effective ways to improve the car's bass with the new MS-BassPro SQ powered subwoofer system.

FEATURES
The JBL MS-BassPro SQ system is much more than just combining a woofer with an enclosure and slapping on an amplifier. This product has been designed from scratch to have every single component work at an optimal level with every other component. This means everything from the crossover in the amp and the length of the voice coil on the woofer to the frequency and placement of the enclosure's proprietary Slipstream port have all been engineered to work as a unit.
The system is built around a well-made MDF enclosure that, at only 20.625 by 12.375 by 11.375 inches, is small enough to fit in almost any vehicle. The complete system tips the scales at about 33 pounds and, in typical JBL fashion, the enclosure is very nicely finished in a lightly textured vinyl with beveled end caps for a really custom look. The system's 10-inch square woofer is covered by a rugged steel mesh grille that is removable for cleaning.
AMPLIFIER
On the left hand side panel of the enclosure is where the 300-watt class D amplifier is located, nicely flushed into the panel and covered with a smooth brushed aluminum heatsink. Thanks to the high-efficiency amplifier, a single 30-ampere ATC-style fuse is all that's required. Controls for gain, crossover and bass boost are also found here along with the terminals for power ground and remote turn-on. If your car does not have a remote turn on lead, no worries because with the flip of a switch, the system's amplifier can be set to turn on with the audio signal. Thanks to a gain range switch, the amplifier is compatible with a very wide range of input signal levels from 50 mV line levels all the way to 20 volts of speaker level power, making it compatible with virtually any analog musical signal.
The amplifier is equipped with a variable low pass crossover that's been tuned to provide an acoustical crossover range of approximately 50 Hz to 120 Hz. The bass boost control is centered at 35 Hz and can provide up to 12 dB of boost. An optional wireless bass control (MS-WBC) is also available.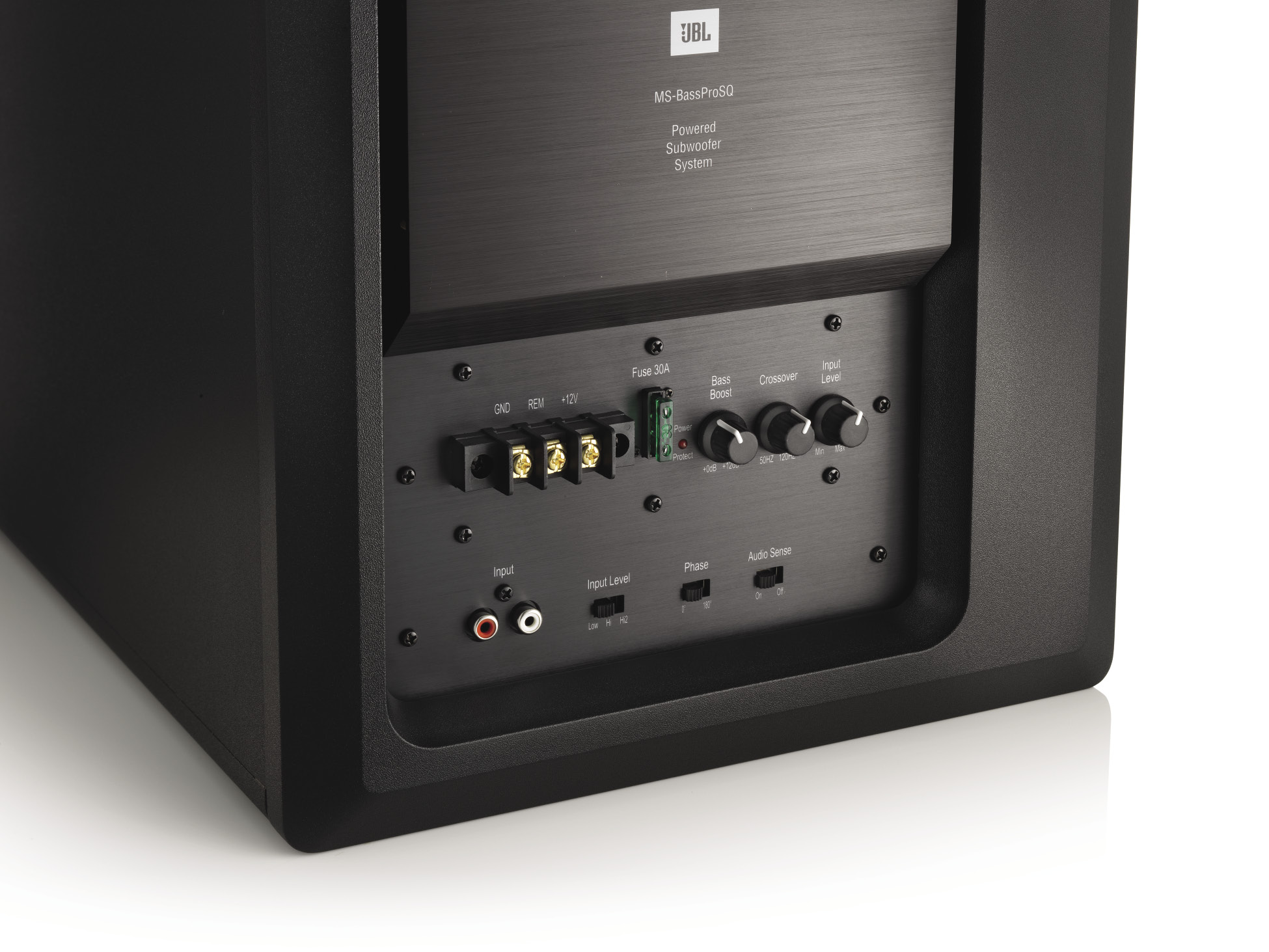 WOOFER
The 10-inch square woofer is designed specifically for use in this enclosure and with this amplifier. To that end, instead of fancy polished cosmetics that look good but add nothing to performance, you get a simple but well-made single voice coil woofer that exists for one purpose, to fill your ride with clean, musical bass. The flat cone is made of a laminated foam core for light weight and in the center is a black aluminum dustcap. The moving mass of the driver has been carefully optimized for a minimum of moving mass, and no limiting of excursion within the systems design limits. The woofer uses a two-inch copper voice coil wound on an aluminum former to maximize heat dissipation. Tinsel leads are stitched into the spider to eliminate lead slap issues at high excursion while the basket and entire structure of the woofer are designed to minimize air displacement inside the enclosure.
ENCLOSURE
The enclosure of the MS-BassPro SQ system has been designed to work as an integral part of the product, the well-made and internally-braced enclosure has an internal volume of approximately 2,155 square inches, or 1.25 cubic feet. The inside surfaces of the enclosure are lined with fiberfill and the Slipstream port, which comes from JBL's studio and home speaker technology, is designed with specially flared ends to reduce noise from air turbulence and lower distortion. The enclosure is tuned to approximately 32 Hz.

LISTENING
I've spent a couple of very enjoyable hours auditioning this system. The amount of bass output delivered is very surprising for such a compact and moderately priced system. When you factor in the $499.95 cost of this system, it's safe to say you'd be very hard pressed to get this much performance from a traditional component subwoofer system.
The JBL MS-BassPro SQ powered woofer system isn't just loud, it's also musical. Regardless of your taste in music, the bass output is powerful and solid with good control and definition. If your music's bass is well-recorded, you'll hear the definition with this system. On the other hand, if you simply want to be heard a block away jamming out the bass, the JBL system will do that too. Granted, it may not have quite the detail and definition of a true audiophile subwoofer system, but at this price there isn't much that even comes close.
Quick Tech Specs
Power handling 300 watts
Frequency range 20 – 150 Hz
Input sensitivity 50 mV – 20 V
Driver sensitivity 87dB/SPL @ 1.0W
Nominal impedance 3 ohm final impedance
CONCLUSION
Over the years, I've had the chance to listen to a number of amplified subwoofer systems. Most of those systems take an existing amplifier and simply mate it with an existing woofer in an acceptable enclosure. That's sort of like buying a bunch of high-performance parts and expecting to end up with a race engine without doing the blueprinting, balancing and camshaft degreeing during assembly.
What separates the JBL MS-BassPro SQ system from that type of product is the way each major component has been engineered and tuned from the beginning as a complete system. The amp is designed to work specifically with this driver and this enclosure and tuning. The driver is designed to provide the best possible performance and handle all of the amplifier's power and the enclosure is designed to control the driver's motion and provide true subwoofer performance. And, when you can do it all for under 500 bucks, the value of all of this custom engineering should be pretty obvious.