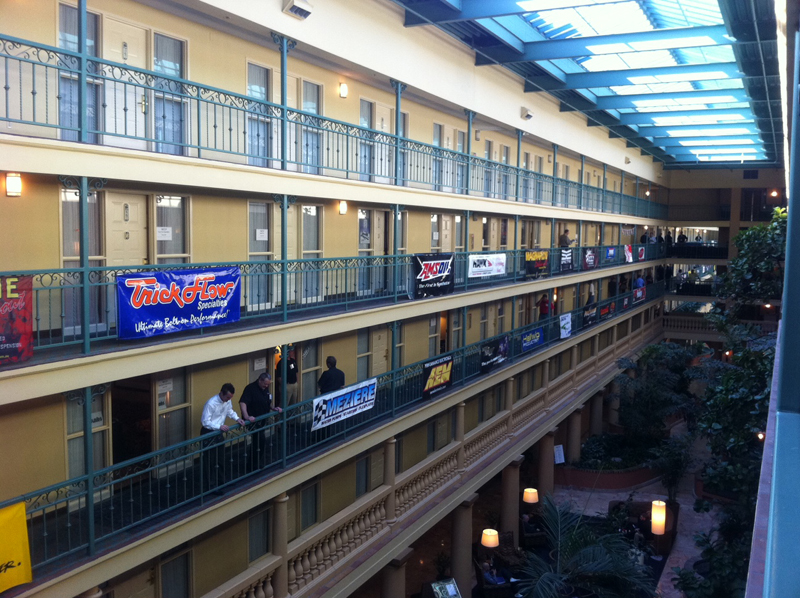 Each year we spend a couple months trying to pick up the pieces after SEMA to figure what just happened. There is so much going on at the massive trade show, there is no chance you are going to see it all. With over 50 scheduled meetings and a few more impromptu pass-bys, we are lucky just to meet those demands rather than see all the new products that debuted at SEMA 2010. But after the dust settled and our SEMA coverage is inked, another industry-only trade show arrives and this time, we do mean REAL industry.
While SEMA may be plagued with pot-belly, beer-swilling old men clad in NASCAR tees and jean shorts, MPMC is only for industry professionals. Held at the Embassy Suites near LAX, format is far less chaotic and is a structured in a 30-minute conversation format, kind-like speed dating. Since everyone is aware there is less than 30 minutes to deal with, it is time to minimize the chit-chat and get down to business.
Manufacturers at MPMC roll-out a handful products with the literature and videos to back it up. The best part is that there is no fluff in the form of a model, demo car or an elaborate booth, just the key players in a room together with only new product to focus on. At SEMA you might find marketing guys but at MPMC, you find engineers and product specialists to answer all of the in-depth questions. For the media visiting, it offers a few precious minutes to get answers to all of their questions and find the right fit in their editorial schedule.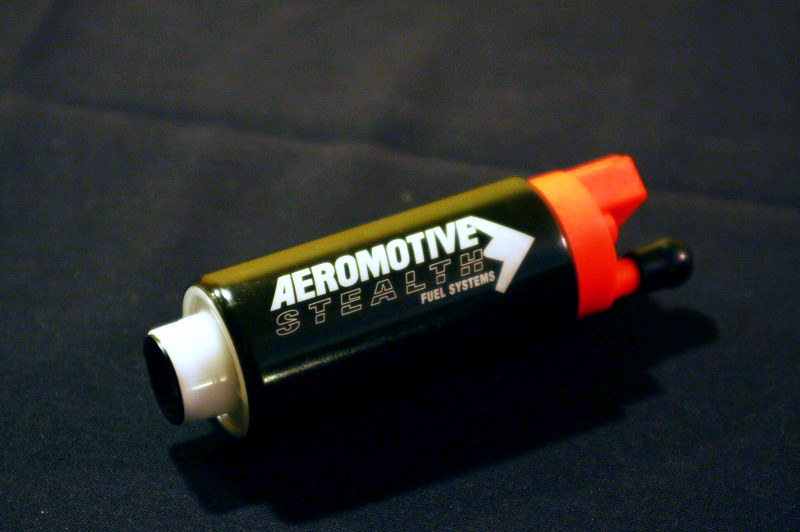 What did we see that looked promising? Well, lots of gear that is going to get eaten up by the aftermarket. One product that stood out for us should be a huge seller if marketed properly, the Aeromotive Stealth fuel pump. The Stealth is a tiny in-tank pump, that pumps out 340lph at 43psi with virtually silent operation. At only $179, Walbros 255 is in trouble and the days of strapping two of them together are over. I got soaked for over double that ordering an A'PEXi 300lph pump from Japan because it was the only in-tank that could push 750cc injectors but the Aeromotive Stealth changes everything by supporting up to 800HP!!!!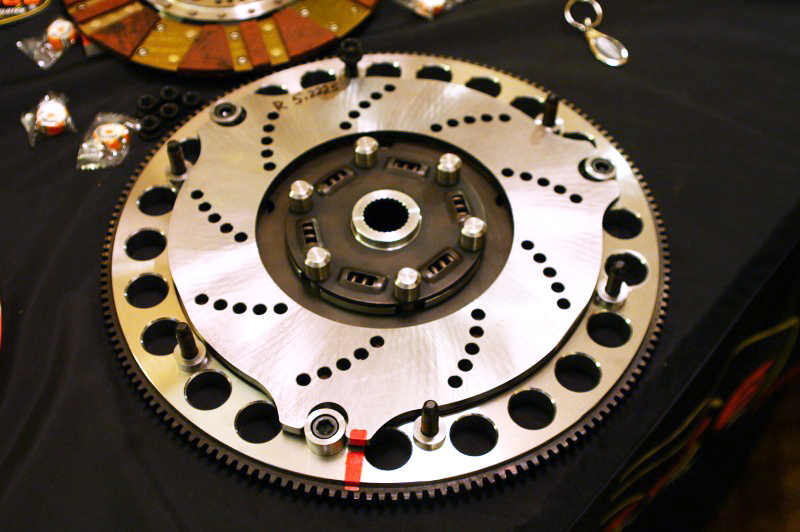 Another product that stood out was the new Centerforce DYAD multi-plate clutch. This clutch operates a little differently with its fully dampened design. With a smooth engagement, this clutch is reported to hold enough for 10 Hondas (1300lb-ft) and it also has an integrated stay mechanism, so that the floating plates don't rattle! With a few applications out, there are more on the way and Centerforce has a streaat-able extreme horsepower clutch that should be a winner.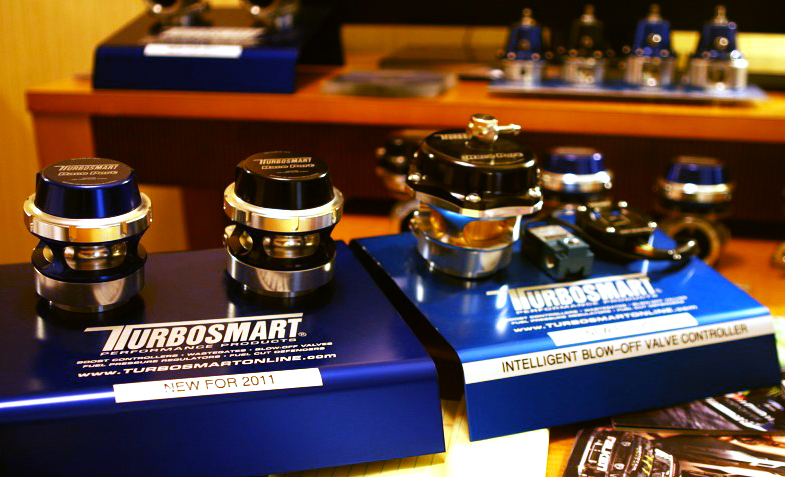 Turbo Smart is considered to be one of the most innovate performance companies around and they have done it yet again with their new Comp-Gates. These wastegates are massive in flow but have a tiny footprint occupying 25% less space than before. They are also lighter and shave off a few extra grams when needed. But the big news here is that they have tested this gate on serious applications including turbocharged racing planes! At a sustained 1500°F for up to 30 minutes, there is no part on these gates that failed in flight! TurboSmart has even replaced a ring with a high tolerance slip fit that will never leak!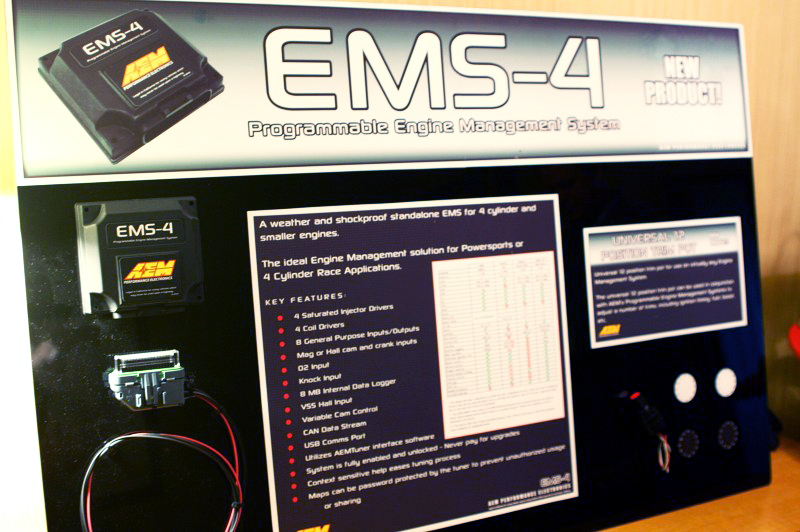 When it comes to engine management, AEM has a huge marketshare for a reason. Their EMS is easy to use and it just plain works. Like any system, they have had their growing pains but are committed to new updates, fixing bugs and have a great forum at www.aempower.com to help users out with their drama. This latest iteration called the EMS-4 is unique in that it is a very rugged ECU designed for all out race and off-road applications for 4-cylinders and under. The universal fully customizable ECU, is shockproof and weather proof making it perfect for extreme applications. So whatever you are tuning, this is the box for you and it will deal with the rigors of rally, off-road and just plain gas-powered insanity.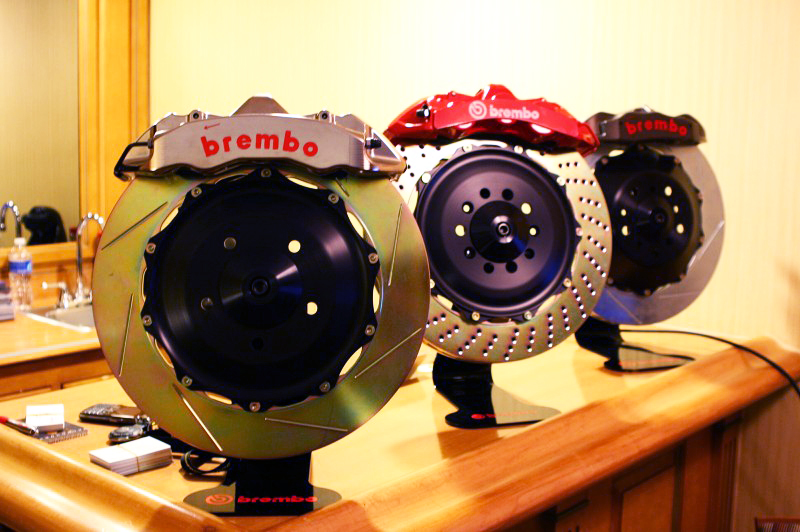 Like many enthusiasts, we all want Brembos but have trouble justifying the price. There are lots of decent systems out there and sometimes the Brembo GT just isn't enough but their racing brakes cost more than a new Hyundai Accent! Brembo has now released the best of all worlds in their new GTR system. This is a true monoblock 4-piston caliper CNC-machined from billet aluminum clamping down on a 2-piece rotor with all of the fittings. The system is less than you might expect and ideal for those racers that are too fast for the GT brakes!
After meeting with dozens more companies, it was refreshing to exchange stories of the tough times but maintain a positive outlook for 2011. At PASMAG, we were modestly relaying the fact that we are now the largest magazine with the highest paid circulation of any Sport Compact title in North America. It wasn't all that hard really, just stick to the mission statement, work hard and ignore all of the haters. Anyone at MPMC that had a criticism about the future of print was ironically thrilled with the free digital subscription code we gave them for their iPads. The MPMC trade show is always a good indicator of the year ahead and it looks like we have hit top gear within a few short weeks of 2011.