Photography by Mitchell Button.
---
For many builders looking to showcase a new project at SEMA, a widebody kit of some sort is a must. Most builders will choose a platform with loads of aftermarket support, do some online shopping (or networking) for a bolt-on widebody kit that tickles their fancy, and eventually acquire a kit that was designed with their car in mind. Luckily for us, Mitchell Button is not like most builders, and instead opted to break out the design software, modelling clay, and laser-scanners to design something never seen before to fly his Button Built banner.
The Button Built name may be recognizable to some of our readers. For the uninitiated, Button Built rose to automotive stardom in the wake of the 2018 SEMA show when his gray Button Built 1988 Ferrari 328GTS, codenamed "BB355TT," was unveiled to the world at the Toyo Tires Treadpass. By now we all know that any car debuting at the Toyo Treadpass is a show-stopper, but his 328GTS was truly remarkable, and became one of the most talked about and photographed cars at the show. A one-off carbon-kevlar body kit, air ride suspension, Rotiform wheels, and a ton of bespoke work was enough to set Button's show-worthy Ferrari apart from the never-ending sea of SEMA cars.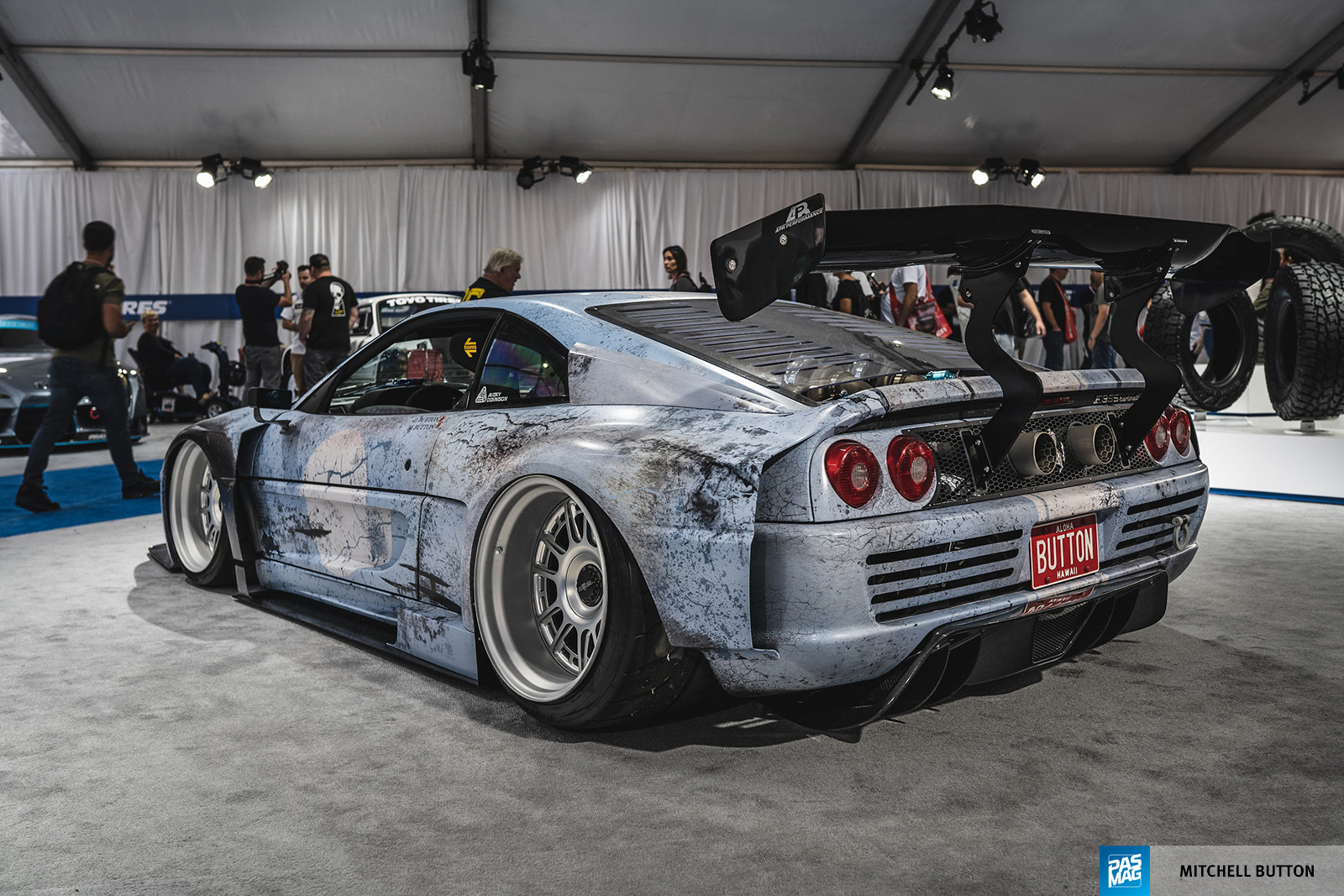 Not one to let just one piece of work speak to his abilities, Button returned to SEMA 2019 with the next stage of evolution in his build prowess. In addition to bringing back his 328GTS, now complete with new wheels, a turbo system, and a handful of new updates, Button also showed up with a build he had been teasing on social media in the months leading up to the big show - the 1999 Ferrari 355 Berlinetta you see here. For the second consecutive year, Button Built became the talk of the show to anyone who waltzed through the Toyo Tires Treadpass.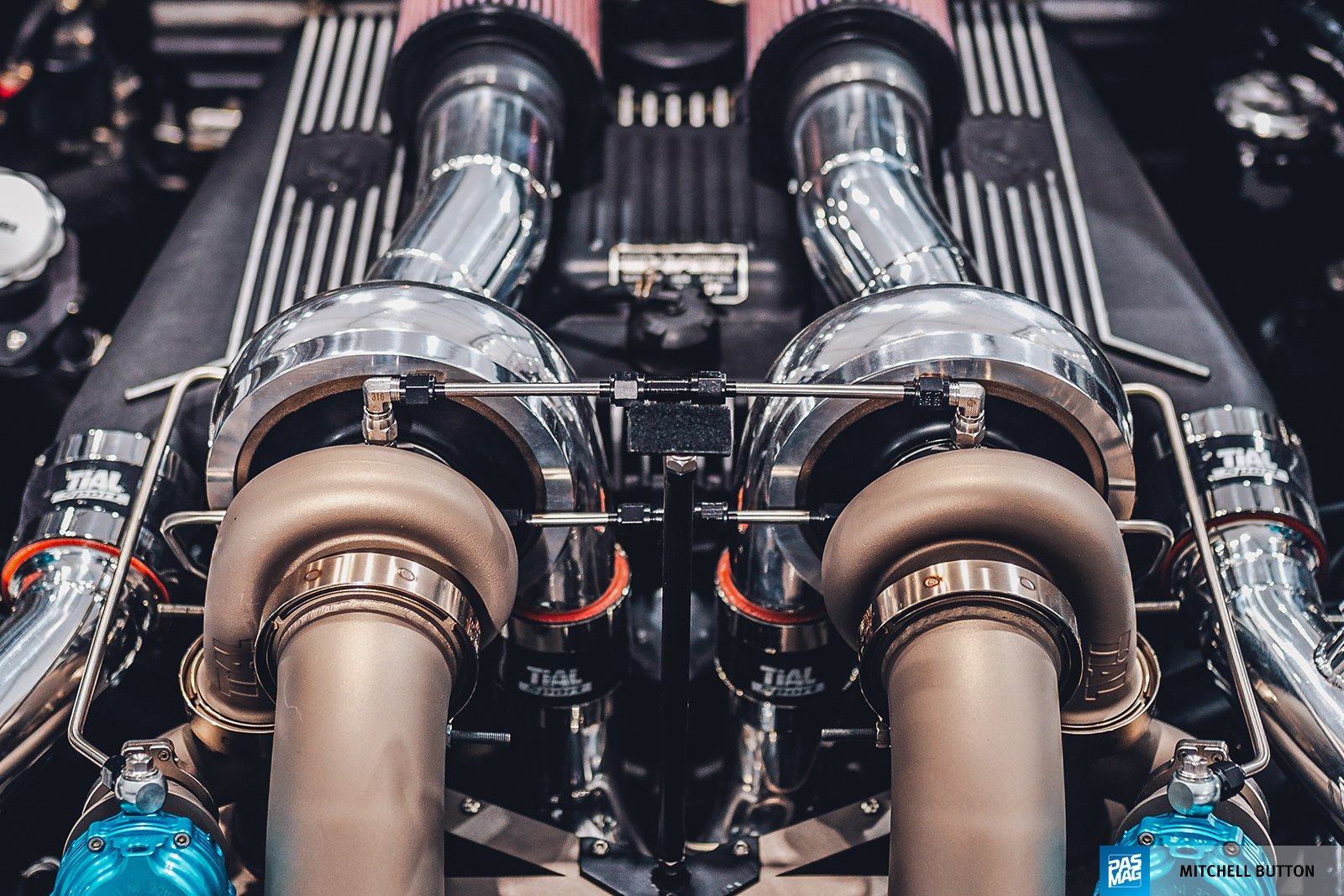 The entire build has no shortage of intricate details worth drooling over, but as you might expect, the bespoke body kit is the most immediately noticeable, save for the incredible custom vinyl wrap. The one-off kit, now called the "Button Built BB355 widebody system," was designed by Button, clay-sculpted, milled, and formed by John Lazorack, and then laser-scanned with a FARO Arm system in order to make up the data required to create precision molds for both Button's car and any future Ferrari 355 clientele. The Button Built body includes front fenders inspired by the iconic F40, front and rear bumpers, rear quarter panels, Koenig 522BB-inspired C-pillar ducts, an acrylic engine cover, rear wing, a rear F430 Scuderia-styled diffuser, splitters, hood vents, rocker panel ducts, and canards. All in, the kit is a radical transformation which takes inspiration from several iconic Ferrari designs and motorsports endeavors, heavily influenced by the 2009 Super GT series Ferrari F430.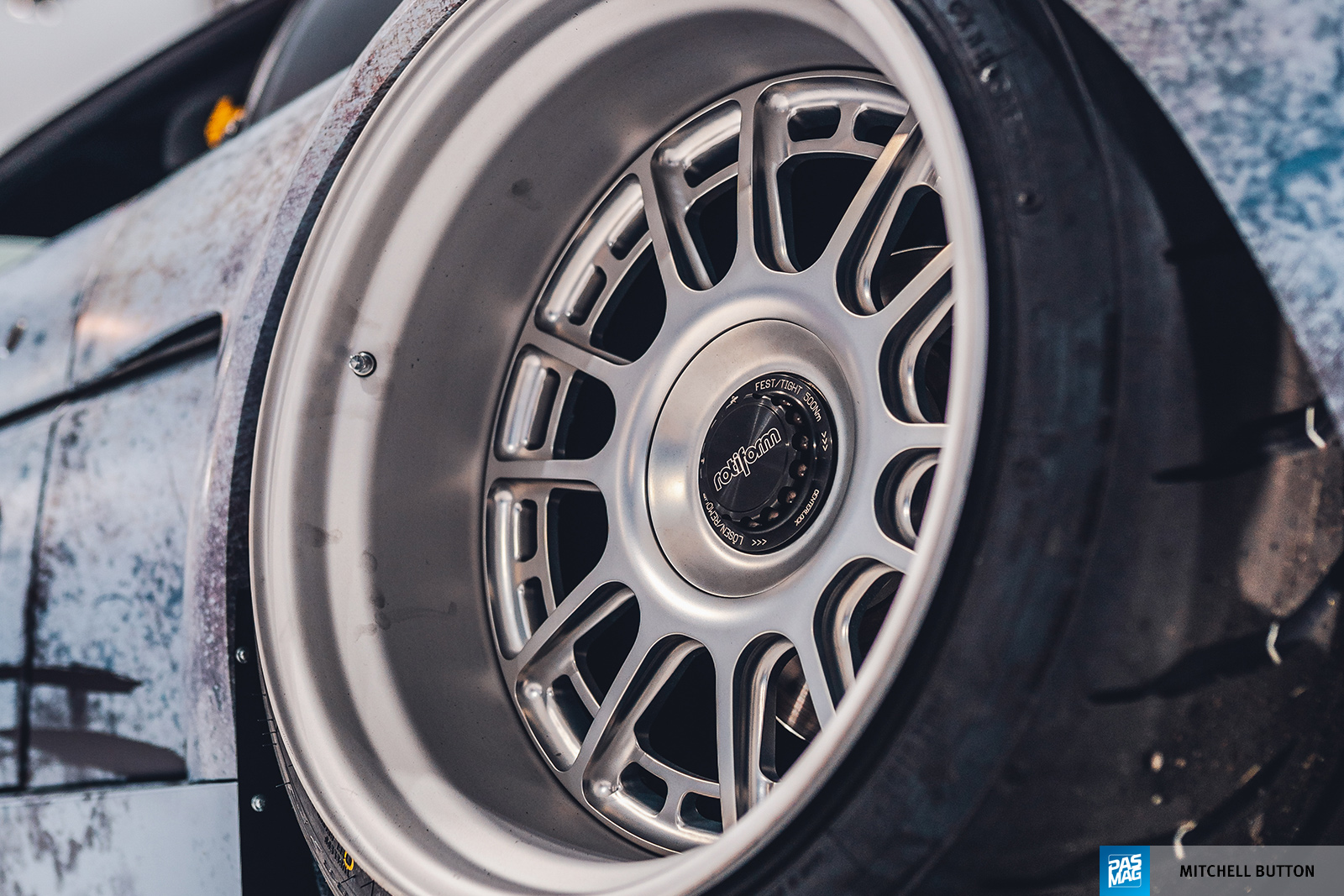 Tuner style is always on the forefront of Button's mind when putting together these exceptionally well-rounded Ferrari builds, and most of that comes to fruition at ground level. A 19-inch set of Rotiform's 3-piece forged OZR wheels with double-step lips, measuring 11-inches and 15-inches wide in the front and rear respectively, are tucked under the custom fenders when the car is parked thanks to an air suspension system and some custom tubular control arms. As you might expect given the car's booth location at the show, the Rotiform wheels are wrapped in super sticky Toyo R888R tires, filling out the wheel wells at 285/30 in the front and 345/30 in the rear.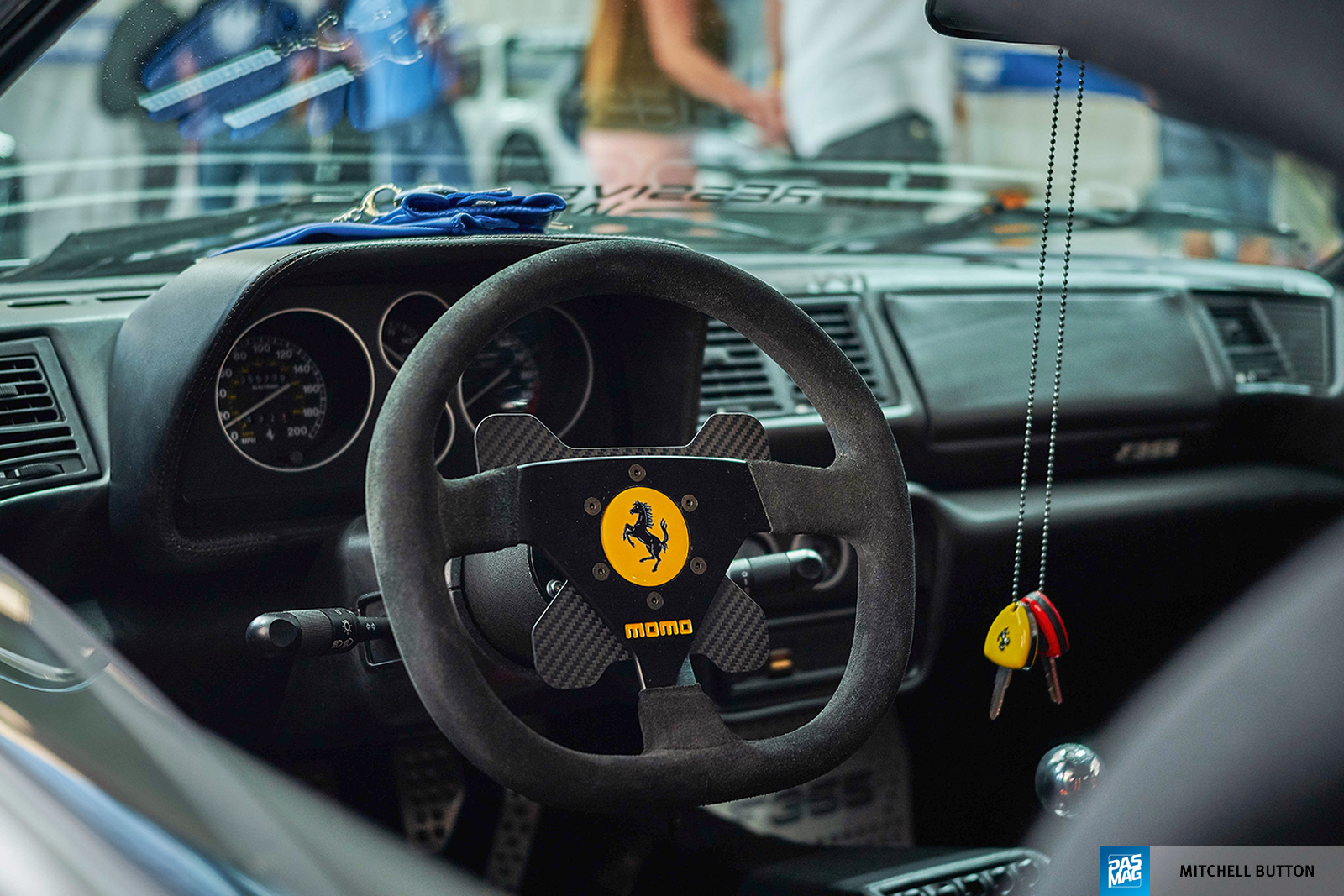 Inside the cockpit of this Italian fighter jet, you'll find more race-inspired cues. A full Momo motorsports interior includes a set of carbon fiber fixed-back Daytona EVO seats, steering wheel with quick-release system, and a 6-point camlock harness system. The carbon fiber look continues on the floor thanks to APR's carbon fiber track mats, and the reupholstered interior panels give a modern touch in line with the digital dash. Eric Cheney of Voodoo Engineering fabricated a perfect 6-point FIA-approved roll cage as well, making it a ready-to-rock track weapon for the street.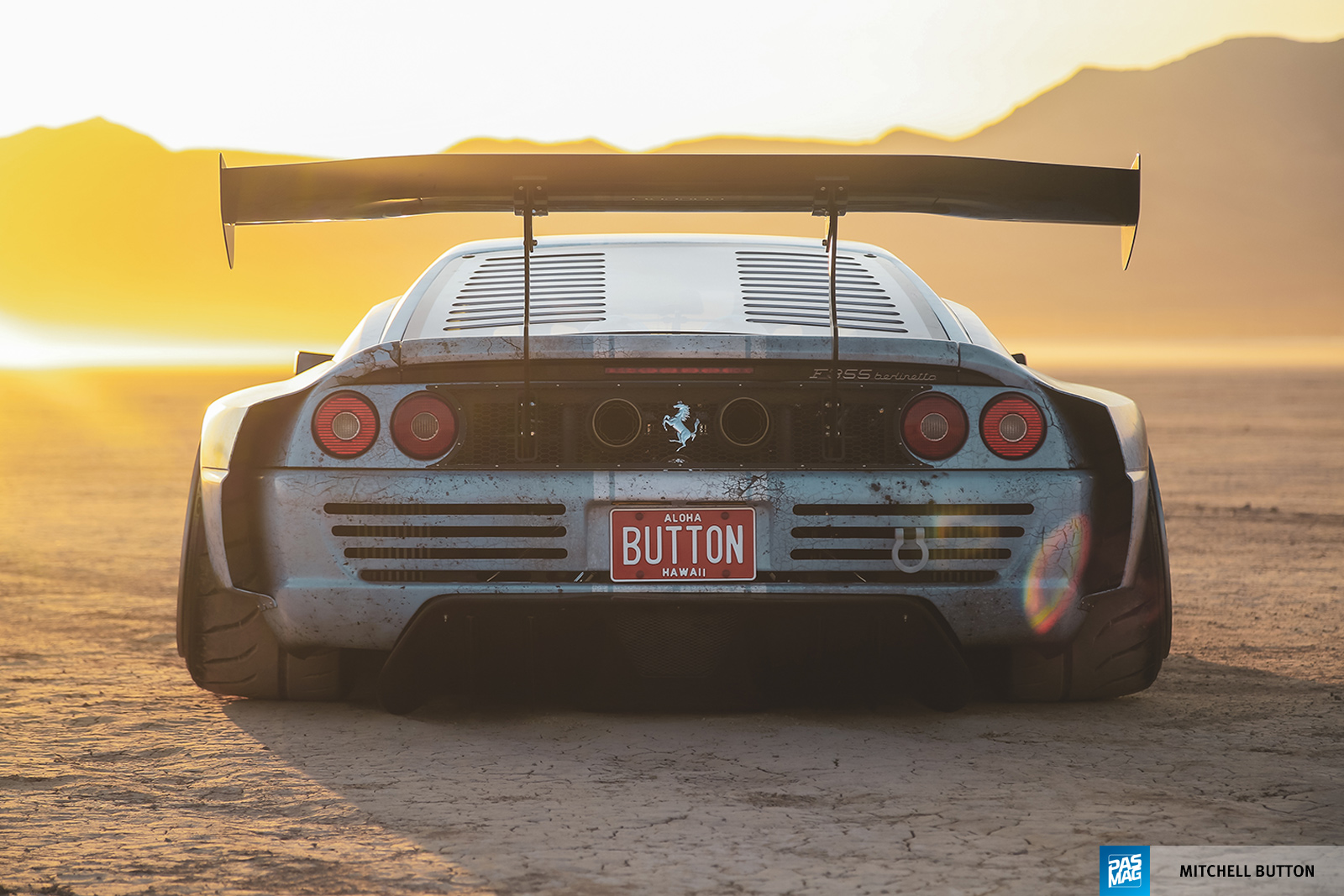 Around the back of the mid-engined monster, you'll immediately notice that the engine is in full view. Taking inspiration from the F40 yet again, Button used an acrylic engine cover to keep the 40-valve 3.5L V8 and all of its custom work on display. While the Ferrari F129 B/C is a potent V8 on its own, the performance of this car had to match the reputation it was sure to attain with all of the custom bodywork. Utilizing a symmetrical twin set of Xona Rotor XR5455 Eco Series turbochargers, Tial wastegates and blow-off valves, and cooling by way of CSF Radiators and Aviva Instrument intercoolers, the Ferrari V8 makes an easy 600-plus horsepower thanks to some tuning from Eric Cheney.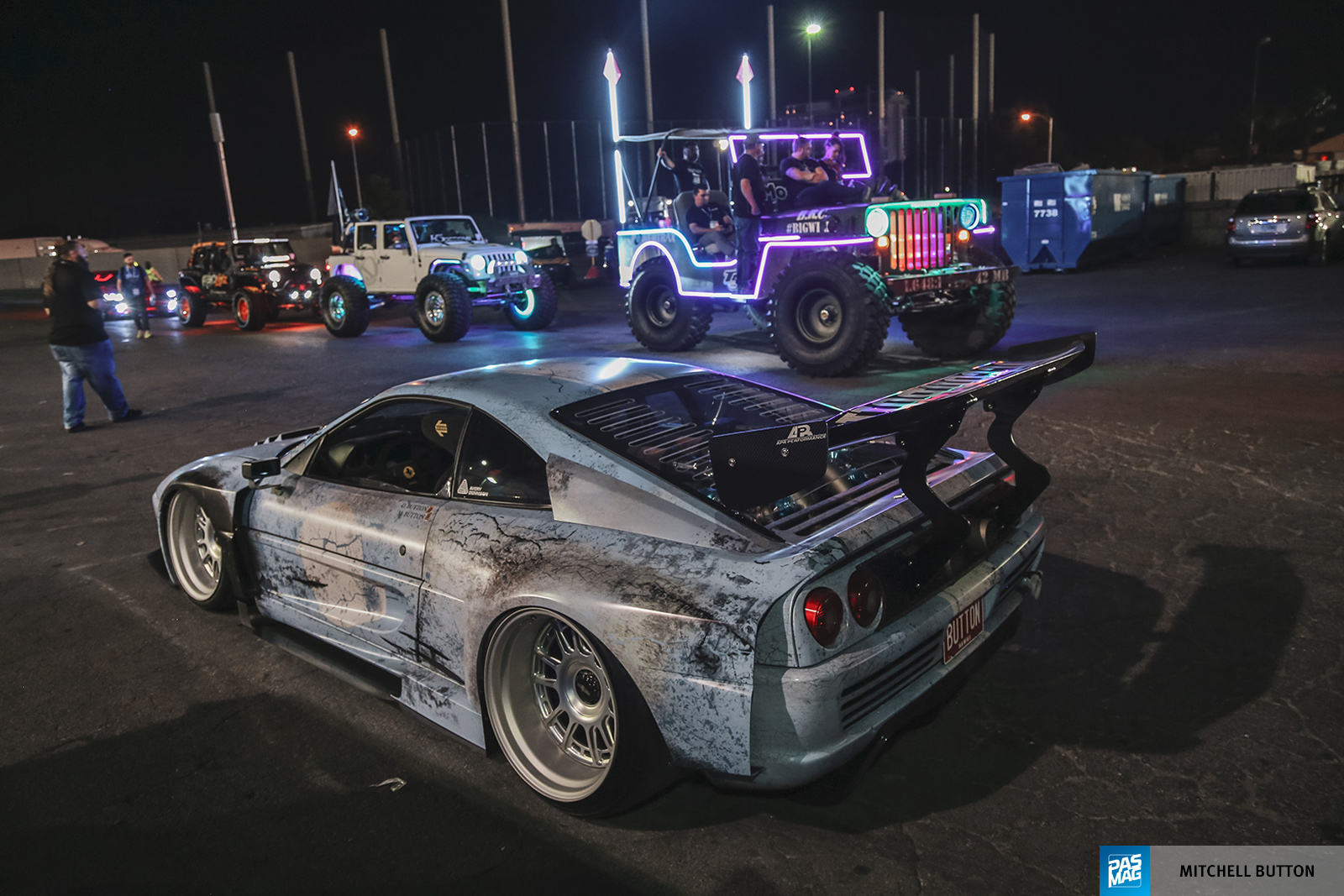 Despite numerous deviations from the so-called "traditional" Ferrari essence, we reckon this stanced-out and boosted 355 Berlinetta could tickle the fancy of even the most staunch Ferrari purists, even if it isn't Ferrari red. With ample modifications focused on both style and performance, the daily-driven supercar is built to be abused. "I want my cars to look great when parked," Button tells us, "yet give me the ample space necessary to drive the piss out of them." Frankly, if anyone isn't into this build, they're the ones missing out.
Mitchell Button's 1999 Ferrari 355 Berlinetta is featured in PASMAG #158. Click here to order.
---
ESSENTIALS
Owner: Mitchell Button
Location: Hollywood, CA
Vehicle: 1999 Ferrari 355 Berlinetta
Engine: Ferrari F129 B/C 3.5L V8
Horsepower: 600+ whp
SOCIAL
Instagram: @button_built
ENGINE
Xona Rotor XR5455 Echo Series symmetrical turbochargers
Tial (wastegates, BOVs)
Aviva Instruments intercooler
CSF radiator
Tuning and fabrication by Voodoo Engineering
EXHAUST
Aviva Instruments custom exhaust tips
Tubular exhaust manifolds
WHEELS / TIRES
Rotiform OZR 3-piece forged wheels - 19x11 (f), 19x15 (r)
Toyo R888R tires - 285/30/19 (f), 345/30/19 (r)
CHASSIS / SUSPENSION
Accuair E-Level air suspension management system
Endo CVT air tank
Universal Air Solution Series air struts
Custom (Tubular control arms, A-arms)
EXTERIOR
Button Built custom widebody
Ferrari 288GTO Evoluzione-inspired rear bumper
Ferrari Koenig 512BB-inspired C-pillar
Acrylic engine bay lid
F40-inspired front fenders
Fabspeed carbon fiber Ferrari F430 Scuderia rear diffuser
EVS-Tuning RSR-style side mirrors
APR Performance (GTC-500 wing, carbon fiber splitters)
Ferrari 488 GT3 wing uprights
Azzuro La Plata "24 Hours Battered" custom vinyl wrap
INTERIOR
Momo (Daytona EVO seats, steering wheel, quick-release hub, 6-point camlock harness system)
APR Performance carbon fiber track mats
Eric Cheney/Voodoo Engineering 6-point FIA roll cage
Full interior reupholstery
Digital dashboard
PHOTO GALLERY