These days you need a cohesive theme throughout your entire vehicle if you want to stand out on the show floor. The build must have a clearly executed vision from front bumper to rear, going the distance and separating the work from the ever-increasing quality from show-goers. Bonus points if that build theme echoes themes of your own tastes and personality. This is something Max Caroca, our Tuner Battlegrounds 9 Championship runner-up, knows very well - but it wasn't always this way.
Caroca's journey with his 2007 BMW 335i started way back in 2012, when he drove from Montreal to Toronto in search of a BMW he had seen posted for sale. Immediately after taking possession of the 335i, Caroca began the process of making it his own. At first, he was only making modifications for the sake of bolstering performance, but after attending his first big car show, he also fell in love with the sights of aesthetically pleasing mods as well.
The 335i's N54 engine was treated to a Precision Turbo 6466 turbo upgrade with a T51r mod - a turbo setup that sounds as good as it performs. A fuel system upgrade courtesy of Fuel It, as well as an added Prometh kit allows boost to be turned up considerably and tuned by Pure Evil, and now Caroca's 335i is sitting comfortably at 620 whp. Complementary changes like the R8 coil pack conversion and CSF radiator ensure some long term durability in the face of added power. A SPEC clutch package, a Driveshaft Shop carbon fiber driveshaft, and a Ford 8.8 differential help transfer all that power to the rear wheels with ease.
Eventually, engine mods that started as purely performance improvements started to get more stylish, and the aesthetics of the engine bay was quickly turning into something Caroca really admired. Carbon fiber looks good anywhere! A custom painted engine cover came shortly after. As the engine bay started to take shape and fit a look he enjoyed, the theme for the rest of the build started to come naturally. "I modify my car aesthetically according to my personality," Caroca tells us. "It is sober outside and crazy-funky inside."
Not to be confused with a boring exterior, Caroca's "sober" exterior is made up of tasteful add-ons like a healthy dose of carbon fiber and subtle yellow accents. Setting the build apart from the rest is a custom carbon kevlar hood, as well as a unique set of retrofitted headlights with honeycomb lenses. The entire exterior is finished off with a beautiful custom chalk/crayon paint job that looks glassy from all angles. At ground level, a set of DPE RD20 3-piece wheels measuring 19x9.5 up front and 19x11 in the rear rounds out the look, with the car lowered over them by way of Moton Clubsport 2-way coilovers.
The theme of Caroca's build continues as you step inside the cockpit. Carbon fiber and yellow accents are even more prevalent here, with the most obvious examples being the carbon fiber consoles and pillars, the beautiful alcantara and yellow stitched dashboard, and matching Recaro Sportster GT seats reupholstered in the same style. A nice technical touch is the M3 cluster with a custom yellow gauge face. The details of the gray, carbon, and yellow colorway theme come to life in the sleek interior. Tiny details right down to the Dress Up Bolts titanium gold hardware are certainly appreciated here.
All in, Caroca's 335i is a masterclass in executing a comprehensive vision for a build that truly looks and feels complete from the inside out, and it's no surprise he made it so far in the Tuner Battlegrounds Championship. Of course, none of that was possible without support from his circle, even if the car can stand on its own. Caroca extends a heartfelt thank you to Sean of Mashimarho for being part of this project from the beginning, Martin and Matt of Les Carrosseries Technipro for the perfect body and paint job, and BMG Performance for helping him with his performance mods. Teamwork makes the dream work!
Photography by 4th Media (@4thmedia)
Max Caroca's 2007 BMW 335i is featured in PASMAG #170. Click HERE to order.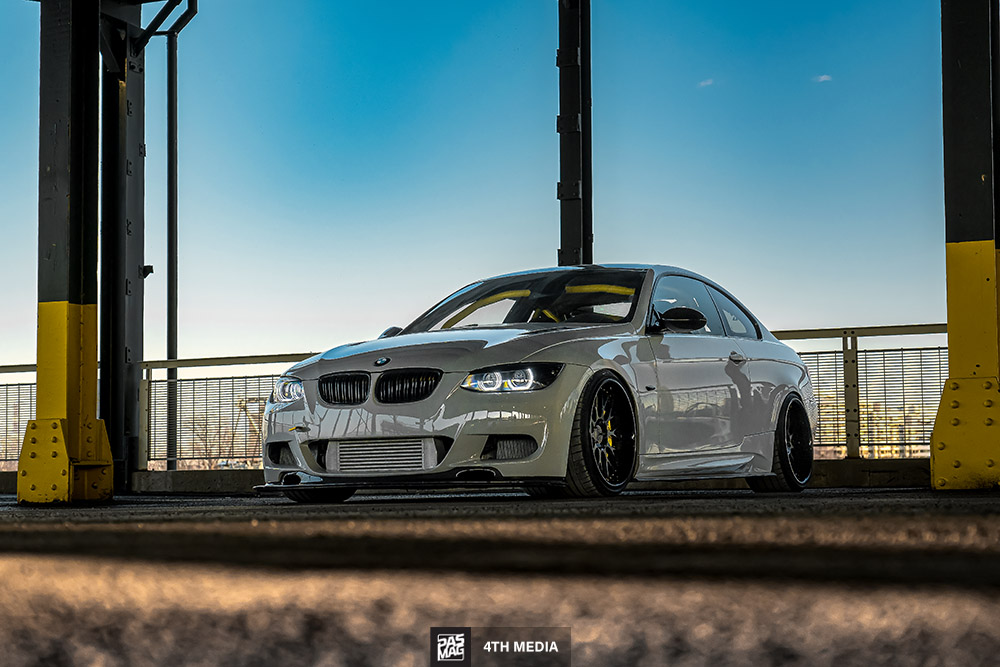 ---
ESSENTIALS
Owner: Max Caroca
Location: Montreal, Quebec, Canada
Vehicle: 2007 BMW 335i
Facebook: /max.caroca.5
Instagram: @silverbimmer
ENGINE & PERFORMANCE
Precision Turbo 6466 w/ t51r mod

Doc Race (intake
, charge pipe)
Fuel It (port injection w/ ethanol sensor
, stage 3.5 LPFP, fuel line upgrade)
Prometh kit 7 nozzles w/ stage 3 controller
Stett Performance (front-mount intercooler, dual oil cooler)
Tial BOV
CSF (aluminum radiator, steering cooler)
Custom aluminum power steering reservoir
R8 coil pack conversion
VTT crank bolt capture

Tuner Motorsport aluminum coolant tank
Misfire dual oil catch can
Mac solenoid
Revshift polyurethane motor mounts
Carbon oil cap
PI 1000cc injectors
Custom painted engine cover
EXHAUST
M Performance exhaust
Vibrant resonators
Secondary cat delete
Carbon fiber quad exhaust tips
PERFORMANCE ELECTRONICS
Backend flash
Pure Evil custom ECU tune
DRIVETRAIN
Driveshaft Shop (rear axle bar upgrade, custom dry carbon driveshaft)
Ford 8.8 differential
SPEC Clutch stage 3+ clutch
Mfactory single-mass flywheel
WHEELS / TIRES / BRAKES
DPE RD20 3-piece wheels - 19x9.5 +20 (f), 19x11 +25 (r)
Michelin PS4S tires - 225/35/19 (f), 265/30/19 (r)
Stoptech Big Brakes (6-piston front calipers, 355mm front rotors, 4-piston rear calipers, 345mm rotors)
Stainless steel brake lines
CHASSIS & SUSPENSION
Moton Clubsport 2-way coilovers
M3 (control arms, sway bars)
Strut tower bar

Black Series polyurethane bushings
SPL (titanium rear toe link w/ eccentric lockouts, titanium front endlinks, titanium tie rod ends, titanium rear sway bar endlinks)
EXTERIOR
Custom Chalk/Crayon paint
GT4 carbon fiber front lip
M3 (side skirts, carbon fiber roof)
Carbon fiber (CSL trunk, side skirt extensions, gas cap, quad rear diffuser, rear fin)
Yellow tow strap

V1 + V2 
yellow air intake scoops

Dress Up Bolts titanium gold bolts license plate
Black line tail light
Custom carbon/kevlar hood
Retrofit headlights w/ honey lens
INTERIOR
Custom (aluminum pedals, rest pedal, heel plate
, carbon fiber interior pillars, carbon fiber interior door panels, alcantara w/ yellow stitching dashboard, carbon fiber consoles, roll rage, paint-matched interior trim, carbon fiber trunk carpet, painted Prometh tank)
Prosport gauges
Custom carbon fiber/alcantara steering wheel

Recaro Sportster GT seats w/ custom alcantara and yellow stitching
Alcantara headliner w/ diamond stitching
Yellow alcantara RS door pull conversion
Retrofit F30 alcantara (shift knob boot, hand brake boot)
Carbon fiber rear seat delete
Alcantara trunk panel
Dress Up Bolts titanium gold hardware
M3 cluster w/ custom yellow gauge face
Custom LED trunk lighting
AUDIO, MOBILE ELECTRONICS & MULTIMEDIA
Bimmertech Alpha One sound system upgrade
Eonon radio
SPONSORS
Mashimarho
BMG Performance
Les Carrosseries Techipro
Dress Up Bolts
Poliperfect
Nanolex Canada
DPE Wheels
QCK Custom
---
PHOTO GALLERY