Photography courtesy of Rotiform
---
You'd be hard pressed to find another wheel company that is featured on as many high profile builds and offers a vast array of custom wheel designs and options as Rotiform. What is now one of the most popular wheel brands in North America and Europe started with two guys who were sick of their jobs and wanted to get into something they were passionate about: awesome wheels.
In 2009, Jason Whipple and Brian Henderson quit their jobs and scrounged up every single one of their pennies to order a container of cast wheels in two designs: the BLQ we all know and love, and the MIA that didn't fly as well. With a sample set of their BLQs on a show car at Ultimate Dubs in the UK, their wheels were an instant hit, and the guys sold out of their first container of wheels before they even landed.
Now, running the business with their new owners, MHT Luxury Alloys, Rotiform is able to offer more designs and options than ever to make a dream set of wheels for just about anyone and their vehicle. To talk about Rotiform's rise to success and how they go about creating their tailored wheels, we were able to grab Jason Whipple's attention before he got on a plane to the UK. Read on for a peek behind the scenes and into the machine shop of Rotiform!
Has the manufacturing process changed in the casting of the wheels you were making back then, as opposed to now?
The cast wheel process is similar to what is was then. We're just more established now, have a better relationship with factories, and we have a better translation from engineering to what you actually get in the mold in metal. We're able to do that much faster than before. With the scope of MHT and their distribution channels and buying power, we're able to do many more designs, and we're not limited in what we can do because we have a 350,000 square-foot facility and 25 warehouses - a huge distribution channel. But that doesn't change where Brian and I came from. We're enthusiasts. We love cars. We modify cars. That's still our hobby, even though it's now our job as well. I think that's what sets us apart.
Would you say that your focus, starting out, was a little more Euro-heavy, platform-wise?
Absolutely. That's where we came from. We were always German car guys - VWs and Audis - although we had Japanese stuff when we were growing up as well. My first car was a '91 Civic Si, which I loved, but mainly it was German stuff: VW, Audi, Porsche, BMW. That's what we aimed our original market at. Now, we really do everything. With the forged stuff, it's evenly spread across all brands, and with cast stuff we do bespoke fitment cast wheels for GT-Rs and FR-Ss, so now we can cover more markets.
What would you say Rotiform's focus is in building wheels?
We build stuff we like, honestly. We try not to just follow a trend or where the industry is going. If we wouldn't want to see it on our own car, we won't build it. We also really appreciate some of the designs from the past. There are some wheels from the '80s and '90s that aren't available anymore, so we put a modern spin on those and offer it in a different configuration or a different size. Then you can get that retro look on a new car, but have everything function, engineering-wise, like it should.
What kind of inspiration do you draw from when you're designing wheels?
A lot of times inspiration will come from an old race wheel, or something like that. Sometimes there will be a few different wheels that we like that fit into the same family, so we'll get inspiration to draw a new wheel that's reminiscent of the old stuff. Our latest cast wheel, the RSE, uses a covered cap, which people don't do much anymore. It harkens back to the old TSW Hockenheim Rs - that old look that we all love, but no one does anymore. That's a lot of how we come up with design ideas. Sometimes we'll just come up with an idea when we're around the barbeque, having some beers after dinner at home, you know?
Aside from your cast wheel line, you also offer a completely custom line of forged wheels. Can you go into some of the options available with the custom line?
The custom options we're now able to offer are really amazing. We can do forged monoblock, forged two-piece, in either a welded or bolted construction, or a forged three-piece. The cool thing about where we are now is everything, 100-percent, is done under one roof. We have concept designers who can draw things in 3D for us, we have engineers who will draw the wheel in CAD and model it that way, we have a full machine shop with 25 mills that runs three shifts to machine the wheels, we have finishing in-house for either custom paint or powdercoating, and we have a full polish shop in-house.
We even have destructive test rigs that we can run a wheel on to fatigue it until it fails. There are FEA analysis programs you can run now that'll give you a ballpark idea of what happens, but you don't really know until you mount a tire on a wheel and run it for a million cycles to see if it fails in any way. That's been huge for us.
What kinds of testing certifications do your wheels carry?
All of our cast wheels are JWL and DOT compliant to those standards, and we do have some cast wheels that are TUV approved in certain sizes as well for the guys in Germany. Every forged wheel is engineered to the vehicle it's built for. If you've got a 6,000-pound G Wagon, that wheel will be built specifically for that load rating, versus something for an MX-5, which can be built much lighter. There's a lot that goes into it that people don't realize.
What sort of research should a customer do on vehicle fitment first before reaching out for a custom set of wheels?
We have fitment data for nearly every vehicle on the road today. We even share some data with TUV for vehicles overseas as well. So, if a customer doesn't know their fitment, or they're not "stance guys" and don't have an exact offset and width picked out, we have the data to help them pick a good fitment. Alternatively, if you've got a 2015 Subaru WRX that wants to run 18x11.5 with a negative-10 offset and run eight- or nine-degrees of camber all the way around, we can build that as well. I think that's our advantage; we know both sides of that coin. We've always prided ourselves on the fitment of our wheels, so we can build exactly what the customer wants or give suggestions on offsets and widths, if needed.
If the customer has made previous modifications to their vehicle, what are the ones you guys want to know about to get the perfect fitment?
If the factory brakes or suspension have been changed, that definitely makes a difference, especially If we're building for something that is on coilovers versus air suspension. A lot of cars nowadays have suspension that articulates and gains camber as it lowers or moves through its travel, so for an air suspension guy, it's going to be a different setup than it would be for a coilover guy. We always take that into account on the build sheets we send out. There are a number of options for you to choose from, and we also have a section where you can fill out brakes and suspension so we can take that into account as well.
When assembly takes place, what kind of hardware do you use?
We have a multitude of hardware options. We have exposed hardware, hidden hardware, and titanium hardware. All of our exposed hardware has custom color options, so we can powder-coat or treat those to match the vehicle or contrast the vehicle to get a different look. We also have a fifty-fifty option that is half-hidden and half-exposed. It all adds up to a ton of choices to get the look you want.
What kind of aluminum forgings do you use at Rotiform?
The aluminum forgings we use are all made and sourced here in California. Generally, it's a 6061 forging, and they're forged on a 60,000-ton press. We've been to the forging manufacturers, and when that press is stamping out forgings, it shakes the whole neighborhood.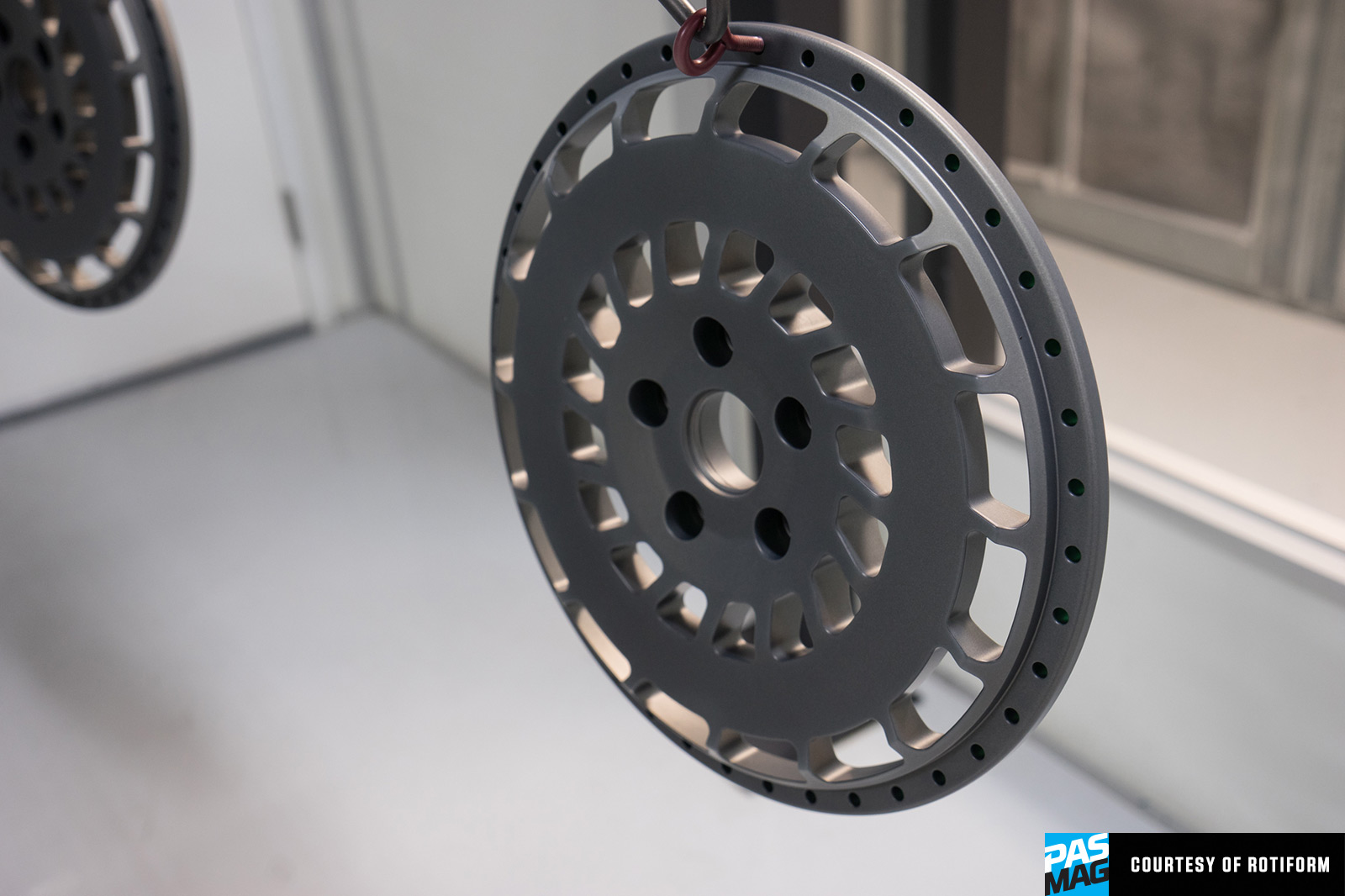 The forgings are available in so many different sizes, depths, and profiles, which is another stumbling block for a small company. You just can't physically stock all those parts. We now keep nearly every forging available so we can make any depth of concavity and different sizes and fitments we couldn't do before. The challenge in building a forged wheel is that you're trying to use the smallest forging you can so you don't have as much waste. It can be really tough to manage that on a small scale, so we're lucky that we can do it this way now.
The process a custom set of Rotiform wheels go through, from start to finish.
1. First, the forgings go to the lathe department, where programmers set a lathe program to give the center a concave, convex, or flat profile.
2. Next, the centers to go the milling department for shaping and milling in the bolt pattern. If the wheels have hidden hardware, the centers are flipped over in the mill and tapped. Otherwise, the centers will get a through-drill. Each center is then engraved with a serial number, part number, date, and finish.
3. In the prep department, all centers are polished down to 220-grit for powdercoat or paint. Polished wheels will be taken a few steps further for a mirror-like finish. PULL: "We'll typically prep the wheels down to 220-grit, and that is a skill unto itself. It looks like the dirtiest job in the world, and it totally is. The guys who do this are really talented because the polishing can actually change the shape of the wheel. These guys can enhance the shape of a wheel by the way they polish something."
4. After being prepped to spec, the centers are dunked in an ultrasonic tank and hand-rubbed and rinsed with a pressure washer to clean any contaminants from polishing. Then the wheels are dried with compressed air and bagged to prevent any dust from getting on the prepped centers while they wait for their custom finish.
5. The finished centers then head to a staging area in the main shop, where they meet the rim parts that have been specifically ordered for brake clearance and desired fitment. The center is adjusted by fractions of a millimeter to go with rim parts that are only available in half-inch increments. PULL: "We generally try to run the largest lip we can, which ends up producing a lighter wheel because you don't have such a huge backpad on the center." An assembly team of four guys that have been with Rotiform since the beginning assemble each wheel by installing a few fasteners loosely and running the wheel on a runout fixture, adjusting everything within 30,000ths of an inch of total runout. PULL: Runout: Any component of a wheel that isn't perfectly round. A wheel that isn't perfectly round can result in wobbles and vibrations while driving. Use of a runout fixture ensures that the wheel is adjusted to be a round as possible. After they're happy, all fasteners are installed and torqued, the wheels are sealed, and then torqued again. A registration sticker is then applied to the barrel, which states when the wheels were assembled, who assembled them, and their signature. PULL: "We also have a history on the customer's build. Every set we produce is serial numbered, dated, and recorded. So, say they sell it to somebody or sell their car and the buyer needs a part or needs something refinished, we can track it back to the original purchase and engineering."
6. The wheels are then ready to be boxed and shipped to the eagerly waiting customer.
What happens if you catch an imperfection on the wheel during inspection?
In the final assembly process, where we mock up the wheel, all the finishes are examined. If there's something that has a speck of dust or a paint defect, we mark it and take it to back to have it refinished. That's the beauty of having everything all under one roof. It doesn't really hamper your time to delivery like it would when we first started. When we first started, we would pick up our wheels from the machine shop, then take it to our polisher, then take it to our painter, and then we'd have to bring it back to our shop to assemble it. All these places were 20 miles away, so if there's a problem, we'd basically have to start over. Having everything all under one roof has really expedited the process, which allows us to build a set of wheels super quick if there's no queue. Unfortunately, and fortunately, we have a big queue!
What's the general timeline look like from customer order to delivery?
We aim to have wheels in the customer's hands in about four to five weeks, which is probably quicker than anybody in the industry. We can build a set of wheels in a few days, but that's all hands on deck. There are some of our designs that take eight or nine hours in the machine per center. All these processes in a couple days just adds up to a lot of time, and when you take a walk through the shop and see that there are real people doing all of this, it's pretty amazing that we can get it all done in four weeks.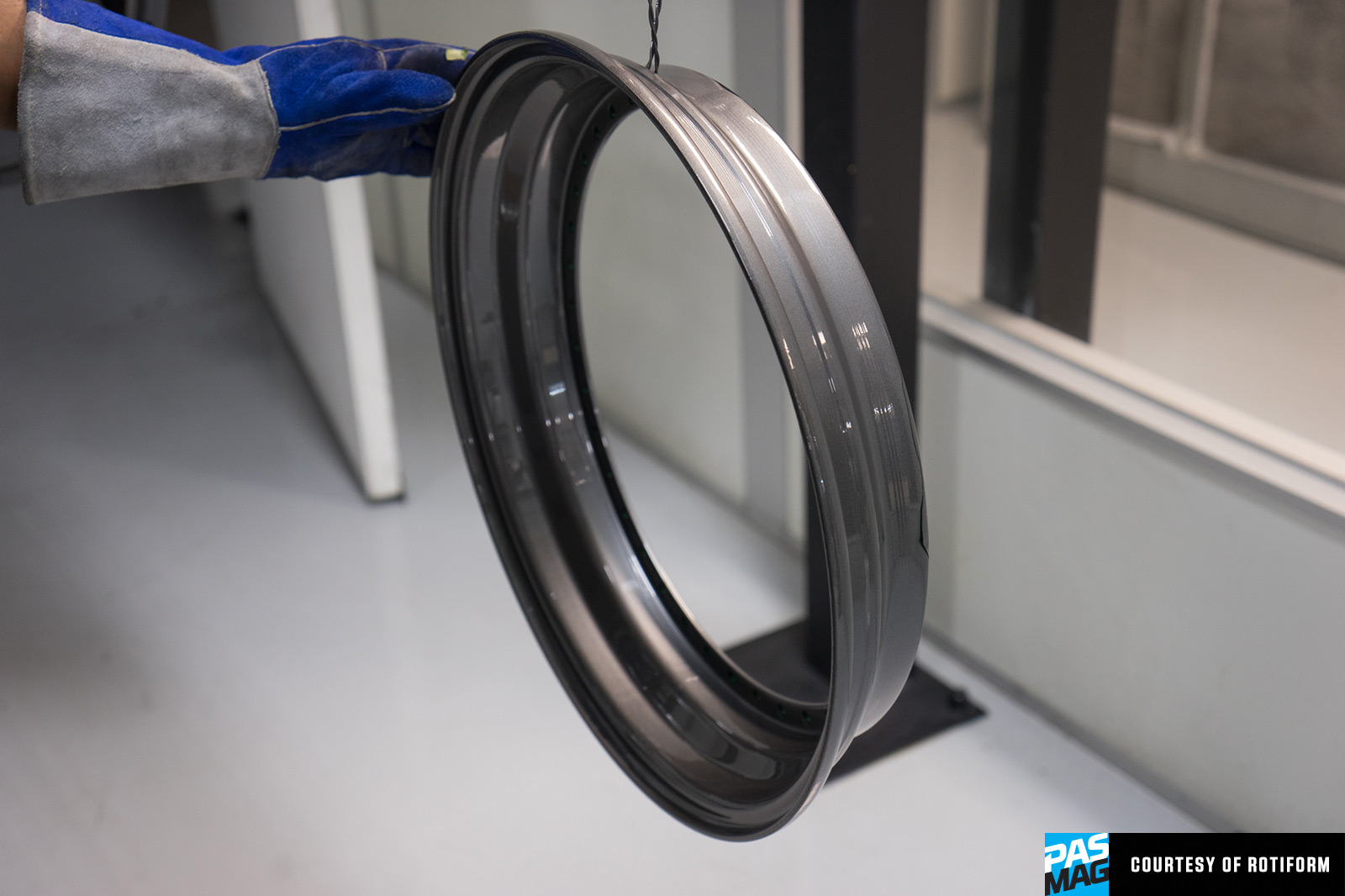 Is there anything you can let us in on as to what Rotiform is working on for the future?
We're doing some really cool off-road stuff for Toyotas and Jeeps. That's been a lot of fun because while we all like performance and stance and car shows, it's awesome to get out on a dusty trail somewhere. And if you have a racecar, you have to have a truck! That's been really fun.
We're also doing smaller sizes in our cast wheels, which is cool because a lot of the older cars are running smaller sizes, so we're going to expand that a bit. That'll be good for early Euros and Japanese stuff that run 15- and 16-inch wheels. We're currently doing 17, which is turning out to be really popular with the E30 BMW crowd and E36 BMW guys. As time progresses and things shift more to autonomous electric cars, all these old, affordable, sportscars are going to become what we gravitate towards, I think. Everybody is buying up air-cooled Porsches, so I think the next thing everybody is going to be buying up is E36 BMWs and early Honda stuff - anything that was fun and engaging and you don't pick up your phone because you're enjoying it. We'll start really going back to that, I hope.