Photography Courtesy of Sensei 6 & JB MaF
---
In a time where "if it ain't broke, don't fix it," has turned into "if it's broke, just go buy something new and shiny," it's pretty great to see more and more enthusiasts in the wheel scene kick that trend and make what was once great, great again for their modern builds. Restoring or retrofitting a wheel to fit your ride can be a great way to remain authentic and still rock a classic design, or stay painstakingly period correct – if that's what you're into. With that in mind, we spoke to two guys that are ingrained in the movement of bringing old wheels back to life in one way or another, and they were nice enough to answer all our questions.
Jordan Mo of Sensei 6 has always been surrounded by the automotive world, in one way or another, but the simple act of selling off a set of wheels he had hanging around the house launched him into the industry professionally. One set turned to two, and two to three; before he knew it, Mo was buying shop space to house his rotating collection. Adding refinishing and rebuilding services to his repertoire, Sensei 6 was born five years ago, and has since become a bit Instagram famous for its examples of beautiful wheel builds with ridiculous amounts of attention to detail applied.
What kinds of services does Sensei 6 offer?
Besides obviously selling used and new wheels, we also do refinishing, re-lipping, re-barreling, repairing, re-drilling, and numerous amounts of other work. Almost anything wheel related can be done here, especially if they're three-piece wheels. The only thing we don't touch here is replica wheels. We even offer consignment services to help you sell your wheels, this ends up working very well for our local customers.
Do customers often bring you wheels to restore or rebuild, or do they usually source a set through you?
Both - about half and half. Many people would order a set of used wheels from us and have us build them accordingly to how they envision them to be, whether it's changing the width, offset, or maybe the finish. In a way, I guess you can say they're custom tailored to fit our customer's preference. Some customers would just bring us their own wheels to have them restored or rebuilt a certain way. And if they have hard time making an opinionated decision, we're always here to help.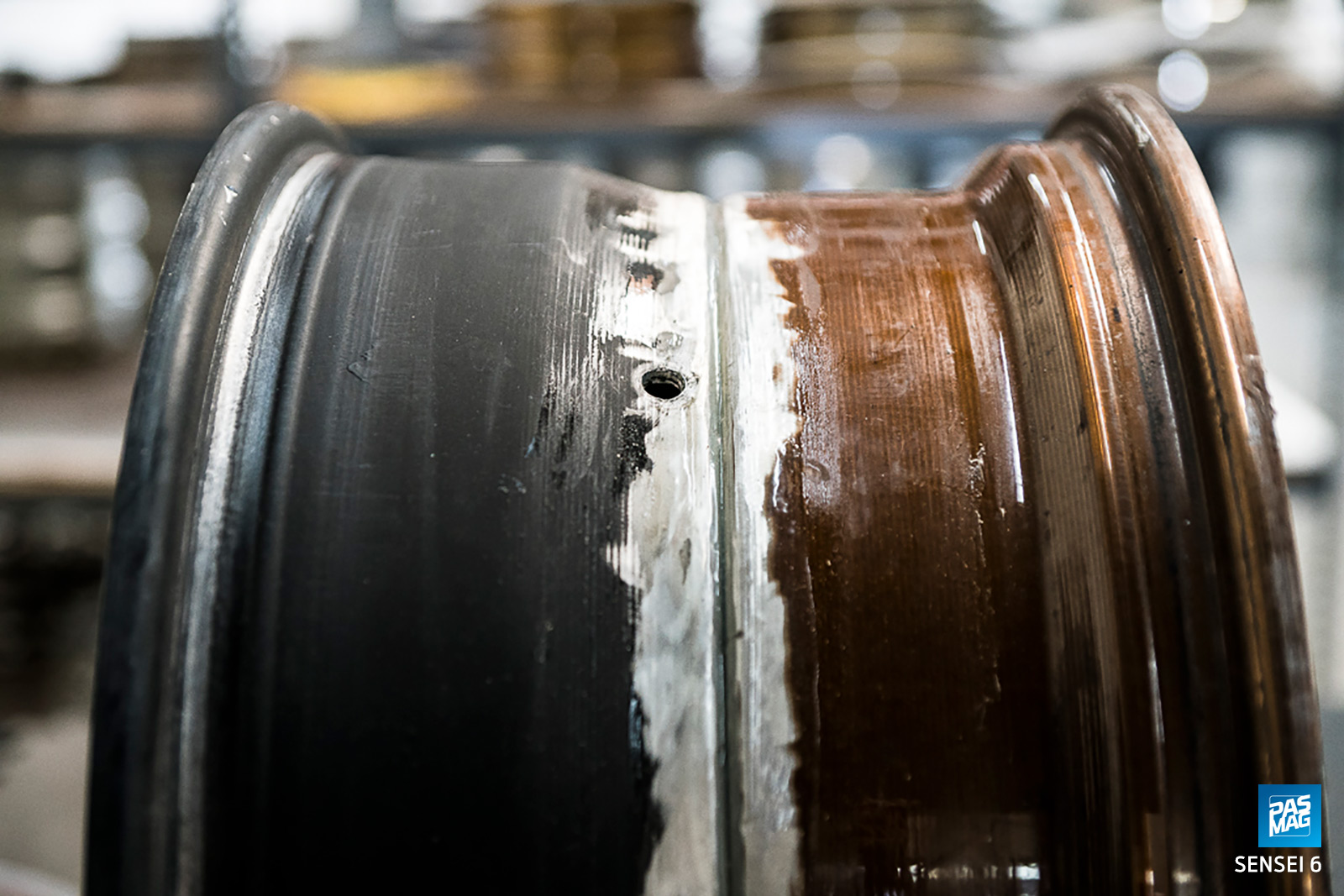 Where do you usually bring in your wheels from? What's involved in that?
About more than 95-percent of our wheels come straight from Japan via containers. There's obviously a lot of details on logistics involved. But we try to bring in what we can based on what our customers demand. This way, every few months or so we will have an updated inventory.
What is involved in up-sizing a wheel (i.e. a 16-inch to a 17- or 18-inch)? Are there any safety concerns with upsizing a wheel?
Without getting too technical, all three-piece wheels that are 17-inch reverse lip (for example) can be converted into an 18-inch step lip. The same goes for 16-inch reverse to 17-inch step, and so on. This requires a new upsized diameter inner barrel and outer lip in its step lip counterpart. A step lip will always increase its reverse lip counterpart to one inch above in total diameter. A 16-inch reverse lip wheel can be made into 18-inch double step lip. If you start with a 17-inch reverse lip, however, it cannot be made into a 17-inch step lip.
Often, the centers will need to be trimmed down to accept the step lip conversion. Some wheels will require more than just these simple tasks, such as welding and other machining work. Like all things, if done correctly, there should not be any safety concerns.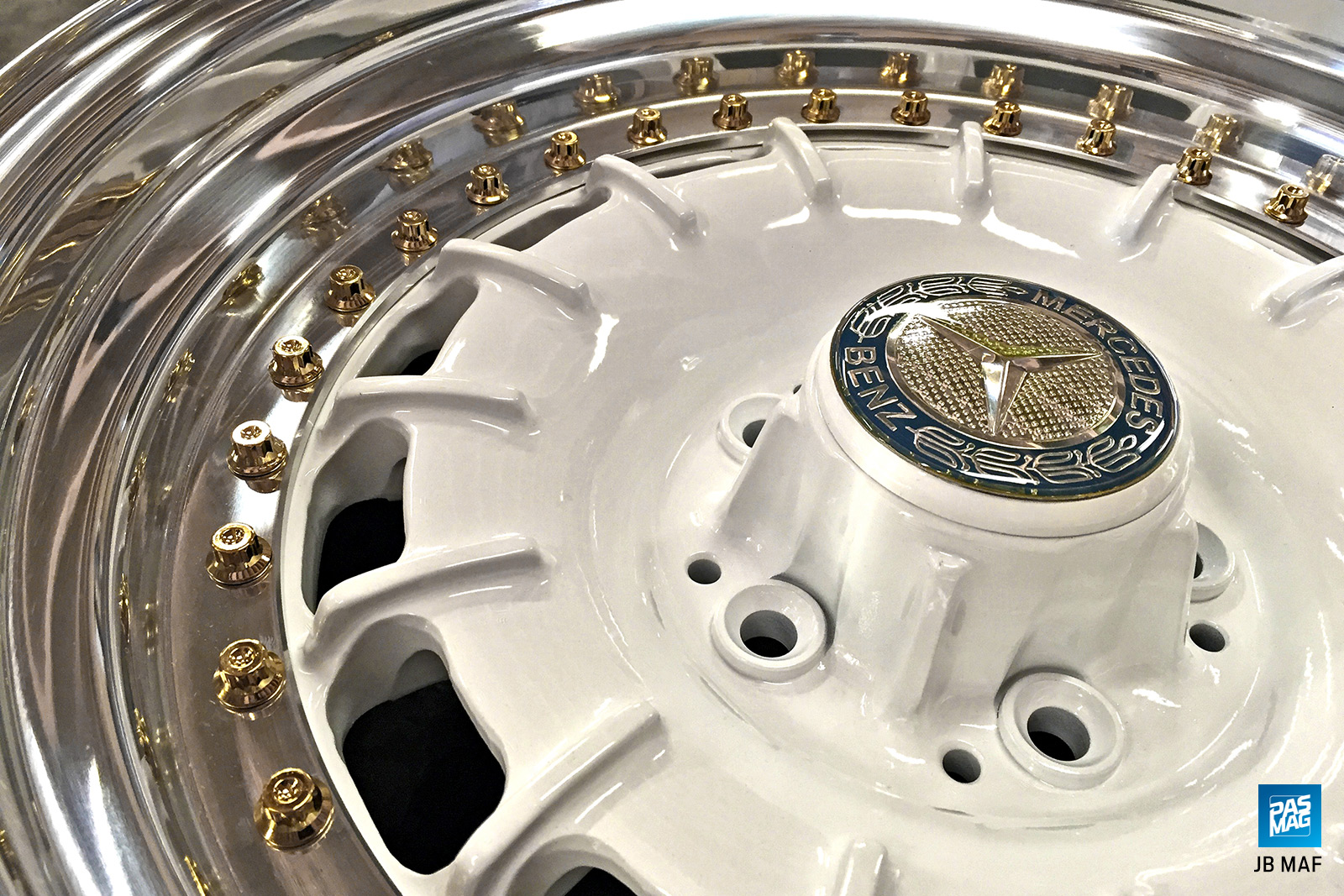 Do you believe there are any safety concerns with running an older set of wheels?
If the wheel is old, there's a high chance that it has been used many times in the past, which is likely to show damage, like bends and cracks towards the barrel. If that is the case, we would always recommend replacing them with new ones. Centers can also be warped or cracked from road hazards or simply metal fatigue, which can be repaired if they are bent, but cannot be repaired if they're cracked.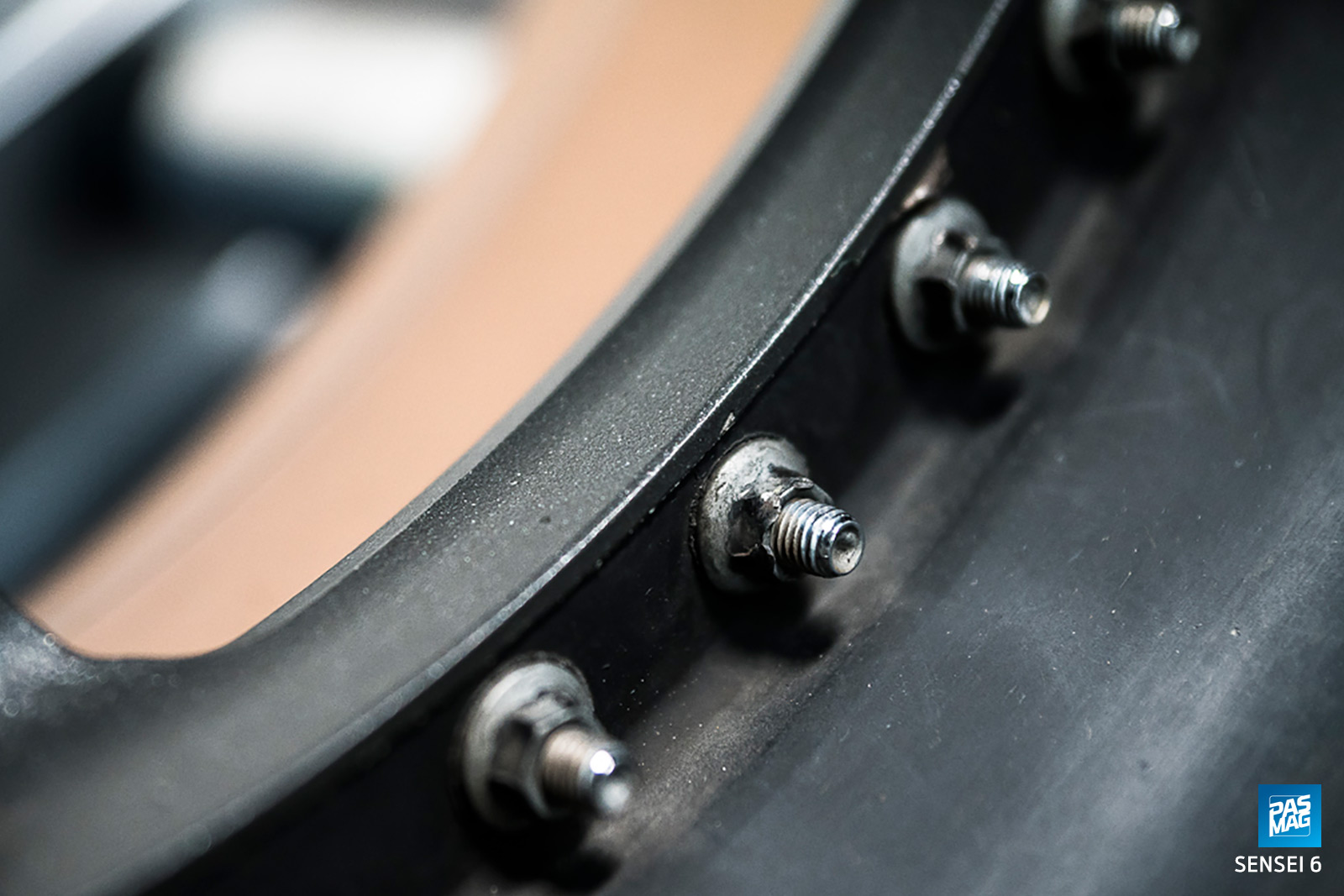 What are your thoughts on bringing old wheels back to life over buying a new set? Is there a big cost difference?
Good question! There's a common misconception that buying a rebuilt used set of wheels is always going to be cheaper than buying a new set. That is not always the case. Yes, certain simple rebuilds may be cost efficient, but the more complicated the build is, the more expensive it will become since more work is required. With a new set of wheels, everything is set from the very beginning, so sometimes it's actually cheaper to just order brand new, if they're still in production.
How restoration works at Sensei 6
• Typically, the customer brings Sensei 6 their wheels and discusses what they want to do. A price is quoted, and then the wheels are inspected in case there are damages that the customer was not aware of.
•If there are any unreported damages, such as bends, the customer is contacted so that they can make the decision of doing the repair prior to the rebuild. Once all the paperwork is taken care of, Sensei 6 takes a 50-percent deposit, and starts the repair/rebuild process.
• Afterwards, if it's a three-piece wheel, the wheel is fully disassembled and everything is organized, with all the pieces labelled with the customer's name so they don't get lost or mixed up with someone else's. During this time, all necessary parts, such as new outer lips or inner barrels, are ordered. If something needs to be refinished, those pieces will be sent out for paint stripping and refinished within the same week.
• With all the necessary parts and refinishing complete, the wheels are reassembled, inspected and measured for final width and offset. Once everything passes, photos are shown to the customer for approval.
JB MaF stands for "Jason Bos Machining and Fabrication," and the man behind the one-person business has made quite the name for himself when it comes to custom wheel work. What started as a need to make custom parts for his own car transformed into a full-on fabrication service for fellow car enthusiasts. JB MaF isn't Bos' 9 to 5, it's his spare time passion. Some may know him for his crazy hand-shaped metal widebody Golf GTI, while others may have seen his custom three-piece Enkei RPF1s break the internet.
Tell us about how you got into converting wheels to fit cars they're not supposed to. When did this all start?
The whole "wheel modifying" thing began over three years ago when I was in search of the right set of wheels for my project car: a Mark IV Golf GTI widebody. Since then, I've been responsible for countless sets of unique wheels that I've made compatible to cars that would be otherwise unable to run them. What it really comes down to is math and machining/fabrication principles: Can they fit, and what's it going to take to make them work?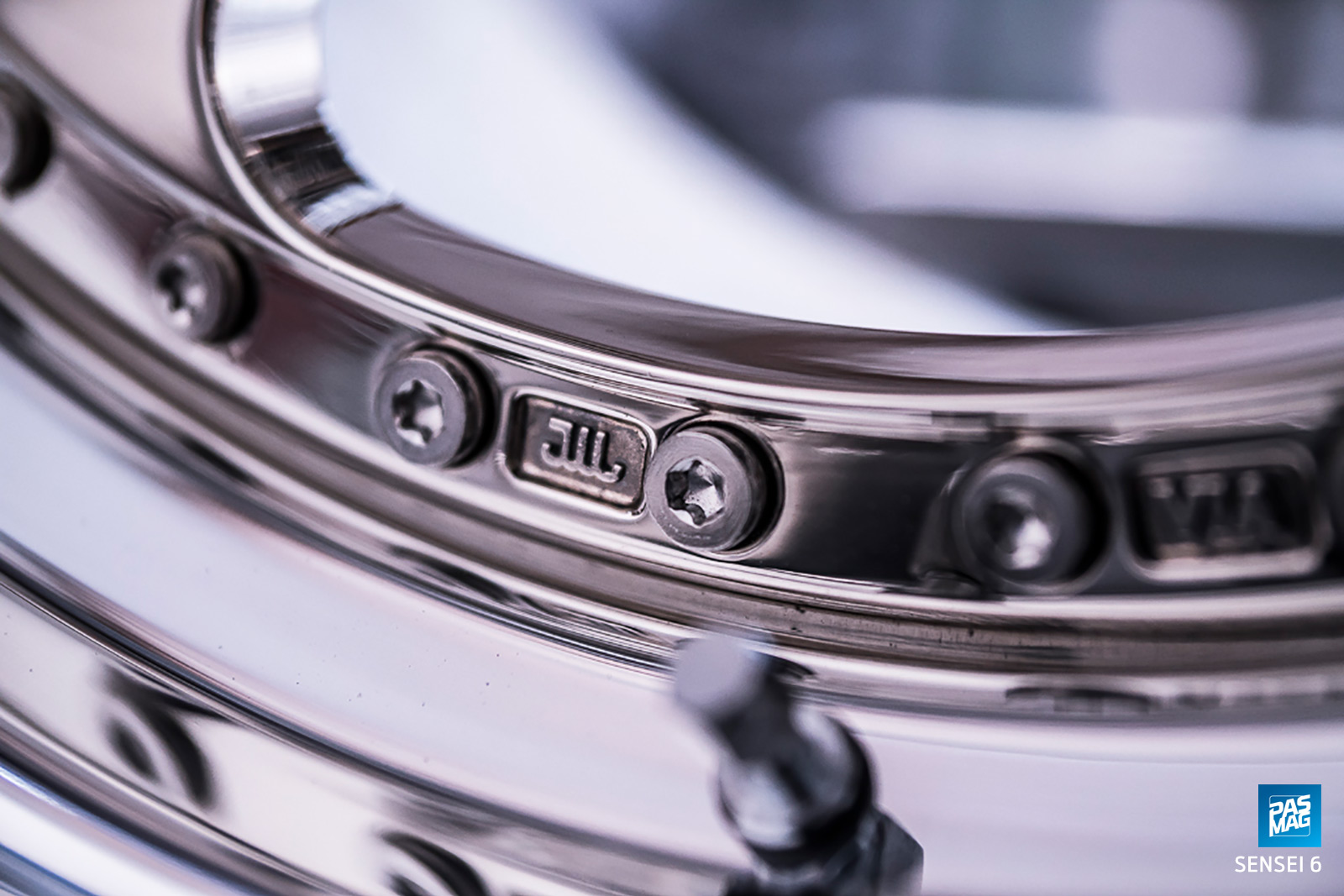 What services do you offer, or are do you find yourself doing more than others?
The services that I offer people with respect to wheels specifically include: fill and drill (welding up of old bolt pattern and machining new bolt pattern), which includes five- to four-bolt conversions, or other way around, off-set bolt pattern re-drill, which maintains original pattern and offers a second set of holes, or re-drill to new bolt pattern using large bushing-style inserts. These inserts work great when lug holes on wheel faces are too deep to fill with weld, or when trying to hide the re-drill, bore enlargement, back-face milling to adjust wheel offset to achieve fitment, and custom billet center caps, depending on the wheels. My duties extend beyond that, but these have been my main go-tos for people as of late.
Converting monoblock to three-piece – JB MaF Style
"When converting a wheel to a three-piece, many things must be considered," advises Bos. "Not every wheel is a candidate for this procedure. Some procedures vary as different measures must be taken depending on the circumstances. A three-piece conversion is not for everyone because of the cost involved with parts and labor, but for show wheels and light-duty dailies, nothing is more custom. These are the basic steps involved with the conversion."
• The monoblock wheel is mounted to a custom hub post and can be put in the lathe or on the mill. Using parting tools or a slitting saw, the lip and barrel are cut away to create a flange or register where new lips and barrels will mate to. The goal is to create a flat surface that will allow the lip to seat flat, so either a milling cutter or lathe tool is used to create a flat edge suitable for the next steps.
• In some cases, the profile of the spokes must be modified to allow the lip's inside diameter to clear. Usually, weld or a flange ring must be added to create strength and added thickness for a consistent profile shape before being machined further.
• Once the register or flange is consistent, the blank wheel face is then put on the CNC or manual mill and indicated, considering carefully where the holes will fall as to not interfere or "wink" the valve stem holes, if there are any. Measuring with a sample lip provides a quick bolt-circle diameter pattern that Bos converts to coordinates using an app. Holes for hardware are now plunged into the register.
• Everything is now ready to test fit the face with lip and barrel against the car to determine if anything needs to be added or subtracted from either side to get a perfect fitment. Sample lips and barrels come in handy again as a baseline dimension.
• After the faces come back from paint and powdercoat, the wheels are then assembled with new lips and barrels, hardware, valve stems, and then sealed. Bos recommends custom center caps as a "must" with this conversion to complete the look, like his JB MaF CNC'd examples.