The 2022 SEMA Show had more EVs than ever before, but in an automotive world of dedicated enthusiasts, could they pass the "cool" test? PASMAG's Editorial squad tackled the show floor in search of 10 of the coolest EV projects the world had to offer an enthusiast. What they found gives us hope that EVs will be as fun as they should be.
Editor's Top 10 Favorite EVs of SEMA 2022 for Enthusiasts
---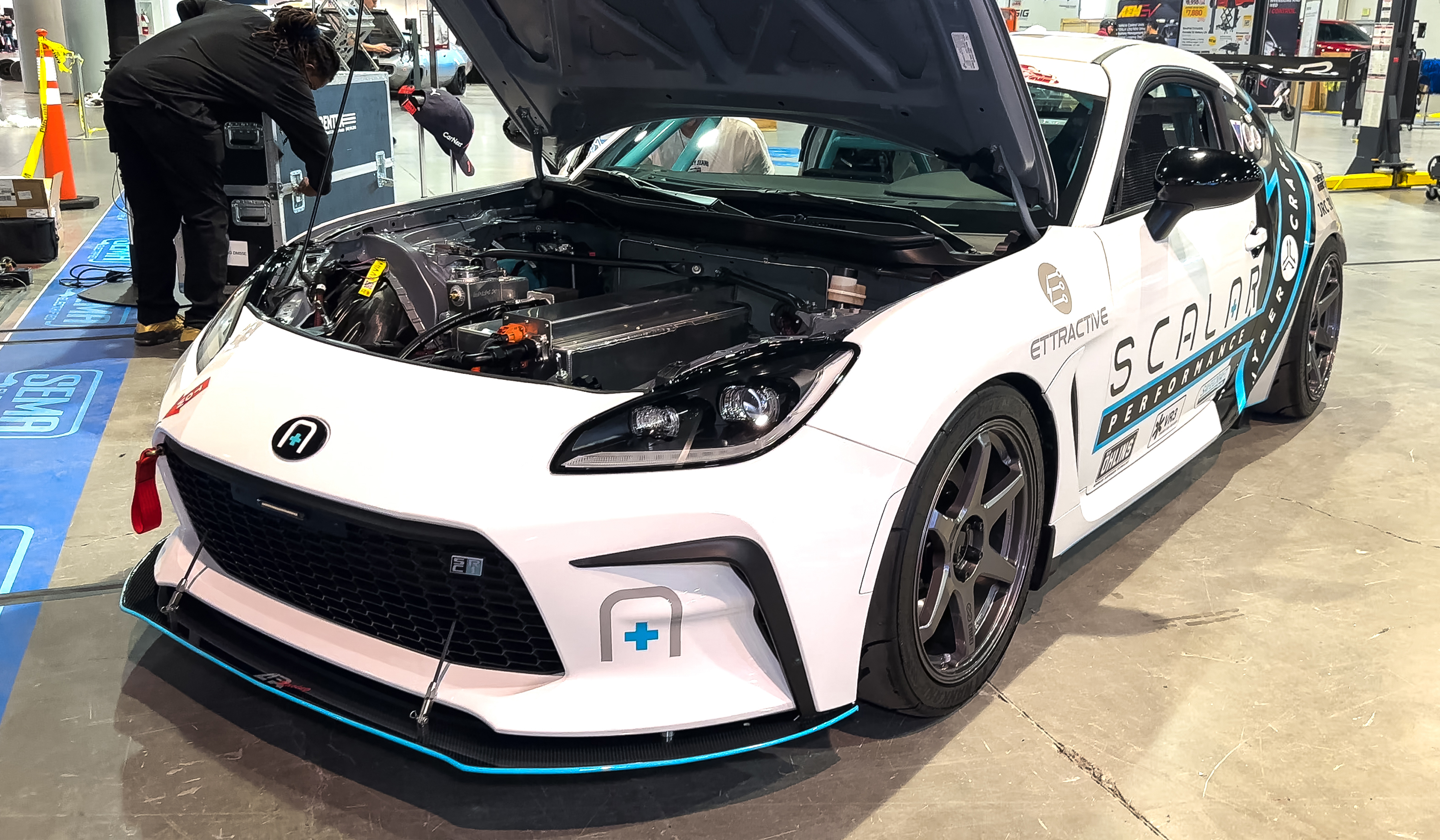 Scalar Performance SCR1 Prototype
Scalar Performance's SCR1 is particularly cool because the company aims to offer a turnkey electric racecar out of the box. Based on a brand new Toyota GR86 chassis, the first prototype maintains a low center of gravity, good balance, and that nimble feeling we all love about the chassis, all while converting to a full electric drivetrain with a motor and gear setup in the rear. Safety for the driver, track, and other cars was top of mind in this build, which introduced some cutting-edge EV safety features that even exceed what is expected from Formula E cars. The SCR1 has the future of EV club racing looking bright.
---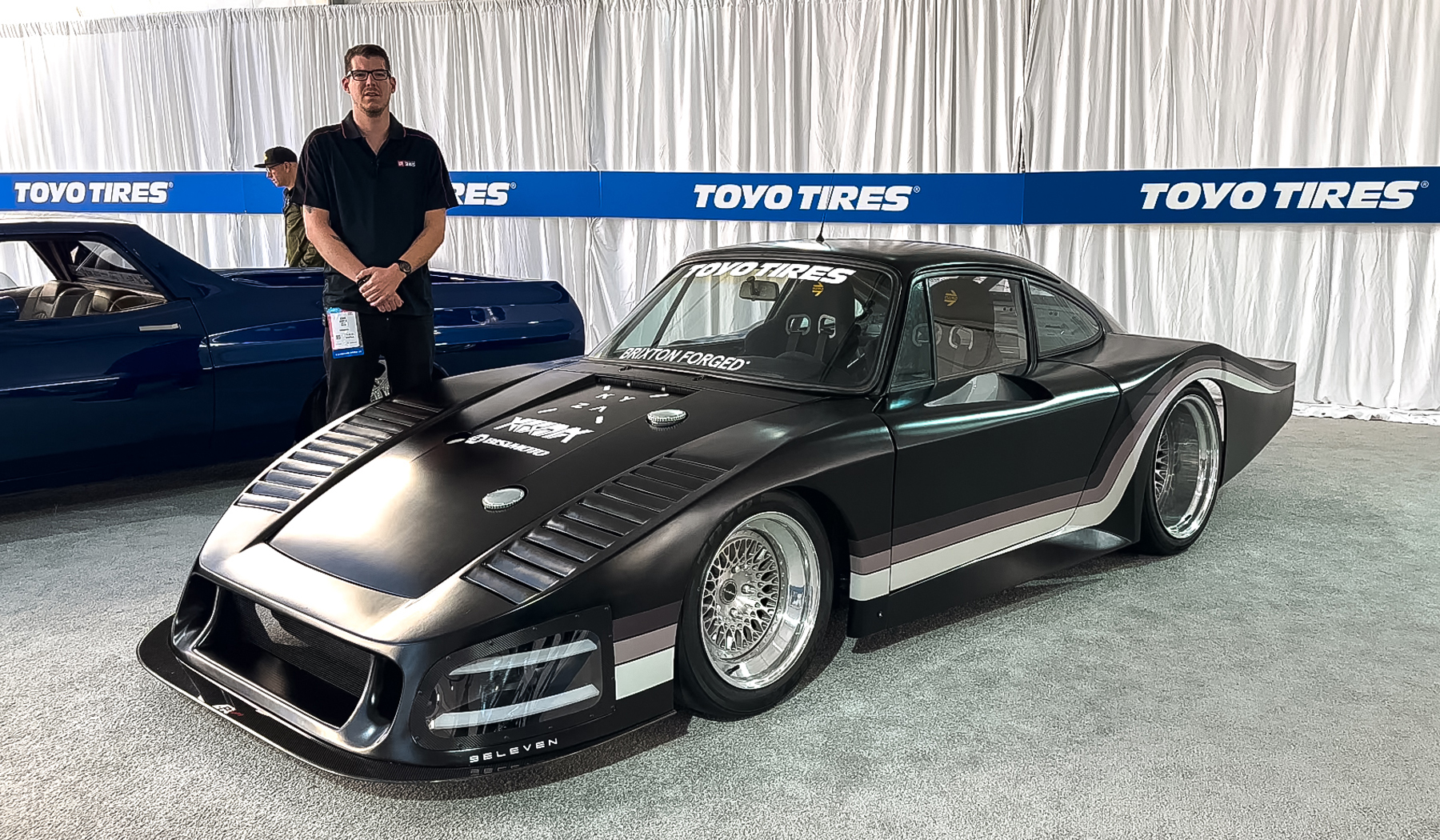 Bisimoto's Moby X Porsche
Also a PASMAG Editor's Top 10 pick this year, the Moby X project is a special one. This build offers the automotive world a glimpse into EV "exotic" vehicles that can still go wild in the design process. The longtail body, conceptualized by Errolson Hugh of Acrnonym and Rod Chong of Race Service, was ultimately designed by The Kyza. The beautiful body sits atop a Porsche 935 chassis, electrified by way of Bisimoto much like his original EV Porsche build from years prior.
---
Neil Tjin's TjinEdition Ford Mustang Mach-E
What makes Neil Tjin's Ford Mustang Mach-E so special is that it showcases some of the car show world's most popular modification methods in action on an OEM-backed project. Air suspension with a beautiful front trunk setup, big wheels, and a bike in tow courtesy of a killer Thule bike track are just some of the immediately noticeable features to make this thing as fun as possible. Ford picked the right builder to give this project!
---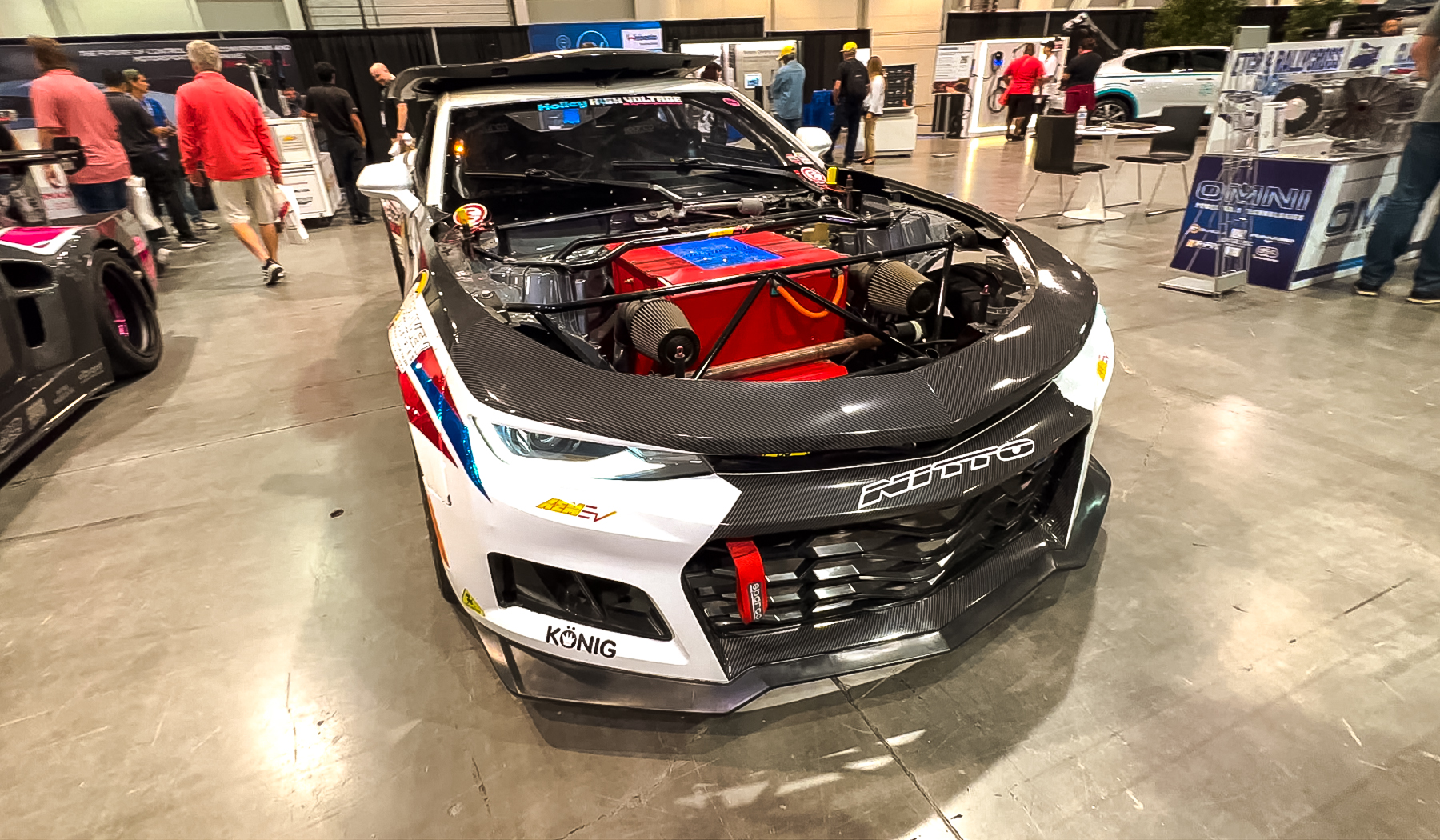 Travis Reeder Drift Camaro
Travis Reeder's EV drift weapon Camaro is a testament to the motorsport world embracing the potential of EVs at the highest level. While it may no longer be in competition usage, the EV drift Camaro shows the level that things can be taken to in pursuit of tire-shredding terror. With how far EV motorsports has come in the short time since this Camaro made its debut, we think this vehicle deserves some trailblazer honors.
---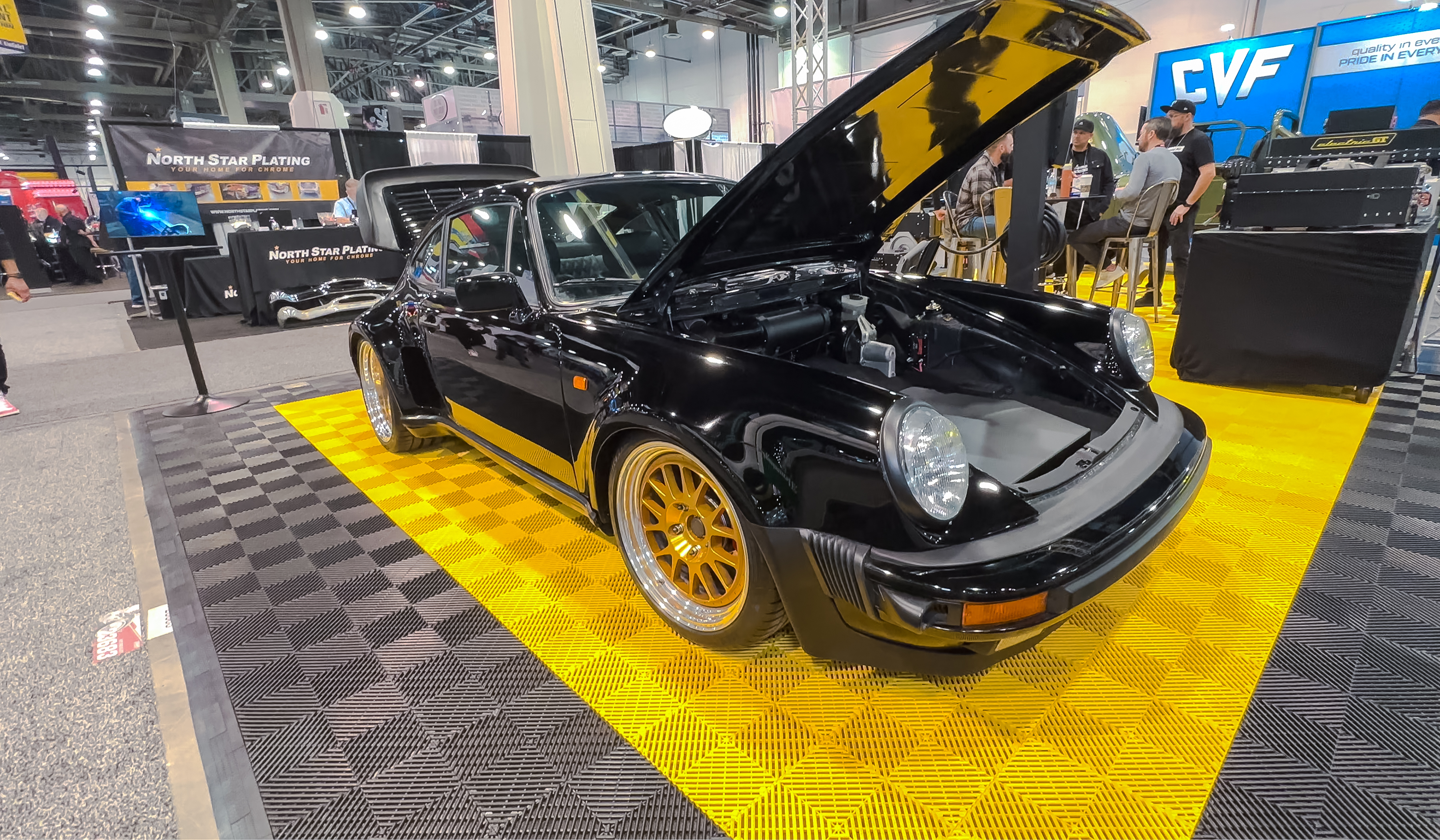 Electric GT 913 EV Porsche
While it may not look like a wild and crazy EV on the surface, the 913 EV Porsche from Electric GT is an easy favorite of the EVs at SEMA 2022. Part of what makes it so cool is that the EV drivetrain and all of its associated gear is integrated into the vehicle in a non-destructive, totally reversible way - a truly plug and play turnkey affair. Additionally, the kit maintains OEM weight distribution, while still offering an instant 436 electric horsepower thanks to a Tesla drive unit. The kit itself will fit and power Porsche 911, 912, and 964 models all without giving your classic chassis a fabrication massacre. There's something special about taking classic car EV conversions to the next level with such a simple formula.
---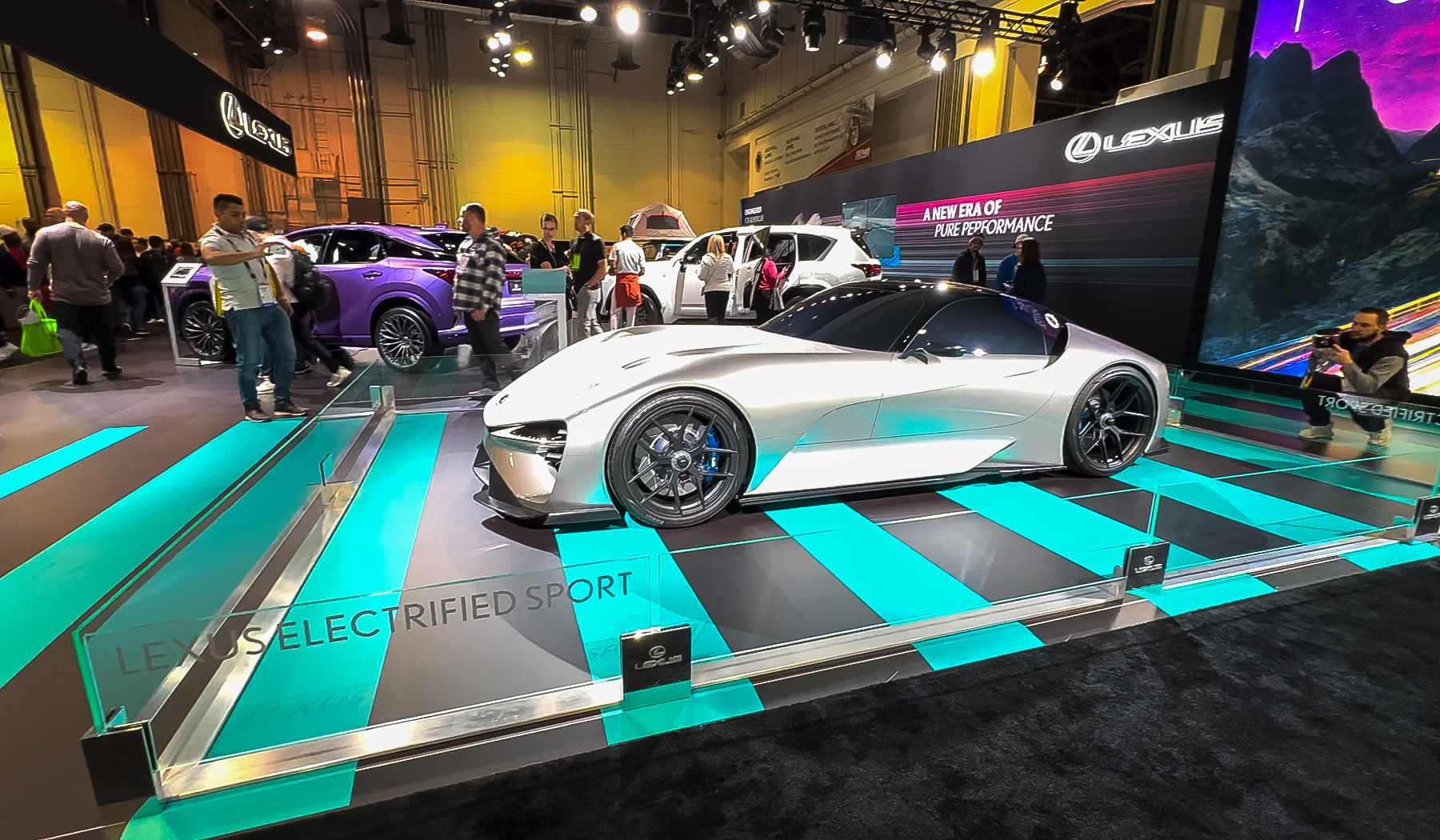 Lexus Electrified Sport Concept
While still a concept, everything about the Lexus Electrified Sport Concept really got the proverbial gears turning. Even before the cover came off this thing, the silhouette under covers was exciting enough to garner tons of attention. Shown off a few times prior to SEMA, the concept is an electrified spiritual successor to the Lexus LF-A. In its current state it boasts an alleged range of 430 miles (692 kms), and a sub-three-second 0-60 time, we're pretty stoked on the production model that eventually comes out of this.
---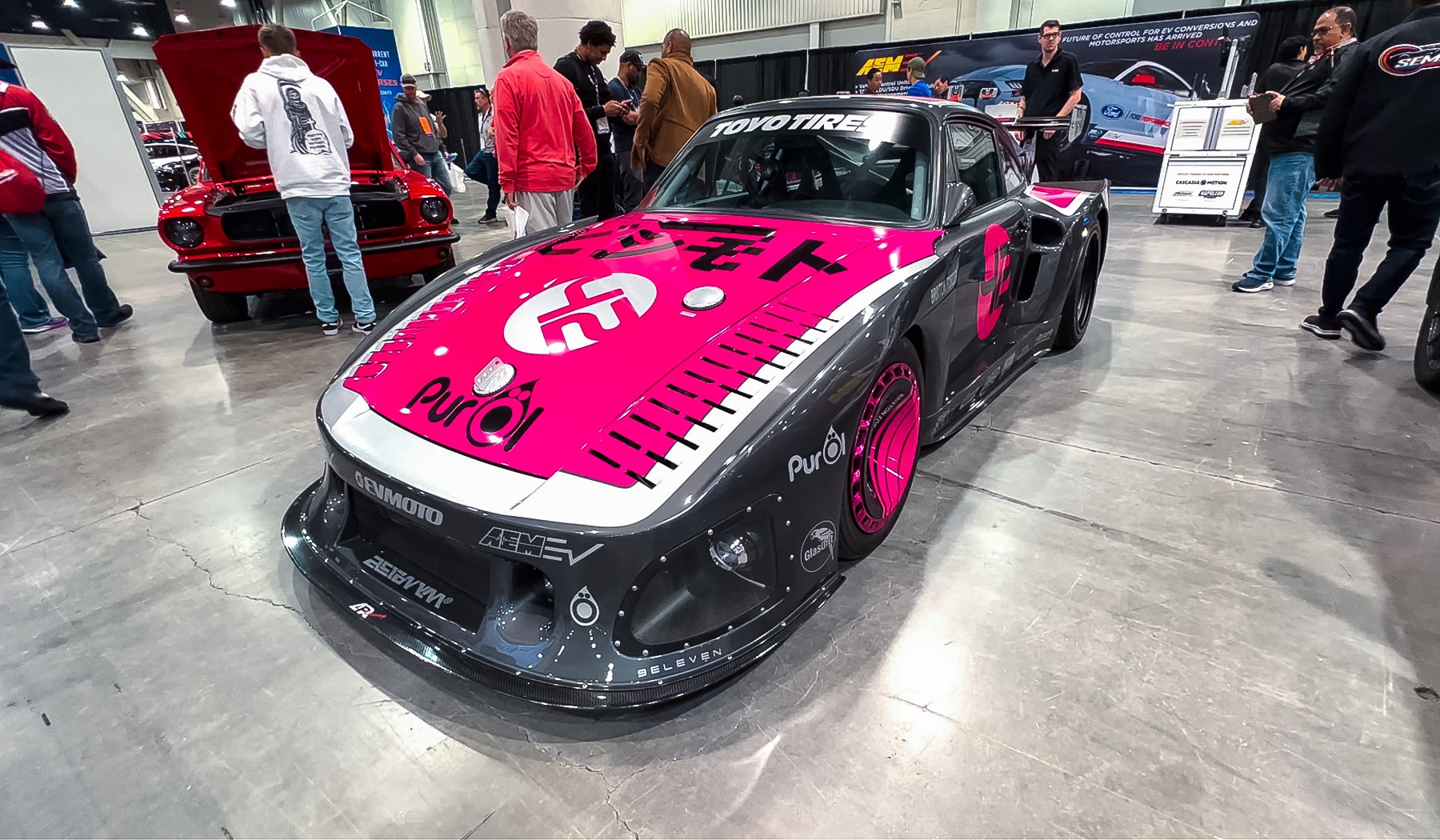 Bisimoto's Original EV Porsche
While it may not be a new build to us, there's still something so special about Bisimoto's original EV Porsche. To many people, Bisimoto's 1984 Porsche 935 was the first ever "cool" EV. With over 630 electrified horses on tap at the drop of a pedal, this marked one of the biggest departures from Bisi's storied build history over decades. Regenerative braking, a feature found on most OEM EVs, was implemented here, and the styling is superb. For us, this is one of the most timeless EV builds to date.
---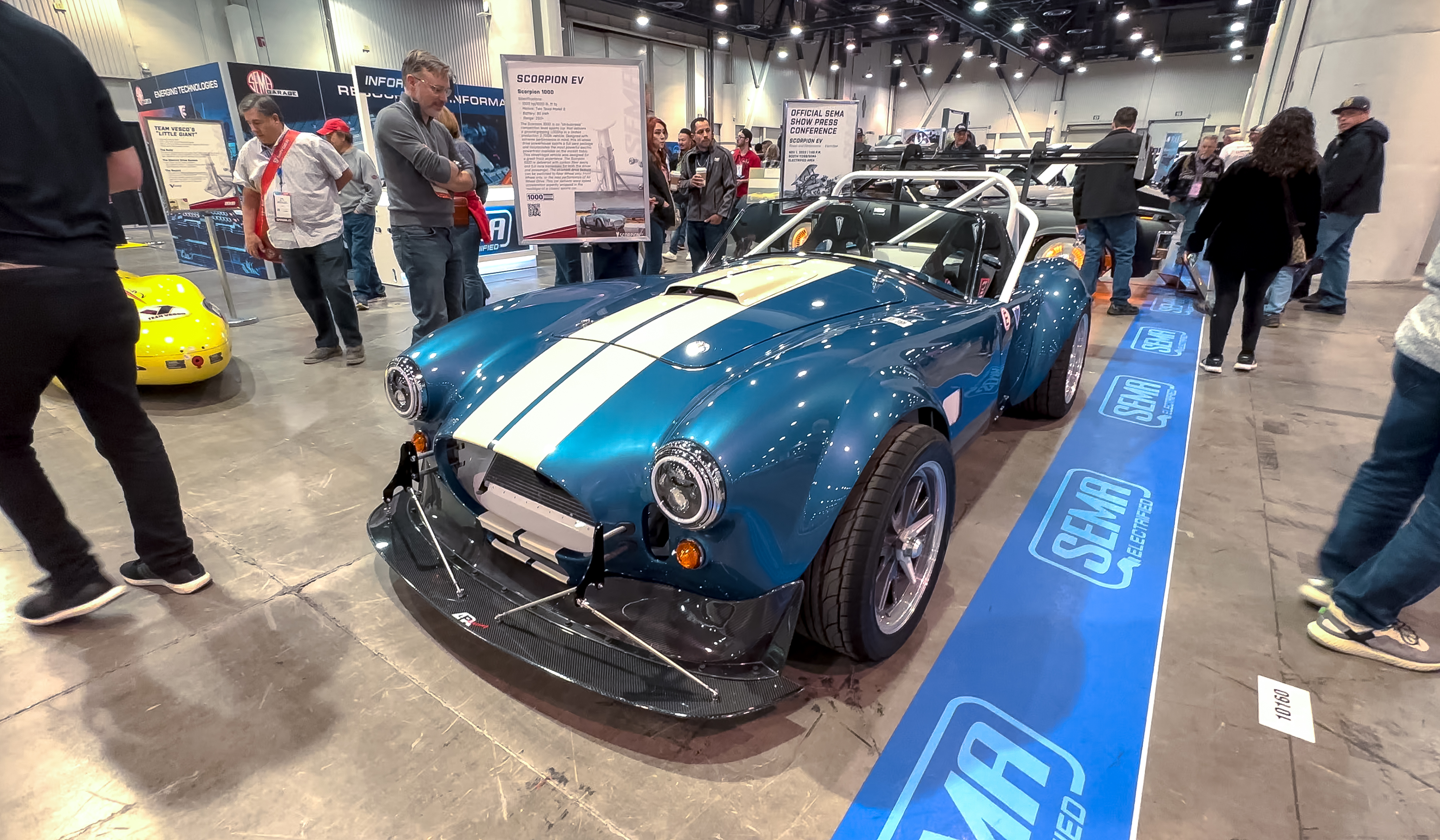 Scorpion EV "Scorpion 1000"
Scorpion EV's Scorpion 1000 is potentially the coolest EV "Cobra" of them all. The Scorpion 1000 is a competition level EV sports car offering 1,000 horsepower in a limited production 2,700 lb vehicle. It is street legal, and track ready. In addition to the dual Tesla Model S motors, it boasts carbon fiber aero and seats, full race harnesses, and killer design. Perhaps some of the coolest functionality is its ability to switch drive mode from AWD to RWD to FWD with the push of a button. Warp speed electric performance wrapped in the nostalgia of a classic icon? Sign us up.
---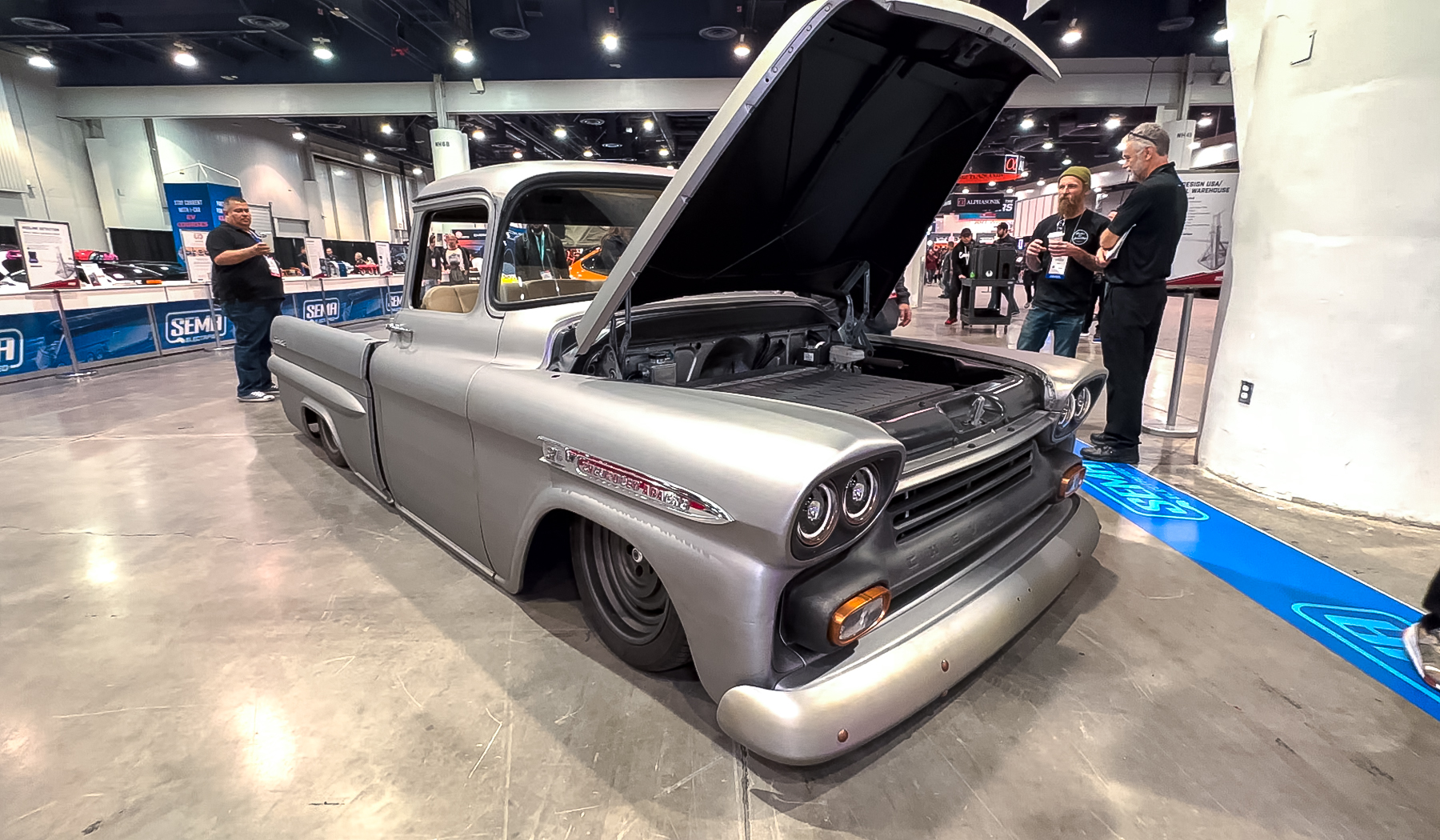 Electric Chevy Apache Fleetside
This electrified Chevrolet Fleetside truck gave us a warm fuzzy feeling. The niche world of truck hot rodders is often left out of the EV conversation, but the builder of this truck wanted the world to know that not all truck hot rod guys are apprehensive about the thought of electrification. Slammed and adorned with all the show-stopping touches you might expect from a cool classic truck, this modernized Fleetside features a battery nicely integrated into the truck bed in order to power its EV heart. It was this EV that showed us there truly is an EV for everyone at SEMA 2022.
---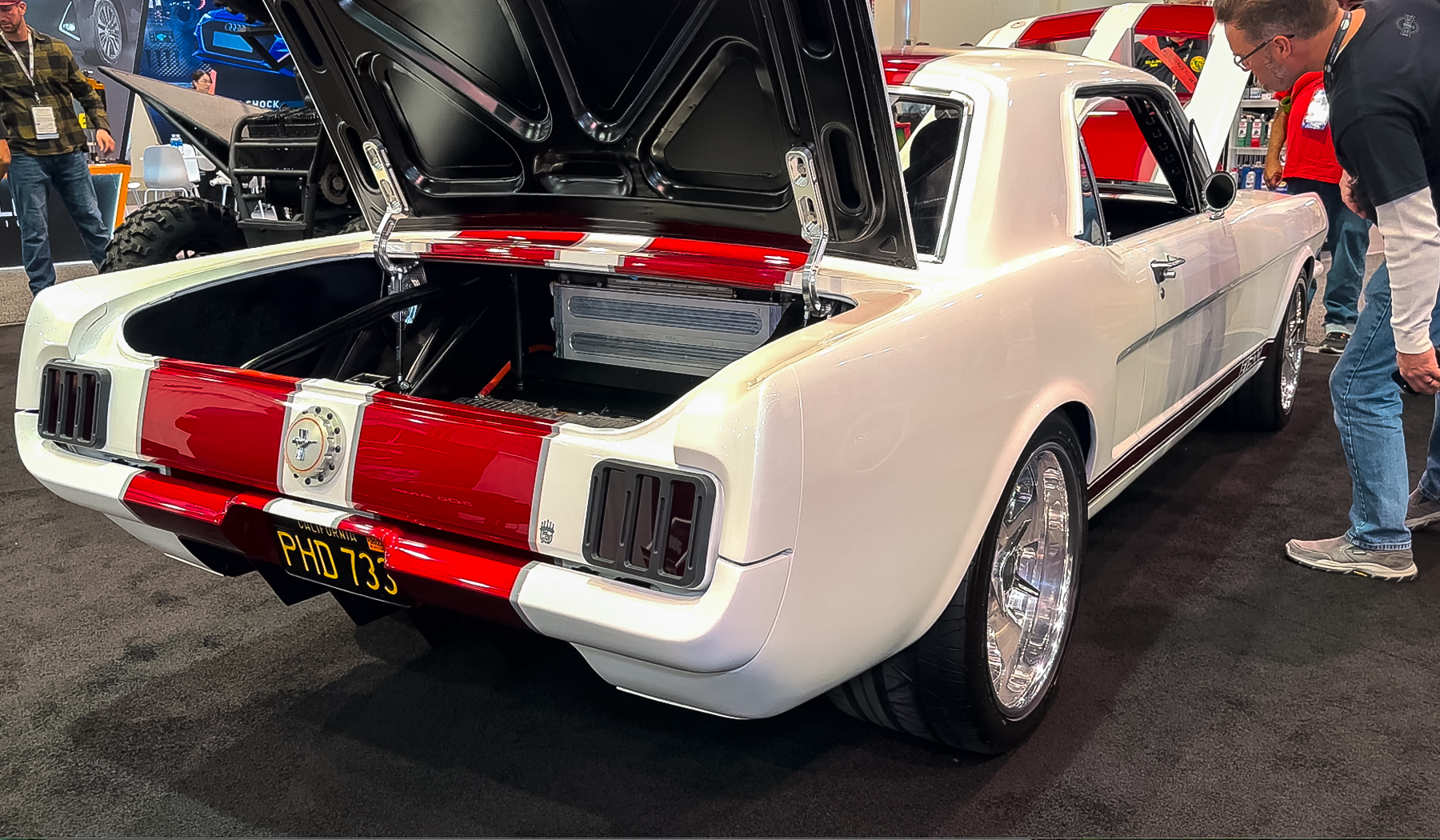 Legacy EV EV500 Mustang
Legacy EV showed off an easy favorite among the top electric builds for enthusiasts, their EV500 Mustang - with its moniker shown off where you would normally find the platform's GT500 markings. The EV500 is built upon a Roadster Shop first gen Mustang chassis mated to a reVolt Systems CR-43 electric crate motor. This is no average electric conversion classic cruiser - that CR-43 is capable of over 600 horsepower and 800 lb-ft of torque, and as such is equipped with Kirkey Seats and Simpson harnesses. This old school cool machine will keep up with the new Mach-E, and surprise some people while doing it.
Video footage by Mikey Dang (@photo_md)