One of the internet's most popular - and polarizing - Miata builds.
If you've been a reader of PASMAG for a few years, there's a good chance you're already familiar with Dione Mascunana - or at least his previous Porsche Cayman build. With one of the wildest Cayman builds in the world under his belt, Mascunana set his sights on another build to debut at another SEMA show. With such an insane build already attached to his name, he knew he couldn't disappoint. He chose a chassis that everyone loves, with a ton of potential: A first generation NA8 1994 Mazda Miata. Pop-up headlights included.
As you might expect, and as you can see at first glance, wild style was on the menu for this Miata build. You might immediately recognize the Rocket Bunny Pandem kit, and the fact that the kit isn't the most out-of-this-world part of the whole build really sets the tone for what to expect here, but let's start at the beginning. Upon taking ownership of a perfectly clean Miata, Mascunana's first order of business was to ensure it felt as good as new. A quick clean, a fluid change, and all sorts of brand new OEM parts, upgraded hardware, and bushings went on right away.
While the focus of the build overall was eye-popping, show-stealing visuals, he didn't leave the engine bay completely untouched. Mascunana does love to drive his cars, after all. Under the hood you're met with the same cleanliness as you might imagine, with some quality bolt-on mods for the 1.8L Mazda. A Flyin' Miata turbo kit with all accompanying goodies and a Skunk2 manifold are immediately noticeable. A Koyorad radiator ensures coolant temps stay low in that California heat, and his custom air-boxed intake takes center stage. Other engine mods include ID1050X injectors and Flyin' Miata's flex fuel kit to run E85, an ATI damper, as well as AWR race engine mounts to keep things solid.
The plethora of suspension work under this Miata ensures that the car can reliably handle the corners time and time again, just as the Miata platform was intended. Billet upper control arms and tubular lower control arms from V8Roadsters can be found here, as well as ample bracing and sway bar components from Racing Beat. More goodies from Flyin' Miata can be found in the form of their butterfly brace, Paco Motorsports strong arms, and billet rear sway bar brackets. AST 3-way coilovers with Swift springs do most of the heavy lifting in the corners, and with a widened track width, we imagine this thing handles like a go-kart!
The emphasis on style begins at ground level with the set of 16-inch HYDRON+ Superdisc wheels poking out from the body, wrapped in a set of race slick tires - certainly grippy enough for the platform. From there, it only gets wider and wilder. From the Rocket Bunny Pandem kit, to the Toyoshima side skirts w/ hand-made custom extensions, the front splitter and neighboring aggressive canards, the vented hood, hard top, and duckbill spoiler, this Miata is far from ordinary. Finished in Ferrari Rosso Red paint, it's the perfect color to stand out.
Built to be driven, the interior is a combination of race-ready parts and comfort zone modifications. Mascunana is held in place via Recaro Pro Racer kevlar seats, which also feature HANS capabilities for when he takes the Miata to its limit on the track. Schroth Profi III belts keep driver and passenger snug in place, with optional belt pads to maintain street comfort for all. The modified center console comes courtesy of IL Motorsports, who also supplied the pedal set, giving this Miata a true racer-for-the-street feel. Tying the look together up front of the cockpit is a Reverie carbon fiber 315mm steering wheel, affixed to a Krontec quick-release. The interior is simple and functional, with the perfect amount of minimalist styling to complement the wild styling of the exterior, which remains the focal point of the entire build.
Some custom lighting work, neat additions like the pop-up headlight controller, and a constantly evolving spec sheet continue to give this Miata all the charm it needs to steal the show, much like Mascunana's Cayman build before it. All in all, the "OMG Miata" is a jaw-dropper no matter who or where you are. Mascunana tells us he has some secret plans for a more powerful engine transplant in the near future, so the story isn't even done here. In the meantime, you can catch him enjoying the car the way it was meant to be enjoyed - on the street! We can't wait to see what comes next.
Photography by Dionne Mascunana (@omgmiata)
Dione Mascunana's 1994 Mazda Miata is featured in PASMAG #171. Click HERE to order.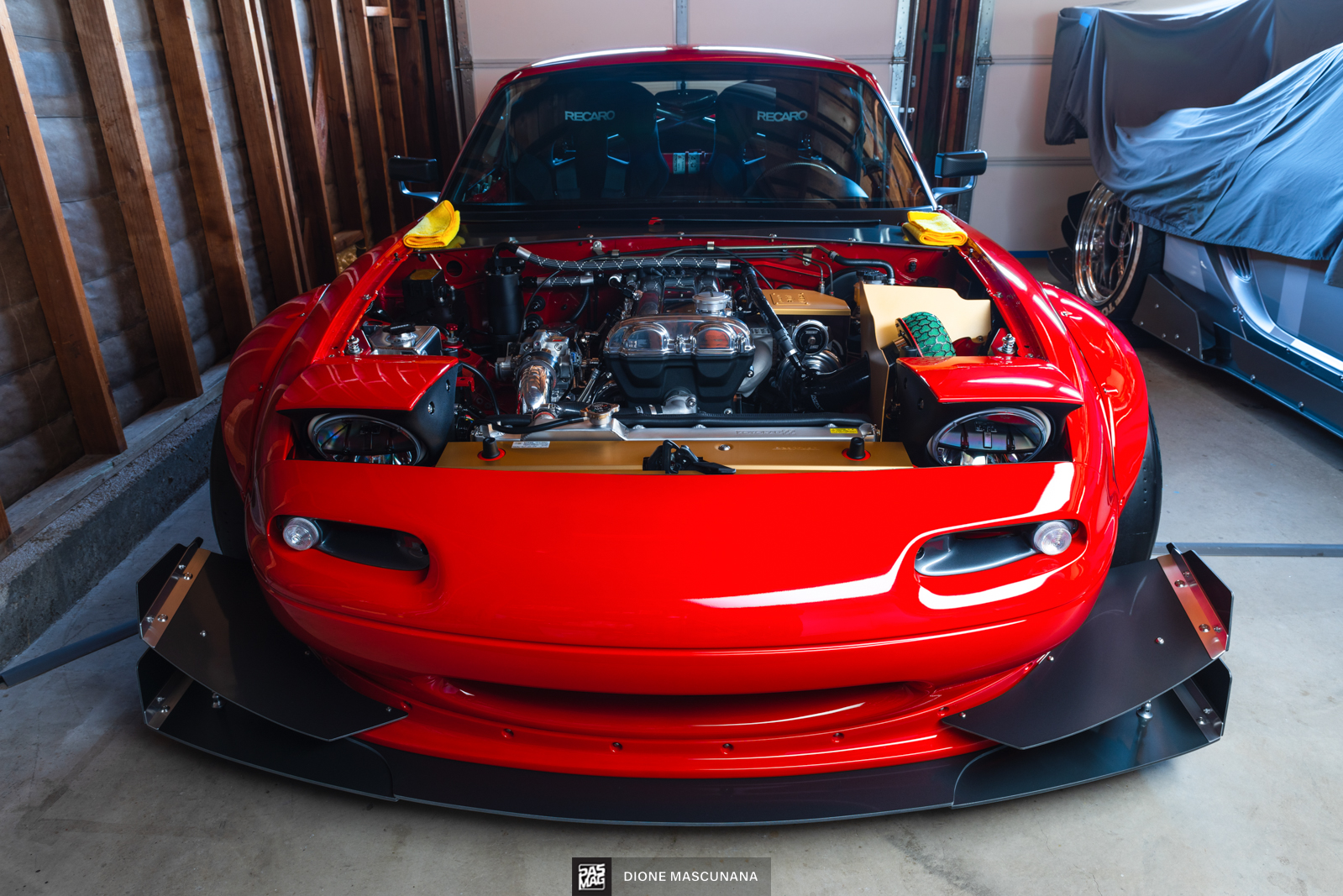 ---
ESSENTIALS
Owner: Dione Mascunana
Location: Orange County, California, USA
Vehicle: 1994 Mazda Miata
Horsepower: 295 (est.)
Social Media
Instagram: @omgmiata
YouTube: @OMGMIATA
ENGINE
EXHAUST
Racing Beat (Race Power Pulse exhaust system, race pipe, exhaust hangers)
DRIVETRAIN
Super Miata (clutch slave cylinder, clutch master cylinder, stainless steel clutch line) + IRP short shifter
WHEELS / TIRES / BRAKES
HYDRON+ Superdisc wheels - 16x12.5 (f/r) + Race slick tires + Project Kics Conix extended lug nuts + Wilwood (master cylinder, 6-piston front BBK) + V8Roadsters (Wilwood MC adapter kit, MC brace kit) + Flyin' Miata (ARP long wheel studs, 4-piston rear BBK, speed bleeders)
CHASSIS / SUSPENSIONS
V8Roadsters (billet upper control arms, tubular lower control arms) + Racing Beat (front race tubular sway bar, front sway bar brace kit, solid rear sway bar, rear lower control arm brace, front control arm brace, front HD sway bar bracket) + Super Miata end links + Flyin' Miata (butterfly brace, Paco Motorsports strong arms, billet rear sway bar brackets) + Zerek Fabrication roll / harness bar + AST 3-way coilovers + Swift springs + Keisler spindles
EXTERIOR
Rocket Bunny Pandem body kit + Toyoshima side skirts + Ferrari Rosso Red PPG paint + Craft Square carbon fiber side mirrors + Rigid Industries LED headlights + IL Motorsports front signal lights + Custom (front splitter, side extensions)
INTERIOR
Recaro Pro Racer Hans SPA kevlar seats + PCI seat brackets + ASR harness belt roller + Schroth (Profi III belts, belt pads) + ZOOM Engineering rear view mirror + Moss (sun visor delete, front floor mats) + IL Motorsports (pedal set, center console) + Reverie 315mm carbon fiber steering wheel + Krontec quick-release + CS steering wheel hub + Revlimiter (AC rings, gauges) + GV light panel
SPONSORS
---
PHOTO GALLERY