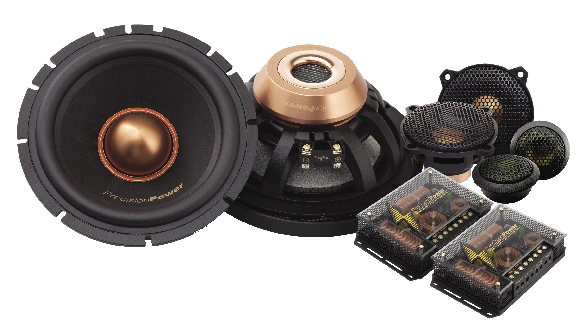 Of all of the products I get to review and play with, I'd have to say that component loudspeakers are my favorite product to evaluate. The choice of which loudspeakers we use has more effect on the overall sound of our systems than any other component. And I listen to a lot of different types, brands, sizes, and configurations. I listen to really basic systems at bargain prices, all the way up to ultra high-end systems costing as much as a nice used car.
Regular readers of my columns will remember that I don't believe there is "one true sound" for everyone, and your choice of speakers is greatly influenced by your own personal taste and there's nothing wrong with that. But, by the same token, a really good set of speakers will please almost everyone, because a really good system can accurately reproduce any kind of music at a wide range of volume levels. Many people believe that only speaker systems with very flat response curves sound good and that is simply not true. The actual response curve we hear is affected by the listening environment, reflections, speaker placement, and dozens of other factors.
One of the most popular and competitive price ranges for a high quality set of component speakers is between $400 and $500, with
a dozen or so good brands vying for your consideration. And as luck would have it, a brand new 3-way component system from Precision Power just showed up here at the lab, and it's priced right around 450 bucks (US).
The all new PC3.65C 3-way component system has been over two years in the making, and is the brainchild of Grizz Archer, Precision Power's Loudspeaker Engineer and Product and Marketing Director. The system is comprised of a 6.5" driver, a 2.5" midrange, and a 0.8" aluminum inverted dome tweeter, and a special crossover that can be used in either a 2-way or 3-way configuration with just the push of a button.
In the Details
The PC3.65C system incorporates some fairly unusual features for a mid priced set of components. All of the drivers employ fully encapsulated neodymium magnet motor assemblies, and high-tech materials and techniques abound.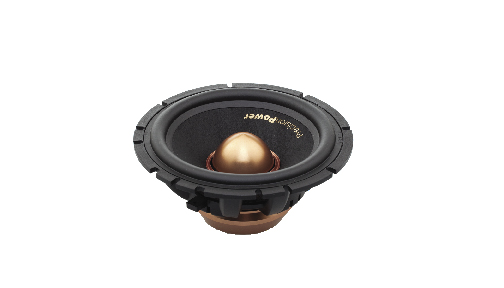 6.5-inch Subwoofer
The 6.5" woofer looks quite radical in its design, incorporating a neodymium motor, and a large copper plated solid aluminum phase plug, almost 2" in diameter, protruding out of the center of the cone. Obviously, the woofer uses a large 2" voice coil, which is about twice the diameter of a more conventional driver. It's wound on a reinforced aluminum former, all in the interest of improved heat dissipation and greater reliability. The midbass drivers cone is Kevlar reinforced pressed paper, with an open cell foam material laminated on the backside to reduce cone resonance and decrease distortion. A single Conex spider provides coil centering and suspends the lower section of the cone. The basket of the midbass driver also received special attention. Constructed of fiberglass reinforced nylon, the basket has a very low resonance frequency to prevent basket "ringing", and also to withstand the daily rigors of the harsh automotive environment. A full coverage, stamped steel mesh grille is included.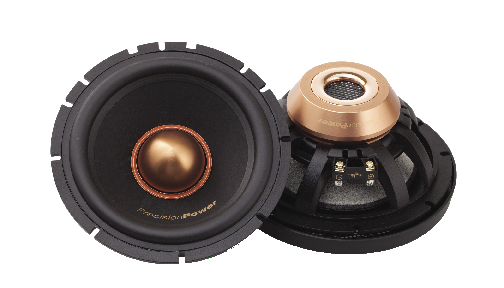 2.5-inch Midrange
The diminutive 2.5" midrange driver might seem like it's too small to make a difference, but fear not, it has been cleverly designed with a ridiculous amount of excursion for such a tiny driver. In fact, this little midrange has similar excursion to a 4" driver, and at only 1 3/8" deep, it's small enough
to mount in many A-pillars or dash locations. Utilizing a black anodized aluminum cone and an inverted rubber surround, the midrange driver includes a stamped steel mesh grille, and a copper plated motor cover.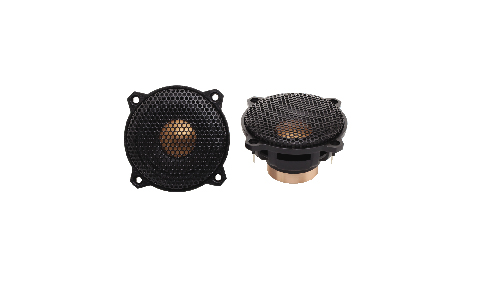 Tweeter
The PC3.65C tweeter has an inverted, textured, copper anodized aluminum dome and is driven with a 20mm coil. According to Grizz, the texturing process resulted in a smoother sounding tweeter without the usual "brittle" sound of a metal dome. To make sure the tweeters go the distance, Ferrofluid cooling was implemented for high power handling. The tweeter includes a matching mesh stamped steel grille.
Crossover
The same attention to detail and clever design ideas went into the PC3.65C crossover networks. The crossover filters are all 12dB per octave or "second order" Butterworth alignments, so the system can maintain phase coherency, and the usual gadgets like phase switches and tweeter level shifting were omitted completely in the interest of simplicity and clarity. Each crossover network measures about 7" x 4.5" x 1.5" and has
a lightly tinted Lexan top. The sides of the crossover housing are made of perforated steel mesh, for proper component cooling. Inside, you'll find the usual complement of air and iron core inductors with heavy gauge copper windings, as well as both mylar and electrolytic capacitors. Another clever feature of the crossover network is its ability to be configured as a 2-way or 3-way system with the press of a single switch. A light bulb is provided to dissipate excess power to the tweeter, and a polyswitch protection device is also present to protect delicate voice coils from being overdriven. The wire terminals will accommodate 10 gauge cables, but the system comes with much lighter 18 gauge wire that tends to get cut off if the set screws are over-tightened.
Read on for Results