One of the hardest things to accomplish at SEMA (aside from making not bad descisions) is picking the best of what SEMA has to offer. For PASMAG it was kinda easy since we had to source 30+ cars for upcoming features so we were taking a really detailed look at every aisle. Another simple process was picking the top cars because some of them just ran away with the show.
We hinted at them in our SEMA 2010 coverage, Facebook and tweeted about them too but we wanted to give you a better look at why we chose them. There was method to our madness and we wanted to offer some insights as to why it wasn't all Sport Compacts this year either.
1. K&N Engineering Dodge Viper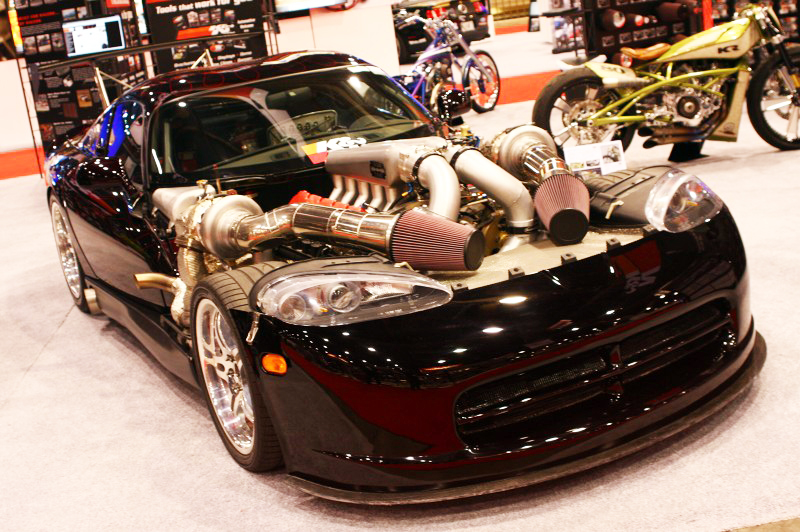 K&N Engineering is a mulit-mullion dollar operation in Riverside, CA that houses an outragous R&D department. These guys basically do whatever they want in this automotive lab and this Dodge Viper is the result of all that leash they get. The owner of K&N Engineering wanted to modify his Viper for the Texas Mile competition and we'd have to say this car measures up. The end result of their efforts was this 2000whp Twin Turbo Dodge Viper that apparently runs 900whp on low boost setting! The fabrication under the hood (which was no where to be seen) was intense and this Viper was all business inside. If I ever drive it, I can die afterward and be totally fine with that.
2. Vaughn Gittin's RTR Mustang Fastback

We remember seeing renderings of this car and kinda dismissed it as some marketing jive that would never turn out as expected. Well Mustang tuners, RTR and Formula D Champion, Vaughn Gittin Jr. were throwing some heat with this project! It turned out better than we anticipated from the sketches. What we liked about it were its classic lines direct from the '67 fastback giving it the muscle car look but with a distinct JDM influence. Work Wheels, Falken Tires, N1 fender flares and a poke and stretch you might only find overseas. The build was stupid clean and the rear suspension didn't feature the trademark solid axle, not even a standard indepedent suspension but transverse mounted coilovers to a custom setup under the rear glass.
3. Underground Racing Twin Turbo Murcielago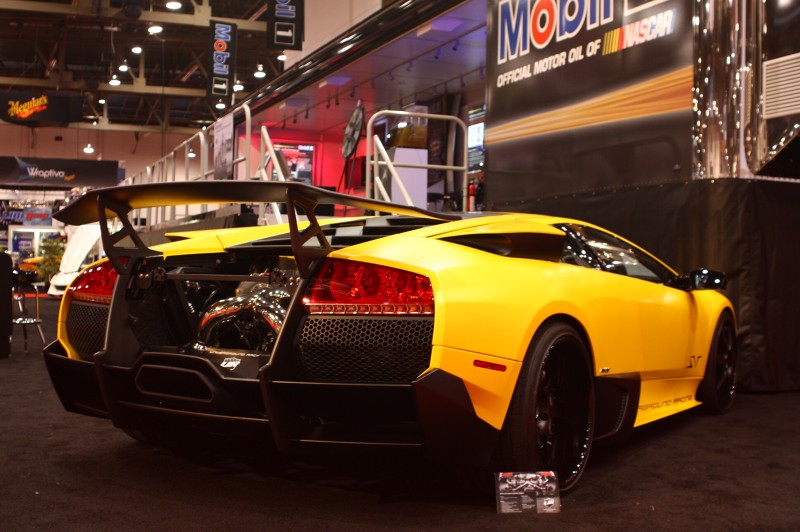 Let's face it Lamborghinis are dope enough and the Murcie is at the top of the heap. The striking design of the car dates back to the early part of the decade but it truly has timeless lines. The boys over at Under Ground Racing have take the V10 and V12 Lambos to the next level with twin turbo setups that crank out 4-digit horsepower numbers. The have been owning the internet with their viral videos and even crashing a Gallardo at almost 200mph makes them still look badass. The UGR Murcie at the Mobil1 booth truly was a work of art and looked stupid fast just sitting there.
4. iForged Wheels Mercedes SL55 Widebody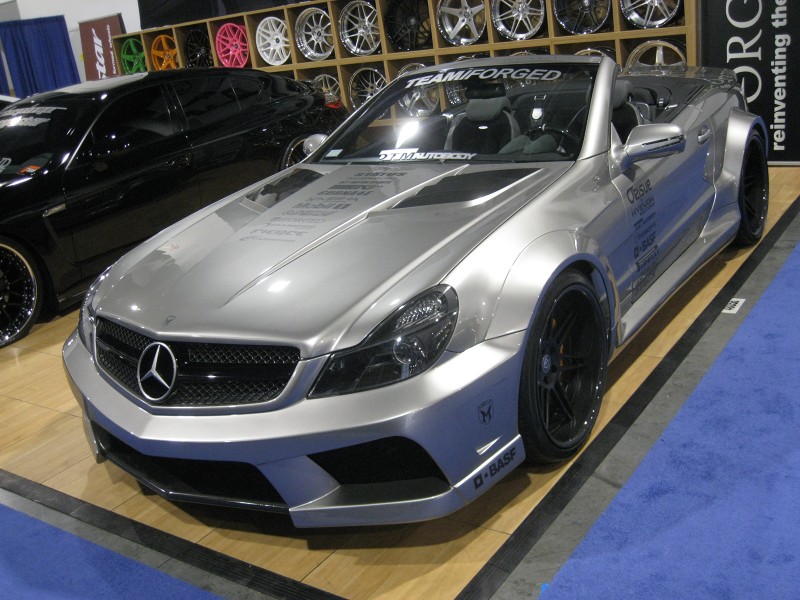 iForged Wheels as a company has only been around 10 years but they have cranked out almost as many SEMA cars in their brief history. And we are not talking about plastering some other project with stickers and a set of wheels but ground up, balls-out builds starting with a weaksauce stock car. Co-Owner Vince Wong bought this SL55 in the summer and this entire project took only 7 weeks to construct. Full Widebody, custom interior, one-off wheels and a 650hp supercharger upgrade that takes a Benz he probably paid $30-grand for into something that makes the AMG Black Series it's bitch. In the last 2 weeks, Wong and Traffic Jams of Hollywood have done a full audio install using Diamond Audio and Kenwood gear that will make its debut at the CES Show. That is just over two months total for this build, Wong is the man.
5. Wraptivo BMW M3 Widebody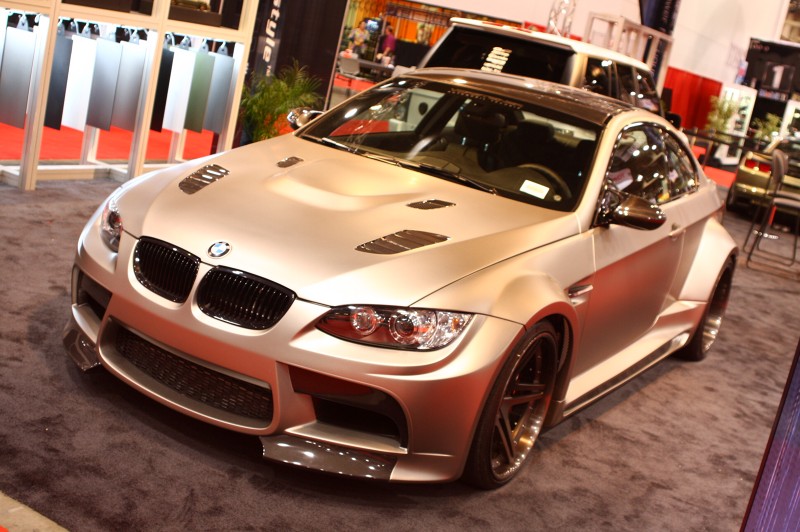 Don't like the color of your car? Wrap it!  That is the trend Meguiar's is looking to bank on with thei new Wraptivo line. The demo car they brought out was this stunning E90 M3 widebody rocking plen ty of carbon fiber accents and Vossen wheels. Although we couldn't get anyone to comment on the mechanics under the hood or on the chassis, the total pacakge just looked that good and we could picture tearing it up in the canyons on on the streets of LA in this badman-mobile.