Photography by Eric Eikenberry.
---
Some folks have 401k plans, money in the bank from years of hard work, and IRA accounts worth hundreds of thousands of dollars. Some people, like magazine editors, have little more than that which is created by their overly vivid imaginations. Mark Buffington has an Evo 8 and, for him, that's perfectly alright.
You see, where his contemporaries cut their teeth on muscle cars, hot rods and big block V8s, Buffington came late to the game with a small import car he inherited from his father.
After a trip to a local show opened his eyes and whet his appetite for what could be, he found the four-door Evolution VIII as soon as it was released, traded in his training wheels and never looked back. Although he's now 57, and planning to retire in a few more years, it appears that slowing down will be out of the question. He is planning to go somewhere, fast.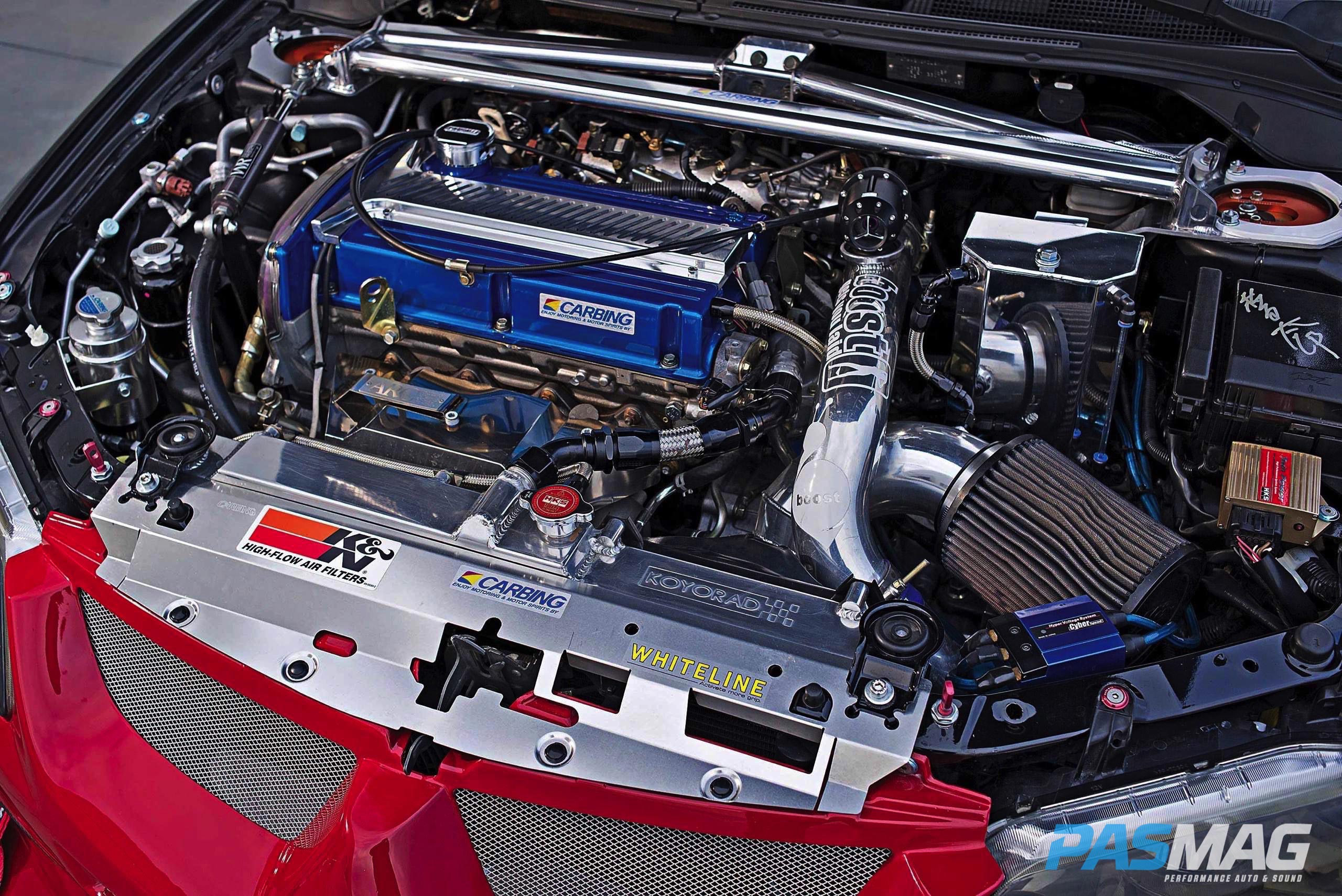 At the heart of Buffington's ridiculous build is the infamous 4G63T, with the "T" in this case standing for an FP Red turbocharger upgrade. The downpipe and wastegate come from HKS, and there's a front-mount Type "R" intercooler and piping connected to an HKS Special Edition black-finished SSQV blow-off valve. Injector Dynamics 1,000 cc squirters are necessary along with an AMS fuel pressure regulator and a Full Blown fuel hat with stainless steel lines.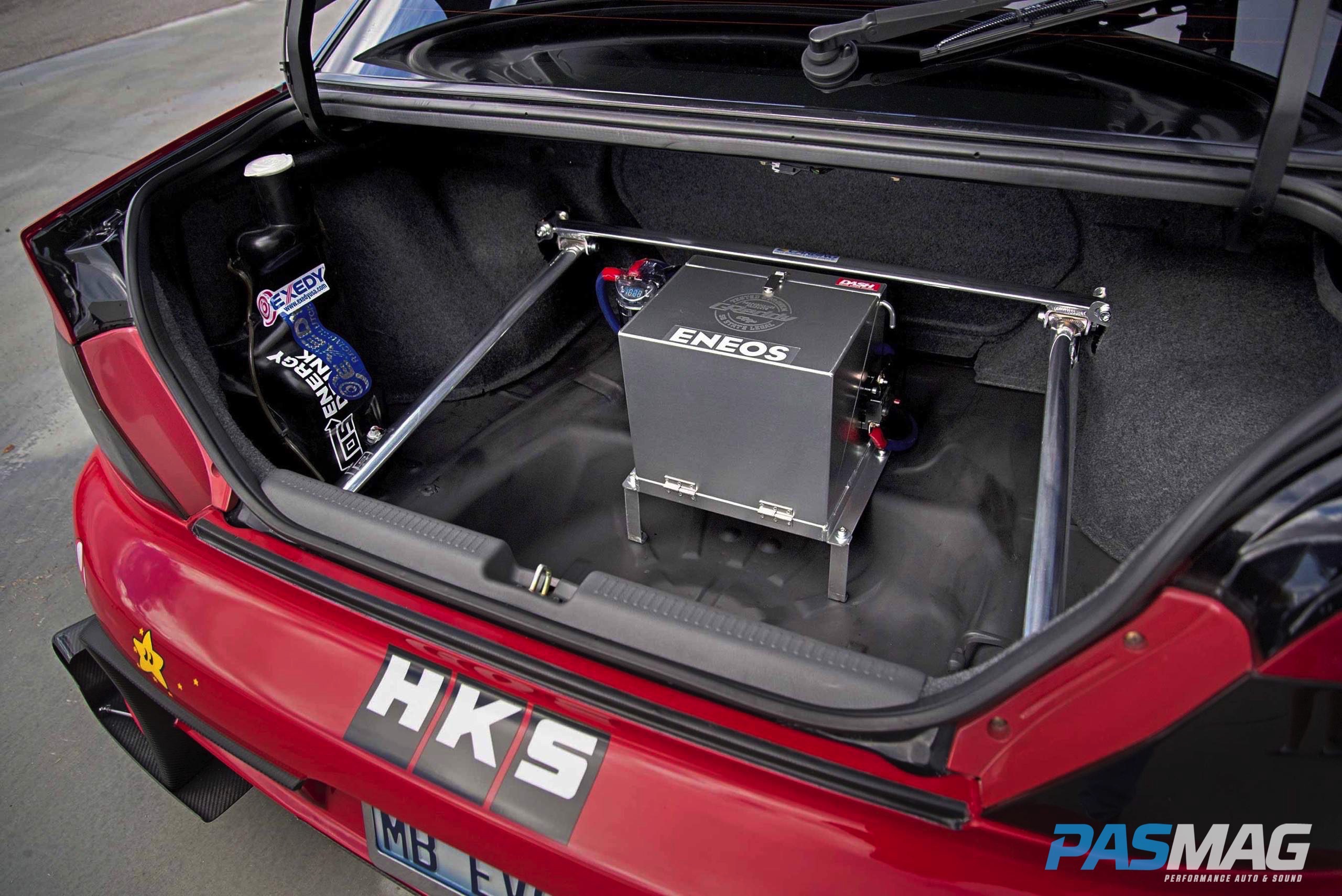 Ensuring sufficient fuel flow is the job of a dual pump setup; one Walbro 255 LPH pump combined with a Nissan 300ZX Twin Turbo pump. Insane Speed built a custom air intake, which features a K&N air filter for cool flow into the turbo. Inside the ported head are HKS 272- and 264-degree camshafts and timing gears spinning an HKS timing belt under a clear cover.
Buffington is especially proud of his fuse box cover, signed by the "Drift King" himself, and all of the custom touches and rare products he's accumulated, including the ARC turbo heat shield and the Carbing oil catch can with stainless steel hoses. He's also understandably proud of the power it produces.
"The 4G63 has been around for, like, 100 years. You can put down nearly 600 hp with it, and mine makes a little over 500 hp and 460 lb-ft of torque with the FP Red turbo. My STI-driving buddy always talks about how great his car is...but the STI motor is only good for a little more than 350 hp on stock internals, then you start breaking things like rods. I put him in my car, took him for a drive and scared him."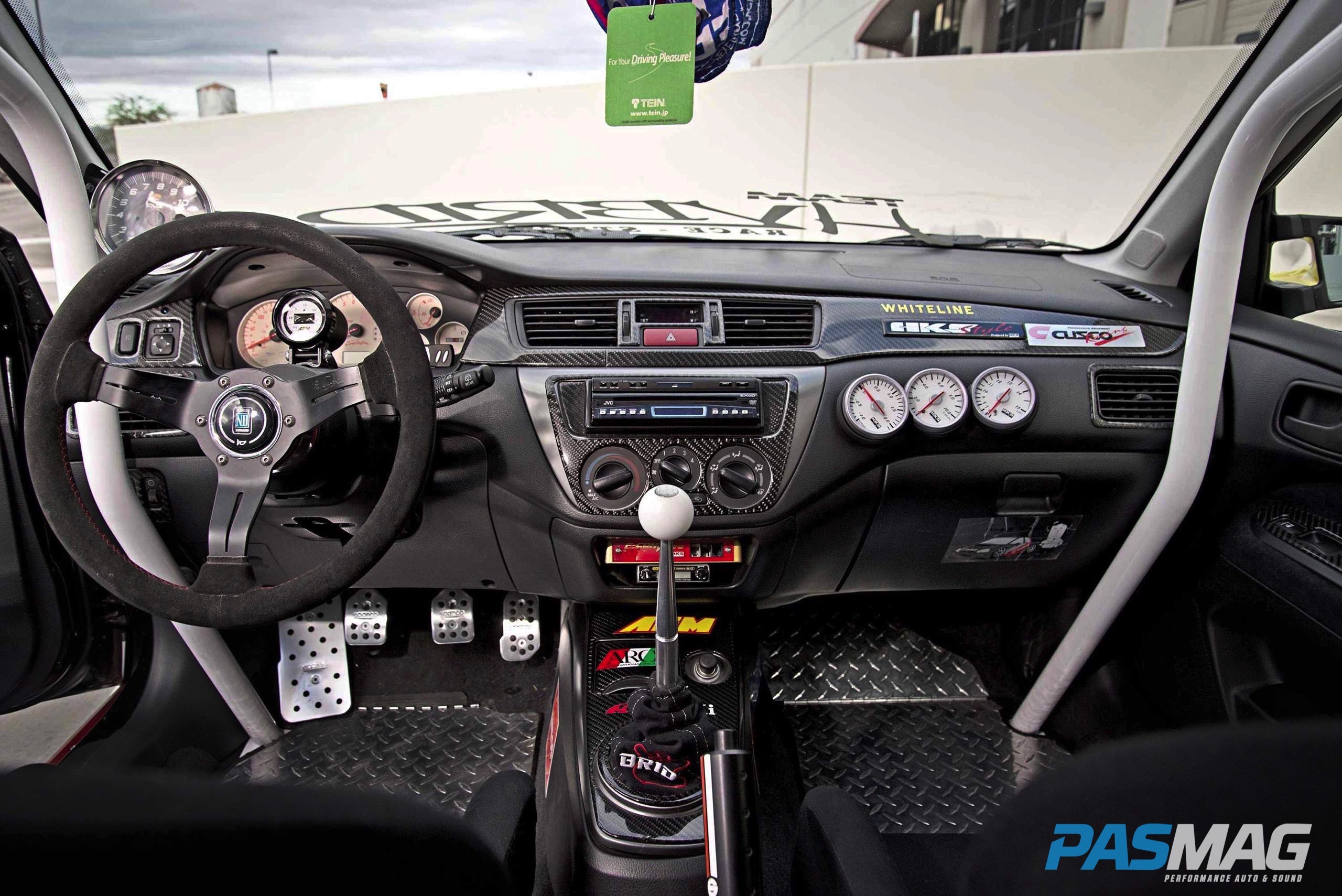 Engine management duties fall to the venerable, proven, HKS F-Con V Pro, which has been tuned by Mike Angel at Insane Speed in Las Vegas. He's also using a Blitz boost controller and turbo timer to keep the turbo happily spinning within its peak range. Buffington's not embarrassed about what he's spent on the work performed by Insane Speed either. "I look at my car and I think of it as a piece of art. I enjoy constantly redoing it. A project is never truly finished and I certainly agree with that. I've maxed out my credit cards, then paid them off, then maxed them out again, over and over."
The driveline modifications consist of an Exedy twin-plate clutch and flywheel and a Driveshaft Shop two-piece aluminum unit balanced to an absurdly-high RPM. Buffington knows the transmission and differentials will need reinforcement before he transfers the car to race-duty, but that's still a couple years away according to his plan.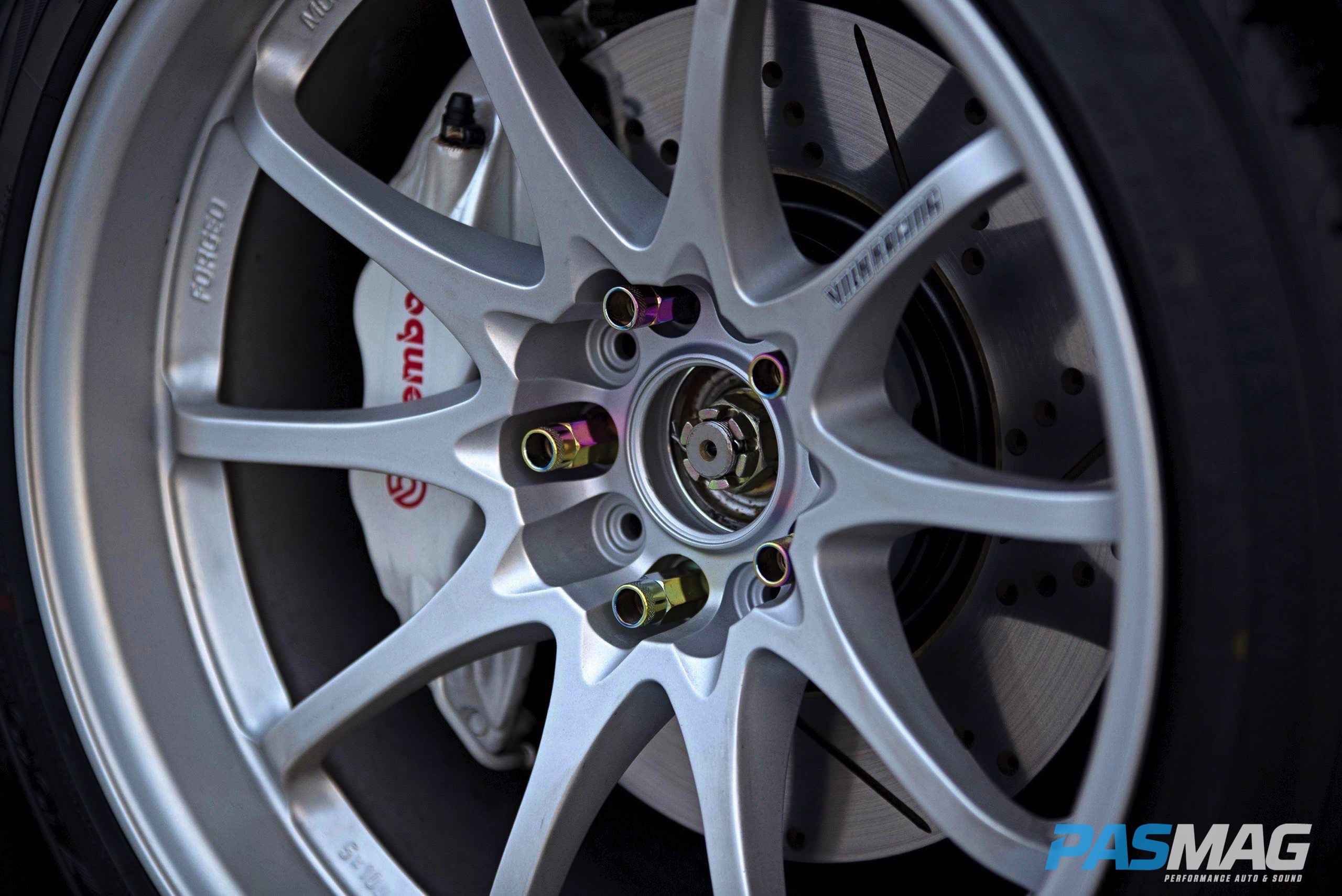 His brakes are the very capable Brembo four-piston fronts and two-piston rear calipers powder-coated in white, gripping Stoptech cross-drilled and slotted rotors. They sit inside silver-finished 18x10.5-inch Volk Racing CE28s wearing BFGoodrich 255/40-18 tires. And, as nice as they are, they can be completely overlooked when viewing the rest of the exterior because of the wild VeilSide VSD-1 body kit and Seibon carbon fiber CWII hood, trunk and front fenders. In the rear, an APR 500-series GT wing with custom Uehara winglets rests on 12-inch stands and three-inch extensions to better place it in the air flowing off the Seibon roof vortex generator. Varis front canards, side diffusers and a rear diffuser add the sort of downforce necessary to keep the Evo planted at track speeds.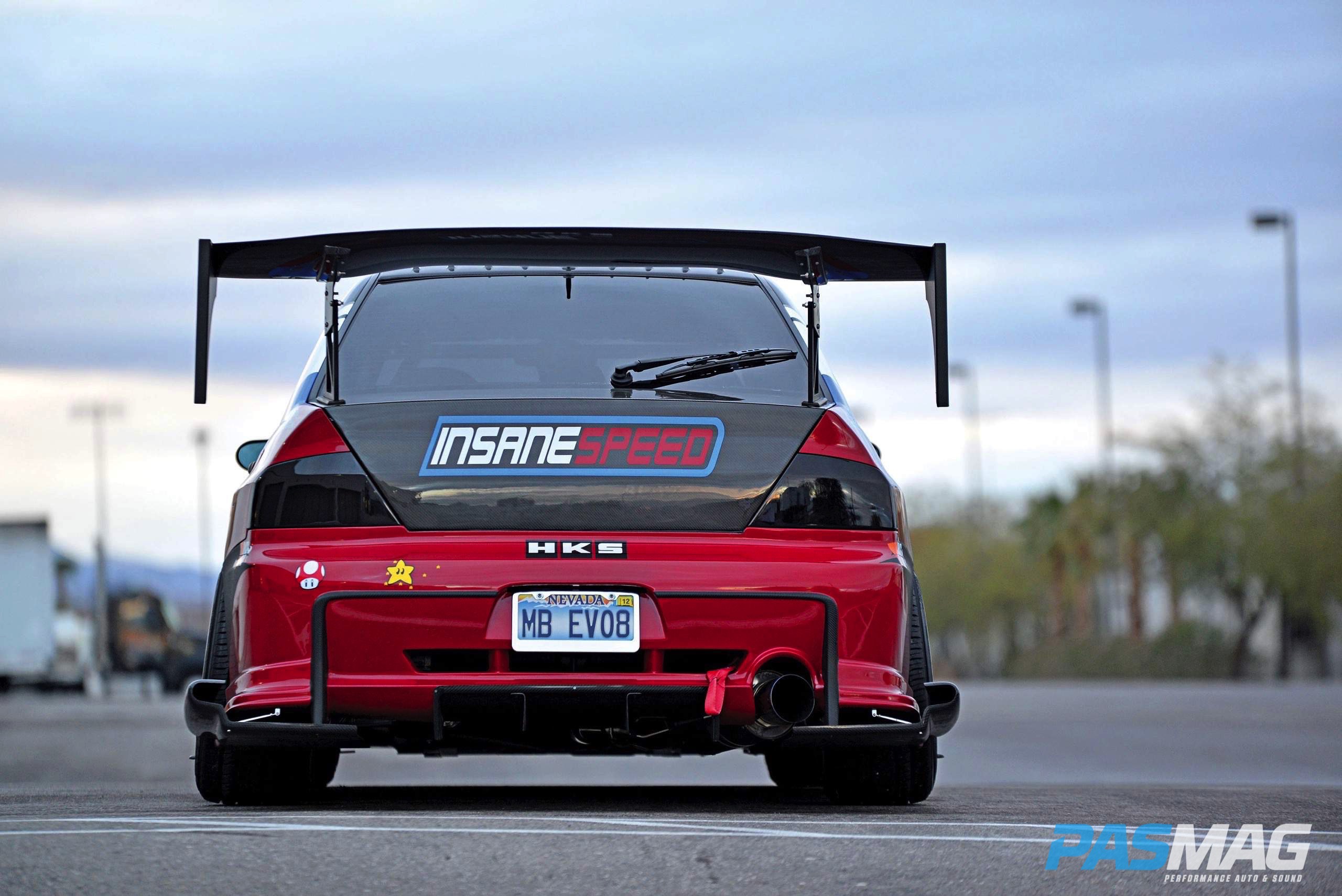 For the chassis, he's stuck with the 36-way adjustable coil-over system from K-sport paired with Whiteline rear control arms and bushings. Most of the braces come from Carbing, with additional stiffness supplied by the Cusco six-point bolt-in roll-cage. A Cusco carbon fiber cross brace will provide the eventual support for proper race harnesses, something Buffington has yet to purchase. "The only sponsor I have is BFGoodrich, through Team Hybrid. I've paid for everything else myself." One of his favorite tales involves a guy and his young wife stopping by Insane Speed and seeing the Evo in for one of its frequent upgrades. The lady commented on how the car was probably owned by some immature Asian kid with an attitude and access to his parents' money. Her husband happens to meet Mark at the shop, and they shared a good laugh at just how wrong she was in her estimation of the owner's demographics. "I'm an old, fat, white guy nearing retirement age," he jokes, one who loves showing this car off, once going so far as to allow children to crawl into the rear seat caged area and all over his carbon fiber and aluminum rear seat panels. "My goal is to win Best of Show at the next big event coming up in May 2014."
His interior might just help, too, with Bride Zeta II race seats on Bride brackets, and a Nardi "deep dish" steering wheel on a Works Bell short hub and quick release. A large Faze tachometer and a full complement of HKS boost, exhaust gas and oil temperature gauges are scattered around the interior with the last three sitting where the passenger's seat airbag used to be. The critical AEM air/fuel ratio gauge is mounted to the steering column directly in front of the Rally-Art white-face gauge cluster.
In one of his few nods to creature comforts, Buffington has installed a JVC seven-inch touchscreen head unit to keep the tunes flowing. We're not sure what classic rock station goes best with a time-attack-styled Evo, but Buffington has all of the bases covered. We like the Cusco special edition shift knob and the Sparco brake release handle and pedal set, and the silver and white look to the accessories, including the cage, blend well with the dark fabrics and exterior graphics. The wraps for the roof, door handles and bumpers have been completed by Elliot at 5150 Wraps.
Why does it look so clean? The answer is simple; it has an extremely low number of total miles on it. At the time of this writing, "I'm just over 8,000 miles on it now," says Buffington. "I get this from Todd at the shop (Insane Speed) all of the time; 'When are you going to drive this thing?' But this car is scary on the street; it is too dangerous around other cars. I want to take it to the track in a few years."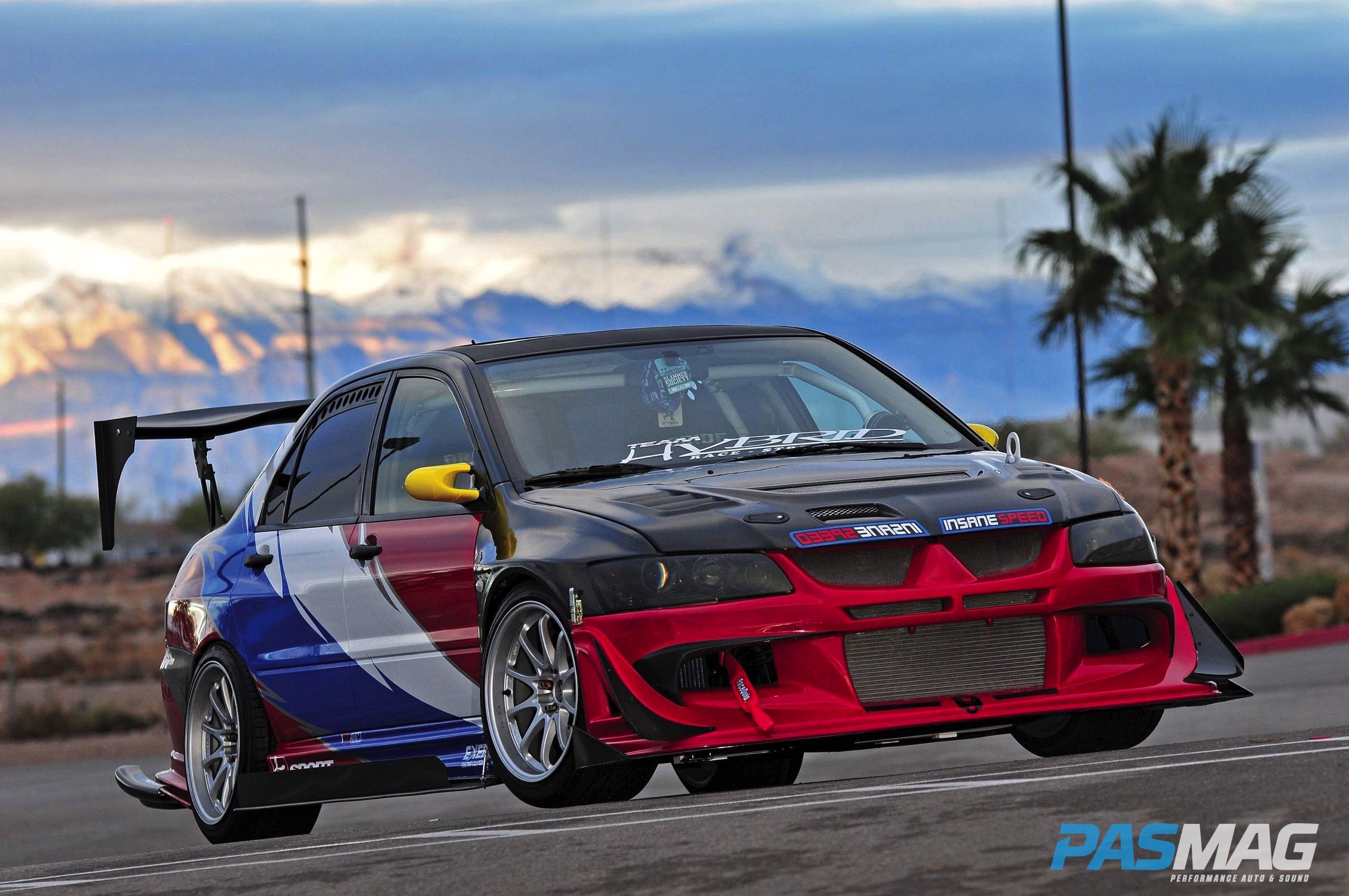 Buffington doesn't want to damage the custom body work he's had performed; he has already sent it in for surgery once more. "The Evo is at the shop again. I'm having them do even wider rear fenders than before. It will be completely different the next time you see it. We're doing a custom rear diffuser with 12-inch canards where there are three-inch ones now."
Clearly, Buffington has found some sort of ticket to the fountain of youth. His exuberance for this one machine knows no bounds; it comes pouring out with every story he tells. "When I retire... look, the old guys driving their old Porsches, Ferraris or Vettes, those are their dream cars. This is mine. When they go to the track I'm going to be able to beat them in my four-cylinder Evo."
Not only that, this madly-planned machine is showroom-floor-clean in a way only museum curators and concours judges can truly appreciate. And, in a bit of remarkable restraint, he's kept it that way for 11 years! If this car was mine it wouldn't last 11 minutes before I'd try to find its limits. I'd also wind up going to jail, collect a pile of tickets and star in a fairly epic YouTube police chase video along the way! Nevertheless, I applaud his verve and style, and wish him all the best with his retirement plan.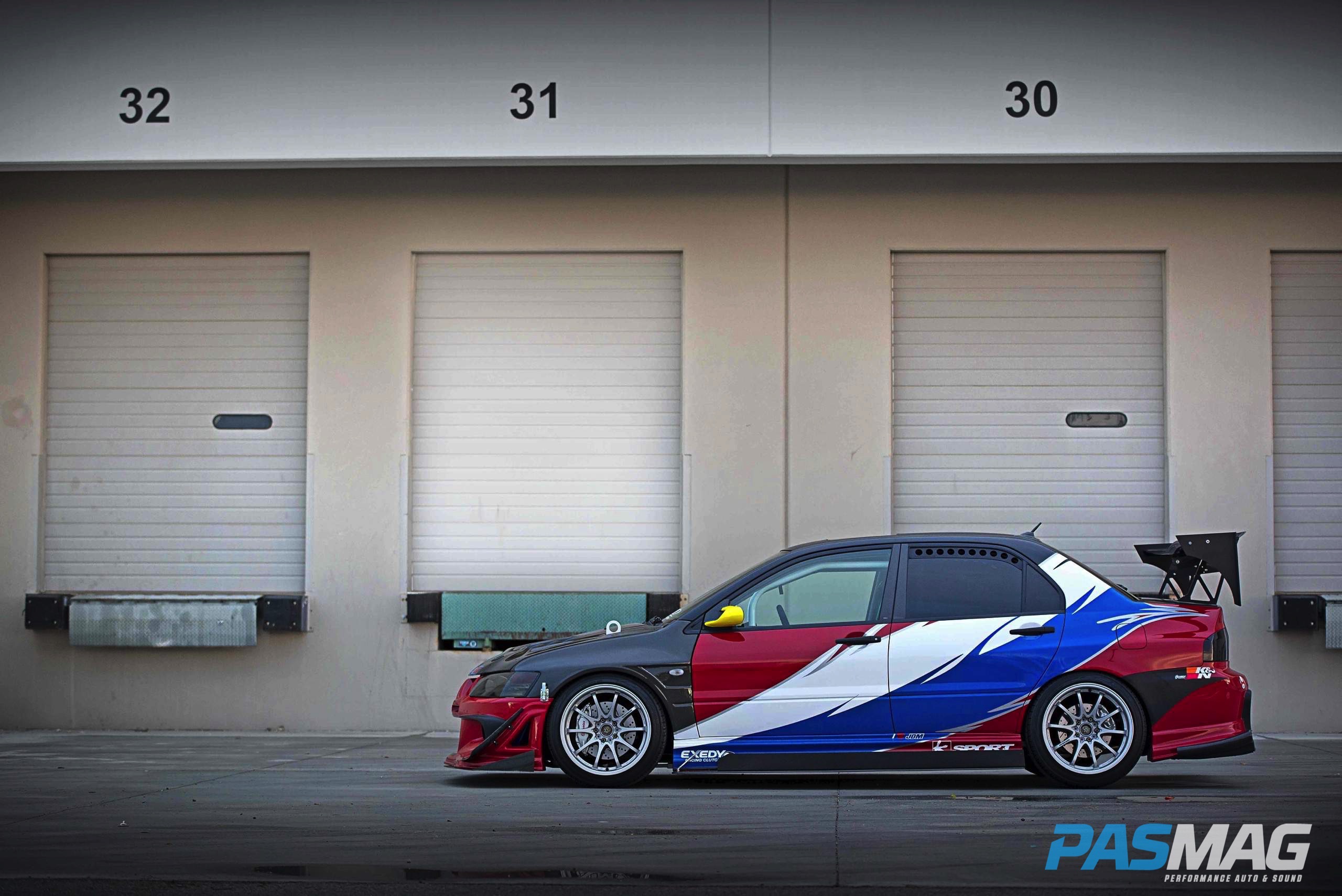 ESSENTIALS // Vehicle: 2003 Mitsubishi Lancer Evolution VIII, Owner: Mark Buffington, Club Affiliation: Team Hybrid, Engine: Mitsubishi 4G63T 2.0L, Horsepower: 500+ hp , Torque: 460 lb-ft
ENGINE MODIFICATIONS // FP Red turbocharger, Insane Speed (bored out OEM manifold, custom air intake, custom stainless steel radiator hose, HKS SSQV-Special Edition blow-off valve , HKS (down pipe, waste gate, front mount Type R intercooler, 272- and 264-degree camshafts, cam gears, aluminum spark plug cover, clear cam gear cover, timing belt, radiator cap), Perrin (fuel rail, lower radiator hose), I.D. 1,000 cc fuel injectors, AMS fuel pressure regulator kit, NGK Iridium spark plugs, K&N air filter, Osaka Ex. ignition coils, Cusco valve cover, ARP (head studs, main studs), Full Blown (fuel hat, stainless steel fuel lines, fuel wiring system), Walbro 255 LPH fuel pump, Nissan 300ZX Twin Turbo fuel pump, Carbing (cooling plate, oil catch can, custom stainless steel hoses), Koyorad radiator, Tomei oil cap, ARC turbo heat shield, Uehara Motowerks (custom bracket stands, stainless steel shock hood hinges, racing flat hood pins), HKS F-Con V Pro tuned by Mike Angel at Insane Speed, Sun Auto ground system, Blitz (boost controller, turbo timer)
EXHAUST SYSTEM // HKS Twin exhaust system
PERFORMANCE ELECTRONICS // Rally-Art gauge cluster, AEM air/fuel ratio gauge, Faze tachometer, HKS (boost gauge, EGT gauge, oil temperature gauge)
DRIVETRAIN // Exedy (twin-plate clutch, flywheel), Driveshaft Shop two-piece aluminum driveshaft
CHASSIS/SUSPENSION // K-Sport 36-way adjustable coilover system, Whiteline (rear control arms, urethane bushings), Carbing (under bay aluminum plate, four-way trunk brace, front strut tower brace), Cusco (six-point bolt-in roll cage, carbon fiber cross brace)
WHEELS/TIRES/BRAKES // Volk Racing CE28 wheels – 18x10.5 (f/r), BFGoodrich tires – 255/40R18 (f/r), Racing Neon extended lug nuts, Brembo (four-piston front calipers, 2-piston rear calipers), Stoptech cross-drilled and slotted rotors, K-sport stainless steel brake lines
EXTERIOR // VeilSide VSD-1 body kit, Seibon Carbon (CF roof vortex generator, CWII hood, trunk, front fenders), Cusco Carbon fiber shorty antenna, Ganador mirrors, APR 500-series wing with 12-in. stands and 3-in. extensions, Uehara Motowerks custom side winglets, Varis (A-pillar canards, winglets, side diffusers, rear diffuser), Graphic Impact (custom painted "Cherry Bomb", red/white/blue/silver graphics), Carbon fiber wrapped roof, door handles, front and rear bumper parts by Elliot at 5150 Wraps
INTERIOR // Bride Zeta III racing seats, Takata Racing pads, Nardi deep dish steering wheel, Works Bell (short hub, quick release), Cusco special edition shift knob, Sparco (pedal set, dead pedal, brake release handle grip), Airbag delete, Rear seats delete with brushed aluminum, carbon fiber back panel, Brushed aluminum, carbon fiber door panels
ELECTRONICS // JVC 7-in. touchscreen monitor
SPONSORS // BFGoodrich
SPECIAL THANKS // Team Hybrid Founder/President James Lin, LV chapter director Archie Concon, Murry at Uehara Motowerks, Todd and Mike at Insane Speed, Mike at Zenkai Motorsports, Elliot at 5150 Wraps, Paul at Graphic Impact, "PCP," my sons Dustin and Max, Hybrid Hunnyz and my Team Hybrid teammates.
Contributor, Eric Eikenberry