Photography by Jacob Leveton
---
There still is lots of confusion out there around drifting. But you can't get too uptight since it's still mysterious to most. But why can't your average Joe figure out the physics behind it and why must they continue to ask of FWD can play to Before the FWD supporters start flaming, sure you can get an FF car to slide with a flick and some e-brake but there aren't any players using them at the top level of competition. They may fare alright in some local jams with rookies using open diffs and lacking skill but seriously, where is it going? Then again, every once in a while, a competitor confuses the fans like the Integra drift car from Braille or Rhys Millen back in the day with his rally EVO. Those guys will tell you, the cars didn't want to cooperate much, so imagine our surprise when this EVO debuted at NOPI Drift.
The major hurdles that Mitsubishi Motors Corp. had were driveline and steering angle when they decided to put together a competitor. MMC had no RWD platform but decided the EVO IX could attempt to try. It had the power but there were many physical changes need to get it to the rear wheels. They started by dropping the front half shaft and front axles while modifying the transfer case to churn all the horsepower to the rear axle. The advanced traction controls in the EVO had to be modified and the rear LSD beefed up to accept the onslaught of high rpm spinning. The front suspension and steering assembly was also lengthened to achieve more steering angle. Since the wheels would turn out several degrees past factory, they widened the bodywork and the wheel well to operate it at full counter-steer.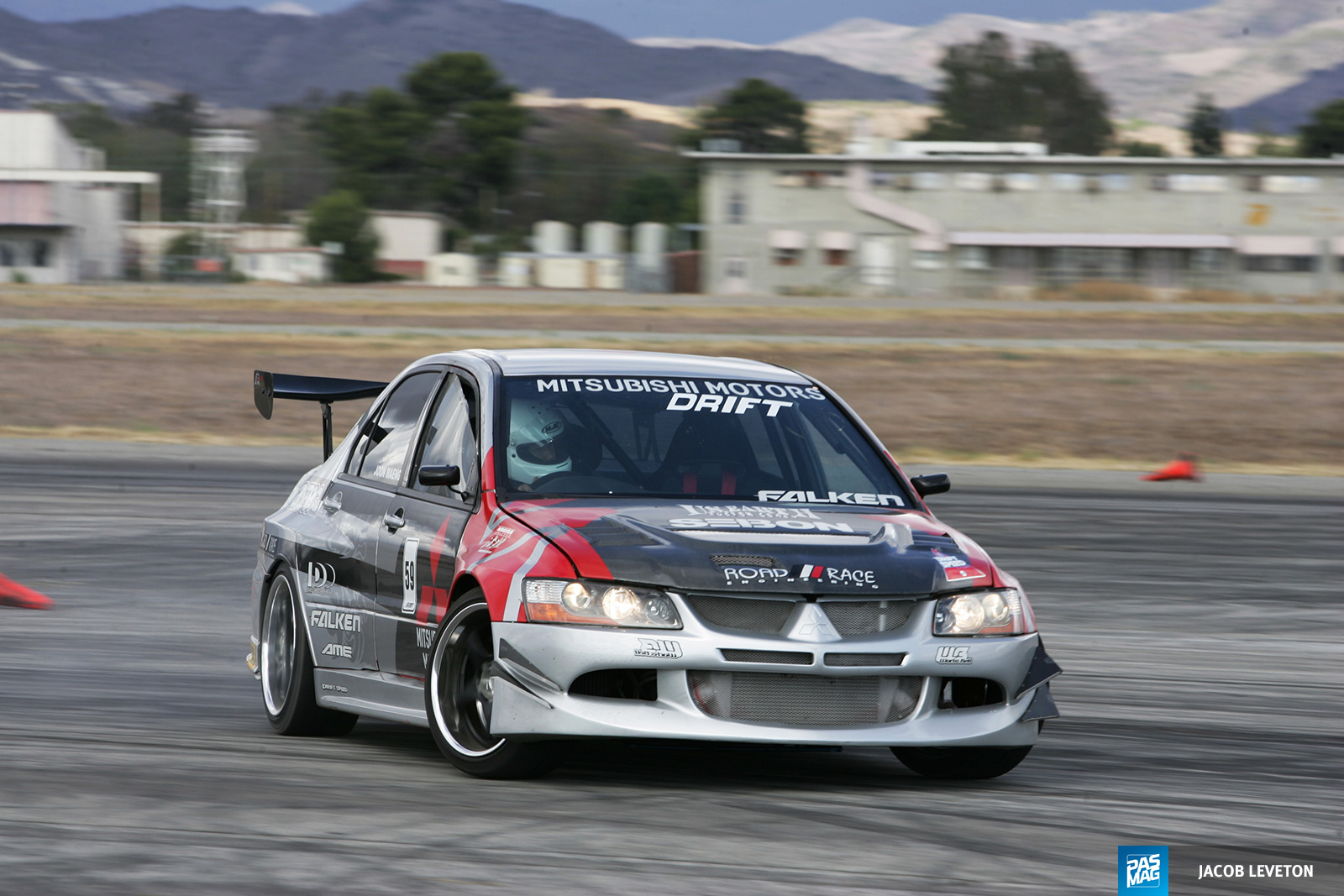 Beyond that, they went on a weight saving rampage. The EVO is fairly chunky with full trim, so the interior was removed and any extra metal or cosmetics went in the bin. "But we still retained the A/C system" laughs Naoki Kobayashi of Drift Association "Those southern events get damn hot so we decided to leave it intact." Odd feature in a drift car for sure. They ditched the glass in favor of Plexiglas and slipped them into Seibon carbon fiber doorskins creating a total savings was almost 200lbs!
The body was chopped and rebuilt using an APR full widebody kit along with a Seibon carbon fiber hood. The body was prepped for a new coat of silver metal by Jin at US Earth in Torrance, CA. Inside, EVO specialists Road Race Engineering welded up a competition-spec cage for safety and stiffness. For some drifting flare, they added JDM headlights and tails and the requisite strobe lights. On top of the fresh paint, Kobayashi himself cut with some red metallic vinyl and all of the sponsors in a special reflective. And Kobayashi admits that he needed the car to look like nothing else because the project really was.
Most of us couldn't live with a drift car interior, some can't live without it. The driver seat is a Recaro Profi bucket sporting a Sparco 5-point harness. A Nardi sterring wheel has the Bell quick release from some in and out access. The rest is the required gauges and a short shifter for the rigors of going sideways and the stress that comes along with it.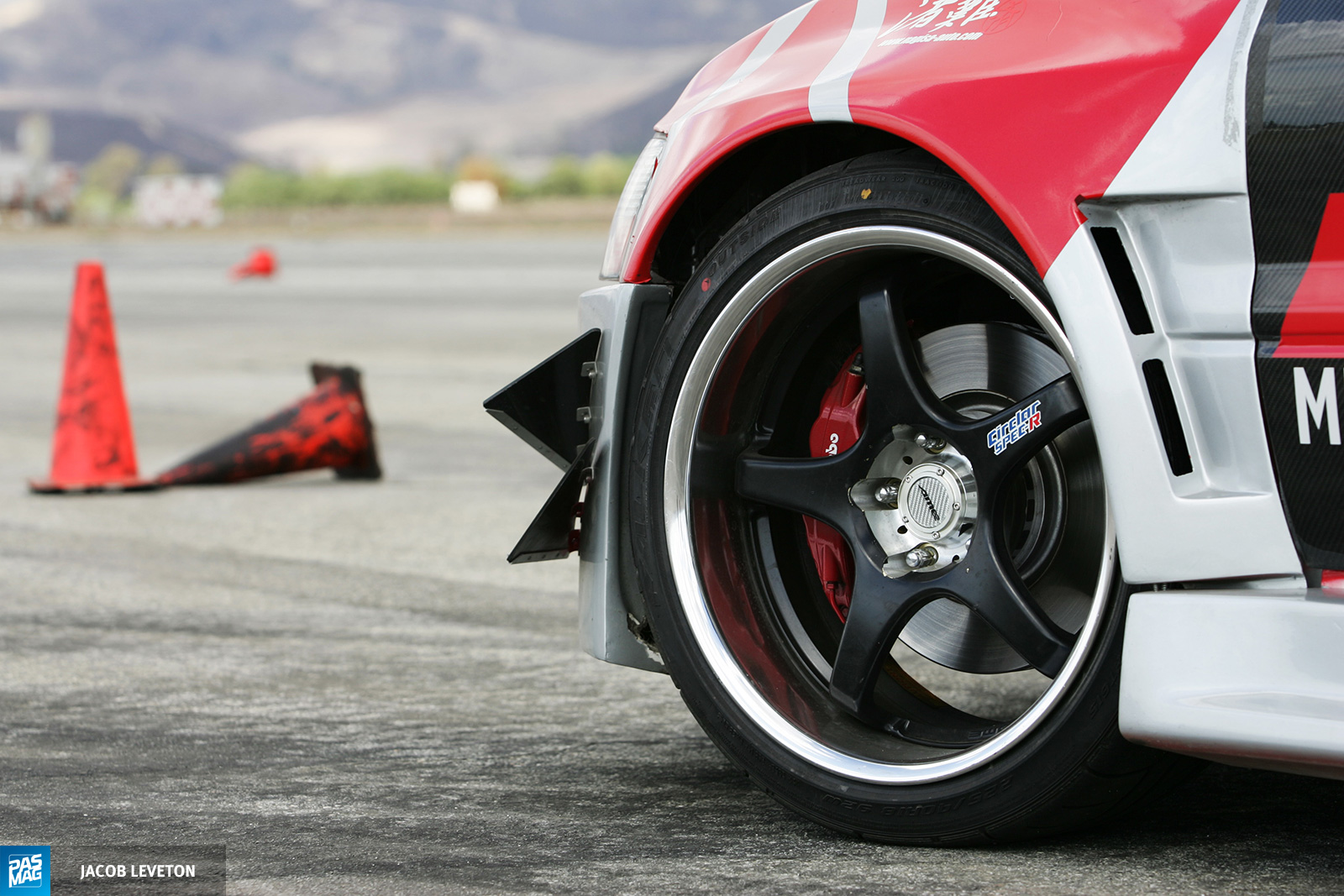 The bloated bodywork was made to accommodate some big wheels. The AME Circular Spec-R are found underneath the fenders with 18x9-inch up front and in the back some very non-EVO sizes, 18x10-inch with a –13 offset! The rubber is Falken's Azenis 615 that had to be pulled over the rim making tire mounters cringe. The front is 225/40R18 and the rear is a 245/35R18 to provide that unyielding contact patch necessary for drifting. The brakes are more than race ready from the factory, so the Brembos were left alone.
A drift suspension had to be thought from the ground up. Kobayashi went for the JIC Magic FLT-A2 coilovers for dampening tweaks and a silly low ride height. A GReddy lower frame brace was bolted on and the Nagista Auto fully adjustable control arms were installed. The whole package was dropped off at DriftSpeed in LA for a battle-ready alignment and damper tune. LS Automotive was responsive for customizing the steering arms for the radical angle needed.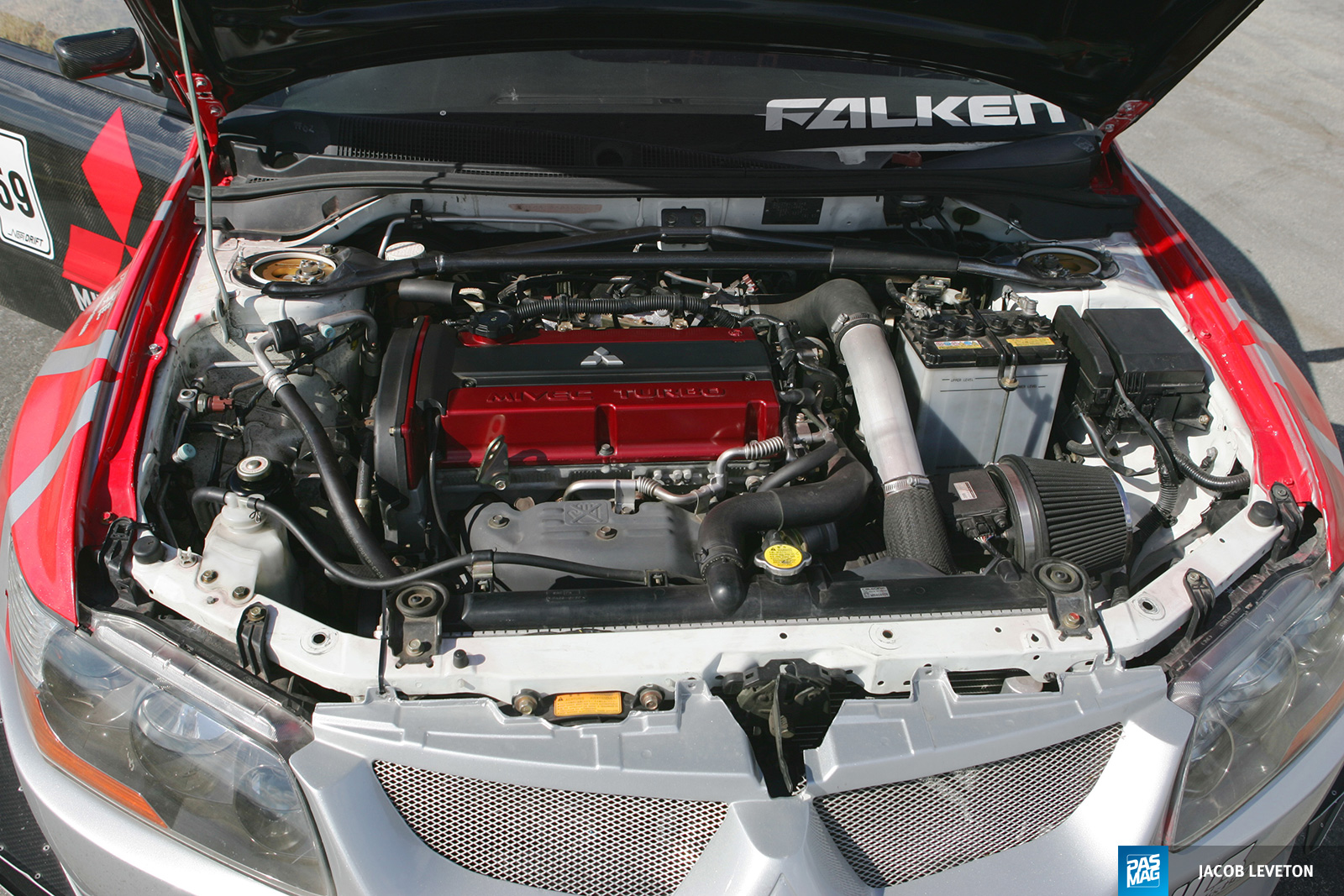 The engine is a 2.0L MIVEC 4-banger and basically the same standard you see on the streets. Why? Well as Kobayashi explains the horsepower was more than enough in such a light car and the reliability would be top shelf as well as build Mitsubishi's reputation. Road Race Engineering did add a few tweaks though including a Tanabe / RRE turbo back exhaust and an APEC intake. The balance is all OEM – imagine that.
With driver Joon Maeng at the wheel, Kobayashi and Mitsubishi are expecting big things for 2008. They competed at a handful of NOPI Drift events including: LA, Cleveland and Atlanta in addition to a busy demo tour. Mistubishi has entrusted Kobayashi to really make a name in this young motorsport after it has already destroyed so many records on the track and in rally. Now if only they could make it street legal.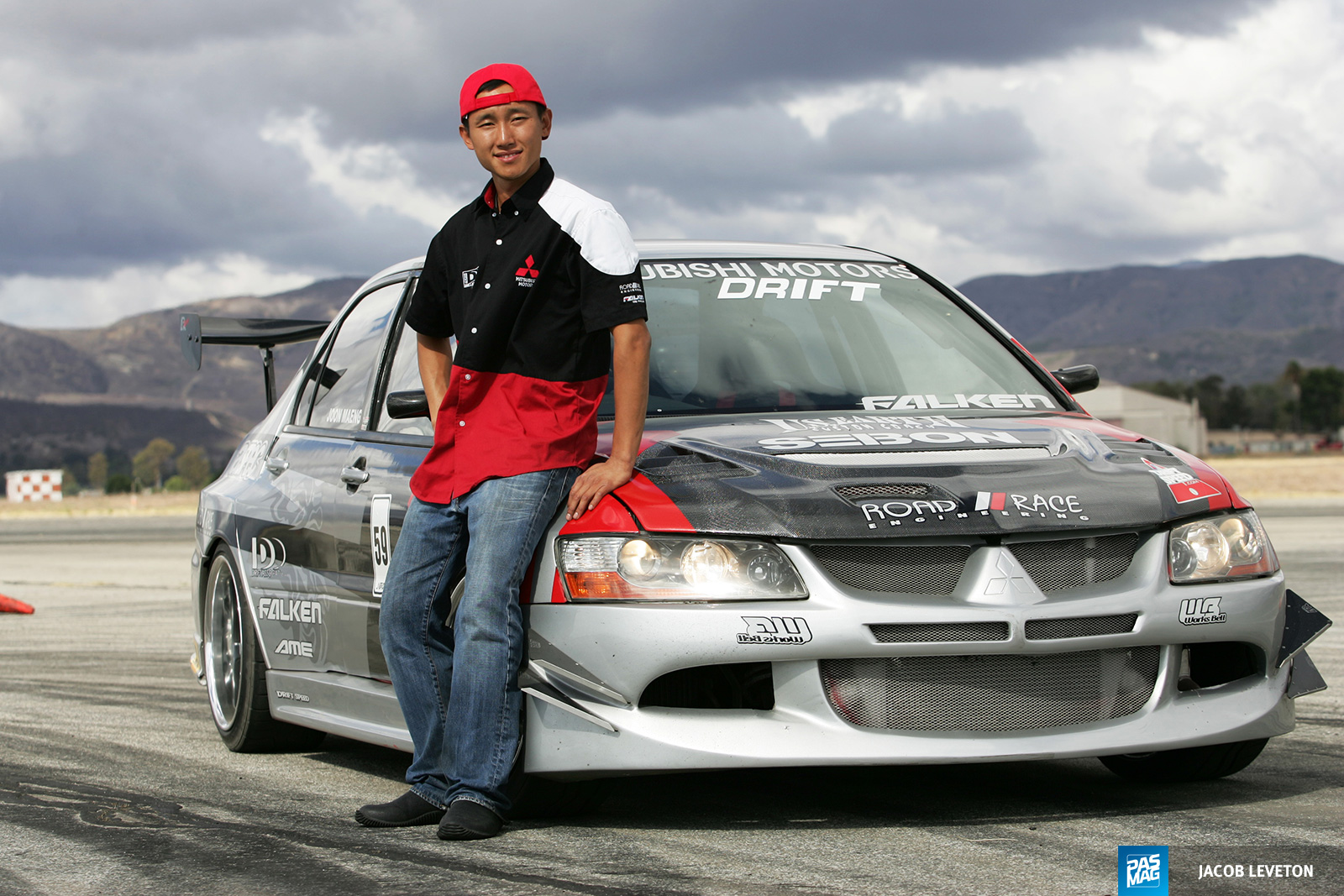 ---
ESSENTIALS
Owner: Mitsubishi Corporation

Driver: Joon Maeng
Location: Torrance, CA
Car: 2005 Mitsubishi Lancer Evolution IX
Engine: 2.0L 4G63 inline-4 MIVEC
ENGINE / PERFORMANCE
Road Race Engineering exhaust
Tanabe downpipe
ASPEC intake
SUSPENSION
JIC Magic FLT-A2 coilovers
GReddy lower strut brace
Nagista Auto control arms
WHEELS / TIRES / BRAKES
AME Circular Spec-R 18x9-inch +10 front
AME Circular Spec-R 18x10-inch –13 rear
Falken Azenis 615 225/40R18 front
Falken Azenis 615 245/35R18 rear
Brembo OEM
INTERIOR
Recaro Profil seat
Sparco 5-point harness
RRE competition cage
ASPEC shifter
EXTERIOR
APR widebody kit
Silver metallic by US Earth
Seibon carbon fiber hood
Seibon carbon fiber doors
JDM tails
JDM headlights
PHOTO GALLERY