Photography by Daniel Irawan
---
The term 'pocket rocket' gets thrown around a lot these days. People use it to describe a wide variety of things, from high-powered sport bikes, speedy point guards and even those special battery-powered friends meant especially for ladies. In the automotive realm, pint-size vehicles like the Honda Civic hatchback and VW Golf are tagged with the nickname. This particular specimen – a 1998 VW GTI – was built by Southern California's Mike Mignogna and wears its pocket rocket badge with pride.
Based in San Diego, CA, Mignonga's daily grind consists of ensuring that he and his partner keep their B+G Suspension Systems operation in good order. As the co-owner of one of the most recognizable suspension brands in the world, you would think that he had access to anything he wanted. Unfortunately, this isn't entirely true, as he could never get his hands on his unicorn of project cars – a VW Corrado. "I always wanted a Corrado, but could never find one," recalls Mignogna. "But I always liked the Golf MKIII body style, so I figured that this would be a great substitute."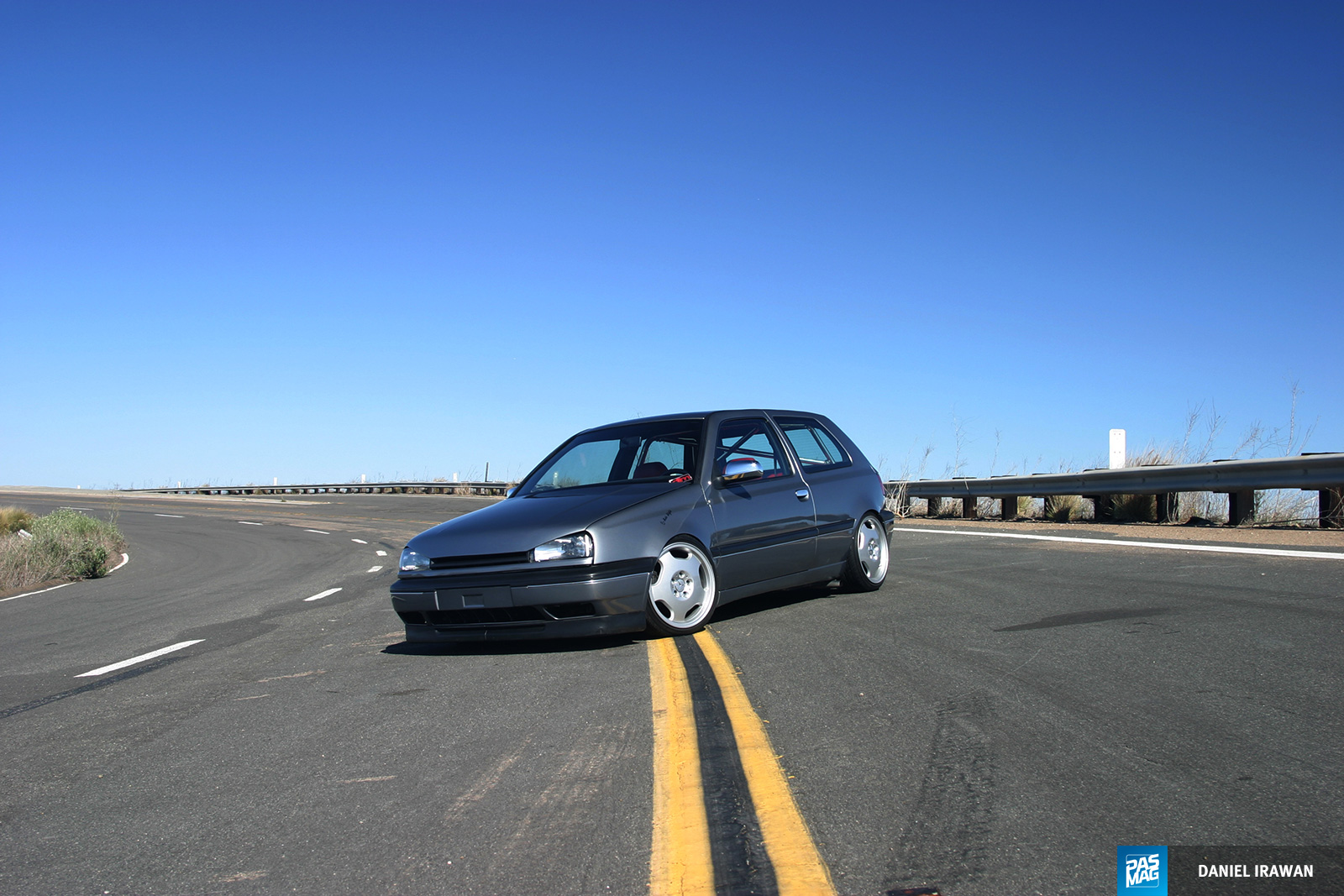 The GTI was no slouch, as the front wheels are spun by VW's famed VR6 motor. But looking to add more punch to the car's 176hp output, Mignogna sourced a Kinetic Motorsport (KM) turbo kit. Relying on no one but himself, he was able to mate the T3/T4 turbo-powered system to the 2.8L, along with a KM wastegate and Forge RS diverter valve. With a KM head gasket sandwiched between the head and block, Mignogna opted to use a KM down-pipe to guide the system's spent gases through a custom side-exit exhaust. Using KM 30lb/hr fuel injectors to feed the motor, the setup produces a dyno-proven 235whp at 9psi, which is very respectable given its 2,800lb curb weight.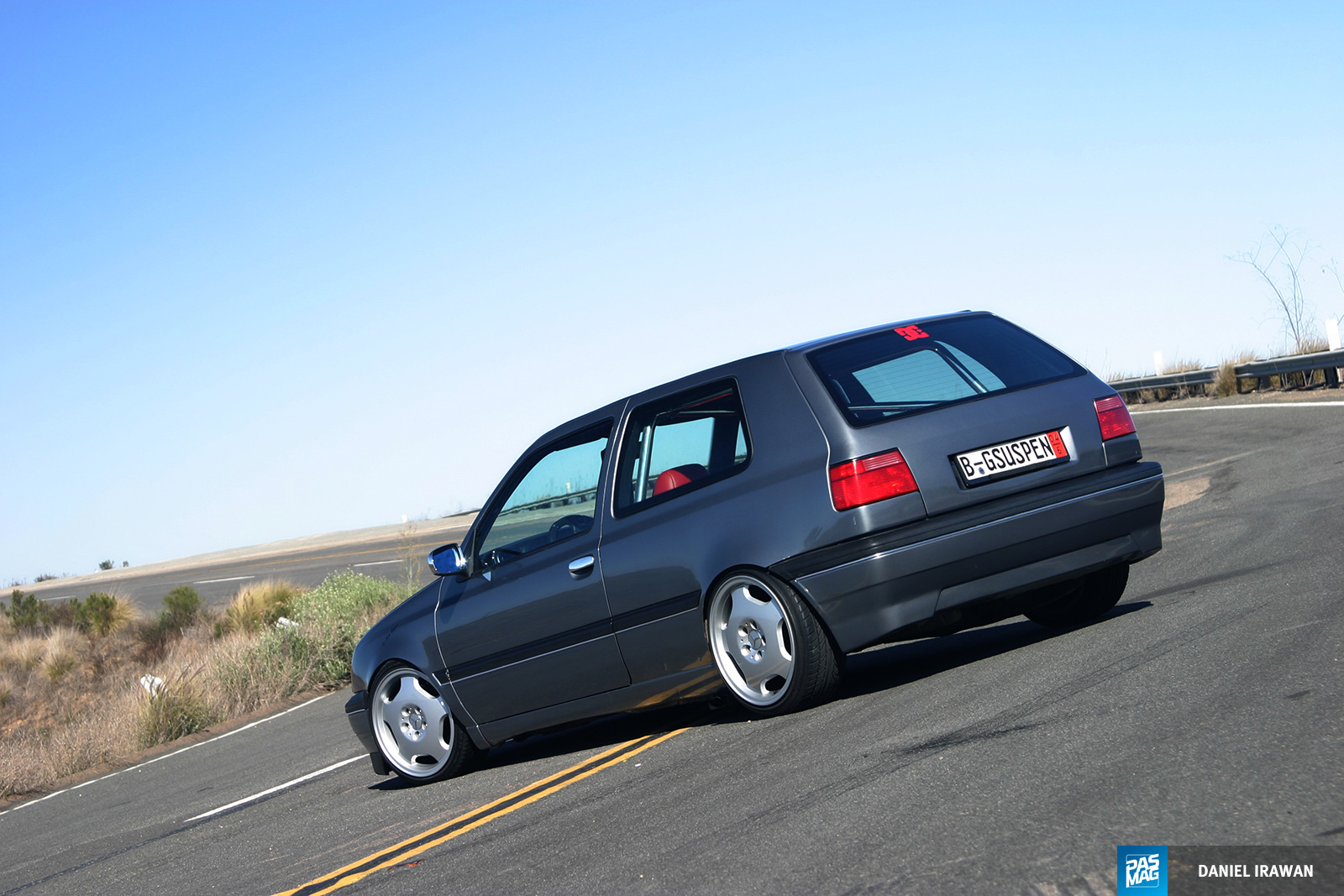 The exterior shows no signs of its nearly 10 years of wear, as the MKIII dons a flawless VW Silverstone Grey paintjob courtesy of Mario Penna Auto Body in Portland, ME. The front end was treated to a badge-less grill, European smoked headlights and smoothened bumper, while the rear received modified Golf taillilghts, European hatch and bumper. A pair of Audi A6 door handles, pulled fenders and Mercedes Benz fender vents completes the car's updated look.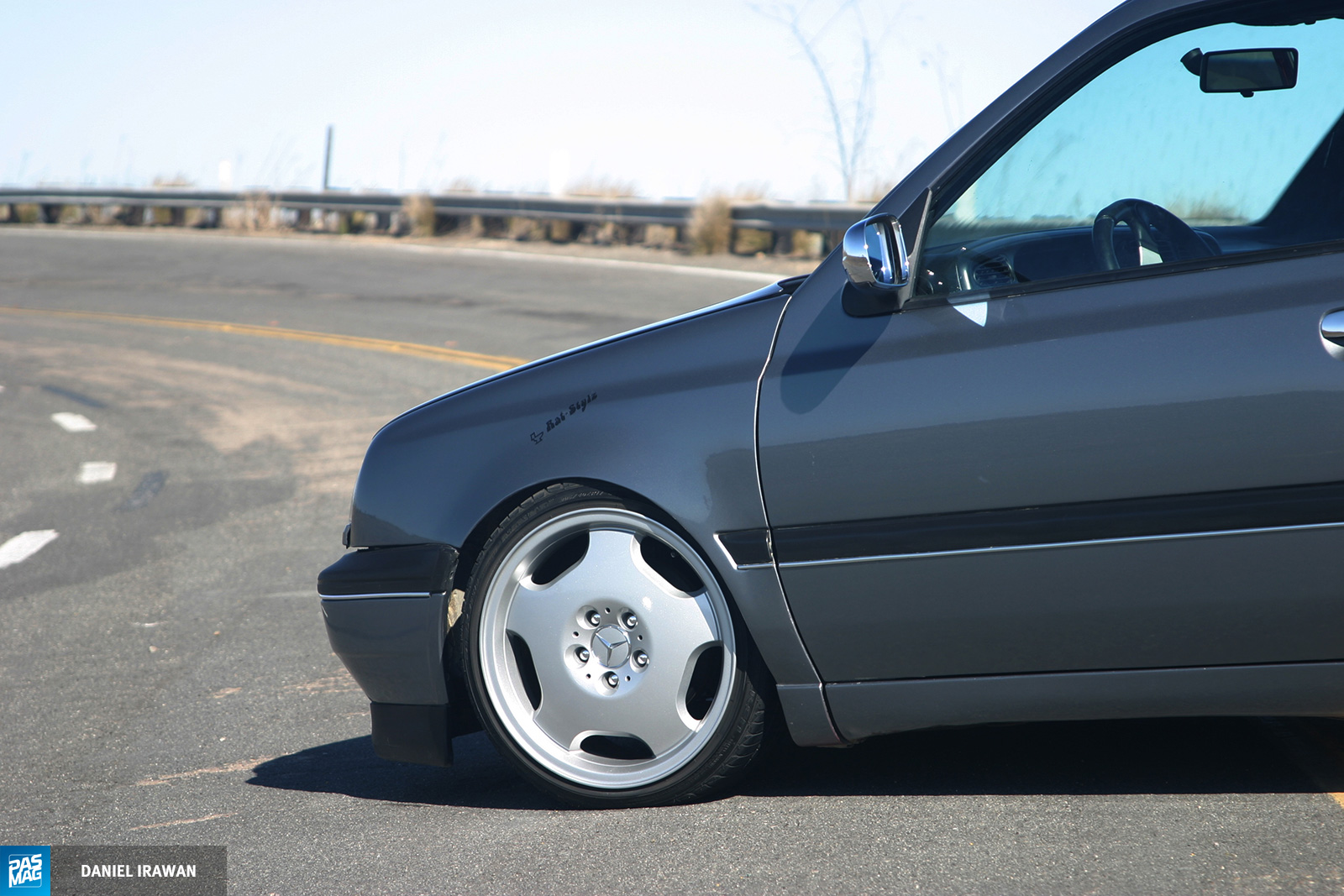 For footwear, Mignogna borrowed a set of 17-inch wheels from a Mercedes Benz and wrapped them in sticky Falken Ziex 512 tires. Although the initial premise sounds sketchy, the execution is perfect and accents the hatchback perfectly. Of course, a lot of the GTI's killer stance can be attributed to the B+G Suspension RS2 coil-overs. With 18-way adjustability, Mignogna can dial them in just the way he likes, while the Prothane bushings and Wiechers four-point cage work together to keep the chassis tight like a pair of Wrangler jeans.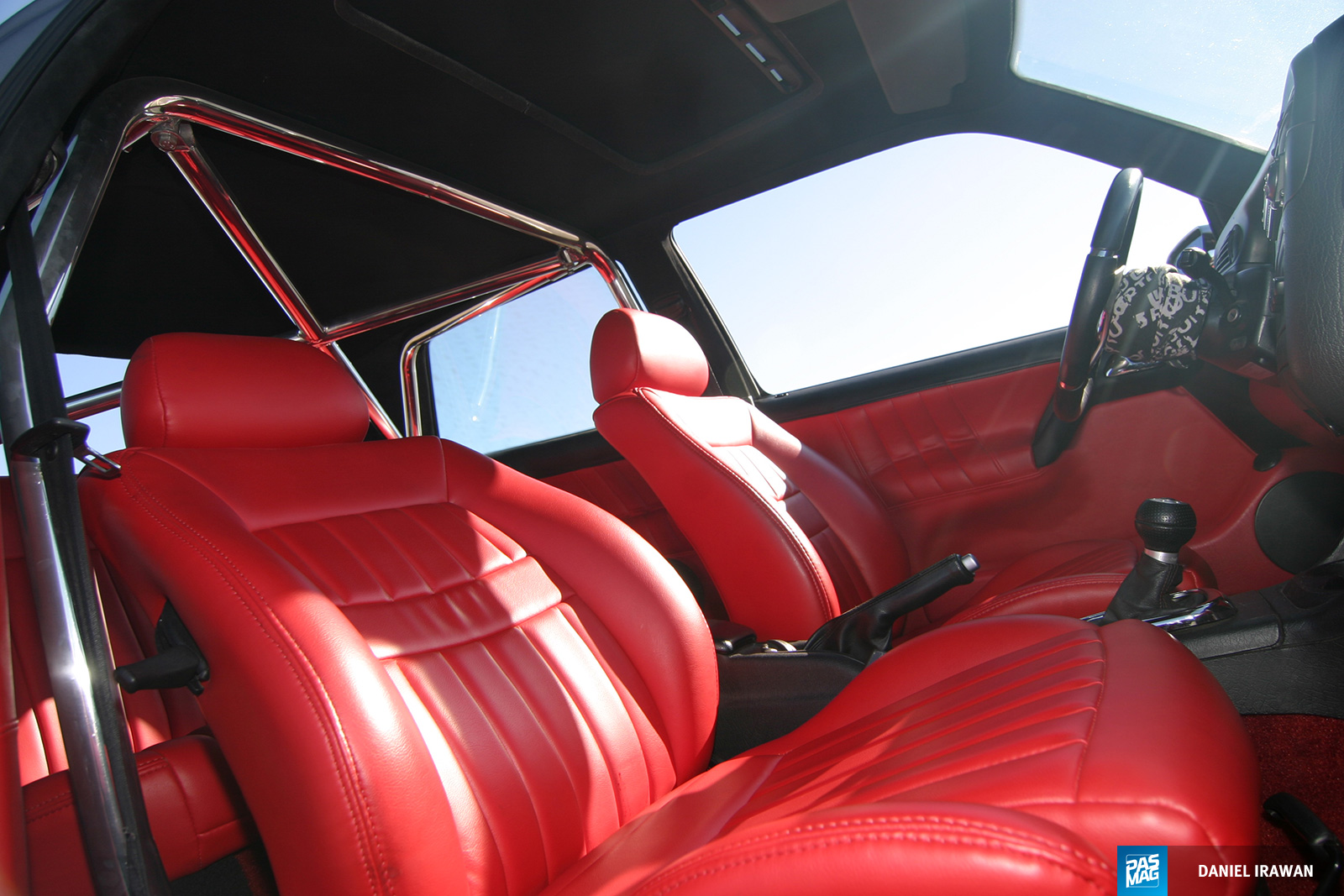 Mignogna looked to Jim's Auto Upholstery in San Diego, CA to ensure that the cabin is absolutely flawless. The stock seats and door panels have been refreshed with red leather trim, while the pillars were wrapped in colour-matching suede. The Early Vento dash adds to the life of the interior, while hands are kept busy courtesy of the MOMO Millennium steering wheel and MOMO Race shift knob. A Sony head unit and JL Audio component speakers handle the mobile entertainment duties.
Now complete, Mignogna's pet project is driven on a regular basis in-and-around the streets of the San Diego area. Thanks go out to all the companies that helped in the process, including MJM Autohaus, Tricked Out Motorsports, Forge Motorsport, Kinetic Motorsport, C2 Motorsports, and of course B+G Suspension Systems. Next time you're planning a trip down to Tijuana with the boys, make sure to drop by the B+G Suspension office and sneak a peek at a real hot tamale.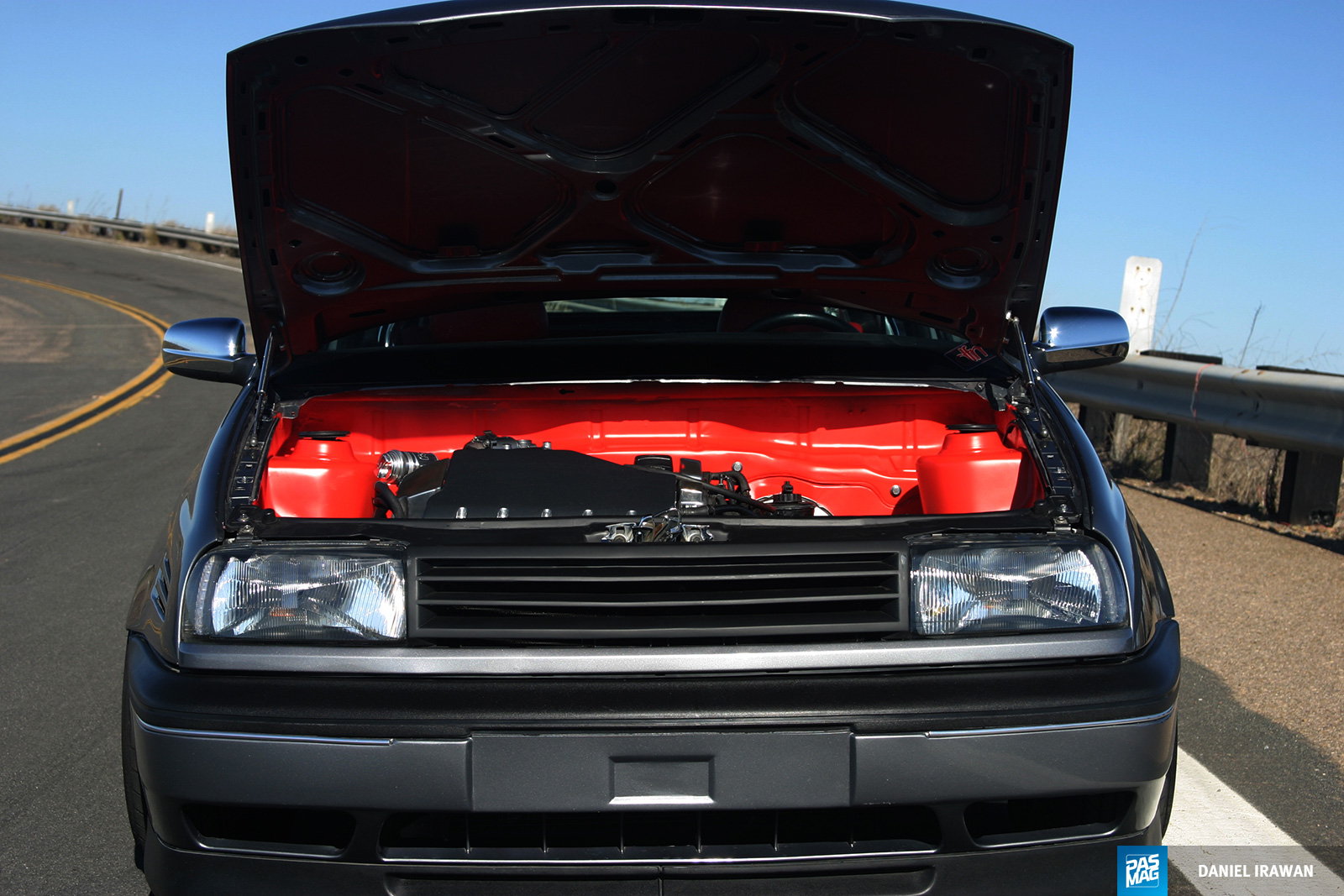 ---
ESSENTIALS
Owner: Mike Mignogna
Location: San Diego, CA
Vehicle: 1998 Volkswagen GTI VR6
ENGINE / PERFORMANCE
Kinetc Motorsport T3/T4 turbo kit (10psi boost)
Kinetic Motorsport head gasket (9:1 compression ratio)
ARP head studs
WRD motor mounts
BFI transmission mount
Forge RS diverter valve
Kinetic Motorsport wastegate
Custom side-exit exhaust
Kinetic Motorsport down-pipe
Kinetic Motorsport 30lb/hr fuel injectors
EXTERIOR
European front and rear bumpers (smoothed and modified)
European smoked headlights
Modified VW Golf taillights
Audi A6 door handles
Bosered hood and hatch
European hatch
Pulled fenders
Mercedes Benz fender vent
Badgeless grill
Custom VW Silverstone Grey paint job
Body work and paint by Mario Penna Auto Body in Portland, Maine
WHEELS & TIRES
Mercedes Benz wheels – 17- x 8-inch
Falken Ziex 512 tires – 205/40-17
SUSPENSION / CHASSIS / BRAKES
B+G Suspension RS@ 18-way adjustable coil-overs
Prothane bushings
Weichers four-point polished cage with 'X' bar
Cross-drilled rotors
Autotech steel-braided brake lines
Super Blue brake fluid
INTERIOR
Early Vento dash
Stock seats and door panels reupholstered with red leather trim
Black headliner
Suede-wrapped pillars
MOMO Race shift knob
MOMO Millenium steering wheel
Lupo GTI shift boot
Work performed by Jim's Auto Upholstery in San Diego, CA
AUDIO / MULTIMEDIA
Sony head-unit
JL Audio component speakers (two pairs)
PHOTO GALLERY