Photography by Michael Schuster
---
If you're like me or any of the other millions of people across North America, you probably watch a bit of television in the morning before heading to work or school. For me, catching an episode of Saved by the Bell on TBS is a ritual (even more so than eating breakfast), as I've grown up with the crew from Bayside ever since I was a pre-teen. My knowledge of SBTB is off the charts, as I boggle my friends with my ability to name even the most inconsequential characters that ever appeared on the series.
One of my favorite episodes is a two-parter when Jessie Spano's mother re-married and a step-brother, Eric Tramer, is introduced to the tight-knit crew. To everyone's surprise, the New York native went on to terrorize Zack, Slater and the rest of the group, taking every opportunity to take advantage of them. His biggest prank revolved around auto shop class, successfully convincing the teacher to have the class disassemble Mr. Belding's brand new Mazda Miata into hundreds of pieces. However, in an effort to reconcile with the group, Tramer (along with the magic of television) re-assembled the entire vehicle overnight, just in time to be handed back to Belding.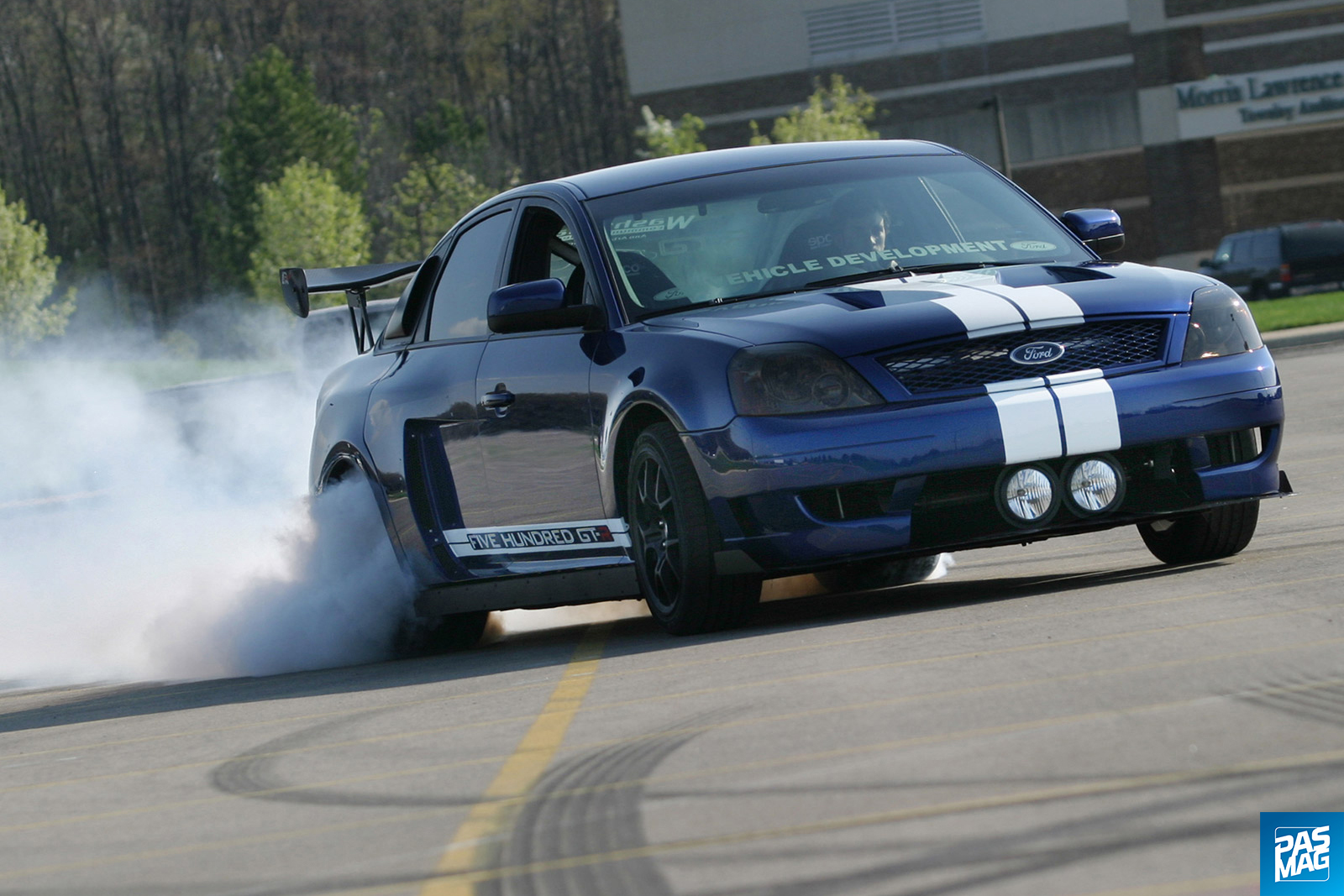 Apart from being a shameless way to showoff my SBTB prowess, I'm sure most of you are thinking this is the lamest example of shop class ever. Though that may be true, it is an example of the incredible power of shop class and what can be accomplished when two dozen gearheads channel their efforts towards a single project. But if you still don't believe me, you can always enroll in the Custom Cars & Concepts course at Washtenaw Community College (WCC) in Ann Arbor, MI for a first-hand experience. If you're lucky enough, you might be able to build something like this 550hp Ford GT-powered Ford Five Hundred, which was completed by the class in early 2006.
The build-up, which was spearheaded by Course Director Gary Sobbry, was actually hatched over beers shared between a WCC auto-mechanic instructor and a couple of Ford engineers. The program is no stranger to big projects, as Sobbry's group had previously built promotional vehicles for Dodge and GM. The class worked on Sobbry's personal Dodge Magnum which displayed at SEMA in Las Vegas back in 2004 and also was enlisted by GM to shoehorn a 572CID 620hp crate-motor into a 1970 Chevrolet Chevelle for Rides. However, this project was the most complicated to date and required very specialized help to make it a reality.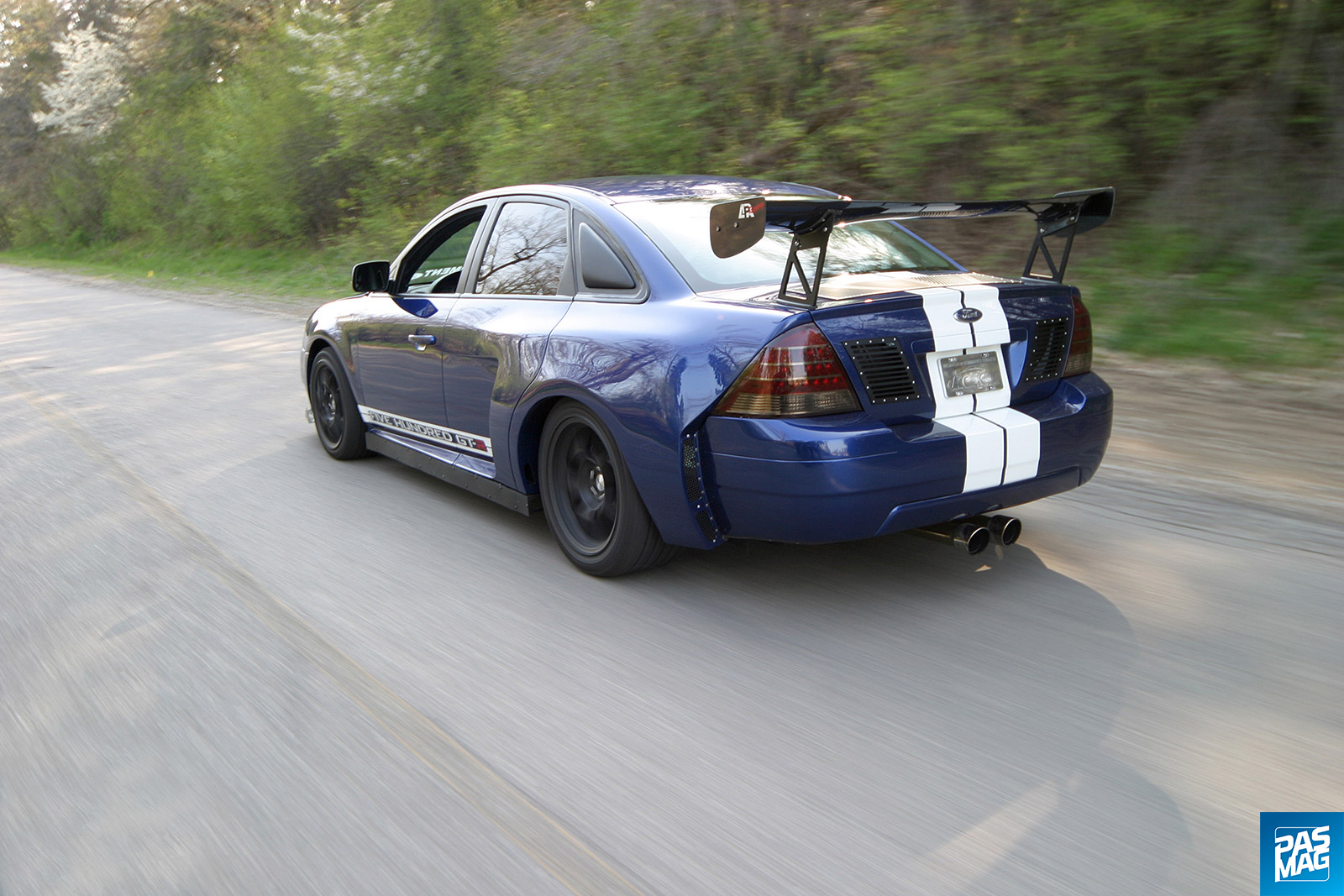 Fortunately, Ford was completely sold on having a 550hp sedan and was more than eager to lend its support. It also helped that WCC is located in Ford's backyard, allowing for constant communication between Sobbry's crew and the brainiacs at the Blue Oval's engineering centre. The plan was to complete the build in 10 weeks, in time to be unveiled at the 2005 SEMA show in Las Vegas. It was a lofty goal, but with Ford providing the parts and engineering, it was well within reach – providing nothing went wrong.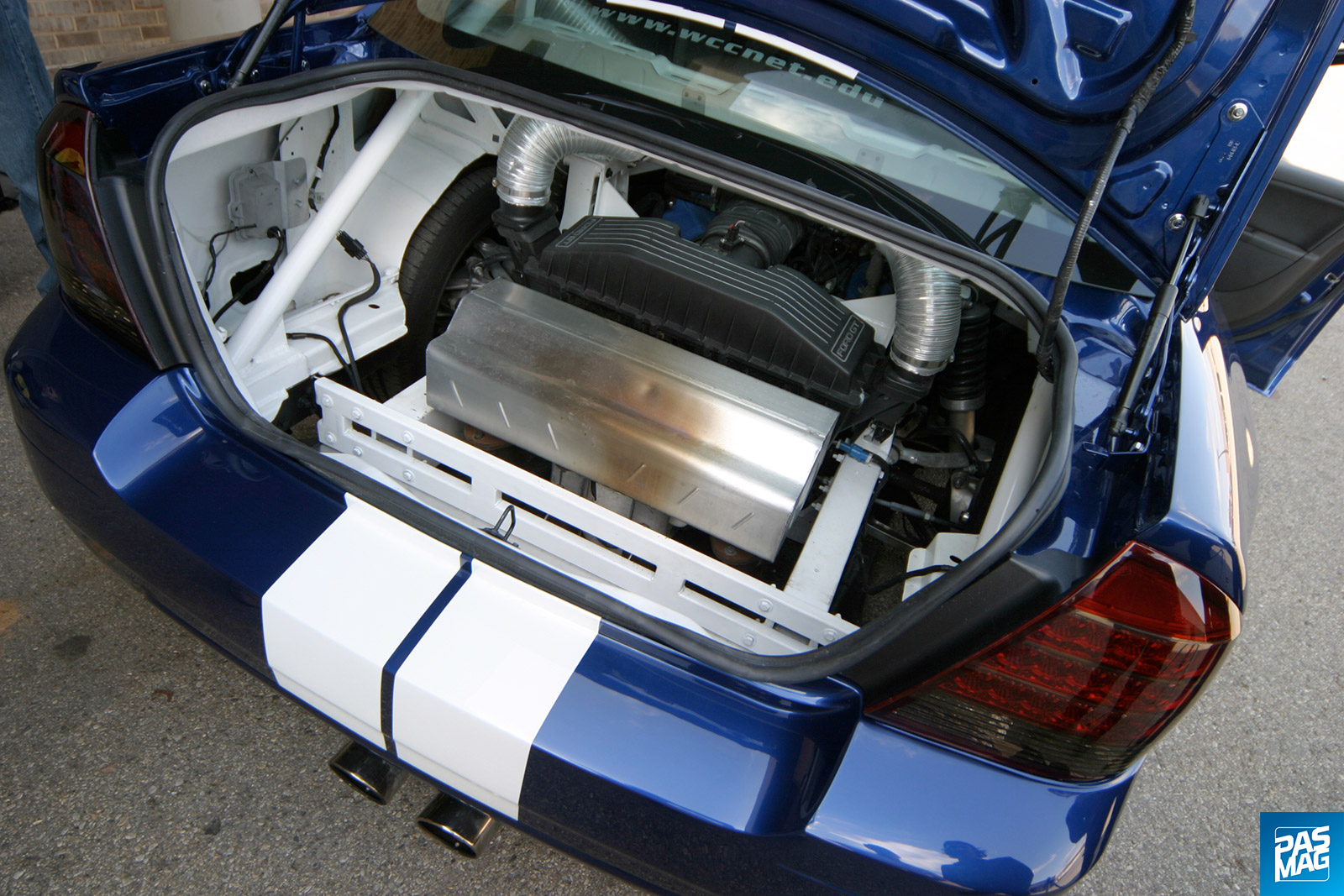 Not before long, Ford delivered the two donor cars: Ford Five Hundred and Ford GT. The two vehicles were actually prototypes and were headed for the crusher anyway. The team's original plan was to replace the Five Hundred's 203hp V6 with the GT's supercharged V8 in front and mount the six-speed transmission at the rear axle, joining the two via lightweight torque tube. However, given the project's truncated timetable, the plan was way too complex and the team was forced to choose an alternate route.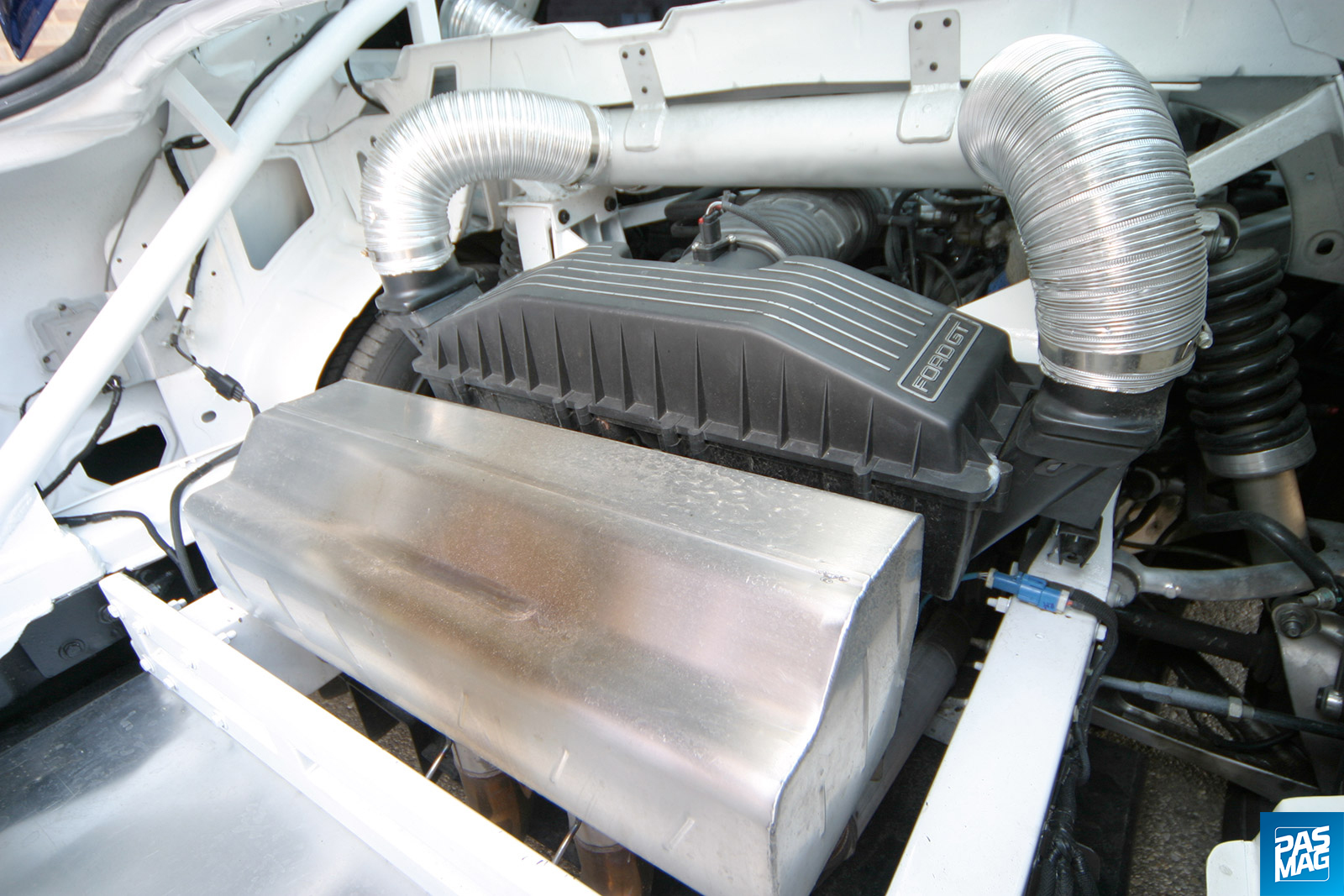 Instead, the crew decided to mount the GT's entire mid-engine powertrain into the rear half of the Five Hundred, which fortunately actually offered more space than the GT's narrow aluminum frame. Like comparing Slater's muscle-bound physicality to Screech's scrawniness, the idea of having more room in the Five Hundred sounded like a welcome change. Unfortunately, the process of mounting the bolting and welding the GT's engine and rear frame into the Five Hundred took six weeks – much longer than they originally anticipated. That left only a month to complete the rest of the build, 30 days until show time.
So much of the Five Hundred's innards were removed to accommodate the GT frame that the WCC students had to build a steel-tube frame to keep the chassis from collapsing. Other fundamental modifications included the custom fuel cell and engine cooling system, not to mention the alterations to the front suspension for the GT's massive brakes and wheel bearings.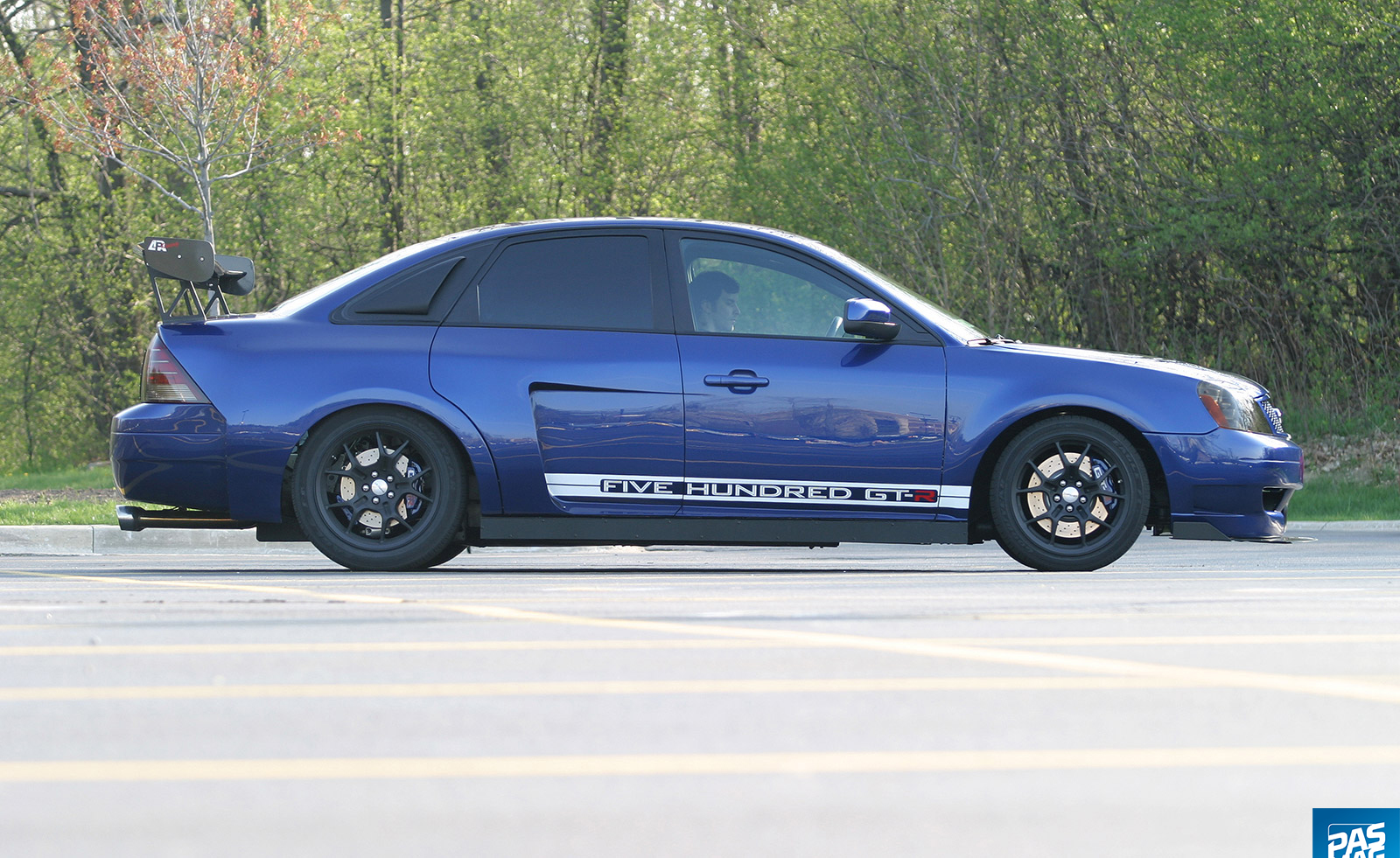 The October deadline was coming up fast and even with an army of students (a mish-mash of registered students and volunteers) and Ford engineers working around the clock, the crew knew that it couldn't avoid the inevitable: they were going to miss the deadline. It wasn't until 72 hours before its scheduled SEMA debut that Sobbry and Ford agreed on postponing the GT-R's unveiling until Detroit Autorama custom car show in March 2006. At least the team would be able to breathe a collective sigh of relief, as the added weeks of preparation would ensure that the car would be absolutely perfect before its public introduction.
Sporting a show-quality GT-inspired paintjob and rear fender flares more suited for a racecar, the WCC Ford GT-R debuted to a crowd of dropped jaws and amazement. Of course, the project wouldn't be considered a success without a session or two on Ford's own proving ground. And this Frankenstein proved to be no slouch, as it posted 0-to-60mph times of 4.1 seconds and covering a quarter-mile in 12.8 seconds. Not bad considering that the GT-R is essentially two cars in one, weighing over 4,400lbs.
Now with a fleet of awesome projects under WCC's belt, I'm sure that OEMs will be banging on the door fighting for the chance to work with Sobbry and his Custom Cars & Concepts class. And though they can't provide the same comic relief as Screech, Zack and Slater, I wouldn't mind spending a morning or two watching this crew in action. Kudos to WCC's Custom Cars & Concepts team and Ford for building such an incredible vehicle, as I'm sure this is a class project his students will never forget.