Photography by EverythingDrift.com
---
With the media spotlight often focused on Southern California or the blossoming scene on the East Coast, it amazes me that countless vehicles in the Pacific Northwest still fly under the radar. It's no secret that Seattle, WA and Vancouver, BC consistently produce the cleanest cars on the continent, even if the months of rainy weather may portray otherwise. Lawrence Ojas is arguably the city's Number One Stunna, as his Intec Racing operation is responsible for putting out a number of the Seattle area's top rides. This 1989 Nissan 240SX is the latest addition to his stable and is quite possibly the most insane street / track project we've ever seen.
You may remember that we featured Ojas' Toyota Corolla on the J-Spec cover back in our November 2005 issue (7.06). At the time, that AE86 was the ultimate street / race car on the scene and this S13 was built to follow suit. But like any hardcore enthusiast, Ojas wanted to show progression in his style and was prepared to break the bank with this project. The end result is one of the most well put-together vehicles to hit the scene, as he was even kind enough to show us the build-up process from start to finish.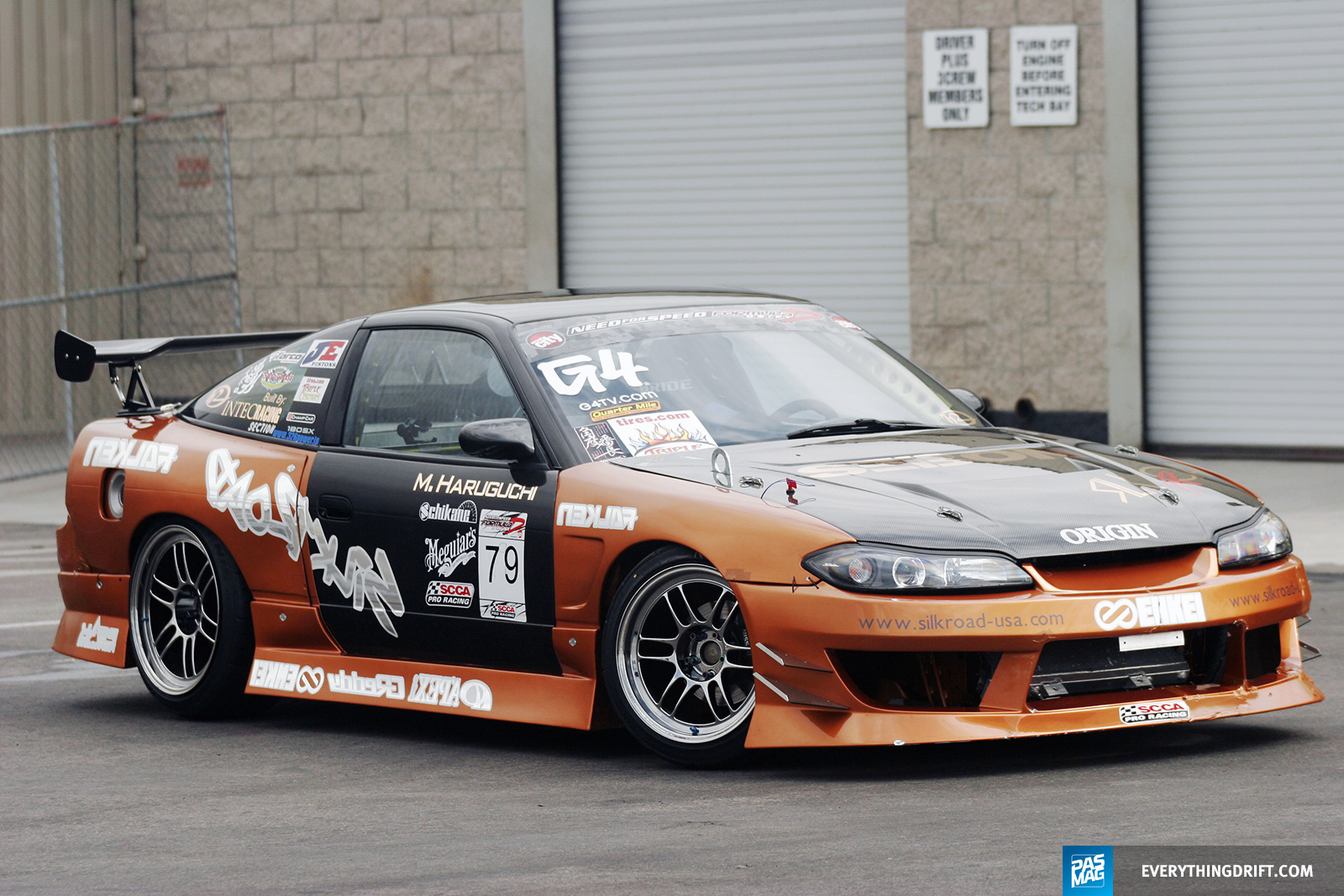 With plans for the 240SX to spend plenty of time on the track, the top priority on Ojas' list was strengthening the car's chassis. Like a roasted pig at a native Hawaiian luau, the shell was attached to a rotisserie and sandblasted to give Ojas a smooth canvas to begin his artistry. Giving the S13 chassis its Sherman Tank-like strength is the complete stitch weld job performed by the crew at Intec Racing. The shell was then sent out to nearby P1 Racing where a custom roll cage that met both drift and time attack specifications was designed and fabricated.
James Guse was then commissioned to lend his efforts to the cause, spraying the exterior in Le Mans Sunset Orange. He went on to paint the roll cage in a PPG Chameleon Silver / Gold combination, while the interior received a couple layers of PPG Gunmetal.
An Origin Aggressive bodykit and S15 Silvia headlight conversion adds some attitude to the hatchback, with Ojas using Dzus fasteners to hold the panels in place for quick removal / installation. This makes track day repairs a breeze for the race crew, as entire panels can be replaced quicker than ever before.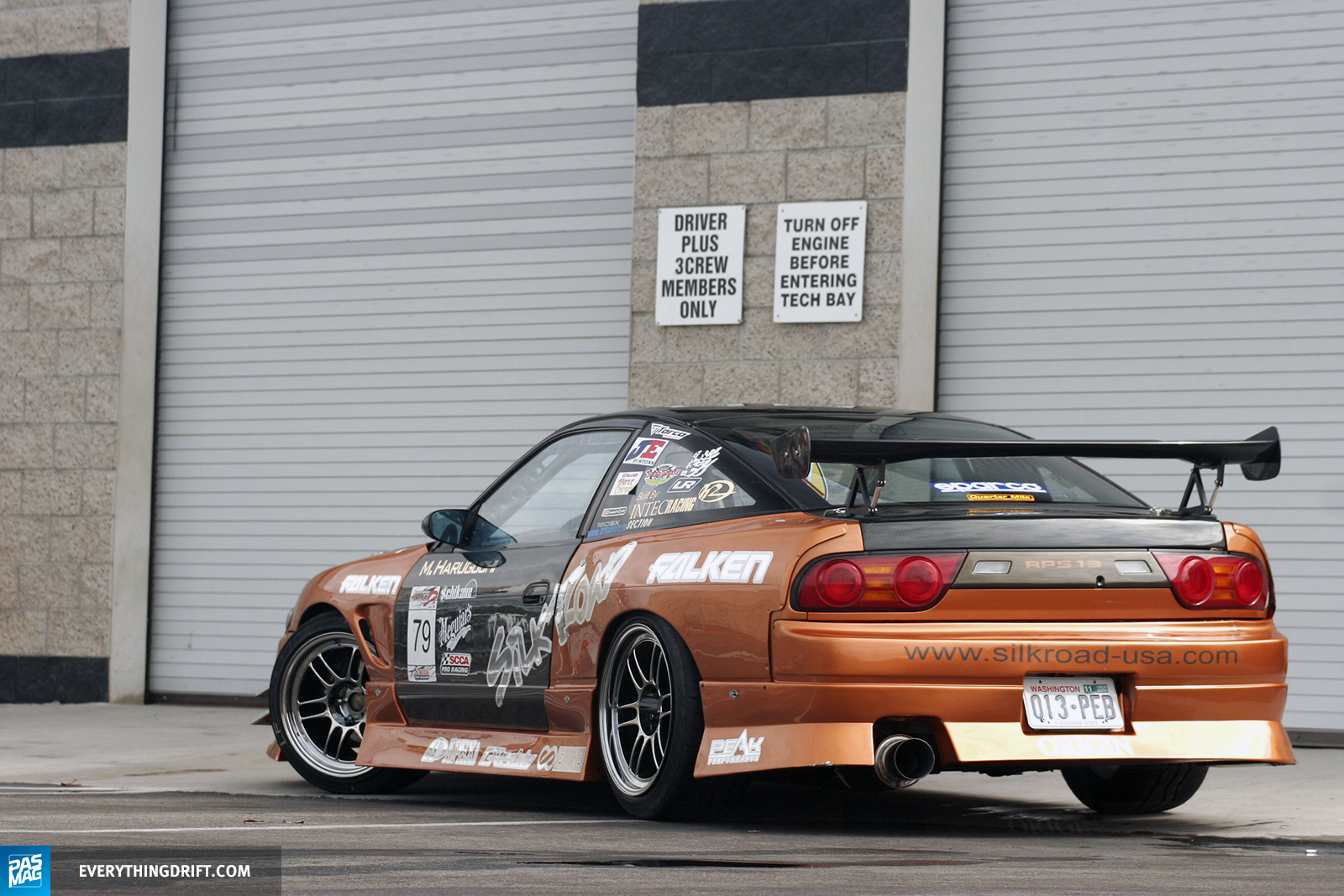 Like Jared from Subway, Ojas put his 240SX on a strict diet. But rather than delicious Subway sandwiches, this S13 shed its pounds thanks to a healthy portion of carbon fibre goodies. Seibon came through for Ojas in a big way, supplying the car with a carbon hood, hatch and door panels. The car stays glued to the ground courtesy of the added aerodynamics provided by the APR Performance carbon fibre wing and Silk Road under spoiler, while a pair of Vision carbon mirrors were affixed to the driver and passenger sides.
Like many 240SX tuners before him, Ojas had no intention of keeping the factory-issued 2.4L engine. Instead, the Kent, WA resident opted for a SR20DET motor that has been extensively prepped for race action by Charles Dundon of Intec Racing. Fitted with forged CP pistons and Eagle rods, this 2.0L is all business. Tomei 264-degree camshafts matched with adjustable cam gears provide a more turbo-friendly powerband, while the GReddy valve springs and Tomei solid lifters were inserted to accommodate the high-revving action.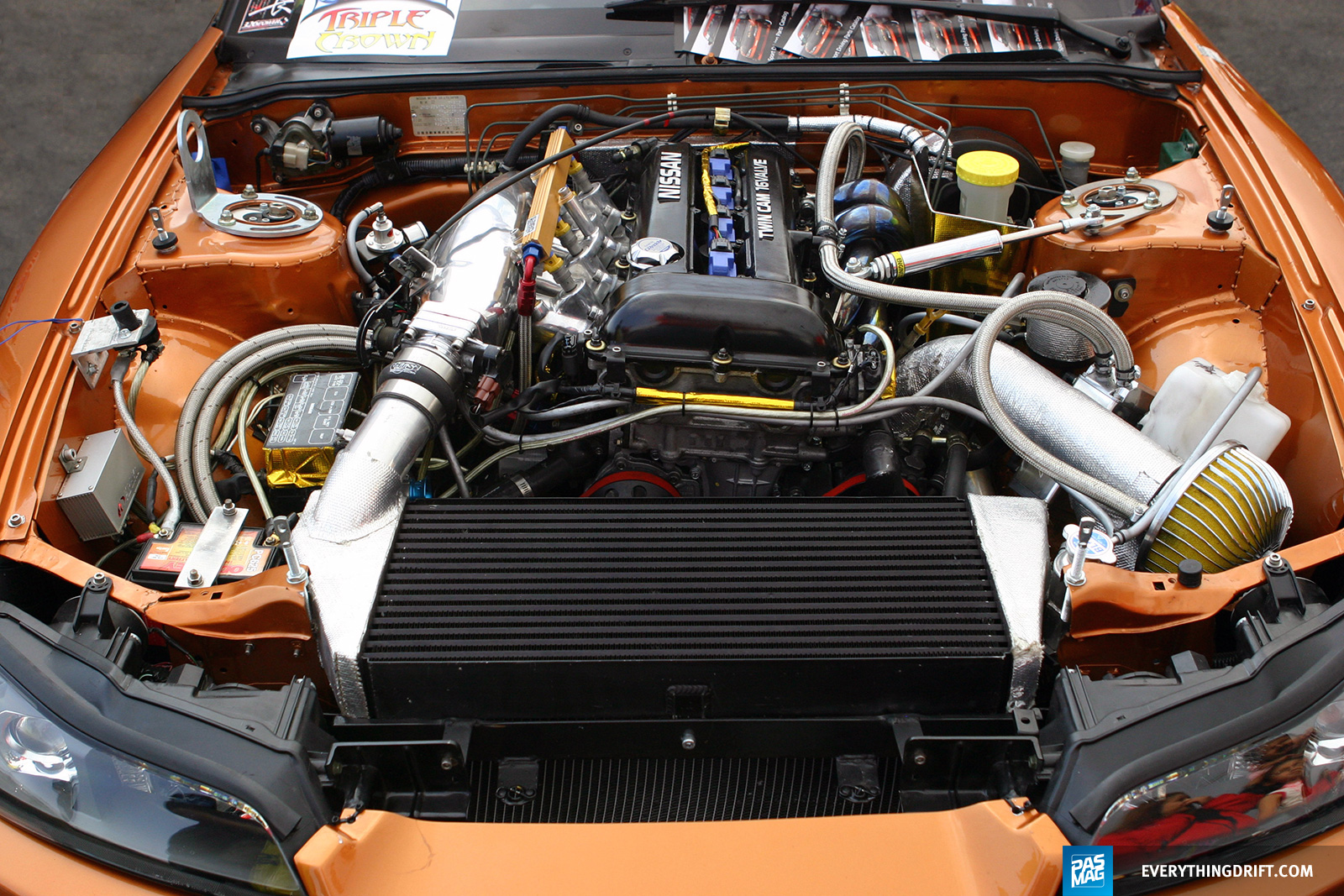 No doubt that the SR20DET's stock T25 turbocharger wasn't going to make the cut, so Ojas plumbed in a quick-spooling GT2871R turbo into the setup. The SR20DET is fed via a GReddy intake and polished manifold, while the Silk Road exhaust manifold that hangs off the side helps expunge the combusted gases through an A'PEXi titanium exhaust.
This car stays cool like Max Headroom in the 1980s thanks to the custom setup fabricated by the Intec Racing team. The Silk Road front-mount intercooler was anodized black and was v-mounted along with a GReddy radiator. This type of setup is becoming increasingly popular, as it allows for more efficient performance of both the intercooler and radiator. Once strapped to the dyno, Ojas' setup pumped out power like it was Dee Brown's Reeboks at the 1991 NBA Slam Dunk Contest, spinning the drums with 375hp and 345lb/ft of torque.
Most tuners would be content with this setup, but not a perfectionist like Ojas. Though it would be suitable for the street, he knew that if this car was to compete on the track it was in dire need of some additional tweaks. Lubrication is paramount for any purpose-built racecar, so Ojas had a GReddy oil pan, oil cooler and Accusump system installed which will keep it lubed even at 1.0g-plus conditions.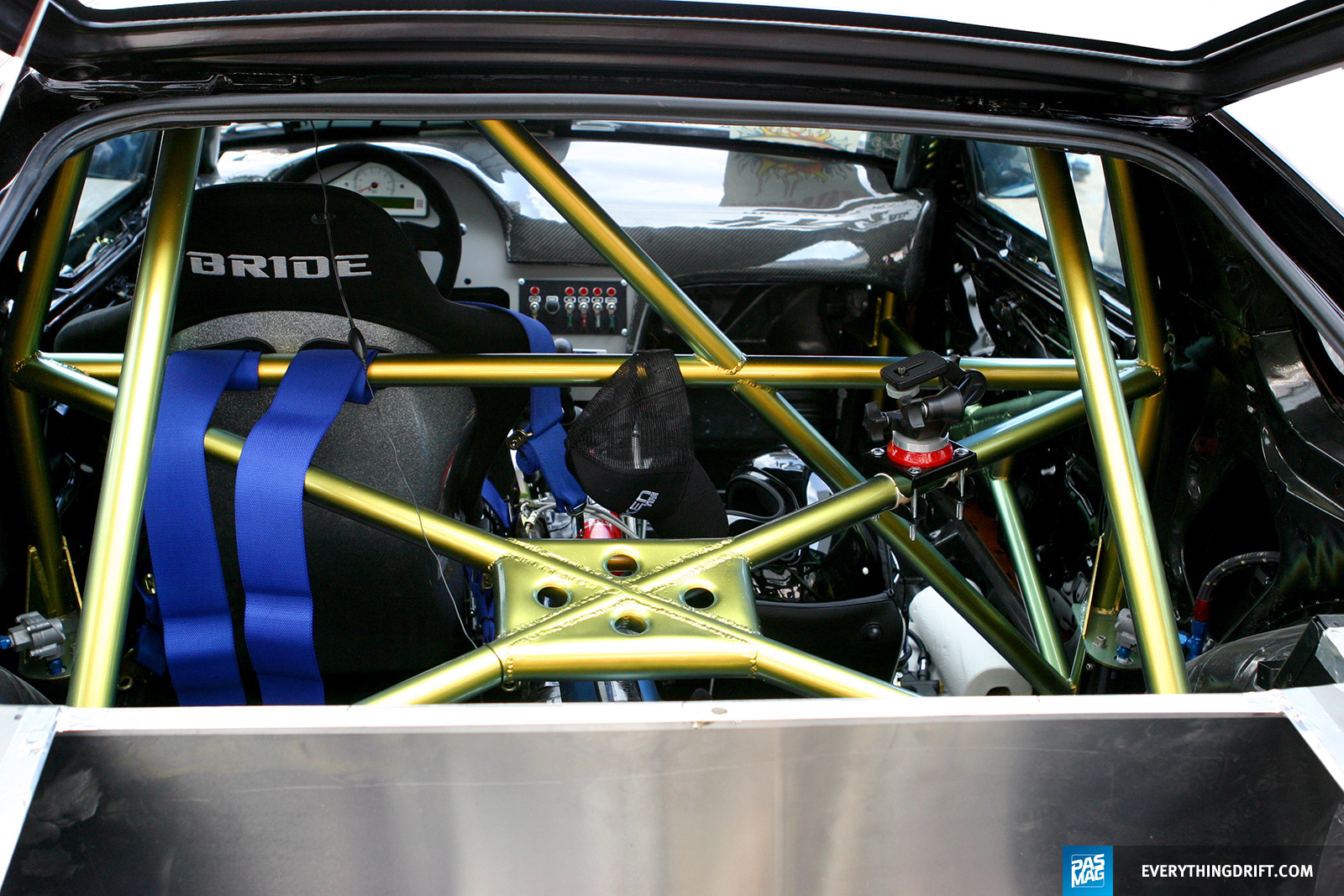 The trunk space is now occupied by an ATL fuel cell and SARD fuel sump tank which ensures that the set of SARD 630cc injectors is provided with a constant stream of high octane fuel.
With all this potential on deck, Ojas knew that selecting the suspension components that essentially control it would be very important. However, with Intec Racing also acting as Silk Road USA, inserting the Silk Road RM/A8 adjustable monotube coil-overs was a no-brainer. A set of Cusco sway bars and Kazama tie rod ends were bolted in to help dial-in the handling. As the final touch, Ojas had the S13 corner-balanced for optimal weight distribution: 53% in front, 47% in the rear.
An air jack setup allows for the set of 18-inch Super Advan Racing Ver. 2 wheels to be bolted on and off like a pair of shoes. More classic than a pair of Air Jordan IIIs, these three-spoke rollers are either wrapped in Falken ST-115 rubber when Ojas wants to slip on drift days, or Toyo RA-1s for ultimate grip for time attack events. The stoppers have been upgraded to R32 Skyline GT-R calipers at all four corners, clamping onto Silk Road rotors with Endless pads.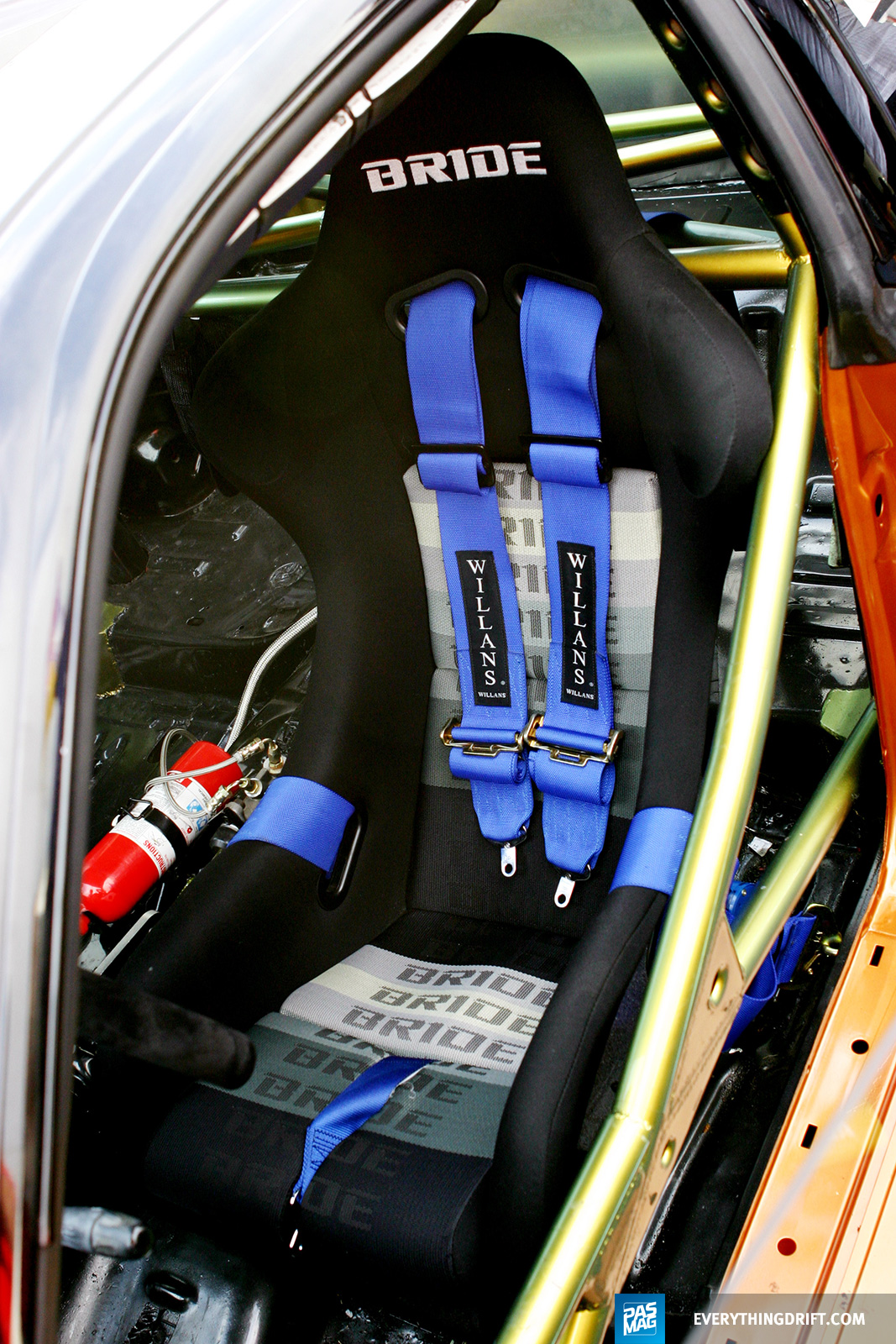 The interior remains strictly business like Donald Trump, with a Bride Zeta III seat used to hold the driver in place and a Nardi wheel to point the fastback in the right direction. A pant-wetting Stack meter sits flush in the custom carbon dash to display all the vitals and is the cherry on top of this automotive sundae.
Like its AE86 Toyota Corolla predecessor, the S13 got its feet wet by competing at professional drift events like Formula D and D1GP. Piloted by Haraguchi-san, the Silk Road USA S13 looks to make a big splash in the upcoming season. We tip our hats to Ojas, as this vehicle is cementing his spot amongst the scene's elite car builders. He isn't finished yet, as increased power (via a 2.2L stroker kit) is scheduled for the off-season. It seems like the madness never stops when you're the Number One Stunna.
PHOTO GALLERY