Photography by Russell Aban
---
Value pricing, bountiful accessories and wide availability have helped Toyotas Scion brand become a powerhouse of the North American sport tuning scene in just five short years. And, while many young enthusiastic customers happily lap up the factory and TRD accessory offerings for their xB, xD or tC, many more will seek out unique parts to set themselves further apart from the rest.
This golden 2006 Scion tC is another great example of the lengths Scion owners will go to. "This tC was built to challenge the conventional design choices that have been associated with the Scion brand since its introduction," says it original owner Alex Swenson.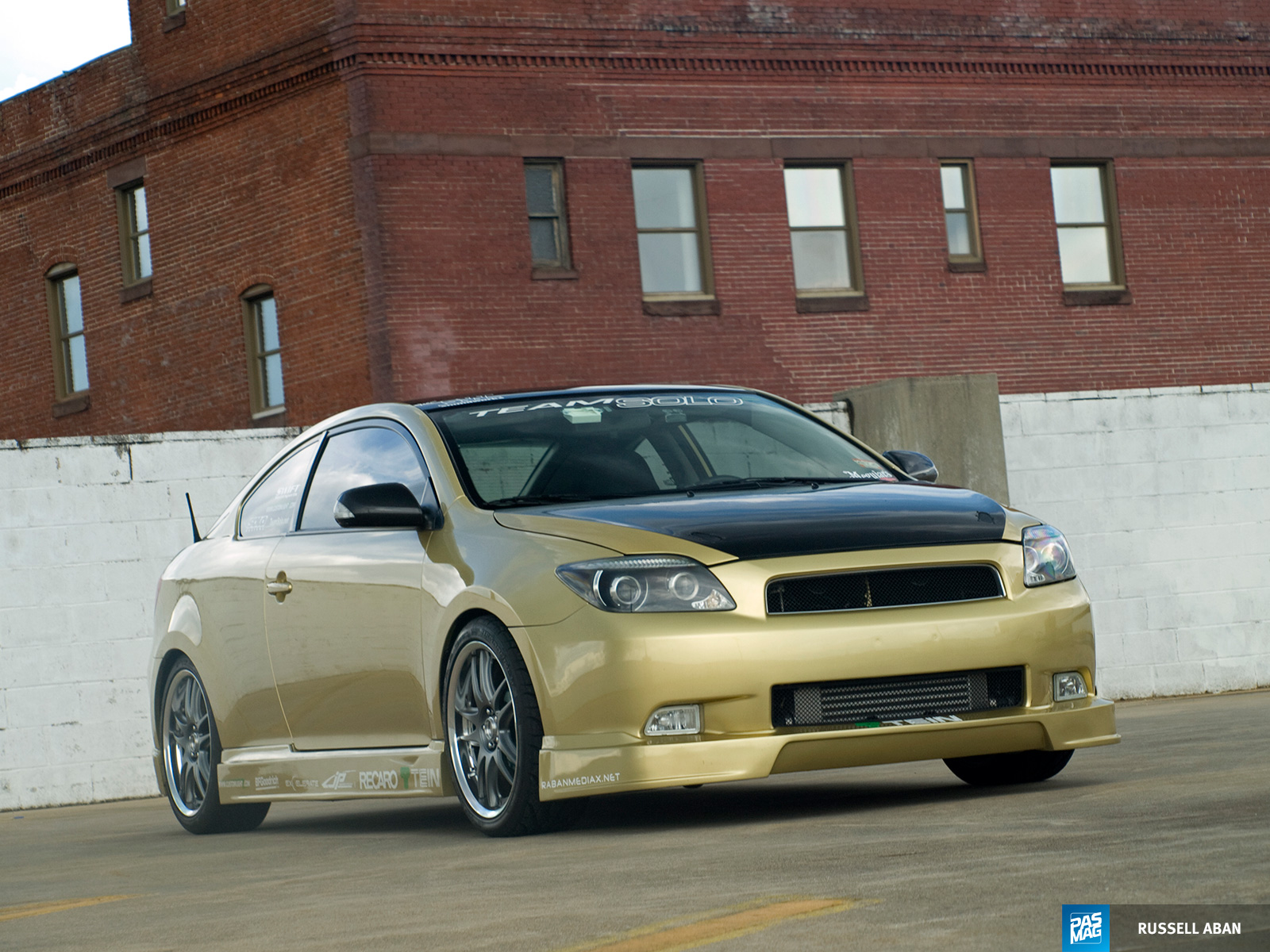 A native of New Haven, CT, the 20-year-old college student turned to Brian Rabes' Solo Customs in New Philadelphia, Ohio back in early 2007 to initiate this project. It is here where the tC was first torn down to a rolling chassis and prepped for paint. A modified and molded JP USA lip kit, consisting of front and rear bumper extensions and new side skirts, was installed and the vehicle reassembled after everything (engine bay included) got sprayed in House of Kolor Zenith Gold. Besides all of the initial body and paint work, Rabes put in an intercooled Turbonetics forced induction kit that made roughly 260 hp at 9.5 pounds of boost on the 2.4-litre 2AZ-FE inline-four.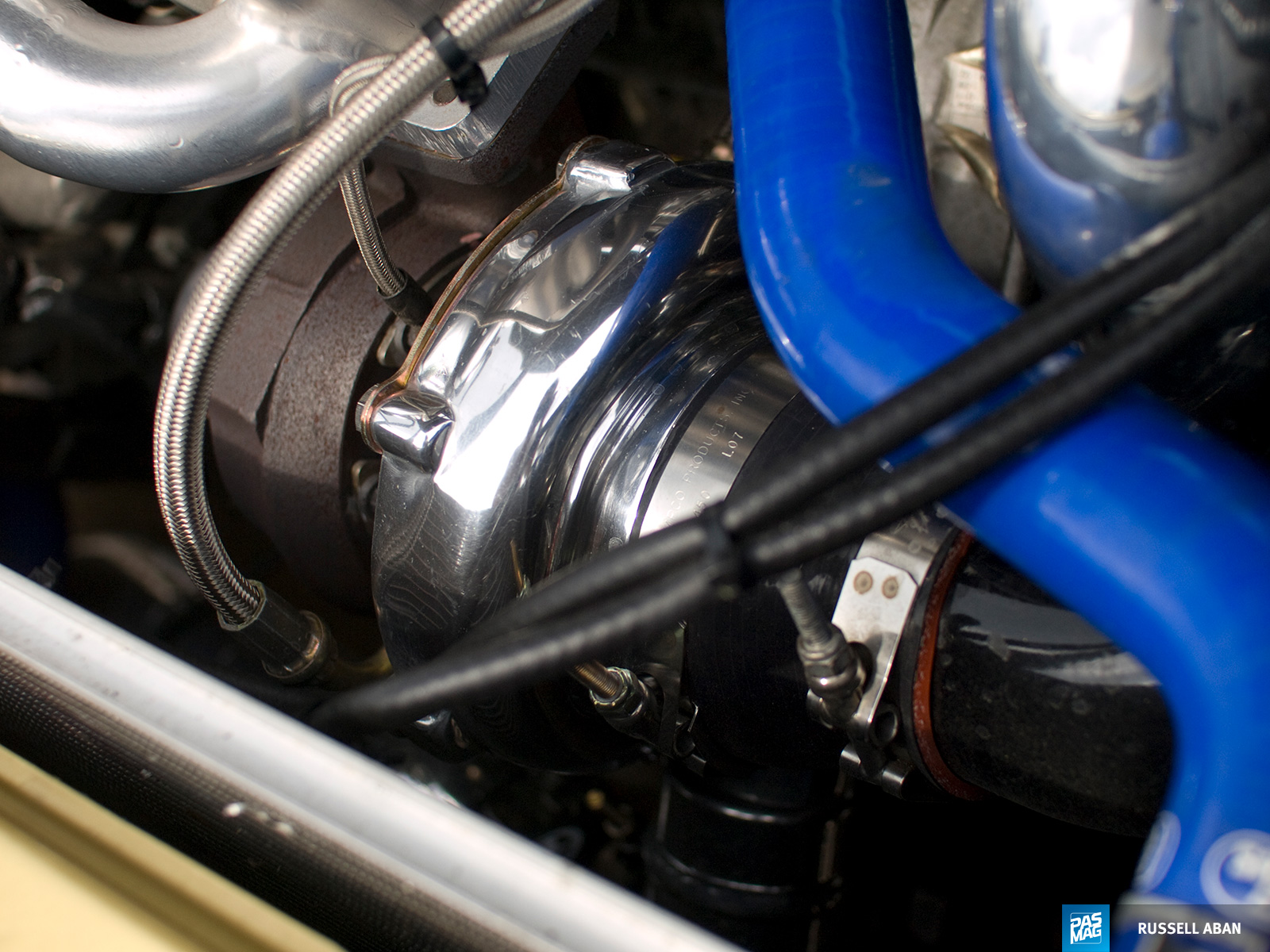 The original forced induction setup was revamped in early 2008 with a new Garrett turbo system that boasts a Why Industries (a.k.a. Turbo Toyotas) Extreme series T3/44 divided twin-scroll dual-wastegate turbo manifold. This equal-length piece of ceramic-coated technology is now home to a polished Garrett GT3076R divided ball bearing turbo and twin external 44mm Tial wastegates that help to considerably raise power output.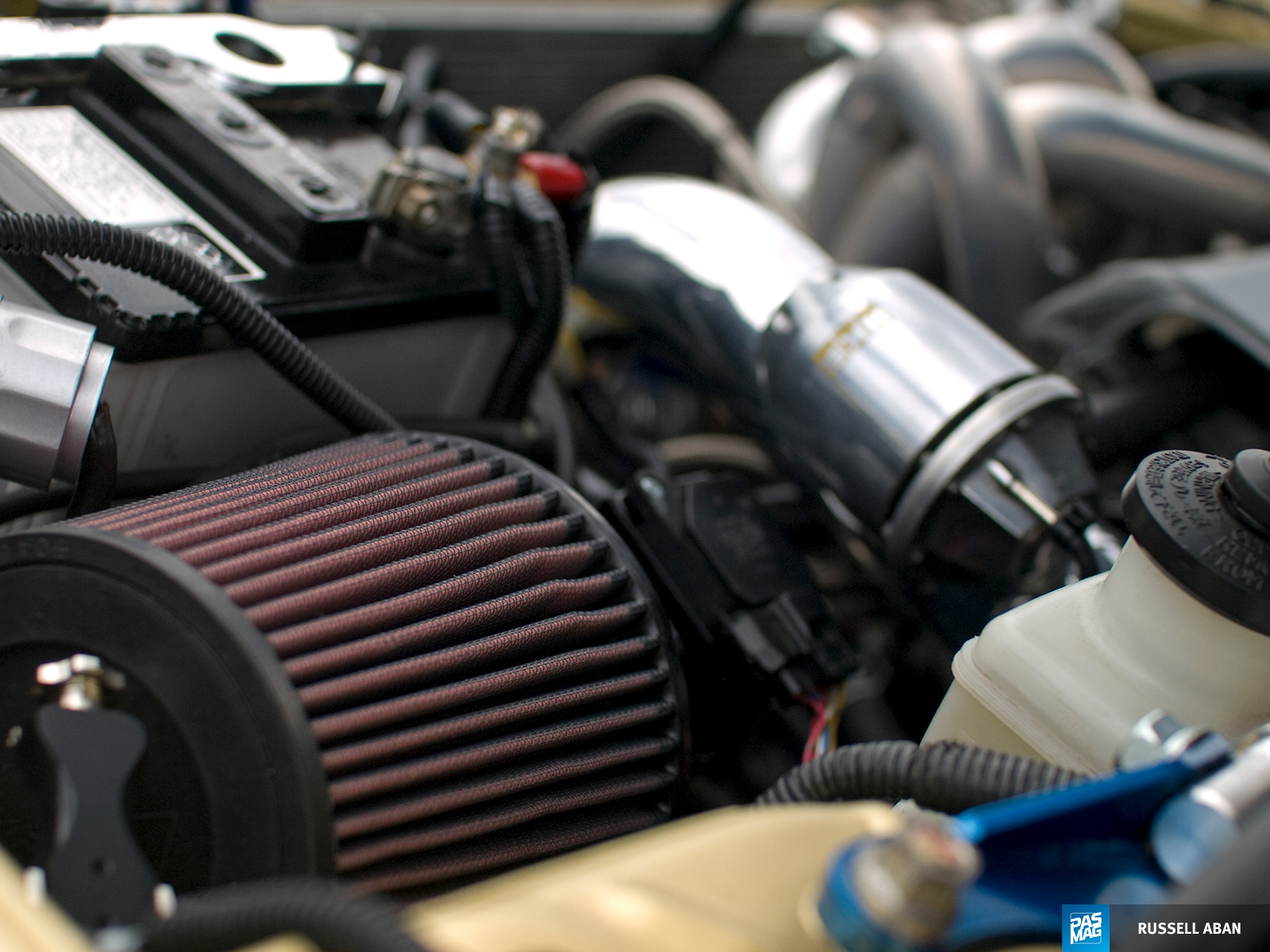 On the cold side, air enters through an AEM intake with charge cooling coming from a front-mounted Garrett intercooler and polished piping. A HKS SSQV blow-off sits between the throttle body and turbo to protect it from surging under excess pressure while Motron 630cc injectors supply the fuel for Iridium-tipped NGK spark plugs to ignite inside the cylinders. On the hot side, the fumes exit via a Turbo Toyotas three-inch down-pipe and S-pipe combo before rejoining the atmosphere through a P-Tuning exhaust system. An Apexi turbo timer ensures the turbo cools down properly after each driving session.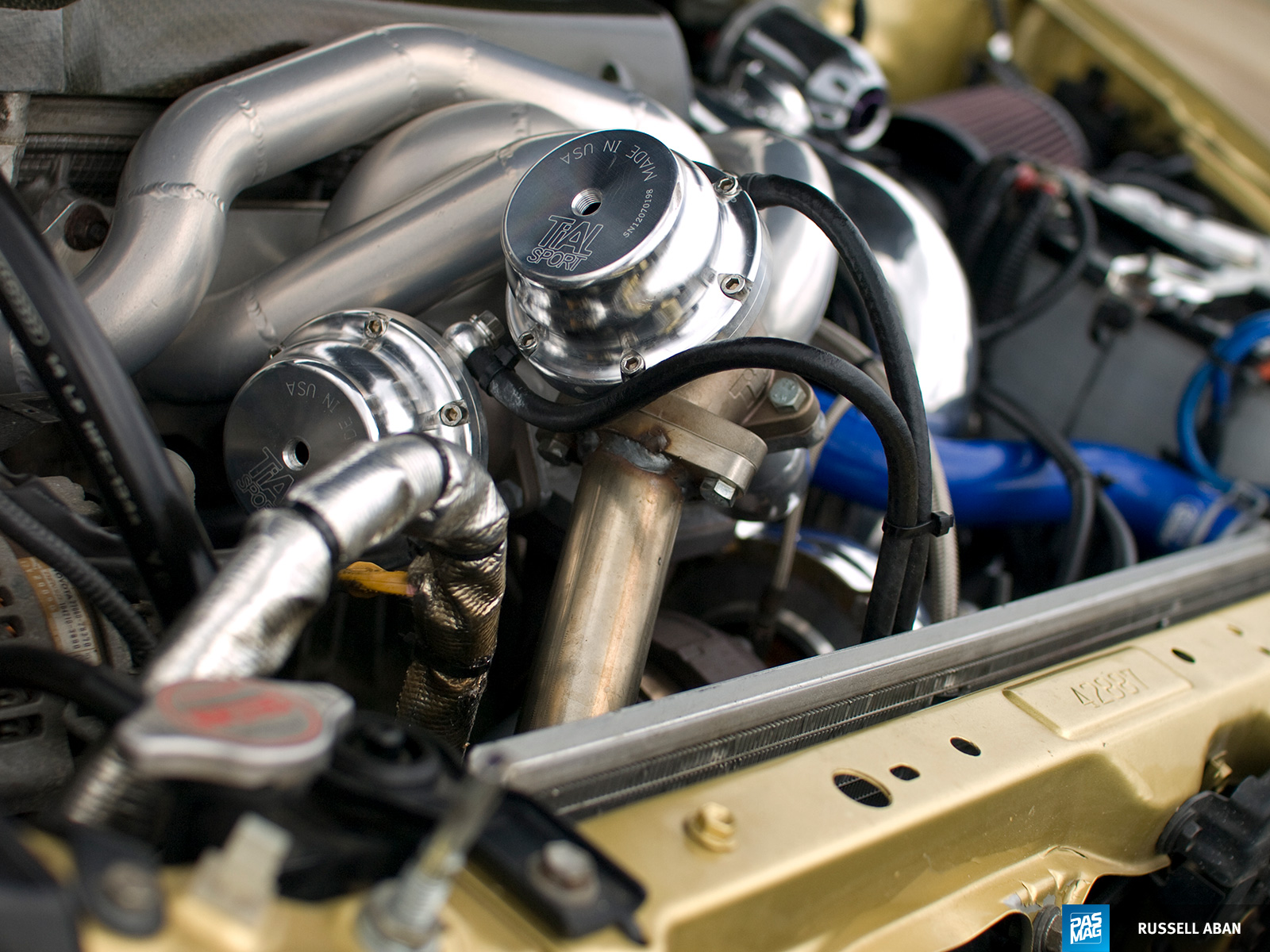 Swift Motorsports in Norwich, CT gets credit for the most recent slate of upgrades. This includes mapping out a "piggyback" Unichip EMS, which tells the factory ECU what to do and when. With tuning done on the in-house dyno, the 24-karat tC now makes an impressive 308 hp and 325 lb.-ft. of torque at the wheels with 11 pounds of boost.
That power heads to the pavement through an ACT high performance clutch and forged Competition Clutch flywheel setup with forged gunmetal 18-inch Volk Racing GT-Vs (+43 offset) and with 225/40-series BFGoodrich KDW T/A tires supplying a grippy contact patch. A stage two TWM Performance short shifter with new bushings improves gear shifts while Tein SS-P coil-overs on all four corners provide a lower, sportier stance that ensures solid compliance with the road.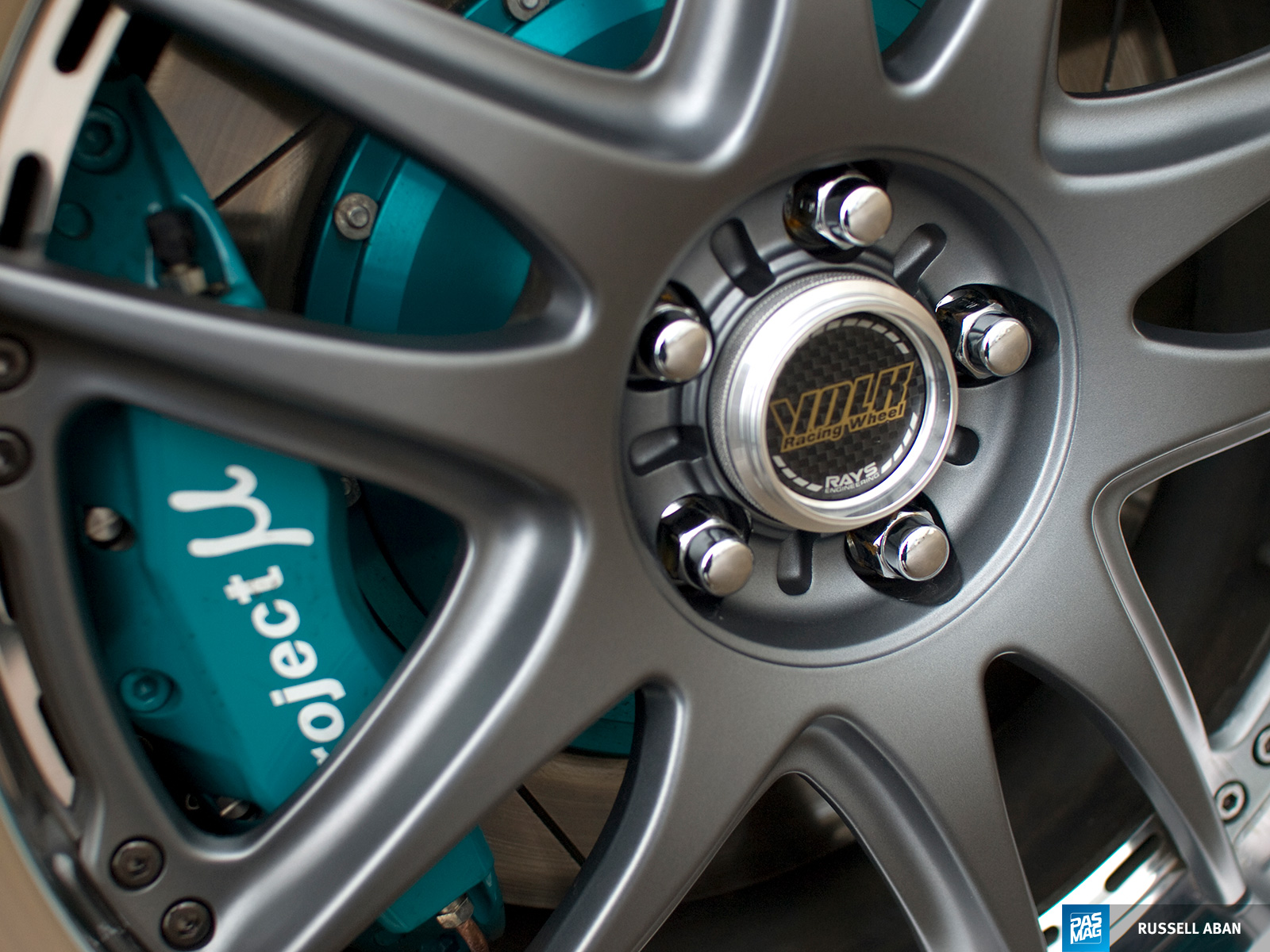 Naturally, all that extra power meant that stopping had to be addressed. As such, the emerald green Project Mu brake work is clearly visible behind the front wheel spokes where four-piston calipers now grab onto large 355mm slotted rotors. The rear setup is a bit older and consists of Rotora drilled and slotted rotors with the factory calipers.
From the beginning of this project, the focus has been on using only the top quality and performance parts to create the show-stopping tC you see here. Some of that flash is found under the Carbon EFX carbon fiber hood. The Racing Solution carbon fiber engine cover and Doctor Isotope's air diversion panel, for instance, are nice dressings. So too is the variety of polished caps and tie-downs from TRD and AEM. Notice also, the glossy Weapon-R engine coolant and power steering reservoir tanks.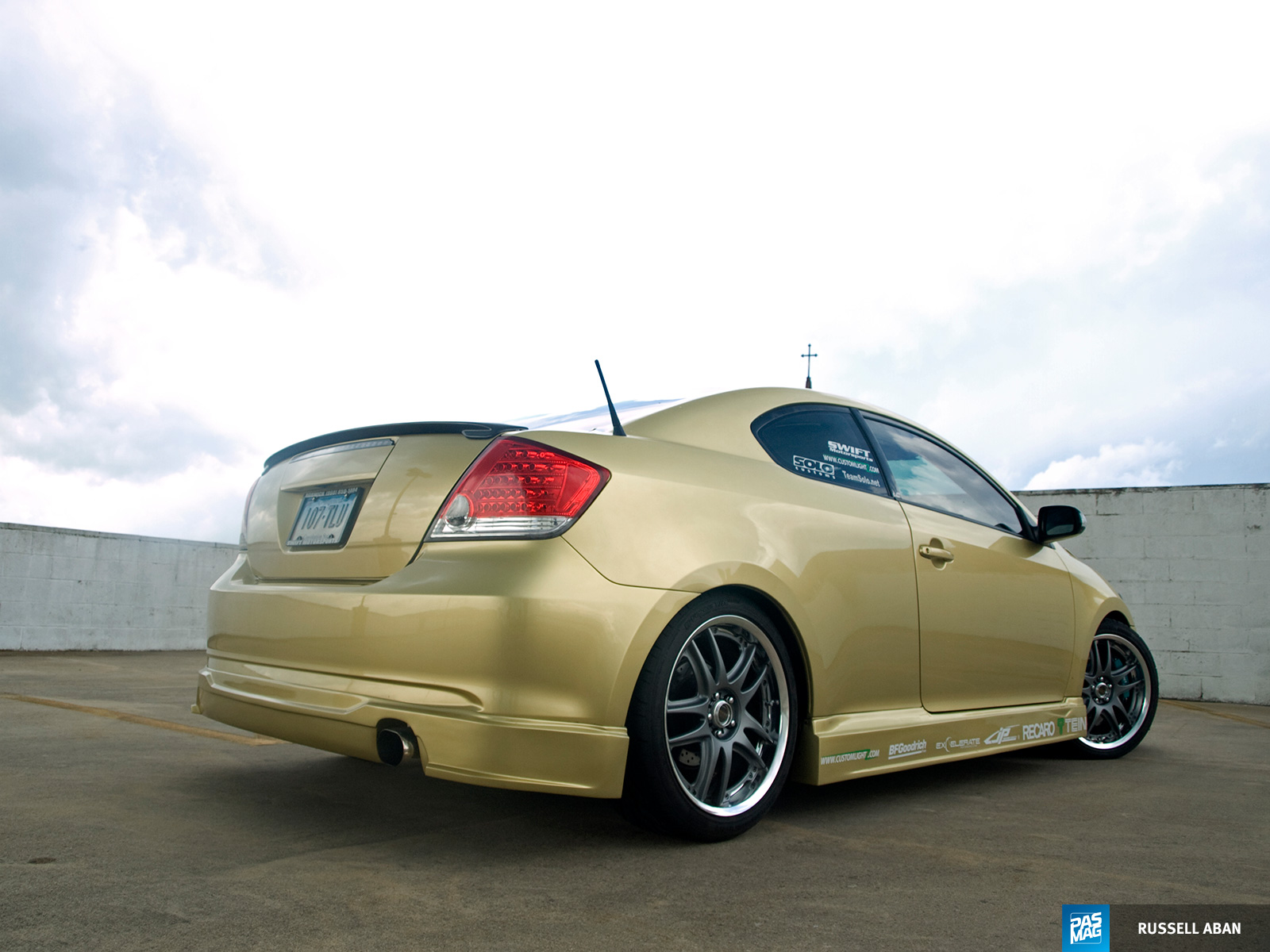 Outwardly, this tC has a few more tricks that help it stand out. The carbon fiber fuel door and Racing Solutions rear lip spoiler are obvious ones. So too are the Vertex Racing Development fog lights and wrinkle black RaceMesh grilles that have been integrated into the front fascia. More subtle changes, however, include a Honda S2000 antenna mast and custom badgeless hatch garnish with LED third brake light. Topping things off are LED taillights and a CustomLightz.com quad-Xenon projector headlight retrofit that's made up of Infiniti FX35 low-beams, Honda S2000 high-beams and Acura MDX shrouds.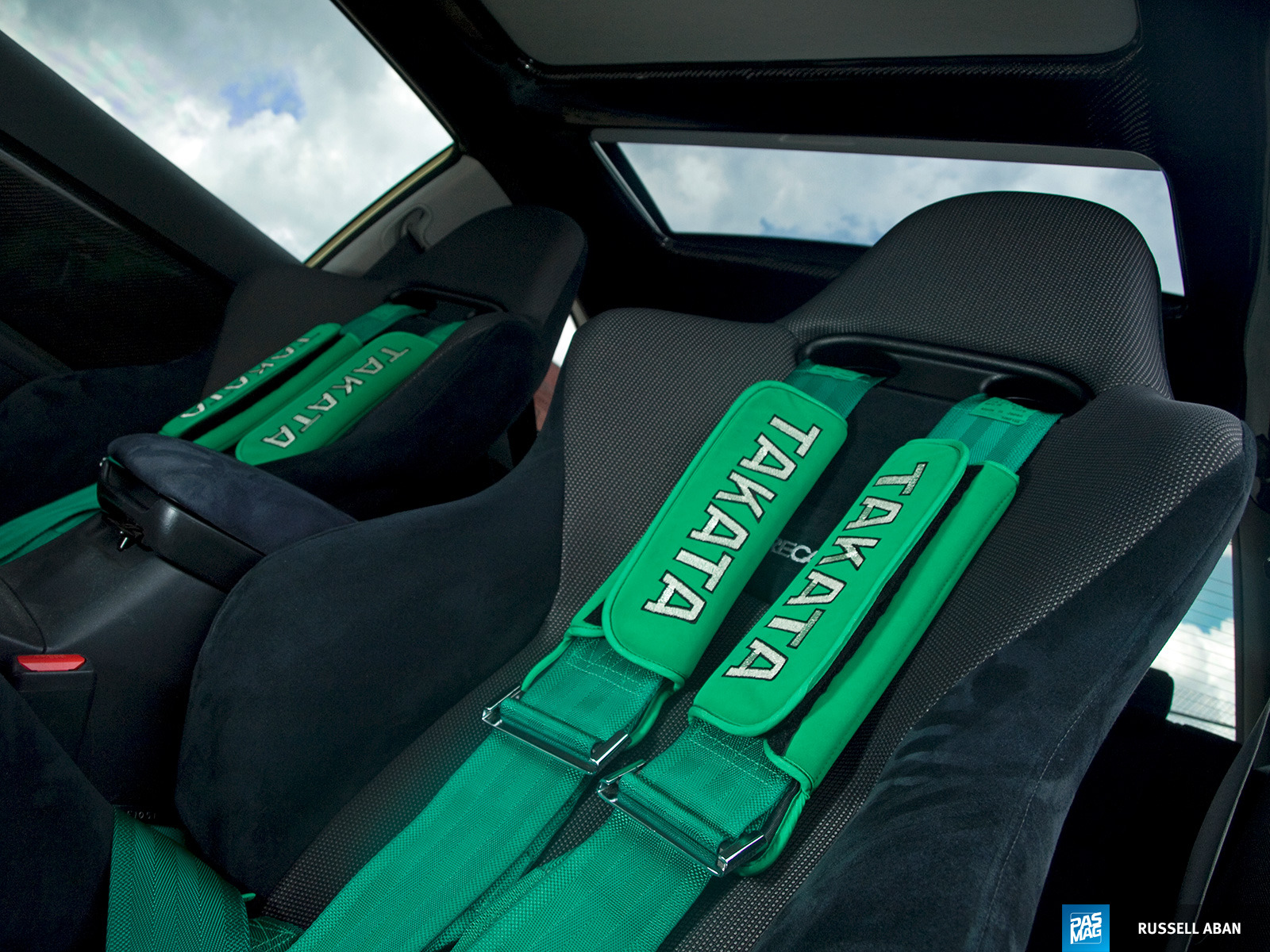 Inside, more carbon fiber parts appear in the form of a new bezel surrounding the instrument cluster and custom molded dual gauge pod that houses AEM Uego and Tru Boost gauges. Exterior-matching paint has been applied to parts of the dash, but perhaps the most interesting interior upgrade is the full carbon fiber headliner conversion from Top Shop. Recaro Sportline seats with Takata racing harnesses replace the factory buckets with OBX Sport pedal and shift knob for the driver. Black suede has been used on the shift and e-brake boots as well as the centre armrest.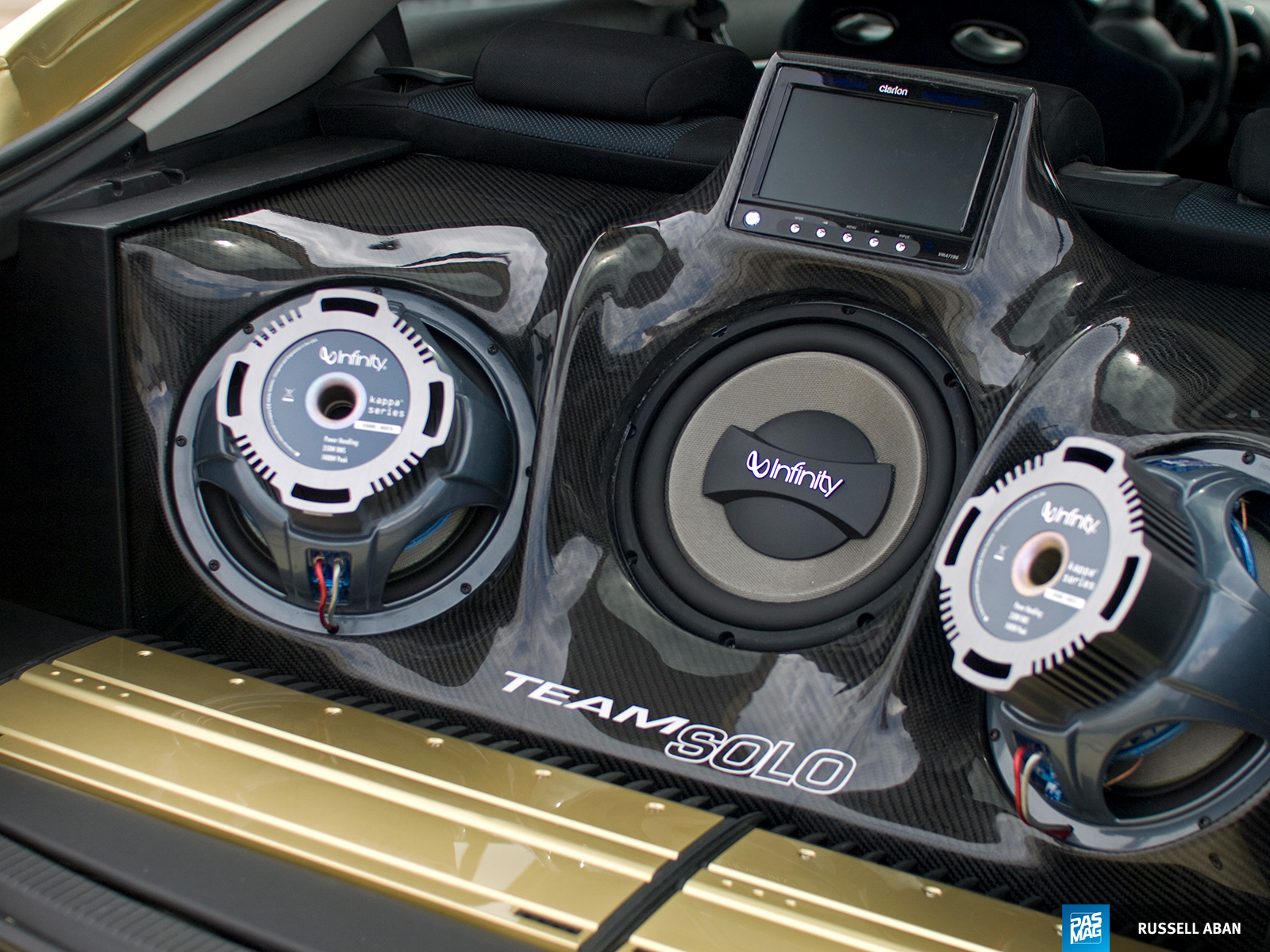 In the mobile entertainment department, a two-DIN Valor NVG-650WT DVD multimedia head unit with built-in 6.5-inch video and navigation control both the audio and video. There are two sets of JL Audio component speakers in the factory locations to play the mids and highs while a trio of Infinity Kappa series 10-inch subs are responsible for belting out the bass. These are found in a cool carbon fiber-wrapped sealed sub enclosure that sits next to a recessed amplifier bin that takes up the balance of space in the cargo area. Power for the speakers comes from two JL Audio Slash series amps, including a 1,000W mono amplifier and a 300W 4-ch. full range amplifier, that are painted to match the car. Finally, there's a seven-inch Clarion LCD sitting atop the sub enclosure to help pass time at car shows.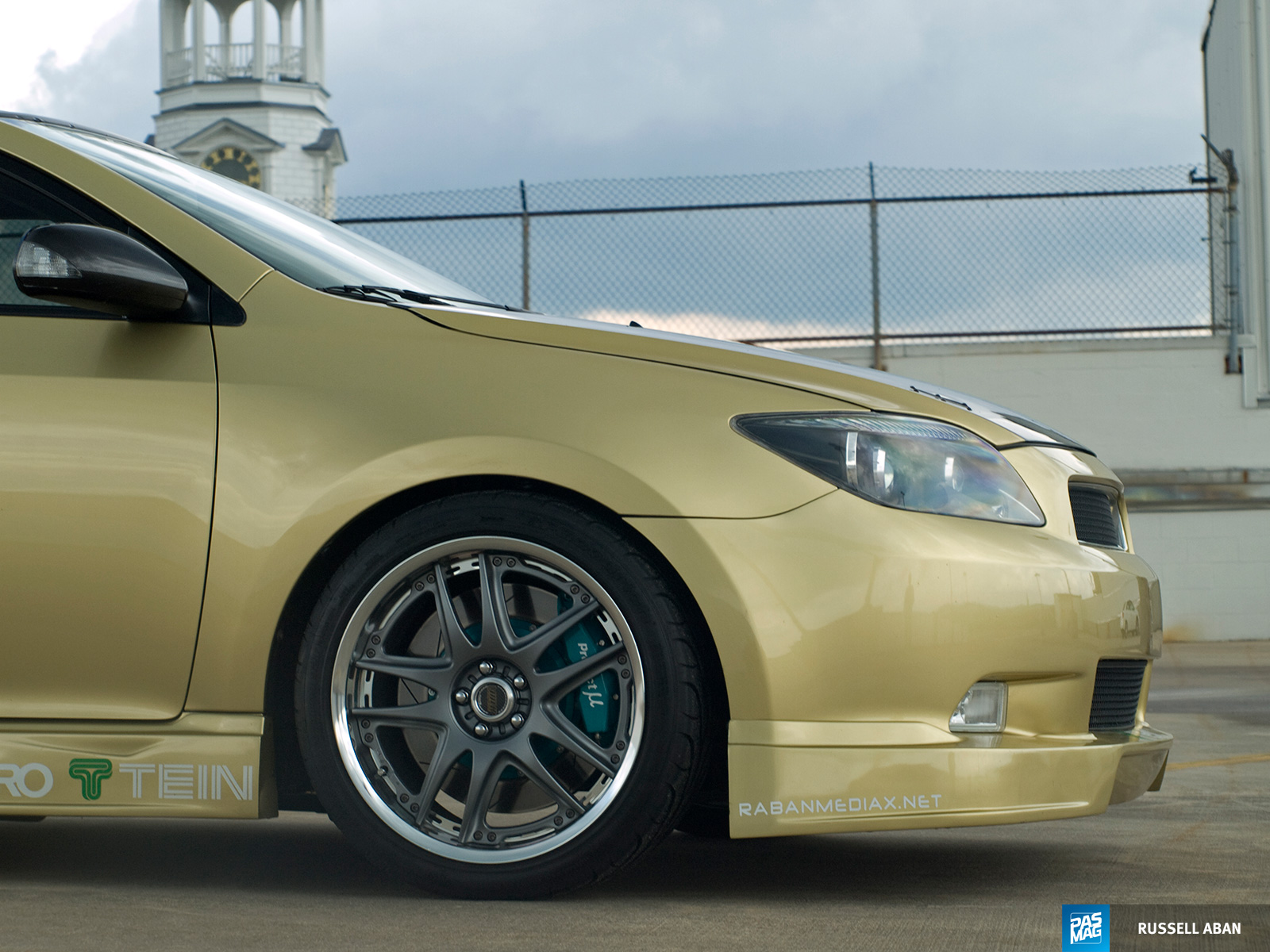 ---
ESSENTIALS
Owner: Alex Swenson
Location: New Haven, CT
Vehicle: 2006 Scion tC
ENGINE / PERFORMANCE
Polished Garrett GT3076R ball bearing turbo
Why Industries Extreme T3/44 divided twin-scroll turbo manifold
Why Industries 3-in. ceramic-coated down-pipe
Why Industries 3-in. ceramic-coated S-pipe
TiAL 44mm wastegates (x2)
HKS SSQV blow-off valve
AEM intake
Garret front-mount intercooler
Why Industries intercoooler piping, custom end tanks
P-Tuning S-pipe-back exhaust system
Motron 630cc fuel injectors
NGK Iridium spark plugs
Samco radiator hoses
Doctor Isotope's air diversion panel
Racing Solution carbon fiber engine cover
TRD Performance radiator cap
AEM polished oil cap
AEM chrome battery tie down
PERFORMANCE ELECTRONICS
Swift Motorsports Unichip piggyback EMS
Apexi turbo timer
AEM UEGO gauge
AEM TRU Boost gauge
GReddy Infometer
DRIVETRAIN
ACT high performance clutch
Competition Clutch forged flywheel
TWM Performance short shifter
TWM Performance shifter bushings
EXTERIOR
House of Kolor Zenith Gold paint job by Solo Customs
JP USA Co. lip kit
Custom RaceMesh grilles
Carbon EFX carbon fiber hood
Sparco hood pins
Scion carbon fiber B-pillar appliqué
Carbon fiber fuel door
Custom badgeless hatch garnish with LED third brake light
Racing Solution carbon fiber rear lip spoiler
Honda S2000 antenna mast
Quad-Xenon projector retrofit by CustomLightz.com
Infiniti FX35 low-beam projectors
Honda S2000 high-beam projectors
Acura MDX shrouds
Flow Lighting blue underbody lighting
Vertex Racing Development fog lights
LED taillights
WHEELS / TIRES / BRAKES
Volk Racing GT-V forged wheels - 18x8
BFGoodrich KDW T/A tires - 225/40-18
Rotora drilled and slotted rear brake rotors
SUSPENSION
Tein SS-P coil-overs (fr/rr)
Project Mu 355mm 4-piston slotted front big brake kit
INTERIOR
Top Shop carbon fiber headliner
Recaro Sportline black suede/black jersey racing seats
Takata racing harnesses
Carbon fiber (door panels, gauge cluster bezel, custom molded dual gauge pod)
OBX Sport pedal covers
OBX Speedstar shift knob
Black suede (shift boot, e-brake boot, armrest)
AUDIO / MULTIMEDIA
Valor NVG-650WT multimedia head unit
Custom carbon fiber subwoofer enclosure and recessed dual-amp drawer
10-in. Infinity Kappa 102.7W subwoofers (x3)
JL Audio Evolution XR525-CSi coaxial front speakers (1 set)
JL Audio Evolution XR650-CXi coaxial rear speakers (1 set)
JL Audio Slash 1000/1v2 1,000W mono amplifier
JL Audio Slash 300/4v2 300W 4-ch. full range amplifier
MonsterCap 1-farad capacitor
Clarion 7-in. LCD video monitor
Monster Cable wiring, interconnects
SPONSORS
BFGoodrich
CustomLightz.com
Excelerate Performance
Infinity Systems
JP USA
RaceMesh Grilles
Recaro
Solo Customs
Tein
PHOTO GALLERY