Photography by Mike Schuster
---
The BMW 3-series is one of the best midsize (or C-class) sports cars for the money thanks to its lightweight 300-hp twin-turbo i-six, amazing suspension tuning, a sporty upscale design and plenty of standard goods. Caveats include some pricey upgrades and options that many buyers don't need or want like active cruise control or iDrive, for instance.
Personally, I love BMWs optional active steering and, the more time I spend driving BMWs with the so-called "unintuitive" iDrive control system, the easier to use and more familiar it becomes. Like any new portable electronic device – mobile phones, MP3 players, GPS watches or whatever – you just need to invest some time to learn how to use it before it really becomes useful.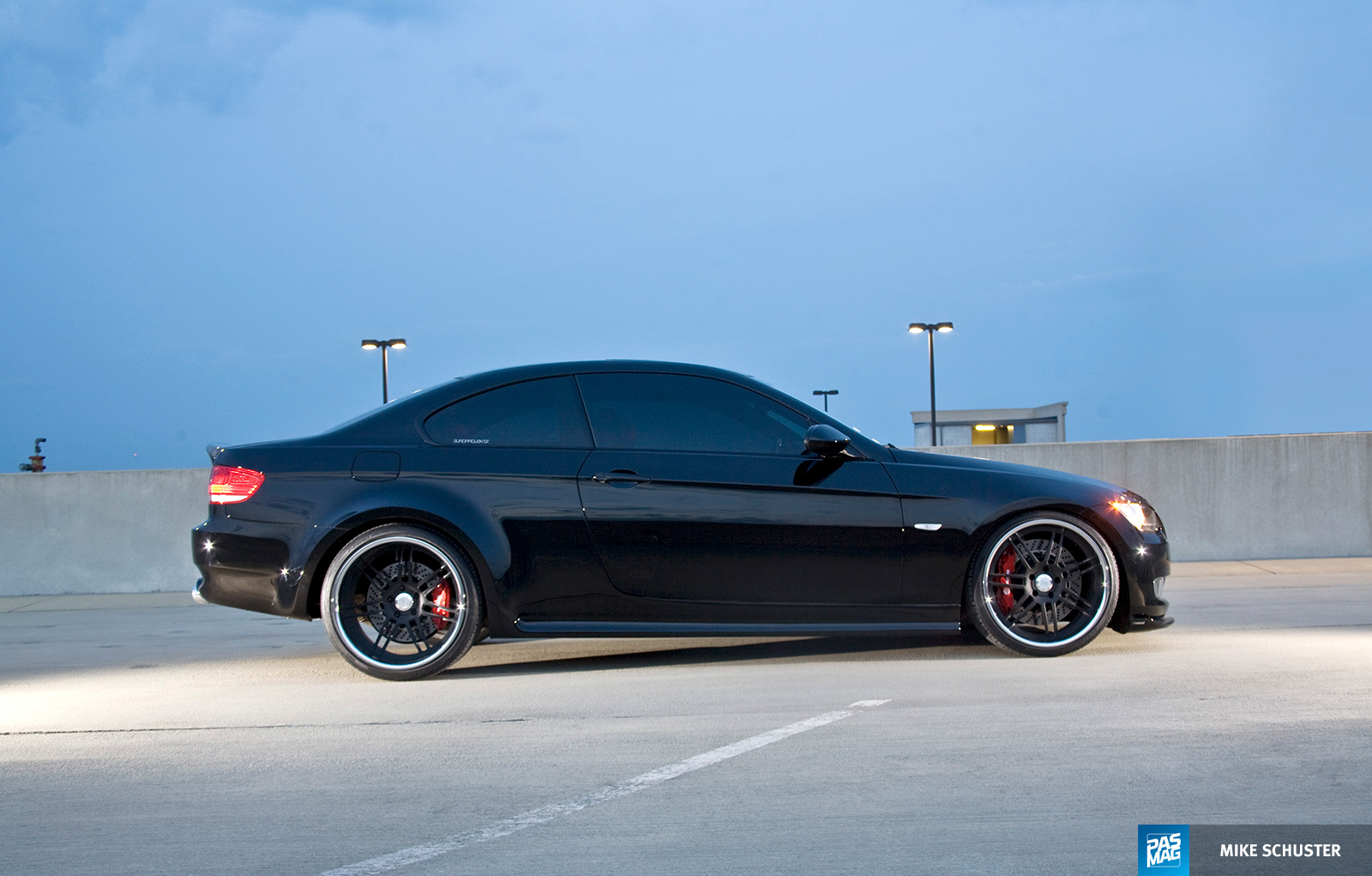 John Mu of Cincinnati, Ohio bought this jet black 2008 BMW 335i coupé brand new for roughly 50 grand. Then, in true Bimmer fan fashion, he wasn't afraid to void a warranty or two, and drop a few thousand more on upgrades that better suit his personal style and tastes.
"I've always liked BMWs and the 335i is an incredible platform to begin any project car with," says the independent business owner.
"This is my first custom car and when I sought out a shop to build it for me, Spade Kreations seemed to have some fresh ideas that I really liked."
For the first phase of the project, the guys at Spade Kreations made several changes to open up the performance envelope. Nothing crazy, just some clean go-fast parts and bonus style.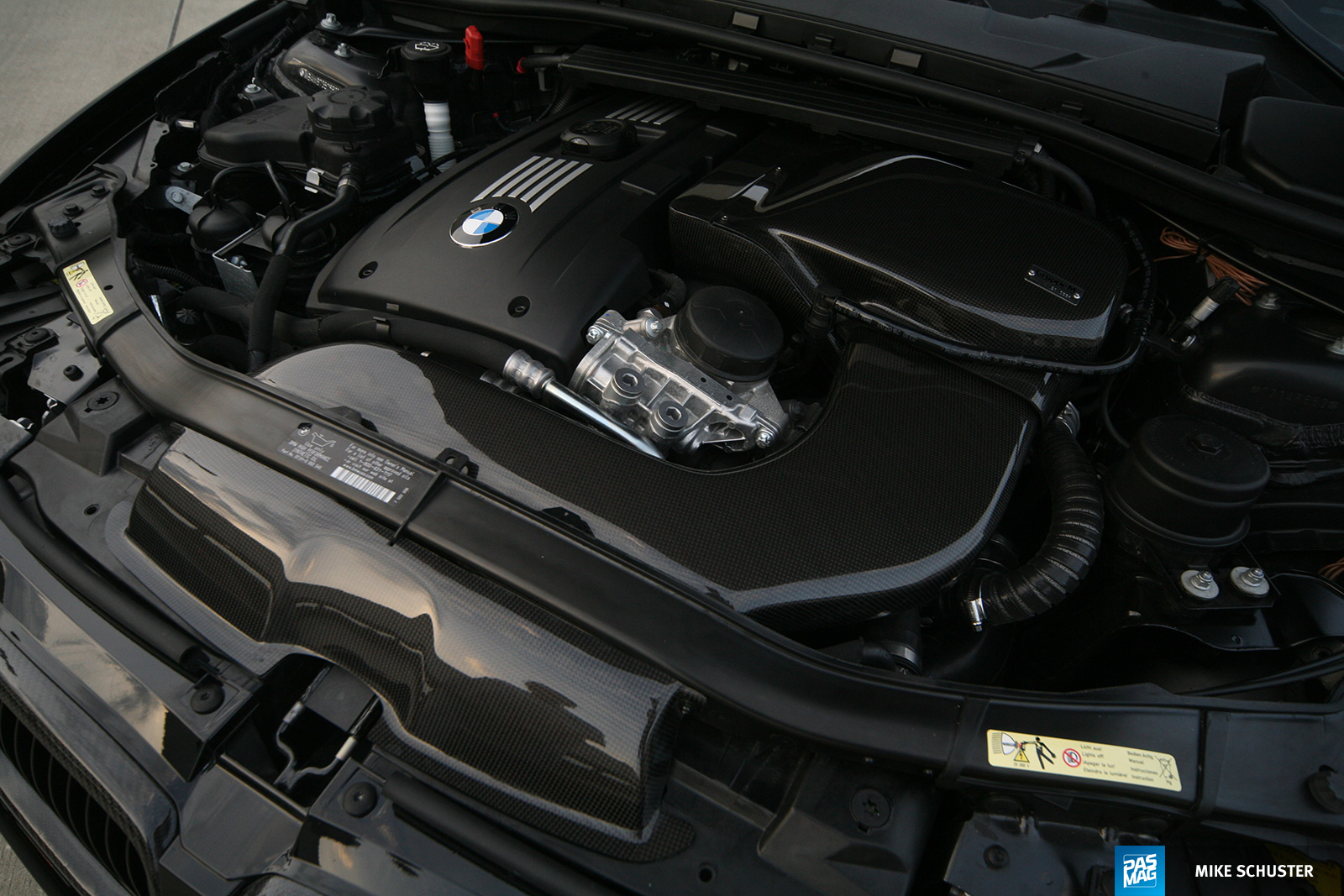 The blown 3.0-litre aluminum powerplant is itself stock – at least for now says Mu – but, to help it breathe a bit baetter, a Gruppe M air filter has been installed along with a Riss Racing down-pipe and Eisenmann dual race exhaust system. The more aggressive soundtrack is accompanied by the 'psssst' from a Forge Motorsports blow-off valve that helps expunge excess pressure and prevents compressor surge while upgraded NGK spark plugs ensure the high-octane burns completely.
There are plans to upgrade the intercooler, however, at this point the only other power adder is a Vishnu Procede V2 piggyback engine management system. The system comes preprogrammed to make better use of the upper powerband (above 6,500 rpm) and Mu estimates the power (on his car) at the wheels is now somewhere between 325 and 350 hp.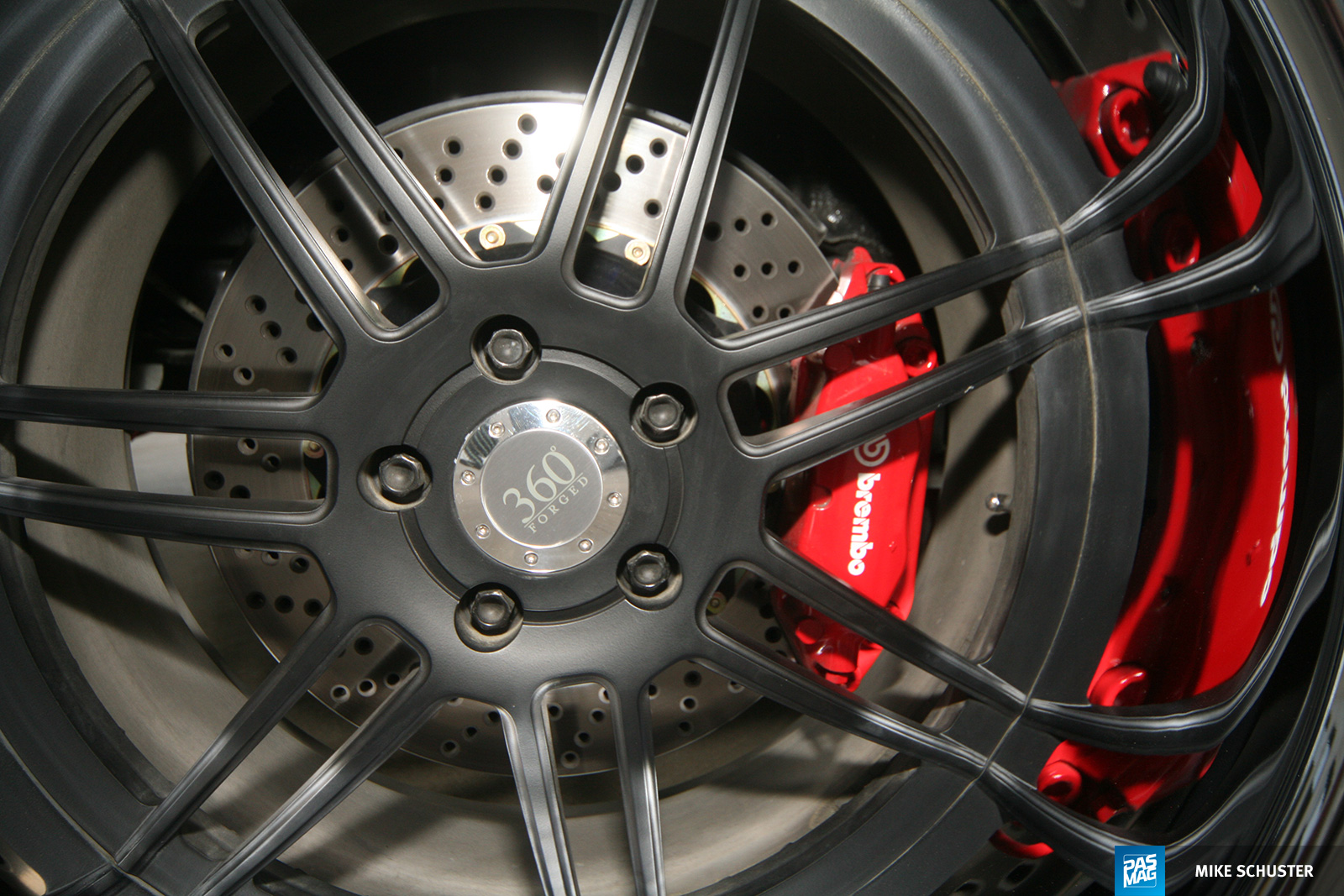 The rolling stock has been upgraded from the standard 18-inch alloys and run-flat tires to much larger, lighter 360 forged two-piece jobs cocooned in Pirelli P Zero Nero rubber. The fronts are now 20- by nine inches while the rears max out at 12 inches wide, with highly-capable KW Variant 2 coil-over springs and Hotchkiss sway bars accounting for the front and rear suspension mods.
To go with the higher-caliber footwear, a complete Brembo Gran Turismo brake kit has also been added for neck-snapping stops. Six-piston calipers clamp down on massive 380x32mm two-piece drilled front discs while four-pistons grab the slightly smaller 345x28mm rears.
"I haven't had a chance to take the car out to a track to see what it can do," Mu says. "One of my friends does have a dyno at home and we are still playing with it, tuning a bit at a time," he adds nonchalantly.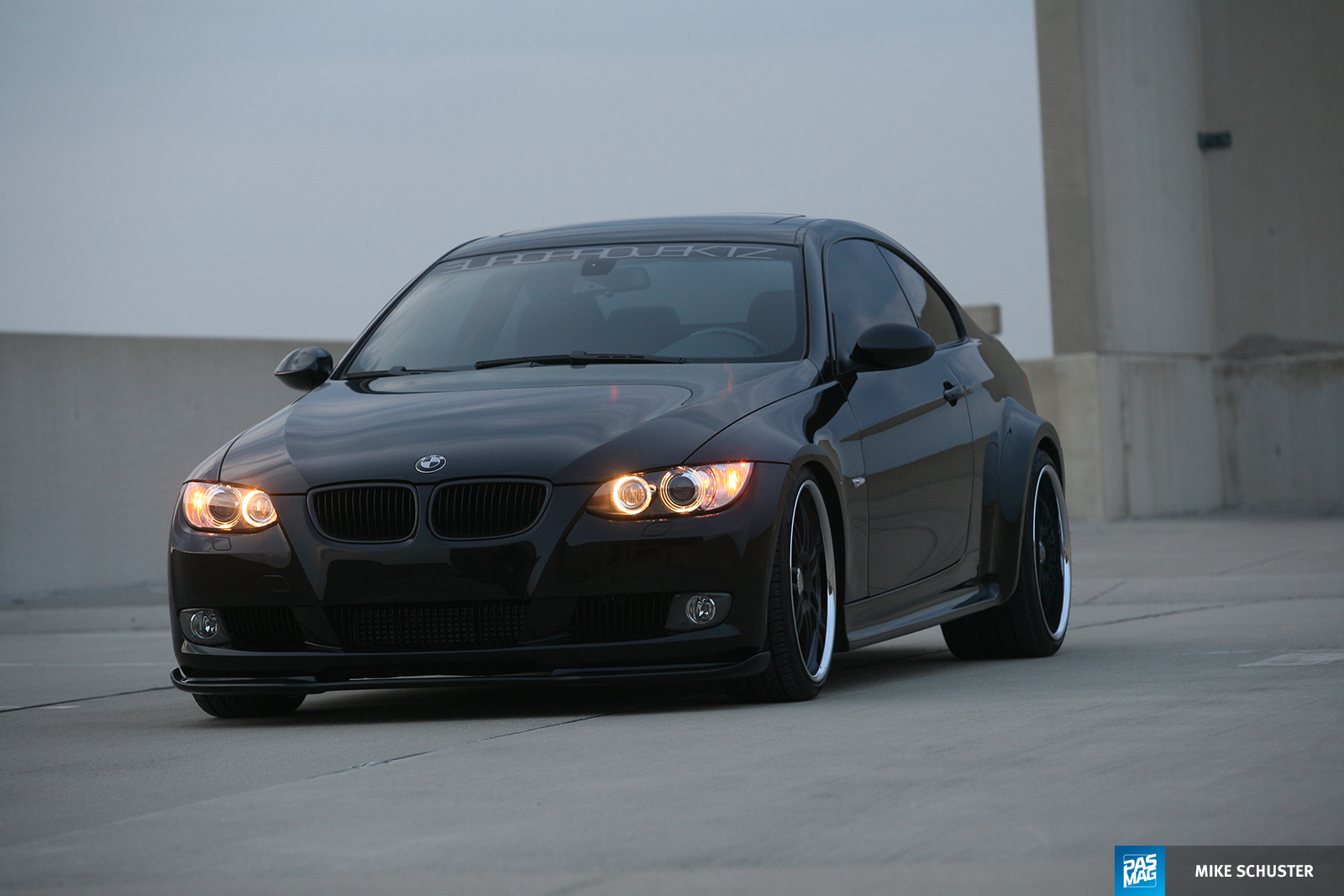 Outwardly, this 335i now benefits from a Hamann front bumper and custom rear bumper. Spade Kreations also removed the shark fins as well as widened the rear fenders with sheet metal to beef up the fenders. After modifying and molding in the side skirts, a Vorsteiner power dome hood and carbon fiber VRS trunk lid add more function to the new form. A new carbon kidney grille surround stands out against the stock-coloured Dupont paint job.
Mu ordered his 335i with a coral red/black dakota leather interior that's part of the premium options package. A Hartge steering wheel and M shift knob (both carbon fiber) have been installed to match the custom treatment of the seats and door panels, which got touched up with some factory-matching leather and suede reupholstery.
Noticeably absent here is BMWs infamous iDrive control system, which comes with the optional navigation system. As eluded to, the owner opted to go a different direction with the help and expertise of Spade Kreations' able installers.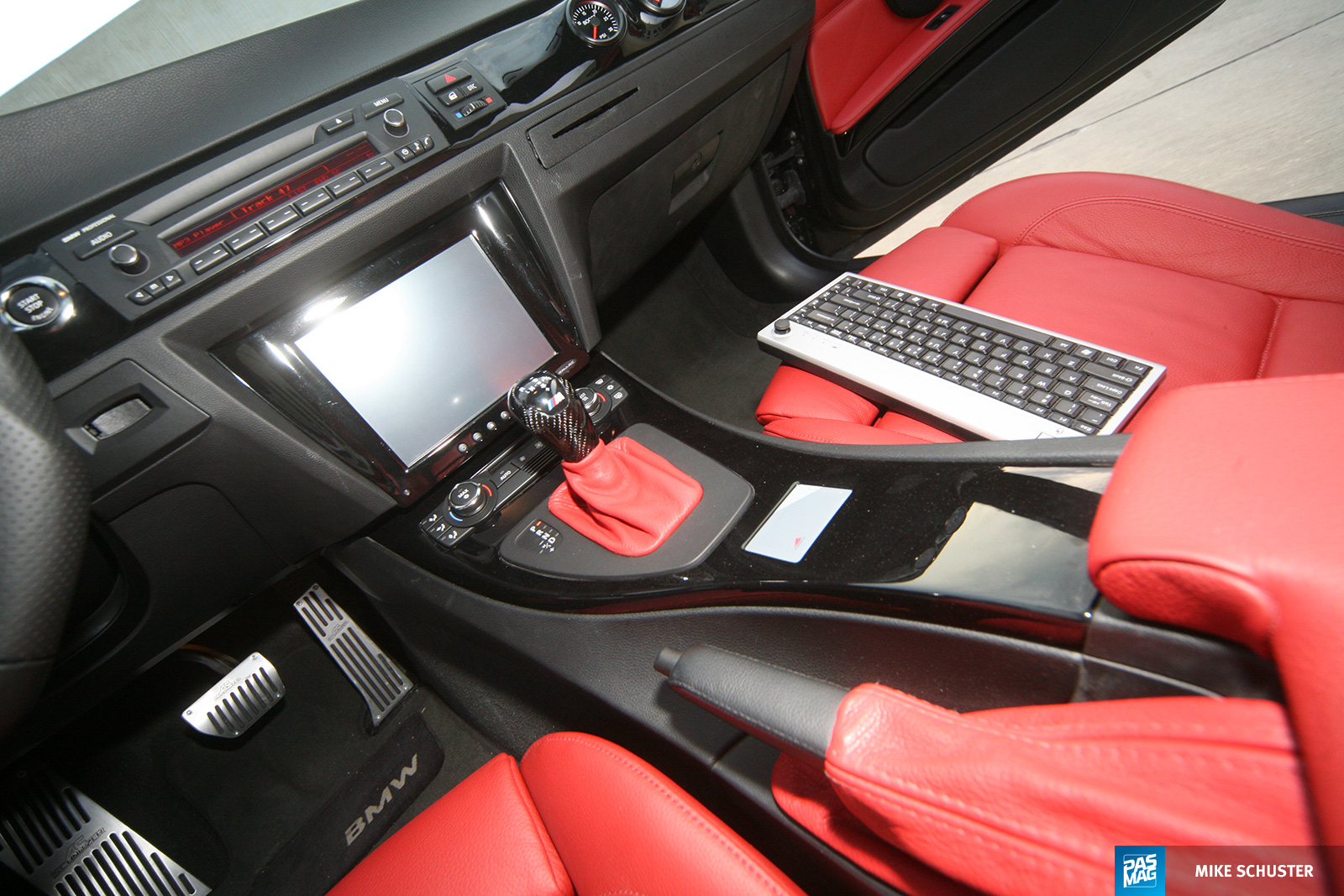 To this end, the original centre console has been dissected and its various parts relocated to new homes nearby. In their place is a 10.2-inch touchscreen monitor and Xenarc Technologies car PC that basically does everything iDrive can. Relocating the climate controls (now directly below), factory head unit (found above) and a few miscellaneous buttons was necessary to accommodate the huge touchscreen.
The system can also be accessed via a laptop touchpad that's neatly integrated into the centre console where the iDrive knob would normally be found. Look closely and you'll notice the CD slot has been stealthily re-mounted in the glove box where a DVD drive also now resides. Directly above this is a pair of VDO gauges that are set within a new painted fiberglass trim panel.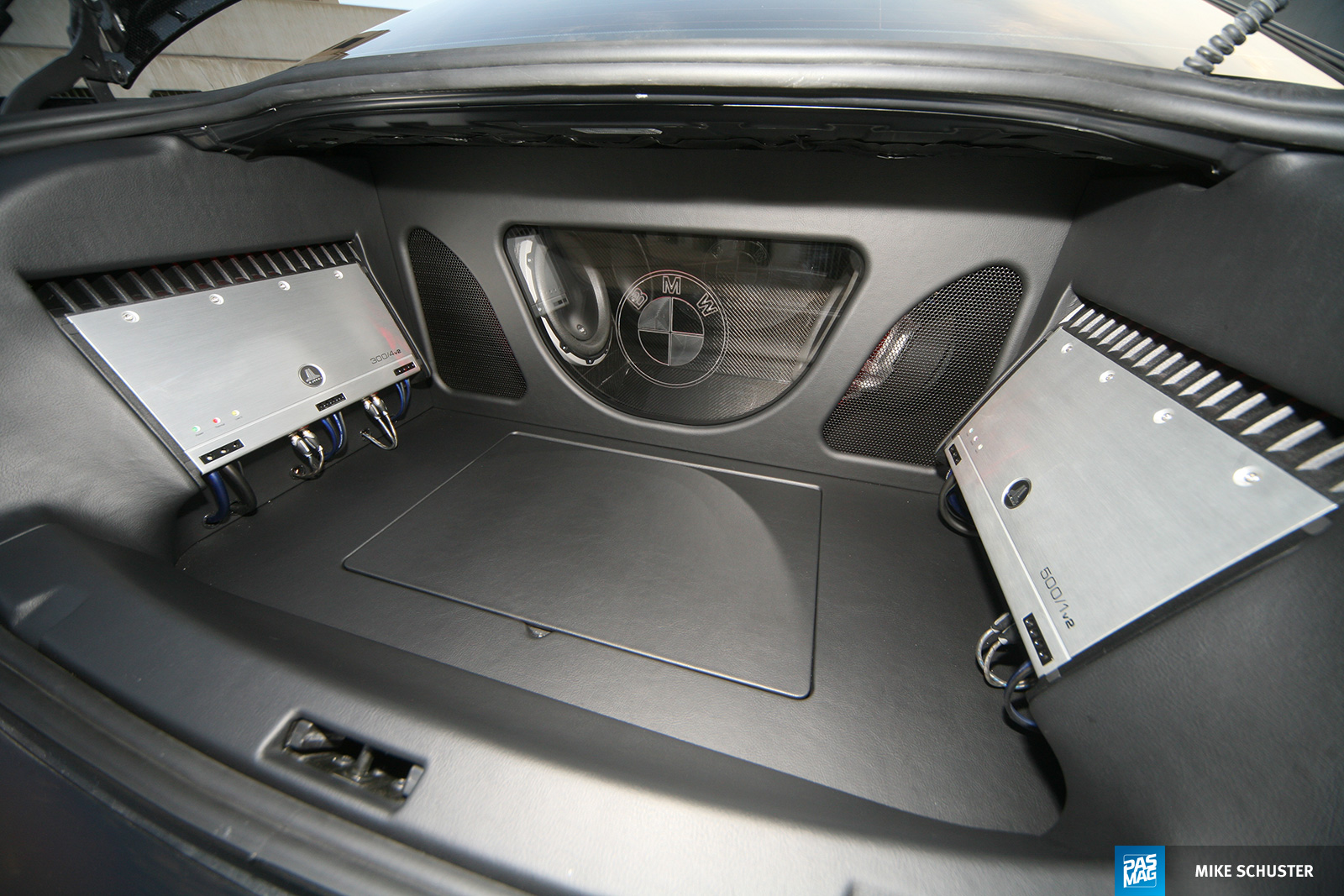 Finally, to go along with the more functional interior is an upgraded audio system consisting of high-end JL Audio speakers, amps and circuitry installed in the factory locations. An extra battery ensures the new I.C.E. system is relatively self-sufficient while a JL Audio CleanSweep CL-SSI and CL441 digital signal processor help guarantee the best possible sound reproduction. A bandpass-type enclosure stuffed with a pair of 10-inch subs can be found in the trunk with the amps.
That, my friends, is basically it – the whole kit and kaboodle – says Mu, who proudly flies the EuroProjektz banner on his car.
"Little did I know all of these ideas really do cost a lot of money," he adds. There are no regrets though. "My goal now is to add a few more things to bring the power up and a couple more gadgets, then just enjoy it for a while. That is, until it's time to start the next project!"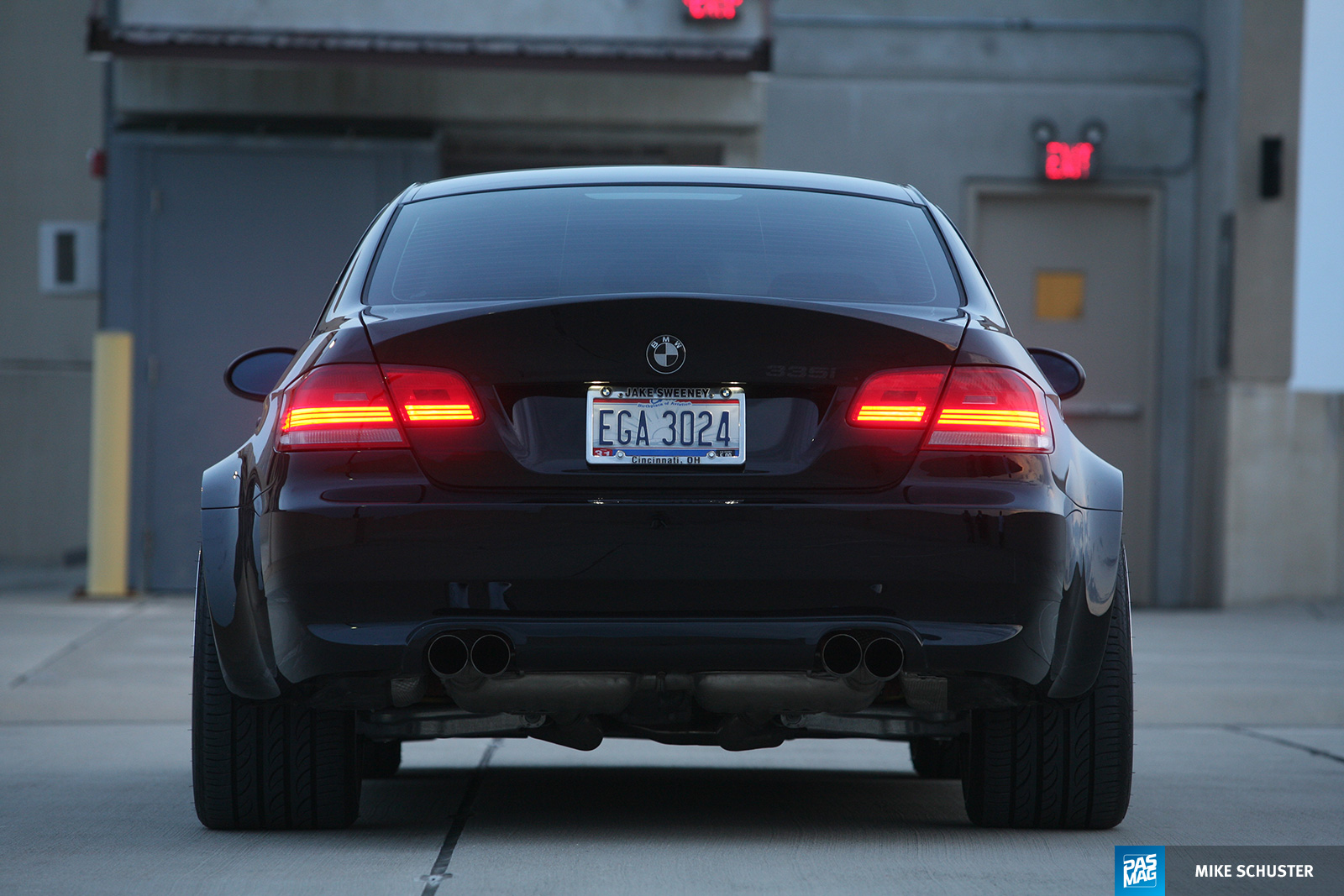 ---
ESSENTIALS
Owner: John Mu
Location: Cincinnati, OH
Vehicle: 2008 BMW 335i Coupe
ENGINE / PERFORMANCE / DRIVETRAIN
Gruppe M air filter
Riss Racing down-pipe
Eisenmann dual race exhaust
Forge Motorsports blow-off valve
NGK spark plugs
Vishnu Procede V2 piggyback EMS
WHEELS / TIRES
360 Forged wheels - 20x9 (f), 20x12 (r)
Pirelli P Zero Nero tires - 245/30/20 (f), 325/25-20 (r)
SUSPENSION / BRAKES
Brembo Gran Turismo ultra-performance brakes (fr/rr)
KW Variant 2 coil-over springs (fr/rr)
Hotchkiss sway bars (fr/rr)
EXTERIOR
Hamann front bumper
Spade Kreations rear bumper
Vorsteiner Power Dome hood and carbon fiber VRS trunk lid
Custom steel widebody rear fenders, modified molded side skirts, fins removed by Spade Kreations
Stock-coloured Dupont paint job by Spade Kreations
INTERIOR
Hartge carbon fiber steering wheel
M carbon fiber shift knob
VDO gauges with painted fiberglass trim
Leather Z shift and e-brake boots
AUDIO / MULTIMEDIA
Xenarc Car PC (head unit, monitor, DVD player, navigation)
JL Audio Slash 300/4v2 midrange amplifier
JL Audio Slash 500/1v2 D-class sub amplifier
JL Audio 10W6v2-D4 10-inch subwoofer (x2)
JL Audio CleanSweep CL-SSI
JL Audio CL441 digital signal processor
JL Audio Evolution ZR650-CSi component speakers (1 set, front)
JL Audio Evolution ZR525-CSi component speakers (1 set, rear)
JL Audio wiring and interconnects
Kinetik under hood battery
Kinetik HC-800 battery (extra)
PHOTO GALLERY