Photography by Paul Delapena.
"It's a daily. I'll just keep it stock." A sentiment we've heard time and time again. One that may be true for a moment, but by the time the person who uttered it is speaking to us, we know that it couldn't have remained that way for long. Like many before him, Jason Helmick went through this phase of ownership when he picked up his 2015 Scion FR-S off the lot in 2015. It didn't take long before outside forces influenced him to take the plunge. A couple of years into ownership, one of Helmick's friends connected him with someone who had a spare supercharger kit for the BRZ/FR-S that they weren't planning on using.
As soon as that supercharger entered the picture, it was game on, and Helmick decided he wanted to build something out of this platform that had so much potential. He was introduced to Jared Bradfield, a Subaru specialist of JRod's Garage, who helped him sort out the potential mods available. Helmick's build started like many others do: wheels, coilovers, UEL headers, an exhaust, and every single piece of carbon fiber they could find for the FR-S. It had begun, and there was no stopping it now. A bright wrap and some color-matched wheels later, and Helmick was all aboard the show circuit, taking home awards and making connections along the way.
When he was growing up, Helmick's father was a huge source of inspiration, and the reason he got into car culture was because of his father helping him build his first car at 16 years old, a 1969 Ranchero. When his father passed away in the summer of 2016, it changed Helmick's life, and he made the ultimate commitment: to build his 2015 Scion FR-S into the best FR-S build on the planet as a tribute to his old man. In October of 2018, after much deliberation and planning, the car was back in JRod's Garage. They were starting over from the beginning.
It was this life-changing event and subsequent transformation that brought us the FR-S we see before us. Everything on the car already was removed, and they immediately began cutting the car's stock body to make way for the Aimgain x Stancenation widebody kit. While having his wheel wells sealed up at RAS Automotive Engineering, he also had them create the one-off aero package you can see here. The front splitter, side sail panels, mounts, the rear diffuser, a custom grille, functional side vents, the center-tri-exit exhaust - all of these were a result of establishing a partnership with RAS, and they're still prominent features in the build today. The exhaust remains one of the most noticeable and talked about modifications on the entire car.
In 2019, upon moving to Las Vegas, Helmick still didn't feel like the car was truly at its best presentation just yet. Upon joining the prestigious car club, Team Hybrid, he redesigned the livery to the wild styled one we see now, and had the custom three-piece wheels built by Brada Forged. The entire interior was redone, with hydro-dipped dash, trim, and console pieces echoing the same wild style throughout the cockpit. With a handful of sponsors and connections made throughout the years of building, Helmick was able to propel his build from "just another FR-S" to one of the craziest we've ever seen - certainly worthy of that Team Hybrid banner.
"It's been a long journey from that first day driving it off the lot until now, but one I wouldn't change for anything," Helmick reminisces. "The contacts, recognition, and friends I've made along the way - and the help and support I've received from everyone involved to get to where I am now - mean the world to me, and I'll never forget any one of them. Most importantly, I think wherever my father is now, he can look down with pride on a build that I completed as a result of being inspired by his memory."
---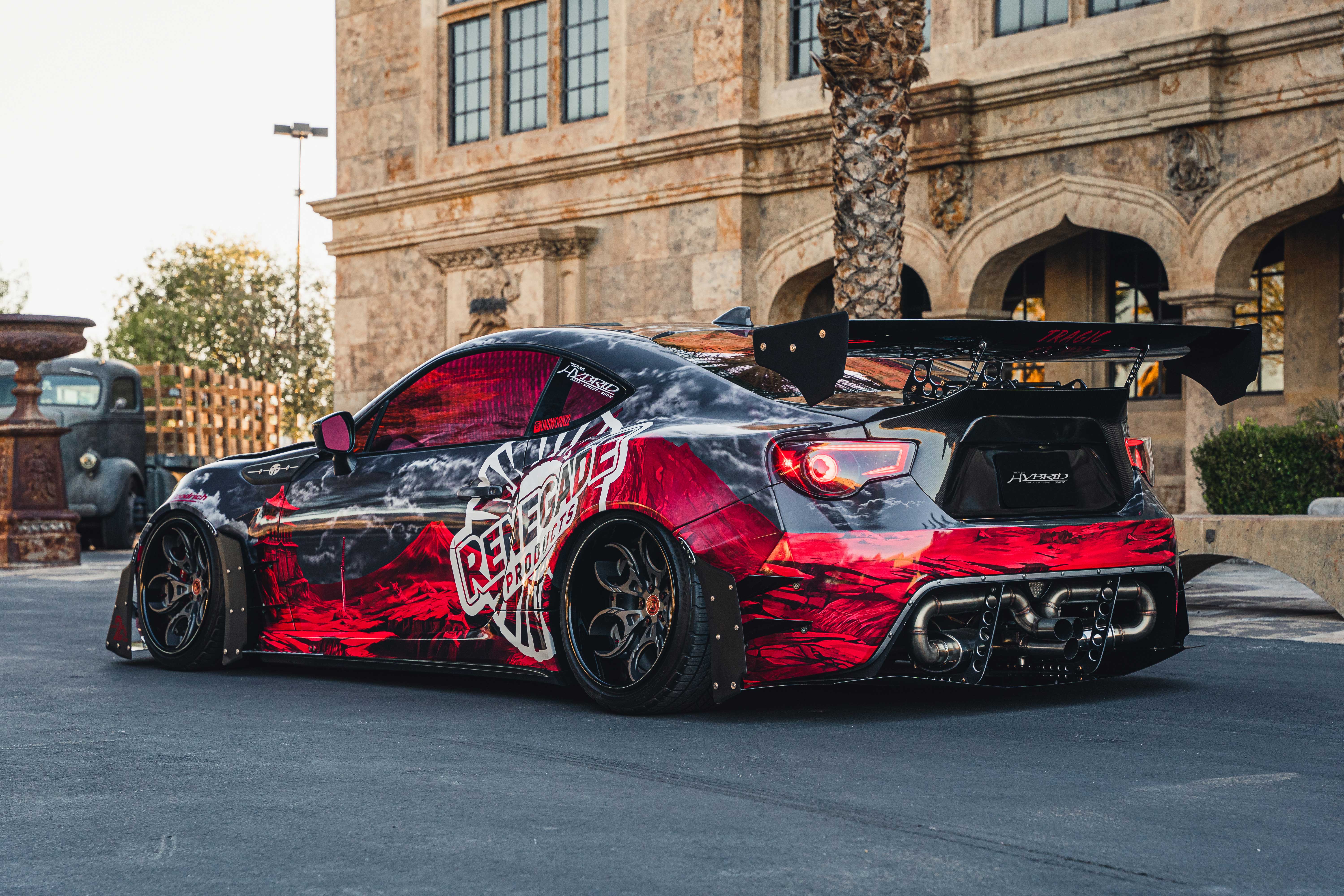 ESSENTIALS
2015 Scion FR-S
Location: Las Vegas, NV
Horsepower: 330 whp
Club: Team Hybrid
SOCIAL
IG: @unsworn22
ENGINE
Edelbrock Eforce supercharger
Moto East Flex Fuel kit (E85)
Injector Clinic 880cc injectors
Drift Office EcuTek tune
Tomei (UEL headers, overpipe)
Mishimoto (performance aluminum radiator, overflow tank, hoses)
Zeintronix controller
EXHAUST
Meagan Racing catless front pipe
RAS Automotive Engineering custom exhaust system w/ triple center exit and electronic remote cutout
WHEELS / TIRES / BRAKES
Brada Forged Custom 3-piece wheels - 18x10 -5 (f), 18x11.5 -32 (r)
BF Goodrich Comp II A/S Plus tires - 235/40/18 (f), 275/35/18 (r)
APB custom BBK setup
CHASSIS / SUSPENSION
Air Lift Performance 3P air suspension system
SPL Parts (titanium adjustable control arms, toe arms, sway bars, end links, outer tie rods)
EXTERIOR
Aimgain x Stancenation widebody kit
Pandem V3.5 GT wing
Seibon Carbon VS hood
VIS Racing carbon fiber trunk
RAS Automotive Engineering (custom metal front grille, side vents, front splitter, front side canards, rear canards, rear diffuser, fender liners, wing assembly)
Spec D (custom retrofit headlights, tail lights)
Custom retrofit fog lights
LitLightz custom lighting
INTERIOR
Custom hydro-dipped (dash, center console)
Status (GTX racing seats, 5-point harnesses)
Cypher titanium harness bar
Vertex Red 10-Star steering wheel
NRG (quick-release, short hub)
Illinium Flux custom shift knob
APlus Autosound (custom interior lighting, starlight headliner w/ Kurenai Kanji logo)
Rear seat delete
Custom trunk w/ custom subwoofer enclosure and hardline setup
AUDIO / MOBILE ELECTRONICS
Kenwood head unit
Audison Voce 3-way speaker system
Cerwin Vega (10-inch subwoofers (2), 6x8 trunk lid speakers, V400 amplifier, V1000 amplifier)
SPONSORS
BF Goodrich Tires
Amsoil
Renegade Products
SPL Parts
Vertex Japan/America
BradaForged Wheels
STATUS: Racing
American Power Brakes (APB)
JRods Garage
RAS Automotive Engineering
APlus Autosound and Custom
Enzo Autowrap
Drift Office
Lit Lightz
Slideco LV
Illinium Flux
Mishimoto
---
Photo Gallery
Photography by Paul Delapena.