Photography by Larry Chen
Drifting is fun. Tandem drifting with your friends is even more fun. Giving ride-alongs to the homies in your purpose built drift car might be the most fun of all - so why not squeeze as many of them into your drift car as safely possible? That was part of Dylan Hughes' mentality when he was dreaming up ways to build a party car wagon for non-competition drift events.
If you fancy yourself a Formula DRIFT fan, you've certainly heard Hughes' name by this point. The recent addition to the FD Pro grid spent time working alongside Chris Forsberg's FD team, and after some time soaking up the championship-winning vibes, he found himself at the wheel on the grid. When he isn't driving, he's honing his skills as a master fabricator, welder, or on-camera talent building awesome vehicles. One of those vehicles is the 2001 BMW 323i Touring Wagon you see here.
Having already built his fair share of typical drift cars, he had always wanted to put together a wagon as a party car at drift events. At the same time, he had always wanted to build something diesel-related, but the two ideas had not yet come to fruition - until now. His sponsor, Royal Purple, wanted to do something creative with their Duralec diesel oil, and Hughes started spit-balling ideas to merge both desires into a wicked project wagon with a chassis he was already very familiar with. A black-smoke spewing hood exit on a wagon? Consider us interested.
The Mercedes-Benz OM606 turbo diesel inline-6 engine was something Hughes had seen online before, and thought it was a cool idea. In his words, it was basically the diesel 2JZ. The first call was to DieselPumpUK to build Hughes a properly set up OM606 of his own. Capable of well over 500 horsepower at the wheels, the power plant was the perfect candidate for a diesel party drift car. With Garrett's G35-1050 turbo affixed to it, the OM606 makes well in excess of 500 horsepower at the rear wheels - enough to get this wagon partying with ease - brought to the rear wheels by way of a G Force GSR 4-speed dogbox transmission and a Winters quick-change diff.
Given the chance to build something that wasn't a competition car, Hughes went wild since he didn't have to adhere to any particular rulebook - it just had to be fun and safe. Hughes' skills as a master fabricator quickly came into play. Among the first big modifications to the chassis was a custom roll cage with dual main hoops, set to accommodate safe seating for four helmet-wearing passengers in bucket seats front and rear. The build may not be for competition, but it is all business, and it's reflected in the very racecar-inspired interior with one exception: There is a full Sony audio system so Hughes can rock out with the crew when all seats are occupied. You won't find that in the competition cars!
A steering kit from SLR Speed gives this wagon all the angle it needs to get sideways and smiling, while a combination of BC Racing shocks, Parts Shop Max adjustable rear arms, and E46 M3 trailing arms keep the big chassis flat and free from excess body roll in the transitions. At ground level, the wagon is spinning 18-inch Forgestar F14 wheels, which sit over top of the Parts Shop Max Z32 brake package on E46 M3 rotors - ample braking power to bring this big booty BMW to a stop with ease.
The exterior of the car certainly gives off the party car vibe with a fun Royal Purple graphics collage from front to rear, showcasing the primary sponsor, as well as Falken Tires. Big Duck Club's widebody front fenders and rear overfenders extend the track width to accommodate the bigger wheel and tire package, as well as add some aggressive looks, and a BMW E46 M3 front bumper with custom headlights and a lip completes that aesthetic.
Once the dust and diesel soot clouds had settled, Hughes and his team had built one of the highest caliber purpose-built diesel drift cars on the planet. Since finishing the build, you can catch Hughes giving three-person ride-alongs at Gridlife and other fun demo days, with everyone inside staring at that diesel stack pouring soot out of the hood, something Hughes says would have to be his favorite aspect of the build. In the meantime, we only have one question: Can we get a ride?
---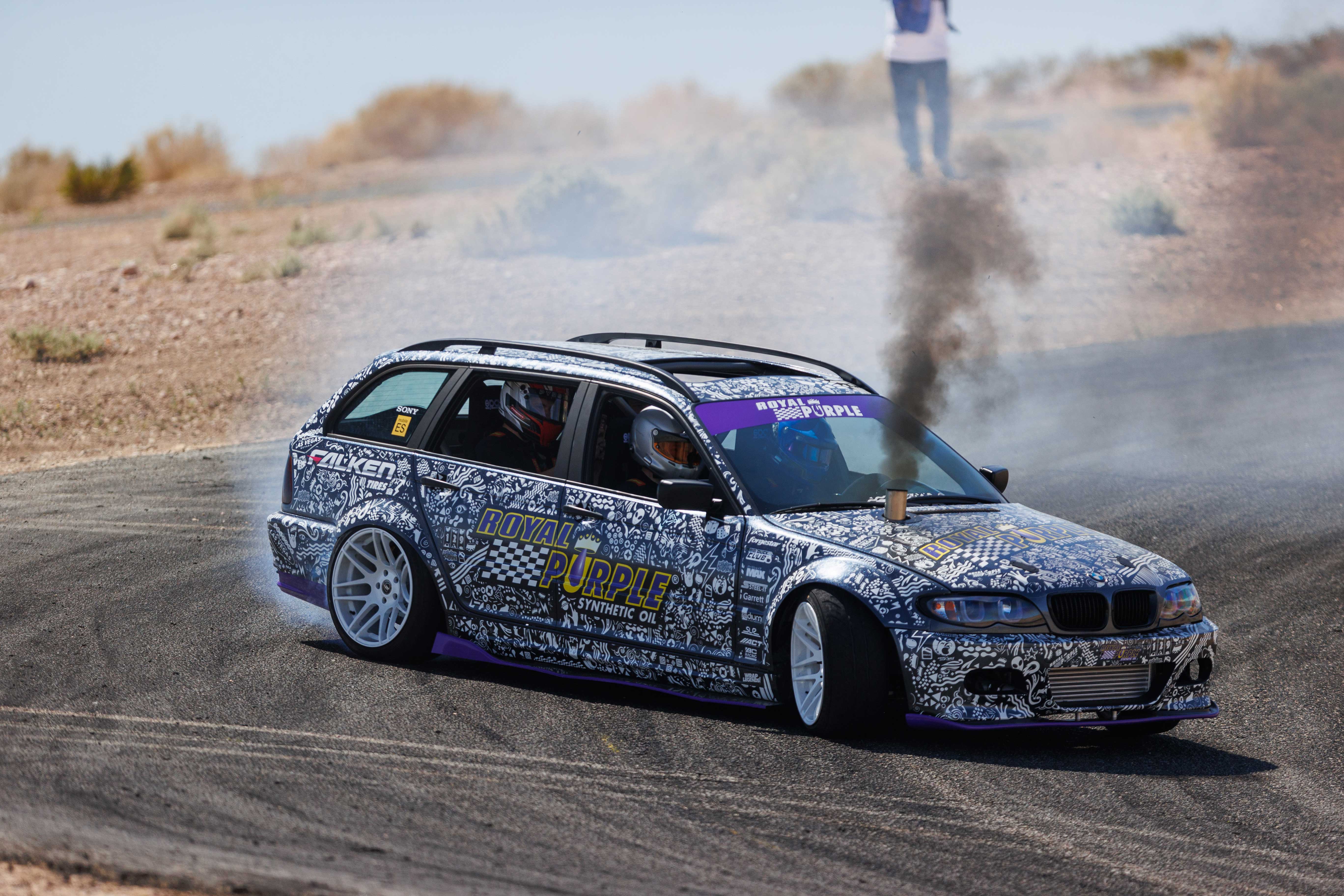 ESSENTIALS
2001 BMW 323i Touring
Location: Costa Mesa, CA
Engine: Mercedes-Benz OM606 3.0L Turbocharged Diesel I6
Horsepower: 500+ whp
SOCIAL
FB: /dylanhughes1129
IG: @dylanhughes129
ENGINE
Mercedes-Benz OM606 Turbo engine swap
Garrett Advancing Motion G35-1050 turbocharger
EXHAUST
Custom stainless 3.5-inch hood exit
DRIVETRAIN
G Force GSR 4-speed dogbox transmission
Winters quick-change differential
WHEELS / TIRES / BRAKES
Forgestar F14 wheels - 18-inch
Falken tires
Parts Shop Max Z32 brake package
BMW E46 M3 rotors
CHASSIS / SUSPENSION
BC Racing shocks
SLR steering kit
Parts Shop Max adjustable rear arms
BMW E46 M3 trailing arms
EXTERIOR
Big Duck Club (widebody front fenders, rear overfenders)
BMW E46 M3 (front bumper, front lip)
Custom headlights
INTERIOR
Big Duck Club carbon fiber dash
Custom dual main hoop roll cage
Sparco seats
AUDIO / MOBILE ELECTRONICS
Sony (XAV-AX5000 7-inch head unit, XS-W104ES 10-inch Mobile ES 4-ohm subwoofer, XS-690ES 6x9 Mobile ES 2-way coaxial speakers, XS-160ES 6.5-inch Mobile ES 2-way coaxial speakers)
SPONSORS
Royal Purple
Forgestar
Falken
Sony
Momo
Big Duck Club
SLR
Parts Shop Max
BC Racing
Garrett Turbos
Radium Engineering
Steel It
Advanced Clutch Technology
---
Photo Gallery
Photography by Larry Chen