Photography by Drew Anderson
---
Who would have though the Astro van would start such a phenomenon. That is right in case you didn't know the lowly Chevy Astro van from the mid-80s spawned the Scion craze we have today. The Astro was designed to fight the Dodge Caravan, the Aerostar and the sickly Toyota Van but ended up becoming a cult hit. And not a cult here (although popular in SPL competitions) but huge in Japan! So huge that they were exported there en masse and snatched up by wealthy families to be a ultily hauler for everyday life. Naturally the customizing bug inherent in Japanese youth saw these Astros pimped beyond recognition. Here in North America, teenagers were embarrassed to be seen in them but over there it was a status symbol, left-hand drive and all. Well the popular theory is that, the infamous Scion xB box is a scaled-down silhouette of the mundane Astro. And since it was a runaway hit in Japan as a Toyota, they brought it here and marketed the guts out of it as the new urban-cool Scion.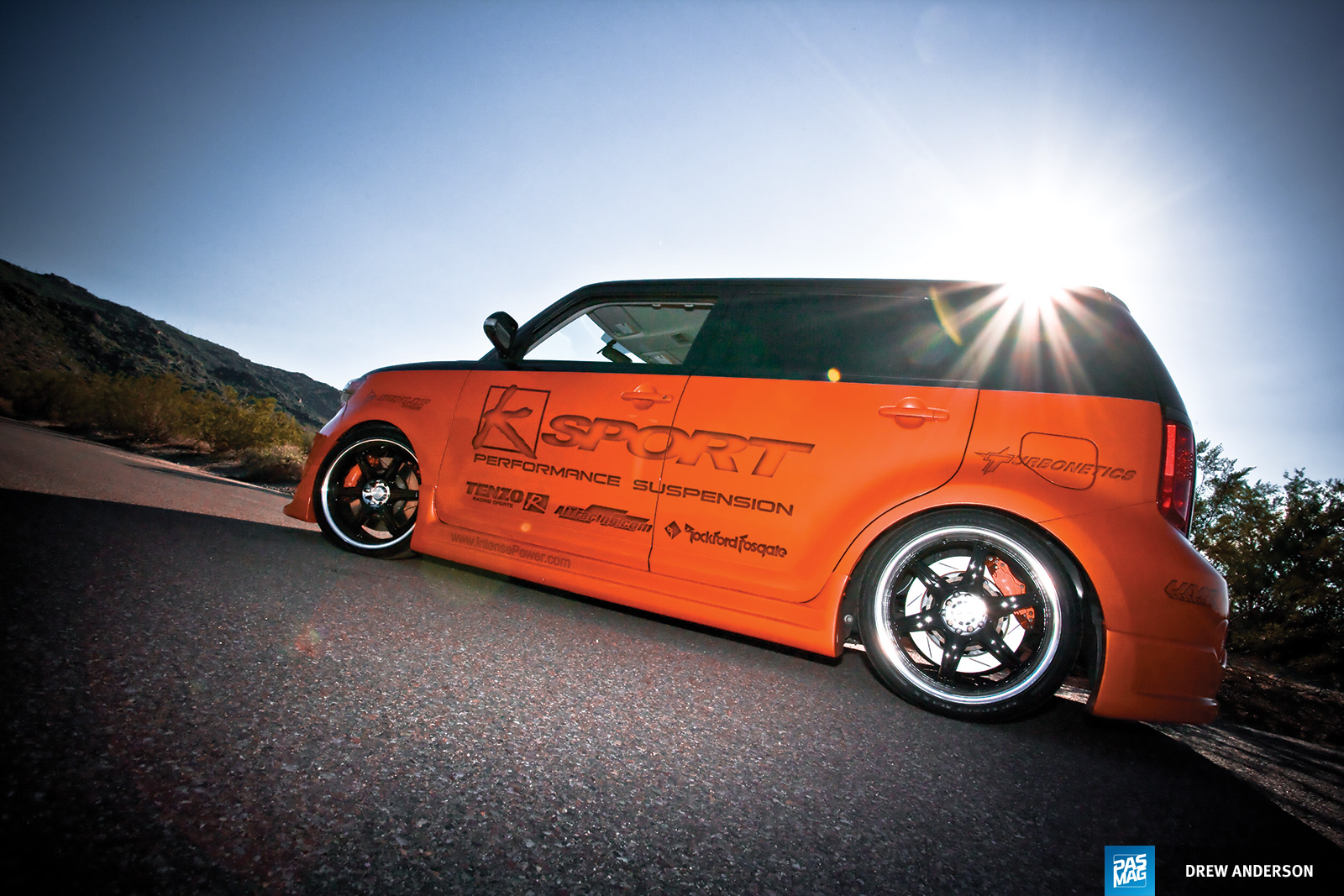 Which brings us to today. Scion, an instantly recognizable and profitable hit of Toyota has somehow made it socially acceptable to drive a 100-something horsepower box. Anyone getting planning a career in marketing should study their success story move-by-move because it was truly genius. And every tuning shop in the US understands that building a Scion gets your shop noticed.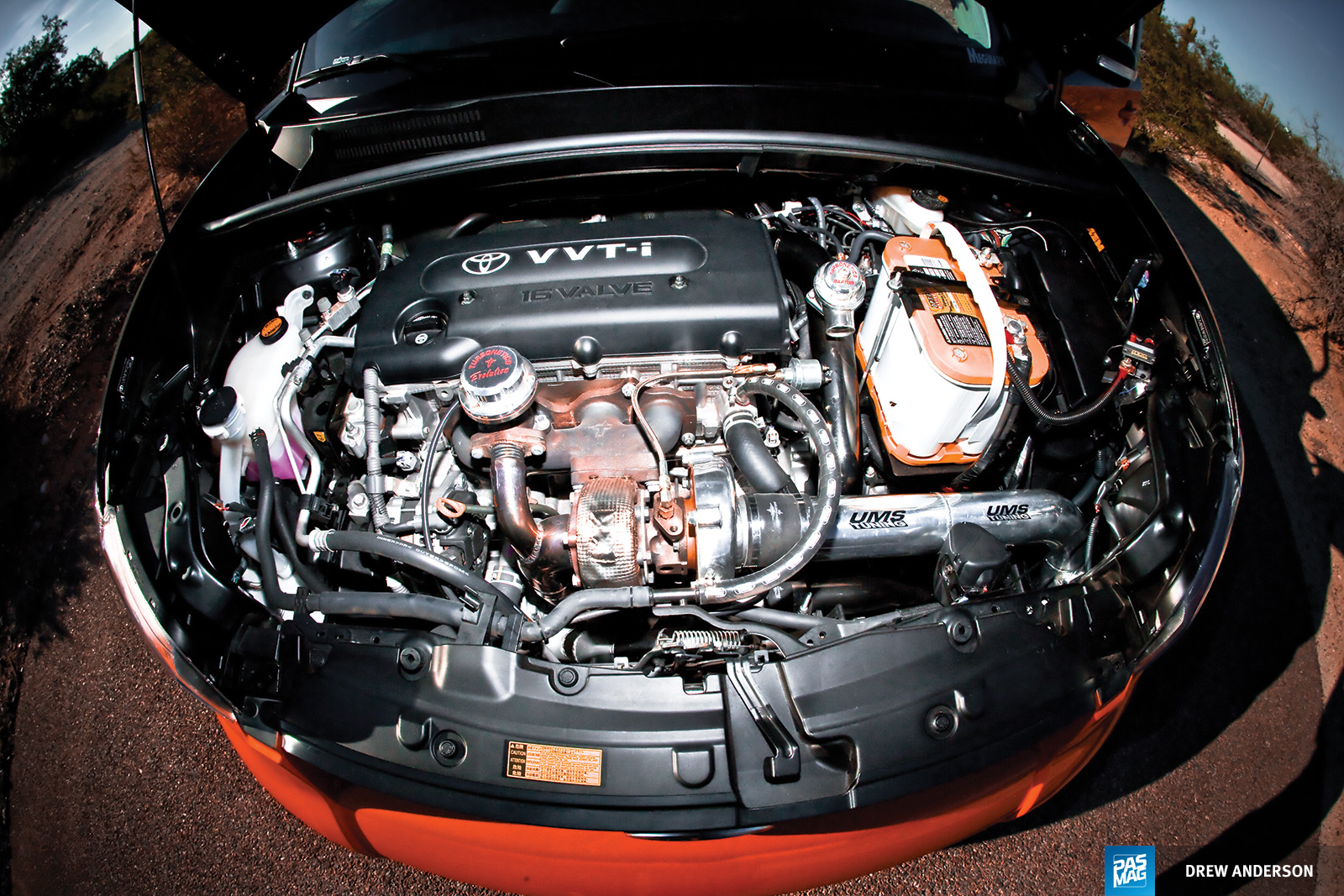 Due to consumer demand the old engine was replaced with a larger displacement 2.4L yield in 53 more horsepower than before. Sure saving gas is cool and all but 105 horsepower just doesn't cut it here. So the crew down at K-Sport USA in Chandler, AZ had something to work with when they started tweaking the motor. Owner Nick Jackson decided forced induction was mandatory to the build-up and settled on a turbo kit from Turbonetics. The T3/T4 e50/54 kit features a .48 A/R turbine housing and would provide more than enough push for their project put together by UMS Tuning in Meza, AZ. The 2AZ-FE engine is fed by a modified Fujita5 intake and post-compression heads into a Spearco intercooler with custom UMS piping. The cold-side is vented by a Turbonetics Raptor blow-off valve and on the hot-side is regulated by Turbonetics Evolution wastegate. The injectors have been bumped up to Turbonetics 440ccs all controlled by the AEM FIC unit. The oxides are channelled into the Turbonetics cast manifold and funnelled down into a custom UMS exhaust build by Kevin Nichols.
The remedy for a 158hp stock vehicle is now almost 300whp and 270.7lb-ft of torque on 91 pump gas. Enough to spin the front drive wheels in the first two gears and chirp 3rd, something impossible out-of-the-box. For now the stock driveline is handling the new found power and the K-Sport crew has been competing the vehicle in NASA competition to prove it.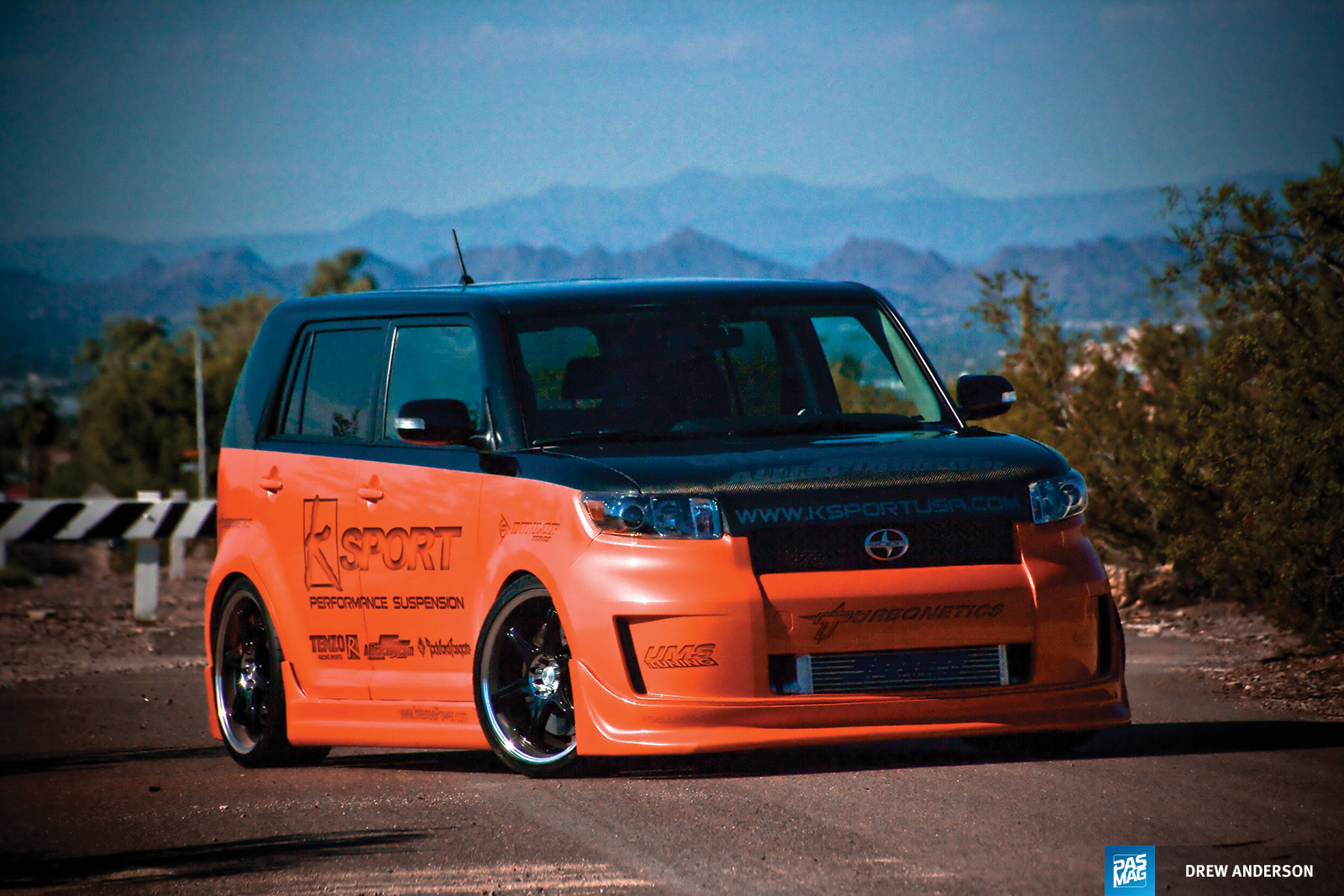 The exterior treatment has the look of a show car with enough functionality to chop down the lap times. AIT was contacted to source their body kit for the project consisting os front and rear bumpers as well as sideskirts. They also added a carbon fiber racing hood and hatch to shave off a few pounds in the process. Jackson describes the AIT product as "a perfect fit with the great looks to match saving over 75 pounds in the process" The project was shot in a Tangerine Oraange multistage scheme and then clad in K-Sport Phantom Graphics.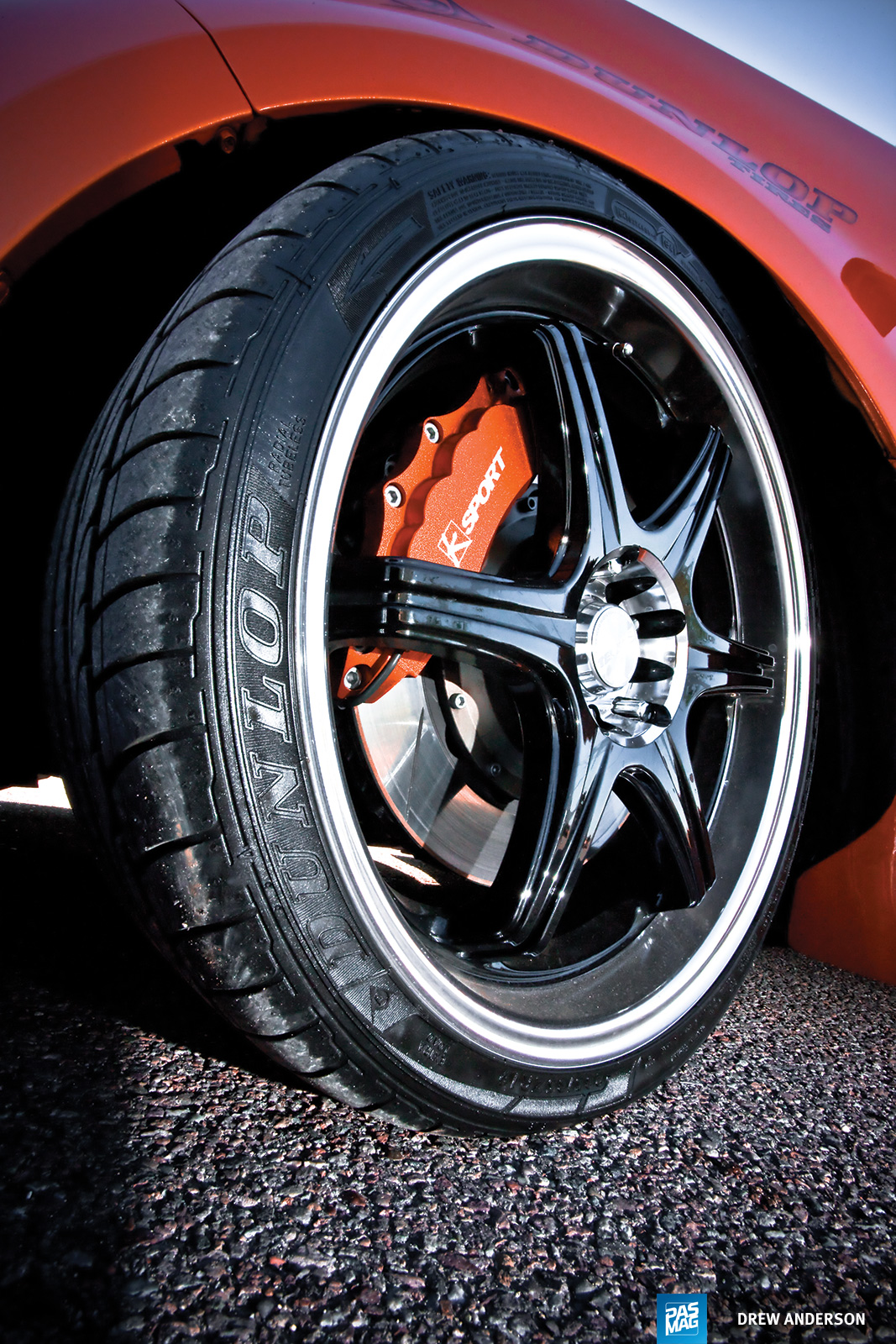 The rolling gear is also something that sets the project from the rest. Tenzo R supplied a set of their GT-6 wheels in 19x8.5-inch all around in custom black. The wheels wear Dunlop Sport Maxx 235/35R19s on all four corners to carve up the apex and remain liveable on the street. Lurking behind the wheels is where K-Sport product is showcased. The front brakes consist of K-sport Procomp 8-piston calipers with slotted 14-inch 2-piece rotors while the rear uses 6-pot calipers. The system is connected with K-sport stainless steel braided lines and filled with high-tempo ATE Super Blue fluid. The coilovers are K-Sport Kontrol coilovers, and off-the-shelf product available for xB and a number of other applications. The car handled so well after the upgrades and a quick setup, that the plan is to compete in the Super Lap Battle in the sub-compact class.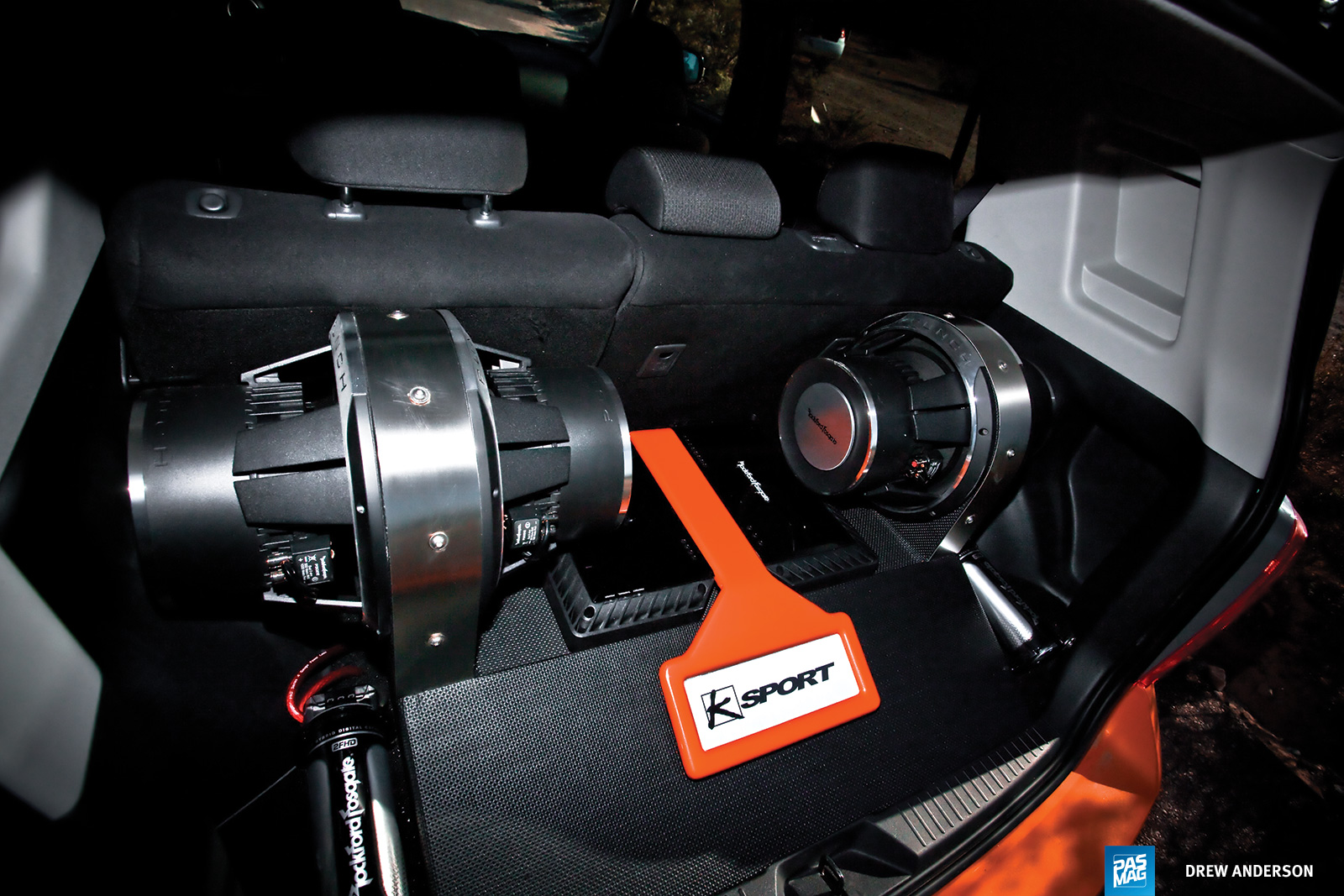 And this competition car did not skip the interior and audio treatment. After installing a Pioneer AVIC-D3 LCD flip, they contacted the man that runs things down in the AZ, Zach Luke of Rockford Fosgate. Luks supplied the 3Sixty signal processor to keep the audio fidelity in check. A Rockford Fogate T1500.1bd momo amp drives four Rockford Fosgate 12-inch punch subs at 2Ohms. For the balance of the frequencies, a Rockford Fosgate T600.4 amp drives six speakers throughout interior and the twin 2FND capacitors ensure it is always powered up. The system is connected and powered by all Rockford Fosgate wiring leading to an Optima Yellow Top.
Another xB for the record books served up by K-Sport and their network of sponsors and partners. A project like this is really what it about these days, having the total package, saving weight and adding show ready components. Gone are the days of having a gutted car to compete or something so full of accessories and Bondo that it would crack on the first street driven tear. We'll see how their method of building a Scion ends up at the Super Lap Battle but considering what we have seen from K-Sport in the past we expect results.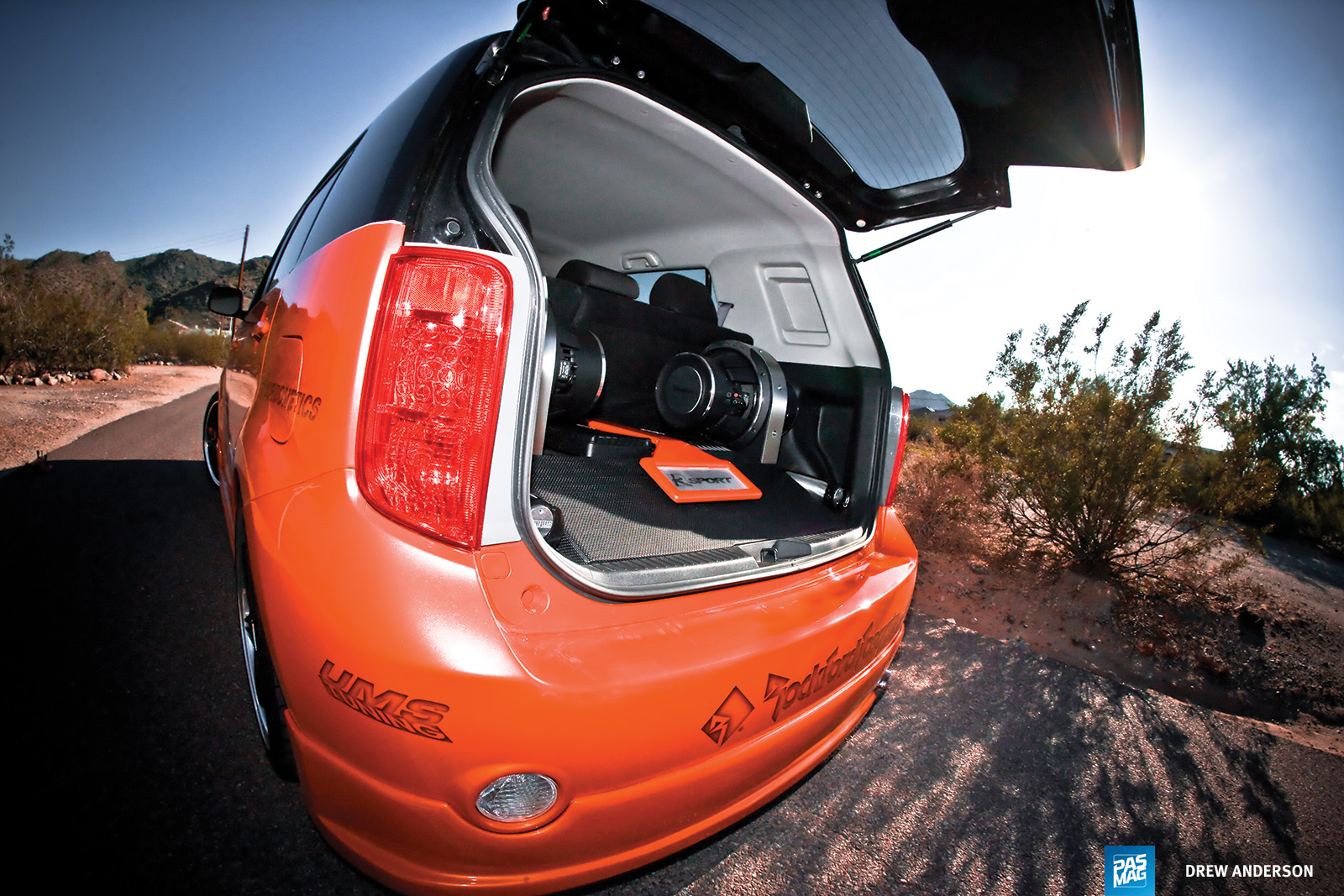 ---
ESSENTIALS
Owner: K-Sport USA
Location: Chandler, AZ
Vehicle: 2008 Scion xB
Power: 292whp with 271lb-ft
ENGINE / PERFORMANCE
Turbonetics T3/T4 e50/54 turbo kit Install by UMS Tuning in Meza, AZ
Fujita5 intake
Evolution wastegate
Turbonetics Raptor blow-off valve Turbonetics 440cc injectors
AEM FIC unit
Turbonetics cast manifold
Custom UMS exhaust by Kevin Nichols
SUSPENSION
K-Sport Kontrol coilovers
WHEELS / TIRES / BRAKES
Tenzo R GT-6 wheels - 19x8.5
Dunlop Sport Maxx tires - 235/35R19
K-Sport Procomp 8-piston callipers (front)
K-Sport slotted 14-inch 2-piece rotors (front)
K-Sport 6-pot callipers (rear)
K-sport stainless steel braided lines ATE Super Blue fluid
EXTERIOR
AIT body kit
AIT Carbon fibre racing hood
AIT Carbon fibre hatch
Custom Paint
K-Sport Phantom Graphics.
AUDIO / MULTIMEDIA
Pioneer AVIC-D3
Rockford Fosgate 3Sixty signal processor
Rockford Fogate T1500.1bd momo amp Rockford Fosgate 12-inch punch subwoofers (4)
Rockford Fosgate T600.4 amp Rockford Fosgate wiring, connections and distribution
Optima Yellow Top battery
PHOTO GALLERY