Welcome to the 10th Anniversary Issue of Performance Auto & Sound Magazine (PASMAG). This special issue commemorates and celebrates the greatest all-time vehicles, events, models and moments that have appeared in the magazine over the past decade. Thanks to the collective support from readers and advertisers alike, PASMAG hit the scene full throttle in 2000 and never looked back. We were the first publication to introduce the concept of blending aftermarket performance and styling with mobile audio, and currently remain the only publication to successfully execute the formula in print and online.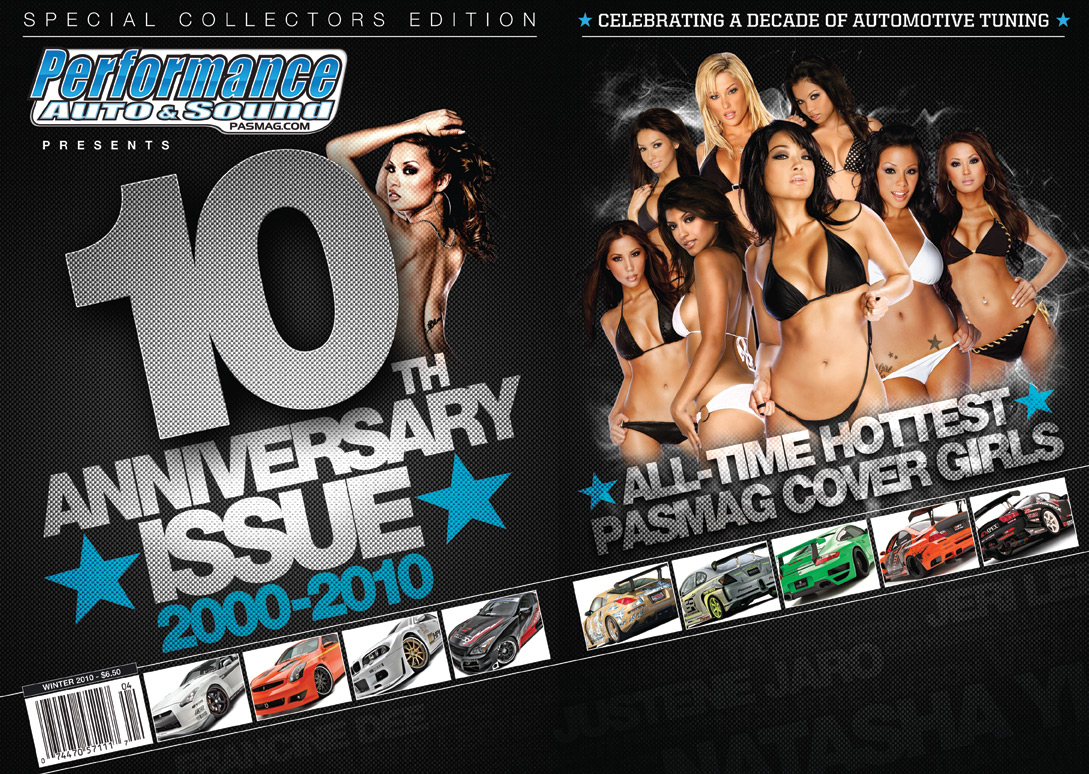 Since its inception, PASMAG has represented the aftermarket scene where it matters most and by being at the center of it all, attending well over 300 unforgettable events. Through these memorable events from one year to the next, and bringing readers the hottest rides, trends and models to every issue, PASMAG has become the ultimate source for the aftermarket tuning culture. Although the automotive industry has changed over the past ten years, our commitment has been unwavering to our valued readers, industry partners and advertisers.
As the leading publication in the aftermarket segment, PASMAG continues to grow in readership and popularity thanks to the valuable partnerships we've created over the last decade. These key partnerships play a vital role in the aftermarket and tuning culture by uniting enthusiasts everywhere.

STAYING CONNECTED...

PASMAG continues to embrace emerging technology by connecting with consumers via Twitter, Facebook, YouTube and many other niche social communities and forums. Our print publication has gone digital, allowing thousands of enthusiasts in more than 30 countries to conveniently download, view and share our magazine. Our popular digital edition is available for iPad, PC and Mac at www.pasmag.com/zinio

The re-launch of PASMAG.com is the next major step in creating an online destination that unites the automotive community and enables us to share our passion for tuning culture.
In order to reinforce our connection to the grassroots tuning community, we developed the PAS Nation online community. PAS Nation has quickly proved to be an invaluable resource for models, photographers and industry professionals as well as enthusiasts across the continent and around the world.

Ten years in publishing is quite an accomplishment, it takes a truly talented and dedicated crew. Every month, our tireless staff and crew of editors, designers, sales staff and administrators work hard to try and bring you the best magazine possible. I cherish every moment of the publishing process, the redesigns, the deadlines, the debates, the arguments, and each issue means something to me.

We'd like to personally thank all our faithful readers, clients, friends and industry partners over the years for their continuing support. Special thanks goes out to all of our freelance photographers and writers, models and event staff that make PASMAG the People's Magazine, the ultimate source for enthusiasts.

Hope you've enjoyed the ride so far….