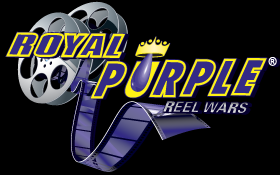 March 22, 2011 (Porter, TX) – Royal Purple has announced the panel of judges who will determine the $5,000, grand prize winner of the Reel Wars Video Contest that will begin April 1, 2011.
Royal Purple will be accepting video contest entries from a tab on their Facebook fan page, Royal Purple Inc. (http://www.facebook.com/?ref=home#!/pages/Royal-Purple-Inc/118114341584752) through June 3. The top five videos receiving the most online votes during the voting period will move on to the final round where the judges will determine the winner.
Judges will select the winning video based on creativity, unique and best use of Royal Purple products and entertainment quality of the video overall.
Judges for the inaugural video contest are:

Courtney Hansen (http://courtneyhansen.com/) – Courtney is the popular host of Spike TV's Powerblock TV.
Kevin Oeste (http://v8tvshow.com/) – Kevin is the creator and Producer of V8TV.
The Ring Brothers (http://ringbrothers.com/) – Custom car builders Jim and Mike Ring are known for redefining American Classic cars and are three-time winners of the Mothers Shine Award at SEMA.
Paul Schiefer (http://www.magnaflow.com/) – Paul is the brand and creative director at Magnaflow Exhaust Systems.
Lynn Parsons (http://www.media-motion.net/info.htm) – Lynn has been a Video Producer/Director for 17 years with Media Motion in Houston.
The winner of the Royal Purple Reel Wars Video Contest will be announced June 17, 2011. For contest details and official rules visit www.royalpurple.com/reelwars.
About Royal Purple:
Royal Purple manufactures synthetic products for numerous industrial and consumer needs. For more information about Royal Purple or its products, contact Royal Purple Inc., One Royal Purple Lane, Porter, TX 77365, 281-354-8600, www.royalpurple.com.