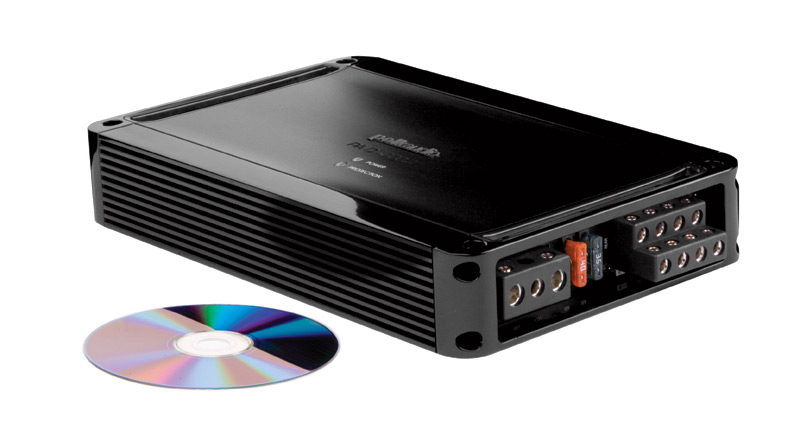 Earlier this year we took a close look at the Polk Audio PA 660, which is an old school type two channel conventional Class AB amplifier. We really liked what we saw, so this time we thought it would be cool to check out one of their new, fully modern, tech Class D full range models. A phone call or two later, and the good folks at Polk Audio sent us one of their all-new PA D4000.4 four channel amplifiers.
Features
Like most of the new breed of full-range Class D amplifiers, the PA D4000.4 is smaller than you would expect for its rated power of 125 watts per channel at 4 ohms, or 200 watts per channel at 2 ohms. The amp measures only 10.95" long, 6.75" wide, and 1.8" tall. The sides of the amp have deep and narrow fins to provide lots of surface area for maximum heat dissipation, and the finish of the extruded aluminum heatsink is a high gloss black powdercoat. The top of the amplifier is aluminum, and with its matte finish, provides a nice contrast to the gloss of the heatsink and end caps that frame it.
As is the typical convention, connections for power, ground and speakers are made on one end of the amp, and the signal input and control functions reside on the opposite end. The power and speaker connections are robust, and will easily handle 4 and 8 gauge wires respectively. Interestingly, I noted that the amp comes with two different size ATC fuses, a 35A and a 40A. Upon inspection of the inside circuitry, I found the output side of both fuses are simply in parallel together. Unless someone recently wrote a new chapter in the laws that govern electron flow, I don't understand the reason for the difference in ampere value, as the lower value of the two fuses will always open first, which then invariably causes the second fuse to blow virtually instantaneously as well. It's a bit puzzling, but that's how they've done it.
Looking further inside the PA D4000.4, I found a well-made amplifier with high quality components and careful attention paid to the layout. The PCB is a top quality glass epoxy "FR4" material, and the quality of the soldering was excellent. A total of six TO220 MOSFET devices are used in the power supply, and 4 pairs of MOSFETs are also used as the output switching devices. Filtering of the Class D outputs are taken care of with a series of capacitors and inductors, and a pair of output relays are also employed to eliminate any annoying turn on or off noise. A large Pi filter and a reverse polarity protection diode are used to reduce alternator noise and protect the amp from accidentally crossed wires.
Listening
In my listening room's reference system, the PA D4000.4 proved to be a capable performer, delivering smooth and well detailed sound, with no apparent signature of its own. The amplifier proved to have an inaudible noise floor, and great dynamics. I found the amp to have more than adequate power, and the cleverly designed independent crossovers with x10 frequency multipliers allow the amp to be set up in high pass, low pass or very useful bandpass modes in addition of course to full-range capability. Conveniently, the inputs can be driven with a single pair of RCA's or the typical four channel input configuration.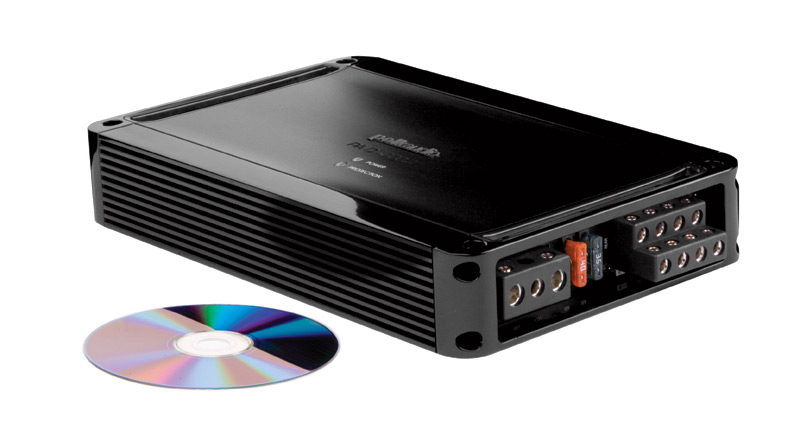 Performance Measurments

The next day, I brought the amp into the electronics test lab, and ran a series of typical tests. This testing indeed verified my impressions from the earlier listening session. The amp makes more than the advertised power, while putting up very good efficiency numbers at all power levels. Frequency response measured very flat from 10Hz to over 20kHz. Signal to noise proved to be similarly impressive, scoring better than -80dBA @ 2V. I did note that the PA D4000.4 was a bit low on gain compared to some of the competitive products out there, but with a decent 4V head unit you'll have no problems at all. The PA D4000.4 has built-in protection from short circuits, thermal overload, and high and low voltage conditions as well. I tested all of these circuits, and all worked perfectly, with the amp recovering and operating normally time after time.
Conclusion
With a price tag right around $389.95 (US), the Polk Audio D4000.4 is a well-made and reliable amplifier. Its small chassis makes it a breeze to mount almost anywhere, and the inherent efficiency
of its Class D topology means that the majority of the power consumed from your vehicle's electrical system is going to be driving your speakers, instead of being wasted as heat. The amp sounds good, works great, and has unusually flexible tuning options thanks to a thoughtful crossover design. If you're thinking about moving up to some modern technology for your audio system, take a good look at the PA D4000.4 as well as the other amplifiers in Polk's PA Series of products. For more information on this amp, and all the other Polk Audio products, visit

www.youtube.com/PolkAudioOfficial
Measured Performance Specifications

Manufacturers
Rated Power

Actual Measured Power

@ 1.0% THD+N

@ 12.6V Battery

Actual Measured Power

@ 1.0% THD+N

@ 14.4V Battery

125 x 4 @ 4 ?

105 x 4 @ 4 ?

140 x 4 @ 4 ?

200 x 4 @ 2 ?

169 x 4 @ 2 ?

221 x 4 @ 2 ?

400 x 2 @ 4 ?

346 x 2 @ 4 ?

448 x 2 @ 4 ?
Signal to Noise Ratio referenced to 2V output.

(CEA-2006A) (1 watt @ 4 ohms)

-80.7dBA

Signal to Noise Ratio referenced to full output.

-102.2dBA

THD+N at rated 4 ohm power

0.74%

CEA-2006A rated 4 ohm Power (minimum power per channel developed over the entire intended audio bandwidth)

119 Watts

Maximum Efficiency at full 4 ohm power per ch.

77.8%

Maximum Efficiency at full 2 ohm power per ch.

71.3%

Efficiency at 10 watts per channel, 4 ohms

56.7%

Idle Current

1.4A

Input Sensitivity

268mV- 8.0V

Maximum Current @ full power, lowest rated impedance

86.1A

Frequency Response (-3dB)

<10Hz – 35.1kHz

High Pass Crossover

25Hz – 4.2kHz

-12dB/Oct

Low Pass Crossover

47Hz – 5kHz

-12dB/Oct

Subsonic Filter

None

Bass EQ boost

None