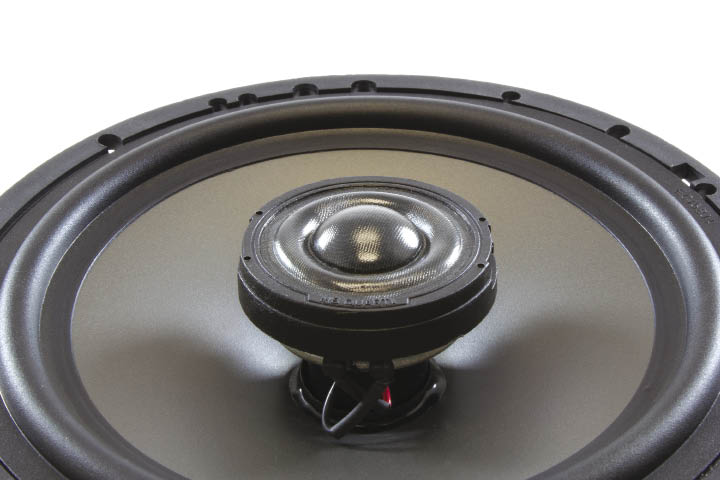 You've probably noticed that convertible style loudspeaker systems have gained popularity dramatically in recent years. And what's not to like? These systems allow for mounting the system as a coaxial, or as a traditional component system, and are generally priced lower than most dedicated component systems. We're going to take a look at one of the more popular systems in the category, the MBQuart PVL216 convertible speaker kit. Based on a conventionally sized 6.5" midrange and a silk dome "WideSphere" tweeter, the PVL216's provide high quality sound and have an advertised price of around $249 (US).
Midrange
The midrange driver in the PVL216 kit is a 4 ohm 6.5" unit that utilizes an injection molded polypropylene basket. This type of basket is an excellent choice for an automotive speaker, since the material is durable and impervious to rust and corrosion. (Never mind the "rolled steel" description in the manual and on the Internet, the basket is not metal). The basket mounts a conventional ceramic ferrite magnet assembly, which is trimmed out with a special silver colored cast magnet cover which is designed to help control the magnetic flux pattern of the motor.
The cone of the midrange is made of polypropylene, and is suspended on its outer diameter by a rubber surround. In the center of the driver is a phase plug which can be easily removed and replaced with the coaxial tweeter mounting post. Below the cone of the mid driver is a progressive type, long-travel red cotton spider, with woven-in tinsel leads. The spider locates the driver's 1" Kapton voice coil former, and copper voice coil.
Wire connections are made via combination gold-plated spade lug and screw type terminals, which make connection of the tweeter fast and easy, regardless of which tweeter mounting method you choose.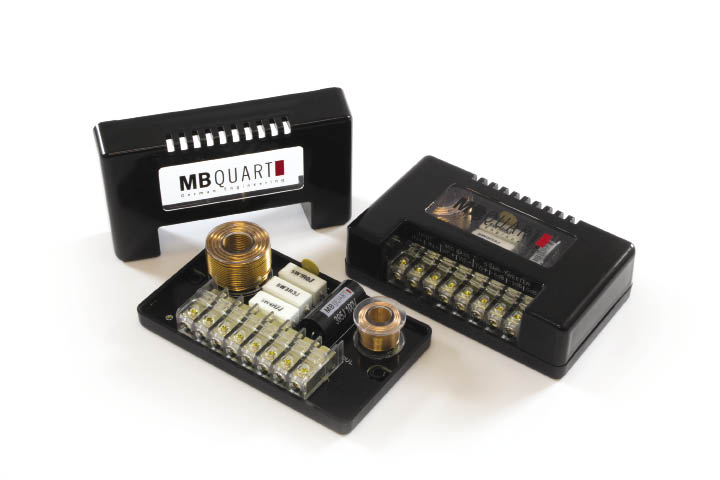 Tweeter
The tweeter found in the PVL216 system is a fairly large unit, with the outer diameter of the housing measuring 1.95". The magnetic energy for the tweeter is provided by a neodymium motor, and drives a 1" voice coil. The manual refers to the tweeter as a 40mm unit (1.58") but I measured the effective radiating area of the dome at a more conventional 28mm. (1.1") Half-meter long wires are soldered to the tweeter terminals and covered with heat shrink, so all you have to worry about is the other end. The tweeter mounting post for coaxial use mounts the tweeter securely and easily, and accommodates the wiring via special openings in the post, allowing the wires to exit out the center of the magnet on the backside of the midrange driver.
Crossover
Included in the PVL216 kit are a pair of externally mounted crossover networks, with are used regardless of tweeter mounting method. The crossovers are small enough to be easily mounted discreetly behind a kick panel or under the dash. The networks use high quality air core inductors and a polypropylene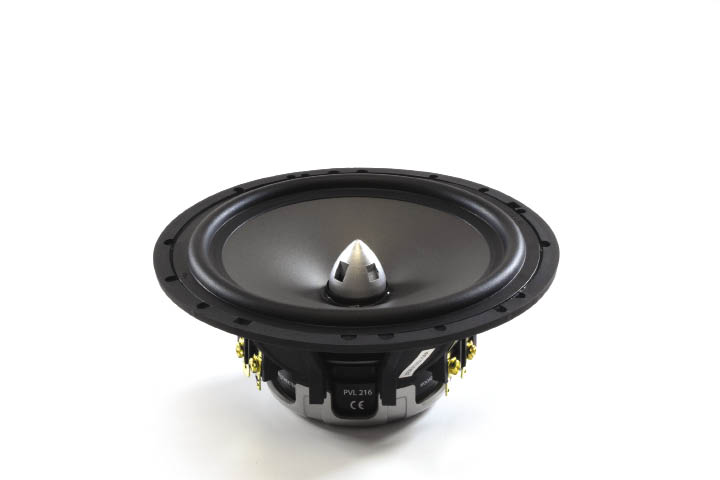 capacitor. A -6dB/octave filter handles the low pass filtering for the woofer, and a -12dB/octave filter provides proper high pass attenuation for the tweeter. To keep things reliable, a polyswitch provides excessive power protection to the tweeter. The tweeter output terminals include three different connections to adjust the level of tweeter output. You can choose from 0, -3, or -6dB level settings. There are no internal switches or jumpers to mess with, just connect the wires to the selected terminals and you're done.
Listening
As I normally do, after exercising the system I performed all my listening in the lab, under quiet and carefully controlled conditions. I use a wide variety of my favorite music, as well as some specially chosen tracks that can be difficult to reproduce. I began listening with the tweeter level at the 0dB position, but because I listen directly on axis, I found the -3dB adjustment to be just about perfect.
The modestly priced PVL216 system surprised me a little with its smooth, well-balanced sound. The tweeter was polite sounding and presented good detail, without excessive sibilance or brittleness. On a few tracks, such as the brilliant acoustic guitar in Stanley Myers "Cavatina", I found myself wishing for a little bit more realism. This track was recorded in a mission at San Juan Capistrano, and if you have not heard it reproduced on a good system, you owe it to yourself give it a listen. Simply stunning acoustics! Moving on to other tunes, the lower registers sounded warm and smooth with a very pleasing, if not totally accurate timbre. Don't get me wrong, you can still very easily tell a Les Paul from a Stratocaster with this system, but more subtle differences, like a Bosendorfer grand piano compared to a Baldwin might be a tad more difficult. Or as a musician friend of mine says, "Sure, you can tell it's a Gibson Precision Bass, but what kind of strings are on it?" The bottom end was strong and full, with good definition and detail, plucked bass strings in Glen Miller's "Little Brown Jug" sounded full and vibrant. Percussion instruments had good articulation, with well controlled bass, even at fairly high volume levels.
A note on "timbre" – pronounced "TAM-ber", it refers to our ability to distinguish different sounds, voices or instruments, even when they are playing the same note at the same amplitude. It's what makes a saxophone sound different than a clarinet, or two voices singing in harmony appear distinct and different.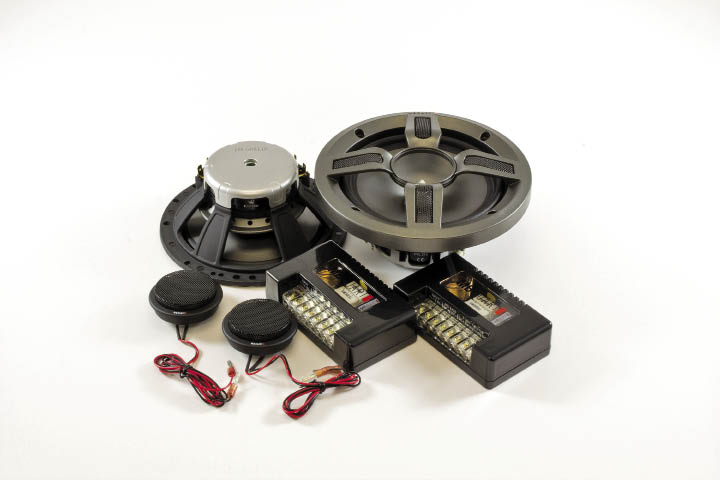 Conclusion
From a typical car audio listener's point of view, the MBQuart PVL216 system sounds very good, with a smooth warm sound with good clarity. This is one of those modestly priced systems that will surprise your friends with how good it sounds when they find out what you paid for it.
| | |
| --- | --- |
| Power Handling | 70 watts RMS / 140W "Peak" |
| Crossover, Woofer | -6dB per octave |
| Crossover, Tweeter | -12dB per octave |
| Frequency Range | 60-20000Hz |
| Sensitivity | 86.4dB/SPL @ 1W/1M |
| Nominal Impedance | 4 ohms |