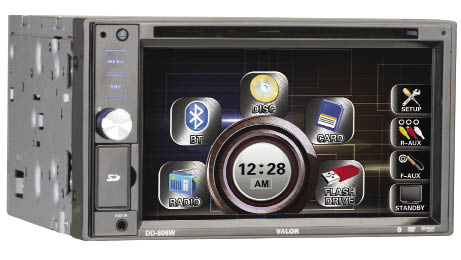 It's probably a pretty safe bet to say that anyone who has a double DIN opening in their dash would like to put a cool DVD touch screen headunit into that spot. But, you may have noticed that the vast majority of these units are priced somewhere between 600 and 1200 bucks (US), which makes them pretty difficult to attain for those of us on a budget. That is, until now. From the folks at Valor Multimedia comes the new DD-806W, a double DIN multimedia unit with a 6.2" TFT color touch screen. And the best part is, the DD-806W retails for a paltry $389.00 here in the U.S.! At that price, you know we just had to take a closer look.
Features
The Valor DD-806W comes with a pretty full list of standard features. The unit boasts a 6.2" TFT LCD touchscreen with 800x480 resolution, USB 2.0 connectivity supporting up to 500Gb, plus an additional 32Gb of SD memory card support. With Valor's ACC-iPAVCB (sold separately) you can connect your iPod, iPhone or iPad to watch video and listen to music through the front or rear auxiliary.
Bluetooth connectivity is built in as well, for easy hands free operation of your Bluetooth enabled phone. The CD/DVD mechanism will also play back MP3, WMA and AAC formats, and a built in Dolby Digital decoder provides surround sound decoding. The high performance AM/FM tuner has 40 FM and 40 AM presets, and an onboard DSP processor provides various preset EQ curves, as well as the ability for the user to adjust things themselves.
There are dual audio/video auxiliary inputs, one set on the rear for more permanent connections, and another set via a front mounted 3.5mm input, for convenient temporary connections. A rear monitor output is included as well, to send video signal to a rear seat mounted monitor. In addition to all that, the DD-806W also sports a rear view camera input, and programmable steering wheel control inputs.
On the audio output side of things, the DD-806W comes with a built in four channel amplifier and a fan cooled heatsink, and pre-outs for Front, Rear, and Subwoofer amplifiers. A wireless remote control is also included.
Controls and Ergonomics
The Valor DD-806W is a very easy to use product, with a logical, intuitive user interface. The volume is controlled via a traditional and generally preferred rotary knob, and the touch screen works quickly and smoothly, with very good sensitivity. There are five available colors to select from for the LED backlighting, making it easy to match your cars dash lighting. Menus are generally very easy to find and scroll through, and the icons and text are always large enough to read at a glance, with the selected choice nicely highlighted. Setup is pretty straightforward, and can be accomplished in under five minutes without even looking at the manual. But if you do get lost, the printed owner's manual does a good job of explaining things. The slot for the SD memory card is discreetly hidden behind a well fitted door on the front face of the unit, and the CD/DVD load slot is always available right above the screen.
I loaded a few hundred tunes on a thumbdrive, and checked out the functionality of the interface for artist, album and song selection. The interface is fast and, again, quite logically laid out and easy to use. It's not quite as easy to use as some of the much higher priced units, but then again you can probably buy two or three DD-806Ws for the same money.
Listening
Okay, for under 400 bucks, and with all of the above features, I have to admit I wasn't expecting a lot from the DD-806W in terms of audio performance. But, I'm very happy to report that the sonics of the unit are quite good, and certainly more than I would have expected. The unit delivered good sound, with strong deep bottom end and crisp, well detailed high frequencies. Stereo separation was very good, and the unit had zero audible noise. Yes, it lacks some of the tuning features I'm used to, like adjustable crossovers and digital delays, but for just basic music or movie playback the Valor unit did everything I asked of it, and always sounded good.
On The Bench
Moving the unit into the lab and connecting it to my trusty Audio Precision, I put it through my usual barrage of tests, and the DD-806W produced very respectable performance. Frequency response measured very flat throughout the audio band, and signal to noise was excellent. Stereo reproduction was also very good, with more than 50dB of separation between channels. The only spec I found that wasn't where I'd like it was the measured output impedance, which was pretty high at 969 ohms. This is certainly not the first unit I've measured with high output impedance and some have even been quite a bit higher. It just means that extra care will need to be taken with the RCA cable routing during installation, to prevent possible engine noise problems.
Conclusion
When you consider the considerable list of features found in the Valor DD-806W, it's pretty hard not to see the fantastic value it represents.
In fact, it wasn't all that long ago that just an add-on Bluetooth module cost almost as much as this whole unit!, Yes, there are other units that will do more or different things, and maybe have arguably superior sound quality. But if you're simply looking for an easy to use, well made, good sounding, double DIN multimedia player and you want to keep the price way down, the Valor DD-806W could be exactly what you need.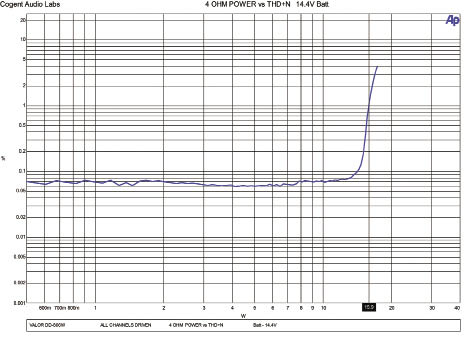 CEA-2006B Power per channel (all channels driven,@ 4 ohms)

15.9 watts/ch x 4

A Wtd S/N Ratio (ref to 2V/1W
@ 4 ohms) Amplified output

-87.0dBA (CD)

THD+N @ 2V/1W @ 4 ohms 1kHz

0.04%

Frequency Response (-3.0dB)

20Hz – 20kHz

Sensitivity

86.4dB/SPL @ 1W/1M

Nominal Impedance

4 ohms
| | |
| --- | --- |
| Max Usable RCA Output Voltage | 2.6Vrms Frt/Rear/Sub |
| A Wtd S/N Ratio ref to full output voltage | -87.8dBA |
| Output Impedance | 969 ohms |
| Frequency Response (-3.0dB) | 20Hz – 20kHz |
| Sensitivity | 86.4dB/SPL @ 1W/1M |
| Nominal Impedance | 4 ohms |