Long renowned for their large and very powerful amplifiers and subwoofers that are prominent in the SPL wars, the American Bass brand has carved out a reputation for powerful and dependable products. But in addition to the multi-kilowatt behemoths that everyone is familiar with, American Bass also has a very compact, yet powerful series of amplifiers known as the Phantom Series. These new amplifiers are very reasonably priced US$379.00. We requested a sample to review for you, our valued readers, and they kindly responded with a PH-2500 MD, which is a Class D mono block amplifier in a very compact chassis.
Features
The compact PH-2500 MD falls in the middle of the Phantom Series line and measures about 10.3" long, 5.5" wide, and 2.1" tall. Its cosmetics are on the traditional side, with a gloss black powder coated heatsink that is finned on all three surfaces. Two of the outermost top ribs are finished in brushed raw aluminum, and a brushed aluminum badge also provides nice contrast and gives the amp something of an upscale look.
The wiring connections are all found on one end, with large heavy duty set screw type power and speaker terminals which accept 4 gauge and 10 gauge cables respectively. The speaker terminals feature dual positive and negative connections to ease connection issues in multiple woofer systems. I appreciated the thoughtful touch of having all the connections made with one size of hex wrench, and I'm sure busy installers will as well.
This is a pretty simple and straightforward Class D amplifier, with adjustments for gain, crossover, subsonic filter and a switched bass boost control found on the end opposite the power and speaker wiring. A single pair of input RCAs is located amongst the adjustment pots. No output RCAs are provided. A wired remote level control is available as an option, if you'd like to have control of the output of the amp from your seat.
Tech
On the inside of the amplifier I found a fairly basic but well constructed design, with a total of sixteen TO-220 case size MOSFETs doing the switching for the PWM power supply and the outputs. The vast majority of the components on the high-quality double-sided glass epoxy board are the surface mount type, for excellent tolerance control and greater precision. Five 2200µF caps stiffen up the power supply current while a pair of 4700µF caps provides energy storage for the output section. The output filtering is pretty minimal, but because noise is not really a major consid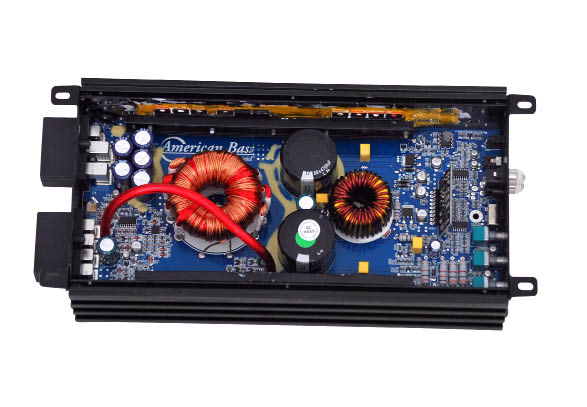 eration for a dedicated subwoofer amplifier, this tactic is good for lowering both efficiency losses, and the price.
Listening
Driving a pair of 4 ohm woofers in parallel for my listening session, the PH-2500 MD proved to have ample power and very good efficiency. I beat on the poor little amp pretty hard for a couple of hours, and it barely got warm. The sound quality of the PH-2500 MD was perfectly acceptable, with strong deep bass and good authority. Bass definition was average to good, and even difficult passages such as plucked double bass had decent definition and control. The controls worked exactly as expected, and overall my listening session for this amp was quite pleasant.
Measurements
On the bench, the American Bass PH-2500 MD performed as one would expect for an amplifier designed to be quite powerful, stable into 1 ohm loads all day long, and retaining a modest price. The performance was very respectable, and the amp produced a lot more power than you'd ever expect from looking at it. As I decreased the load impedance, noise became more evident in the signal, and at 1 ohm, the noise in the output actually caused the measurement to exceed my standard 1.0% limit for power measurement. Because this is a dedicated subwoofer amplifier with an "always on" low pass filter, this noise is totally inaudible, so the actual useful 1 ohm power was recorded at the clip point of the amp where the distortion would actually become audible. Signal to noise was average, but power efficiency was well above average. For more detailed specifications and graphs, visit us online at www.pasmag.com/car-audio
Conclusion
The American Bass PH-2500 MD was designed from the beginning to be a compact, modestly priced, yet very powerful amplifier, capable of driving the most difficult loads and doing it with high efficiency and good sound. It seems to be well made, and should be a reliable piece. Based on what I've seen here, I'd have to say mission accomplished. You can find more information on the other American Bass products at www.americanbassusa.com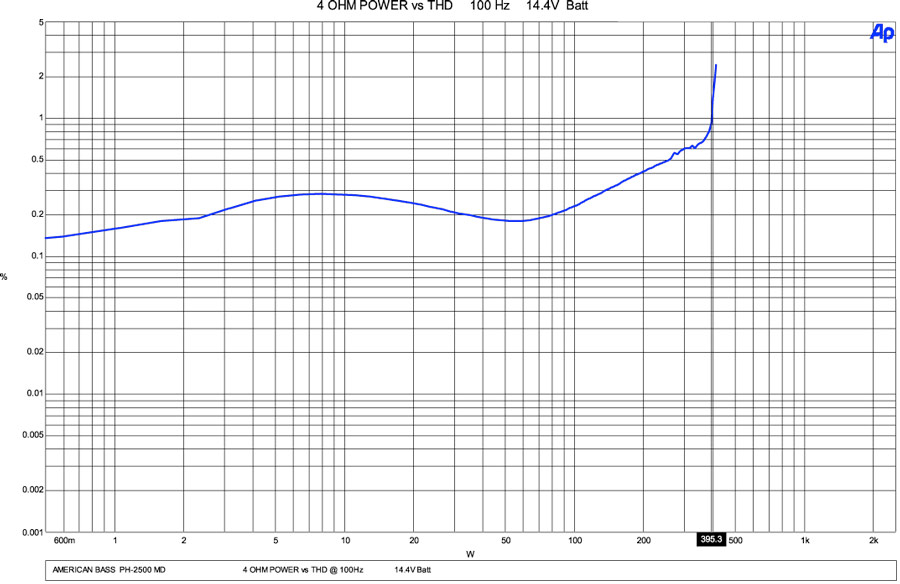 Technical Data

The following power measurements were obtained using industry standard methods. (1kHZ @ 1.0% THD+N - Battery voltages shown +/- 0.2V)
MEASURED PERFORMANCE SPECIFICATIONS
Manufacturers
Rated Power

Actual Measured Power

@ 1.0% THD+N

@ 12.6V Battery

Actual Measured Power

@ 1.0% THD+N

@ 14.4V Battery

450 X 1 @ 4 ?

301 x 1 @ 4 ?

395 x 1 @ 4 ?

800 X 1 @ 2 ?

518 x 1 @ 2 ?

676 x 1 @ 2 ?

1250 X 1 @ 1 ?

740 x 1 @ 1 ?

*998 x 1 @ 1 ?

*Measured at clipping
Signal to Noise Ratio referenced to 2V output.

(CEA-2006A) (1 watt @ 4 ohms)

-73.6dBA