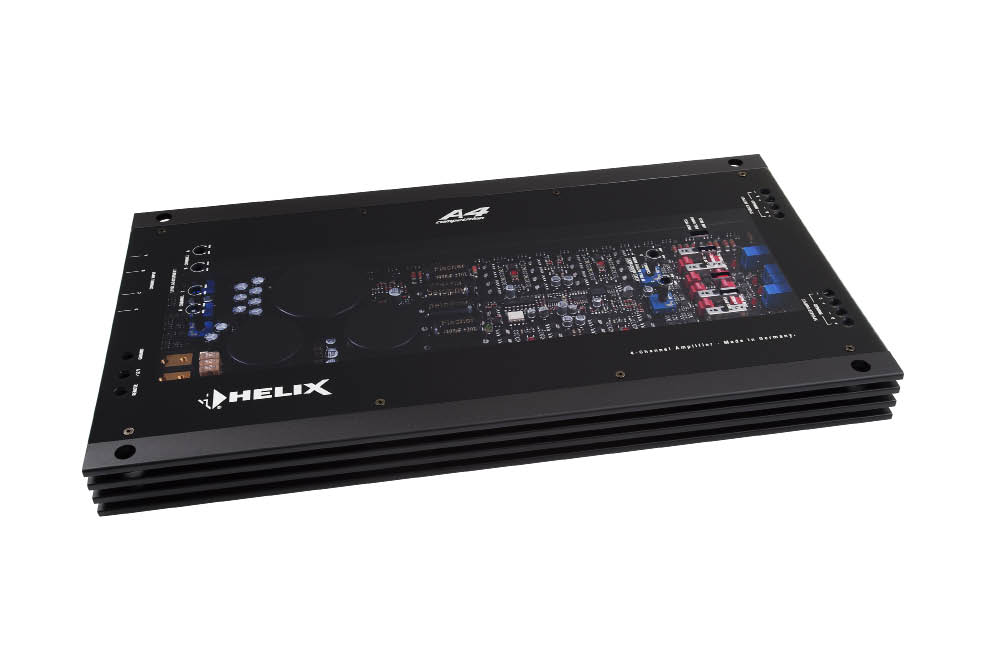 In October 2010, the Rockford Corporation inked a deal to become the exclusive U.S. distributor of some of the most exclusive German-made car audio equipment available anywhere in the world. The Audiotec Fischer brand was started in 1990 by Mr. Heinz Fischer, with the first brand called Brax. Known for no-compromise engineering, meticulous build quality, and legendary sonic performance, the Brax name soon had a loyal following of well-heeled European buyers. Eight years later, the Helix brand of amplifiers was introduced with the same attention to detail and uncompromising engineering, but at a price that was a bit more affordable for the mainstream audiophile.
But like a German sports car, each handcrafted Helix design is precision-built using the latest technology and materials, and although it is significantly less expensive than the über high dollar Brax gear, it's certainly not what anyone would call cheap. To use an automotive analogy, if the Brax amp is a Bugatti Veyron, the Helix amp is a Porsche 911 GT3. In this review we're going to take a closer look at one of the Helix amplifiers, specifically the four channel A4 Competition.
The A4 is essentially four separate amplifiers combined into a single chassis, operating from a common power supply. Each of the four channels can handle load impedances down to 1 ohm, however it is suggested that the total impedance of all the loads connected to the amp to always be at least 6 ohms. The amplifier is good looking, with a very low profile at only 1.4" tall, with a length and width of 17" x 9.5" respectively. The heat sink is deeply finned on its horizontal edges, and the majority of the top surface of the amplifier is covered with an acrylic panel that permits viewing of the nicely made PCB and components, plus about twenty LEDs which glow brightly when the amp is turned on. The power and speaker terminals are gold plated to resist corrosion, and will easily handle adequately gauged wire. Signal input is curiously located right beside the main power terminals on one end of the amp, and the speaker output terminals are located on the other end of the amp, in opposite corners. In between the speaker terminals are the controls for the amplifiers crossover frequencies, variable bass boost and frequency, as well as bridging switches. Each channel has its own gain pot, so left to right channel balance can be made absolutely perfect. These pots, as well as two others used for gain adjustment when the amp is in Full Active Mode, as well as 4, three-position slide switches for crossover type and range, are all accessed through the acrylic top cover. The crossover functionality of the A4 is seriously flexible and almost infinitely tunable. You can select high-pass, low-pass, or full range for the channels, or switch to fully active where you select the settings for the A&B channels and the complementary signal is automatically routed to channels C&D. The frequency adjustment range is wide as well, from 15Hz to 7kHz, and the crossovers can even be configured as bandpass if desired. Bass boost is variable from 0 to +9dB, and the frequency of the applied boost can be adjusted from 30 to 120Hz.
Of course, I took it all apart and was impressed with both the general build quality and the fit and finish of all the components. Surface mount 0% tolerance parts are used wherever possible, and there are high-end poly caps in the preamp section, instead of the ugly old electrolytics found all too often in lesser products. I also noted the use of very low noise Texas Instruments op-amps, which are expensive, but required for an audiophile-type product.
The design is certainly intended to handle massive amounts of current, between the power supply and the output devices there are no fewer than 40 high current International Rectifier MOSFETs to handle the current demands.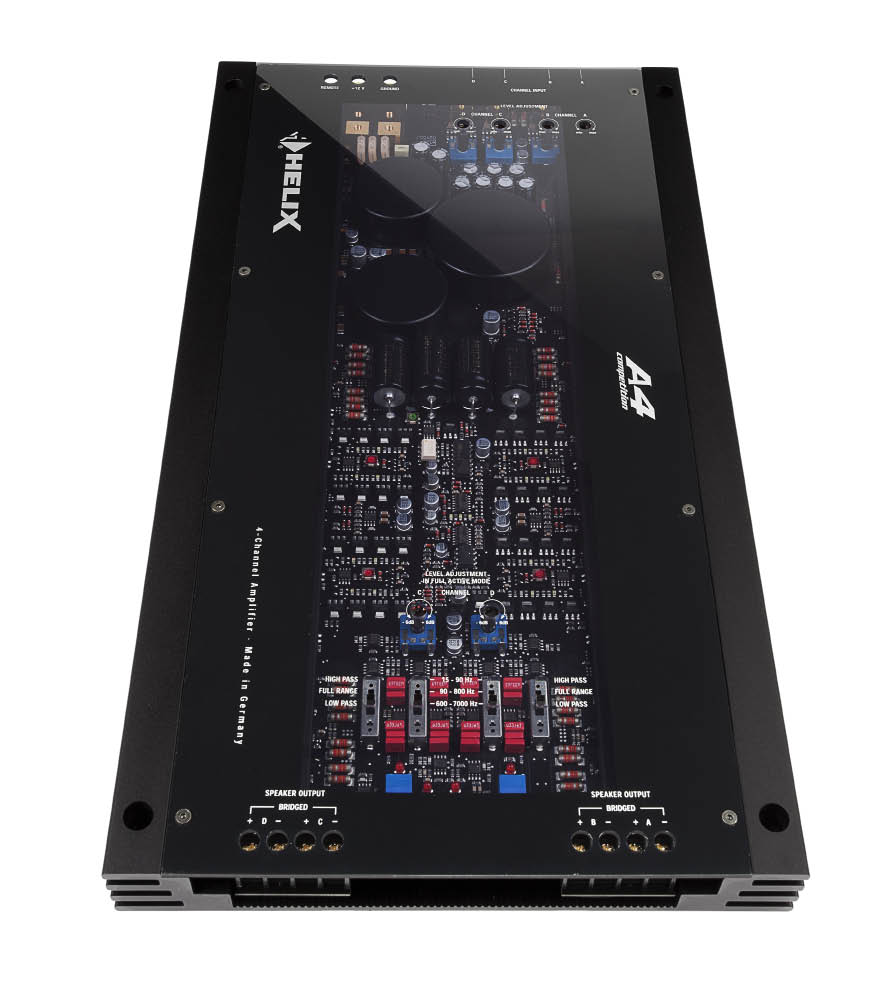 In my reference system, I connected the amplifier in a typical manner, where two channels drove my main speakers and the remaining two channels were bridged to a 2 ohm woofer load. I appreciated the individual gain pots which provided me the rare opportunity to make sure the levels were adjusted within a fraction of a dB from channel to channel. One point to mention, I did notice that the A4 took significantly more input signal to drive than a typical amplifier, so it would be good to make sure your source unit is a high voltage piece. After snooping around inside, I was expecting the Helix amp to sound pretty good, and it certainly did not disappoint. I began with John Adams "Short Ride in a Fast Machine", and immediately understood this was a serious amplifier. Sticking with classical tunes for a bit, I played Beethoven's Symphony #9 by Claudio Abbado and the Berlin Philharmonic. The dynamics and detail in the recording are spectacular, and require a very good amplifier to reproduce without compression or strain. The A4 proved up to the task, with a strong bottom end, and the soaring realism that only comes from a full orchestra. I moved on to rock tunes, from Dire Straits, to the amazing guitar collaborations found on "Les Paul & Friends" and the Helix amplifier proved to be more than up to the task. I ended up listening to the amplifier and all kinds of music for several hours, as I sometimes do when I get to enjoy a great piece of gear. When I had finished my listening session, I came away quite impressed with the Helix A4. This is a good sounding amplifier, with plenty of current reserve for dynamics, and a natural transparency. It did get good and warm during my session, which was several hours of non-stop, relatively high volume listening.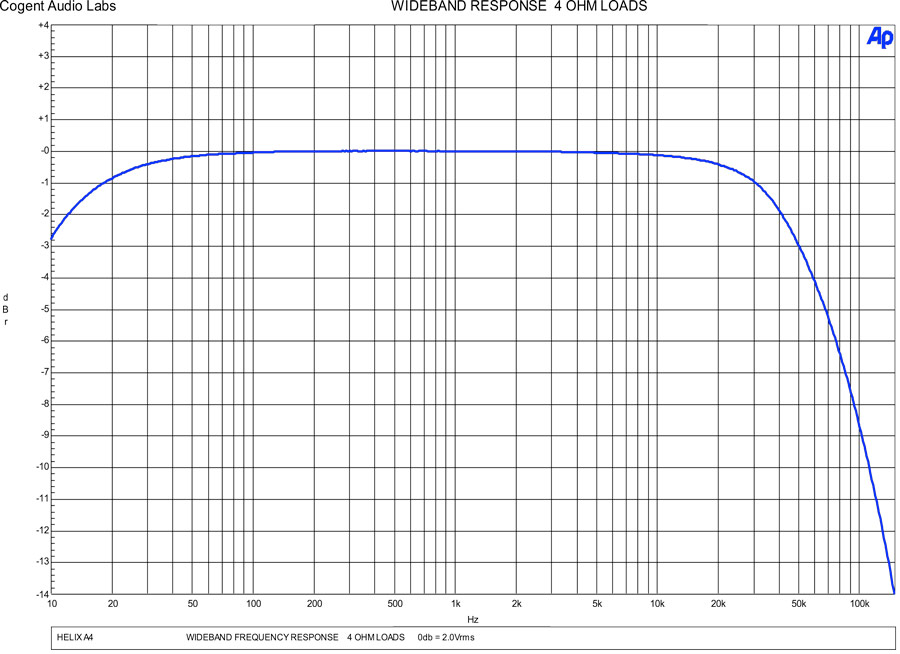 Technical Data

The following power measurements were obtained using industry standard methods. (100HZ @ 1.0% THD+N - Battery voltages shown +/- 0.2V)
Measured Performance Specifications

Manufacturers
Rated Power

Actual Measured Power

@ 1.0% THD+N

@ 12.6V Battery

Actual Measured Power

@ 1.0% THD+N

@ 14.4V Battery

85 x 4 @ 4 ?

82 x 4 @ 4 ?

91 x 4 @ 4 ?

150 x 4 @ 2 ?

126 x 4 @ 2 ?

165 x 4 @ 2 ?

330 x 2 @ 4 ?

256 x 2 @ 4 ?

333 x 2 @ 4 ?
Signal to Noise Ratio referenced to 2V output.

(CEA-2006A) (1 watt @ 4 ohms)

-87.8dBA

Signal to Noise Ratio referenced to full output.

-107.4dBA

THD+N at rated power

0.046%

Maximum Efficiency at full 4 ohm power per ch.

62.1%

Maximum Efficiency at full 2 ohm power per ch.

58.2%

Efficiency at 10 watts per channel, 4 ohms

20.5%

Idle Current

2.4A

Input Sensitivity

500mV- 8.0V

Maximum Current @ full power, lowest rated impedance

>90A

Frequency Response (-3dB)

<10Hz – 50kHz

High Pass Crossover

15Hz – 7kHz

-12dB/Oct

Low Pass Crossover

15Hz – 7kHz

-12dB/Oct

Bass EQ boost

0 to +9dB @ 30-120Hz