Clarion CZ501 Headunit
Clarion's 2011 single CD source units have premium styling and connectivity options with radiant blue illumination across the line. The flagship CZ model, the CZ501 is the most advanced in the group and boasts built-in Bluetooth for hands-free calling and audio streaming, USB and AUX connections to access your favorite music and is HD Radio Ready. The lustrous 2-line display, also found on the CZ401 and CZ301, is easily visible and clearly displays 2 lines of track information. The CZ401 audio source unit has built-in HD Radio, a first for Clarion. That unit has a dedicated Tag button for iTunes tagging and sports differentiated cosmetics, similar to the CZ501, and the rich glossy black front panel finish as the other models in the line.
For more visit www.clarion.com
---
Alpine Electronics CDE-123 CD Receiver
Alpine's CDE-123 CD receiver has a built-in 18W RMS x 4 amplifier (at CEA-2006 power ratings), a three-band parametric EQ, and three sets of pre-outs (4V). Pandora internet radio is available via the iPhone app and songs can be rated using the dedicated thumbs up/down buttons on the faceplate. SiriusXM Satellite Radio is also available (separate tuner and subscription required). The CDE-123 is equipped with a 3.5mm audio input jack, plus front and rear USB ports for connecting storage devices or playing music from two iPods or iPhones simultaneously. It is compatible with Bluetooth wireless technology (separate module required).
For more visit www.alpine-usa.com
---

Sony DSX-S300BT
The new Sony DSX-S300BT and DSX-S200X car stereos each feature Sony's TuneTray, an internal mechanical compartment for an iPod or other USB devices. On command, the sleek front faceplate of either unit will flip down and output the TuneTray compartment, complete with an iPod adapter, for quick connection to music players. Each model also features an external USB input, allowing users to connect two USB capable devices simultaneously. The DSX-S300BT Head Unit features built-in Bluetooth® technology for hands-free calling and wireless music streaming. This model also has Sony's unique SensMe technology, which analyzes a connected music library to create custom playlists and radio channels, and utilizes an Advanced Sound Engine (ASE) to provide an outstanding in-car sound environment. It's communicated to the driver by a crystal-clear OEL display.
For more visit www.xplodsony.com or www.sonystyle.ca/xplod
---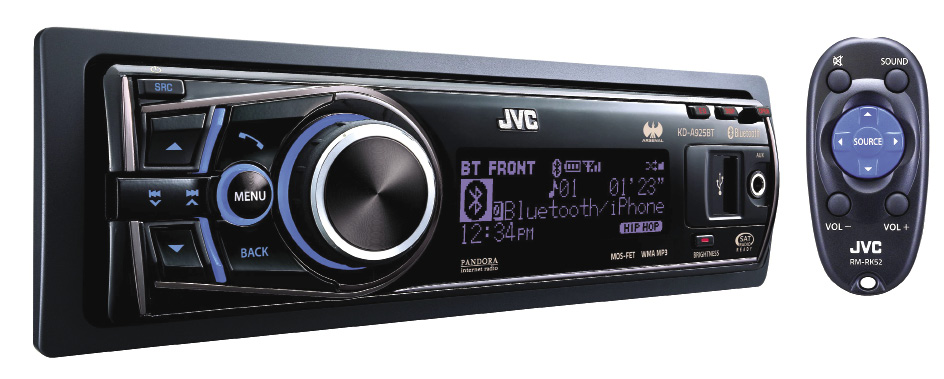 JVC Arsenal Headunits
Packed with features, the new JVC Arsenal headunits feature: three RCA pre-outs, adjustable high pass filter, intelligent beep tones, 32-step seamless brightness control, MOSFET 50 x 4, 3-band iEQ, loudness, subwoofer control, a wireless key chain remote and are Bluetooth ready or offer built-in Bluetooth (KD-A925BT). An OEM steering wheel input control and a 2-year warranty to appeal to specialist retailers and enthusiasts. The KD-A925BT CD Receiver features Pandora Internet Radio application control for iPhone, front and rear dual direct USB 2.0 connection for the iPod/iPhone, providing 2-way iPod/iPhone control and charging. Bluetooth technology is enabled via a USB Bluetooth adapter and the units are expandable for HD Radio and Satellite Radio.
For more visit www.mobile.jvc.com or www.jvc.ca