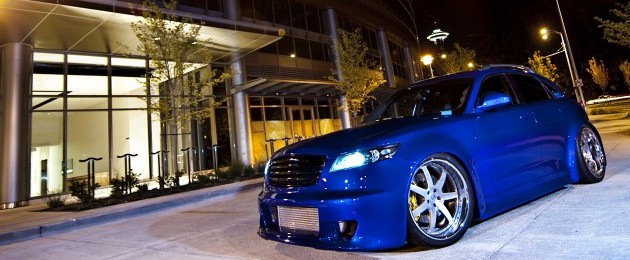 Some say it looks like a shoe, some say it looks like a bathtub. I doubt Infiniti designers were discussing the profile of a Ronald McDonald shoe or the merits of taking a bubble bath while this car was being conceived. I've always thought the FX series of crossovers something decidedly more hip. From my perspective it looks more like a bionic cheetah or evil robot about to transform and tear everything up. From its debut, I knew there was a serious platform to customize but no one dared do it. However, a few brave souls ventured out in to uncharted territory. When Vince Nguyen of Los Angeles, California started on this project, he basically couldn't stop himself. As a result we have been chasing this car down for over two years while it was in an out of the shop.
Beneath all of the visual upgrades beats the heart of a lion too, a twin turbo VQ that will easily embarrass most of what is on the road today.
We're still thrilled to finally get it as the day we started, mostly because the spec sheet was even more elaborate than we had anticipated. This isn't some baby-balls, low pressure supercharger with an unmolested engine bay. It is rebuilt from the ground up with all of the right moves.
When Nguyen sourced out parts for his VQ35 build, he didn't venture further than Cosworth. As one of the leading authorities in hard parts, Cosworth supplied the forged pistons and H-Beam connecting rods to the crankshaft supported by tri-metal bearings. Up top, the ported and polished head was filled with Cosworth 1 mm oversized valves, titanium retainers and 272 cams. The head is fed with air from a Cosworth twin-plenum manifold and fuel is delivered with a Cosworth high-volume fuel system and SARD 800cc injectors. The forced induction comes by way of a Jim Wolf Technology 700 twin turbo system. Featuring twin Garrett GT30 ball-bearing turbos, the system was complimented by a GReddy front mount intercooler. The spent gas heads through Technosquare 70mm test pipes and a GReddy Evo TT exhaust. The increase in boost meant a lot of heat would be generated and the PWR rad, Samco hoses and GTM electric fan and shroud now kept the temps in check. The system also required an oil cooler where a custom one was fabricated out of an Earl's core and stainless steel lines.
The whole ensemble was tuned by a Technosquare remapped ECU, which translated into over double the factory horsepower. Of course only a man's clutch would handle that and the task was given to an Exedy triple carbon clutch. A Cusco 1.5-way rear LSD was also added in addition to a 3.91 final drive from a 350Z.
As you might expect, all of that power has to be controlled. Nguyen sourced out a set of HKS S-Style coilovers for ride height and dampening adjustment. Since there are very few suspension parts for this car, Nguyen has some items customized from SPC and SPL. An SPC rear toe bolt kit and camber kit were modified to fit as were the SPL 350Z parts like the end links. The chassis was cinched up with every GT Spec polished brace that was found in the catalogue.