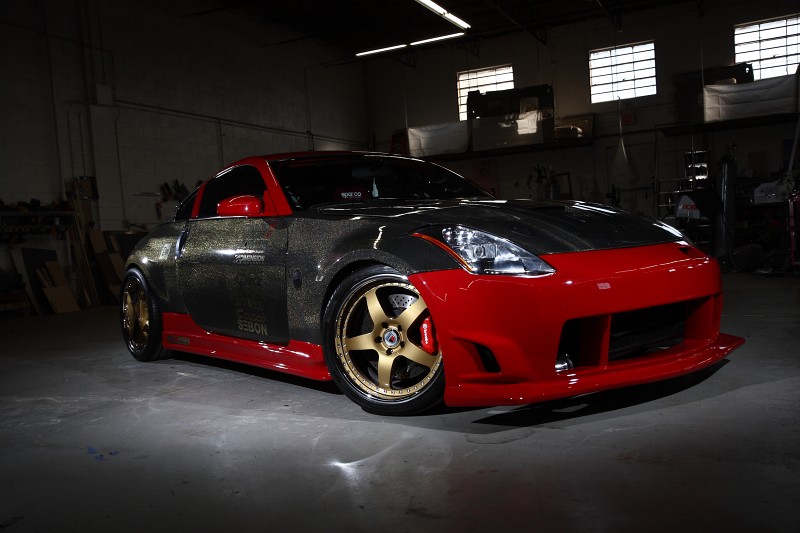 Written by Dave Pankew | Photos by Somya Siva
If you were ever curious about what three years and several hundred thousand dollars does to a project car, you don't have to look much further than this 350Z. Owned by car enthusiast, male model and TV personality Tyson Beckford, this Z33 has been under constant construction. Although we saw what looked like a complete and ready to roll 350Z at SEMA 2007, Tyson insisted that it was going back to shops across the country to take it to a new level.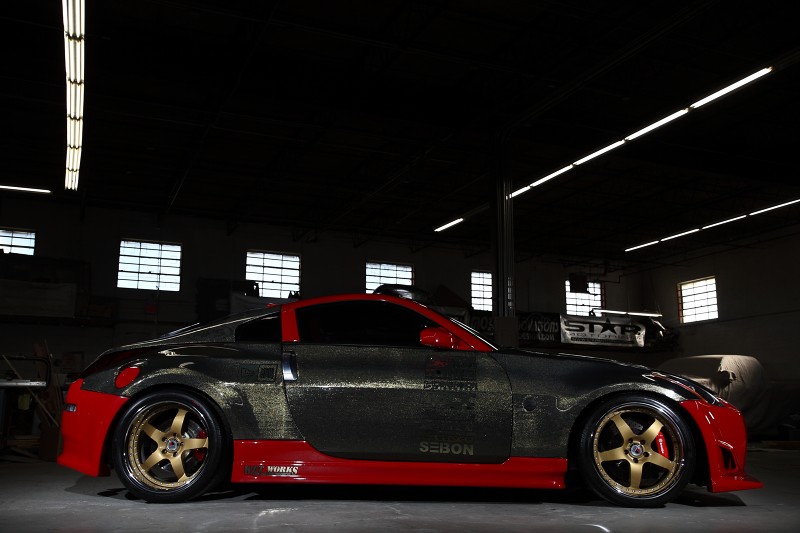 "I went through a lot of hassle with this project," Tyson admits. "You see these nice shops with great shop cars and even they end up being not exactly as advertised. So after a few setbacks, I stepped it up and couldn't be happier with the partners I work with today."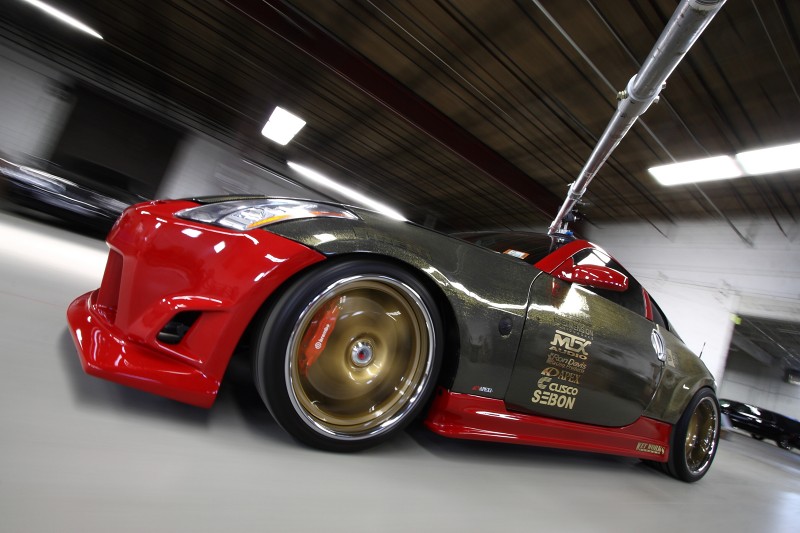 The most striking feature of the car is the brilliant gold carbon fiber cladding. Many panels have been completely removed and designed in carbon fiber with Beckford's technology partner, Seibon. The carbon experts over at Seibon assembled a one-of-a-kind gold weave for his ride, now that's VIP. The hood and hatch are all carbon fiber as are all four fenders, which have been widened to increase the track of the Z a few inches.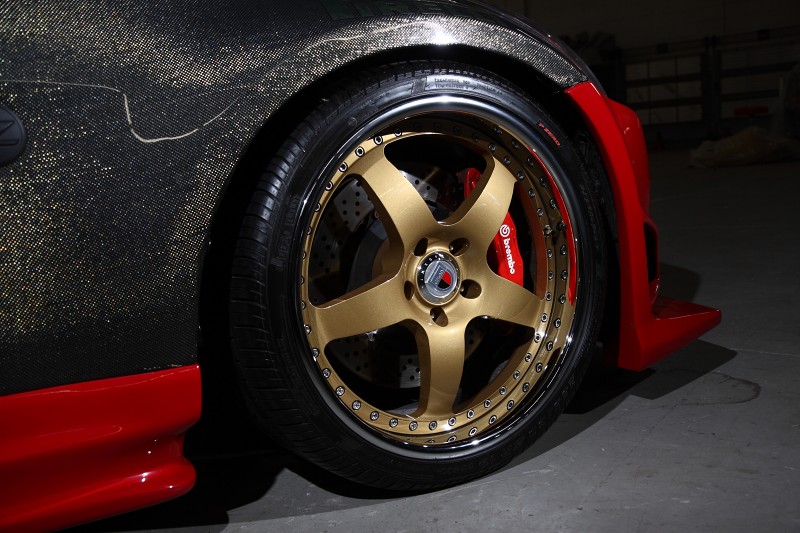 To top it all off, a set of sculpted C-West sideskirts were painted a blazing red by Wet Works. The only other exterior item that isn't carbon clad is the roof and it wasn't available at the time.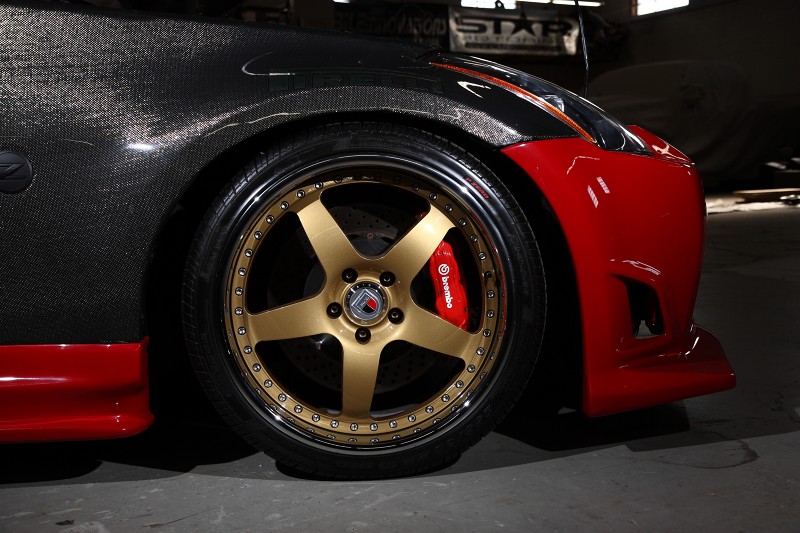 When it came to selecting some sweet rollers for the project, Beckford wanted something that was simple, yet would stand out. He contacted his boys Carlos and Sergio over at Kinesis wheels for a set of Kinesis K58 wheels to die for. These 19-inch forged wheels feature a gold face with polished lip. Beckford wrapped the rare wheels in a set of Pirelli P Zeros, a 255 width of front and a 295 in the back for added grip. All of the suspension duties have been taken care of with TEIN Flex coilovers to achieve the right stance and an in-cabin EDFC controller to switch damper settings.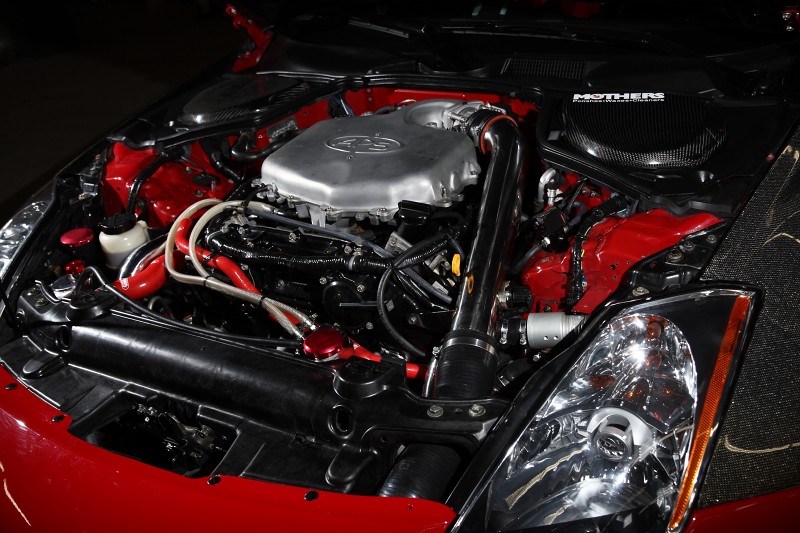 With all of the chassis taken care of, attention turned to the powerplant. Beckford had seen the countless forced induction systems options out there, but decided he would go Australian to make some of the most serious jam. He settled on the big power APS twin turbo kit, as it includes absolutely everything to make big, reliable power.
Beckford wasn't settling for a gutless low-end either, so he installed the Brian Crower 4.21L stroker kit. Tyson and Charlie at Diamond Motors in San Dimas, CA did all the grunt work, installing some low compression CP forged pistons into Darton sleeves and a custom stroker crankshaft found its way into the bottom end.The head was ported and polished, then filled with an upgraded Ferrea valvetrain before it was sealed all back up with ARP studs.
When the work was done, the car was hauled across the country to tune the HKS FCON VPro. Running pump gas, 93 Octane in New Jersey, the twin turbo mill pumped out a respectable 559whp with 540lb-ft of torque. Not bad… but Beckford isn't stopping there either and says by the time of publishing they should be nearing 1,000whp on race gas. The triple plate RPS clutch is ready for far more too, since it is custom built for this application. All of the power is channeled though a Cusco 1.5-way LSD to keep the back end in check.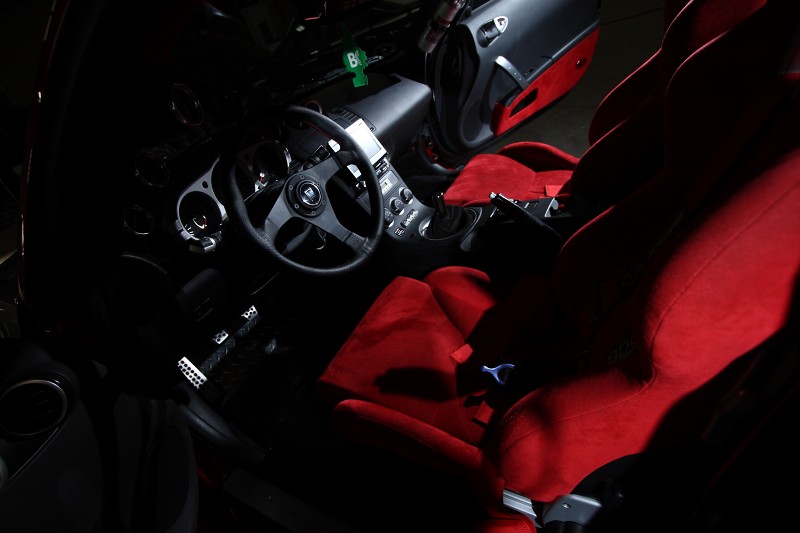 Since Beckford actually drives this thing through the mean streets and traffic of NYC, he decided to include all of the creature comforts. He scooped a set of Sparco Milano recliners and fastened up a harness bar for the Sparco belts.
The clunky factory wheel was pulled in favor of a Nardi deep dish suede wheel. The audio system got a shot in the arm thanks to an Alpine LCD flip and navigation unit. The signals are fed to an MTX 4-channel amp and MTX components found inside the car. To drive the bass lines, an MTX mono amp drives a pair of MTX 12-inch Thunder subs mounted into the pair of suede enclosures found on either side of the trunk. Two of the video inputs come from front view and rearview cameras.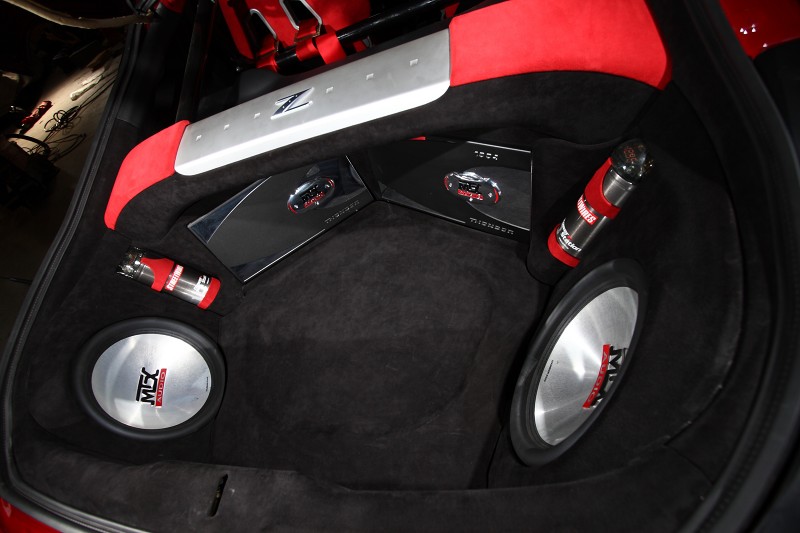 Now when it comes to celebrity car projects, they usually involve freebie parts and products, annoying PR people with hidden agendas and stars who don't know jack about the tuner scene. That's why you won't find those lame bolt-on features here in our magazine.
Take it from us, Mr. Beckford is a legit tuner and very hands on with his rides. He certainly has a lot of toys in his garage and is a true enthusiast who knows, buys and selects his own aftermarket parts. "My accountant told me to finish up this costly project by the end of the year and think about selling it," Tyson laughs. "After hearing that, I'm not sure how to tell him I went out and bought a new Nissan GT-R which I plan to do some really crazy stuff to… I'm looking to put together a JDM-style R35 that is daily-driven, but cranks around 600whp on pump gas."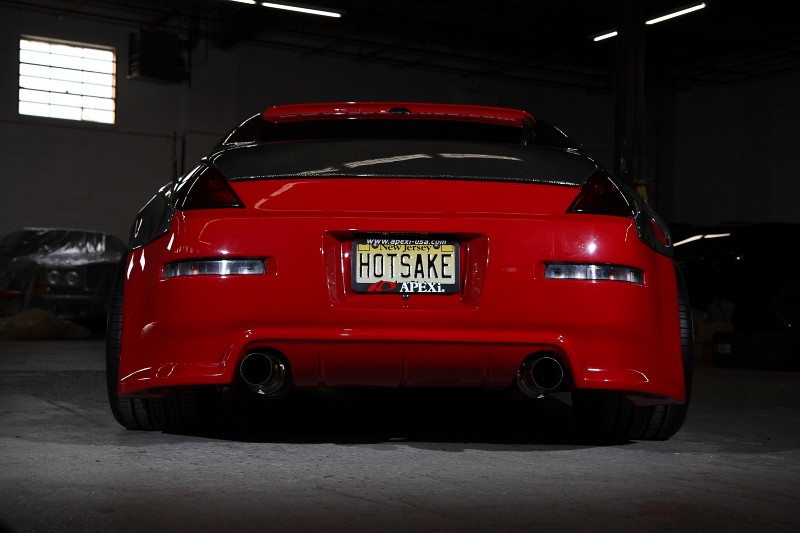 From what we have seen in Tyson's collection, we're sure the R35 is going to be off the hook. Beckford says it is all going to be rare JDM parts and not like anything else out there. By staying tuned to PAS Magazine, you'll be the first to see it in action!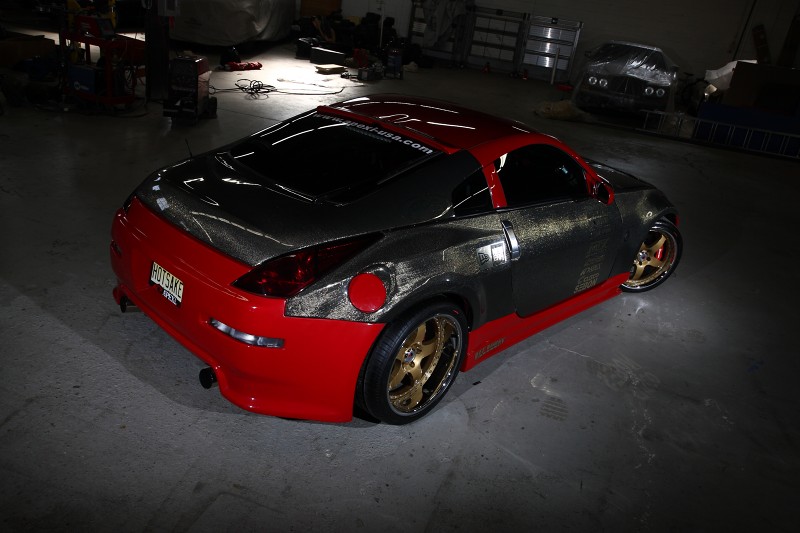 ESSENTIALS // Owner: Tyson Beckford | Location: New York City, NY | Vehicle: 2005 Nissan 350Z | Engine: Nissan 3.5L VQ35DE V6 | Power: 559whp with 540lb-ft.
ENGINE MODIFICATIONS // APS Twin Turbo kit | Brian Crower 4.21L stroker kit | CP forged pistons | Darton sleeves | Ferrea valvetrain | ARP studs | A'PEXi Titanium exhaust
ENGINE MANAGEMENT // HKS FCON VPro
DRIVELINE // RPS triple plate clutch| Cusco 1.5-way LSD
WHEELS, TIRES, BRAKES // Kinesis 19-inch K58 forged 2-piece wheels | Pirelli P Zero tires (255mm/295mm) | Brembo GT Brakes
SUSPENSION // TEIN Flex coilovers | TEIN EDFC controller
EXTERIOR // Seibon one-off gold weave carbon fiber hood, hatch, doors, widebody fenders | C-West sideskirts front and rear bumpers
INTERIOR // Sparco Milano seats | Sparco 5-point harnesses | Nardi deep-dish wheel | Auto Meter gauges: A/F, oil temp & boost | Auto Meter triple pod
AUDIO / MULTIMEDIA // Alpine IVA-D310 LCD flip-screen | MTX Mono amp | MTX 12-inch Thunder subs | MTX components | MTX 4-channel amps
SHOUTOUTS // Wet Works | Andy Rohas | Brian Bridges | Charlie Kim | Lucky Jay | Carmen | Mother's | MTX | Seibon | Cusco | A'PEXi| Ron Davis | Dimension Sign Works | Darton