Variant: The Z4 GT Continuum will always be "in".
Style is completely subjective, which is why there's so much controversy as to what is "in" and what isn't. We've all heard the words "form follows function" from every armchair racer too many times to count. And while that is true to a point, there's a starting point for any build that's even more raw: a feeling or an emotion. You feel something when you drive your car, and if you build towards that feeling, the form that follows will never go out of style. Last time I checked, emotions weren't a trend.
A prime example of a car that evokes emotion is Bulletproof Automotive's BMW Z4 GT Continuum. Just looking at this car is an event in itself. Getting behind the wheel is another world of sensation, with its chopped roof and short windscreen providing more than enough wind through your hair and the feeling of going double the speed at double the danger level.
GT Continuum is a pretty loaded suffix, but just what does it mean? The owner of Bulletproof Automotive, Ben Schaffer, explains that the name was born out of inspiration from Japanese GT cars and the concept of continuum itself.
"The essence of continuum is a blend between space and time, quite literally in this case," he says. "A blend between time because it's ultra-modern, but also a 1950s vintage racecar throwback; and space in terms of it being a real global inspiration with the inspiration details coming from all corners of the world."
When you think about it, this really is a global build. It's a European car, being built by Americans with Japanese inspiration, which sounds like the best recipe for a car ever: a fantastic platform built by truly innovative people with the finest parts available. However, it was a crazy undertaking that all started from a chat over dinner one night.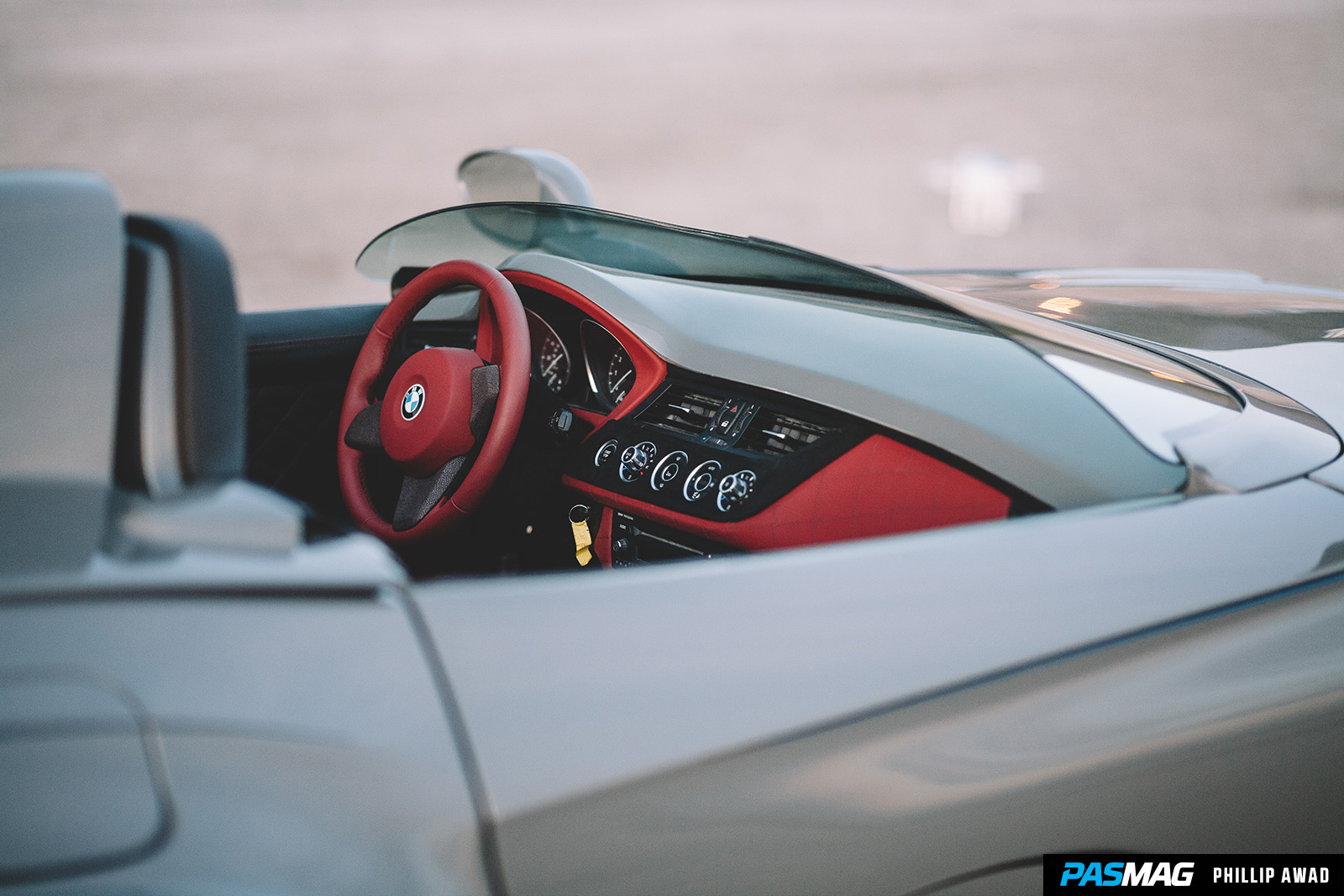 "We were at dinner and our friends at Varis showed us a sketch of what was going to be the Z4 widebody," Schaffer recalls. "Because I'm a car nut, I stupidly said that if they made that kit, I'd buy a car just to put that kit on. I kind of dug myself into a hole there. I committed to do a build because I liked the sketch a lot."
If you'll recall, Bulletproof has previously built a very successful car in partnership with Varis – the Concept One FR-S. Receiving such critical acclaim for a car is great for the confidence, but it leaves a throbbing question behind: what next? The Varis Z4 widebody came along at just the right time for Bulletproof and it got the creative juices flowing.
"When it came time to come up with the plan, my business partner, Avi, and I were talking and we bounced different ideas around," says Schaffer. "One night, we were talking and when we were looking at this concept, we both thought that is was just crazy enough to be really cool. It became something that, internally in the office, people looked at us like we had lost our minds, but that's the fun. Taking the gamble is much more rewarding when you build a car that people don't expect of you, than the one that they do."
An aspect of the build that most wouldn't expect is the lost art of coach building. Just as Pininfarina or Carozzeria take Ferraris and sculpt them into something completely unique, Bulletproof took this Z4 and produced something jaw-dropping.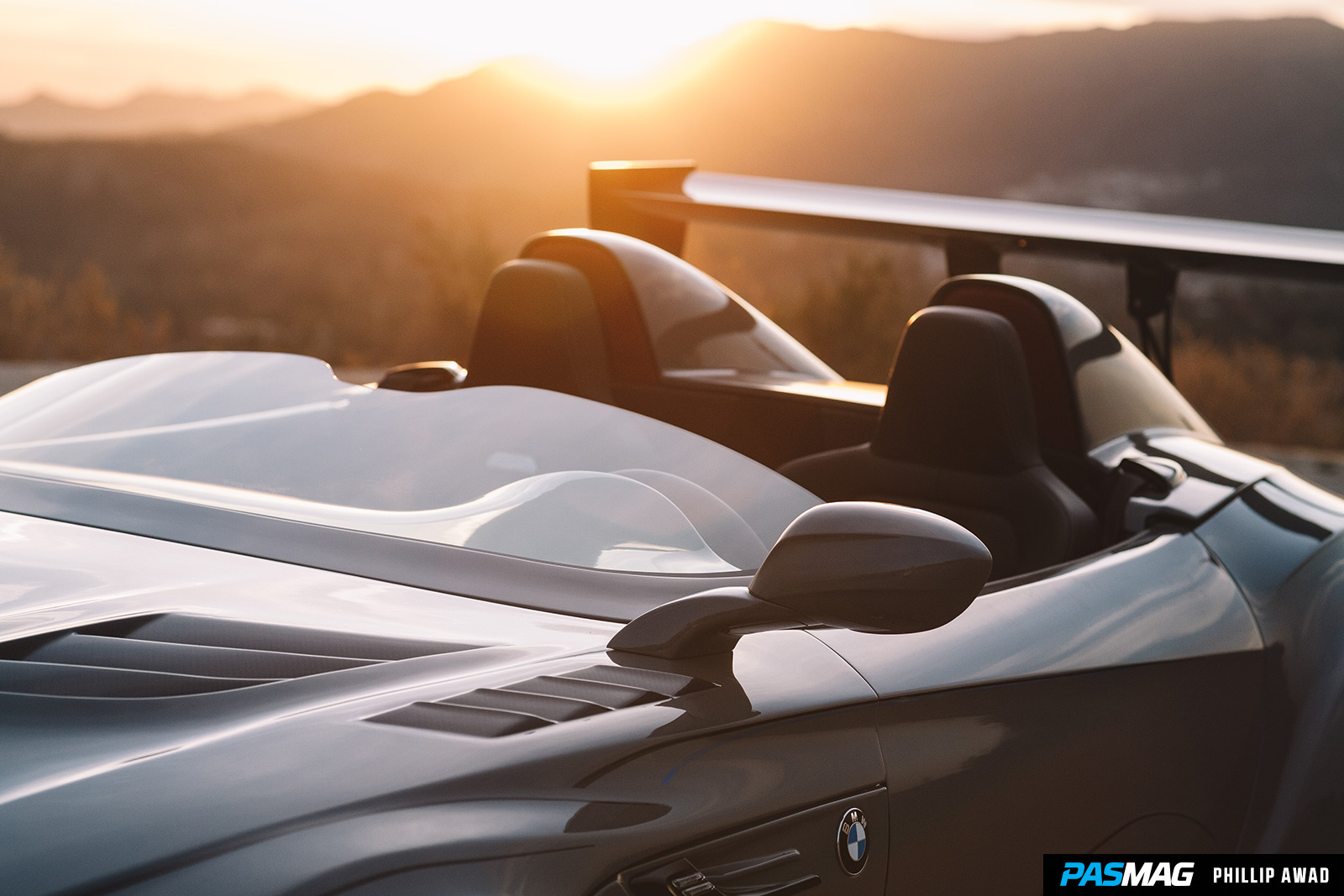 The roof is gone from the car, and with it, the pillars followed. The doors had the glass removed from inside, then had the openings welded up and were shaved smooth – door handles and all. The fenders were cut out and replaced with much wider aerodynamic Varis offerings. Hand-cut glass was positioned in front of the driver in the form of a lower windshield, and below it, the top dash was ripped out and replaced with a handmade fiberglass one that's been dipped in the same shade of Ferrari gray that the exterior wears. The rear decklid was treated to the same painting and manufacturing process as the dash, while being hand-shaped to come up to meet the back of the seats' headrests.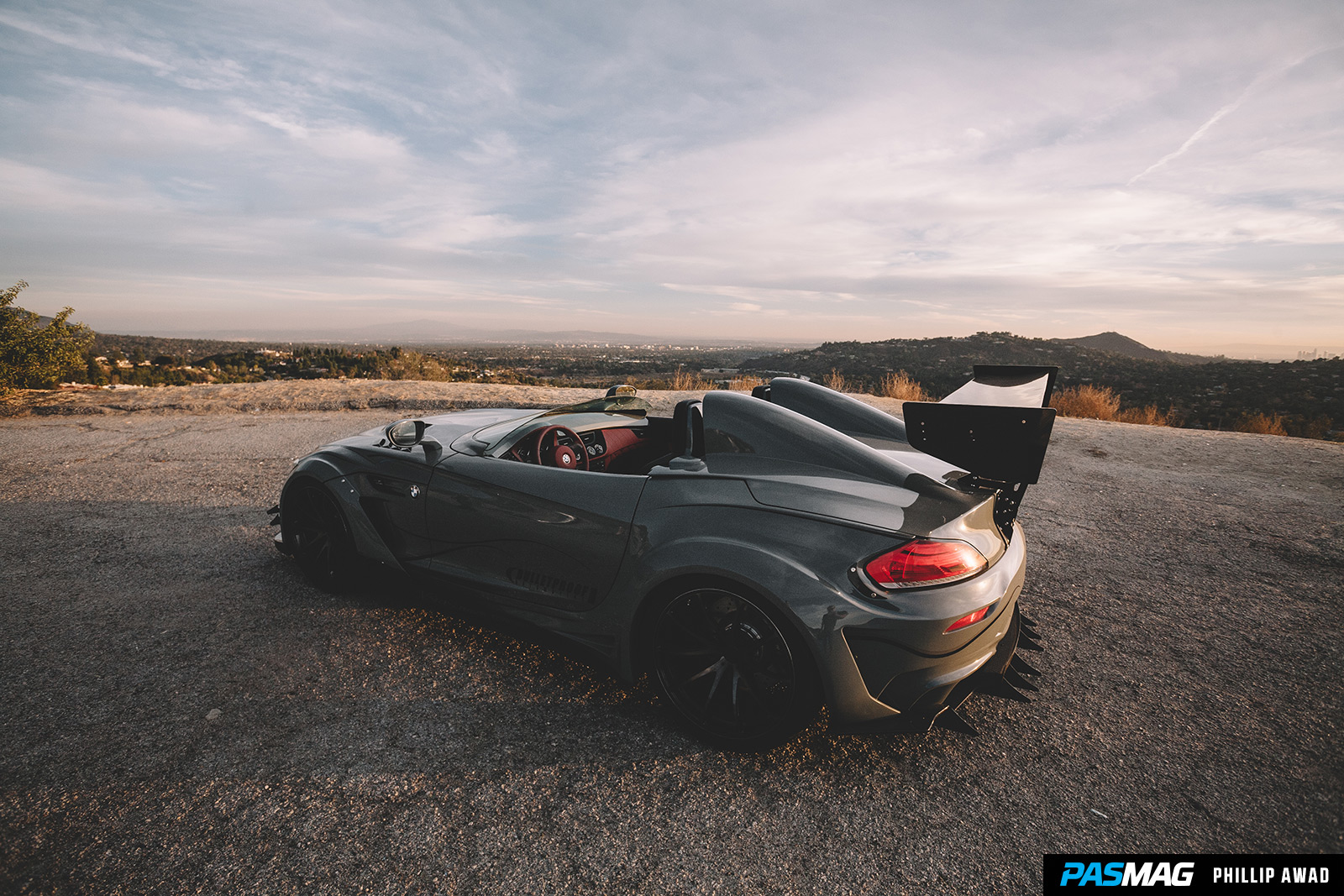 Inside, almost every surface has been covered in red diamond-stitched leather. Even the carpets have been removed to make way for red leather. The seats, which have been sourced from a BMW M4 are wired to retain all their luxurious functions, while the rears of the seats have been reworked with the same stitched leather as the rest of the interior. There's even a curious material that takes up residence inside the Z4 that I can say we've never heard of before: stingray leather.
"We wanted to play around with new materials, so we found a supplier online that supplies stingray hides," Shaffer explains. "When you reach in, there's a stingray pull strap that you pull on and the door opens. We used some stingray on the steering wheel as well."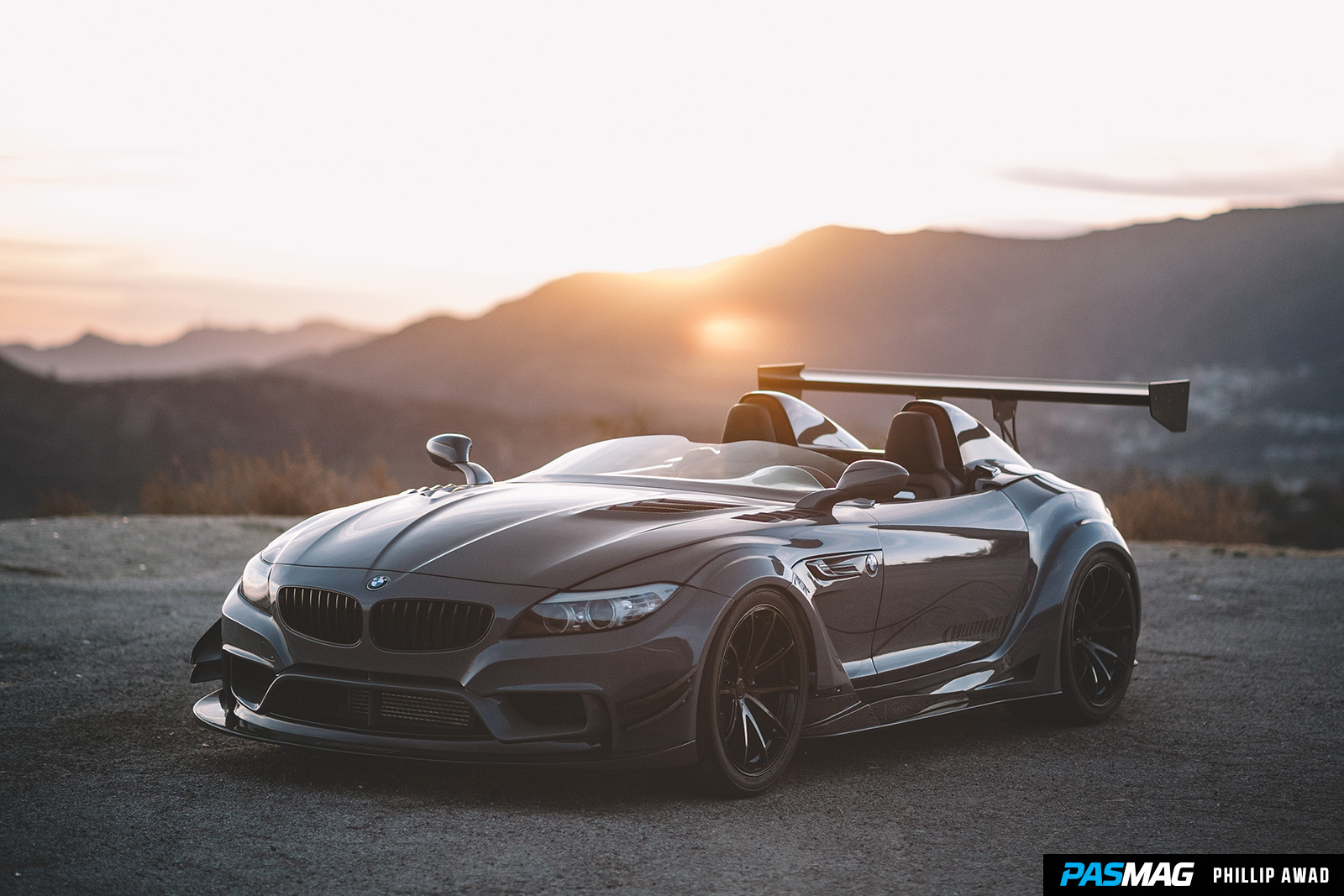 As the GT Continuum was born out of chasing the raw driving feel of '50s and '60s roadsters and speedsters, there were a few modifications made to make the driver feel like Steve McQueen piloting a UFO. Under the hood is an improved cooling system from ETS that helps handle the extra engine work put out by the ESS Stage II tuning software that pushes the Z4 to approximately 400 horsepower. This is all amplified by the custom "Trident" exhaust that escapes from the fenders on either side. If face-fulls of wind, 400 horses and unrestricted exhaust notes from an inline-six in front of you don't make you feel something, you may be a robot.
The whole package is finished off on some RAYS Volk Racing G25 wheels paired with some sticky Toyo R888s and a monstrous 1,800-mm Varis GT wing. BMW's slogan is "Designed For Driving Pleasure," and the GT Continuum has taken that to the nth degree.
"I think that all good style should come from a purpose of what you are trying to achieve," gushes Schaffer. "Style can only work if it's in tune with whatever the vision of the car is. In this case, it all started with emotion and driving experience. Style follows that. If you're building your car only for style, then that means that that experience is going to be in trend and out of trend. If you build a car that's built around a driving experience, that style only gets old as that driving experience gets old and a good driving experience never gets old."
They say that you can take a racecar to a car show, but you can't take a show car to the track. Well, Bulletproof Automotive has met everyone in the middle and taken an art car to the street. This car is a blend of form, function, JDM, Euro, USDM, style and emotion. It's kind of perfect.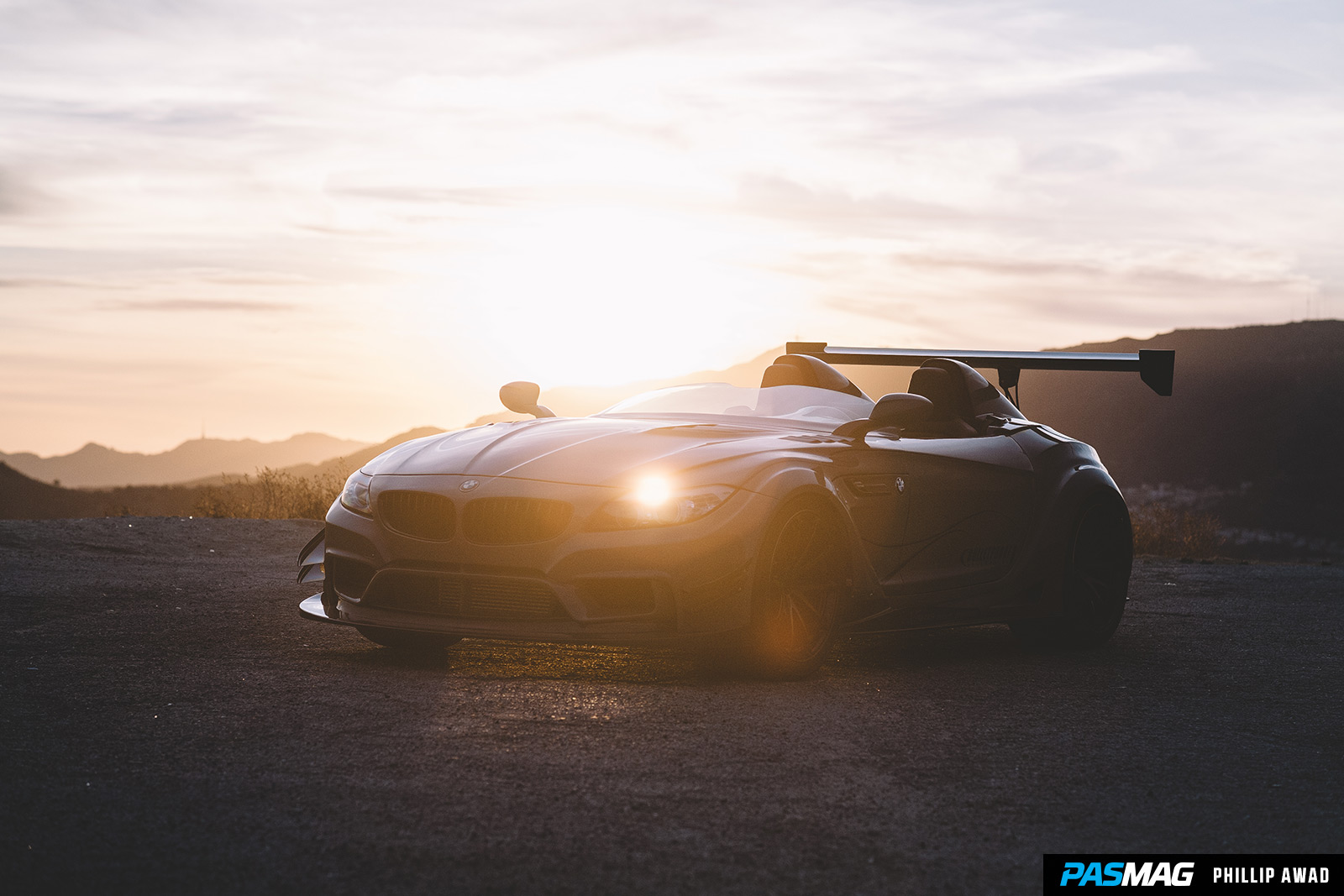 Photos by Phillip Awad (@handsomeandphilthy) / As seen in Tuning Essentials: Style Book, 3rd Edition

---
ESSENTIALS
Vehicle: BMW Z4 GT
Built By: Bulletproof Automotive
Location: Hawthorne, CA
Engine: BMW N54 twin-turbo 3.0L I-6
Horsepower: 400 hp (est.)
SOCIAL
Facebook: Bulletproof Automotive / GT-RR / Bespoke Ventures
Instagram: @bulletproofautomotive
ENGINE
ESS Tuning Stage II ECU tune
ETS custom intercooler
EXHAUST
Bulletproof Automotive Trident custom side-exit exhaust system
CHASSIS / SUSPENSION
Aragosta (custom coilovers, lift system (f))
WHEELS / TIRES / BRAKES
RAYS Volk Racing G25 wheels – 20x10 +30 (f), 20x12 +20 (r)
Toyo Proxes R888 tires – 285/35 R20 (f), 315/30 R20 (r)
BMW F82 M4 brake conversion
EXTERIOR
Bulletproof Automotive Speedster Conversion (hardtop delete, A-pillar delete, custom windscreen, custom dash panel, custom decklid panel, custom mirrors)
Varis (VRS widebody, 1800-mm GT wing)
Livery by Edwin Reyes
INTERIOR
Custom imola red diamond-stitched leather upholstery
Stingray leather & Alcantara accents
BMW M4 seats
Macht Schnell pedals
Porsche vintage shift knob
---
PHOTO GALLERY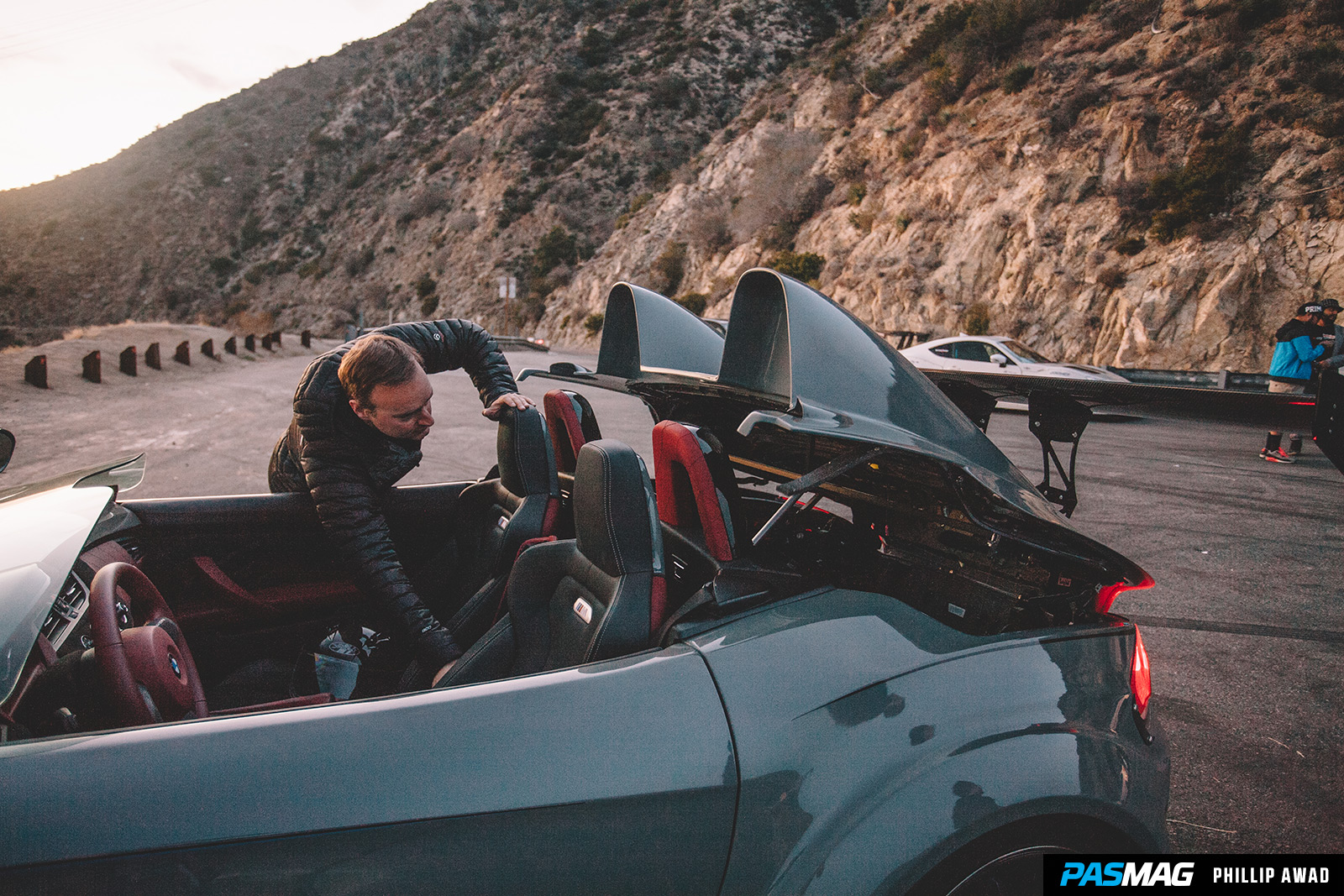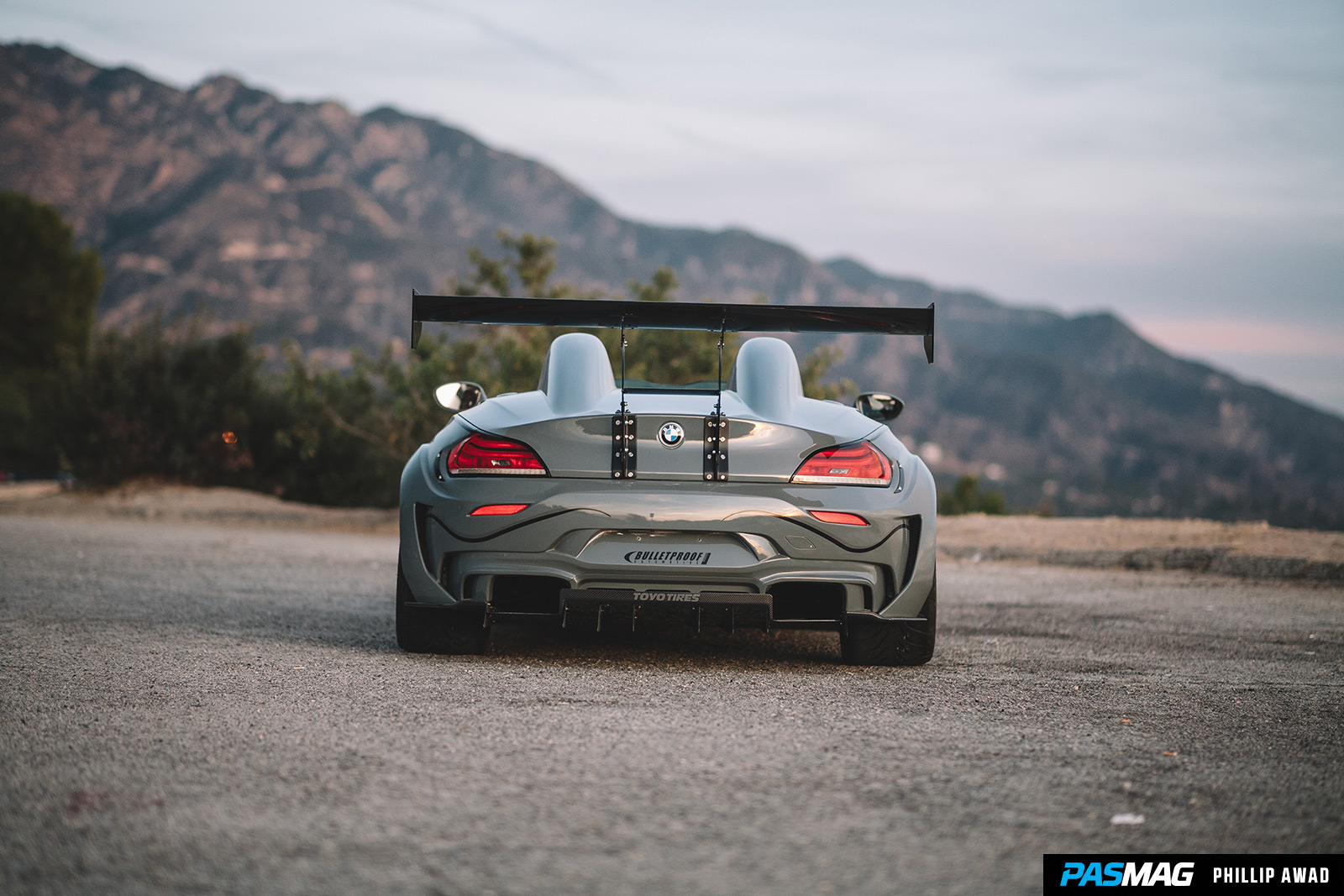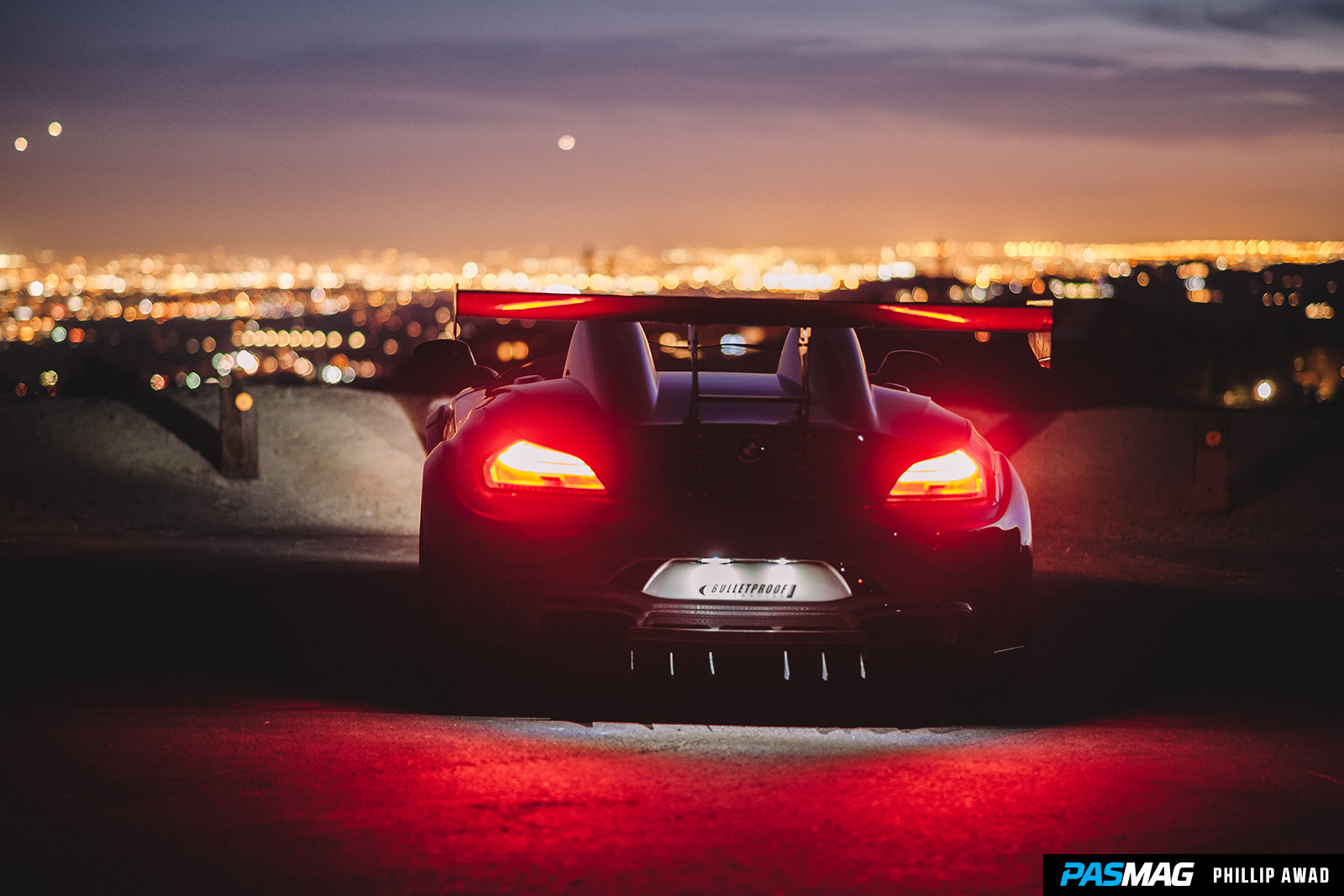 Related Articles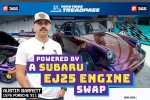 Powered by a Subaru EJ25 Engine Swap: Austin Barnett's 1976 Porsche 911
One of my Top 10 favorites of SEMA 2022 is Austin Barnett's 1976 Porsche 911 in the Toyo Tires Treadpass. Sporting a rare TBK front bumper, a la Mid-...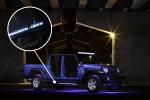 Metra Heise LED Lighting Systems RGBW Underglow LED 4-Piece Kit
Heise LED Lighting Systems | RGBW Underglow LED 4-Piece KitMetra's RGBW LED underglow lighting, the RGBW1-UNDGLED, is designed for all-terrain or...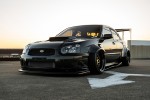 A Phoenix Risen: Luke Skalisius' 2004 Subaru WRX STi
How Luke Skalisius turned tragedy into gold, winning him the title of 9th Annual Tuner Battleground Champion. Subaru's GD chassis holds a special...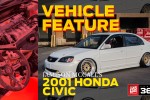 Jamison McCall's K Series Swapped 2001 Honda Civic
This 2001 Honda Civic owned by Jamison McCall, also known as RJ, was displayed in our 2021 Tuning 365 Showcase at Drive Festival in Bowmanville,...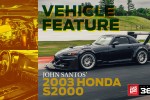 Street Sweeper: John Santos' Time Attack 2003 Honda S2000
John Santos has been into fast cars as long as he can remember. A hereditary inherited passion from his father, his love for cars only grew as he...
PASMAG #171 (Style + Tuner Handbook Buyers Guides)