Northern Ontario resident takes home the gold with a one-of-a-kind pickup.
Verner, Ontario is about an hour's drive due east from the "Nickel City" of Sudbury, and many miles from a major hub of tuner activity in Toronto, where lustrous, slammed, fitted and customized coupes, hatches and sedans comprise much of the custom car scenery. Up here in the North, surrounded by lakes, wilderness, rough roads and trails, custom pickup trucks have become a major part of the game.
Trucks have always been a mainstay of the North, but in recent years these too have become big players in the aftermarket tuning scene. Lifted trucks in particular, are popping up all over the place.
Pascal McMurray's 2009 Chevrolet Silverado 2500HD you see here, is a prime example.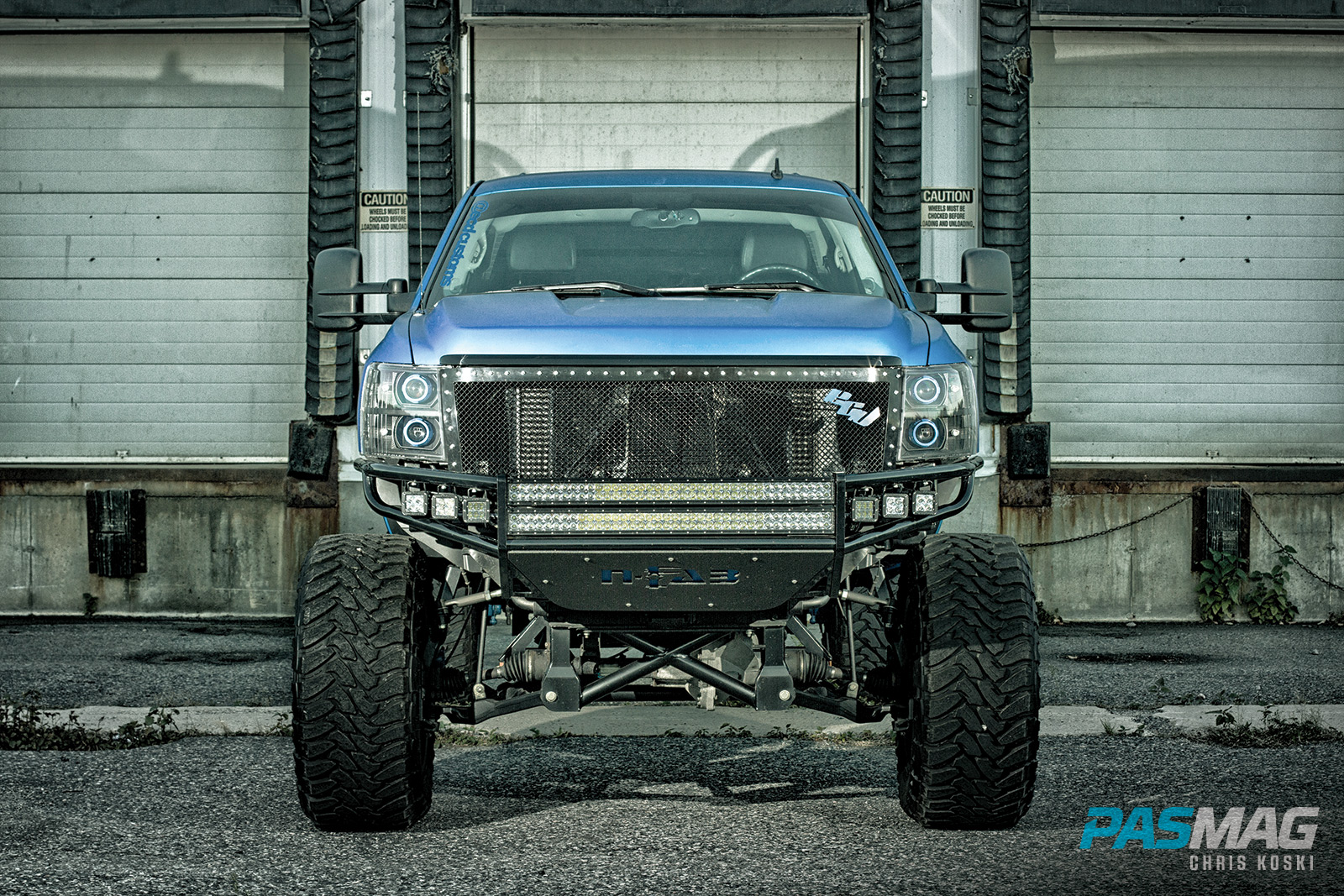 This monstrous and highly-customized Chevy recently won McMurray the top prize in a PASMAG Tuner Battlegrounds #TBGLIVE event (this very feature you're reading) during the eighth annual PartSource Charity Car & Bike Show in North Bay.
He is no stranger to smaller custom rides, however, looking for a change from his previous builds, the 26-year-old industrial and construction millwright decided to make the switch to a truck.
I talked to Pascal McMurray, a fellow Northerner, about his latest award-winning build in a recent interview.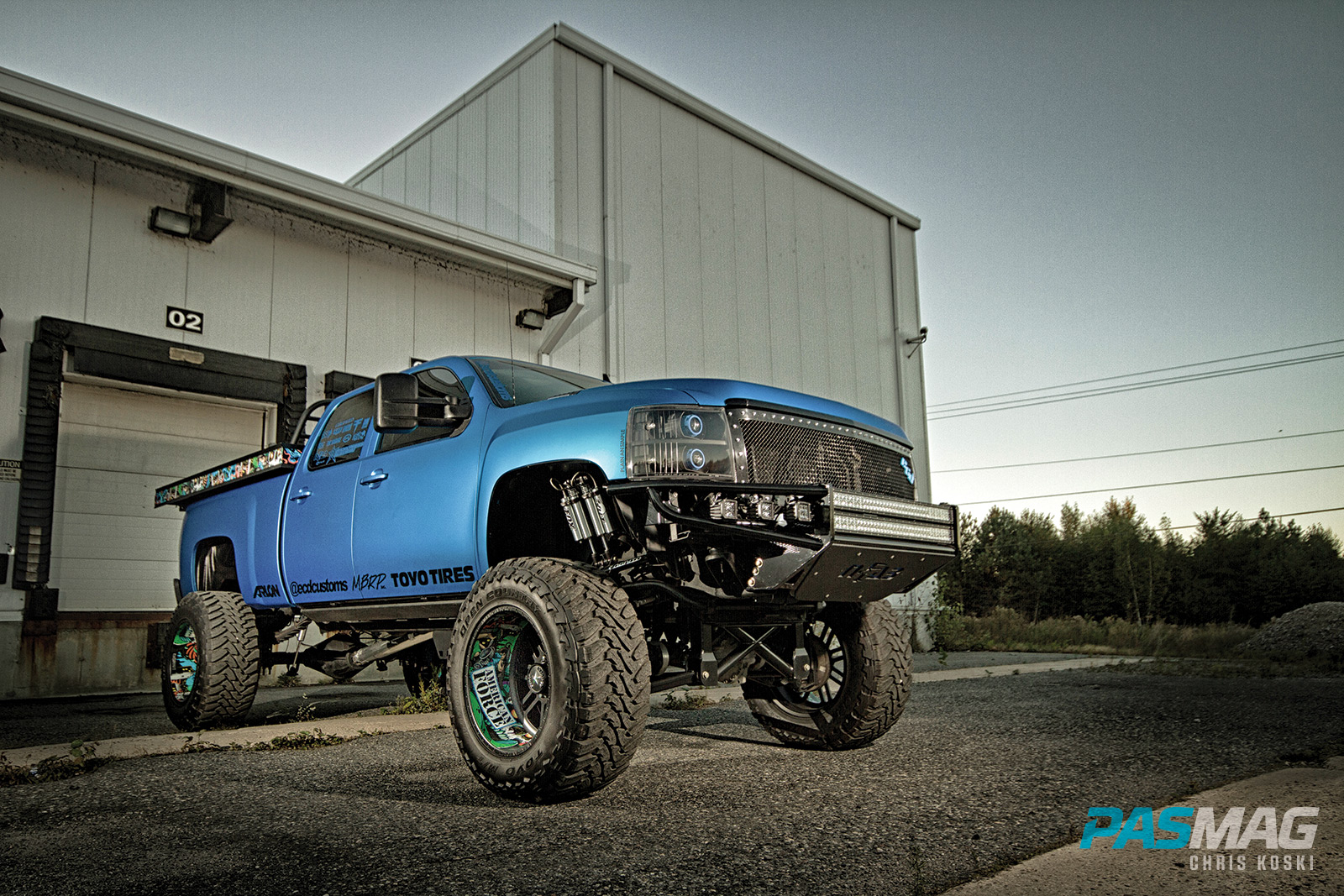 ---
INTERVIEW
PASMAG: What other builds have you done?
Pascal McMurray: There have been a few, but the most extensive build I've done so far was my girlfriend Sam's Evo IX, which took roughly eight months to complete. She actually won the #TBGLIVE event last year at the same show with that car.
What are some similarities to former builds we can see in the new truck? Are these part of your tastes? Did previous builds inspire you in any way for this one?
In some ways, the truck reminds me of one of my first builds, a 2000 Volkswagen Golf TDI. Mainly with the unique "chameleon" color, big wheels and custom lighting, which are part of my tastes. Ultimately, I'm always after a clean look.
What are some differences? What opportunities does tuning a truck offer that tuning a car doesn't?
The concept is pretty much the same, though the truck opens doors to meeting new people, and exposes you to different trends and tastes that can't be applied to cars, like wheels that stick out seven inches past the fender, for instance.
So, will you off-road it, or get it dirty in the mud?
No, no. I don't plan on getting it dirty or taking it off-road.
Any future plans for this build?
One of my future plans is the installation of a 12-inch wide body, and this is currently being realized. I also plan on upgrading the audio/video set-up.
Tell us about your favorite upgrades on this build.
I love the wheels, which are 22- by 14-inch American Force Rebel S S8s with a huge -73 offset and wrapped with custom graphics. The 12-inch Cognito IFS Lift with Dual Fox 2.0 reservoir shocks also give the truck a massive look, which I love, and the Arlon Matte Blue Aluminum Wrap and custom graphics, created by Eric at ECD Customs, add even more uniqueness.
Why the Silverado 2500HD, anyways? How did you wind up with this particular truck?
My initial plan was to buy a truck that could haul my cars to shows, and to the track. I had seen this truck before at SEMA and fell in love with it – so when I saw it up for sale, I didn't hesitate to buy it. I got a pretty good deal too. Who wouldn't want the chance to own a SEMA truck?
Does a tuner truck fit your lifestyle as a Northerner better than a tuner car? How so?
I guess you can say that one benefit with this truck is you do not have to worry much about potholes! I do like the tuner truck and tuner car lifestyles equally, so I can't say that one fits my lifestyle more than the other. Mind you, with the "sled deck" on the back, I can pack one or two snowmobiles or ATVs, which is useful when my girlfriend and I go riding.
What's the story behind the wrap/sticker that covers the insides of your wheels and other parts of your truck?
Eric Gosslin at ECD Customs (a custom graphics shop) designed the graphics to accentuate the truck. He designs them on computer, and prints them out on vinyl. This design is called named "Cashout," which is also the name of the truck project. It was originally designed for this truck for the 2013 SEMA show in Las Vegas.
Did you build the headlights yourself?
No, the previous owner had them sent out to a company called Plain N Simple that specializes in headlight retrofitting.
What drew you to a more lifted, pre-runner style truck?
Ever since I laid eyes on it truck in person for the first time, and saw how well and tastefully it was built, I knew I wanted a truck just like it. I was lucky enough that it came up for sale. It's rare to be able to buy something that is built the way you would have done it yourself.
What power level is your Edge Evolution programmer?
The programmer is on level 7, although I do change the level accordingly to the truck's use, like when I'm towing.
How much have you spent on this truck already?
The truck was heavily modified when I purchased it, but I've continued the build, so I'm up to approximately $10,000 on mods including the sled deck, lighting, wrap, graphics, wide body, side steps and new suspension components.
When and where did you buy the truck?
I purchased the truck from Eric Gosslin (owner of ECD Customs) in August of 2014 in Haileybury, Ontario.
Any interesting stories about the truck or the build?
Bringing this SEMA build to Importfest in Toronto was by far the most interesting story I can tell you. It was different for everyone to see a lifted truck in the venue. I was the only one there with a lifted truck! Many showgoers hadn't ever seen a truck this big, and the sled deck puzzled lots of people. It got a lot of attention there, and I was proud to win the first place trophy for "Baddest Truck/SUV."
So, is it road legal?
The truck will be fully road legal once the new six-inch fenders and bedsides are installed. I can hardly wait as I've been given a few warning by the local constabulatory, and that's always a buzzkill.
So, there you have it... The full lowdown on this lifted Silverado from the Nickel Capital of Canada in the words of its proud owner. Thanks Pascal, and keep on truckin'.
Photography by Chris Koski
---
ESSENTIALS
Vehicle: 2009 Chevrolet Silverado LTZ 2500HD
Owner: Pascal McMurray
Location: Verner, Ontario, Canada
Engine: Chevrolet 6.6L Duramax V8 (LMM)
Horsepower: 495 hp est. (365 hp stock)
Torque: 880 lb-ft est. (660 lb-ft stock)
Built By: ECD Customs, Restyle It, The Garage, Pascal McMurray
Club: Petrol Descendants
ENGINE
EXHAUST
MBRP (turbo down-pipe, 5-in. turbo-back exhaust)
PERFORMANCE ELECTRONICS
Edge Evolution 25003 Race Programmer at Level 7 (+130 hp/ +250 lb-ft torque)
WHEELS / TIRES / BRAKES
American Force Rebel SS8 wheels – 22x14 -73 (f/r) w/ 2-in. rear wheel spacers
Toyo Open Country Tires – 40x15.50R22LT (f/r)
EBC brakes (f/r)
CHASSIS / SUSPENSION
Cognito Motorsports (12-in. IFS lift kit, alloy series tie rods, pitman and idler support, 1.5-in. front sway bar, tubular upper control arms, dual shock hoops)
Dual Fox 2.0 reservoir shock set up on the front
Full deafer leaf with Fox 2.0 reservoir shocks
EXTERIOR
Full Arlon Matte blue aluminum wrap
Front N-fab pre runner style bumper
RBP black RX mesh grille
Plain&Simple custom headlights
HID 6000K headlights
Oracle headlight lighting
Recon (taillights, third brake light, 60-in. tailgate bar)
Rigid Industries (38-in. light bars (2), Dually (spot) light (2), Dually (flood) light (2), D2 (spot) (2))
PML (transmission and diff covers)
AMP Research side steps
Superdeck sled deck with custom graphics
INTERIOR
Custom trim wrap
USspeedo aqua edition stainless steel gauge face and needles
LED interior lighting
MOBILE ELECTRONICS
Pioneer 3200BT head unit w/ rear camera, CD/DVD, console hook-up ready, hands-free phone
MTX (12-in. shallow subwoofer, amplifiers (2), 6.5-in. 2-way component speakers (f/r)
Stinger wiring and interconnects
PHOTO GALLERY