This car is something special... Though it started out as a bonding experience, it's now a family heirloom.
Good things come from a good source.
It's a truth that can apply to many things in life, yes, but it's especially pertinent in the automotive sphere. Think about it: if you want good wheels for your car, are you going to go with some new Advans, or the latest rip-off design from 4RGD WH33LZ 4U (bonus points if you could read that the first time through)? Exactly! So, when Ravi Ayyagari, owner of Umbrella Auto Design, gave me a call and said he had something special for me, you bet your ass I was listening.
Words like supercharged, widebody, Sorcery, lift system, Focal and restoration piqued my interest. Then I saw the images of this NSX and I was infatuated. So much so, there was no choice but to put its smug mug on our cover. This is a car that leaves no bolt unturned. It checks all the boxes. It says "Style / Technology / Performance" right under our name. And this NSX gets an A+ under each heading.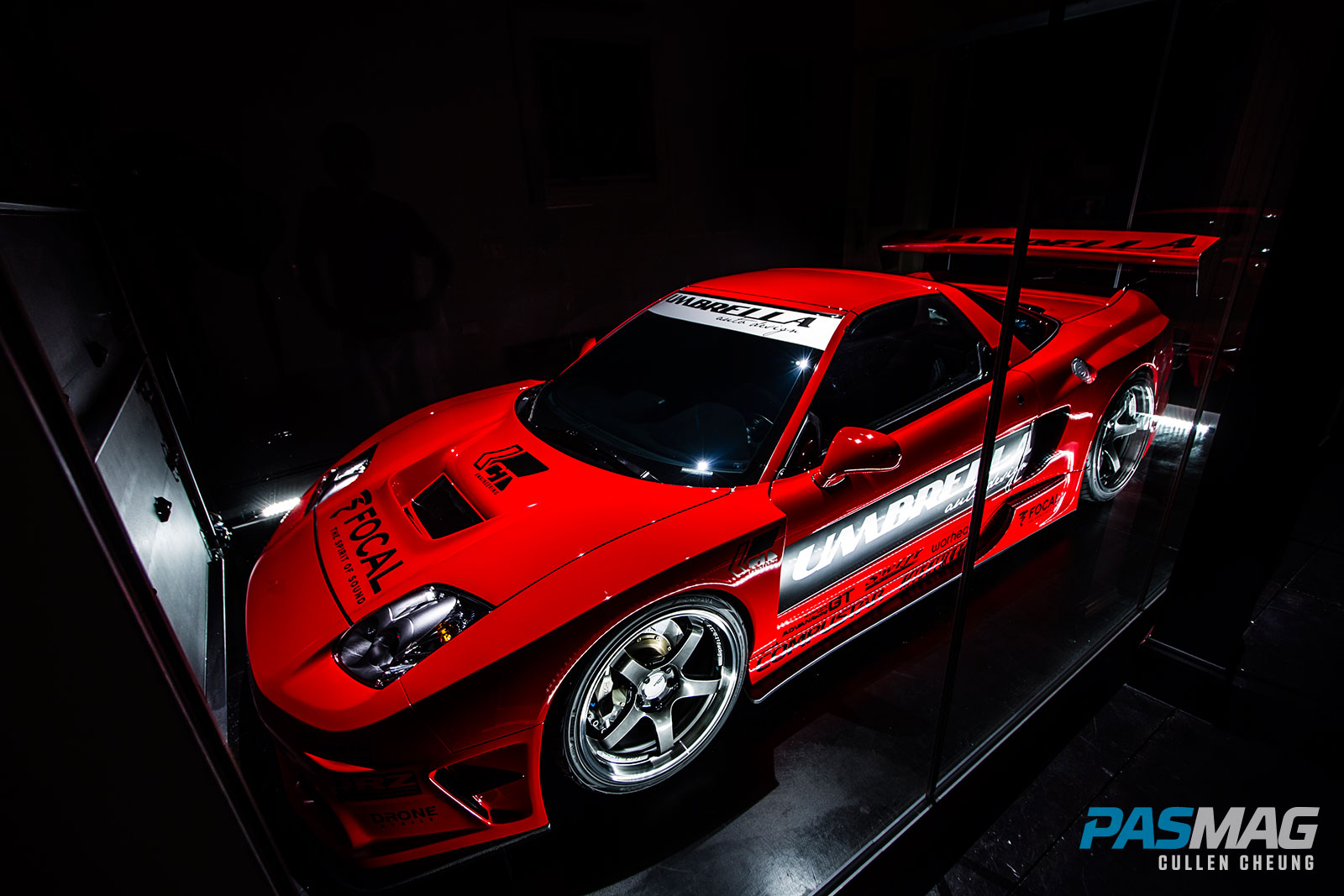 Ayyagari is accustomed to taking on work from out of state. If it's exotic and destined to be wider, it goes to him at Umbrella Auto Design. This project was different in the fact that it was a local from Seattle looking to take his father and son bonding project to the next level. David purchased the 2000 Acura NSX about 12 years ago, spurred by his son Jordan's interest in sportscars and their shared love of anything on wheels. He and Ayyagari got to talking about where this car was headed.
"David gave me some ideas of what he was looking for," Ayyagari says. "The widebody NSX is what my shop is known for, so we started brainstorming and looking at pictures at a few different body kits from one of my vendors, Sorcery Japan."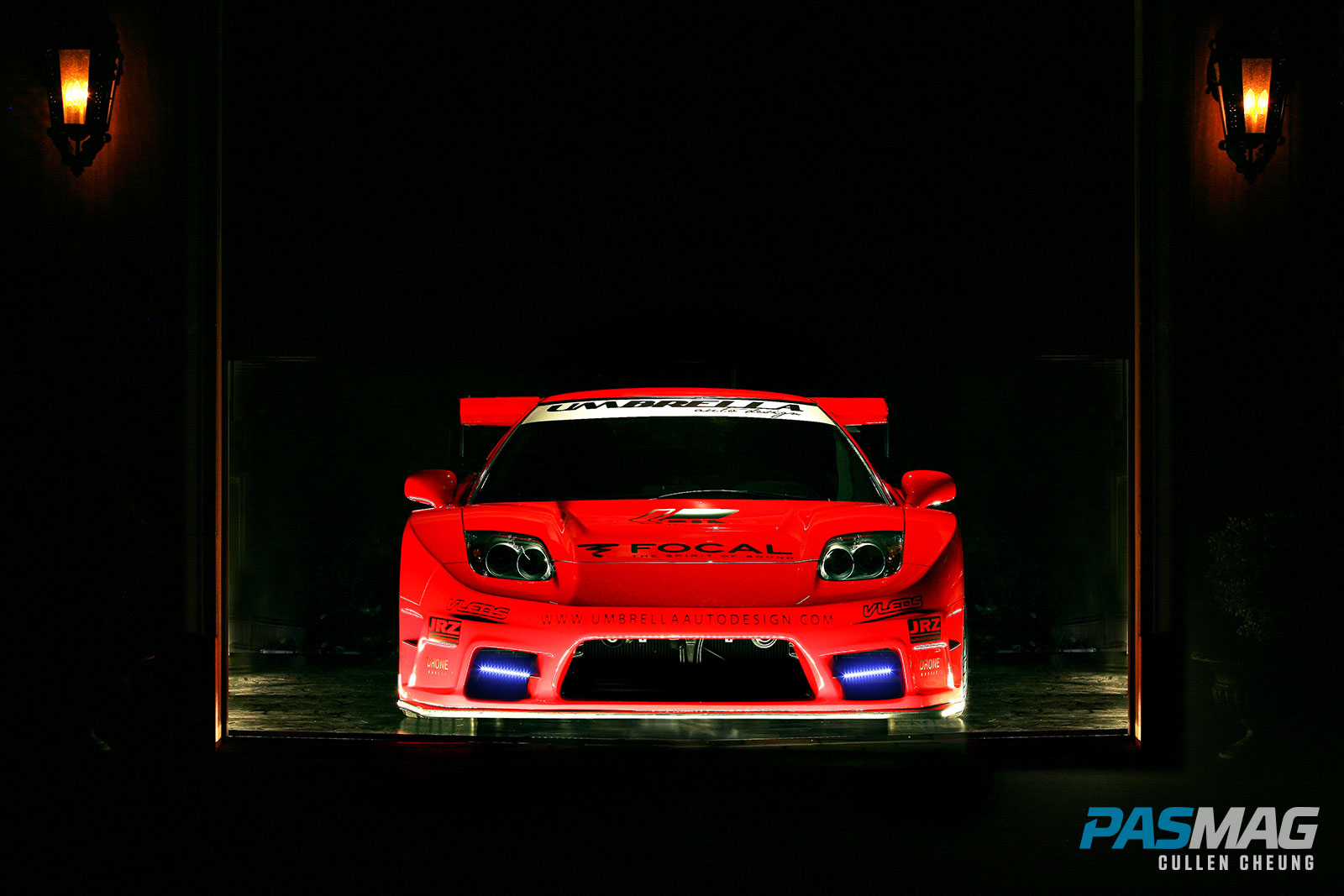 After shaking their heads at a couple of kits, Ayyagari gave his friends at Sorcery a ring to see if they had anything off -menu. Turns out they did – in the form of the brand-new T12 widebody kit. An order for that kit would mean a second T12 would be introduced to the world and North America would get its first. With both of them in agreement on the T12, boxes for the NSX R GT replica bumper and custom rear spats from an Alpine Electronics Tokyo Auto Salon car were also checked off and parts sent away for.
Because building cars is never easy or straightforward, some kind of difficulty was bound to come up. The issue reared its ugly head as soon as Ayyagari started digging into the NSX to install the CT Engineering manifold, headers and carbon fiber intake.
"When I reached down to disconnect the front motor mount, there was no bolt in it," laughs Ayyagari, though he probably wasn't laughing at the time. "I got the cross member out and looked up and saw oil just dumping out of the front of the engine. I investigated and found that there was no gasket in the valve cover."
The unfortunate discovery was relayed to David and he agreed that there should be no chances taken, and so the restoration of the NSX began. The subframe, engine and transmission were dropped and given a deep clean via toothbrushes and special solvents. Absolutely everything was replaced; seals and hardware in the engine, and new synchros and bearings with a better power-rated clutch from CT Engineering for the transmission – a sign of things to come.
When it was all back in the car and running, the CT Engineering supercharger featuring a larger displacement 2.3-liter Lysholm blower core was added. The 2.3 allows the blower core to provide boost without having to be spun extremely fast, which must have made the tuning forks at Carburetor Connection very happy. When all is said and done, the car is pushing approximately 390 horsepower and 385 lb-ft of torque, a number that Ayyagari was more than happy with for his goals.
"I really wanted to make sure this would be a long-lasting and reliable build," he says. "It's not a car you have to tweak every time you drive it. I wanted it to be reliable and fast and that's how the shop tuned it."
A short while after, the body pieces started arriving, so the NSX migrated from the dyno to Umbrella HQ, where it received treatment of the highest quality. Something you won't see, but makes a world of difference, is the use of "rivnuts" throughout the chassis and body kit. When some shops go about installing kits, they'll use trusty self-tapping screws, but that doesn't fly with Ayyagari. He uses rivets with threaded holes in them, measured to OEM thread spec. It's way more time consuming, but it gives an OEM-plus final product.
When everything was fitted, the outside of the NSX was sent to the paint shop, while the interior stayed behind to be completely re-trimmed. As the Lamborghini Aventador Rosso Mars paint job (fully protected by XPEL's "selfhealing" paint protection film) was to take a good six months, Ayyagari could take his time putting together the onyx Ultrasuede interior.
"[Ultrasuede is] a furnituregrade microfiber, so it's extremely strong," Ayyagari explains. "On top of that, the entire interior is treated with Microseal, which is an aerospace fabric protector. It improves the UV protection and makes it even more durable."
Even the Cobra Misano carbon fiber seats and MOMO Tomcat steering wheel are covered in onyx Ultrasuede.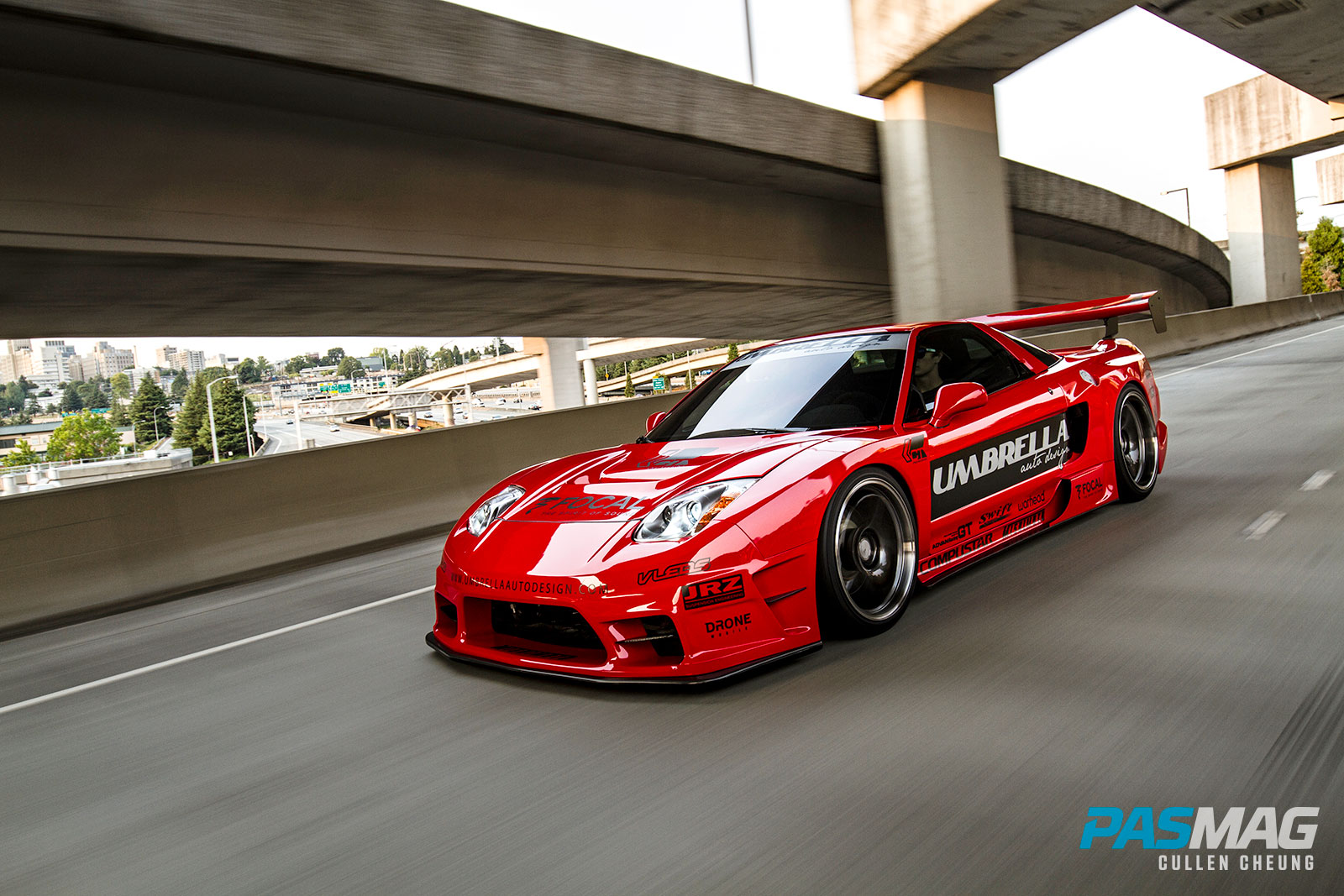 In any performance-oriented car, even ones that look this nice, you're going to want some solid legs to keep up with the new horses introduced to the stable. The JRZ RS PRO coilovers have external reservoirs, countless years of professional racing development and even some Swift springs to bolster them, but Ayyagari felt that David's NSX could use some options as well. Umbrella Auto Design's own VRH lift system was added to give the car about three inches of up and down for whatever the road may throw at it. Fun fact: this same system was used and installed by Ayyagardi on some of the vehicles in Furious 7.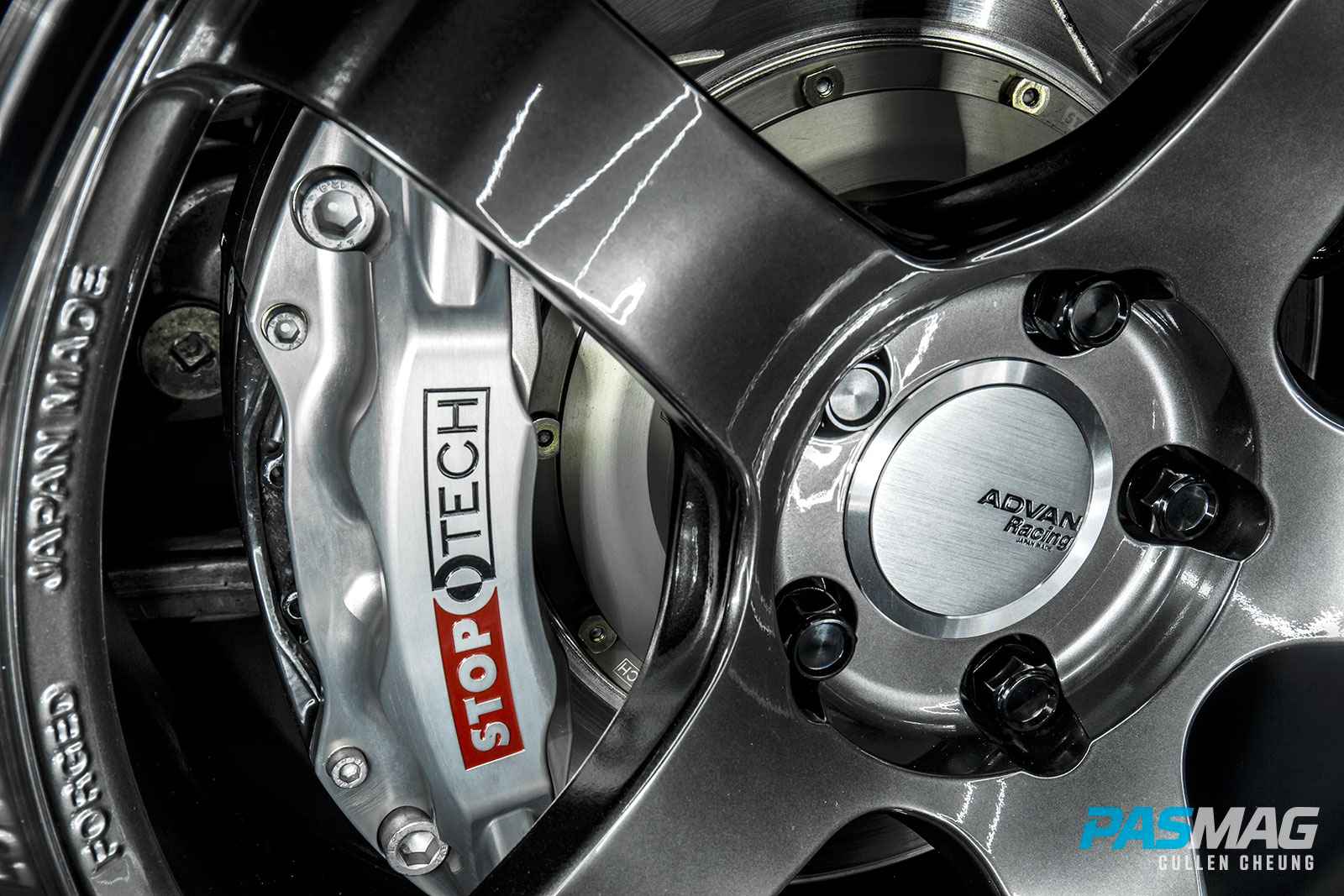 To bring the NSX down, Stop-Tech's Trophy big brake kit, with 328-mm rotors and stainless lines, was chosen. This system is a favorite of Ayyagardi's and was a no-brainer for inclusion on this stellar build.
Now, when looking under the haunches of this NSX, you might expect to see some seven-piece, caviar-plated wheels forged in the fires of Mount Doom. Nope! What takes up residence there are some classic Advan GTs. While they may not be the flashiest, which was never the aim with this build, they are an extremely special one-off set. NSXs run a staggered fitment, but the size difference became a problem when ordering the chosen GTs. "We wanted to run 18 inches in the front and 19 in the rear, but Yokohama does not offer the same colors in 18 that they do in 19," Ayyagardi explains. "So, we contacted Mackin Industries and we asked them to ask Yokohama to do us a favor and make the wheels for us, just one set."
And they did it! Being the nice guys they are, Yokohama pumped out a one-off staggered set in David's chosen color. Yokohama weren't the only nice guys involved in this build though.
Remember when I said that this build checks all the boxes? In the audio department, this NSX is definitely no slouch. Before getting revamped, it was rocking some older 6.5-inch Focal speakers in the doors. Wanting to match the performance, Ayyagari reached out to Orca Design to see what else Focal had on offer. Everyone was pretty surprised when they turned around with the Utopia Be set.
If you're scratching you're head, allow me to explain: Utopia Be is the Bugatti Veyron of Focal's lineup and the pinnacle of sound quality. Consisting of a set of mid-bass drivers, a pair of pure Beryllium inverted dome tweeters and an eight-inch Utopia subwoofer, and all powered by the capable FPD600.4 Focal amplifier. This is the system you get when even the best won't do. I mean, the baffles are made of Swarovski crystal. No, I'm not joking.
After two-and-a-half years of building, and when the NSX was finished and got the thumbs up from both builder and owner, the question of 'How to keep this thing in perfect condition?' popped up. No matter how much it may look like it, this NSX isn't a showpiece; it was built to be enjoyed. Barring whatever may happen on the street, David still has a house and garage that sees high traffic. Kids, dogs, skateboards, the works come through where the NSX was to sleep. Ayyagari had an idea. "I said, 'You should just build a glass booth in the garage,' and he says 'That's an interesting idea! I think I'll look into it,'" he laughs. "He just decided to go with it."
Why not, right? Custom-built aluminum frames and rollers hold up the one-inch-thick glass that makes up the booth, which takes on the double duty of protection and show. The glass was actually surplus material from a building that was being taken down in eastern Washington. David even had LEDs set up in all the right places as well, which was a major factor in what made the choice for cover image so easy.
This car is something special. It's a mix of attainable and aspirational. Attainable because NSXs are just starting to climb in price, and aspirational because of the level of craftsmanship and drool-worthy parts involved. On top of it all, though it started out as a bonding experience, it's now a family heirloom. Something like this doesn't come along everyday, but when it does, it deserves to be celebrated.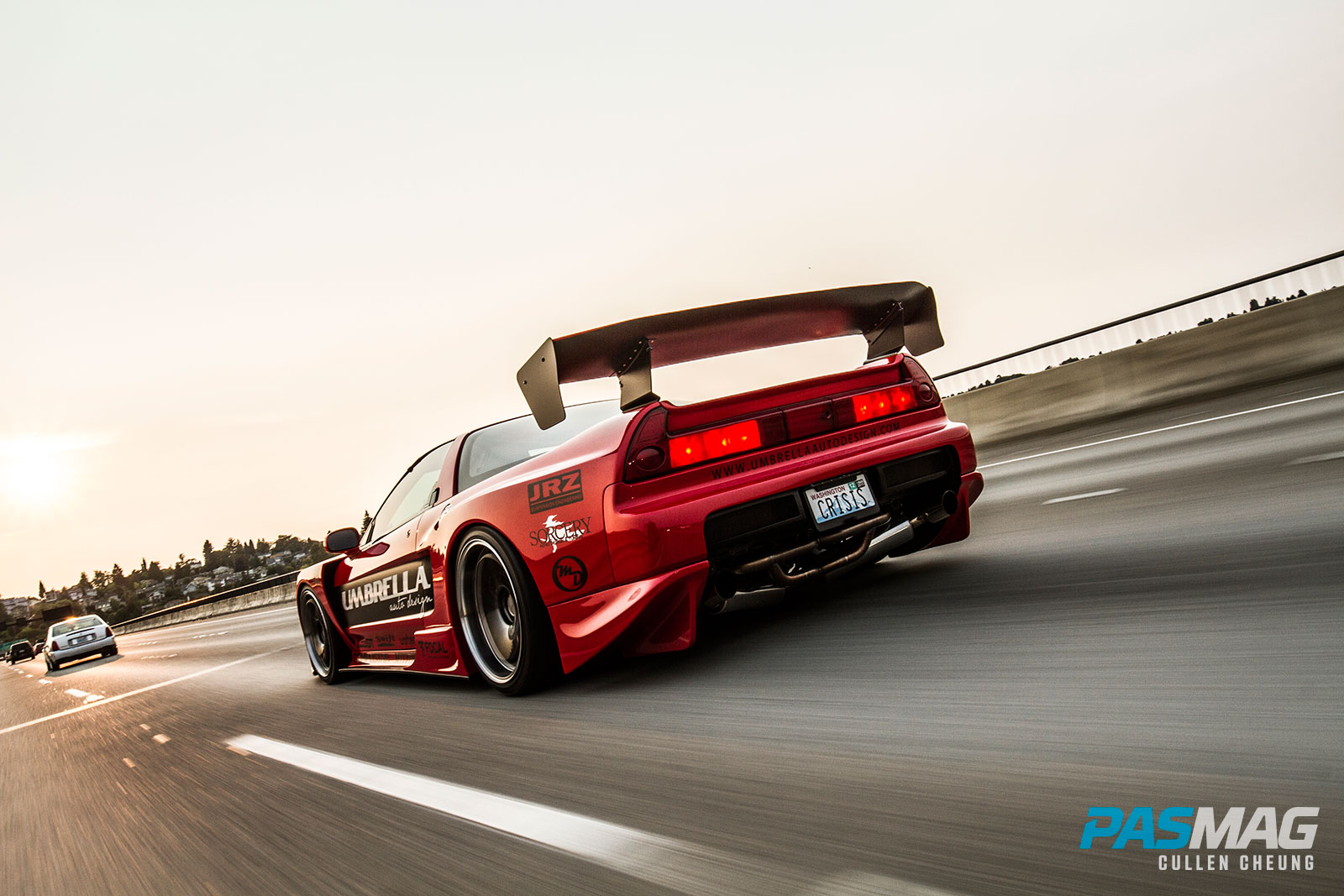 ESSENTIALS
VEHICLE: 200 Acura NSX
BUILT BY: Umbrella Auto Design
LOCATION: Seattle, WA
ENGINE: Supercharged Honda 3.2L V6 (C32B)
HORSEPOWER: 390 hp
TORQUE: 385 lb-ft
ENGINE MODIFICATIONS
Full motor refresh
Lysholm 2.3 supercharger
CT Engineering (supercharger manifold, components, carbon fiber cold air intake)
RC Engineering 800cc fuel injectors
Walbro high flow fuel pump
AEM (V2 ECU, UEGO)
Gauge Art digital instrumentation
Custom powder-coated valve covers
Mishimoto radiator
EXHAUST
CT Engineering headers
Racing Factory Yamamoto V1 exhaust system
DRIVETRAIN
Full transmission rebuild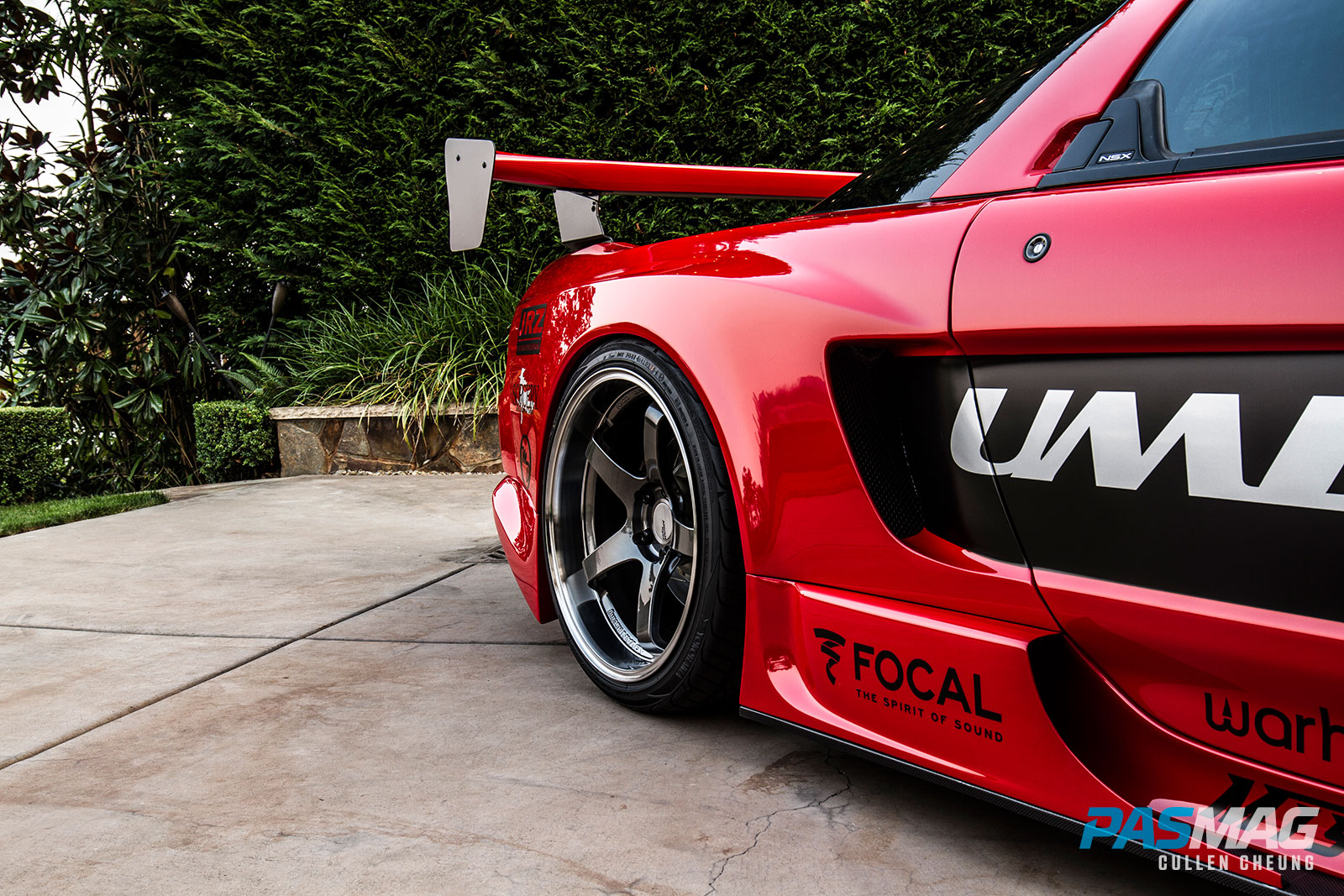 WHEELS / TIRES / BRAKES
Advan GT wheels (Racing Metal Black custom finish) – 18x8.5 +22 (f), 19x10.5 +15 (r)
Project Kics lug nuts
Yokohama S Drive tires – 225/35 R19 (f), 275/30 R19 (r)
Stoptech (Trophy big brake kit, 328-mm rotors (f/r), stainless steel brake lines)
CHASSIS / SUSPENSION
JRZ RS PRO coilovers
Umbrella Auto Design (VRH lift system, pillowball top mounts
Swift main & helper springs
CT Engineering billet strut tower brace
EXTERIOR
Sorcery (T12 widebody, Alpine rear spats, GT500 carbon fiber wing, NSX R vented hood, NSX R GT rear bumper)
Honda (2005 NSX headlights, 2005 NSX taillights, seals, glass lenses)
Lamborghini Aventador Rosso Mars custom paint
VLED full exterior LED lighting conversion
LEDs in engine bay
Umbrella Auto Design custom molded fender liners (f/r)
XPEL self-healing paint protection film installed by Metropolitan Detail
Vinyl logos cut & installed by Chris Tex Walker
Clearplex windsheild protection film
3M ceramic window tint
INTERIOR
Umbrella Auto Design full onyx
Ultrasuede interior re-trim
Cobra Misano carbon fiber seats
Planted Motorsports seat brackets
MOMO Tomcat steering wheel
NRG Innovations (quick release, steering wheel adapter)
TFENT custom molded carpets & floor mats
VLED full interior lighting conversion
MOBILE ELECTRONICS
Pioneer AVIC 6000 NEX double-DIN head unit
Umbrella Auto Design custom molded radio console
Focal (Utopia Be 165WRC kit, 21WX subwoofer, FPD600.4 amplifier)
Compustar (FT7000 remote start & secuirty system, PRO T11 remote transmitter w/ 2-way LCD)
DroneMobile (smartphone control, GPS tracking system)
SPONSORS
VLEDS, Mishimoto, Swift Springs, CT Engineering, Warhead, Focal, Orca Design, Metropolitan Detail, JRZ, Compustar, Mackin Industries, DroneMobile
SPECIAL THANKS
Les Roach,Brian Miller,Fernando Campus, Austin Pennington, Steve Lim, Greg Fordahl, Bryan Hise, Erik Ras, Larry Shackelford, Galen Callahan, Sean Callahan, Leonard Wang, Omar Sachdeva, Nate Haines, Rick Lyons
Contributor: Cullen Cheung