Photography by Reflex
---
When thinking of the hottest Honda platforms to build, most people overlook one of the manufacturer's few performance-oriented vehicles, the Prelude. Though production of the beloved 'Lude ceased in 2001, the spirit lives on in the hearts of its enthusiastic owners. There's no better example of Prelude enthusiasm at its best than Derek Chen's 1999 Imola Yellow version that prowls the streets of his hometown of Toronto, ON.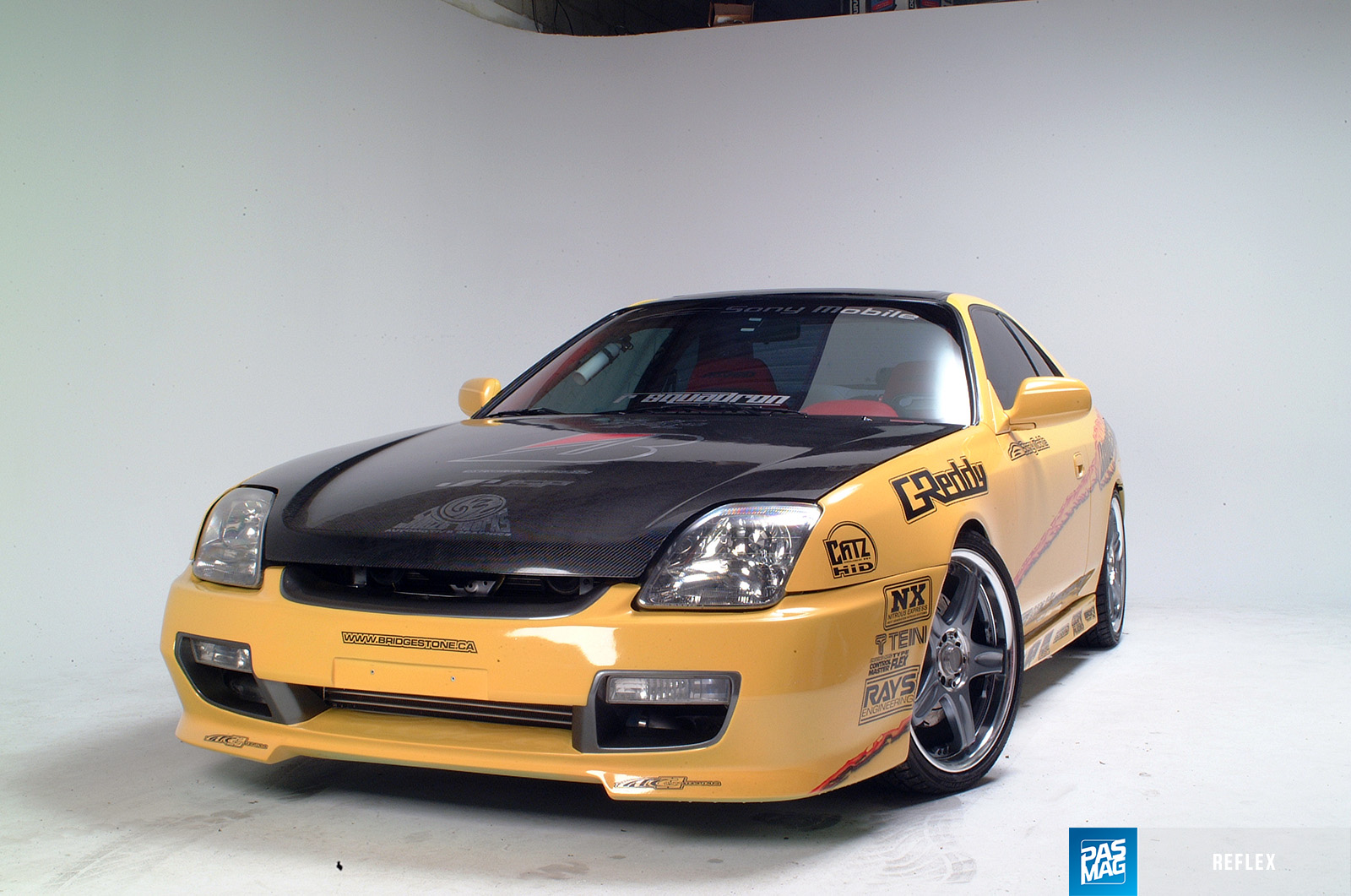 Chen's story goes far beyond a simple "enthusiast-and-his-ride" type deal. Though he had bought the Prelude brand new back in June of 1999 and has dreamed of taking it to the level that it is today, Chen is famous for the partnerships that he has forged with the companies that support his project.
Chen, a long-time enthusiast of the sport compact scene, has always been trying his best to promote the Toronto scene. Whether it was by helping start Team Racemode back in 1999 or establishing his R-Squadron crew later in 2001, he has made it his personal mission to represent the Canadian sport compact scene to the fullest. And by the looks of his bookcase full of trophies from Darknights Nationals, Street Dreams, Sport Compact Performance and Hot Import Nights, he definitely has been doing an admirable job.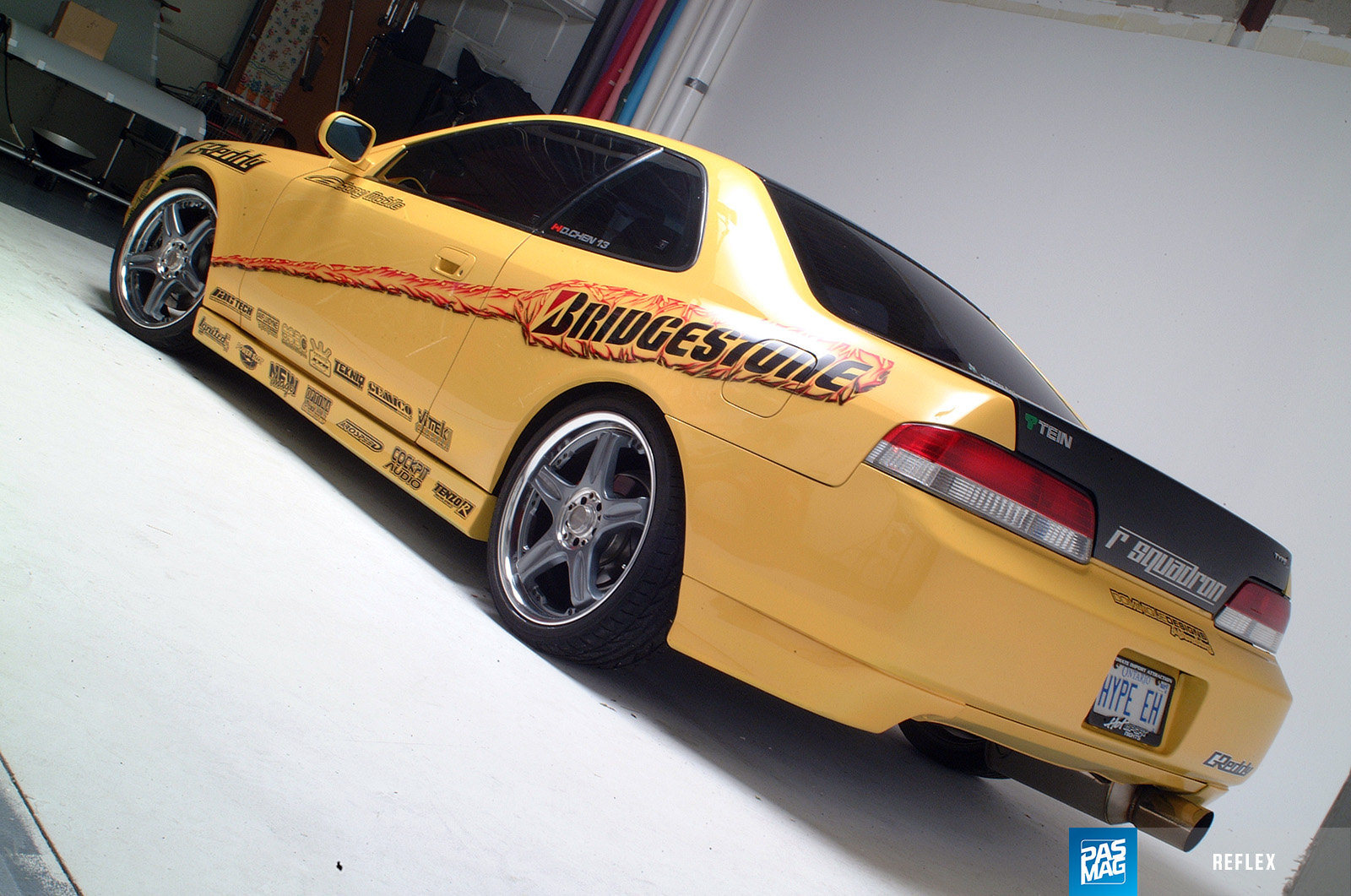 Now Chen's entrepreneurial and innovative spirit did not go unnoticed, as it was instrumental in establishing his most important corporate partnership of all – Bridgestone North America. After a meeting with John Lindo, Bridgestone's Public Relations Manager, in February 2003, Chen, along with a couple fortunate members of R-Squadron, officially became Bridgestone's first demo vehicles geared towards the sport compact market. "Needless to say, this was a dream partnership for me, as my team was going to help usher the top tire manufacturer in the world into our booming market," says Chen with a smile on his face.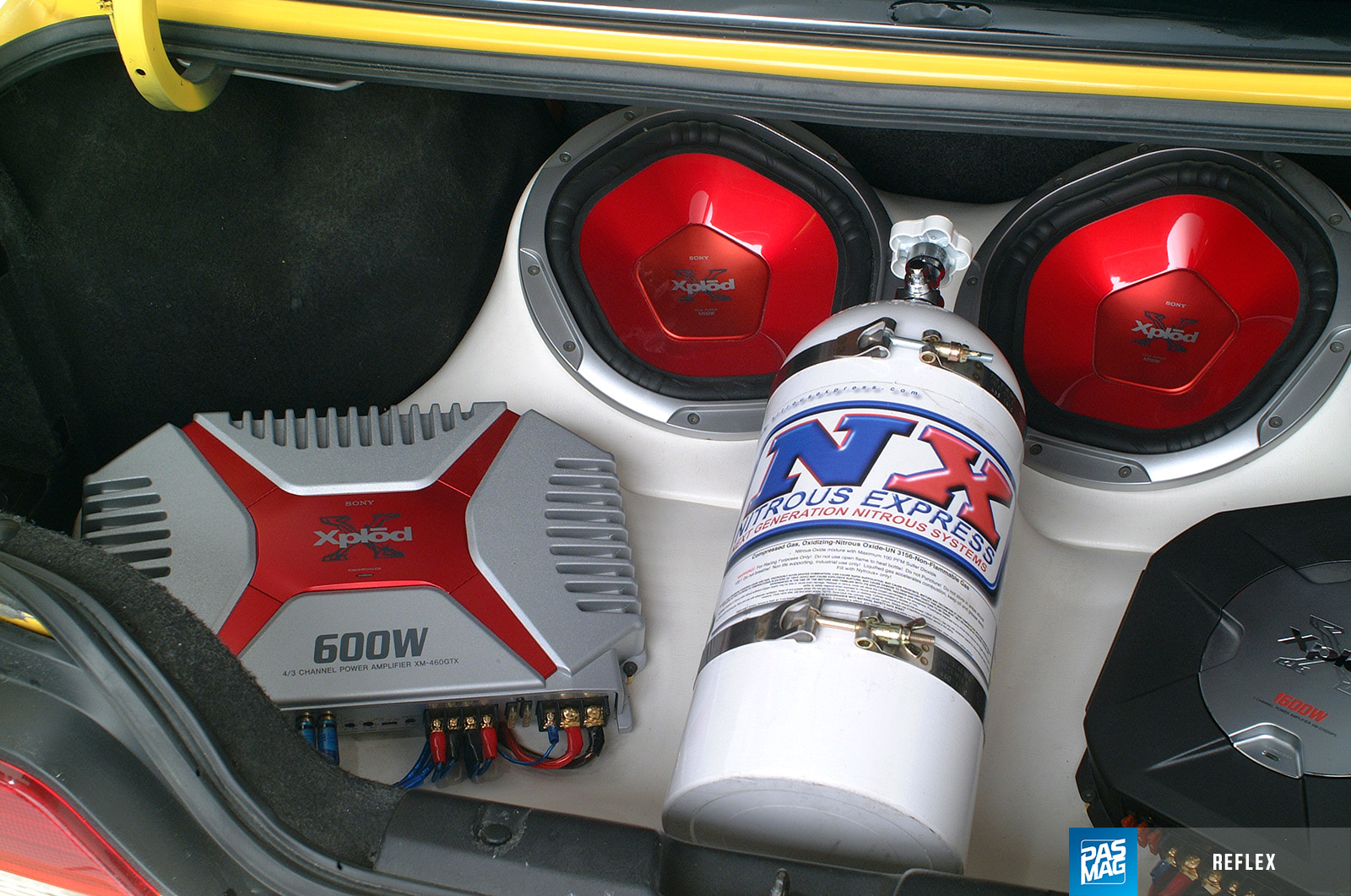 Also taking notice in Chen's achievements was Steve Orlob, Product Manager of Mobile Products for Sony Canada. After a meeting with Chen, not only did Orlob love the direction that he was going with his project vehicle, but Orlob also loved the fact that Chen was always willing to go the extra mile for his sponsors. Not before long, a full array of Sony Mobile products was supplied to Chen, as they couldn't wait for this one-of-a-kind Prelude to feature their product.
Though modifications were already done to his Prelude before his partnership with Bridgestone and Sony, this newfound corporate backing had Chen thinking "massive overhaul" to his already eye-candy Prelude. "I want to make sure that I represent my sponsors to the best of my ability, so I've been trying my best to take my ride to the next level. And after John at Bridgestone told me that they wanted my car to display at SEMA, I had put my plans into overdrive."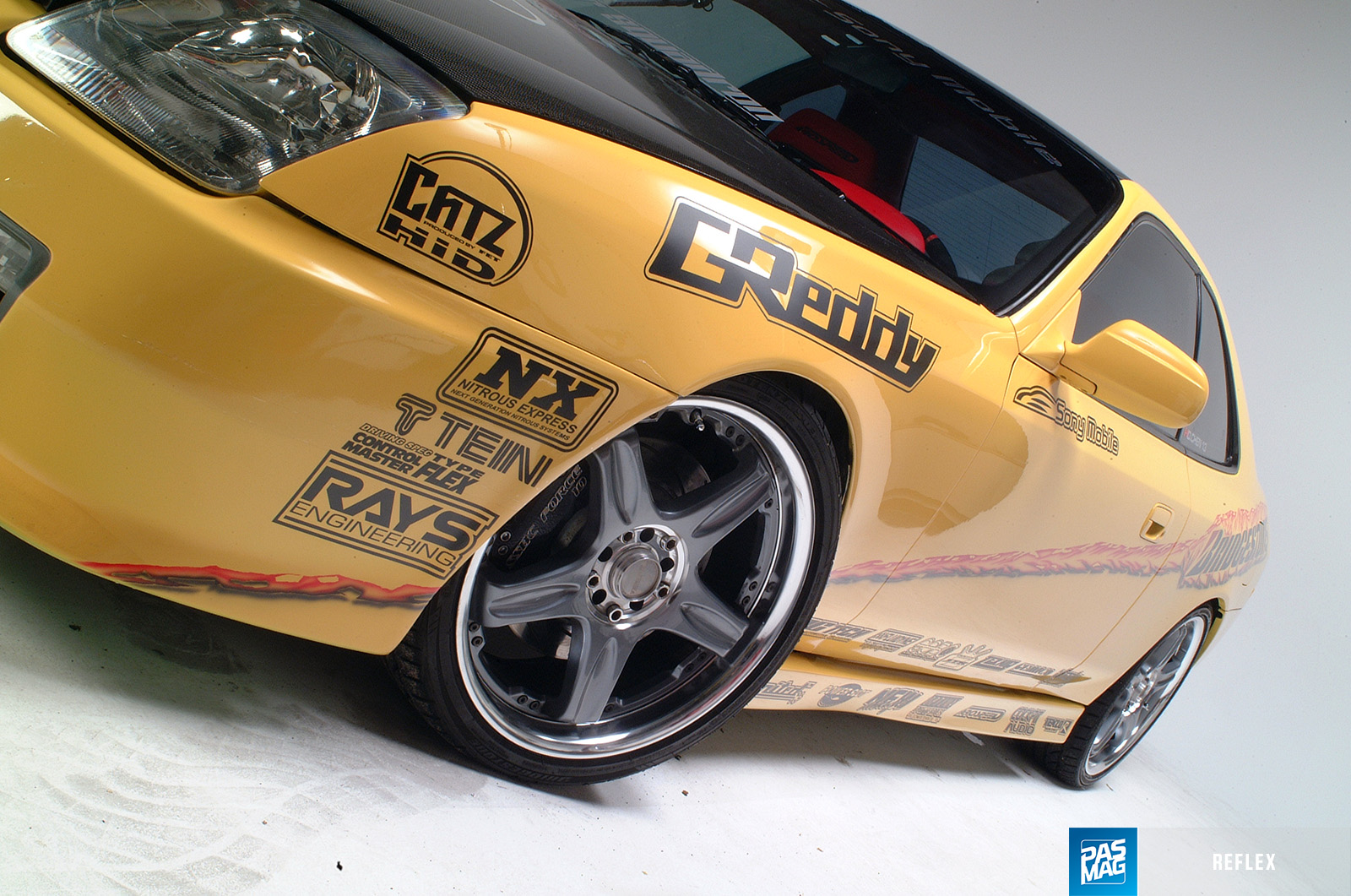 Overdrive is definitely an understatement, as at least 75% of the product on his Prelude was changed from the beginning of 2003 to SEMA. Starting with the exterior, the flawless custom Imola Yellow paintjob, install of the brand new Extreme Dimensions Type Mugen body kit, JSP carbon fiber hood and trunk is the work of the skilled hands of Paul at NX Autobody in Scarborough, ON. "I love the way Paul is so meticulous with his work. I wouldn't trust anyone else to work on my car," says Chen. NX Autobody can't take credit for all the paintwork on the vehicle, as Dominque Nguyen of Dominque Designs is responsible for airbrushing the Bridgestone logos that adorn the driver and passenger sides of the Prelude. To tie in the carbon fiber theme of the JSP carbon fiber hood and trunk lid together, Chen had Nguyen paint a carbon-look rooftop to add the final custom finish to the slick exterior.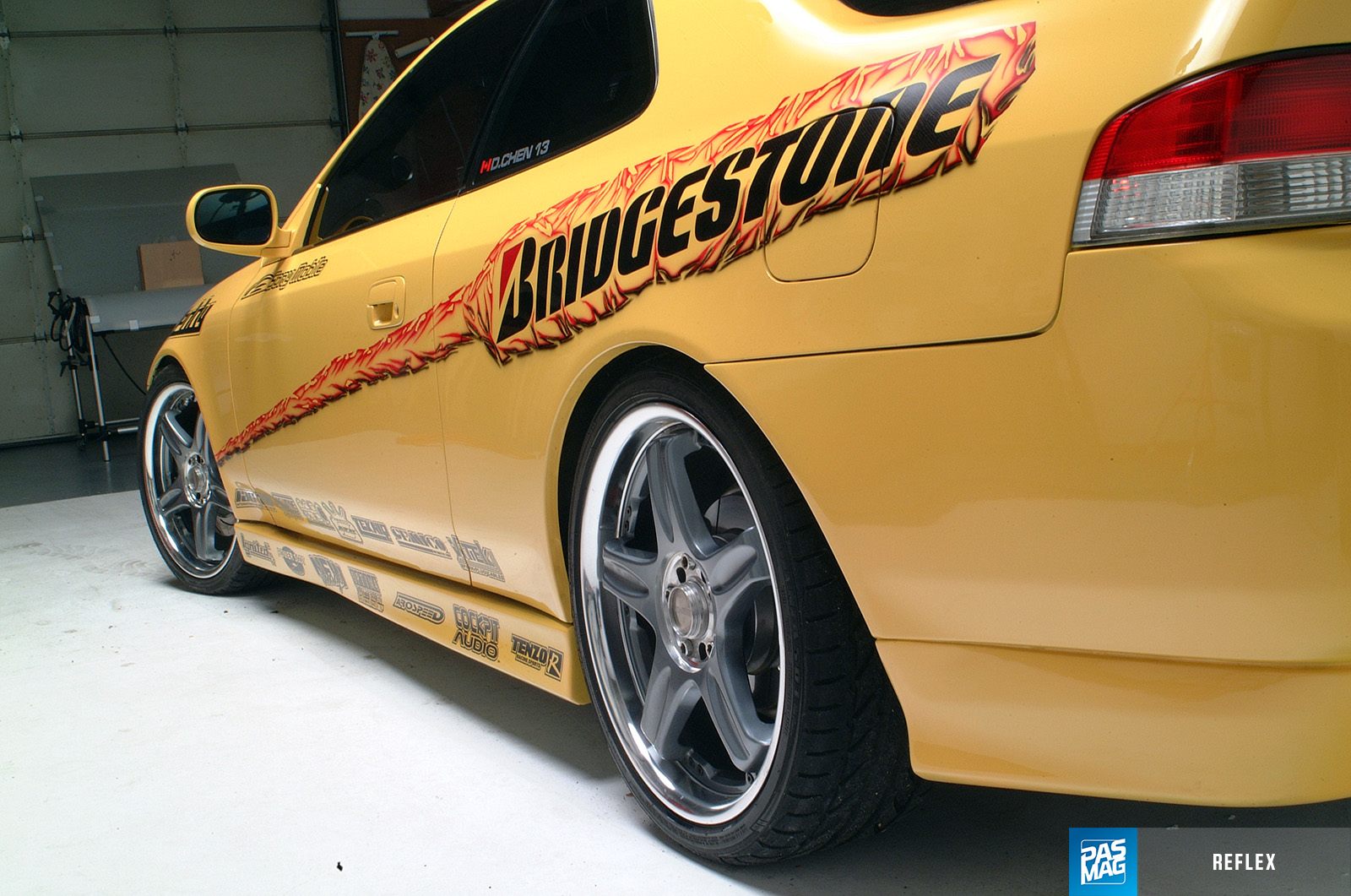 Tein's Type FLEX coil-over system is Chen's suspension of choice as it provides full-length adjustment and 16 levels of dampening force. Not only does it improve handling and response, but it is also responsible for dropping the 'Lude just slightly above the gun metal Tenzo-R Apex 5 wheels. These 18- x 7.5-inch gunmetal wheels surround the SSBC Big Brake Force 10 upgrade up front and Powerslot rotors in the rear. Of course, the wheels are wrapped in Bridgestone's finest S-03 Pole Position 225/35-series rubber for the ultimate in sticky grip.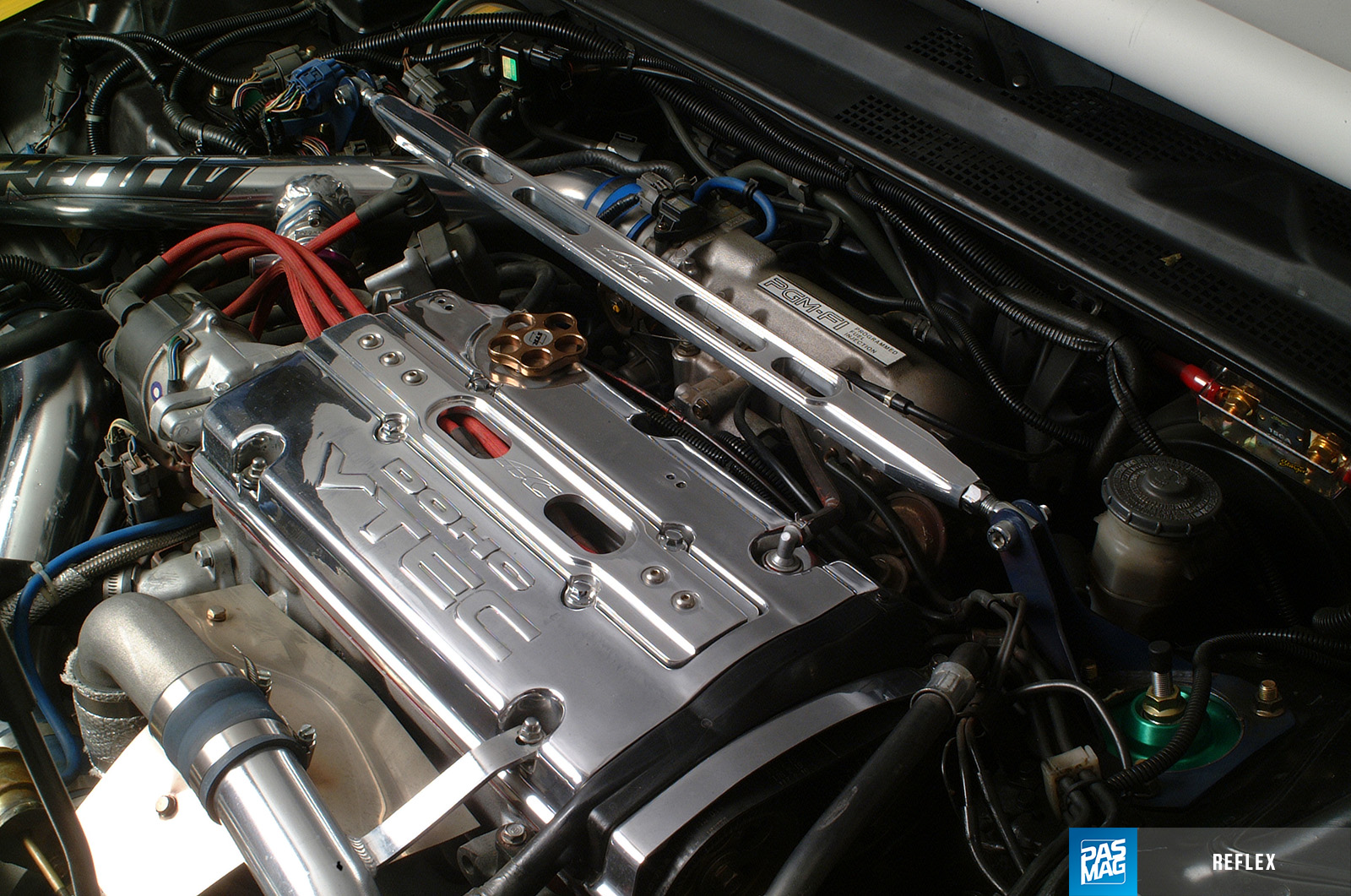 Underneath the hood lies the H22 engine propelled by a GReddy TD-05H 18G turbo kit. Expertly installed by the experts at IAC in Mississauga, ON and cooled by a massive GReddy Type 24 front-mount intercooler, Fluidyne radiator and oil/tranny "multi-flow cooler", Chen's ride remains one of the few boosted Preludes on the Canadian scene. Mike Chung at GReddy wanted to make sure that this Prelude's performance started and ended with GReddy, so an Airinx intake, Type S blow-off valve, and Evolution cat-back exhaust were also supplied.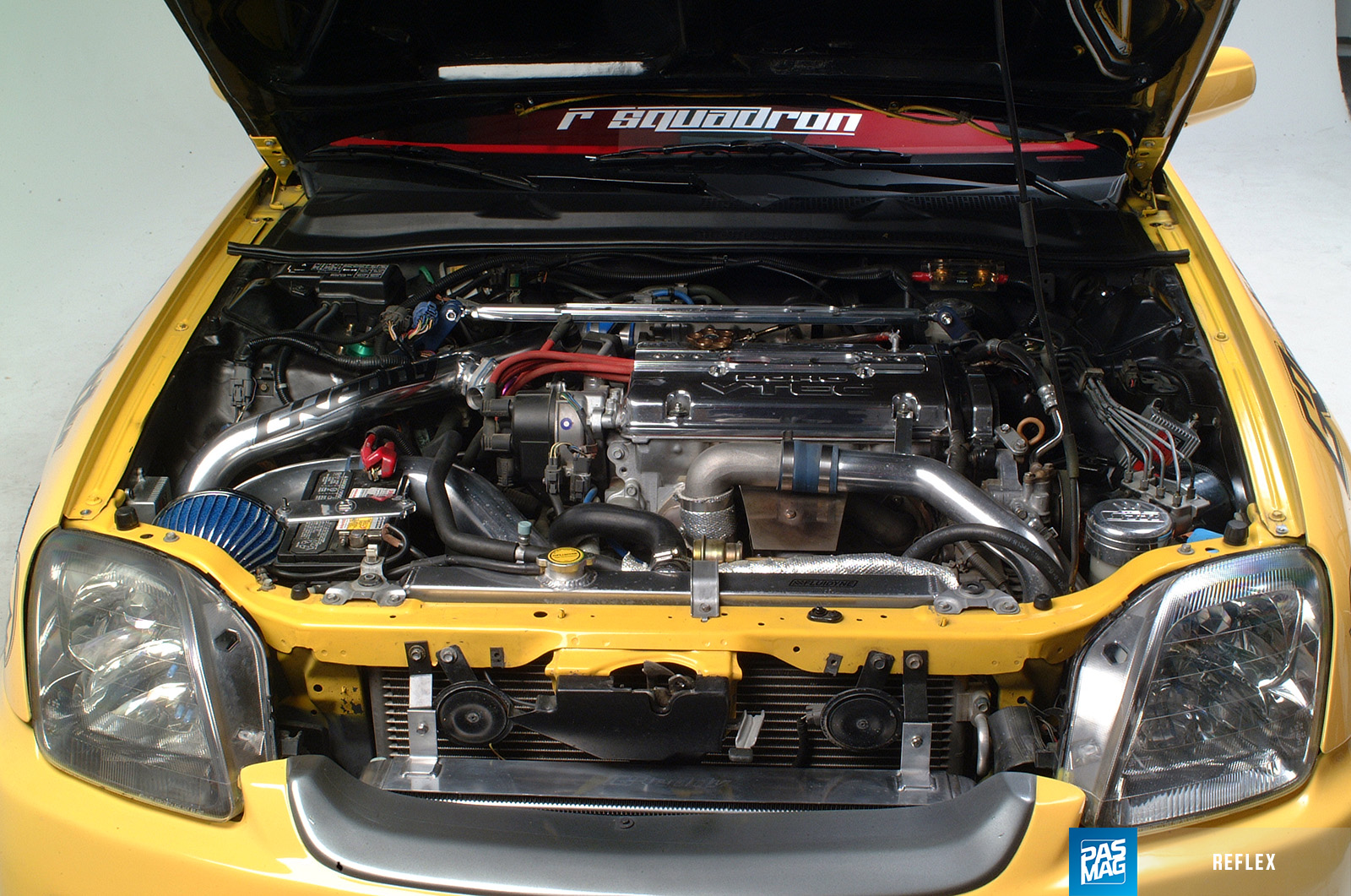 To finish off the engine bay, Chen called on STR Power to supply him with their engine dress-up kit, oil and radiator caps, high performance fuel rail, adjustable cam gears, and 70mm throttle body. Throw in the polished valve cover topped off with an AC Autotechnic aluminum valve cover insert and front strut bar and he's got enough bling under the hood to make his own rap video.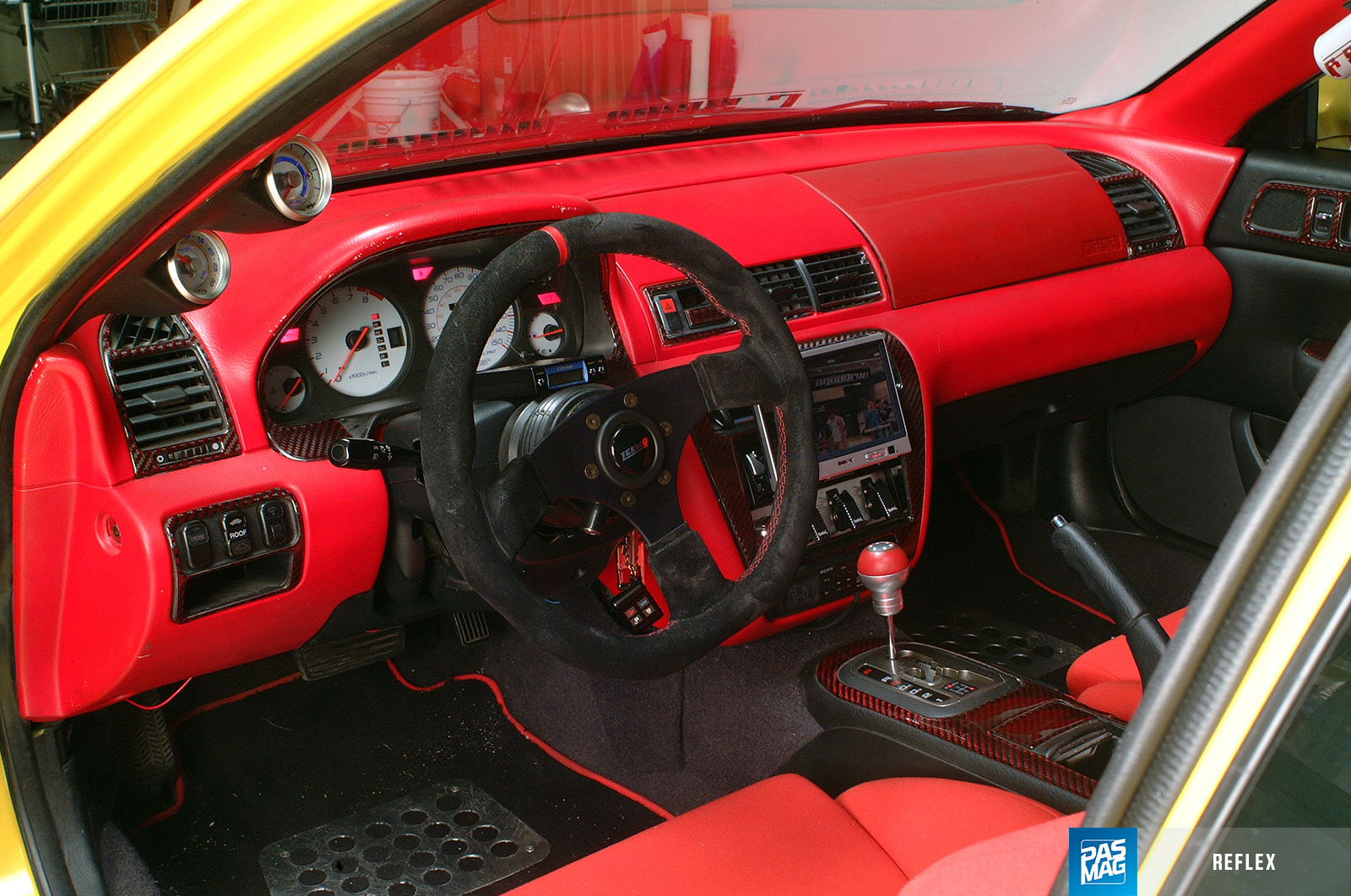 Inside, Chen treated himself to a quartet of AC Autotechnic S7 gauges to measure voltage, air/fuel, oil pressure, and boost levels, as well as a Power Enterprise boost controller. A pair of red Arospeed GT seats replaces the factory ones, while the rest of the interior was re-wrapped by New Image Interiors in red vinyl and cloth. The dash was dressed in a Gemico 14-piece red/carbon kit and Ignited Performance's single-DIN panel to house the ignition button, flight and kill switches. Finally, Tekniq Autosport contributed its suede 964 steering wheel and snap-off system to Chen's project to ensure that no detail went overlooked.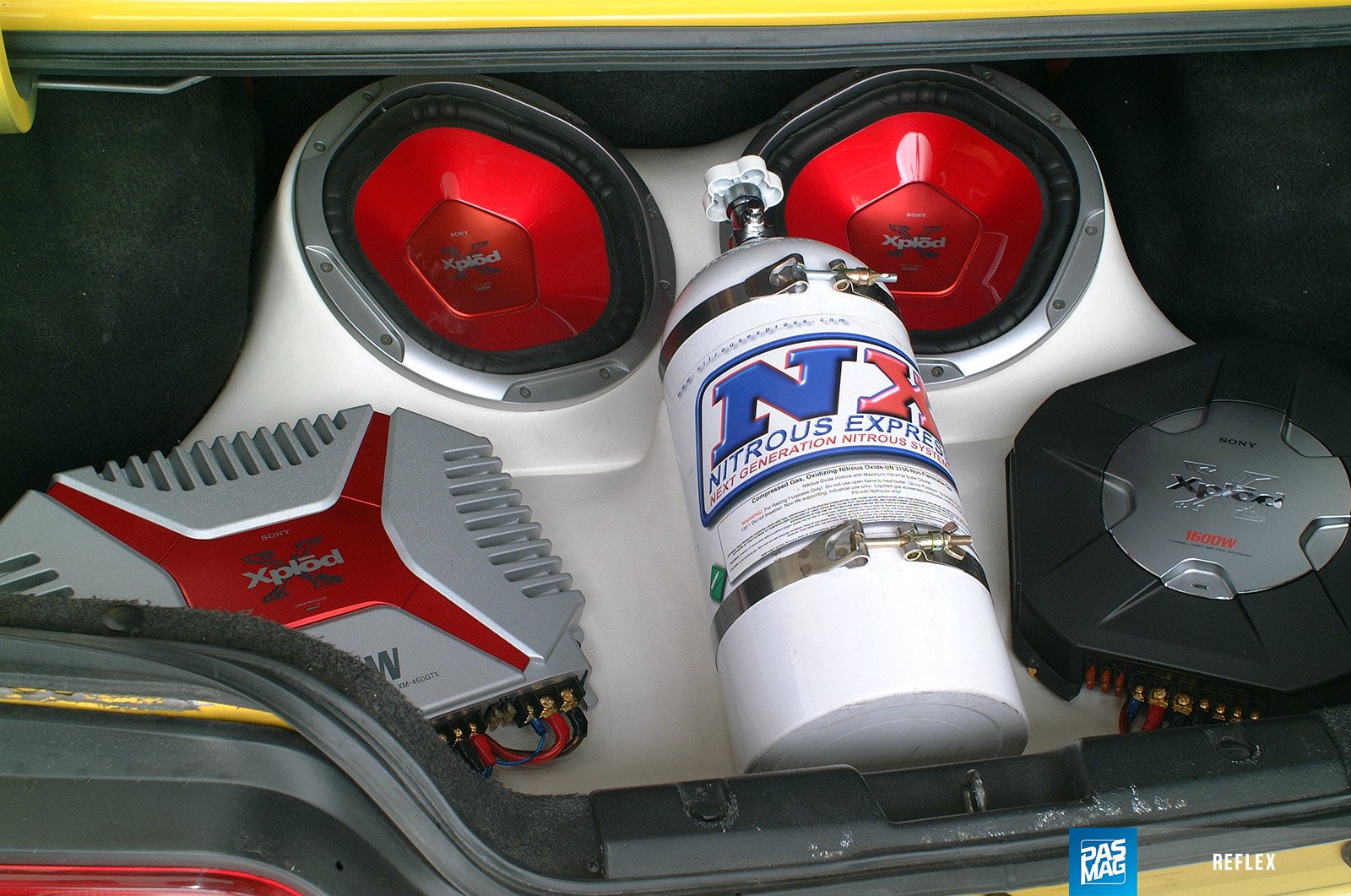 The aforementioned Sony multimedia system was installed by Cockpit Car Audio in Mississauga, ON and features a custom fibreglass/vinyl enclosure. The signal starts upfront with the Sony XAV-7W in-dash LCD screen that plays any one of the DVDs or CDs in the DVX-100 10-disc changer. Power is supplied to the dual XS-L121P5 12-inch subwoofers via the XM-D1000P5 mono-block amplifier, while the speakers found in the cabin receive power from the XM-460GTX four-channel unit. All is tied together via Stinger wiring to maintain a distortion-free production and the components dance around the 10-lb bottle of the Nitrous Express EFI single-fogger dry nitrous kit.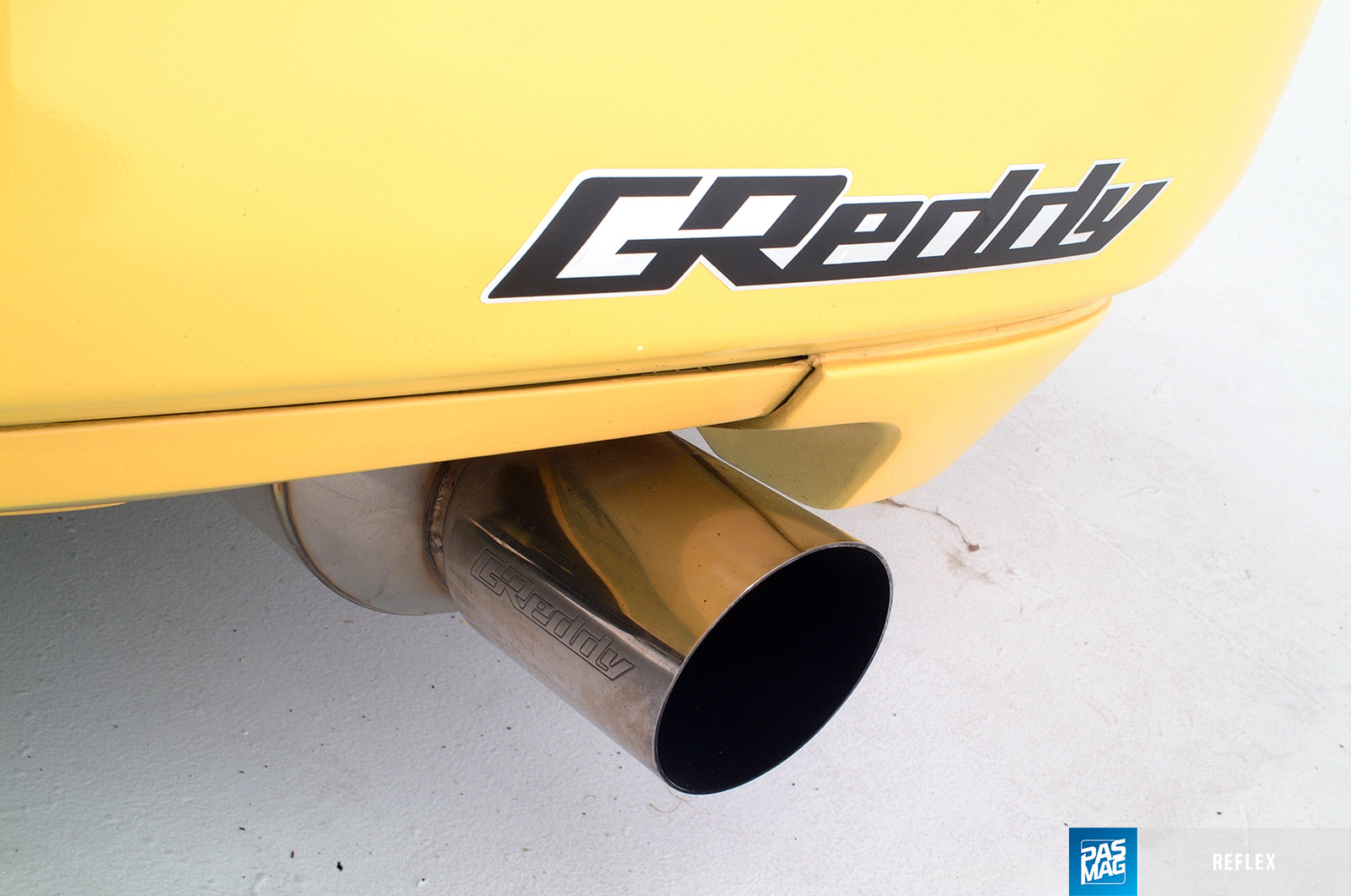 Chen's Prelude has made its most recent appearance at the 2003 SEMA convention in Las Vegas, NV. He is proud of being one of only a few demo cars to make the trip down from Canada. Not only is this Prelude a prime example of Chen's imagination gone wild, but also is the direct result of a handful of companies contributing to a single vision. He would like to extend his gratitude all those involved with his project including: Bridgestone, Sony, GReddy, IAC, AC Autotechnic, Arospeed, Catz Fet, Cockpit Car Audio, Extreme Dimensions, Fluidyne, Gemico, Ignited Performance, JSP, Meguiar's, Nitrous Express, NX Autobody, Power Enterprise/RB Motoring, ShinzoWerks, SSBC, STR Power, Tekniq Autosport, Tein USA, and Tenzo R. Look for Chen and the R-Squadron crew as they look to expand their tour in 2004 and to end up in a city near you.