Photography by Greg Bodor
---
Ever wonder where you would draw the line between a street legal monster and drag strip rocket? For many people, this line is blurred, as most cars are daily driven but also taken to the track for high-speed antics over the weekend. When Matt Pitcher picked up his totalled 1992 Honda Civic VX in January 2002, he did not know how far he wanted to take this thing. But with the speed bug flowing through his veins ever since he was young, it was inevitable that this car would eventually be only driven a quarter mile at a time.
At the time Pitcher picked up this particular Civic, there was major front and rear end damage. He knew that this project was going to have to start from ground zero. It was going to take an enormous amount of time, effort, and money to get this car off the ground and that is why he decided to do most of the work himself. From painting the engine bay to installing the motor and suspension, Pitcher's craftsmanship can be seen in many parts of the car. Building the engine, a custom turbo setup, and tuning was left up to who Pitcher considered the best – Paul Bhawan of Splitfire Performance in Brampton.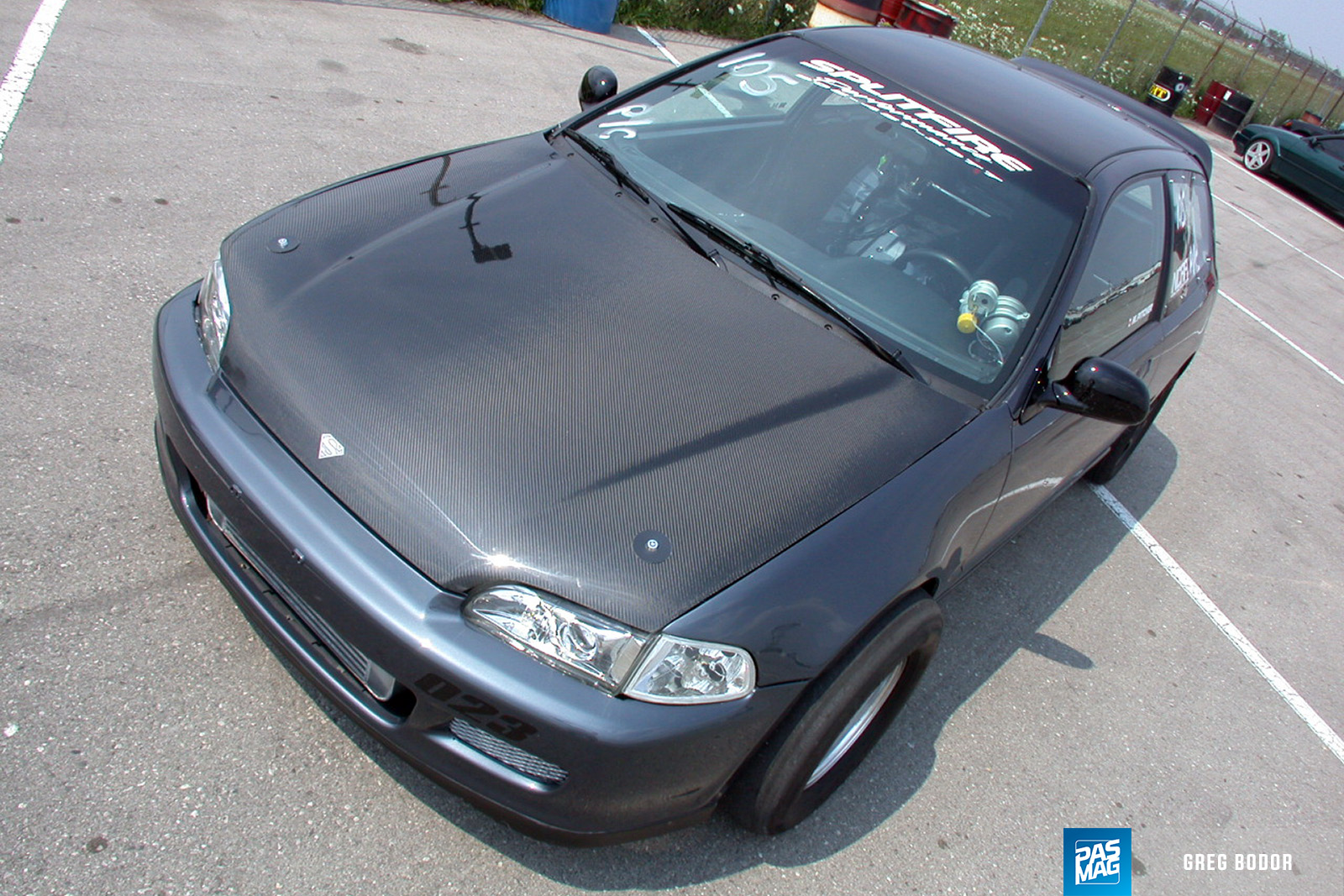 Like many speedsters, Pitcher did not want his ride to scream 'fast.' Elaborate paint schemes with layers of flashy colours with flakes and pearls were definitely out of the question. The low-key JDM 'sleeper' look was exactly what Pitcher was aiming for. He decided to slap a few coats of Chrysler Steel Blue on the Civic to get that unassuming look. Of course, the addition of a carbon fibre hood, painted black roof, black Si front chin spoiler, and black Wings West rear spoiler usually gives his secret away. The locking pins found in the hood help keep the lightweight carbon fibre down as he flies down the track. And lightweight Lexan found in the quarter windows replaces tempered glass.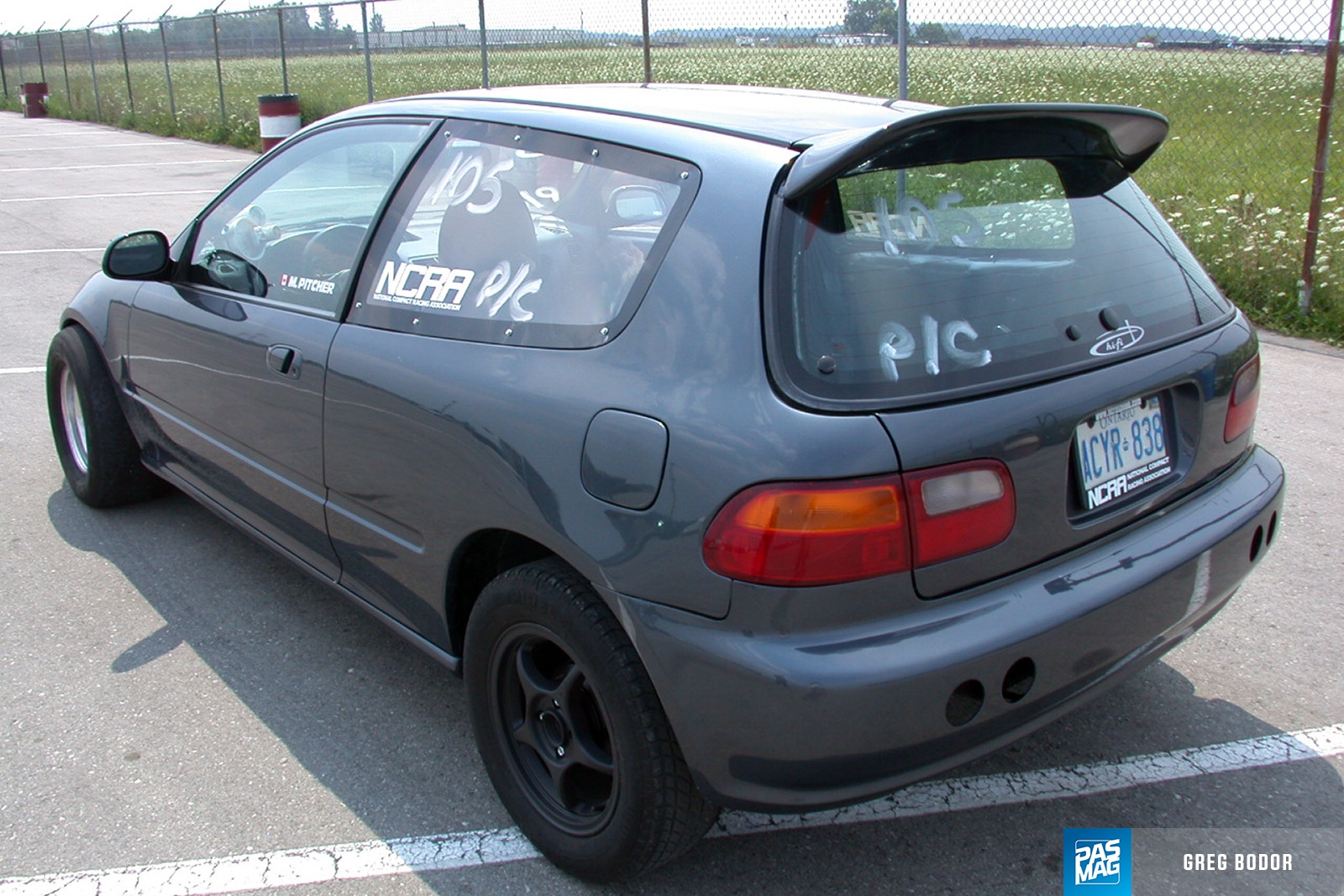 Pitcher keeps two sets of wheels on his Civic. Up front, he uses a pair of 14-inch Enkei RPO-1 wheels wrapped in super-sticky Falken Azenis drag radials. From time to time, Pitcher may also switch to a set of MH slicks and 15-inch Bogart Pro 2000 wheels. Bridgestone Potenza RE92 rubber is used in the rear to help guide this rocket to the finish line.
With this Civic being built for speed alone, Pitcher also knew that some upgrading was needed to bring this Steel Blue bullet to a halt. A big brake upgrade was out of the question because of the weight that it would add to the car. He decided on Powerstop cross-drilled rotors and EBC Greenstuff brake pads to improve brake control and feel.
Pitcher uses the Dynamic Auto 15-way adjustable one-piece coil-over system to keep the ride stiff and extremely responsive. Front and rear strut bars keep things tight and stiff as chassis flex is kept at a minimum.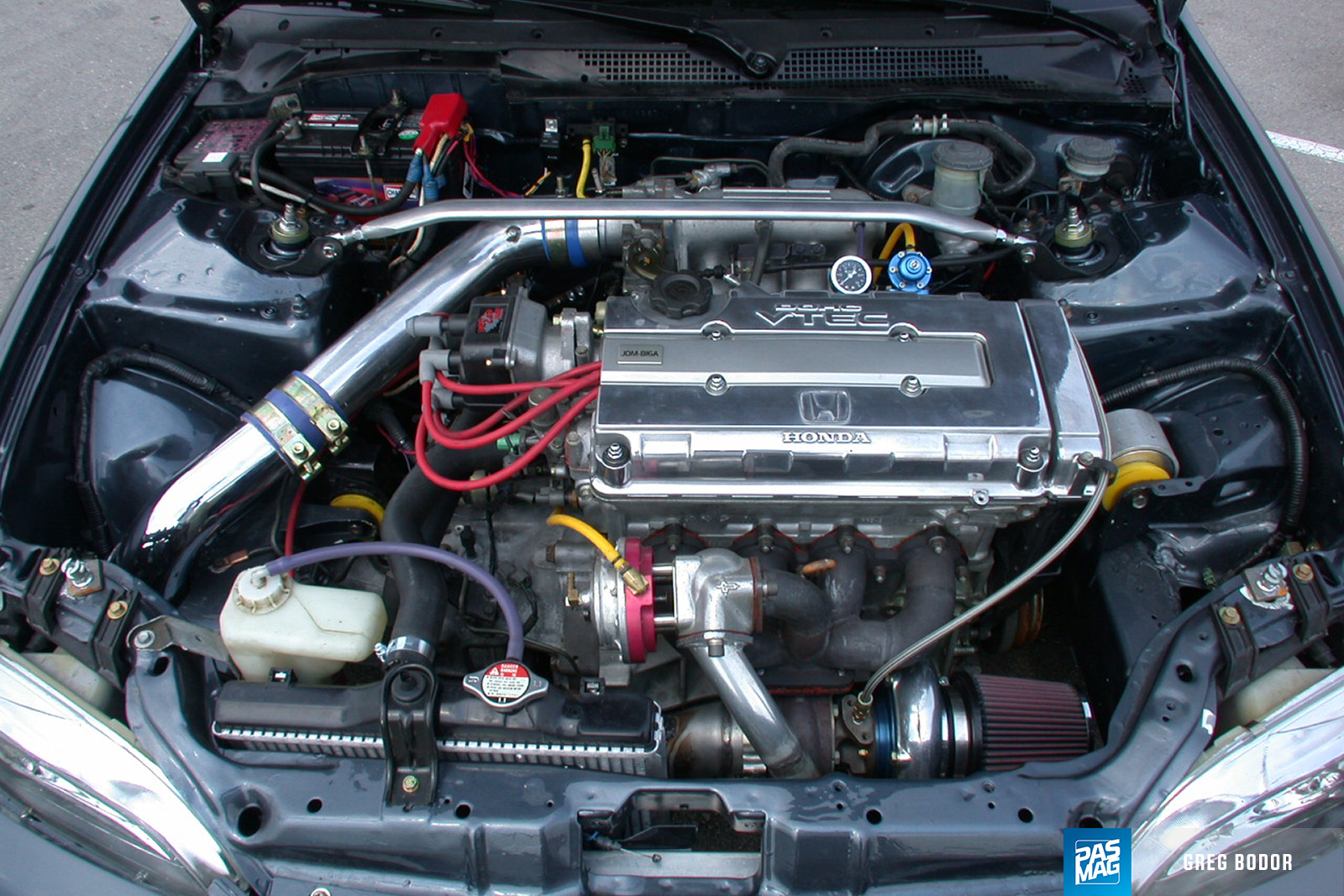 With this Civic being built for the drag strip, it is obvious that most of Pitcher's resources were allocated to the money pit that is the engine bay. Out went the damaged stock engine and in went a second generation JDM B16A. But much like Michael Jackson, not much of the original stuff stayed on. A complete rebuild was done, with most of the internals being replaced with aftermarket pieces engineered to sustain high horsepower. Ductile Iron Sleeves, JE Pistons and rings, Pauter rods, and ARP head studs basically bombproof this motor. Much of the factory valve train was dumped in favour of Ferrea goodies like valves, dual titanium valve springs, and retainers. Pitcher took this engine even further with machine work that included a three-angle valve job and a full port and polish. Custom motor mounts and a Prothane motion control mount kit are used to keep this motor in the car.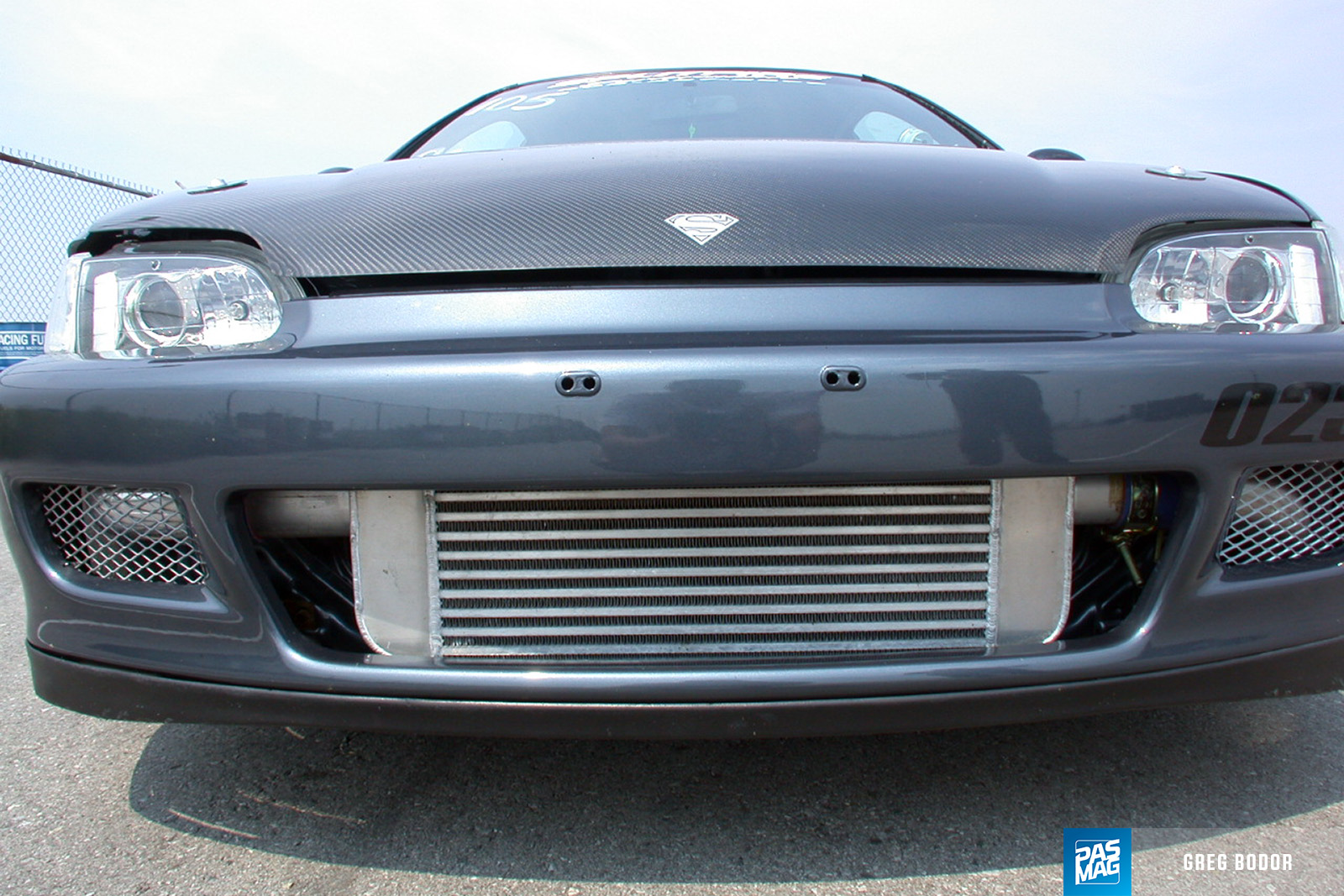 Pitcher worked with Bhawan at Splitfire to develop a turbo set-up designed specifically for his Civic. Though much remains top secret, Pitcher has revealed that the turbo consists of a custom-built manifold and a Turbonetics Race wastegate. The Spearco front-mount intercooler helps to keep things cool and three-inch piping is used to ensure unobstructed flow.
To put this power to the ground, Pitcher has upgraded several components in his drivetrain. He has improved throttle response and lessened horsepower loss with the addition of a lightened racing flywheel. An ACT clutch and pressure plate was necessary to handle the power. A Vibrant short shifter matched with Prothane shifter bushings help Pitcher blast through gears on his way down the strip.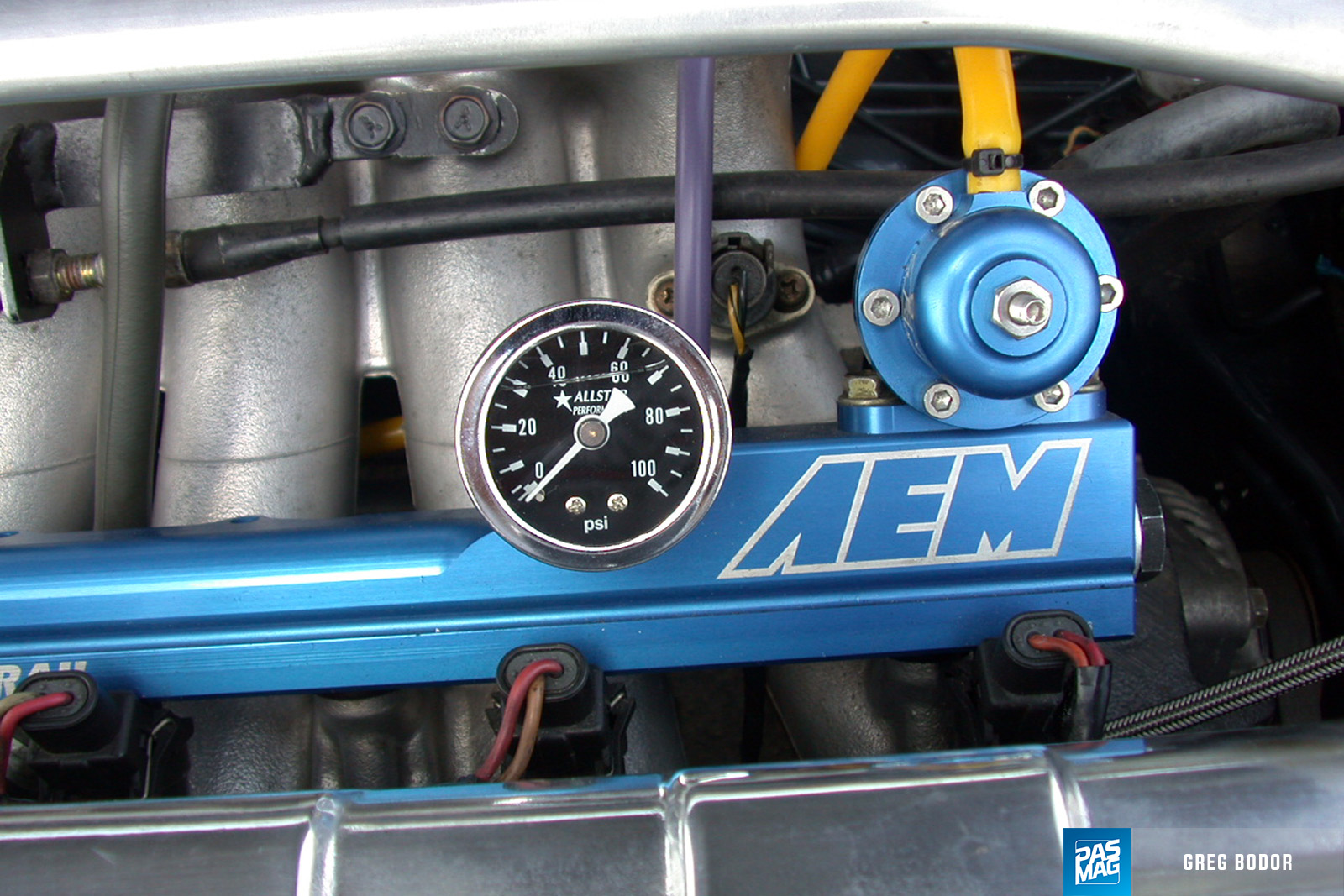 This engine would not be able to reach its capability without the help of an upgraded fuel and ignition system. The fuel is delivered by RC fuel injectors that are, in turn, fed by an AEM fuel rail and AEM fuel pressure regulator. The ignition system keeps the power flowing through a complete MSD system, while NGK turbo spark plugs ensure consistent spark. The entire system is fine tuned with the use of an Accel standalone engine management unit to optimize power and reliability.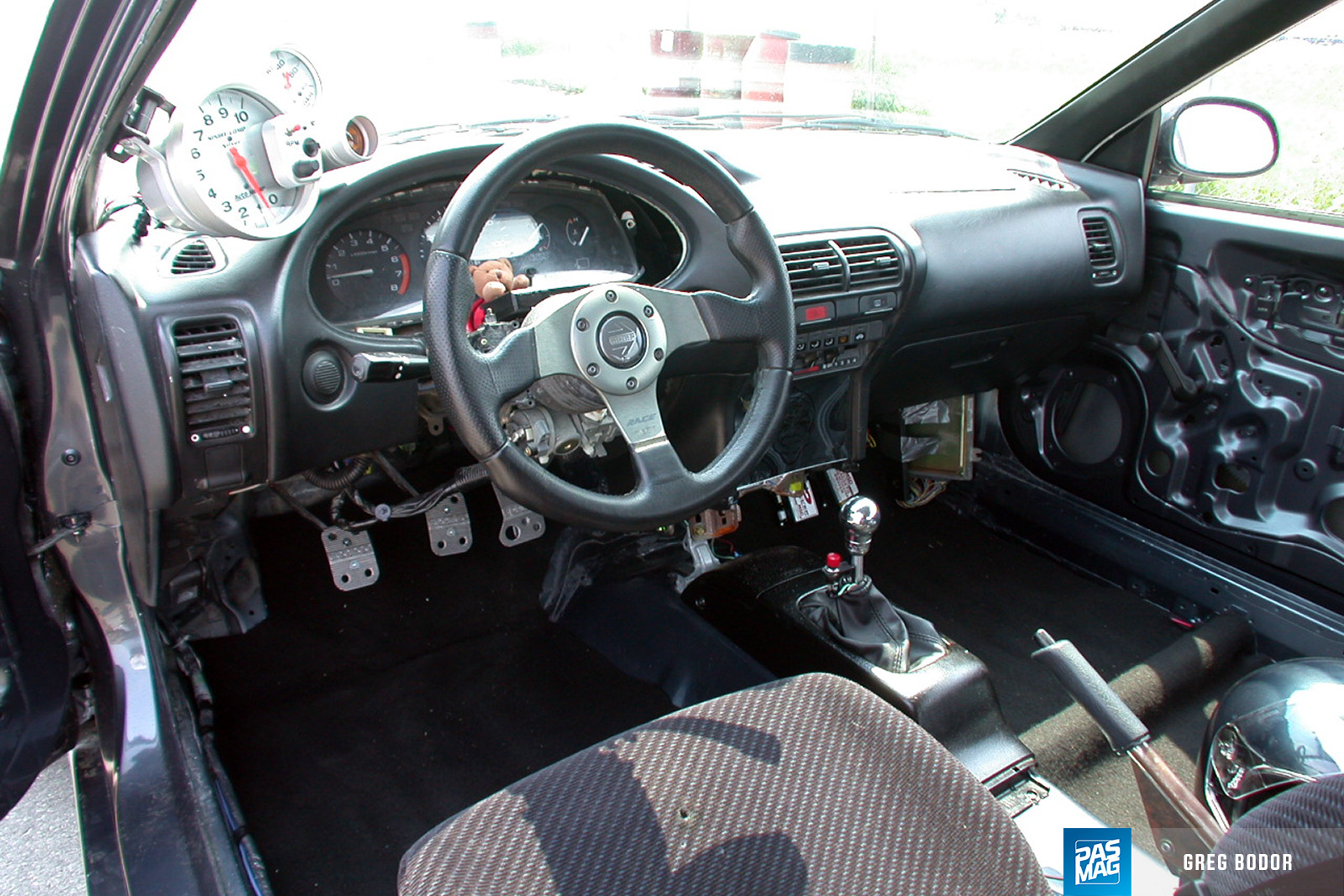 The interior has been stripped, gutted, and has lost more weight than that dude in the Subway commercials. Gone are the creature comforts of the stock Civic, replaced by the hip-hugging seats from a del Sol strung with a MOMO four-point harness. Pitcher relies on an Acura Integra GS-R gauge cluster to display the vital signs as he keeps his hands firmly clutched on the MOMO Race steering wheel.
Although Pitcher and the team at Splitfire Performance put much work into this Civic, he knows that he cannot take this car to the next level without the aid of sponsors. He is currently in search of corporate support and hopefully, will have the funds for the necessary roll cage and other safety devices to compete in the Pro Class. Even though he keeps the compression and boost specs confidential, Pitcher and Bhawan estimate horsepower at around 600hp. But no matter how hard he tries, Pitcher's Secret Sleeper will definitely be exposed as he plans to put up impressive numbers this year.