When Mount Airy, Maryland resident Tyler Defibaugh started searching for an entry-level luxury car back in 2000, he needed look no further than the 2001 Lexus IS300. It all started with a few simple upgrades, including a Rod Millen intake and exhaust kit, plus a set of 19-inch Axis Hagen wheels. As his car started to age and the warranties came closer to their ends, more options began popping up and Defibaugh found it hard to resist upon meeting renowned Lexus tuner, Peter Farrell.
"After meeting Peter and discussing my options, I was sold on his turbo kit," recalled Defibaugh. But before committing to anything, he smartly did a bit more research into the platform. Upon learning that PFS was and still is the only company that has the automatic transmission shifting correctly with the fuel injection system, it was a simple matter of booking an appointment and writing a cheque. With that in hand, PFS went ahead with the installation of their stage 2.5 turbo kit, which uses a Garrett turbo along with a number of Turbosmart parts like a Supersonic blow-off valve, wastegate and manual boost controller.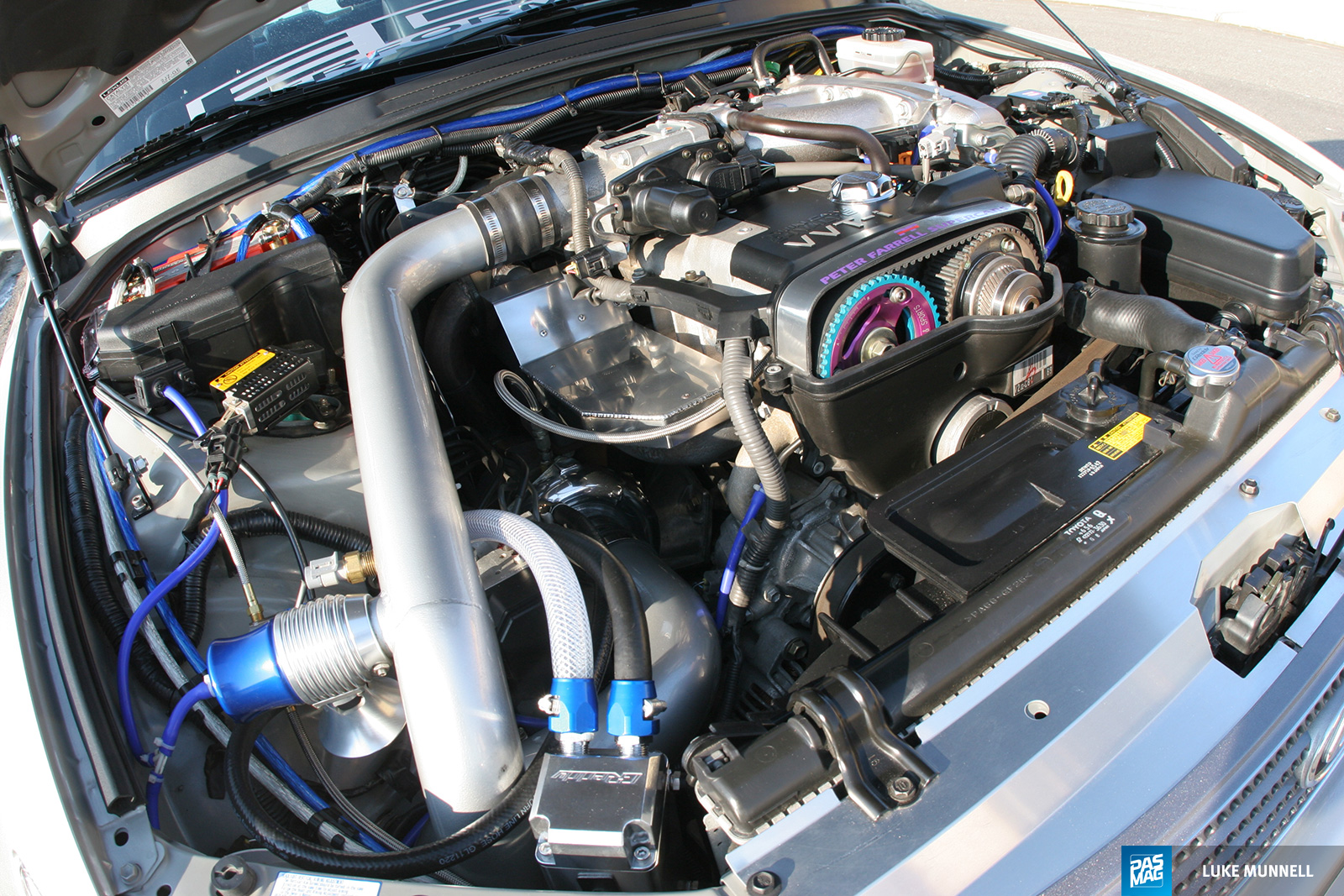 The 2JZ-GE engine received an MLS 2mm head gasket to lower the compression ratio while HKS adjustable cam gears permit the timing to be adjusted to a T. Air gets ingested through an HKS Super Mega Flow filter before circulating through a Spearco intercooler beefed up with an NOS spray bar kit. For fuel, 720cc injectors are fed by a Walbro pump and, there's an NOS wet kit for an extra power boost when needed. The turbo install saw a bunch of other PFS parts go in at the same time, including a heat-shielded turbo manifold, down-pipe and mid-pipe. A Random Technology high-flow cat was installed along with a Rod Millen stainless steel exhaust pipe. There's also a custom GroundFusion grounding kit to shore up the electrical system.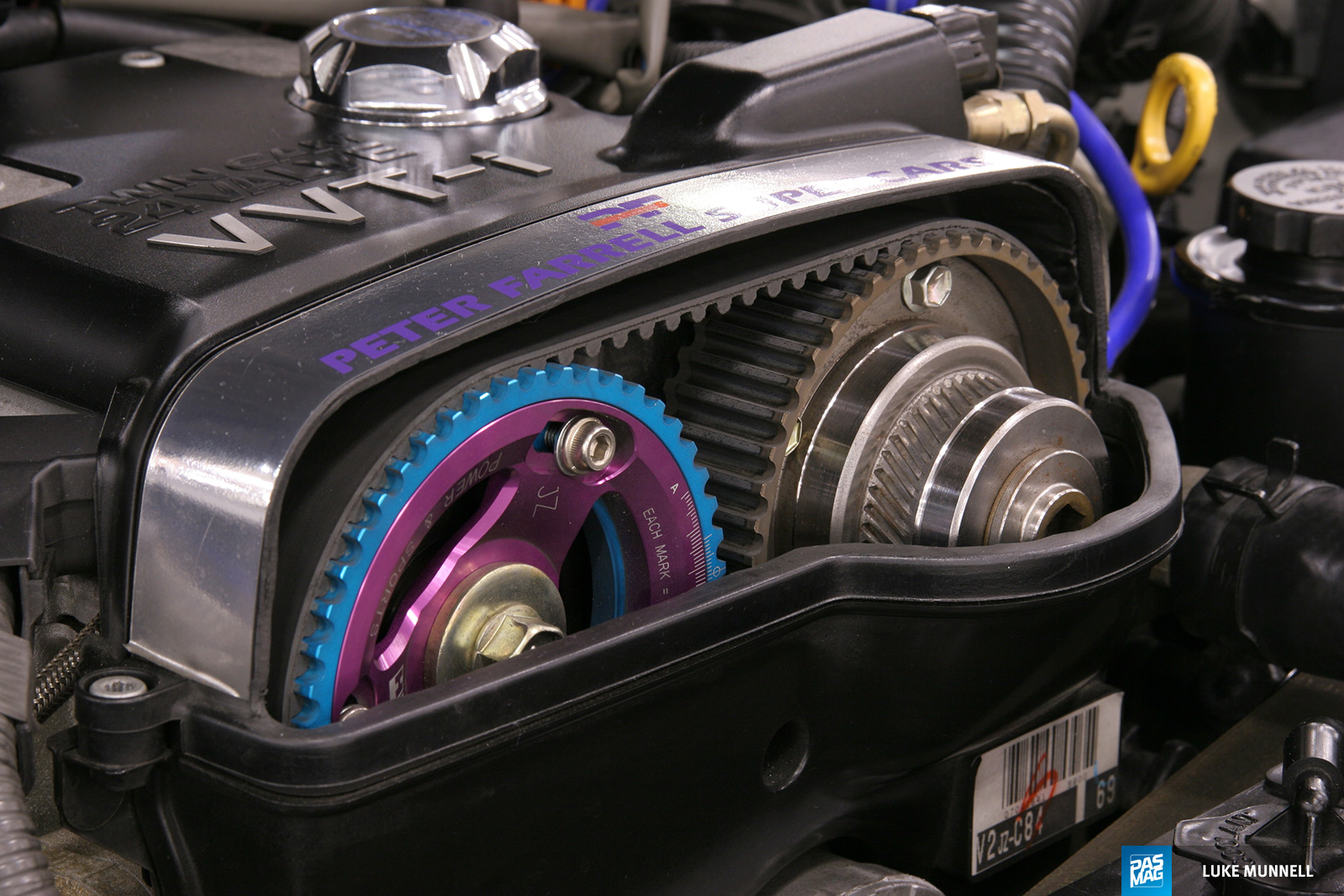 For total control over the engine, PFS installed an Electromotive Tec-3 standalone management system and oxygen simulator. "Since I was spending well over $10,000, it was the only way to go," Defibaugh admitted. And, with regular pump gas in the tank it wasn't long before the IS300 was pulling 389hp and 383lb/ft at 15 pounds of boost. Happy with the results, he contacted Steve Ganz at Carson Toyota who recommended a Tein Flex coil-over system, which is adjusted on-the-fly with Tein's Electronic Damping Force Controller module. Hotchkis ponied up a set of sway bars to firm up the ride before "I contacted Rotora and had their newly-released, 14-inch six-piston front and four-piston rear brakes on my doorstep."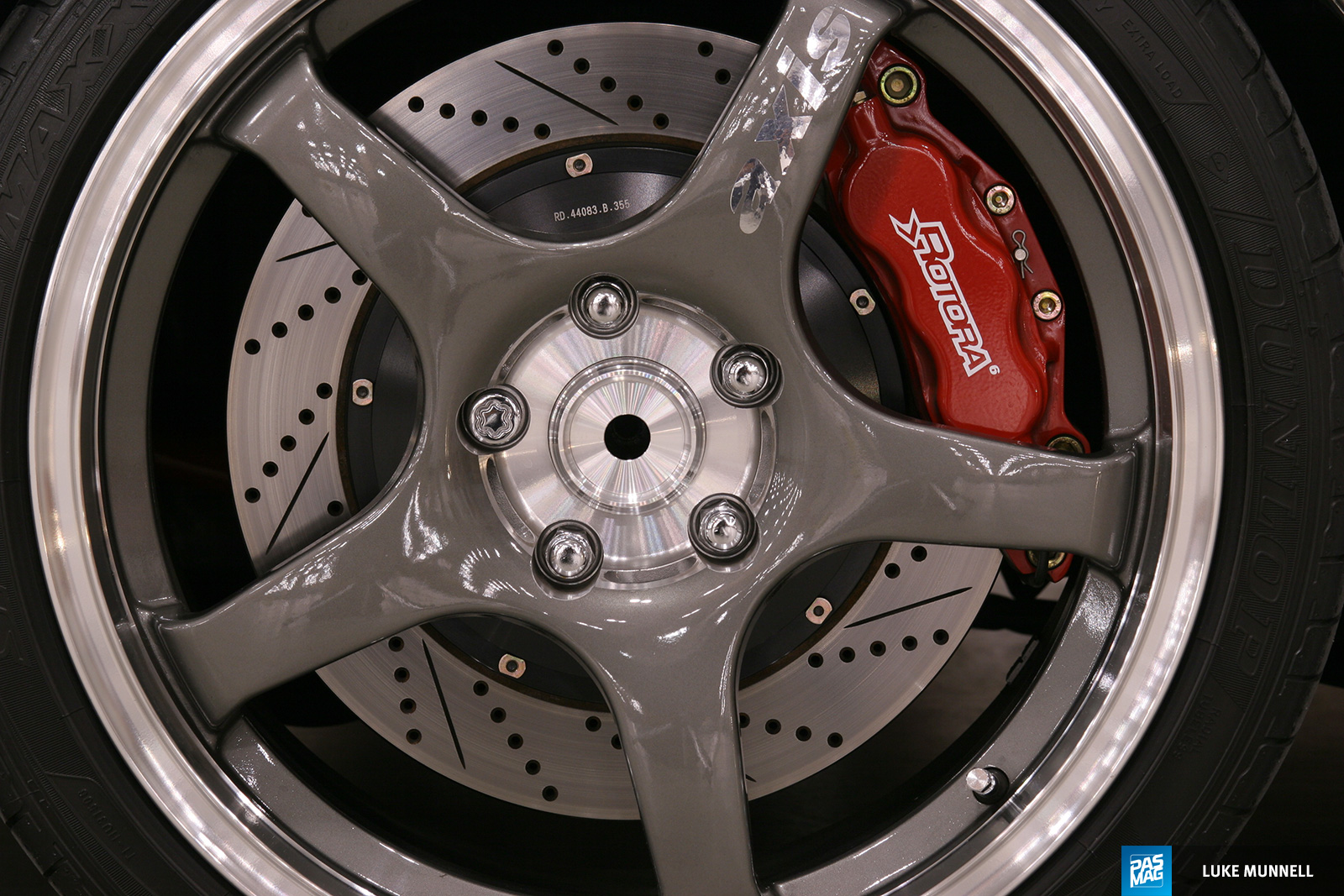 Defibaugh turned back to Axis Tuning for a set of wheels that would work with the big brakes. Soon, 18-inch Reverbs showed up and were bolted onto the car. "By that time, I had joined Team Emotion, one of the premiere car clubs on the East coast." The club's affiliation saw a set of Dunlop SPMaxx (225/40ZR18 up front and 255/35 in the back) tires join the party, along with sponsorships from Shining Monkey and Glosser. All that was left was to fortify the drivetrain to handle the abuse the 2JZ is known to dish out!
To do this, PFS upgraded the valve body and transmission by replacing the sprag and sun gears with Borg Warner replacements. The housing was also machined to accommodate a Raybestos race clutch pack, but the biggest difference came when a new Torsen limited-slip was thrown into the mix.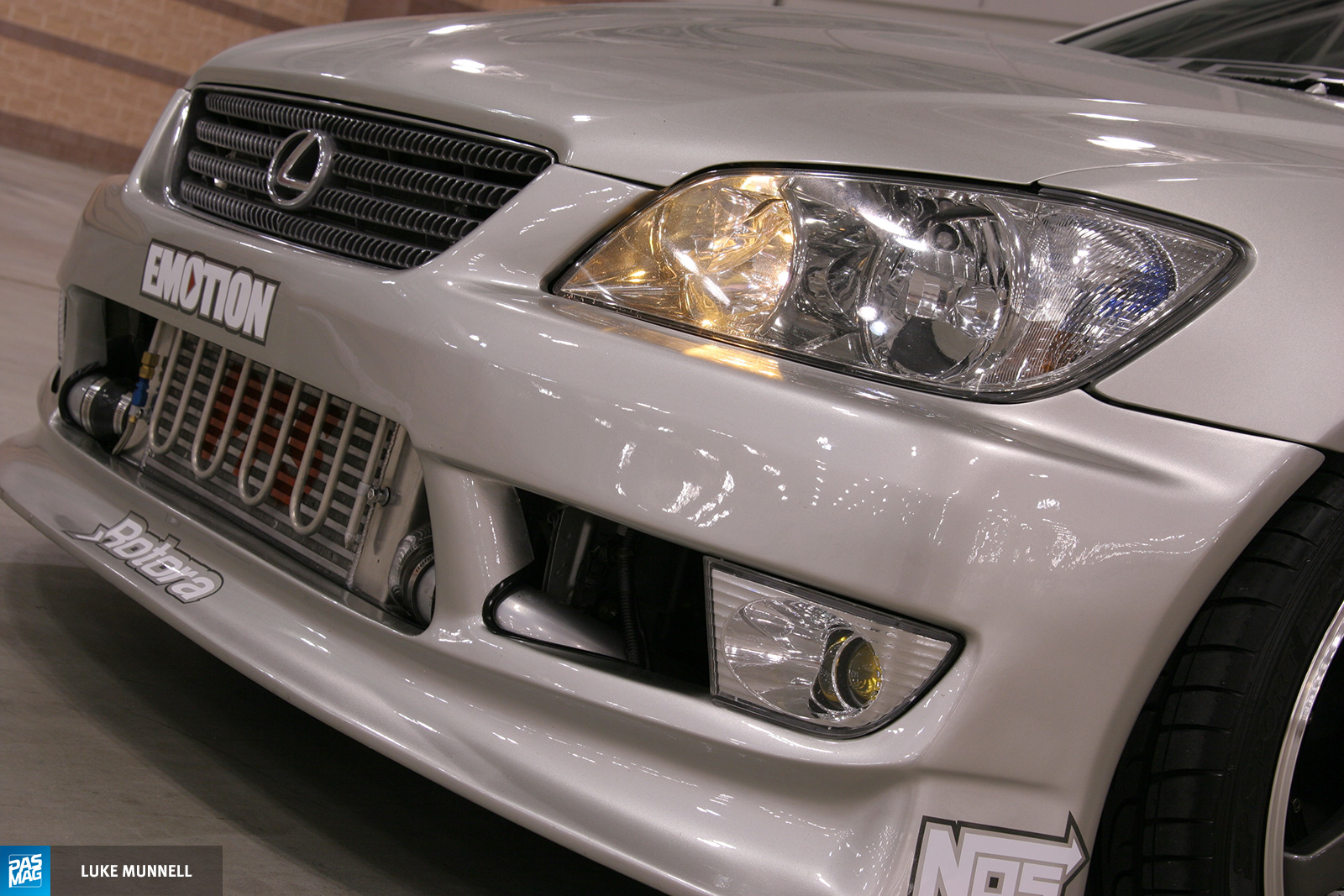 "I had started to plan out my body mods a few months earlier," explained Defibaugh. "After searching through several Japanese magazines, I decided to go with the Vertex front bumper since it would accommodate my front-mount intercooler perfectly." Bulletproof Automotive placed the order and in no time the front clip had arrived in the US to get installed along with the L-Sportline rear bumper, side skirts and deck spoiler Defibaugh had already purchased. Ganador side mirrors and upgrades to the exterior lighting package, including a Varad SL200 suspension lighting system, completed the more aggressive look.
By this point, the vehicle was really coming together, but the interior was practically begging to be addressed. "Prior to the IS300, I was heavily into car audio and sound quality," revealed Defibaugh. "A good friend, Matt McGhee, works at PJ's in Erie and had several vehicles at the IASCA Finals, so when it came time to do the IS300 interior I went back to him for his great craftsmanship and attention to detail." By that time the sponsorships had started to pile up and Defibaugh convinced Fred at Arc Audio that his car would be the perfect show vehicle for them on the East coast. "Fred coordinated with Dynaudio and Accelevision while I worked with Tsunami and Varad and with all the help from these companies, my car has been transformed into a rolling concert."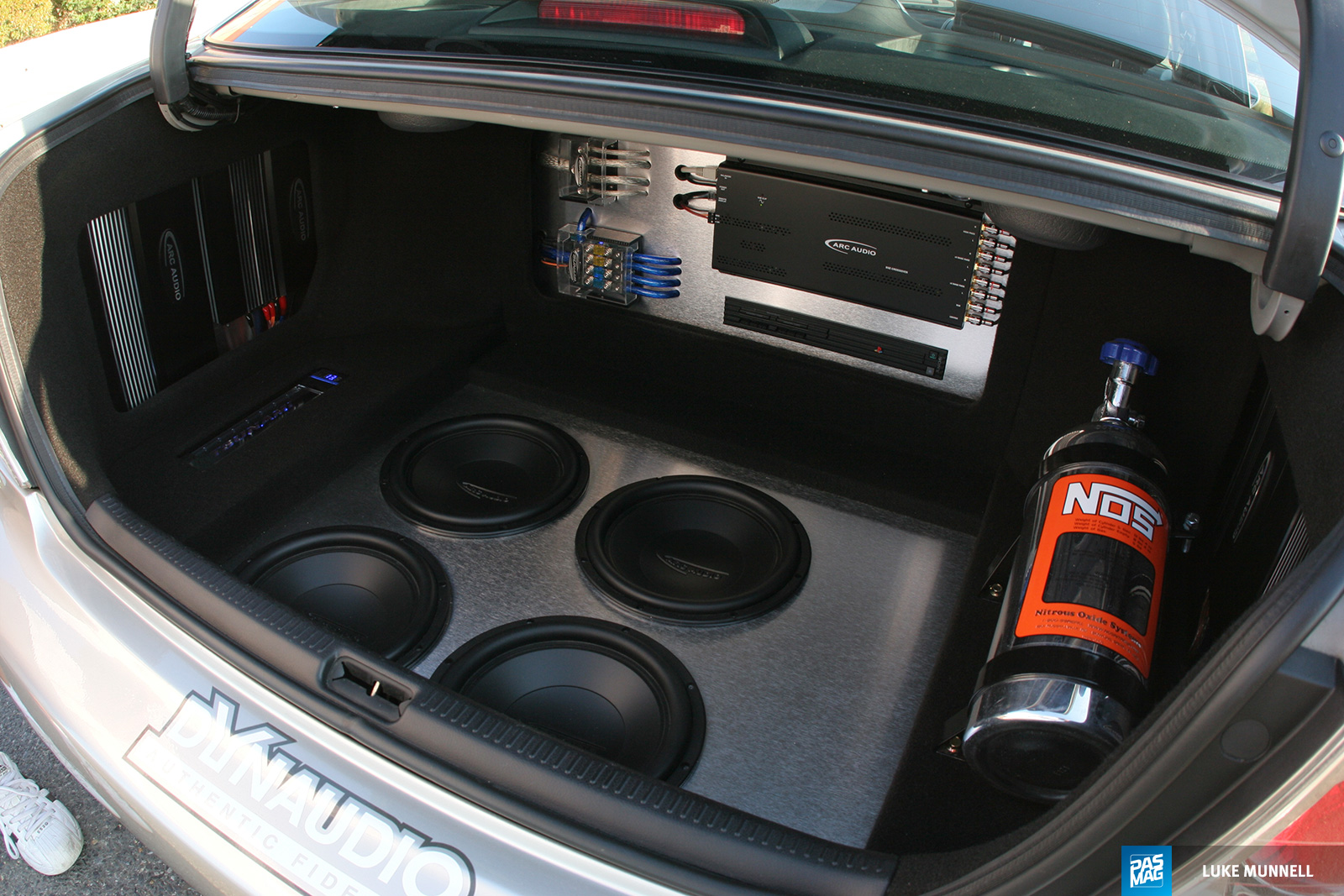 For a source, Defibaugh uses an Alpine CDA-9833, which is paired up with an Arc Audio DXE equalizer and crossover combo found in the centre dash column. The climate controls were also relocated to the glove box to make way for a series of Defi BF gauges from EDO Performance while a seven-inch Accelevision screen was built into the upper dash. Sounds are bounced out by high-quality Dynaudio 360 components installed up front in custom kick panels and refurbished factory door openings and an MD140 serving as a rear centre channel. The rear deck houses a set of MD100s and MD140s while the trunk is home to four neon-enhanced Arc 10d4 subs inside a sealed enclosure in the trunk floor.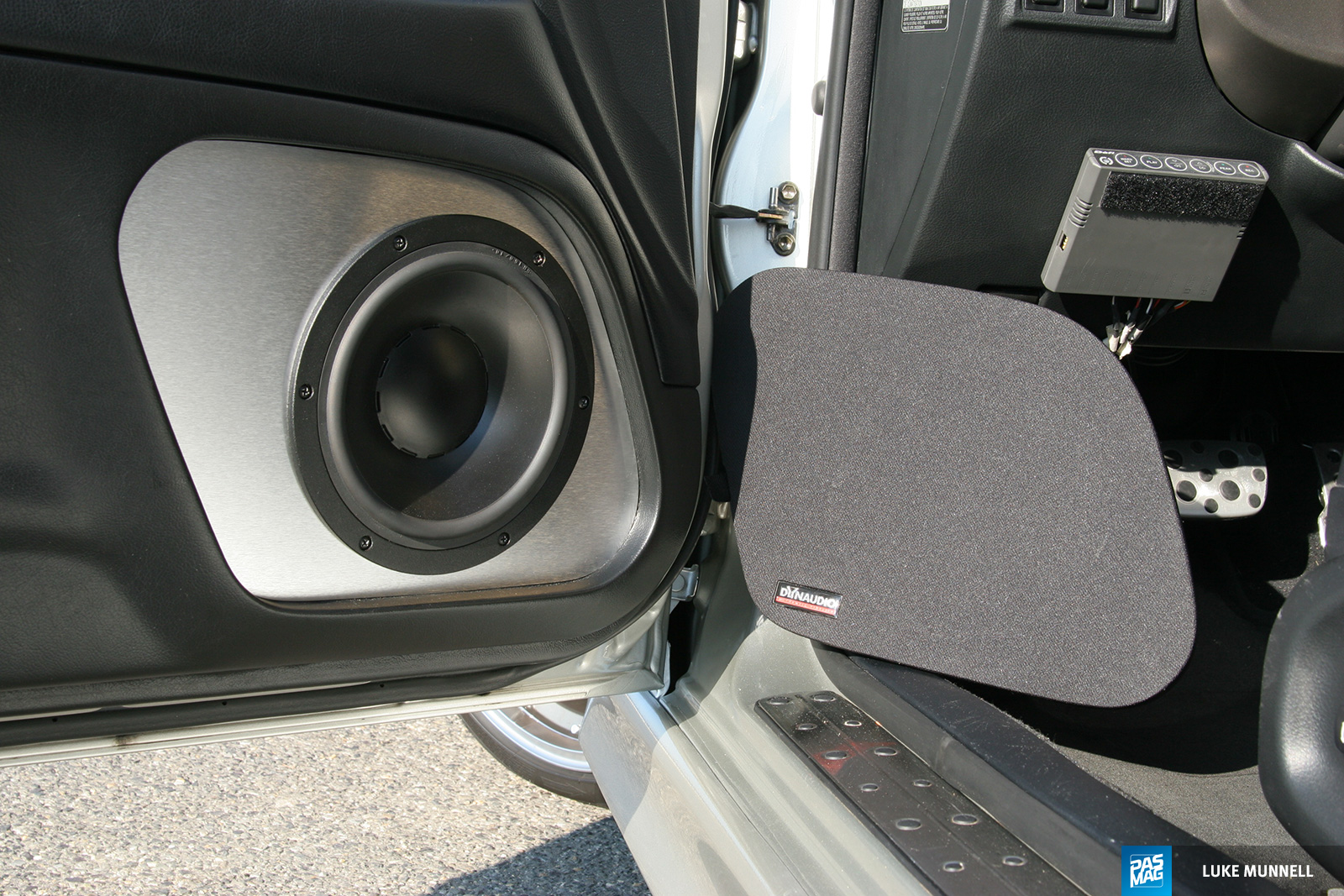 All speakers are mounted on custom brushed aluminum panels for optimal sound and style. Four Arc Audio XXK-series amplifiers – two 2050s, a 1500 and a 4150 – are found nestled in the trunk's corners and mounted on custom racks. Back here, you'll also find the NOS bottle, a Sony PS2 and Tsunami wiring and interconnects.
The trunk lid features two more seven-inch monitors and MW160 separate speakers for gamers. Another two seven inchers are mounted in the rear doors where the Logitech wireless game controllers come in handy. A Sony Vaio laptop computer with a Verizon Wireless Aircard has also been integrated into the vehicle, thus affording e-mail, IM and web surfing activities while on the move via a 5.6-inch touchscreen and wire-free keyboard control. Varad Hyper LED bars are used throughout the interior for dramatic effect.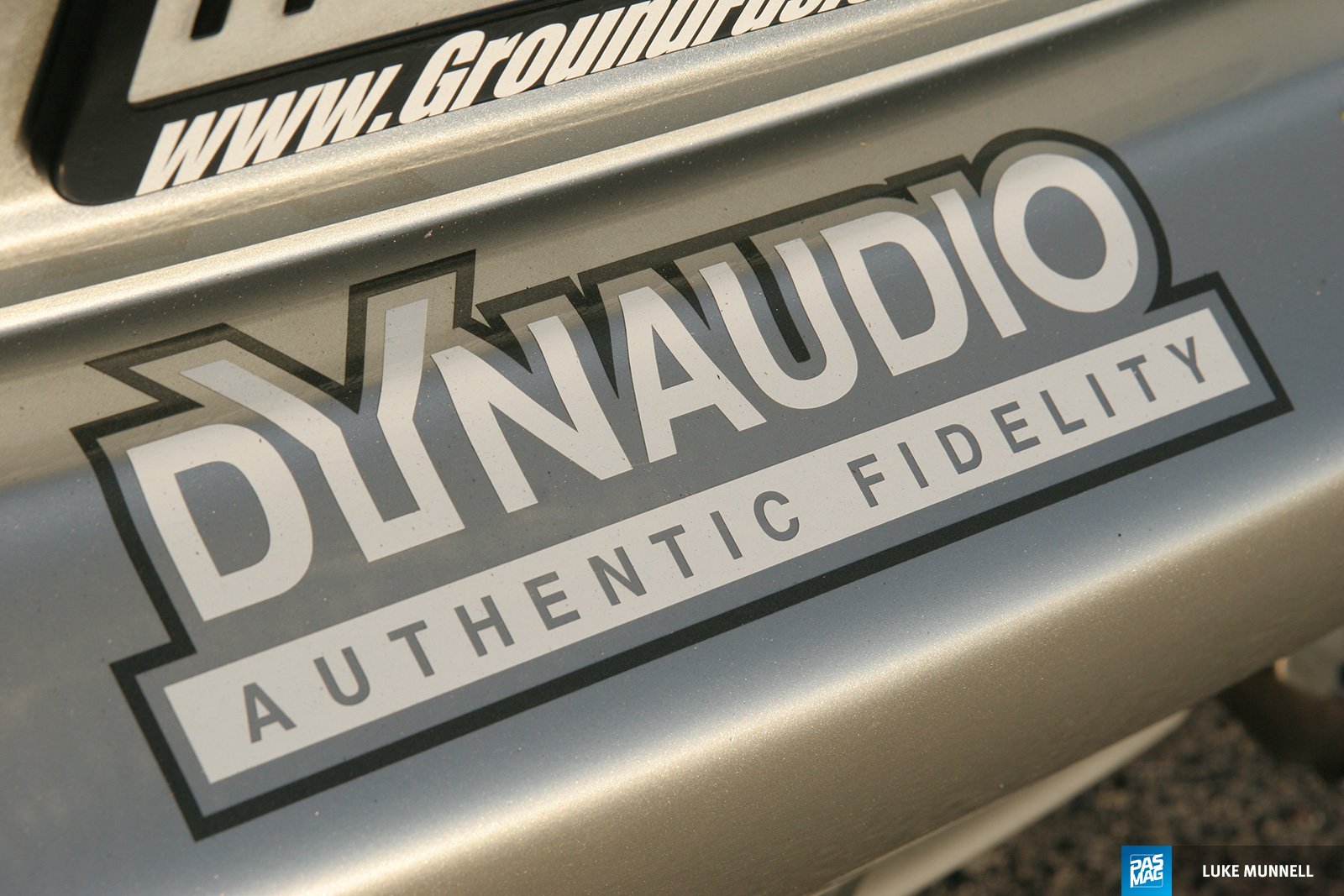 All graphics were done by Competition Grafix while Tanner Defibaugh and Troy Clark assisted with the body work, paint, suspension and brake upgrades. The result is stunning! And, with new seats, engine internals, port and polish job and a GT35R turbo on the horizon, Tyler's IS300 is among the top dogs in Lexus country. It's not that it wasn't already; but, seriously, this is the cleanest modified IS300 I've seen in a very long time. And it's been a long time coming.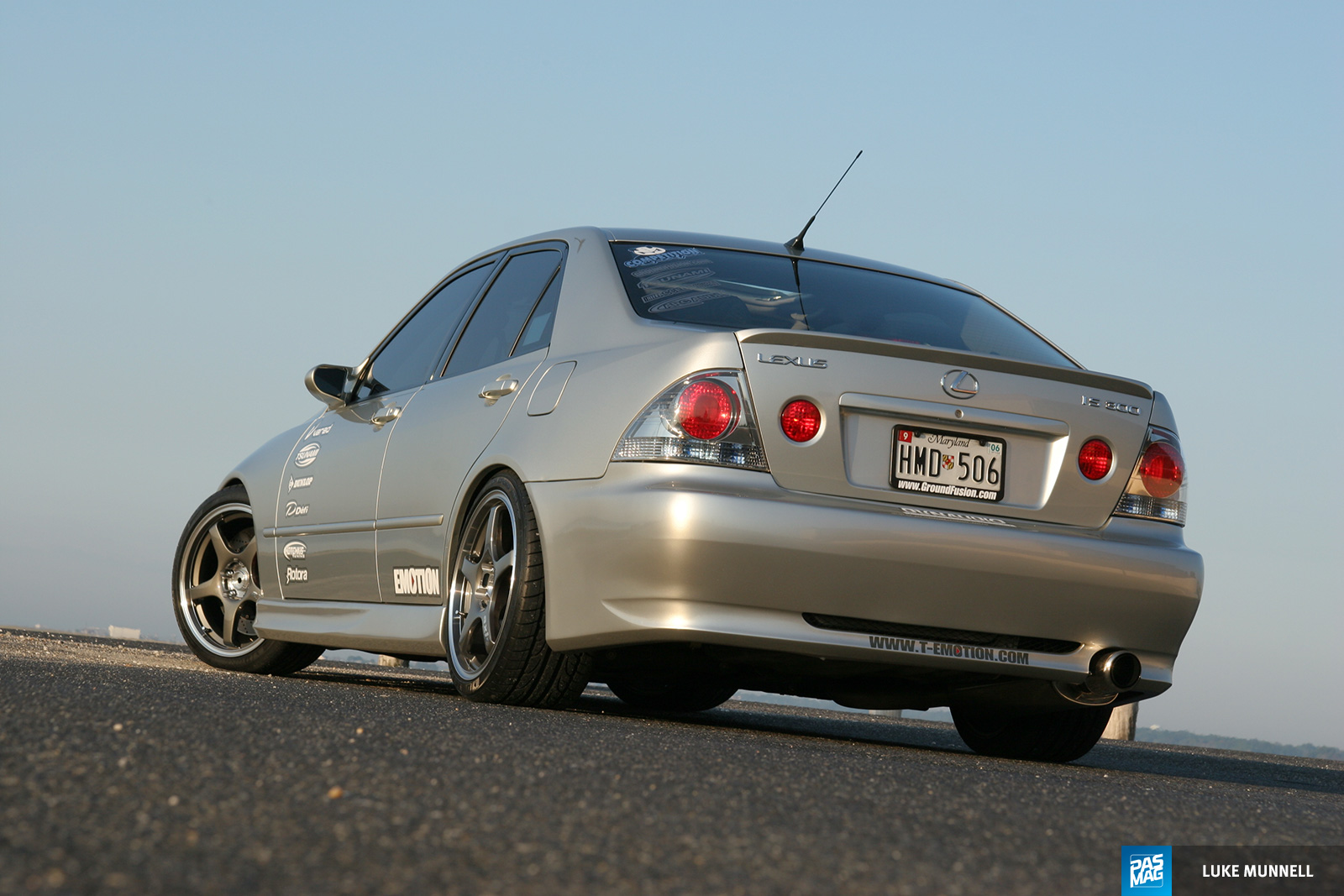 Photos by Luke Munnell (@lukemunnell)
---
PHOTO GALLERY