As Universal Pictures completes its tuner trifecta with the release of The Fast and The Furious: Tokyo Drift, the enthusiast community is put under a microscope for a third time in a block buster film. There's no denying that the first film starring Paul Walker and Vin Diesel helped catapult the tuner lifestyle into mainstream popularity, while the sequel (with RnB artist Tyrese) helped maintain its popularity. But the final piece of the trilogy puzzle isn't armed with the same star-studded Hollywood hype, as Universal decided to recruit an all-star cast of professional drivers to capture the exciting world of drifting.
I know you're probably thinking that drifting isn't that new – since it's been making waves through North America for several years now. But what many enthusiasts fail to consider is that much of the mainstream has been totally blind to the recent "drift explosion" and still links the tuner scene to late night street racing, custom paintjobs and loud stereos. How will the public react when they see $60,000 cars sliding side-by-side at 60mph? Chances are they'll get bit by the drifting bug much like everyone else, and TFTF: Tokyo Drift will help usher in the next chapter of tuning into the mainstream.
As with the previous films, the technical content of Tokyo Drift will be under heavy scrutiny. From the script writing, driving sequences and feature vehicles – the enthusiast audience can be hard to please and will no doubt carefully critique every scene. Fortunately, The Fast and The Furious: Tokyo Drift's lineup of vehicles appears to be top-notch. Our cover vehicle – a Mazda RX-7 – is the crown jewel of the bunch, as it sports a hefty six-figure price tag and a mod list unlike any other.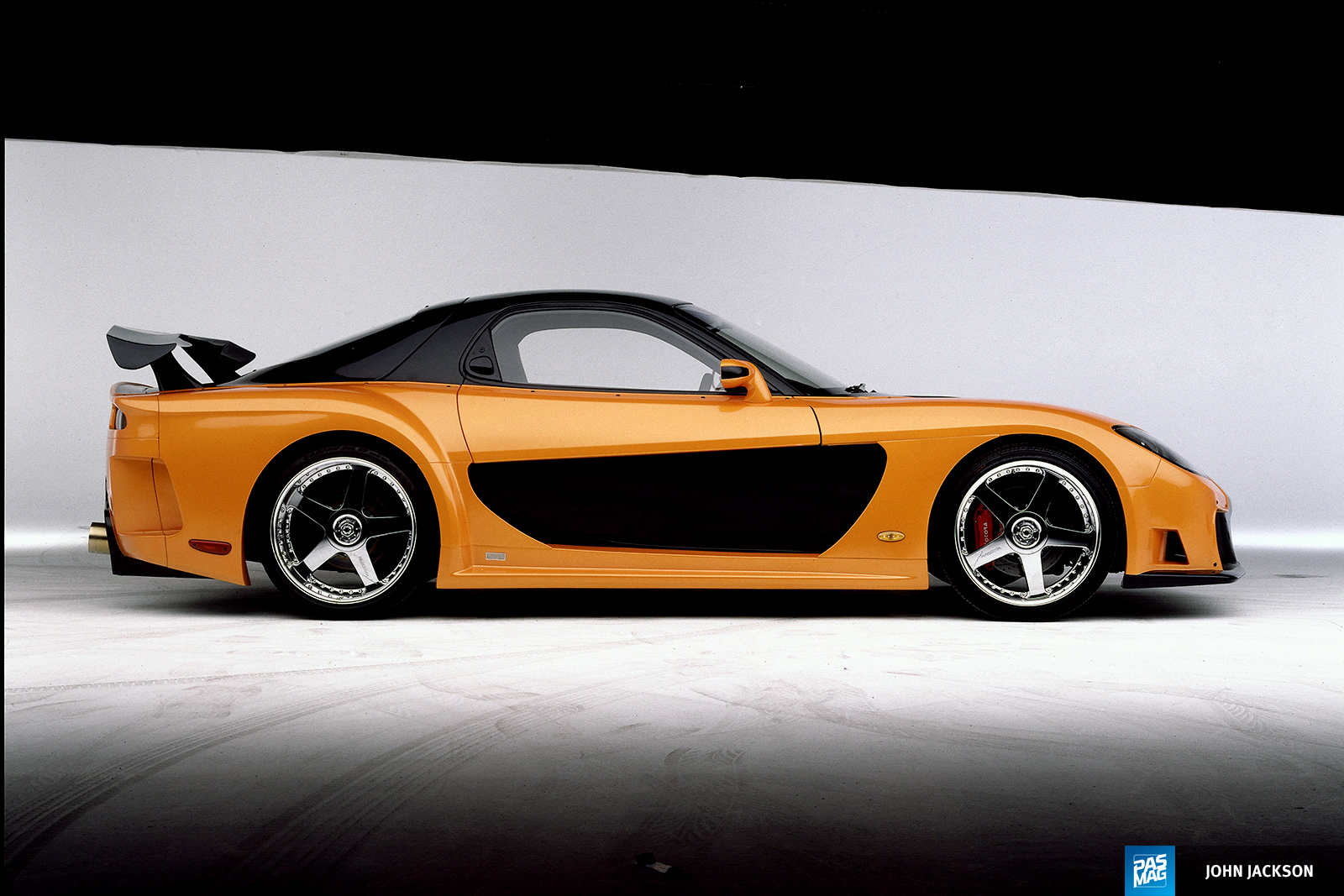 Beneath all the insane bodywork lives a third-generation Mazda RX-7 expertly fitted with VeilSide's Fortune widebody kit, (one of the most intricate and desirable aero kits for this platform). The Fortune line of body kits are unlike any other, as they showcase VeilSide's seemingly unlimited creativity in automotive design. VeilSide's Fortune kit roster also includes applications for the Toyota Supra and the Acura / Honda NSX, but the Mazda RX-7 package you see here is their best work of art.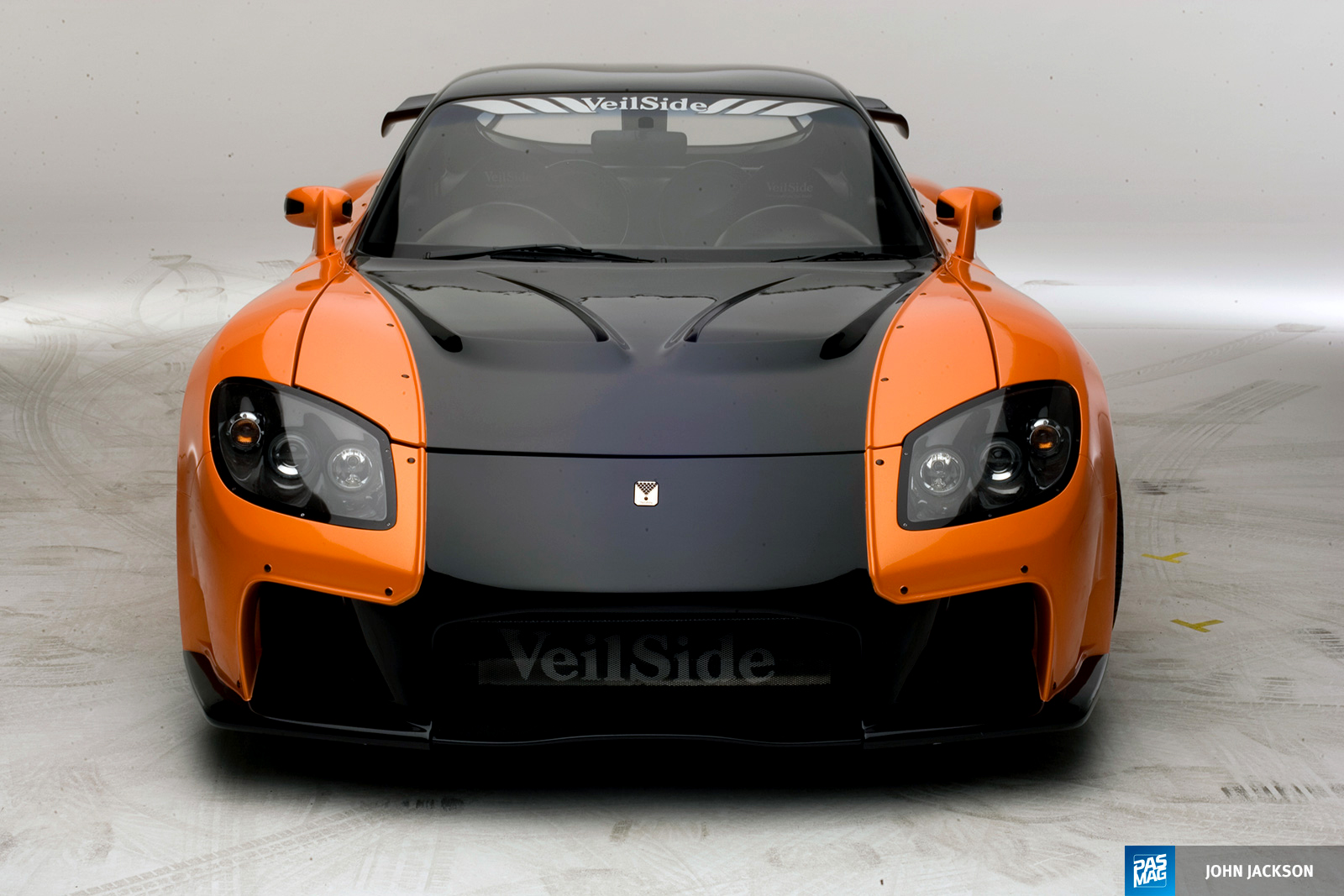 It's hard to imagine how VeilSide packages this kit, as it includes and replaces practically every exterior panel including new front and rear bumpers, side skirts, door panels, side panels, front and rear fender sets, rear wing, tail garnish, rear gate, FRP hood, headlight kit and aero mirrors. Needless to say this kit is extremely intense and its $11,000 price tag almost guarantees no one else will be rocking the same thing. The transformation from caterpillar to butterfly was completed with the two-tone paintjob using several coats of House of Kolor Sunset Orange Pearl and black.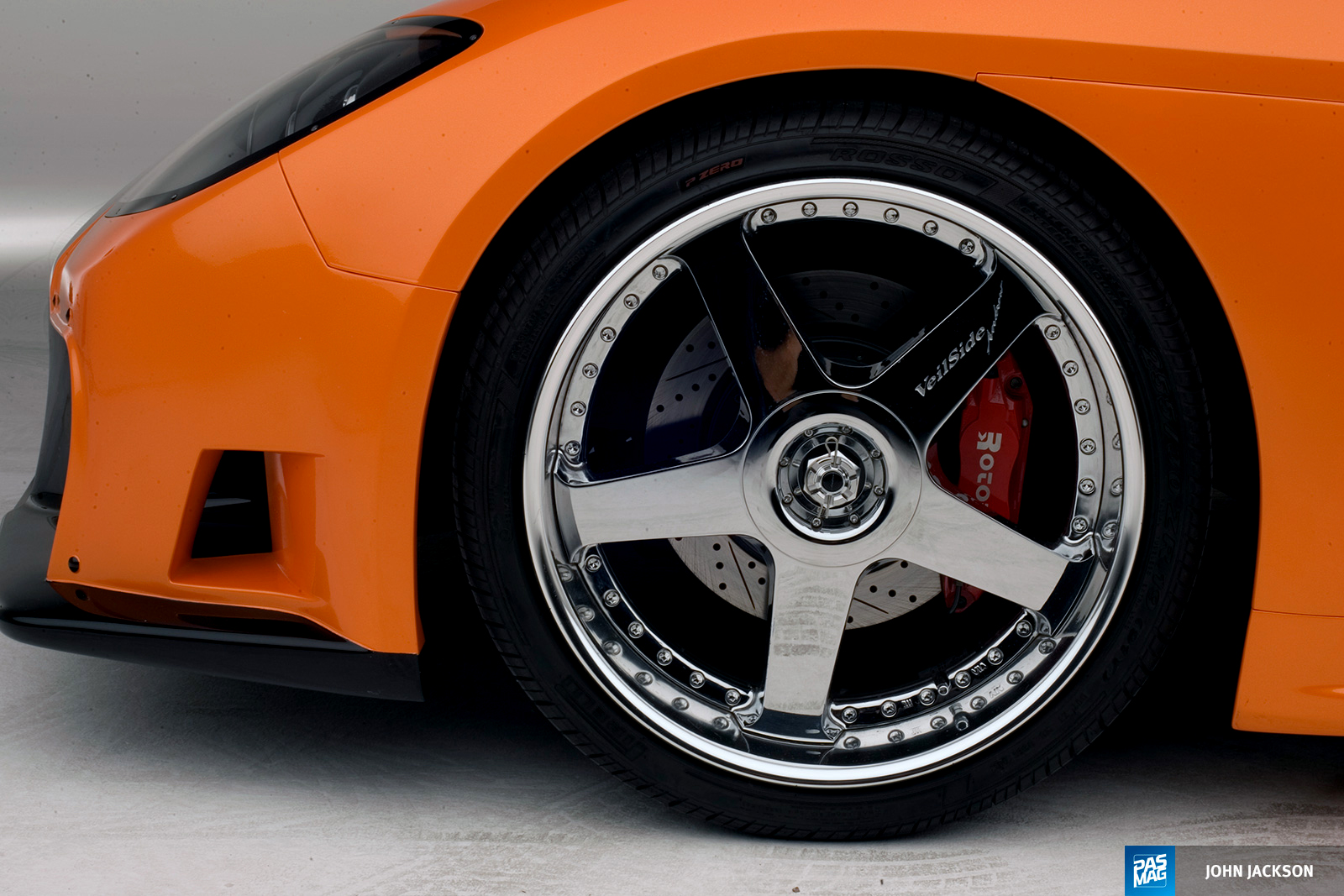 With the rare kit now in place, this broad-shouldered Mazda FD3S was bulked up by a whopping 220mm in width. With such a huge space to fill, it was logical that the RX-7 get a set of wheels that could be tailor-made to fit this application. Enter the shiny set of five-spoke Andrew EVO-V wheels from VeilSide. Measuring 19 x 9 inches in front and 19 x 12 inches in the rear, these wheels complete the RX-7's look like the gold chains on 80s icon Mr. T.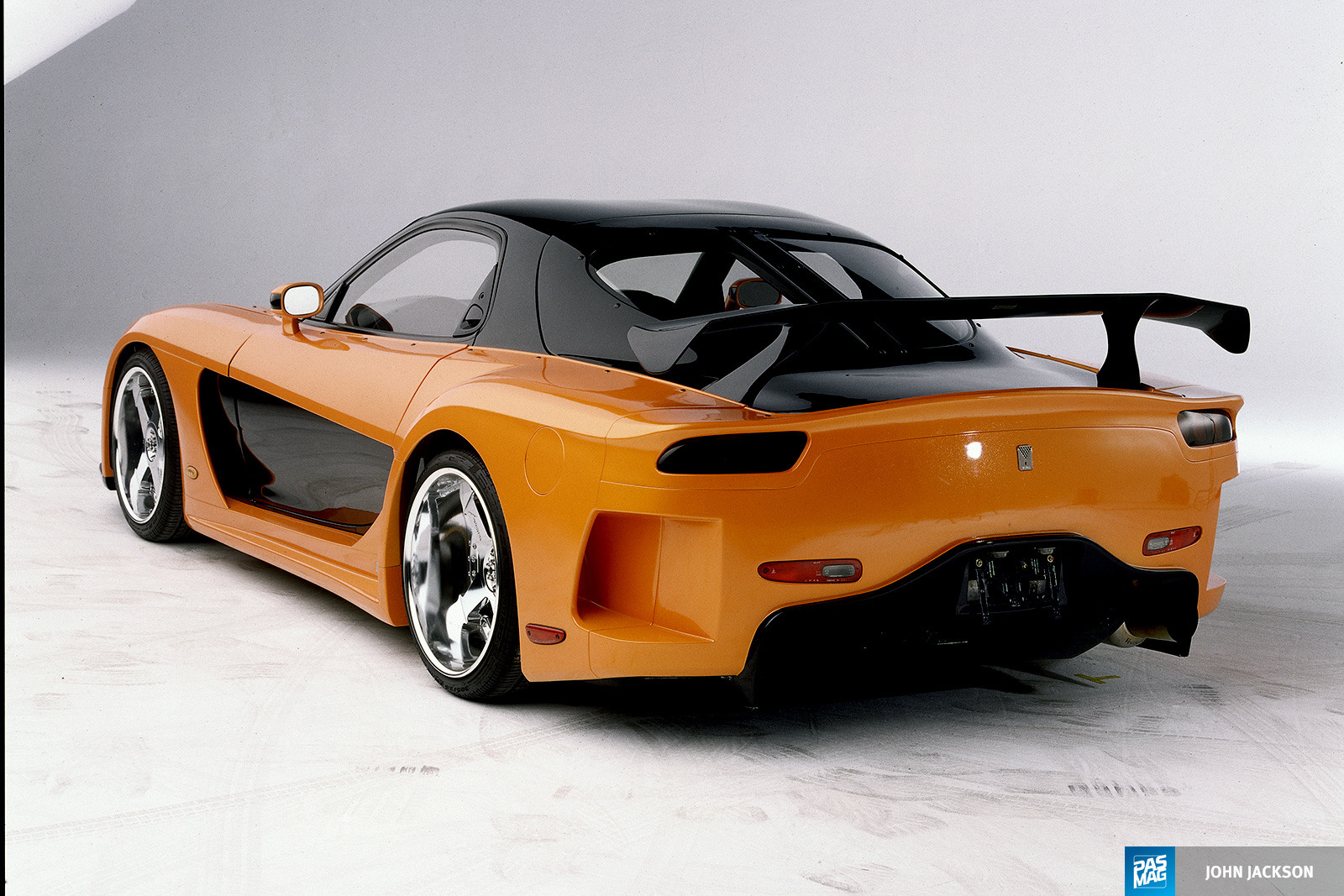 Traction comes by the way of Pirelli P-Zero rubber, with 255 / 30-19 stretched around the fronts and 315 / 25-19 lining the rears. These tires had their work cut out for them, as none other than pro-drift racer Samuel Hubinette (aka The Crazy Swede) was assigned as the RX-7's official stunt driver – making it dance for the cameras and smoke tons of rubber. To ensure that the RX-7 would behave to Hubinette's liking, the factory suspension was replaced with an adjustable N1 coil-over system from A'PEXi. The mono-tube design and adjustability of the coil-overs allow the suspension to be dialed in precisely, ensuring that Hubinette can take it to the limit safely.
Stopping power comes from a Rotora big brake kit package featuring four-piston calipers, drilled / slotted rotors and braided lines – a tried-and-true combination that allows for fade-free braking until the Director's final take.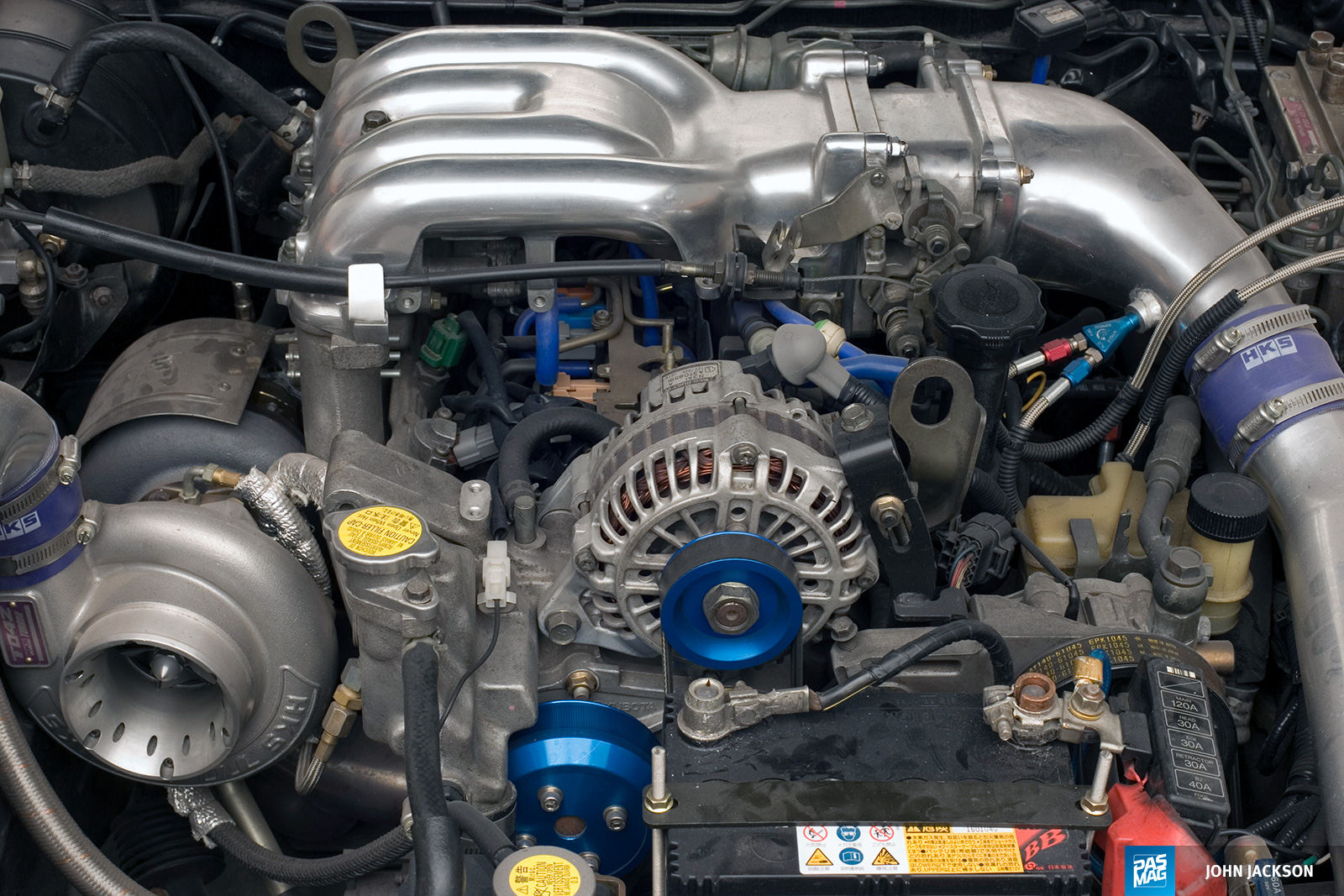 This particular RX-7 doesn't rely on a crazy engine swap to spin its rear wheels, rather the Mazda-issued 13B rotary can still be found in its engine bay. However, the potent 1.3L was pulled and massaged by VeilSide to produce serious power. Forced induction is no longer provided by the factory twin turbochargers, as they've been replaced with a massive HKS T04Z turbo kit.
Cooling is essential for any high-powered setup, but especially with a rotary. VeilSide dealt with this by engineering a special V-mount system, enabling both the intercooler and radiator to receive ample amounts of incoming air. A VeilSide titanium exhaust system was plumbed in as an escape route for the combusted gases.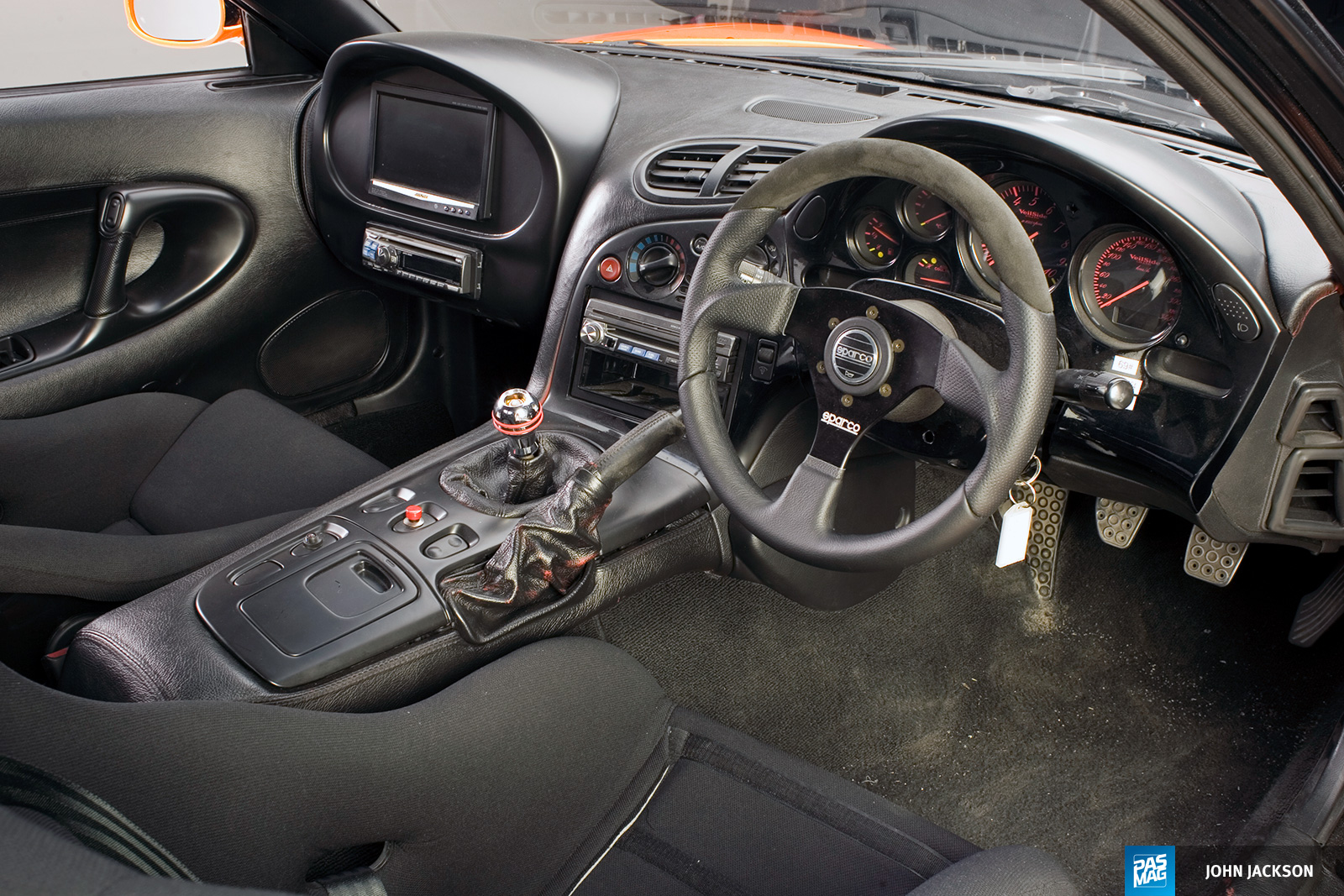 Increased fuel demands are met by the GT-R fuel pump, while NGK plugs provide a clean spark for optimum combustion. The entire system is controlled via an A'PEXi Power FC engine management system, which is also tuned by the VeilSide crew to ensure silky smooth operation. Finally, an ATS carbon clutch was popped into the drivetrain to help harness the horsepower and send it to the rear wheels.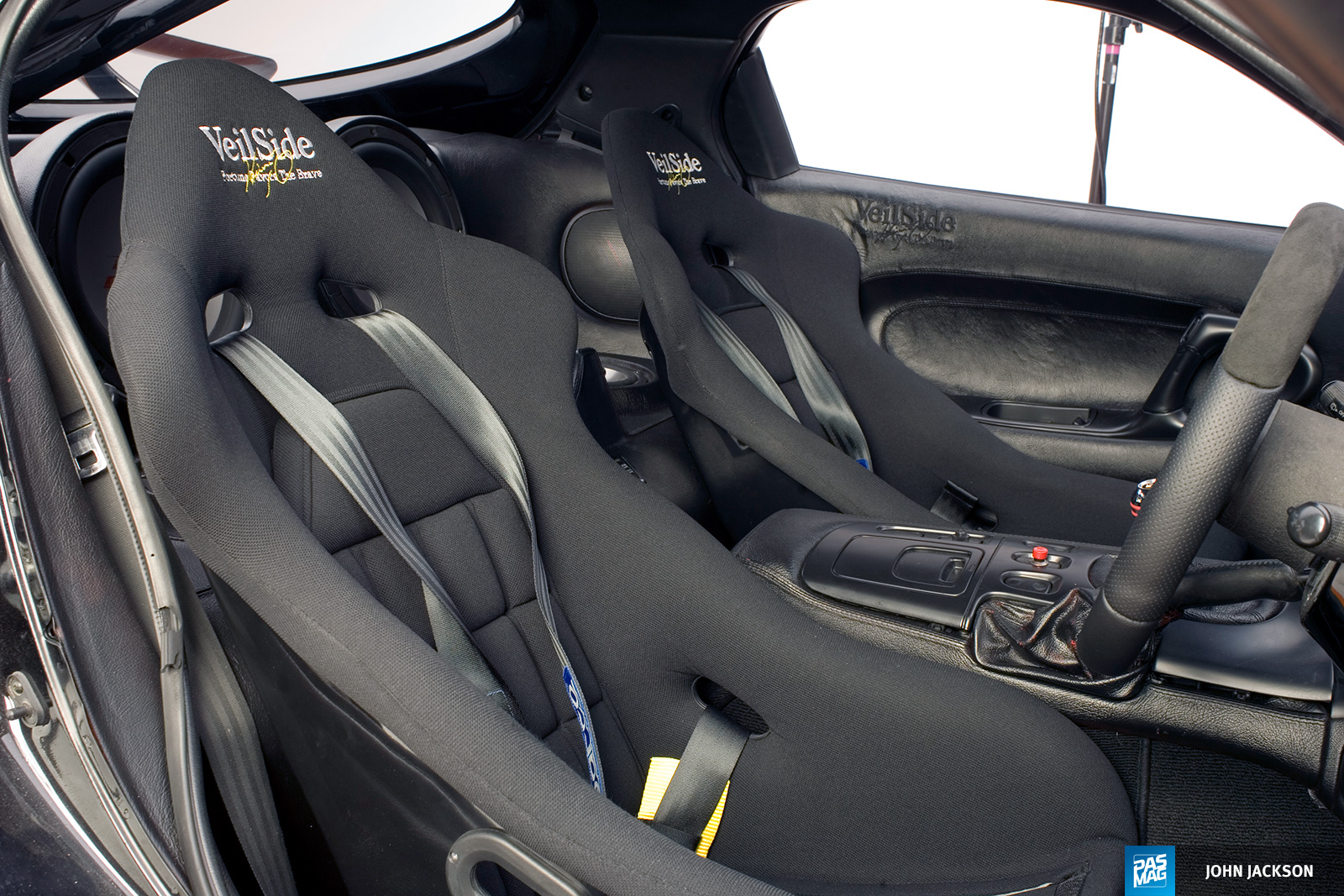 Peek inside the cabin and you'll notice that the steering wheel is on the right side. That's right – this RX-7 is straight JDM goodness. A set of VeilSide D1 R bucket seats and Sparco harnesses hold both driver and passenger in place, with a Sparco steering wheel and VeilSide shift knob used to keep the driver's hands happy. A VeilSide tension bar was bolted in to help reduce chassis flex.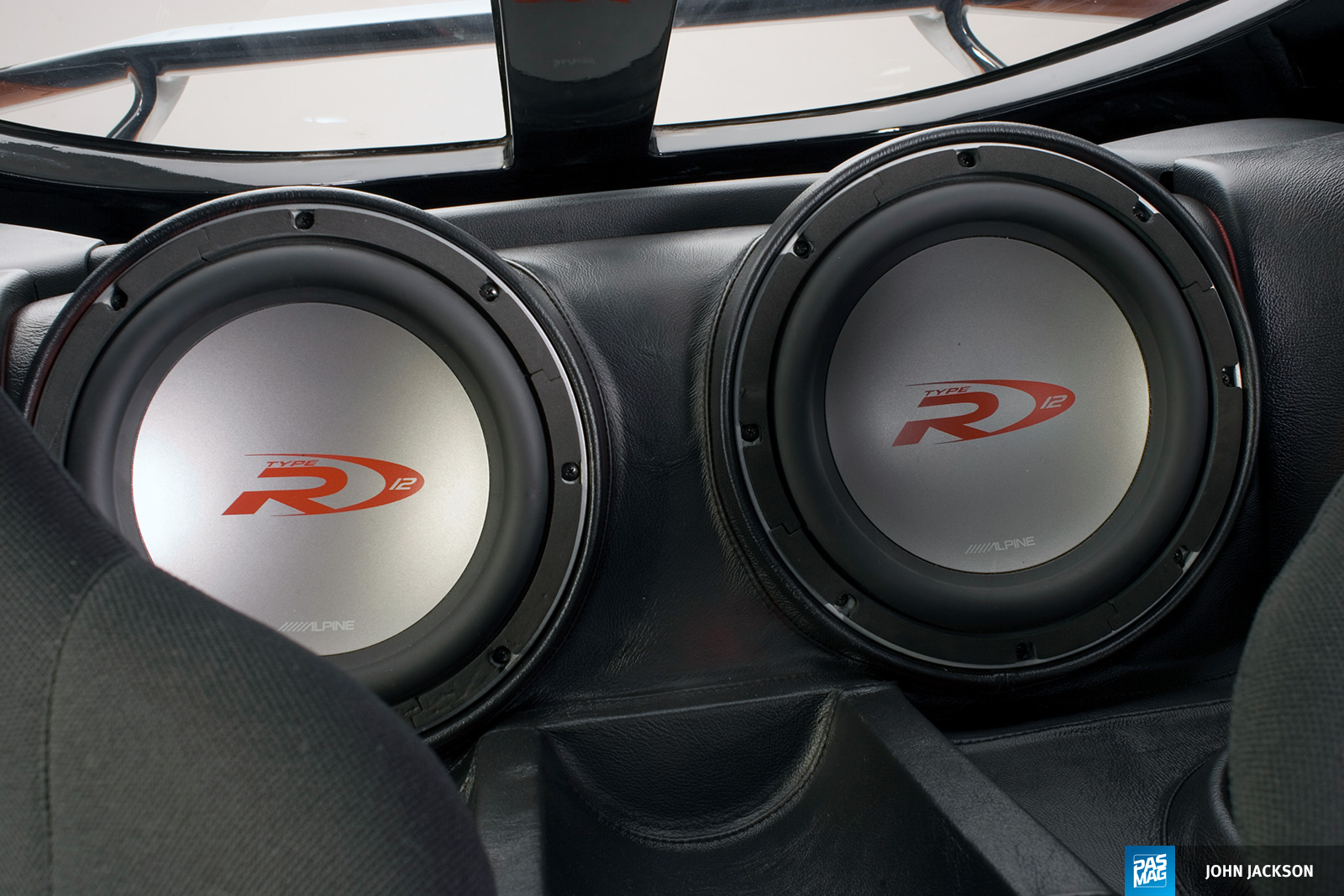 To complete this tuner car's image, a sweet system featuring the latest goodies from Alpine was installed. A pair of Alpine MRV-F450 amplifiers is in charge of powering a sound system that packs a pair of Alpine SPR-174A speakers in front and three heart-stopping 12-inch Alpine WR-1221D subwoofers. To maximize ground-pounding power, two are situated directly behind the bucket seats, while the third sits between the two amplifiers in the cargo area. Multimedia entertainment comes courtesy of two Alpine units, as an 8-inch Alpine TVE-T850 LCD monitor was grafted into the passenger-side dash, while another Alpine LCD / CD / DVD player sits in the factory location.
Dennis McCarthy, Universal's Vehicle Co-ordinator, was largely responsible for vehicle selection for the flick, and informs us this RX-7 was first spotted at the Tokyo Auto Salon. For the movie, its paint has been changed for more a bigger wow factor, as was the interior. Also, he tells us this RX-7 has many stunt doubles, so to speak.
It's hard to imagine that Universal had to build multiple copies of this intricate and impressive Mazda RX-7 for stunt and filming purposes. There were three shipped to the US, with two staying in Japan. Two are RHD and three are LHD, with two being interior and exterior clones, while one RX-7 was a mechanical doppelganger. These were necessary, as between the driving of Rod Millen and Samuel Hubinette, no less than seven differentials were broken and three entire transmissions had to be swapped out. With over 220 vehicles built for the production (not including rental vehicles) I'm sure that TFTF: Tokyo Drift could have gone well over-budget on just the build-up of its vehicle lineup. With the movie hype and promotion in full swing, the tuner culture will have to brace itself for the next stage of evolution as drifting is introduces to the mainstream. Only time will tell if this RX-7 will reach the iconic status of the Orange Toyota Supra or Lime Green Mitsubishi Eclipse / Evo VII from the previous films, but if you ask us this RX-7 has already made my list as of one of the hottest vehicles I've seen. Special thanks go out to Universal Pictures for their cooperation and exclusive behind-the-scenes look at this jaw-dropping creation.
Photography by John Johnson
---
PHOTO GALLERY