Photos by Allen Chu.
---
What were you doing when you were 21? Or try to envision what you will be doing if you're not there yet. Like most of us, we were still acting like stupid teenies; taking risks, skipping school, probably doing all kinds of drugs and eating a strict diet of trans-fats. As a 21 year old, you blow all your money on partying, clothes and maybe some on college if you can't squeeze more out of your parents. There isn't a lot of focus on anything, whether it is goals or aspirations or some sort of mission that requires hard work and putting away some money. I thought every 21 year old was like this, I was wrong.
"I put in crazy hours at my job and don't rely on my parents," says 21 year old Mike Khein of Pasadena, CA. "I work as a server at P.F.Chang's as much as possible to build this G." he admits.
I just assumed that Khein like many on the scene had some sort of outside help, such financing from the Bank of M&D (Mom&Dad). But insists he parents are totally against the car thing and don't give him jack. On the rare occasion, you might find self-made entrepreneurs but few at the age of 21 sinking $60,000 extra into car that already costs $40,000 all in. That is a rarity and certainly makes for a great story but the story really started when we spotted Khein's G at the Pro Motion-sponsored Spo-Com show in Long Beach. The Spo-Com show was put on by Pro-Motion Marketing exec Mike Morita and attracted the most trick showcars from all over the US. The caliber of the show was amazing but many of these rides had been on the scene for a while, except for this one and PAS jumped on it.
The other side of this story is that Khein drives his G all over SoCal. To work, to college, out with his girl and to meets with his boys a Team Kaotic. He gets stopped all the time in the car by people just wanting to know more and he is always willing to share his enthusiasm with them. He gets held up so often he is late for everything but says its all worth sharing his dream with fans of his project.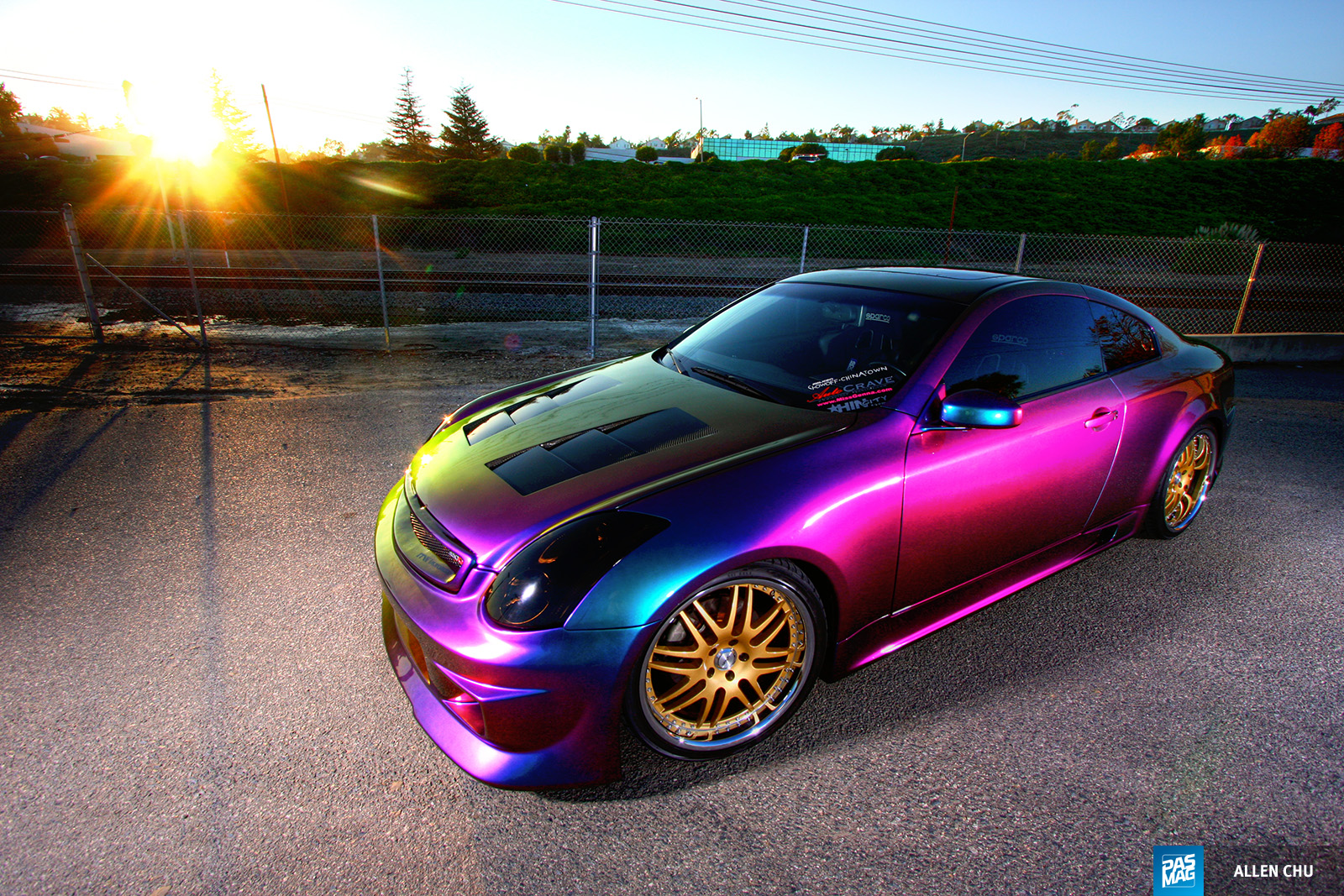 What sets this one apart from the herd is the stunning chameleon paint scheme. The editors here at PAS are torn about paint like this, sometime it can be a massacre but sometimes it works very well. As you can seen the dazzling effects of the paint on the sleek lines of the G in the Cali Sun sing harmoniously. The 'Eki Show' paint on Signal cars also really has some high impact but not so much on a broke-ass '90 Accord (Sorry Accord owners, you know its true). Khein drew inspiration from them and another Nissan nut Anthony Nazzal who has similar paint on his Z33. He contracted M1 Autobody to fit all of the new aero parts and spray the modified body in several coats of the House of Kolor Chameleon. Pre paint, the G35 was fitted with a GReddy front end an sideskirts with an KenStyle rear bumper out back, The doors were converted to scissor with a Vertical Doors kit and the hood was replaced with a carbon lid from Seibon. Khein accented the car with smoked headlights and tails while adding the JDM Skyline 350GT badging.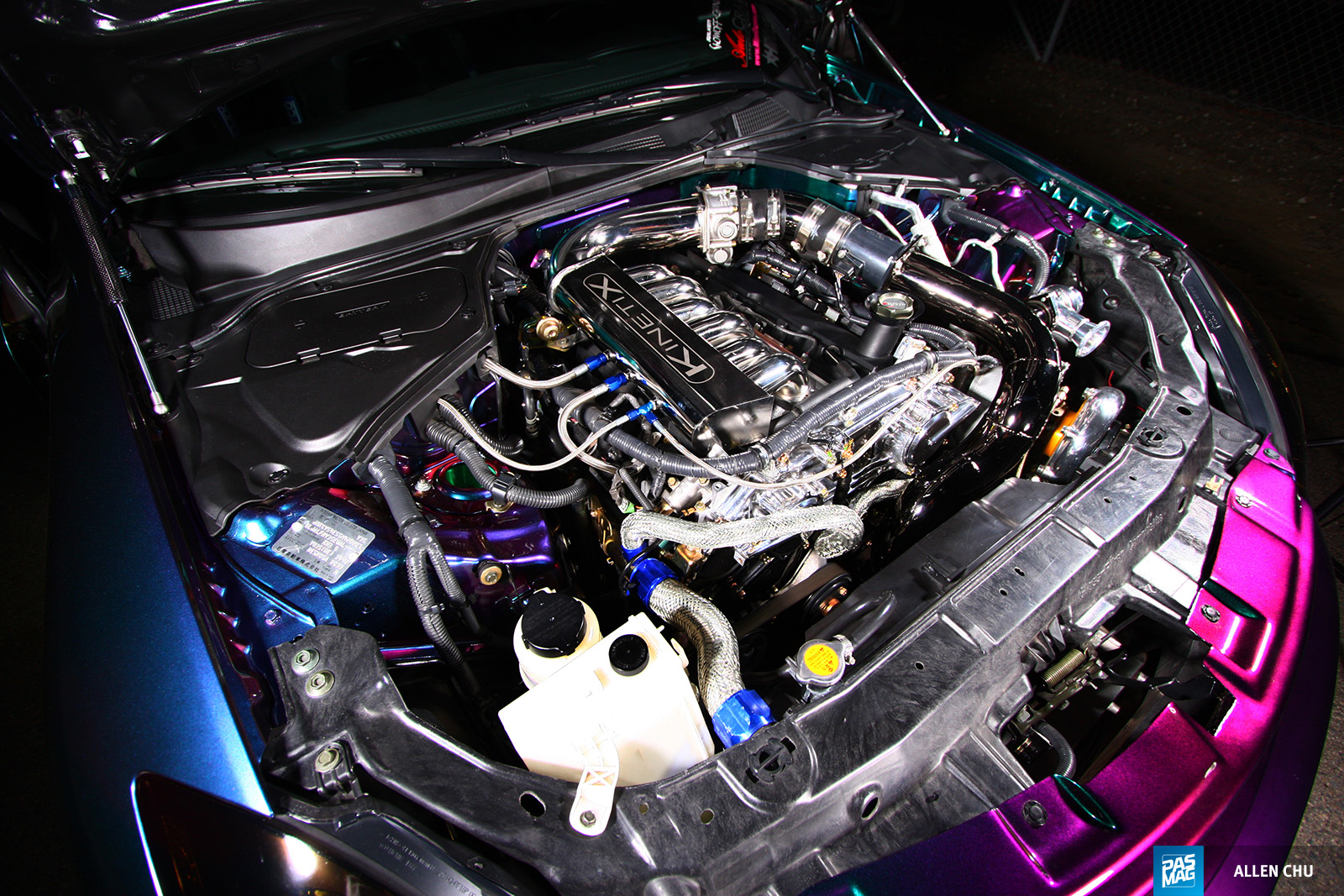 But true to the game, I can't get into a car that is totally weak under the hood. Khein wanted a daily that was reliable and would pull almost any supercar running down the 5 Freeway on the way to Newport. The engine was extracted and GT Motorsports fully rebuilt it with Eagle Rods, Wiseco pistons and ported the head for the street. Then a Turbonetics single turbo kit was added to the program for ease of installation and very respectable power gains. The 60-1 ball-bearing turbo spools quick and exhaust flows down into a VRT downpipe and testpipe. At this point the flow has a QTEC 3-inch electric cut out which diverts before cats. When closed, the fumes channel into a full 3-inch dual stainless steel exhaust firing out OBX-R canisters. All of the charge air is directed into black chrome intercooler piping and a Spearco front mount before cramming into the Kinetix polished intake to meet up with RC 550cc injectors.
On the rollers the G pumps out 650whp using Sunoco 104. Not bad from a motor that doesn't even pull half that from the factory. "On 91 Octane we put down 420whp" laughs Khein "Like everyone else, I want that high number and then have a decent tune for the road."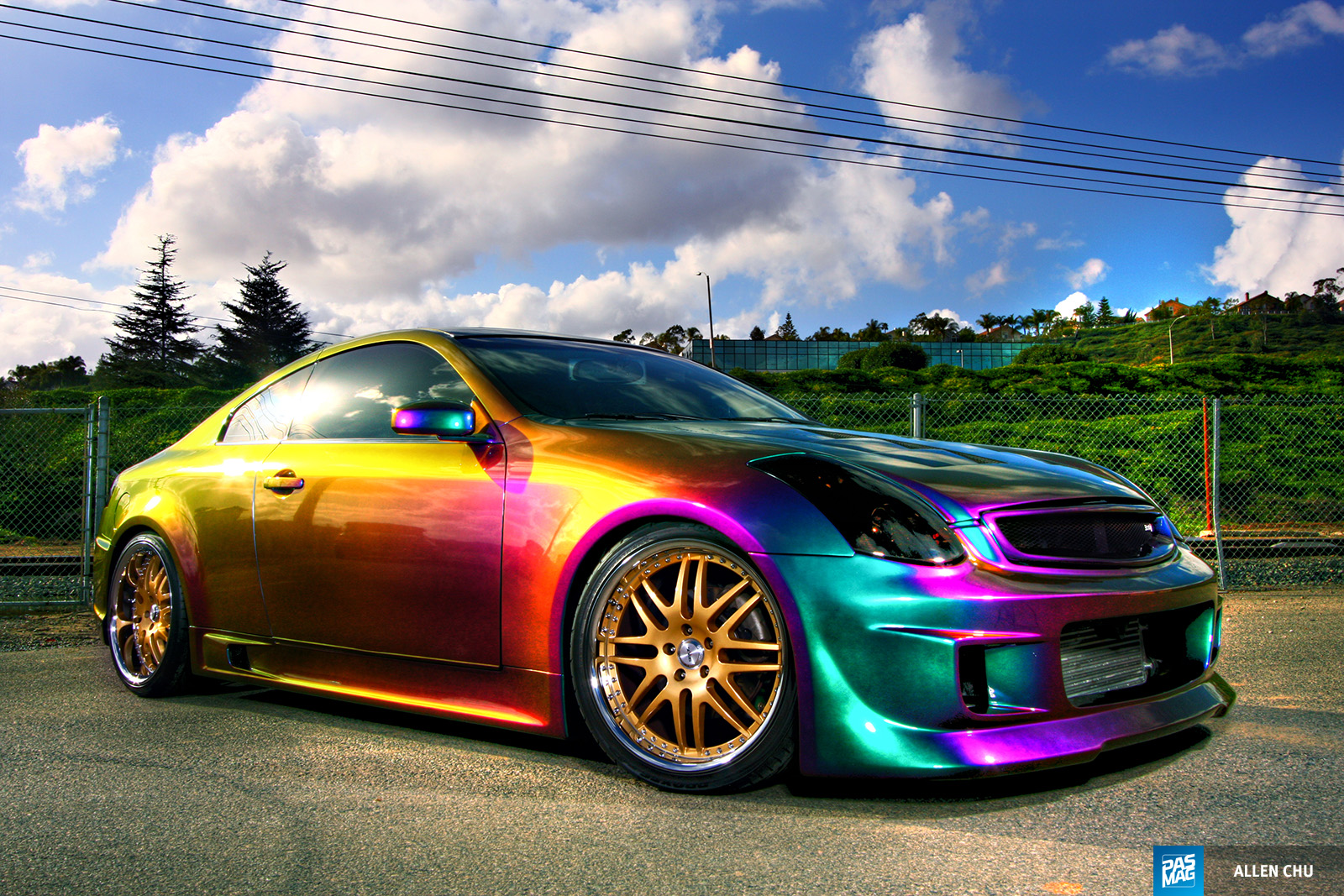 Since this G goes primarily to school, work and to take his girl out, you won't find the bulk of mods on the suspension or brakes. Khein added a TEIN Type FLEX coilover system, which is tailor-made for a project like this. The factory Brembos are beefed up with some Project Mu pads to augment an already capable system.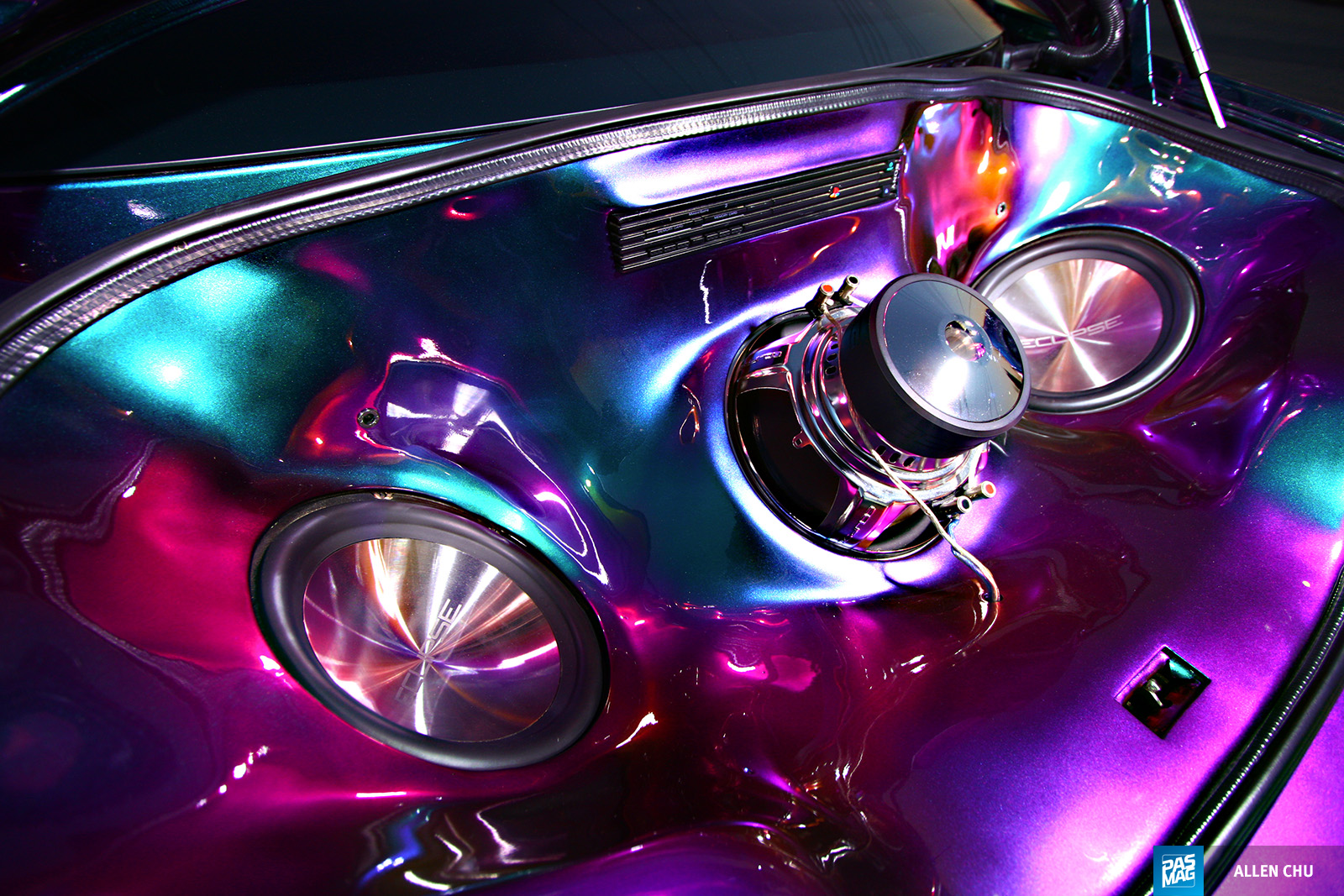 Khein admits he spends a lot of time in this car, so chances are if you are from the OC, you might have seen it. And if you missed it, you might want to drink less, mmmK? But essentially, he wanted to create a comfortable interior, with stunning audio and lots of toys. The center dash and console has been color matched in Chameleon, which we agree looks sick in photos but how do you drive with all that glare Mike? The factory Navi and controls are intact but the audio signal gets a boost from Phoenix Gold. A pair of Octane-R amps facing forward were installed with the 804 powering the Eclipse component speakers and the 801 powering the triple Eclipse Titanium Pro 10-inch subs in the trunk. The Sparco fighter buckets hug occupants and there are 4-point Sparco harnesses for safety. Behind the Sparcos is a prototype harness bar mounted to the B-Pillar and the floor. On the A-pillar is a triple pod housing Auto Meter carbon fiber faced Phantom gauges: (boost, AF, fuel pressure). But it isn't all business since Khein found time to insert a Playstation2 in there with a pair of wireless controllers for that LA traffic.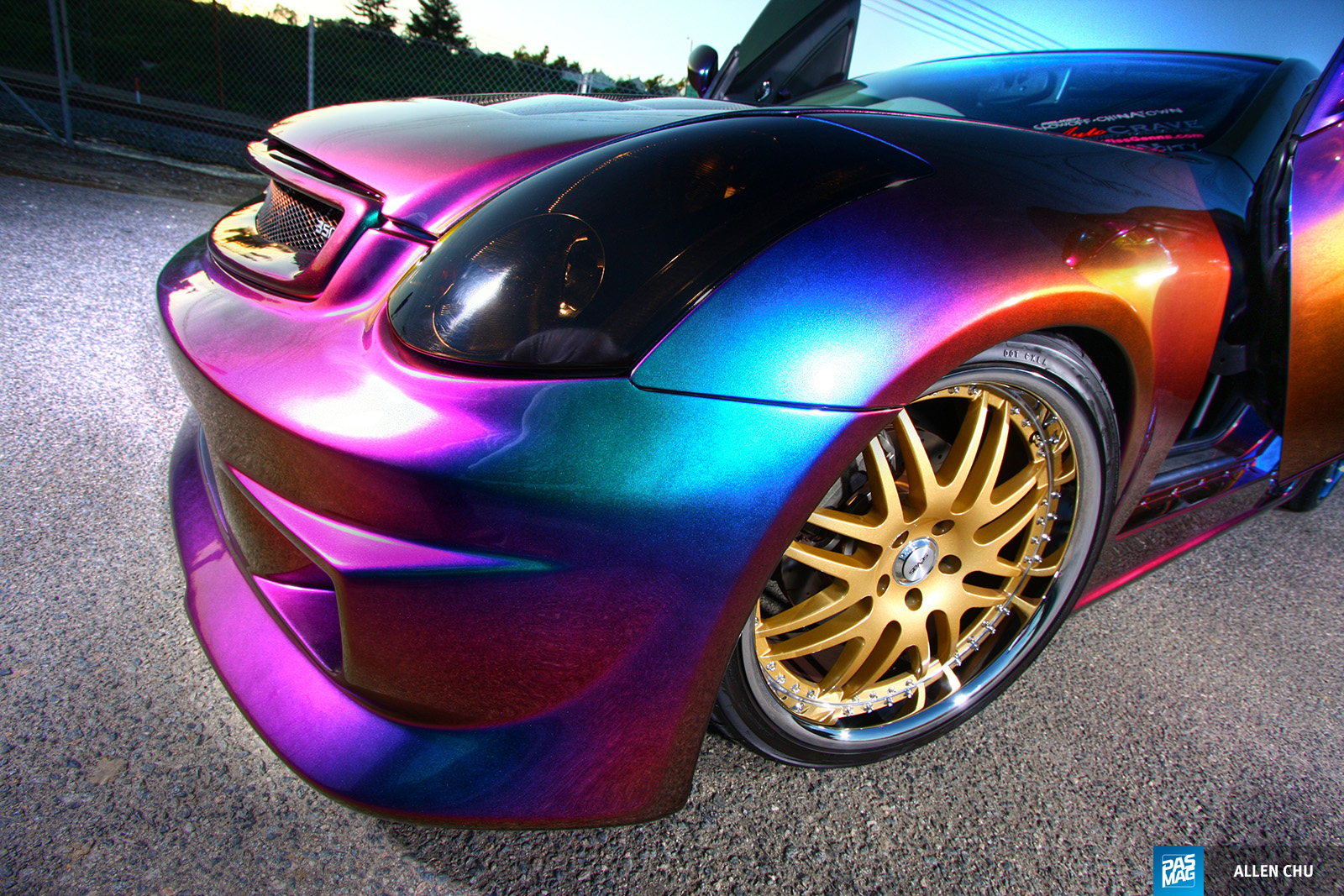 Khein needed some baller wheels to work properly with the outrageous paint. He decided on the S22 from SEVAS with the gold face and polished lip with some Toyo Tires. Tucked under the fenders are 20x8.5-inch in the front and 20x10 rolling thick in the back. The contact patch, courtesy of Toyo's outstanding T1S rubber comes from 245mm and 275mm rubber respectively.
With plenty of car at his fingertips, Khein is living large for a 21yr old student working tables at a restaurant. He claims this whole experience has been so rewarding and his eyes lit up every time we were discussing the feature details with him. And for us, we kind of had a moment seeing how his enthusiasm is so fresh and uninhibited or diminished. He even has a huge amount of support from his Import Model girlfriend, Genna (the G sounds like a J). And as you can see from the photos, with support like that you definitely would feel motivated to do pretty much anything.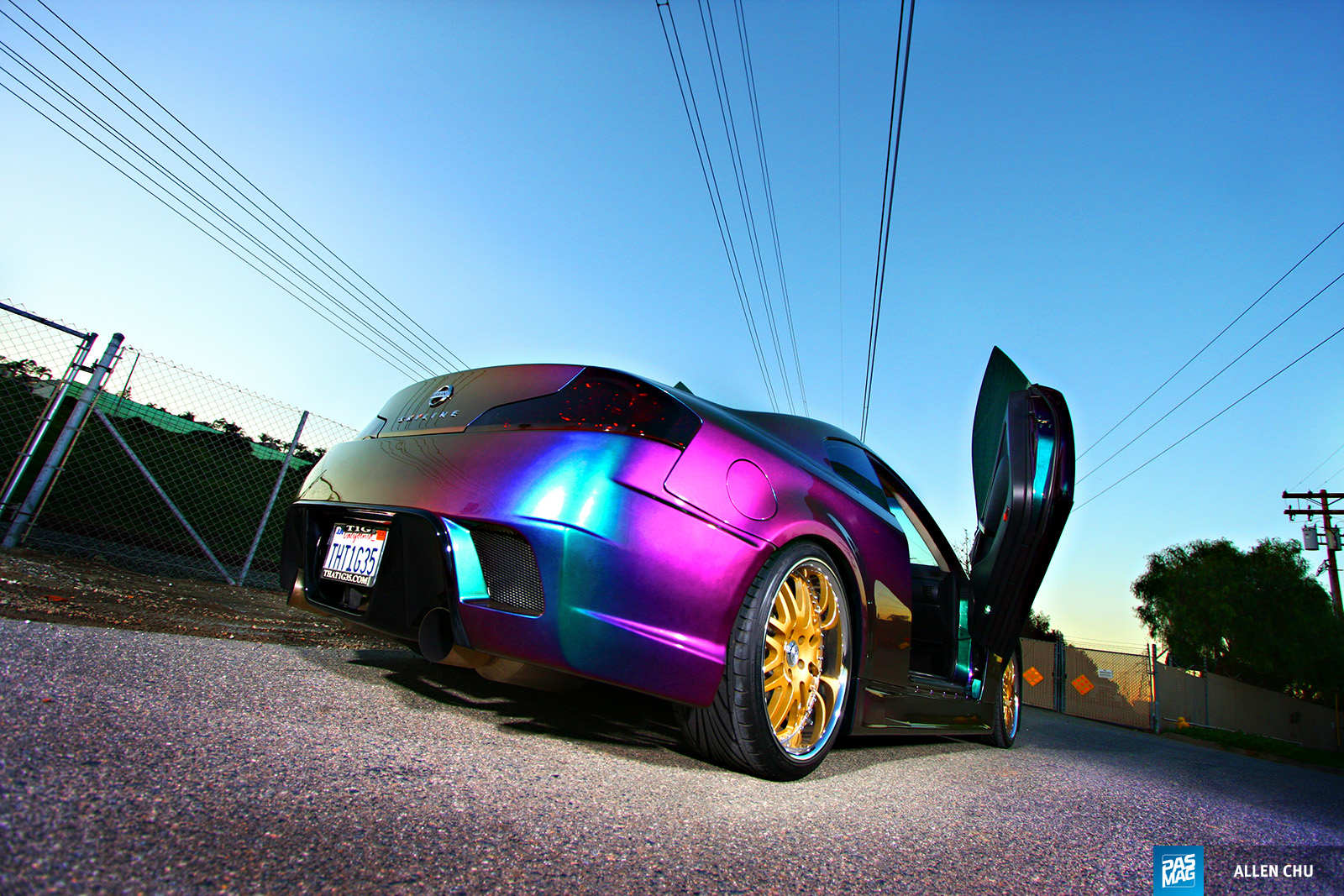 ESSENTIALS
Owner: Michael Khein
Location: Pasadena, CA
Vehicle: 2005 Infiniti G35
Power: 650whp (est.) with 104 octane
ENGINE / PERFORMANCE
VQ35 Built by GT Motorsports
Turbonetics 60-1 Ball Bearing turbo
Wiseco Pistons
Eagle Rods
Ported & Polished Heads
ARP Head Studs
HKS Head Gasket
Kinetix Intake Manifold
Turbonetics Evolution Wastegate
Turbonetics Raptor BOV
Spearco Racing Intercooler
Black Chrome Intercooler Piping
Full Dual Exhaust 3-inch SS
OBX-R Racing Mufflers
VRT Custom Straight Pipe
VRT Custom Downpipe
QTEC 3-inch Electronic Exhaust Cutout
Walbro 255lph Fuel Pump
RC 550cc injectors
Steel Braided lines
Samco Silicone Hoses
Polished Timing Cover
ENGINE MANAGEMENT
SUSPENSION
EXTERIOR
HOK Chameleon Paint by M1 Autobody
GReddy Front Bumper
GReddy Sideskirts
KenStyle Rear Bumper
Seibon Carbon Fiber Hood
Carbon Fiber Front Grille
Vertical Doors
Smoked Taillights
Smoked Headlights
Shaved Side Markers
JDM Badging
INTERIOR
Sparco Fighter Racing Seats
Fab Castle Seat Brackets
Prototype Roll Bar
Sparco 4-point Harnesses
Interior Panels Painted Chameleon
Triple Gauge A-Pillar Pod
Carbon Fiber Auto Meter Gauges: (Boost, AF, Fuel Pressure)
WHEELS, TIRES, BRAKES
SEVAS S22 wheels - 20x8.5 (f), 22x10 (r)
Toyo Proxes T1R tires - 245/35R20 (f), 275/30R20 (r)
OEM Brembos with Project Mu pads
AUDIO / MULTIMEDIA
Custom Fiberglass Enclosure (Chameleon)
Eclipse Titanium Pro SW9122 10-inch subs x3
SAVV 5-inch LCD Rearview Mirror
Playstation2 w/ wireless controllers
Phoenix Gold Octane R 804
Phoenix Gold Octane R 801
Custom Fiber Glass Molded Trunk Lid
7.2-inch Myron Davis LCDs in trunk
SHOUT-OUTS
M1 Autobody
Verticaldoors.com
GT Motorsports
Amato Tires
Team Kaotic
Genna
My Friends & Family
PHOTO GALLERY