By Adam Gordon | Photography by Martin Kruk (@martin_kruk)
---
If you're a Corvette fan who meandered through the Toyo Tires Treadpass at SEMA 2018, you most definitely took a moment or two to appreciate Brian Garin's 2019 Chevrolet Corvette Stingray. With a custom widebody kit covering big wide tires, and a screamer pipe poking through the hood, the 2019 Stingray's appearance tells a story of its own, alluding to a potent powertrain under the InfiniteGrey paint job. This build, however, is much more than just a boosted widebody 'Vette.
Before we dive deep into the build and the process it took to get into the Toyo Treadpass, it's worth examining that telltale widebody. The extended and vented front bumper, extra wide front fenders, and wide quarter panels are all bespoke one-off creations, designed by none other than the iconic Jon Sibal, a man who has designed more than his fair share of custom works for the SEMA floor. When designing this kit, very proportion and line was taken into consideration, which translates to a cohesive design which accentuates the Corvette's already-existing lines, as well as the bulges and lines on the VIS Racing carbon fiber hood.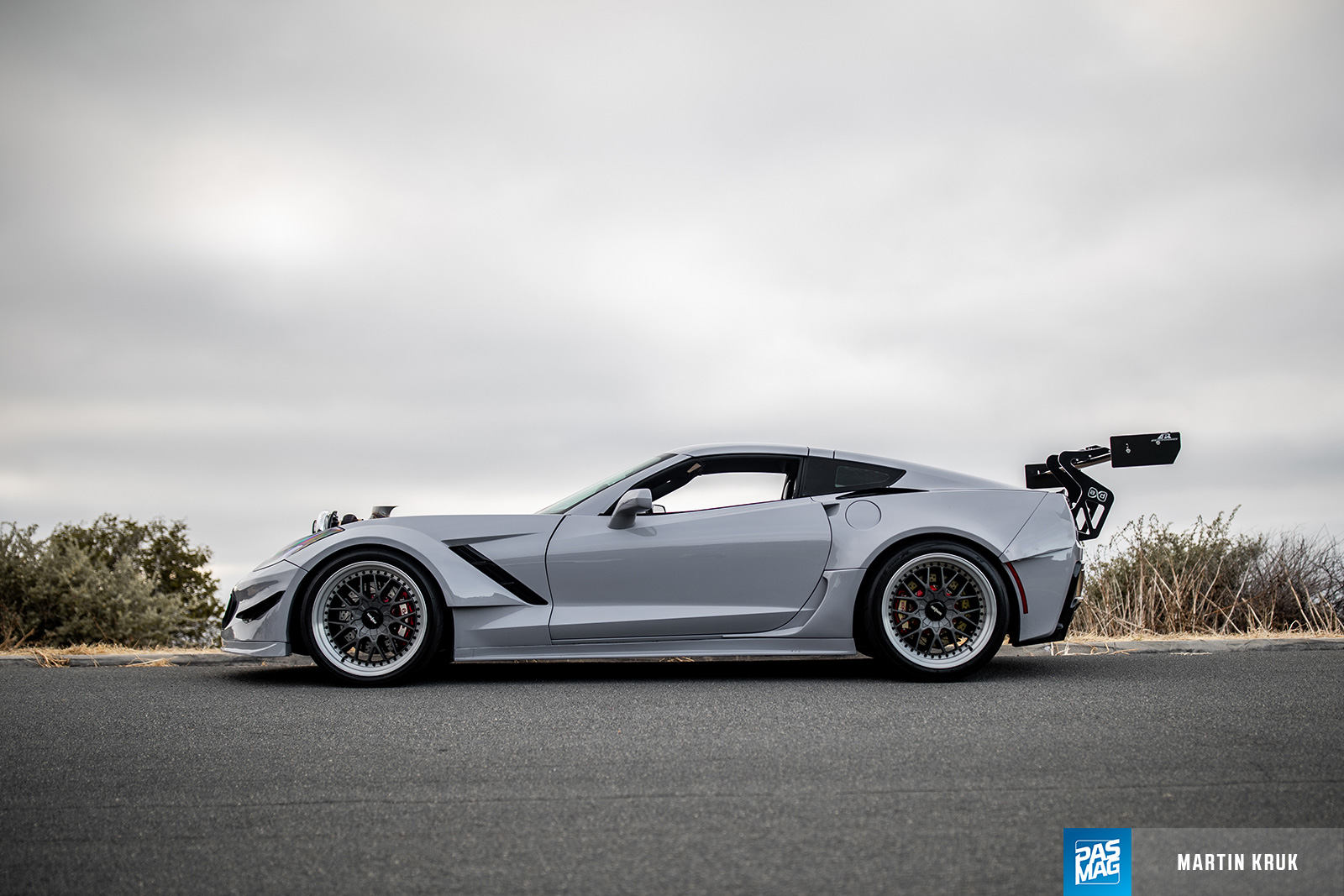 With wide features making up the exterior design language, that theme is continued with APR Performance's carbon fiber rear diffuser, side scoops, and a massive 84-inch carbon fiber deck spoiler supported by an Infinite Auto Design billet swan-neck deck mount. Now considerably wider than stock, the wheel and tire combination had to reflect that, so Rotiform's RSE wheels were employed in 20x10 and 20x13 measurements in the front and rear respectively. The wide wheels allowed for extra meaty Toyo R888R tires, measuring 275/35 in the front, and 315/35 in the rear.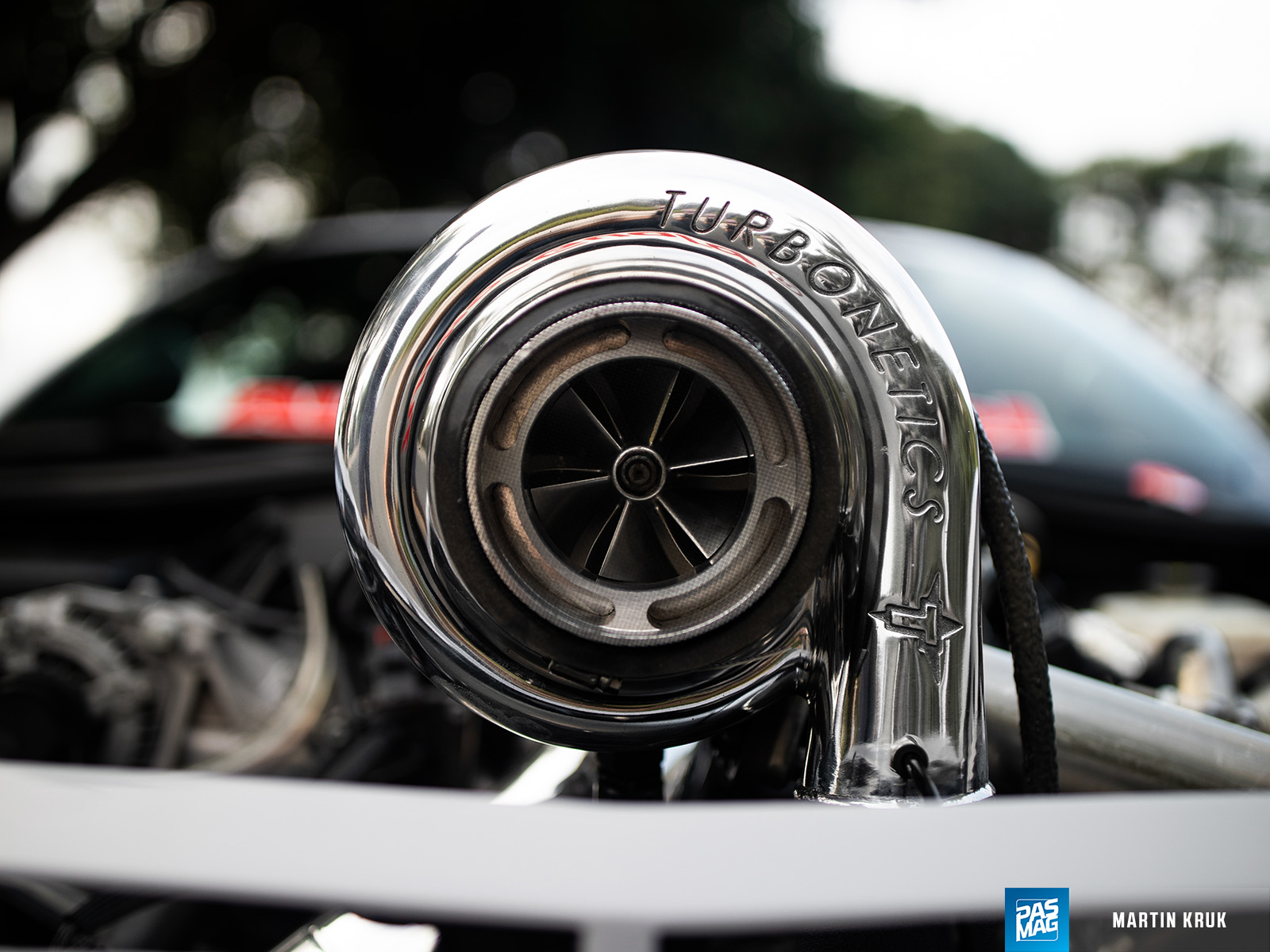 All of this widening begs the question: why? Other than show-worthy looks and a very cool talking piece (I mean, Jon Sibal designed the whole kit. How cool is that?), the wide stance and big tires help contain the monster beneath the surface, which the screamer pipe does a great job of conveying.. With a Turbonetics T88 midframe turbocharger hooked up to the Chevrolet LT1, Garin's Stingray makes a neck-snapped 633 horsepower at the rear wheels. Lowered on West Coast Corvettes lowering kit, the Corvette is no slouch in the corners either.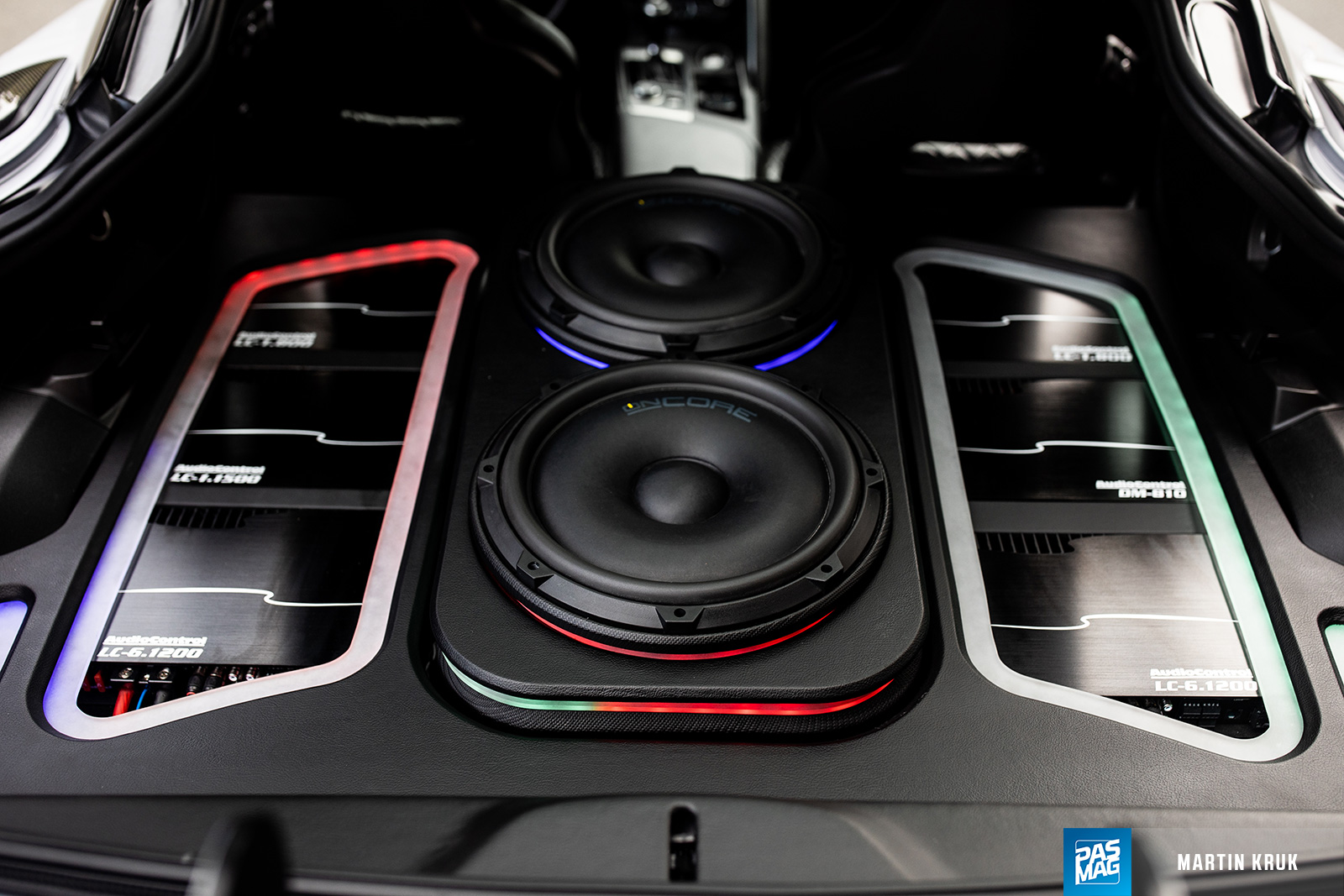 What makes Garin's Corvette even more special is the fact that it would be right at home on the floor of CES, or other mobile electronics shows. Thanks to his partnerships with brands like Audio Control and Oncore Audio, Garin is able to enjoy incredible audio quality during his drive. A plethora of amplifiers and a DSP from Audio Control amplify audio signals, sending them to a colorful array of Oncore Audio speakers, subwoofers, and tweeters, as well as set of Audio Physics 3-inch mid-range speakers. All in, this system produces ground-pounding audio with stunning audio quality.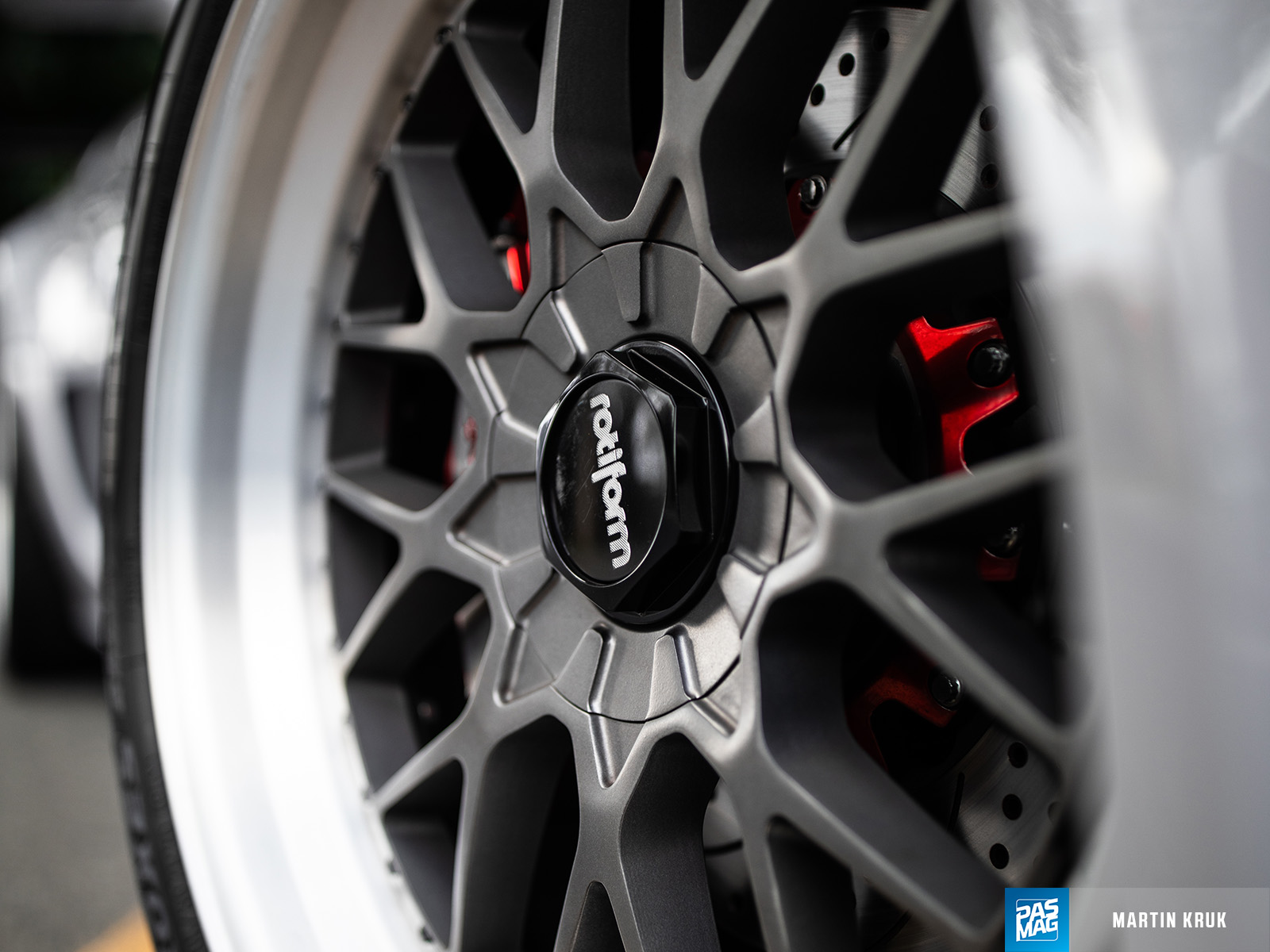 Believe it or not, the build you see here was completed, in entirety, in just six weeks once Garin learned he could have a spot in Toyo's Treadpass. With the help of his team, who he thanks for sticking out the long nights at the shop, this 2019 Corvette shows off just what Infinite Audio Design is capable of, and that's what his original intentions were for the car. "It doesn't take a year to build a SEMA-quality car," he says in closing. "As long as you have the right people that are passionate in what they do, and understand what needs to be done, you can make it happen."
---

ESSENTIALS
Owner: Brian Garin
Vehicle: 2019 Chevrolet Corvette Stingray
Built By: Infinite Audio Design
Location: Bellflower, CA
Engine: Chevrolet LT1 6.2L V8
Horsepower: 633 whp
SOCIAL
ENGINE & PERORMANCE
Turbonetics T88 single turbo
Custom turbo kit
A.R.C.E custom up pipes
EXHAUST
ARK Performance custom exhaust
PERFORMANCE ELECTRONICS
HP Tuners unlock
Dyno Tuned By Makspeed
AEM True Boost controller
DRIVETRAIN
Aluminum 6.2L V8 8spd Paddle shift
WHEELS & TIRES
Rotiform RSE 3pc wheels - 20x10 (f), 20x13 (r)
Toyo R888R tires - 275/35/20 (f), 315/35/2 (r)
BRAKES
Rolloface 388mm multi-piece rotors
BBK 6pt
CHASSIS & SUSPENSION
Pfadt lowering kit
Z51 shock upgrade
Z51 sway bar kit
EXTERIOR
Custom Paint color Infinite Grey by Infinite Auto Design
1 of 1 body kit designed by Jon SIbal executed by Infinite Auto Design
APR Performance carbon intake scoops, rear diffuser, canards, GT250 71" Carbon Deck
IAD custom billet swan neck mount
VIS Racing carbon fiber hood
LIGHTING
INTERIOR
Custom leather wrapped seats and headliner by IAD (Infinite Auto Design)
Schroth Racing Harness
AUDIO & MULTIMEDIA
Oncore Audio SM10d4 Mid Bass Drivers
Oncore Audio SM12d2 Subwoofers
Audible Physics RG100 4ohm wideband drivers in custom wave pod guides periodic design to maximize performance
Audio Control DM-810
Audio Control LC1.1500
Audio Control LC.1200 (2)
Audio Control LC.4800
Audio Control AC-BT24
Audio Control ACR-3
Stinger Electronics wiring
Stinger Roadkill
Stinger 70amp power supply
Batcap 2000 battery
SPONSORS
Toyo Tires
Audio Control
Oncore Audio
Turbonetics
Rotiform Wheels
Rolloface Brakes
Rovicams
APR Performance
ARK Performance
VIS Racing
Schroth Racing
SHOPS & MECHANICS
Infinite Auto Design
Makspeed
ARCE Built
Hallorian
ABM