Equipping some of the most attractive cars in the whole show with rubber, Toyo Tires sent their resident videographers through the crowds of SEMA to grab some beautiful shots of their best of the best.
Enjoy Toyo's SEMA 2018 Highlights Video!
Related Articles
Spot The Differences: Tuning 365, 4th Edition
In this edition of Spot The Differences, we look in the pages of our Tuning 365 (4th Edition) issue. Can you spot the 10 differences between...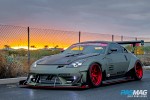 Ziggy Stardast: Brian McCann's 2005 Nissan 350Z
Photography by Alec Donaldson THERE'S A TURNING POINT WHEN SOMETHING THAT STARTED OUT AS A HOBBY BECOMES A LIFESTYLE; WHEN SOMETHING YOU LIKE OR...