Ricardo Zamora first learned to drive in a Chevy S10, and has been in love with trucks ever since then. His father took pride in working on his own cars and maintaining them in good condition, while his grandfather was also a big influence in his interest in cars. "He enjoyed buying new cars," Zamora remembers, "then fixing them, making them unique to his liking, and then selling." There was a lot of gang related violence in the city Zamora grew up in, "joining a gang was very prevalent in my neighborhood," he expresses. His family kept him busy and out of trouble.
Zamora helped build a few different vehicles since he was 16 years old. The first vehicle he helped build was the family SUV. "It was a 2007 Chevy Suburban with a drop kit, 22-inch wheels, double-din stereo and headrest TVs, and had two-tone black and grey interior with chrome accents on the exterior," he mentions. Following that vehicle, Zamora helped his older sister build her 2003 Kia Optima. "I was apprenticing at a body shop and was able to prep and help paint her car a unique Kandy Teal color, which was a first in the area," he expresses. The Optima had 20-inch wheels and two 10-inch subwoofers.
Once he was able to, Zamora began to work on his 2001 Mitsubishi Galant. "I prepped and painted it a Lexus red with a mix of flake in the paint," he remembers, "and put 20-inch Diablo Reflection X wheels with matching red inserts, dropped it, upholstered the dash, headliner and door panels, painted the interior trim pieces red and it had two 12-inch Kicker Comp subwoofers along with a single-din radio." The Galant was his last build before he focused on his career and sold all three of the cars when he moved to another city. "I left the car scene for a few years while I got settled in my new city before I was finally able to come back to the car scene, and build this truck I have now," he states.
Despite original intentions to keep the 2017 GMC Sierra stock, and save his building budget for a future vehicle, everything snowballed after Zamora put a set of 26-inch Dub wheels on the truck. The urge to do more and modify everything returned after years of hiatus, and the rest is history. Taking inspiration from low riders, the truck is slammed on air suspension, and was treated to some show lighting and paint pinstriping. These days you can catch Zamora at local car shows taking home truck awards.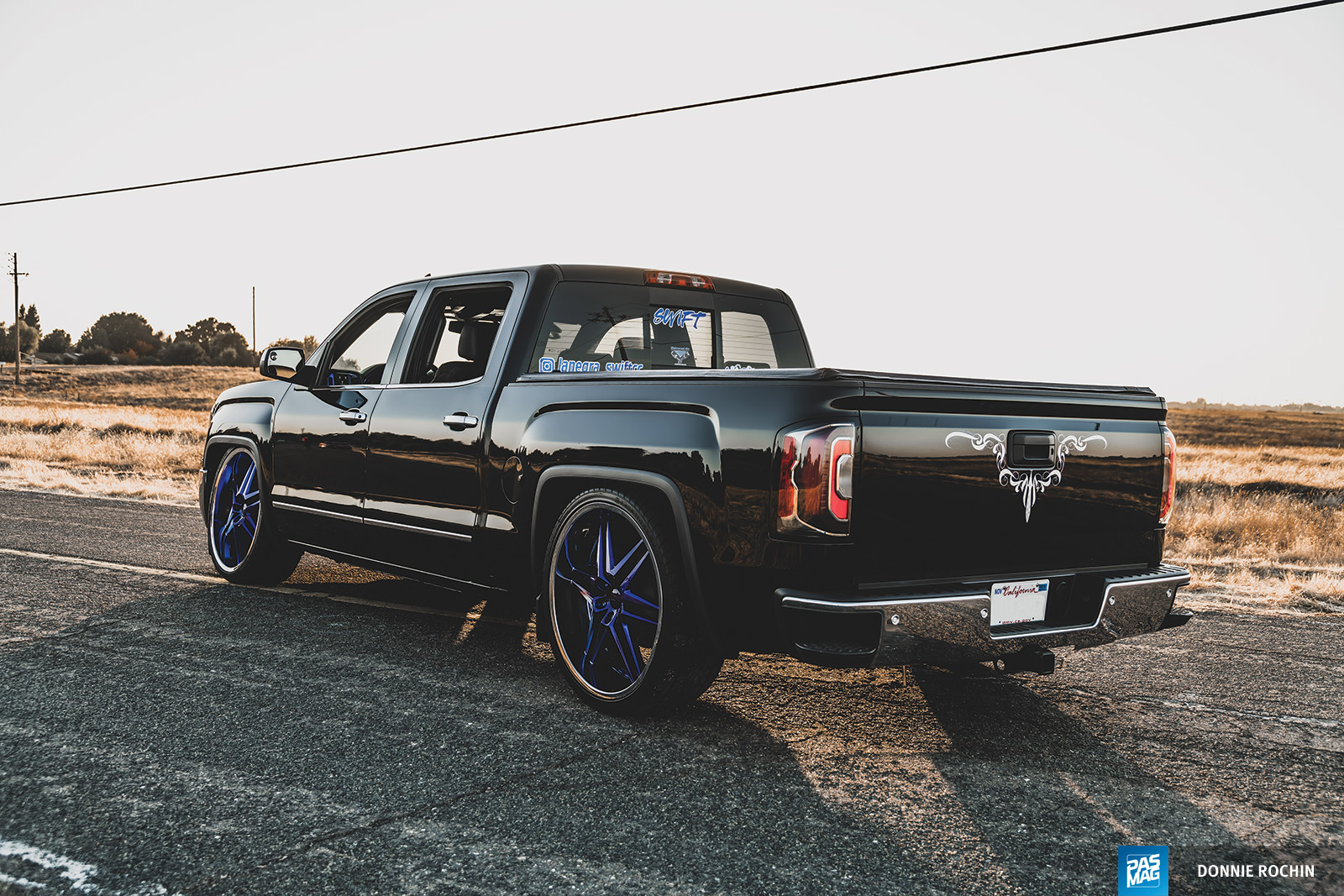 Photography by Donnie Rochin (@r0cean11)
---
INTERVIEW
PASMAG: What is your favorite aspect of the build?
Turning something common and making it unique to give it a whole new look.
Were there any major challenges you experienced in the build?
I would say the major challenge that I and everyone who builds cars go through is managing money to be able to build a car, but also manage your bills.
What were your original intentions with the build?
My original intentions were to keep it stock and build another car in the future, but after adding rims it was all a blur from then on. Nothing changed - just the urge to want to do more returned after years of not working on cars.



Why did you choose certain brands for your build?
After looking at a few different brands of air ride components, I chose Universal Air Suspension because it was a great brand with a good reputation. It wasn't advertised much where I live, so I reached out to a friend in southern California who was the one who really taught me about this company and the great things they were doing.



What influences or inspiration helped you over the course of your build?
I would say several things have inspired me and continue to inspire my build. I have always loved the old school feel of lowriding back in the day and the new look of new age cars. So I have tried to tie in the best of both eras for my build.
Is there anything personally or about the build that you would like readers to know?
Don't be discouraged about your build if it's taking some time to happen. We all start somewhere, and don't all have the same financial stability to put so much time and money into our builds. If you do it because you love it then continue to move forward. It's not a sprint; it's a marathon! And you should build for your own likes and not so much for another's interest.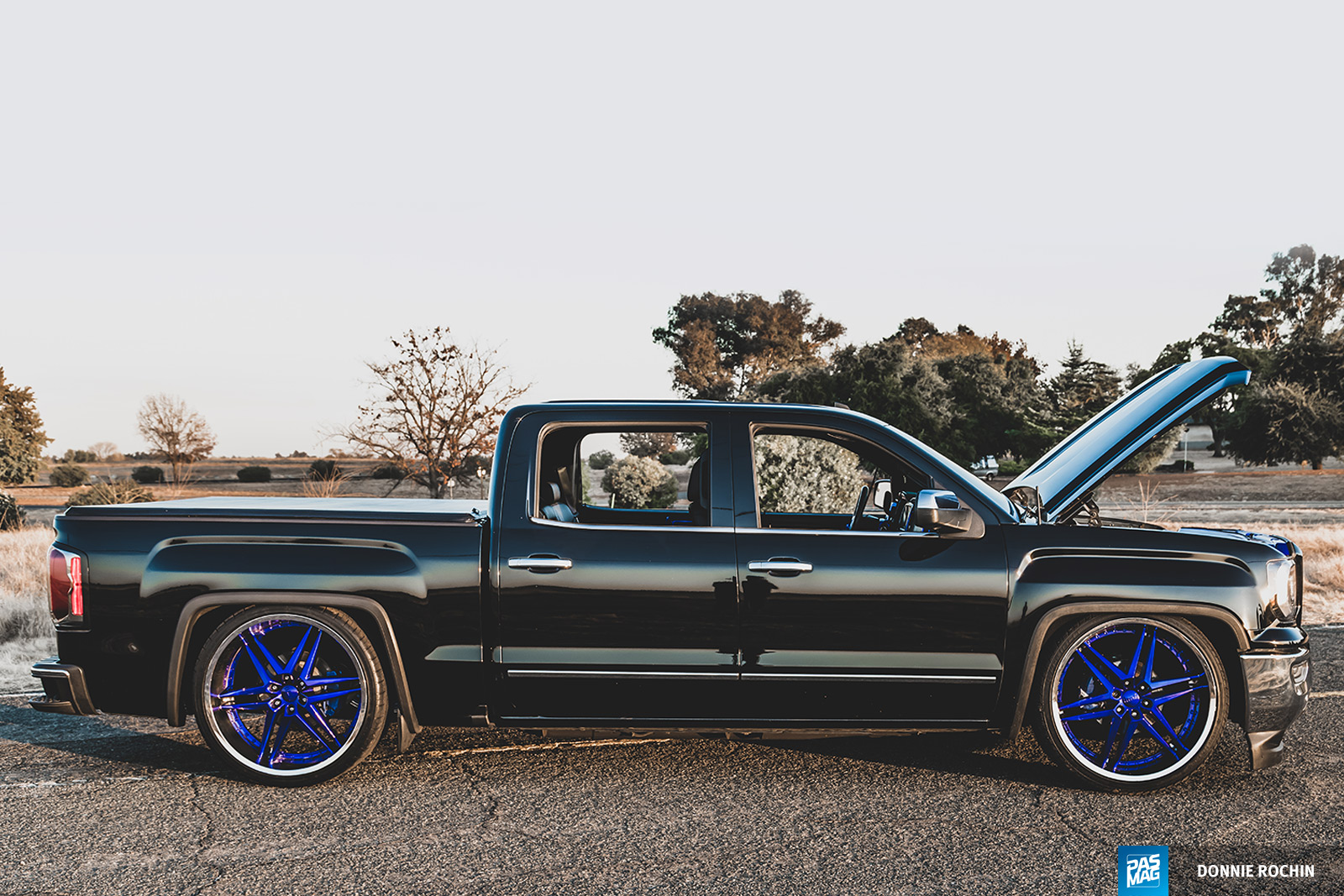 ---
ESSENTIALS
Owner: Ricardo Zamora
Location: Stockton, CA
Vehicle: 2017 GMC Sierra
Engine: GM LS 5.3L V8
Horsepower: 355 whp
Club: Swift Car Club
SOCIAL
Facebook: /ricky.h.zamora
Instagram: @lanegra_swiftcc
Event: Hot Import Nights
Location: San Jose, CA
% of popular vote: 54%
ENGINE
WHEELS / TIRES / BRAKES
Dub Dirty Dog wheels - 26-inch
CHASSIS / SUSPENSION
Universal Air Suspension air ride setup
EXTERIOR
Silver leafing and pinstriping
LED underglow
INTERIOR
Kandy Kobalt Blue painted (trim, dash, door inserts)
PHOTO GALLERY