How Ken Gushi found a balance between everyday practicality and purpose-built competition cars with his IS300.
There's a good chance that most of our readers know the name Kenshiro Gushi. If you're not familiar, Gushi is a Formula DRIFT driver with multiple podium finishes over his career, as well as an incredible brand ambassador for GReddy Performance Products. As you may have guessed, he's no stranger to building and piloting high-octane, high-horsepower vehicles, especially when it comes to drift cars. More often than not, the vehicles Gushi drives are built to the limits, pushing absolutely insane horsepower and torque figures, and are engineered for the highest levels of competition. This time, that is not the case - and that can be a good thing.
It's easy to get caught up in four-digit horsepower figures and the absolute limits of engineering, but when it comes to the street, a lot of those vehicles aren't exactly comfortable, or legal. Having eventually grown tired of preparing a tow-rig and trailer every time he wanted to go drift for a few hours, Gushi made a point to build something that was purpose-built for the street. The requirements were simple enough: It had to be reliable, presentable, comfortable enough, and of course fun.
Gushi's decision to choose a Lexus IS300 as the platform of choice comes from his love of Toyota's JDM offerings like the JZX and JZS platforms. Back in the early 2000s, Gushi owned several Toyota Cressidas, including one powered by a 400 horsepower 2JZ, so the IS300 was something he saw as a more high-tech modern version of the Cressida and JZX. Since the IS300 shares a lot of suspension components with JZX platforms, it was only natural that he built the American cousin of the JDM cars he admired.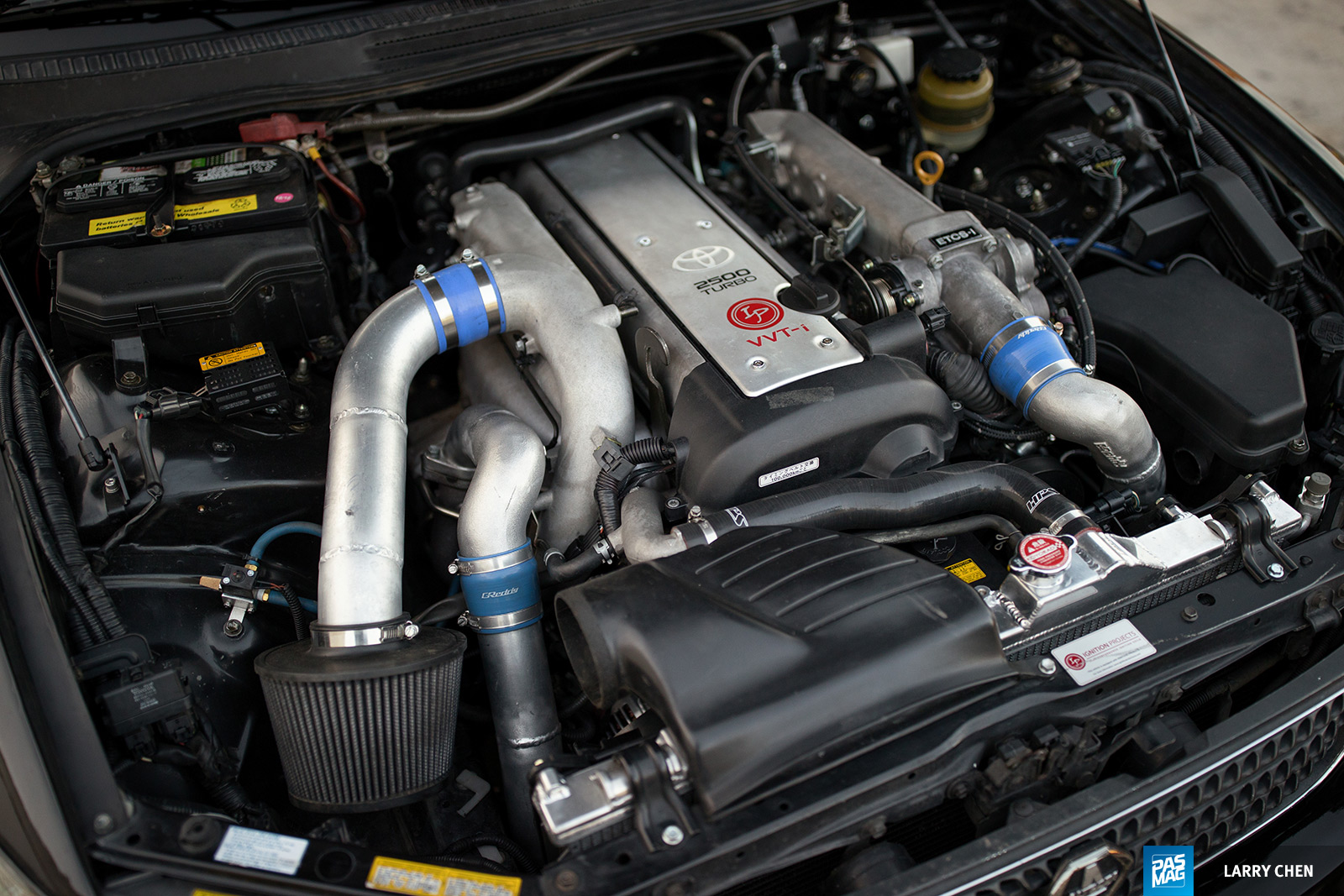 Gushi has his father to thank for his vehicular know-how and passion. "He has taught me a lot of what I know about cars and how to work on them," he tells us. "As far as I can remember, I have always followed his work and knew I wanted to be just like him." That experience had Gushi working alongside the team at GReddy for his most recent motorsports build, the 2020 Toyota GR Supra that he drives in Formula DRIFT. It's safe to say he had some solid build experience before this.
When it came time to build his IS300, Gushi utilized that experience to make sure his IS300 remained reliable at all times. "A lot of the brands that I chose to go with are the same partners I work with on my Formula DRIFT program," he says. "I believe that if they are good for the harsh conditions of competitive drifting, they are definitely good for street cars." After swapping a 1JZ-GTE into the car, he opted to keep things simple under the hood. Some Ignition Projects pieces, a Koyorad aluminum radiator, a GReddy exhaust, and a PanicMade LINK G4 ECU to tune are all this thing needed to make good power for the street.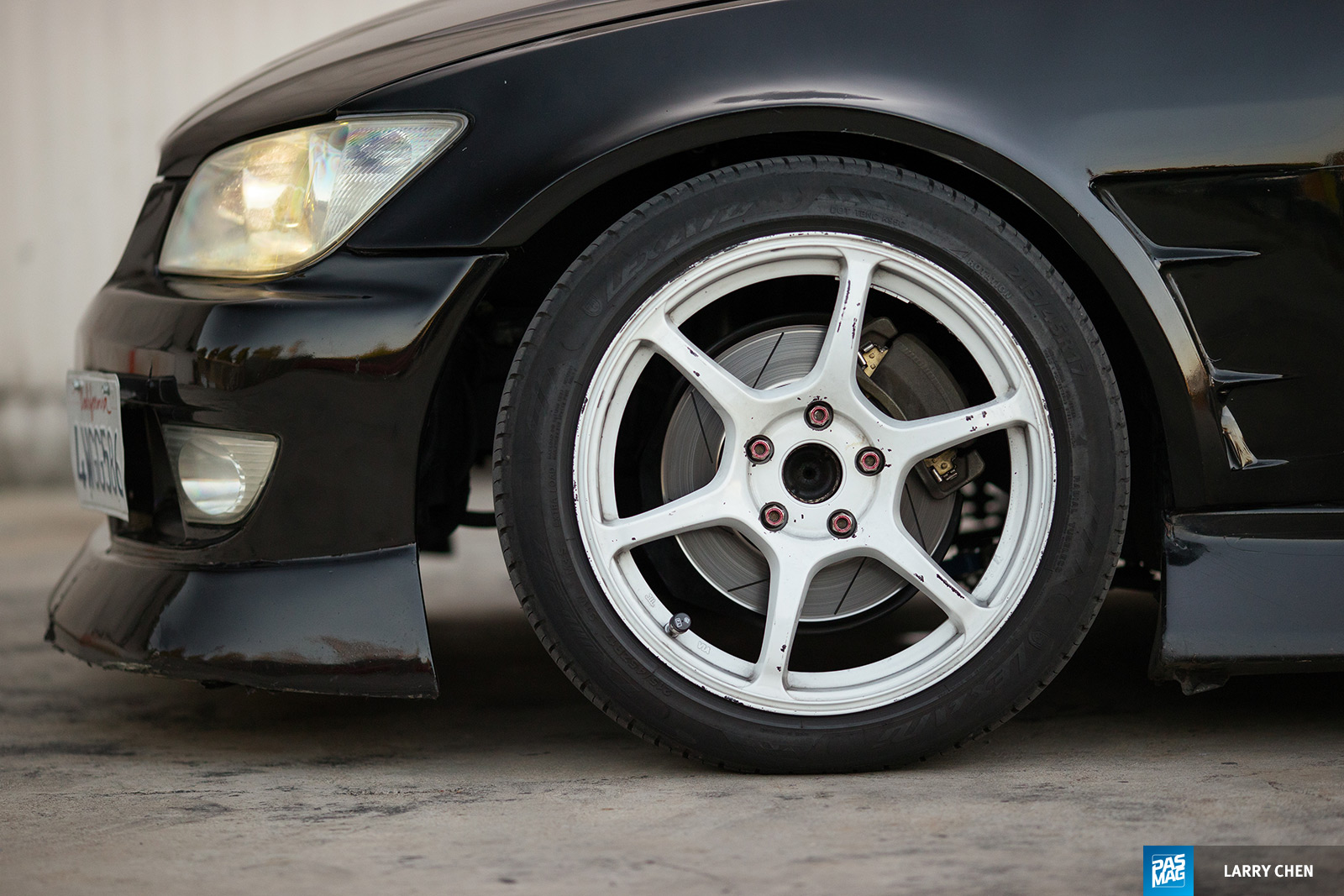 Behind the firewall, the 1JZ meets a Samsonas 6-speed sequential transmission - perhaps one of the coolest and most "racecar" parts of the whole build. Behind that, a DriveShaft Pro one-piece aluminum driveshaft connects to a simple welded differential. When the clutch is dumped, the IS300 spins 18-inch Rays GramLights 57FXZ wheels, an overseas model to add a little JDM flair to the car's style. Suspension is handled by KW Suspension V3 coilovers, and SerialNine bushings reduce play in the subframe and differential. Adding a little extra steering angle for drift use is a set of HEYMAN 800PS knuckles and KGSpec extended lower control arms up front. Mechanically, this is a phenomenal simple drift setup designed to be thrashed and keep going.
If Gushi was simply looking to put together a car for thrashing, he could have called it a day, but his inspiration for a street car comes from the street style kings of Final Bout drivers, specifically the guys at Team Proceed. Having become friends with the Team Proceed crew over the years, Gushi found it hard to resist their influence. Clean body lines, a cohesive design theme - the aura of a clean street car is hard to pinpoint to one single thing, but you know it when you see it. This became the premise for his Lexus' design language. Building a drift car that didn't look clapped out was important.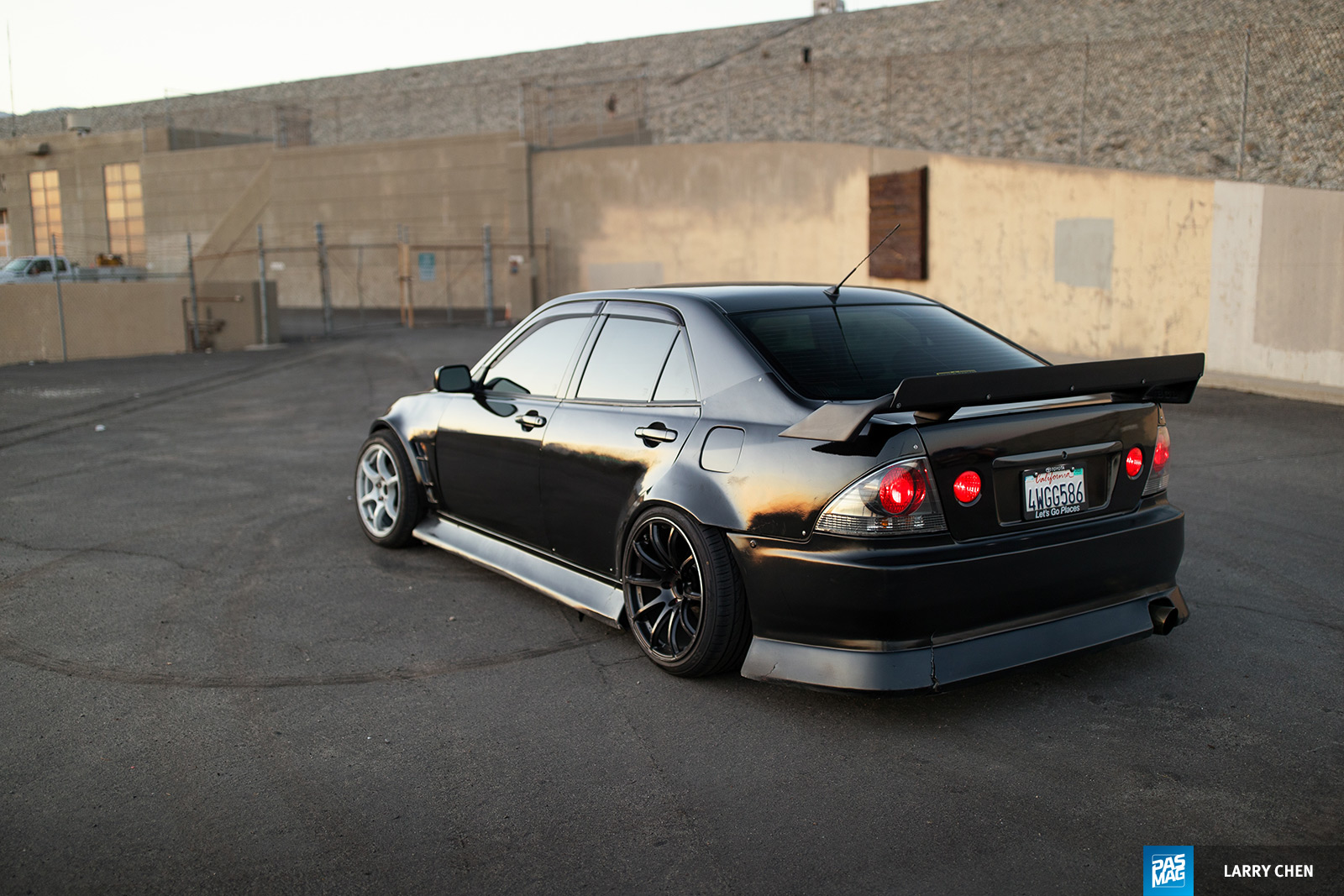 Visual and interior modifications were kept relatively simple, the most exciting being the addition of an Ascura Garage Shick V3 body kit and a Big Country Labs Fusillade wing. Less is more, and in this case, the combination achieves a look that walks the finest line between aggressive and subtle, achieving both looks at the same time depending on the angle you look at the car. Inside the cockpit, some Sparco REV seats and a period correct Nardi Classic 340mm steering wheel keep driver comforts looking stylish. Being a proper street car, audio equipment is still intact, so Gushi relies on a Pioneer AVH1500NEX head unit as a source.
All in, the car is relatively simple in terms of modifications, especially in comparison to the high-octane purpose-built competition cars Gushi usually finds himself at the wheel of, but there's something charming about that. Something about the reliable simplicity and the overall civility of his IS300 makes it one of his favorite cars. When you consider he can drive to and from drift events, with music playing and sitting comfortably, it makes sense. As street-driven cars that can drift are becoming ever more popular among drivers who drift as a hobby, Gushi is ahead of the curve.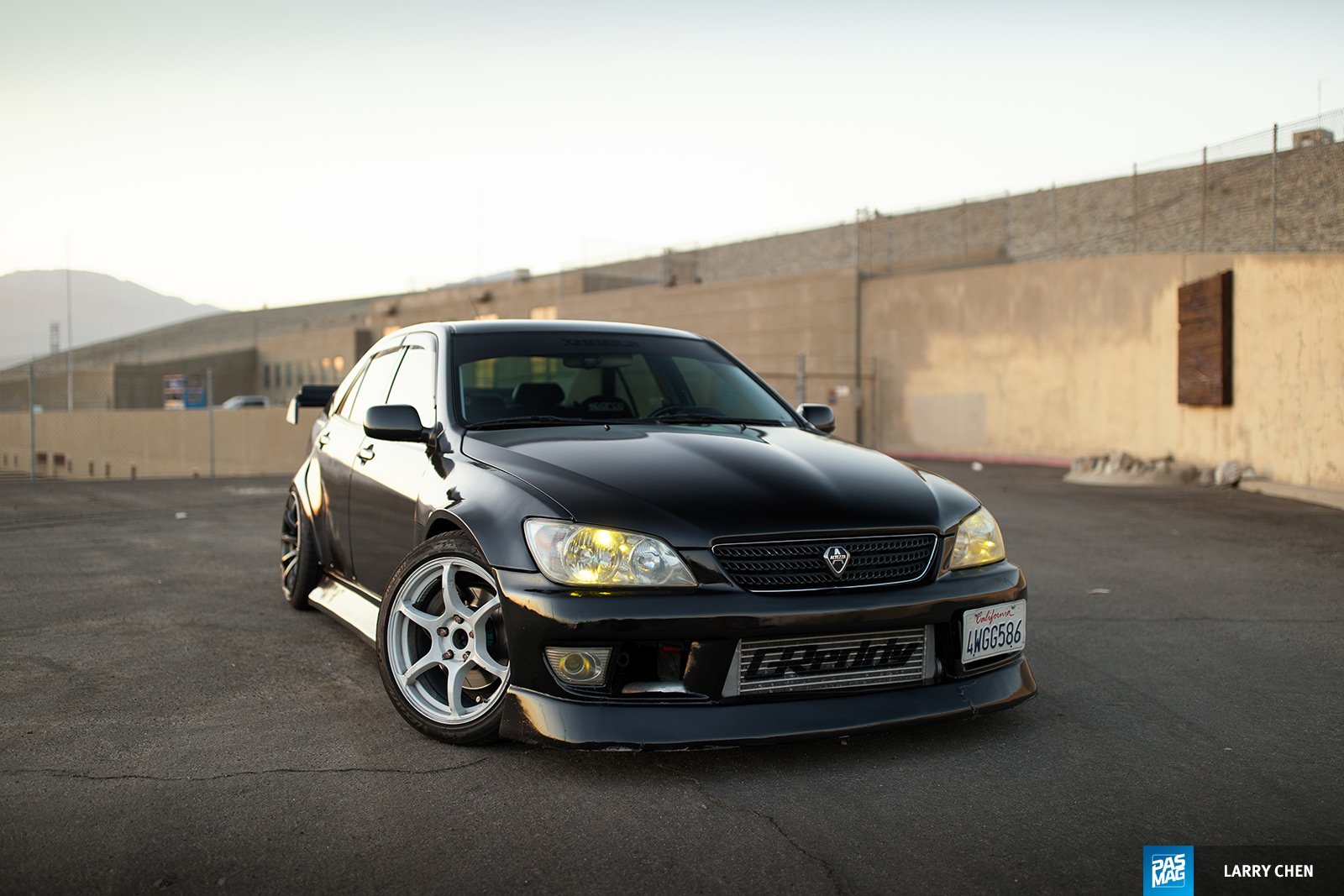 Cover feature of PASMAG #165. Click Here to order.
Photography by Larry Chen (@larry_chen_foto)
---
ESSENTIALS
Owner: Ken Gushi
Vehicle: 2002 Lexus IS300
Location: Los Angeles, CA
Engine: Toyota 1JZ-GTE 2.L Turbocharged I6
Horsepower: 280 whp
Torque: 300 lb-ft
SOCIAL
Facebook: /kengushi
Instagram: @kengushi
ENGINE
Toyota 1JZ-GTE engine swap
Ignition Projects (IP power coil, IP power ignitor kit)
Koyorad aluminum radiator
PanicMade LINK G4 replacement ECU
EXHAUST
DRIVETRAIN
Samsonas 6-speed sequential transmission
DriveShaft Pro aluminum one-piece driveshaft
Welded differential
WHEELS / TIRES / BRAKES
Rays GramLights 57FXZ Overseas Model wheels - 18x9.5 +38 (f), 18x10.5 +20 (r)
235/40/18 front tires, 255/35/18 rear tires
Winmax (W4 brake pads, brake shoes)
CHASSIS / SUSPENSION
KW Suspension V3 coilovers
SerialNine (rear subframe bushings, differential bushings)
HEYMAN 800PS knuckles
KGSpec extended front lower control arms
EXTERIOR
Ascura Garage Shick V3 body kit
Big Country Labs Fusillade wing
INTERIOR
Sparco REV seats
Nardi Classic 340mm steering wheel
AUDIO / MOBILE ELECTRONICS
Pioneer AVH1500NEX head unit
SPONSORS
GReddy Performance
KW Suspension
HEYMAN
Ascura Garage
KoyoRad
GramLights
Sparco USA
---
PHOTO GALLERY