Karisa Andersen's 2013 Scion FR-S takes second place in the Tuner Battlegrounds 2020 Championship in style!
Like many car enthusiasts before her, Karisa Andersen fell deep into the hobby long before she could even own a car. It goes so far back that she can't actually pinpoint the exact thing that got her interested in cars, but she recalls playing with a lot of Hot Wheels cars with her brother and cousin back when she was much younger. Clearly some of it was passed down through the family, as she also recalls being taught to drive a stick-shift when she was just 11 years old. That lifelong passion propelled her into the heart of the car scene by the time she was old enough, and continued strong to earn her the 2nd place spot in the 2020 PASMAG Tuner Battlegrounds Championship presented by AEM Intakes, Gram Lights, Dress Up Bolts and Jensen.
Before she could drive, Andersen knew she wanted to look out the front window and see a sports car that she had built herself. When she was just 15, her first vehicle became a 2000 Toyota Celica. She didn't know where to start immediately, but it wasn't long before she had picked up little mods and customization pieces for the interior. Eventually she worked her way up to performance modifications in the form of a cold air intake. Unfortunately, it was no more than two years later when that Celica was totaled in a tragic accident, but it was too late for her to back out now - she was hooked.
A few Toyotas later, including a tC in the interim, she stumbled upon the concept for the Scion FR-S online. Immediately she knew that was the one for her. A short time later, her friend who worked at a Toyota Dealership was looking out for Andersen, and let her know that a manual Series 10 edition of the FR-S had landed at their location. A few months later, that Series 10 was delivered to Andersen in person. Believe it or not, at this time she still didn't really know what to start with in terms of modifications, but the car was so fun in its stock form that she got to enjoy it for a few years.
Upon moving to Minnesota and marrying her husband, things started to get more exciting with the car. "He is a huge car enthusiast, and he is super handy when it comes to doing work on the cars. He is what fuels my passion and he points me in the right direction," Andersen tells us. "That is when the build really started." With the exception of some powder coating and retrofitting of lights, the pair of them have done the majority of the work on the car themselves, and she says she's enjoyed every moment of the experience.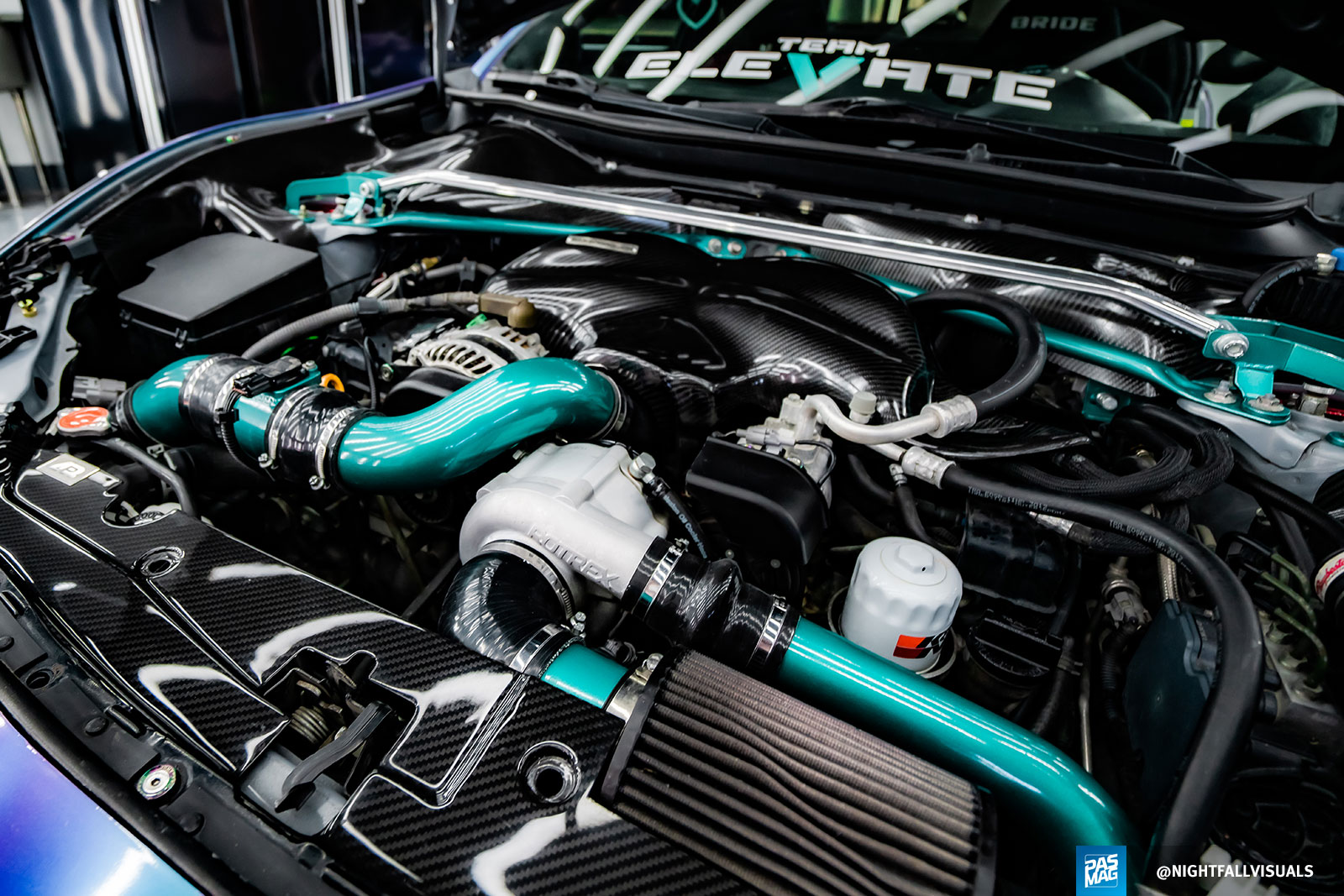 Originally, Andersen thought she was going to build a car for track usage, but as she started acquiring parts and taking inspiration from other cars, she started to shift her focus to something more show-oriented, as long as it could still hold its own on the track. Things like the Jackson Racing supercharger kit and APR carbon fiber cooling plate come into play here. When it came to choosing which parts would accentuate the build and make it show-worthy, Andersen placed a strong emphasis on part quality - not only for the tried and tested durability of the parts themselves, but also because proper fitment makes a world of difference when it comes to installation.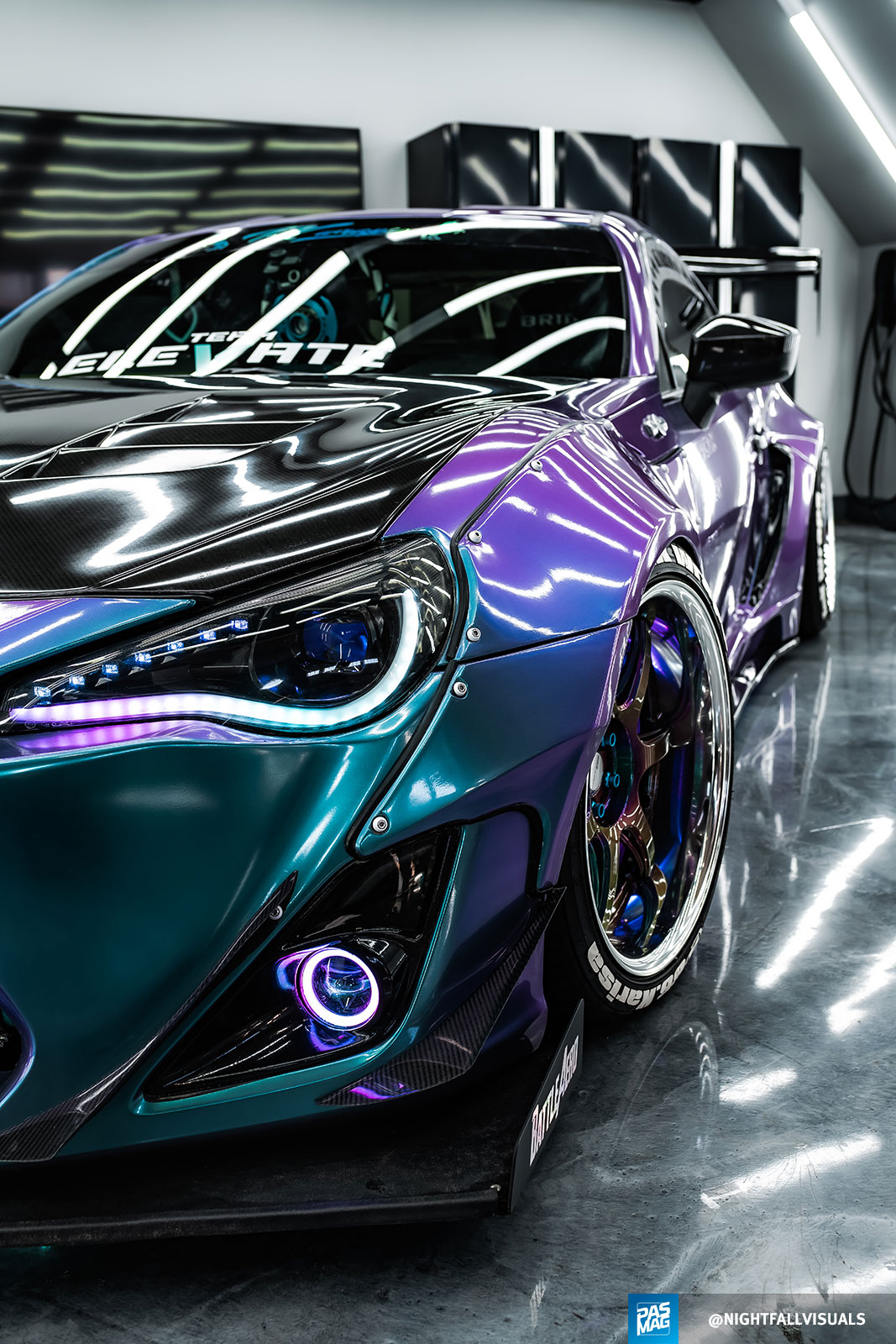 Along the way, both Andersen and her husband worked tirelessly to transform the FR-S. Some of the biggest and most noticeable changes include the Rallybacker V2 widebody kit, Seibon Carbon hood, Battle Aero spoiler and splitter, retrofitted headlights and tail lights, and of course Andersen's favorite modification: the colorshift vinyl wrap.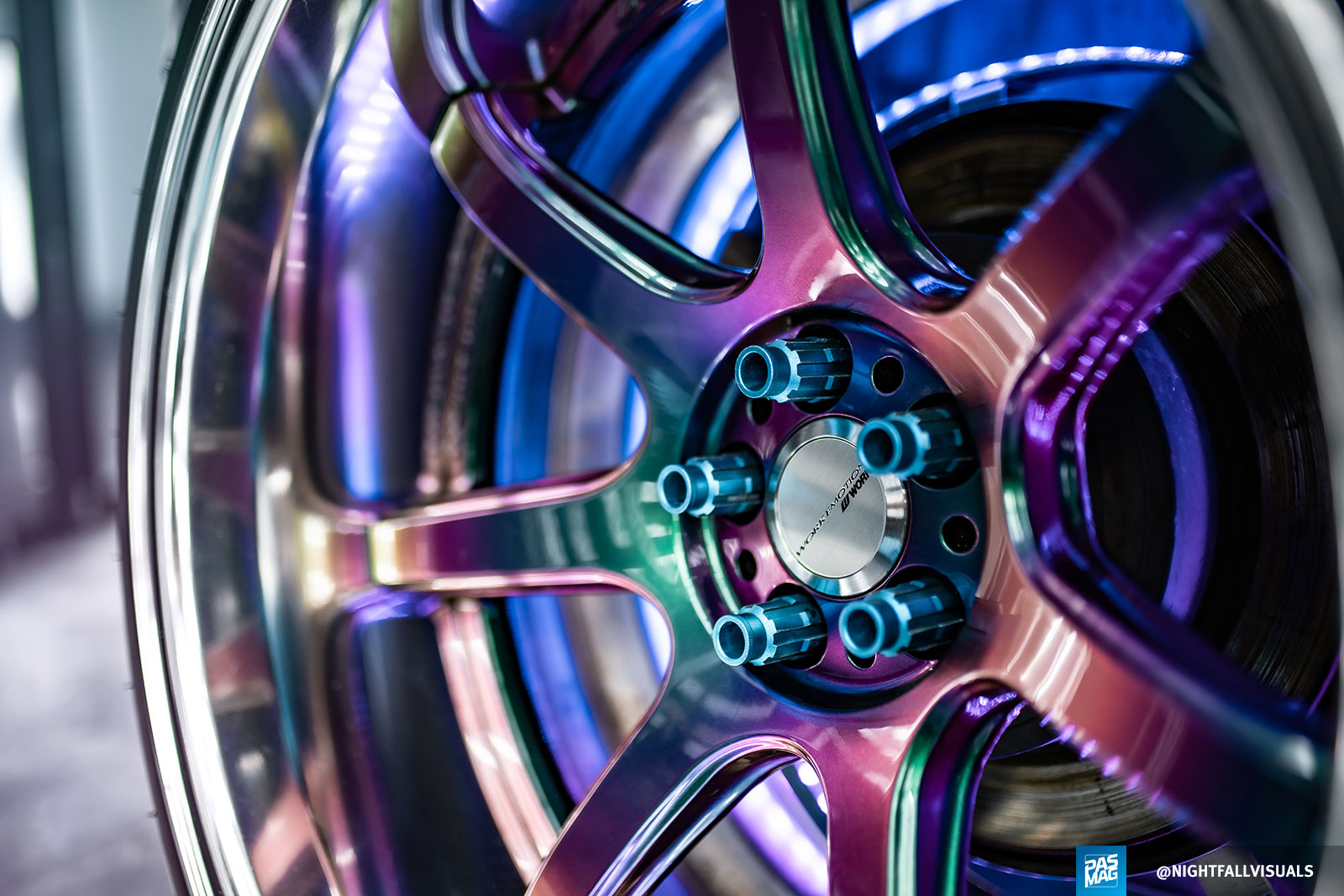 At ground level, the show-worthy presentation continues. 18-inch Work T7R 2-piece wheels, measuring 10 inches wide and 11.5 inches wide in the front and rear respectively, are wrapped in Federal 595 tires. That wheel and tire setup sits tucked behind her Rallybacker V2 fenders thanks to Air Lift Performance's 3P air suspension system - another testament to the quality of chosen parts. It's clear upon first glance that this FR-S is ready for the show circuit.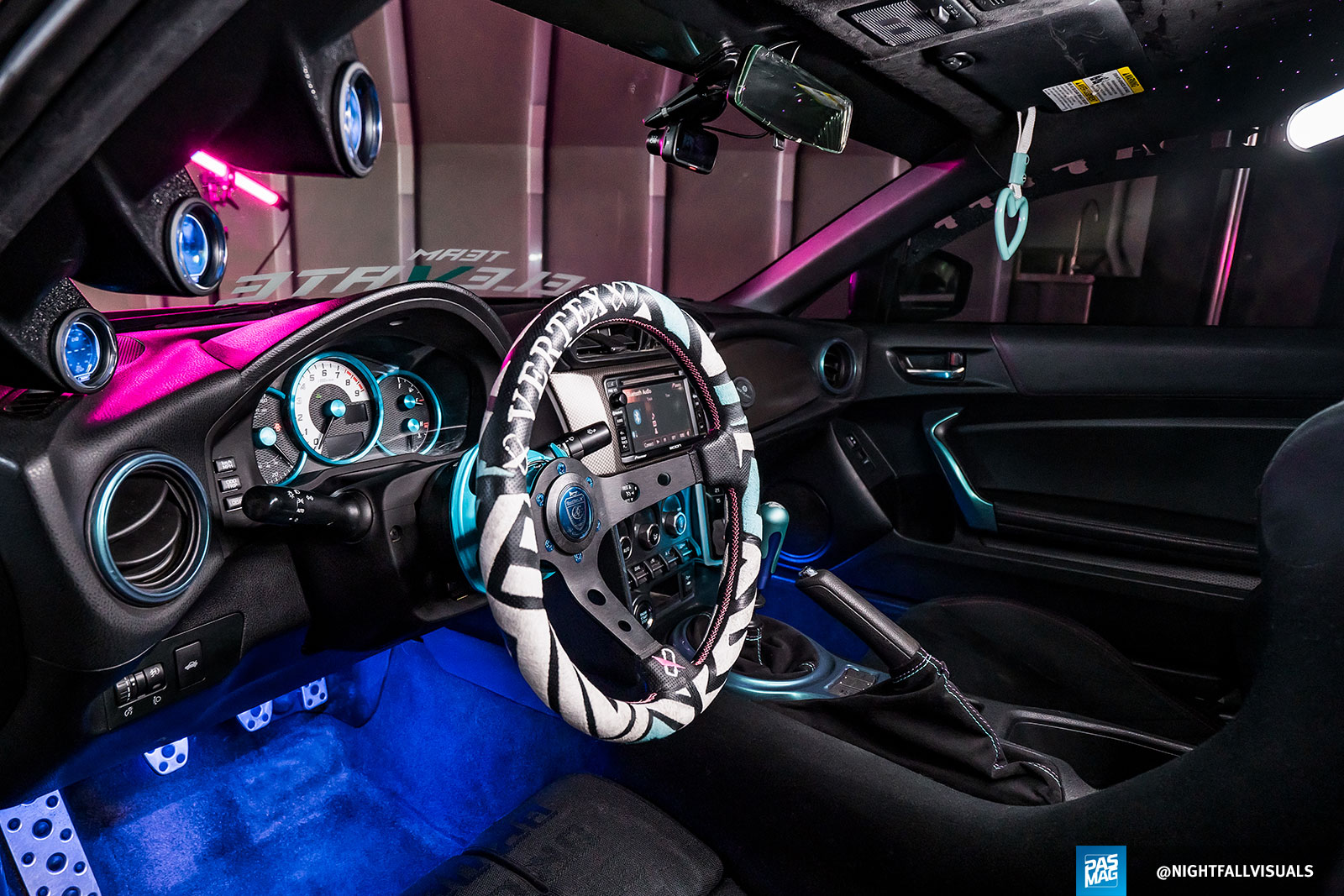 Interior modification is where it all started for her, so it's no surprise that Andersen's FR-S interior is custom tailored to her standards. Blue lighting is everywhere, including the illuminated Air Lift controller mount, and specific trim pieces were wrapped to match the exterior theme. One of the coolest pieces, which is sure to go the distance at shows, is the custom starlight suede headliner. Adding that special touch of JDM flare is a Vertex steering wheel, which fits the interior perfectly.
Andersen may have made it far in Tuner Battlegrounds, as well as local shows with the car, but she still isn't finished just yet. "I enjoy every moment working on my car," she says excitedly, "I have learned so much over the last couple years and cannot wait to keep building it." Whatever comes next, we'll certainly be watching! Congratulations, Karisa!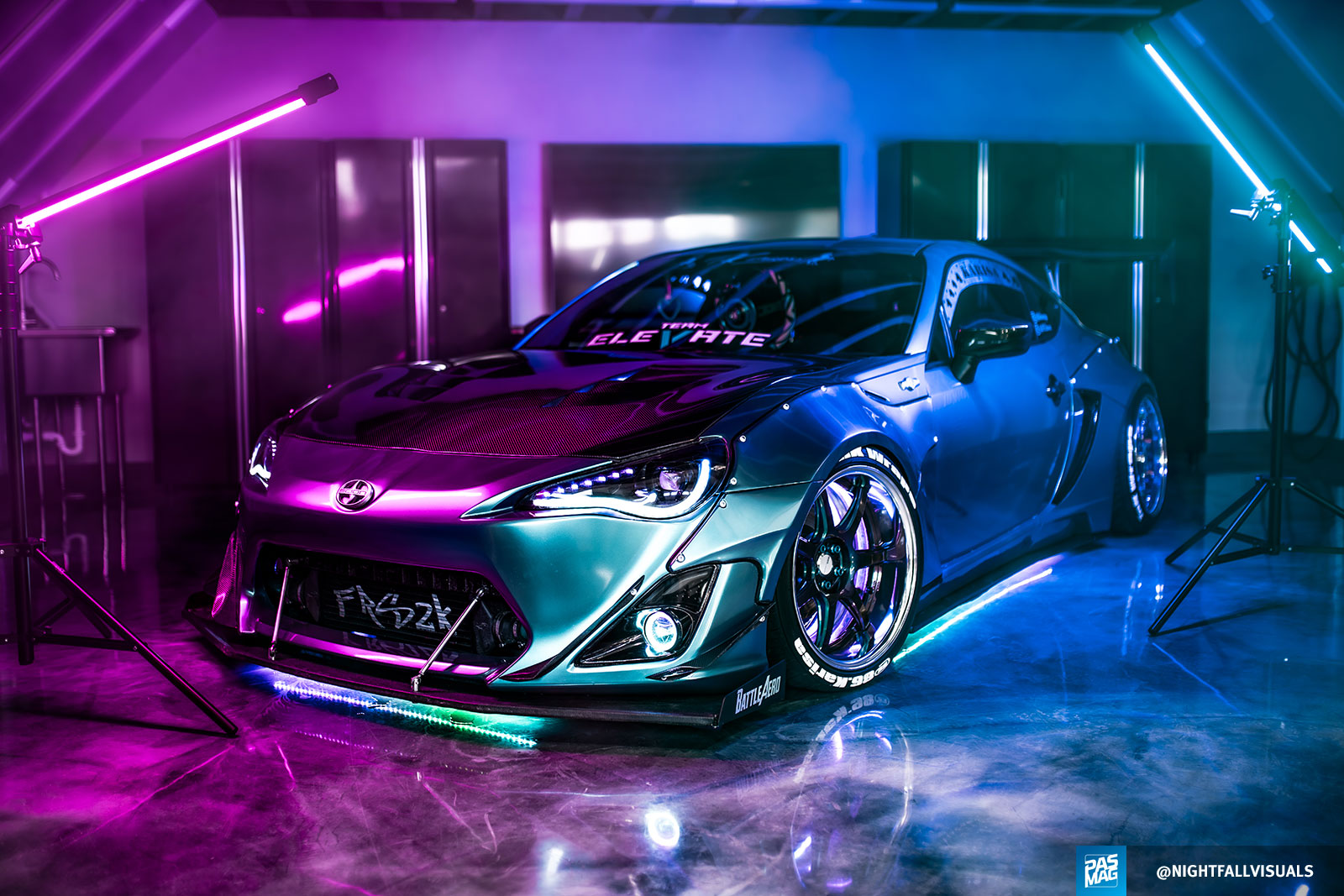 Photography by Nightfall Visuals (@nightfallvisuals)
---
ESSENTIALS
Owner: Karisa Andersen
Vehicle: 2013 Scion FR-S Series 10
Location: Bemidji, Minnesota, USA
Engine: Subaru FA20 2.0L H4
Horsepower: 250 whp
Club: Team Elevate
SOCIAL
Facebook: /86.karisa
Instagram: @86.karisa
ENGINE
Jackson Racing C30 supercharger kit
Cusco (strut bar, battery tie down)
APR carbon fiber cooling plate
Grimmspeed hood dampeners
Neochrome engine dress-up
Ecutek ECU
EXHAUST
Invidia N1 exhaust
Tomei (overpipe, header)
WHEELS / TIRES / BRAKES
Work Wheels T7R 2-piece wheels - 18x10 -10 (f), 18x11.5 -26 (r)
Federal 595 tires - 255/35/18 (f), 275/35/18 (r)
Tire Stickers tire lettering
Goodridge stainless steel brake lines
CHASSIS / SUSPENSION
Air Lift Performance 3P air suspension system
EXTERIOR
Seibon carbon fiber hood
FTR splitter rods
Colorshift vinyl wrap
Carbon fiber (mirror caps, door handles and inserts)
Rallybacker (V2 widebody kit, rear diffuser)
Visual Autowerks custom window vents
Battle Aero (chassis-mounted 70-inch carbon fiber wing, chassis-mounted front splitter)
Vicrez carbon fiber duckbill
ZSpec fender hardware
Morimoto (retrofit Xb headlights, retrofit Xb fog lights)
Valenti retrofit tail lights
Lighting Trendz (underglow, wheel well kit)
INTERIOR
Interior trim pieces wrapped
Gauge cluster and dual climate blue LEDs
Blue interior lighting
Likewise shift knob
Vertex steering wheel
NRG (quick-release, short hub)
Custom trunk setup
Prosport gauges
Starlight suede headliner
Sweidit (custom E-brake boot, custom shifter boot)
Illuminated Air Lift controller mount
AUDIO / MOBILE ELECTRONICS
Hertz 500W amp
Alpine Type R 12-inch subwoofer
Viper security system w/ remote start
SPONSORS
Intimidation Lighting
TnK Wraps
Status Racing
J.W.P. Automotive
---
PHOTO GALLERY