From 1998 to 2004 and back again.
Andrew Wallace from ISC Suspension has quite a bit of Subaru experience under his belt. Given the company's dedication to researching and developing state of the art suspension systems for numerous Subaru platforms, it only seems fitting that he pilots one of his own. And while the company continues to develop for newer models, Wallace himself was particularly drawn to an older 1998 Subaru RSTi that he saw in a yard down the road from the shop. With a striking resemblance to the iconic 22B, a car that now frequently sells for over $100,000, this was a good affordable compromise that could carry that same essence throughout the build.
Unfortunately for Wallace, his first inquiry was met with resistance, and the owner told him he wasn't ready to sell the old Subaru covered in leaves and debris with flat tires. It had clearly been sitting there for a while. After a few months of driving by the car every day on the way to the shop, he tried his luck again. By a stroke of luck, the previous owner was in a selling mood that day, and Wallace received the keys to his 1998 Subaru RSTi. He ran to the shop to pick up a jump pack and some Fix-A-Flat, and in no time he was driving the car down the street over to the shop.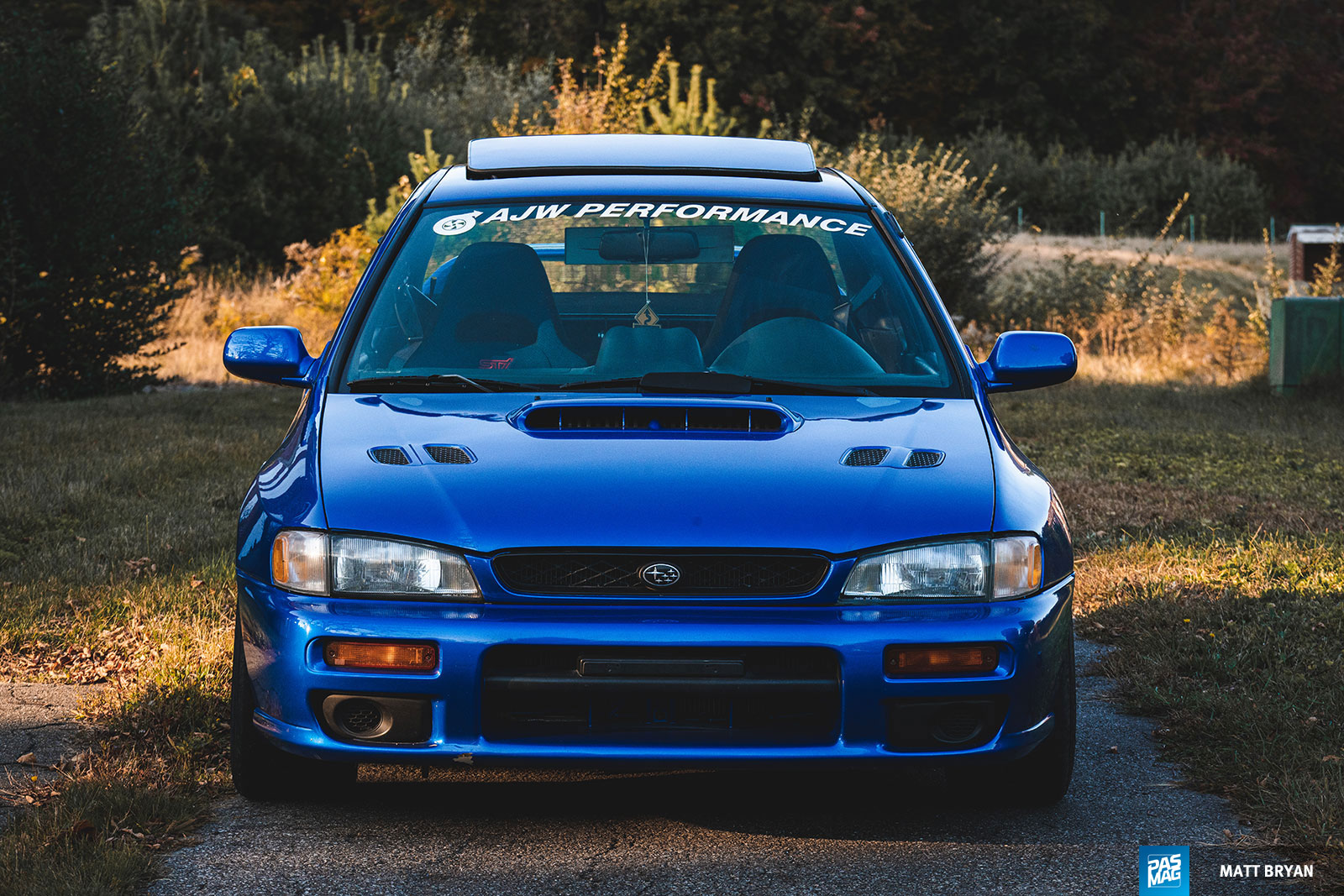 After about six months of tinkering with the old Subaru, Wallace had an idea. He purchased a wrecked but running 2004 STi from a local junkyard. This slightly newer Subaru with all of its upgraded components would become a serious organ donor for the project. The EJ257 engine, front and rear subframes, transmission, differential, and everything else that would fit was pulled from the 2004 donor, including the dash, console, and seats! As soon as it was out, the EJ257 2.5L engine was sent out for a full build to support at least 400 wheel horsepower.
While he waited for his engine to return, Wallace got to work swapping everything else that he could from the donor car, and added some aftermarket support where he could. A Clutch Masters FX300 clutch was in order if he wanted to make power. He also enlisted Whiteline bushings to help replace and stiffen up old control arms and subframe bushings when he installed the 2004's subframes on his RSTi.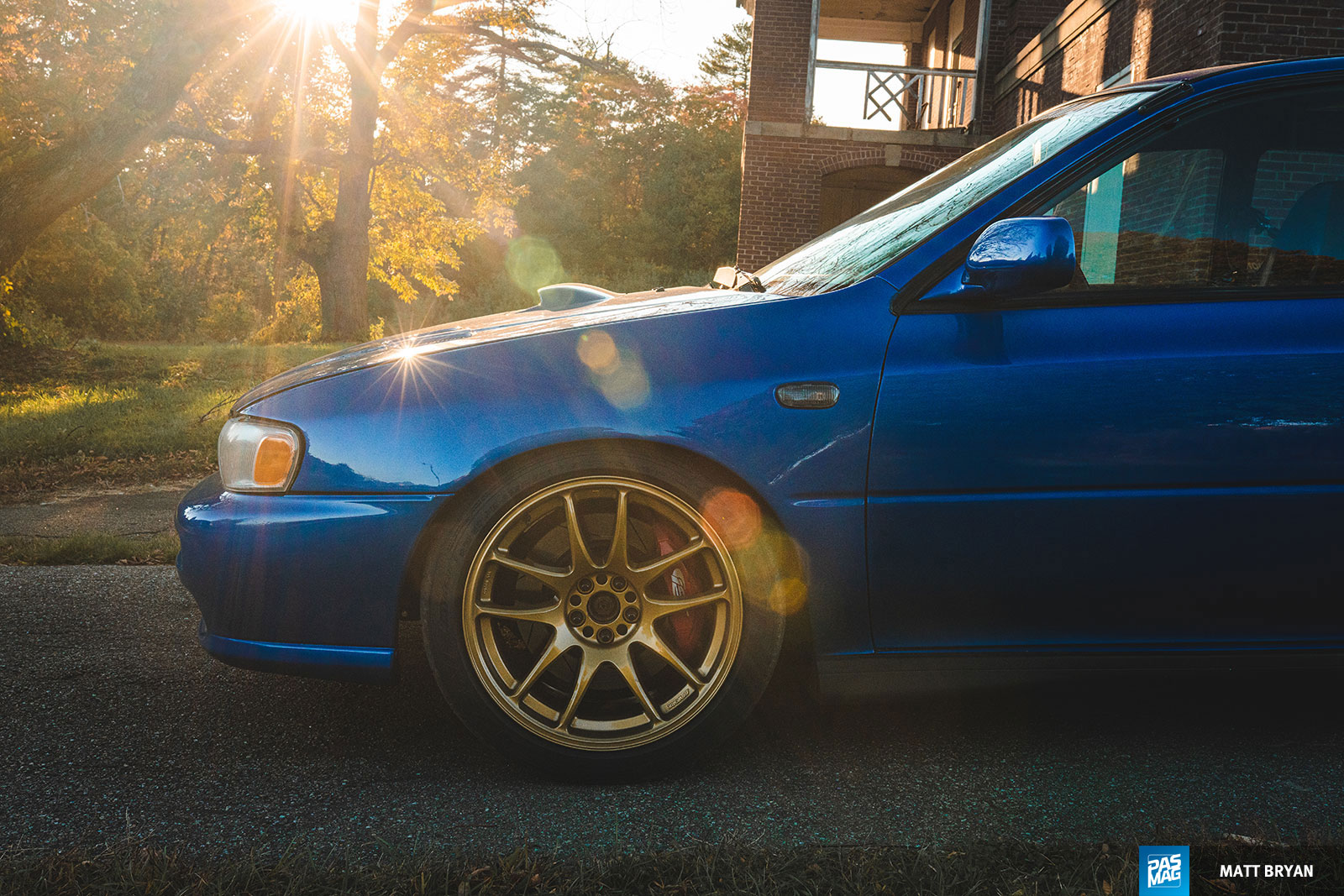 Being a suspension expert, Wallace and the team at ISC Suspension had everything they needed to dial in the RSTi. With intentions to be a track-ready street car, they employed ISC's N1 coilovers with Triple S upgraded springs to handle the majority of the work. Their in-house rear camber plates were the perfect fit to allow Wallace to set his rear camber just right, and all of the above pieces came together to offer style and performance in equal measures. The icing on the cake is the ISC Suspension air cup kit, giving the car ample daily driver capabilities at the touch of a button.
With power being bumped up, the rest of the car had to look the part. Wallace sourced wider front fenders and overfenders. With the spirit of the 22B and its heritage in mind, he decided to mold them into the body for a clean OEM-style look, rather than rivet them on and call it a day. The resulting sleek body was painted World Rally Blue, an obvious choice with the 22B's spirit involved. Complementing the look is a gold set of Work Emotion CR Kai wheels for the ever-traditional World Rally Blue and gold combination, and that tried and true method works perfectly with this build.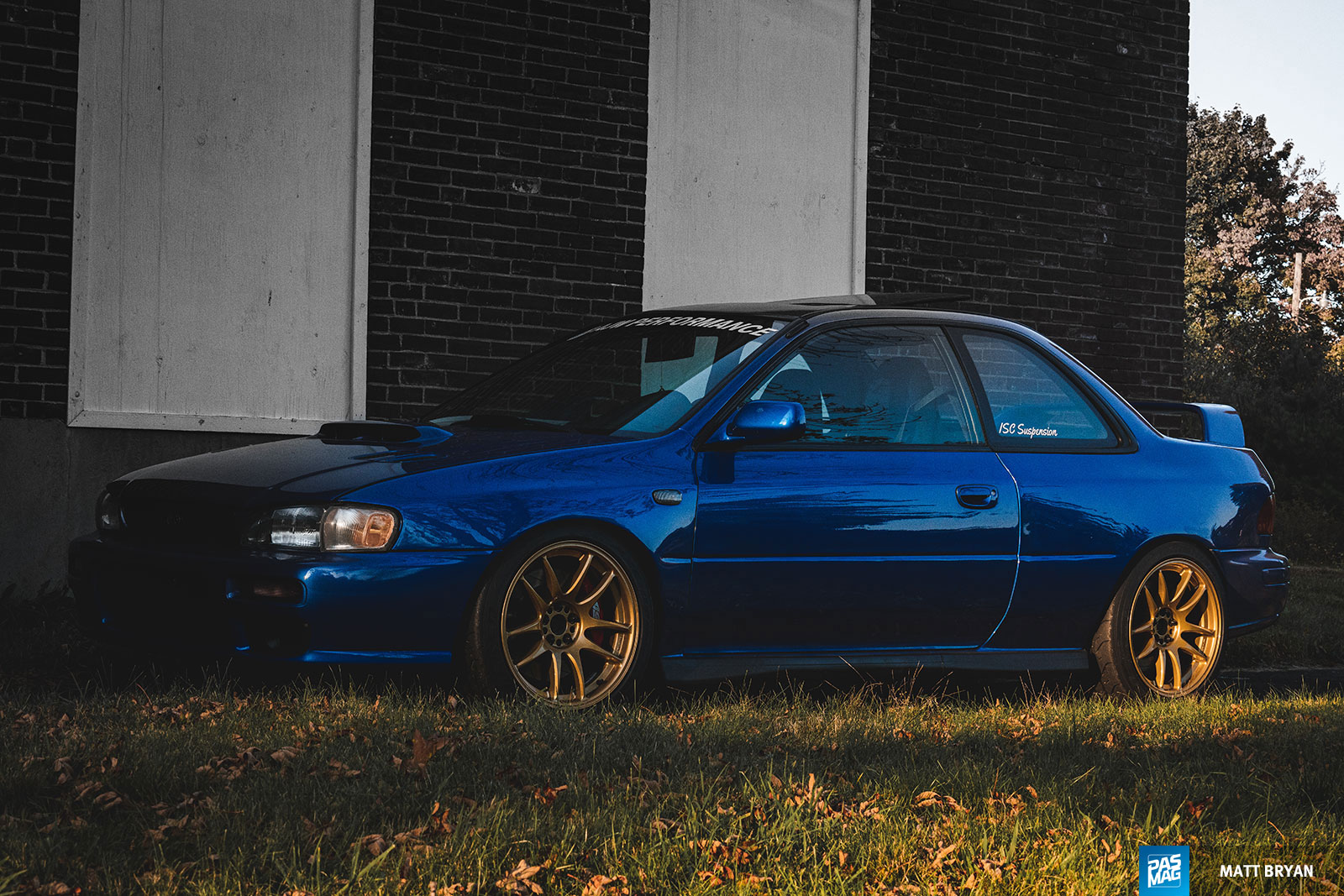 With his new engine back in his possession, the drivetrain was reassembled in the car, and the results were pleasantly surprising. 400 wheel horsepower on tap made for a potent little Subaru. "It's pretty much the fastest 400 wheel horsepower car I have ever been in," Wallace tells us. "400 isn't much anymore for today's standards, but the fact that the chassis is light, and has a pretty short wheel base, it kind of has that go-kart feel in a way."
Boasting the ability to launch hard, do AWD donuts on dry pavement, and handle exceptionally well thanks to ISC Suspension's products and expertise, the 1998 RSTi has become everything Wallace imagined when he saw it sitting under the old oak trees down the street. What was originally to be a track-specific build became a true all around street car after he fell in love with the driveability, and now it can hold its own at the show and on the track, and then be driven to work the next day. This is what these cars are all about!
Andrew Wallace's 1998 Subaru RSTi was featured in PASMAG Tuning Essentials: Performance Upgrade Guide, Volume 8. Click Here to order.
Photography and Videography by Matt Bryan
---
ESSENTIALS
Owner: Andrew Wallace
Location: Glendale, New Hampshire, USA
Vehicle: 1998 Subaru RSTi
Horsepower: 400 whp
SOCIAL
Facebook: /iscsuspensionna
Instagram: @isc_suspension
ENGINE
Subaru EJ257 2.5L engine swap
STi crankshaft
Manley H-beam rods
CP forged pistons
ACL race bearings
ARP head studs
Brian Crower (stage 2 camshafts, valve springs, retainers)
Blouch 2.5 XTR turbocharger
Grimmspeed up-pipe
Tial 38mm external wastegate
Agency Power fuel rails
1000cc injectors
Mishimoto (radiator, fans)
GrimmSpeed (top-mount intercooler, engine dress-up bits)
Perrin 3-inch turbo inlet
Killer B (oil pickup, oil baffle)
Gates Racing timing belt
NGK spark plugs
COBB air/oil separator
KS BIG MAF intake
EXHAUST
P&L Motorsports (N1 Style cat-back exhaust, headers)
GrimmSpeed downpipe
DRIVETRAIN
2004 Subaru STi 6-speed transmission
Clutch Masters FX300 clutch
WHEELS / TIRES / BRAKES
Work Emotion CR Kai wheels - 17x9 (f/r)
Falken RT615+ tires - 225/40/17 (f/r)
ISC (1-piece front rotors, 6-piston front calipers)
Brembo rear brakes
CHASSIS / SUSPENSION
ISC Suspension (N1 Street Sport coilovers, Triple S upgraded coilover springs, rear camber plates, air cup system)
Whiteline (swaybars, bushings)
2004 Subaru STi subframes
EXTERIOR
Full widebody kit blended into chassis
World Rally Blue paint
JDM Subaru STi (rear spats, tail lights)
INTERIOR
2004 Subaru STi (dash, console, seats)
6OC Rallysport door cards
Momo vintage steering wheel
Harness bar
SPONSORS
ISC Suspension
GrimmSpeed
Perry Tuned
6OC Rallysport
---
PHOTO GALLERY