Matt Field's Vortech Supercharged C6 Vette and His Championship Run
A few years back, Formula Drift veteran Matt Field was ready to part from his S-chassis ways, and upgrade to something more grown up. Having already been an LS enthusiast in his S-chassis decorated past, the Corvette was an obvious successor to his LS-powered S14. Now several years and drift seasons into a 2013 Chevrolet Corvette, Field said to us, "I love that the car has true sports car suspension, an LS, a very strong and lightweight chassis, and already comes with body panels that can be completely removed from the car."
The looks of the Corvette are also something that Field factored into his decision.
"I also love the way a Corvette looks, and I am at the point in my life that if I do not absolutely love the way a car looks, I won't have any interest in owning one," he says with a chuckle, "let alone building one into a pro level drift car!" The C6 'Vette has certainly stood the test of time in the style department - for some, this is the most desirable Corvette chassis of them all.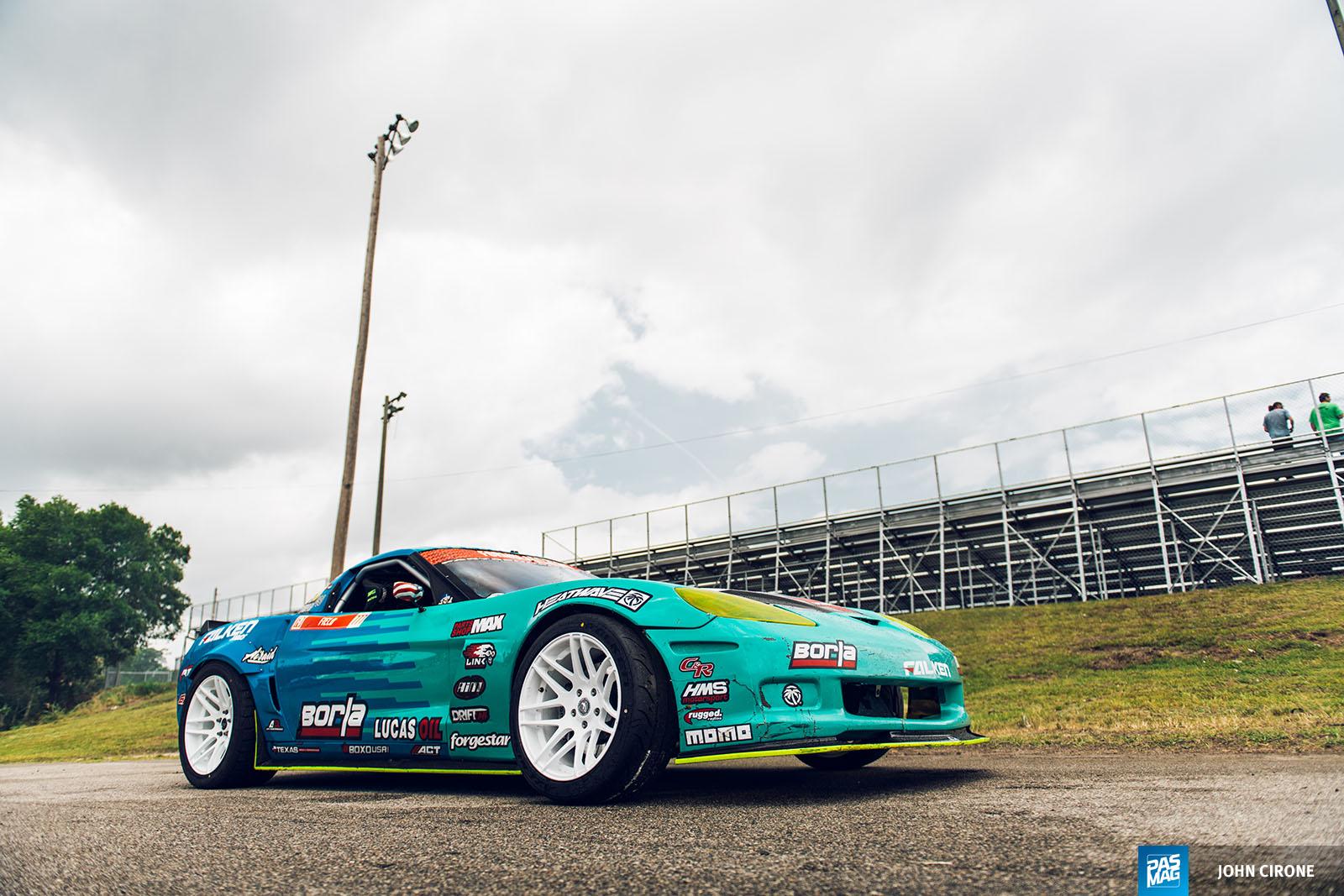 Of course, his choice couldn't be made purely on style. He is a pro drifter after all, and he was certainly onto something. Field was one of the early adopters of the Corvette as a drifting chassis, and since he first got the car in 2018, plenty of other drift 'Vettes have popped up around the world. Good power from the factory, excellent handling prowess, good weight distribution - the recipe is all there, Field just happened to take it to the next level.
An LS engine makes good power on its own, but when you're competing at the highest level of drifting, some motorsports expertise goes a long way. Texas Speed handled his LS from top to bottom. "The only thing GM left is the rubber gaskets and seals," says Field. Perhaps the most exciting engine modification comes courtesy of Vortech Superchargers, in the form of their incredibly impressive YSi-B Supercharger system. Thanks to that system and its rapidly increased flow capacity, as well as a Nitrous Express nitrous system, Field's C6 makes an eye-popping 1,050 horsepower at the rear wheels. That'll do.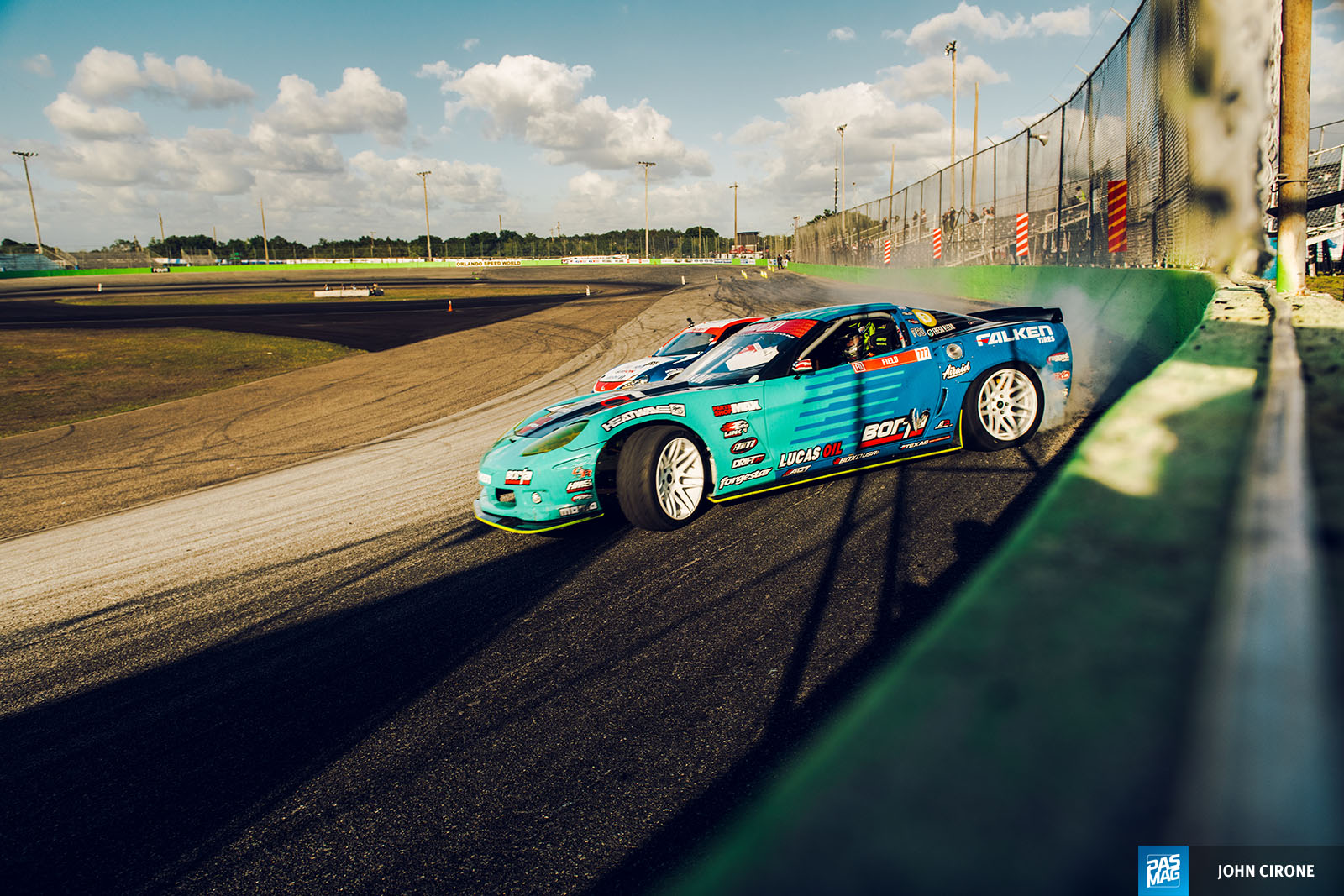 As you might expect, that kind of power needs a suitable drivetrain to stay together while delivering 4-digit horsepower and torque to the ground. A 6-speed sequential transmission, and RTS Winters quick-change differential, Drive Shaft Shop axles and driveshaft, and an Advanced Clutch Technology twin-disc race clutch are all employed here, along with some custom engineering. "One of the most difficult things we had to deal with was making the car easy to service the clutch," Field tells us. "With the gearbox and rear end mounted in the back of the car, and the clutch up at the front with a torque tube connecting the two, there is a ton of work required to service anything in the bell housing area. We have taken many steps to try to make it easier, but that took a few years of figuring out before we got it right." Without elaborating too much further, we have to assume that is a closely guarded team secret!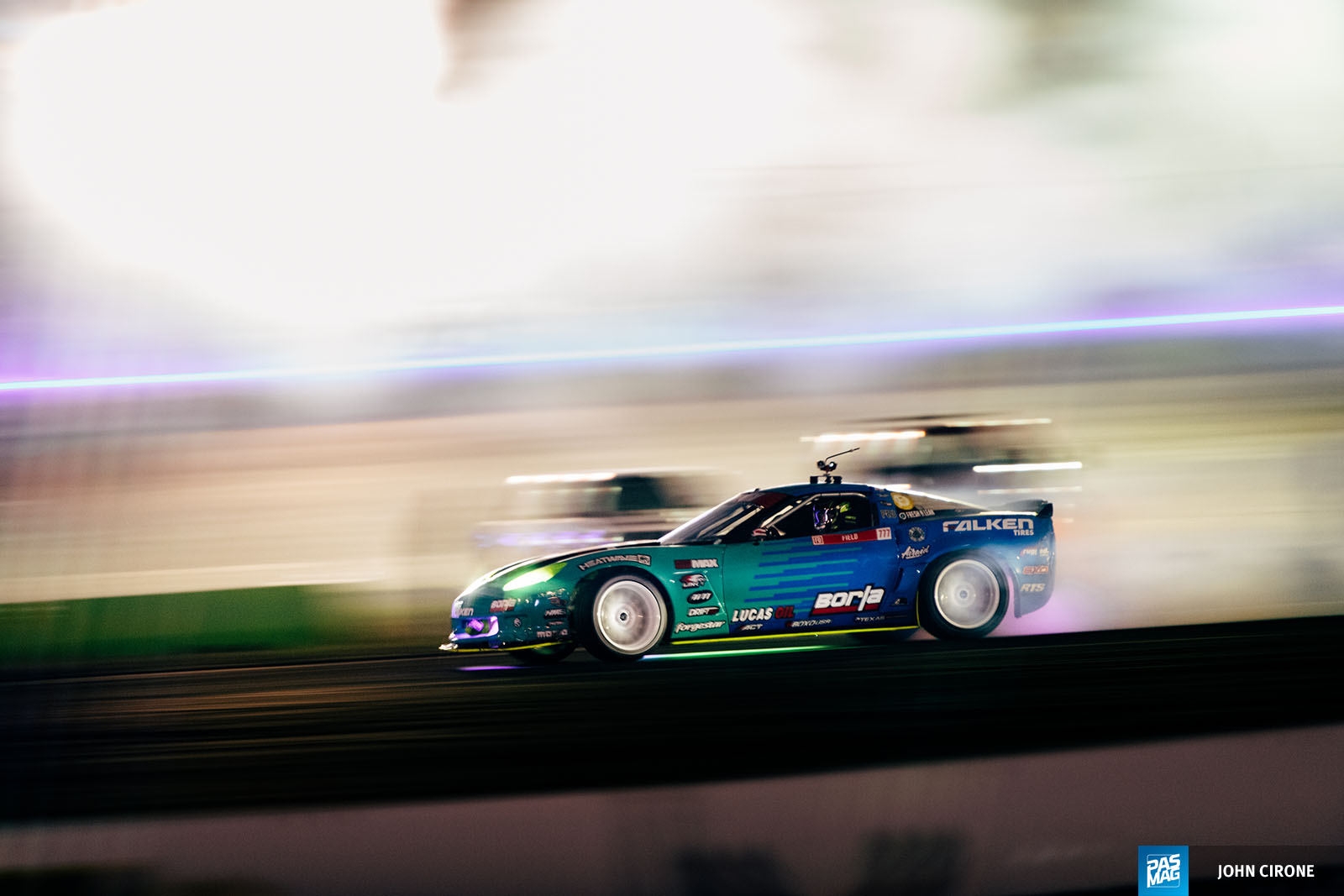 Of course, the car's looks and overall style are just as important to Field when he's on the grid, and his competition 'Vette was handled accordingly. HGK Racing helped bolster the looks while also adding some function to the form as well with their lightweight and strong carbon kevlar C6 Z06 style body panels, and Anderson Composites was enlisted to help shave weight from the hood and trunk lid with carbon fiber variants. With a little styling tweak thanks to APR's front splitter and rocker extensions, the C6 already looked menacing before No End Customs put their finishing touches on the car with a custom paint job to represent Field's Falken Tire sponsorship allegiance.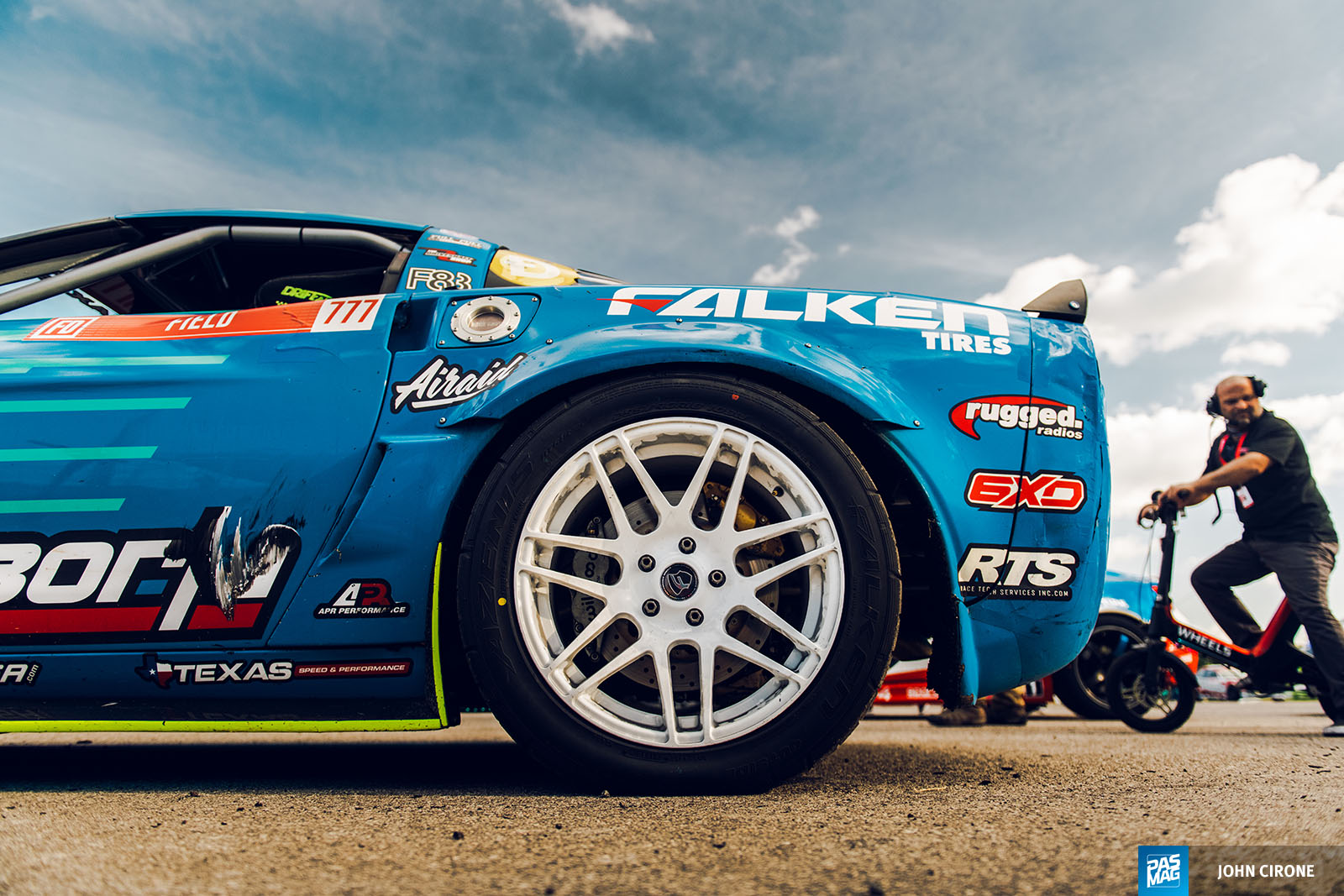 At ground level you'll find Forgestar F14 wheels for extra flair, measuring 18x9.5 -15 and 18x10 +5 in the front and rear respectively, with the fronts wrapped in Falken's RT600 tires at 245/40/18, and the rears wrapped in Falken's 615K+ tires measuring a fat 295/40/18. Tucked behind the wheel and tire setup is a Wilwood brake system that utilizes Winmax brake pads, and a plethora of Parts Shop Max suspension goodies like their Limit Break knuckles and 3-way adjustable coilovers.
The recipe put together for greatness by Field's Drift Cave fabrication shop is clearly working. At the time of putting this feature together, Field sits atop the Formula Drift Pro Championship leaderboards, with two podium finishes including a first place finish in Englishtown. With that Vortech supercharger pushing 18 psi, the instantaneous and high-revving power on tap has allowed Field to utilize his skills to their full potential, cementing himself in a good spot moving forward with this year's Formula Drift circuit. Best of luck out there!
Matt Field's Vortech Supercharged C6 Vette and His Championship Run was featured in PASMAG Issue 166. Click Here to order.
Photography by John Cirone
---
ESSENTIALS
Driver: Matt Field
Vehicle: 2013 Chevrolet Corvette
Location: Morgan Hill, California, USA
Engine: Texas Speed LS
Horsepower: 1,050 whp
SOCIAL
Facebook: /mattfield777
Instagram: @mattfield777
ENGINE
Texas Speed built LS 427
Vortech YSi-B supercharger system
Nitrous Express nitrous system
EXHAUST
Borla ATAK exhaust system
DRIVETRAIN
6-Speed sequential transmission
RTS Winters quick-change rear end
Drive Shaft Shop (axles, driveshaft)
ACT Twin-Disc Race clutch
WHEELS / TIRES / BRAKES
XXR 527 wheels – 17x8.5 + 28 (f), 18x10 + 28 (r)
GT Radial SX2 tires – 245/40 R17 (f), 265/35 R18 (r)
Baker Precision braided stainless steel brake lines
CHASSIS / SUSPENSION
Drift Cave built chassis Parts Shop Max (C6 Corvette Limit Break knuckles, arms, sway bars, 3-way adjustable coilover dampers)
EXTERIOR
Anderson Composites carbon fiber (hood, trunk)
APR (splitter, rocker extensions)
HGK C6 Z06 carbon kevlar body
Custom paint job
INTERIOR
Momo safety equipment
AiM Data Sports MXP digital dash
Parts Shop Max handbrake
Tilton pedals
SPONSORS
Falken Tire
Borla
MW
Heatwave
Lucas Oil
Airraid
Link ECU
Vortech
Advanced Clutch Technology
Parts Shop Max
Blacktrax
Texas Speed
Drive Shaft Shop
Boxo
AIM
HMS
Cobra
Schroth
Sparco
C&R
6XD
RTS
Fuel Safe
NRG
Aeromotive
K&N
Nitrous Express
Anderson Composite
APR
Wunder
Vibrant
Ignite
Wilwood
PBK
No End Customs
HGK
Holley
CX Racing
Winmax
---
PHOTO GALLERY